It was the first day of September. The delightfully narcotic smell of the tidal marsh filled my head, while a clear blue sky and bright morning sun promised the continuation of nice summer weather. Blue Mist and I were once again back on the Maine coast and all was well with the world. My tiredness from the long drive from Ohio with very little sleep evaporated as I walked across the narrow two-lane road to a small coffee shop. I had stopped in the tiny village of Bristol, Maine to get some breakfast. Round Pond Harbor, my destination, was only 4 or 5 miles away. From there I would depart for a 10-day late summer cruise in my 16-foot Wayfarer.

Round Pond, Harbor Island, Pemaquid Point, The Gut, Love Cove, Five Islands, Thread of Life--these are the names of a few places that would end up on my itinerary this year. They are not only interesting sounding names, but are also sign posts to some of the most wonderful cruising waters this side of heaven. This is true whether your boat is a luxurious yacht or a small open dinghy, such as my Wayfarer.

I feel very lucky. Each year I manage to get in a considerable amount of racing and cruising, thanks to my loving and understanding wife, Margie. This would be my second cruise in 1998. The first cruise, on the eastern shore of the Chesapeake Bay, was in June. Following that, in July, Margie and I traveled to Svendborg, Denmark to participate in the week-long Wayfarer International Cruising Rally, sailing among the picturesque islands of the Baltic Sea (no, we didn't take Blue Mist with us!). All of which is in addition to participating in the usual out-of-town weekend regattas and our regular club meets. Though it may appear so, we are not among the affluent. A Wayfarer we can afford; a yacht we cannot. But, how many yachtsmen can cruise both the Chesapeake and the coast of Maine in the same year? Not many I bet. For me the best and only way to experience cruising, especially the coast of Maine, is in my Wayfarer. She is a terrifically seaworthy craft with more than adequate space and comfort for one, even two people, for this kind of cruising.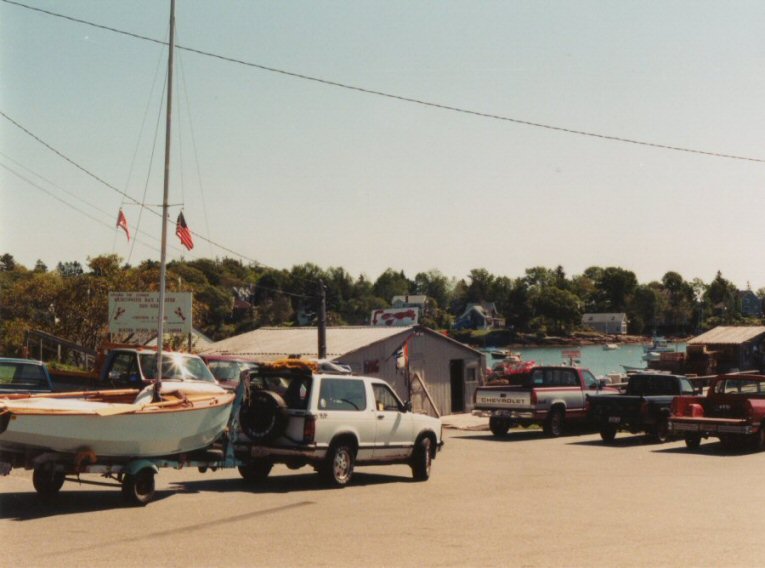 This year's Maine "adventure" (all three of my Maine cruises have been memorable) would take me to some new territory--a part of the coast sometimes referred to as the "central coast" region. This is the stretch of coast beginning with Casco Bay to the west, and extending east to encompass Muscongus Bay. For the first time I would be sailing Maine in early September, which occasionally can be quite autumn-like, which means cooler temperatures and stronger winds. On the other hand, September brings drier air, thus less fog and, more often than not, pleasant weather.

Regardless, I was anticipating more challenging sailing conditions than I had experienced during my prior mid-summer cruises. As I got ready, I was both excited as well as apprehensive. I'm always a little nervous at the beginning of any cruise. The dangers of Maine's coastal waters in particular are not to be taken lightly, but this time my experience earlier in the year, capsizing in a thunderstorm on Chesapeake Bay, was fresh in my mind.
Adding to that, Margie made sure I didn't forget about the dangers involved as I got myself and
Blue Mist
ready to leave. My solo trips to Maine for weeks at a time worry her considerably. Until this year I had convinced her that the Chesapeake was safer. Now she is the wiser to that as well.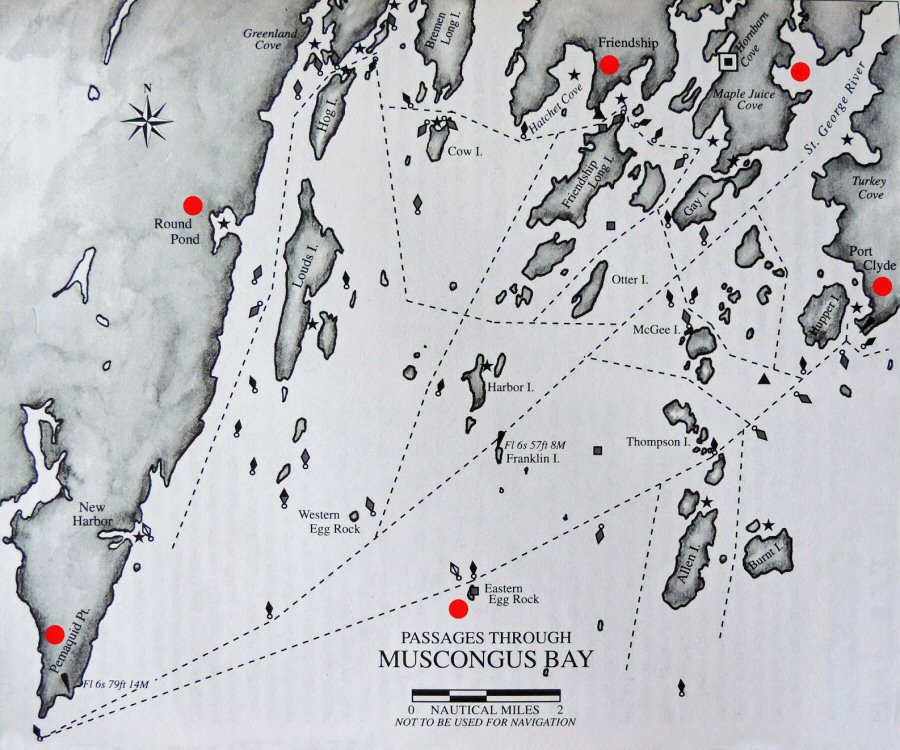 By doing the central Maine coast, as opposed to venturing further east where conditions are typically less predictable and more challenging, I figured I had a better chance of good weather. Also, I feel that this part of the coast offers better protection for a small boat. Smart, or lucky, this turned out to be a wise decision. While the central and southern coasts enjoyed fair weather during most of my cruise, rain and fog persisted along the down-east coast. When it comes to coastal cruising, even on the generally well protected waters of Maine, there is no such thing as being over-prepared. My Chesapeake Bay experience taught me a lesson. In several ways, I had gotten sloppy and maybe a little careless. I resolved to do better on this trip. Before leaving I made a couple of additional improvements to Blue Mist and went over all her gear thoroughly, or so I thought.

Round Pond - Off to a Good Start
At least for me, the first day of a cruise is usually not well organized. This is especially true as I'm almost always departing from some new, unfamiliar place. Previous to this point, I have been so busy getting myself and the boat ready that I have not had time to completely formulate the sailing plan. I will have a pretty good idea where I want to be by the second or third day, with a rough plan thereafter. Frequently, however, the first day is left up in the air. The first day always presents a lot of unknowns that can't be assessed beforehand, such as launching conditions, catching the tide, where to park the car and trailer, obtaining last minute supplies, filling water jugs, and so on. Finally, there is the laborious task of loading the boat, trying to get all the important items stowed in such a way as to have some semblance of order and yet hopefully where it can be found later. It all takes much longer than originally thought.

Launching

Blue Mist

- larger image

here




In this instance Round Pond was a pleasant surprise. It not only boasts an excellent harbor, but happens to have an outstanding public launching facility--a spacious paved ramp with a sizable dinghy dock! None of my previous departure points have been anything so nice. This meant that even though the tide had been ebbing for a couple of hours (the tidal range here varies 8 to 10 feet) I was able to get Blue Mist launched without the usual delay. I was afloat and done loading sooner than anticipated. The weather, everything, was cooperating beautifully and I was elated. By 1300 hours I was on the phone with Margie at her place of work, letting her know I was ready to cast off.





The general store next to the Methodist Church, behind which my Blazer and trailer were parked, would be a place Margie could call in case she should not hear from me and become worried. The woman running the store was kind and understanding, agreeing to keep my note with all pertinent information, such as home address, phone numbers, planned date of return, etc. That was for emergency purposes only. The normal routine would be for me to check in with Margie every second or third day so that she would know that I was OK, where I was and my next port o' call. She was at work, chained to a desk and computer. I was free, at the edge of the wonderful sea, with my spirit soaring high in the sky like the majestic Osprey, about to embark upon another sailing adventure. Saying good-by to my sweet wife I felt a twinge of guilt. Then I was on my way.





Learning My Lessons All Over Again

It's always amazing to me, being an inland sailor, how acutely tuned my British acquaintances are to ocean tides and currents. Of course in places like the Chesapeake, where the tidal range for the most part is only around a foot, ignoring these influences poses fewer problems. Sailing Maine's waters, however, presents a different story. Even though strong overfalls and currents are not as prevalent as around the UK, because water depths are greater and drop-offs are quicker, one still needs to pay attention to the tides. But I would need to be reminded of this facet of navigation.



Facing onto Muscongus Bay, Round Pond lies on the east side of Pemaquid Peninsula, a high, prominent, north-south ridge of spruce covered granite that juts far out into the sea. The part of the coast I planned to explore this cruise was west of Pemaquid Peninsula, toward the mighty Sheepscott River. Rounding the peninsula, which is not always a piece of cake, would be the first challenge.

The weather was perfect, crisp and clear, with bright sunshine. Visibility seaward was the sharpest I had ever experienced in Maine. There was no trace of the usually prevalent southwesterly haze. Distant islands were visible that I had never seen before. All of the Northeastern US had come under the influence of a large, slow moving, pleasant Canadian high pressure system. I had lucked out, September indeed was wonderful! All reports assured me that the weather the next several days would be summer-like and enjoyable, the only negative being that breezes would be mostly light. With such fair conditions and having gotten a good start, my thoughts were to go right ahead and round Pemaquid Point now, making the plunge westward. However, I soon discovered that this was naive thinking.

Like most inland sailors, when it comes to dealing with tides and currents I have to learn my lessons all over again each time. Headed south down Muscongus Sound, a narrow stretch of water between the peninsula and neighboring Louds Island, I found myself beating into a weak fluky wind, while bucking a vigorous flood tide. Two hours and only about that many miles later, I finally escaped the tide rip. Any prospect of rounding the Point was gone though. Having gotten onto expansive Muscongus Bay and at last free of the wind shadow of the surrounding high bluffs, Blue Mist was finally catching a great sea breeze. But, with the sun now low in the sky it was time to change plans.

Huge Muscongus Bay is endowed with an incredible myriad of islands and uncountable, frequently treacherous, ledges and rocks. It is an unbelievably interesting place for any form of sailing and cruising. From my last cruise there in '96, I remembered that "Taft" mentioned the confluence of Allen and Burnt Islands as an attractive anchorage. Back then I hadn't had the occasion to stay there. Now I heave to in order to examine the chart. Allen Island is only 7 nautical miles to the east, there being half a dozen or so of those tricky, invisible ledges and rocks in between to dodge. Having laid out the course I turn east. Blue Mist is laid over, with her lee rail in the sea as we rollick along on a broad reach doing 5-1/2 knots, skimming the foam off of crests of waves. What a heavenly, fast sail it was. Pemaquid Point could wait until tomorrow.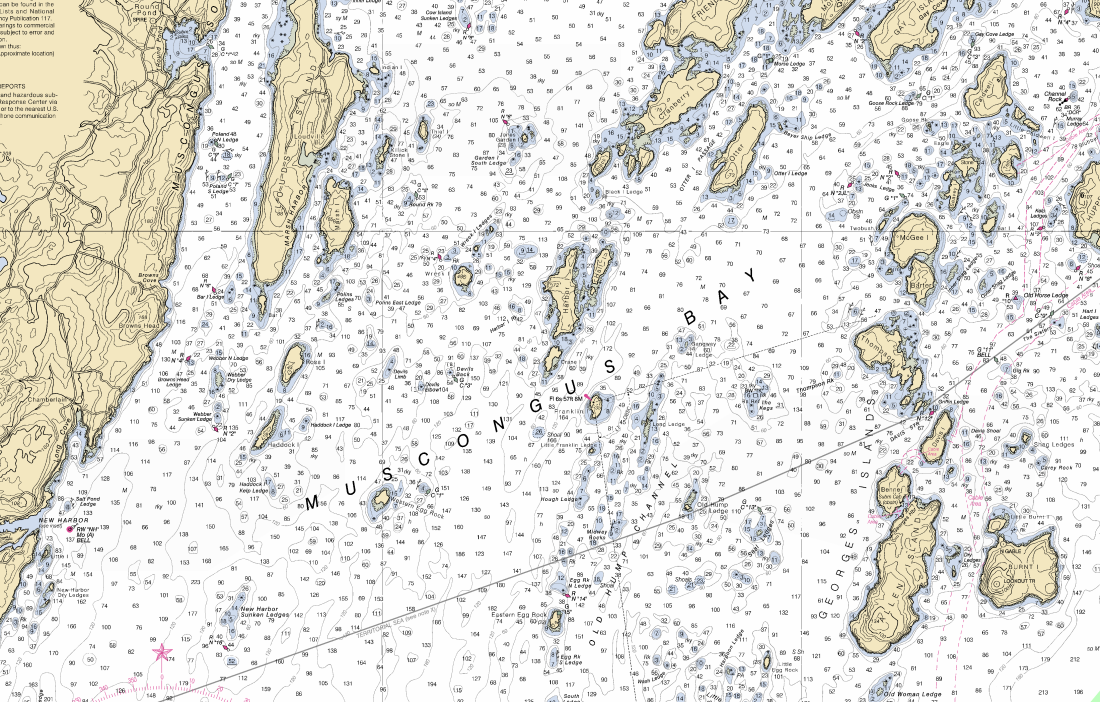 A Restless Night at Allen Island

It is at the beginning of a cruise that you are most likely to discover a problem or make an error in judgment. You have not yet acclimated to the cruising environment and you are tired. That is why most experienced sailors suggest starting out with just a short uncomplicated sail the first day. I remember one occasion when I discovered I was missing an important item. I had just bought a small Coleman lantern and to my surprise the box did not include the mantels. That night when I discovered my error I was glad that I had anchored only a half mile away from the launch. Returning to my car and to the store, the next morning was not such a big hassle. This cruise would prove to be no exception.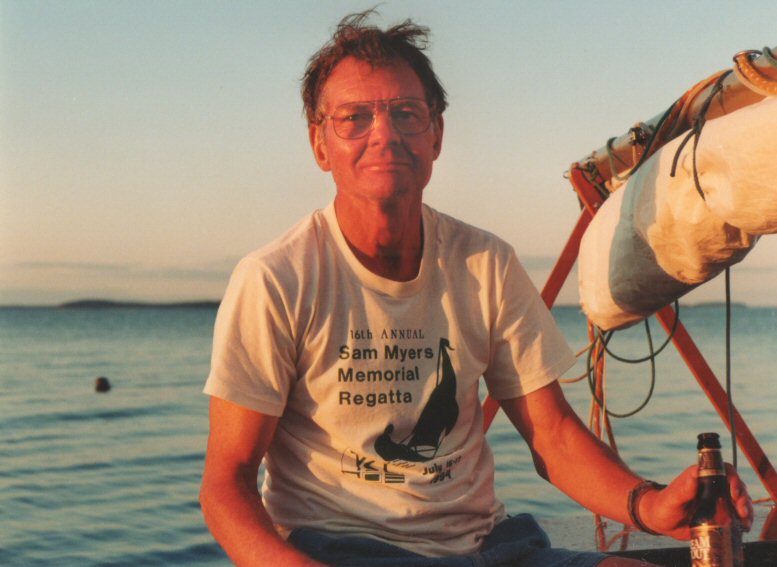 What a grand evening. The sea lies still and flat. To the west the setting sun, a glorious deep red, casts soft golden rays upon the surrounding land and water. Before me a bold, rounded top, spruce clad island meets the sea with large slabs and boulders of shiny granite, worn smooth from countless crashing waves. Enjoying the moment while savoring a bottle of my favorite Samuel Adams Stout, I finished cleaning up after dinner. Then, as the sun drops behind the island, I begin to feel the chill of a fast approaching clear, cool night. I also feel the stings of some hungry misquotes drifting out from Allen Island (below). It's time to get the boom tent up.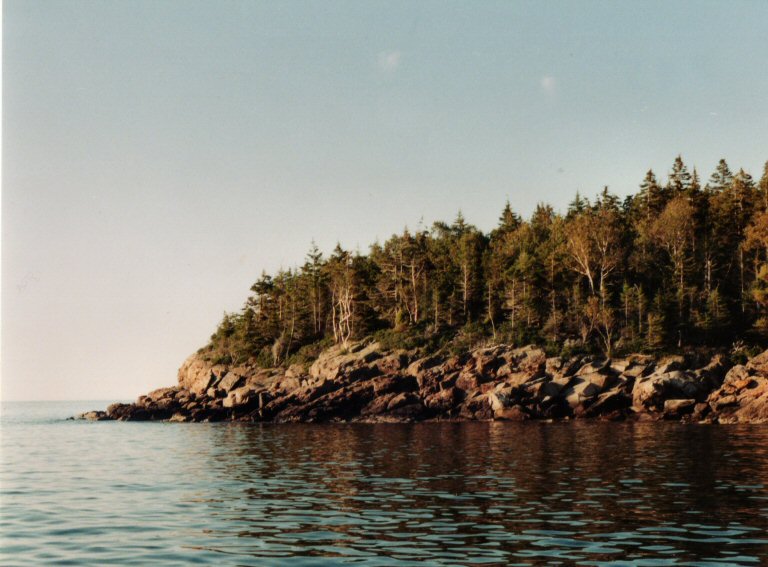 Despite all of this bliss I wasn't completely at ease. As experienced as I am at cruising I had, it seemed, imprudently anchored in a location that was exposed to potential weather from one direction, the northeast. In the light of day all had seemed fine. But as darkness approached uneasiness began to make itself felt. What if a northeast wind picked up during the night? This small archipelago, three islands in all, lies several miles out in Muscongus Bay. There is a long fetch in which a sea can build. I might have to move in the dark of the night. Since I rely solely upon wind or oars, and don't use a motor, that could prove difficult.





Earlier I had mistakenly passed by the proper and safe anchorage. It had appeared as a narrow inlet, choked with lobster pots and a lobsterman had been there pulling traps. Facing right up to the islander's dock and residence I had thought, no this can't be it, and had felt it more prudent to go around the point and between the two islands. There, tucked in close to a low bluff on Allen Island, I was in the calm of the island's lee and completely alone, except for a family of entertaining osprey. Now, however, lying in my bed inside the little cabin formed by the boom tent, I listened to the steady drum of tumbling surf on the other side of the island. As the sound seemed to get louder my concern became more acute.

Everything will be fine, the weather outlook is great, I told myself. But then another voice in my brain would say, "Sure, but this is the coast of Maine, things can change quickly here." All right! I would listen to the weather forecast. Switching on my new VHF radio I toggled to the weather channel. (Following my capsize on the Chesapeake, Shakespeare, the manufacturer, being unable to fix the old radio had replaced it with a new one.) There was the familiar "beep" followed by a handful of the usual introductory words. Then silence. The radio went totally dead! I was in shock.





I had checked the radio beforehand at home, then as suggested ran the battery all the way down in order to put a full charge on it. But it was definitely dead as a door nail. My "thorough" equipment checkout clearly had not been so good after all. One does not sail these waters without a radio, or at least a weather radio. (I'm sad to say that this was just the beginning of several of such problems.)



Nevertheless, common sense prevailing and being very tired, I slept soundly. Nothing bad happened that night. By 09:00 the next morning I was ready to weigh anchor. Guess what? You bet! A nice land breeze was beginning to blow out of the northeast and Blue Mist was starting to roll uncomfortably.


Port Clyde and a General Store
A real general store is a fascinating place. Most people I know find it difficult to pass one by without at least thinking of stopping to take a look. One of my favorites is the Port Clyde general store. Port Clyde is a busy place, being the major ferry terminal for travel from the mainland to remote Monhegan Island. This store fulfills the important job of catering to the many people who spend at least part of the year at residences on the many islands and other remote corners of Muscongus Bay, as well as the locals and fishermen. The parking lot for cars in front of the store is small, but the dinghy dock in back is large, although it is so busy in the summer with boats coming and going that one cannot tie up for too long. I at least needed a back-up weather radio and, if possible, try to charge my VHF again. Obviously something had gone wrong with my first attempt, so I didn't much trust it anymore. The Port Clyde general store seemed like my best bet.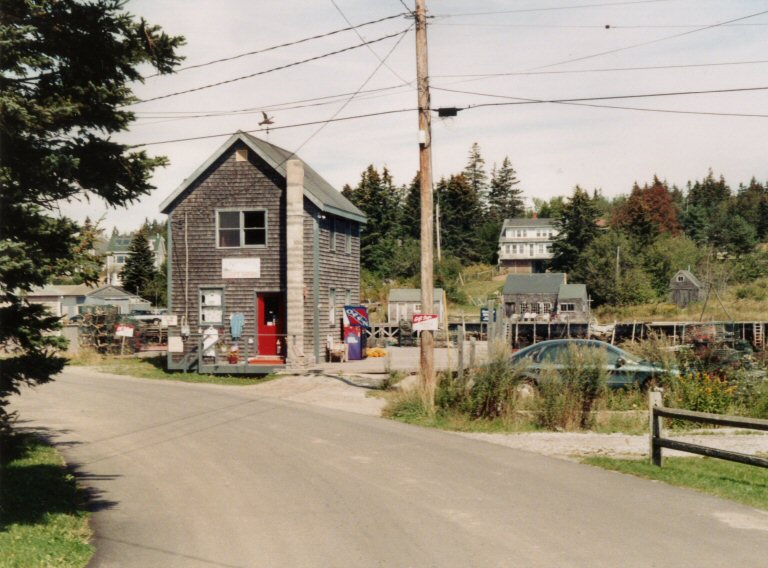 Port Clyde shops - larger image
here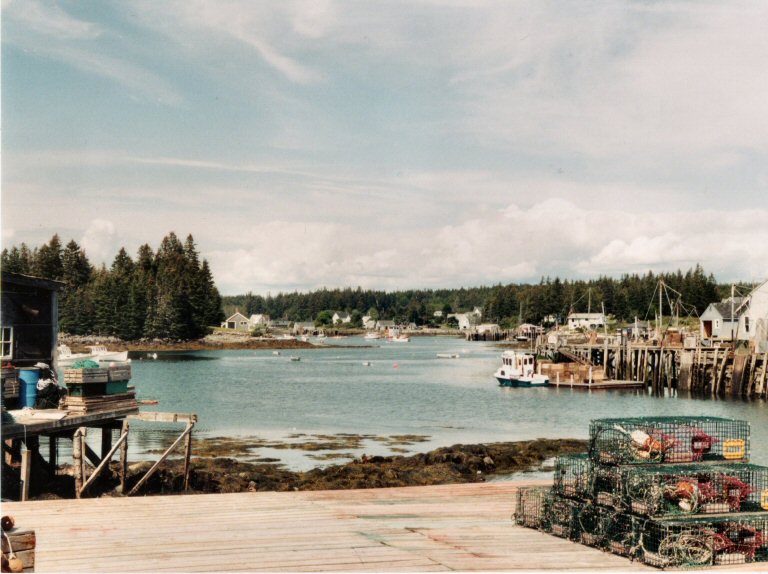 Port Clyde: Scenic view - larger image
here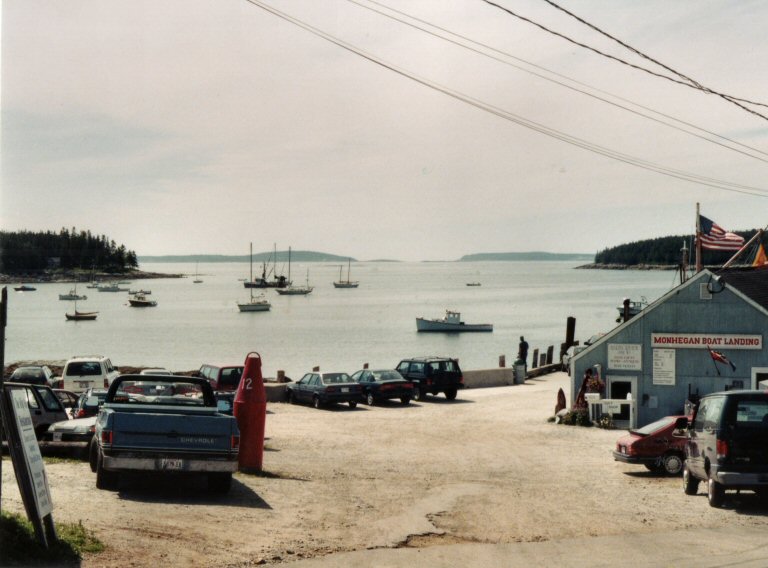 Port Clyde Ferry Dock - larger image
here
Alas, on this occasion I was to be disappointed. No radios of any form were to be had. In this town the general store was it, except for the usual two or three tourists gift shops. For the time being the best I could do was plug the VHF, with its portable charger which I always carry on board, into a wall outlet at the store; then go explore the town for a couple of hours. This would not be very satisfactory since it takes at least 12 hours to put on a full charge this way. (Upon returning home I discovered the problem to be with the charger jack, so this actually did no good.)

Several hours later, having gotten a little something at one of the tourists shops to bring home for Margie, as well as an updated forecast promising continuing fair weather for the next several days, I headed back out. It wasn't likely that I could do anything about the radio situation before reaching the much busier Boothbay Harbor. That was west of Pemaquid Point and a couple of days away.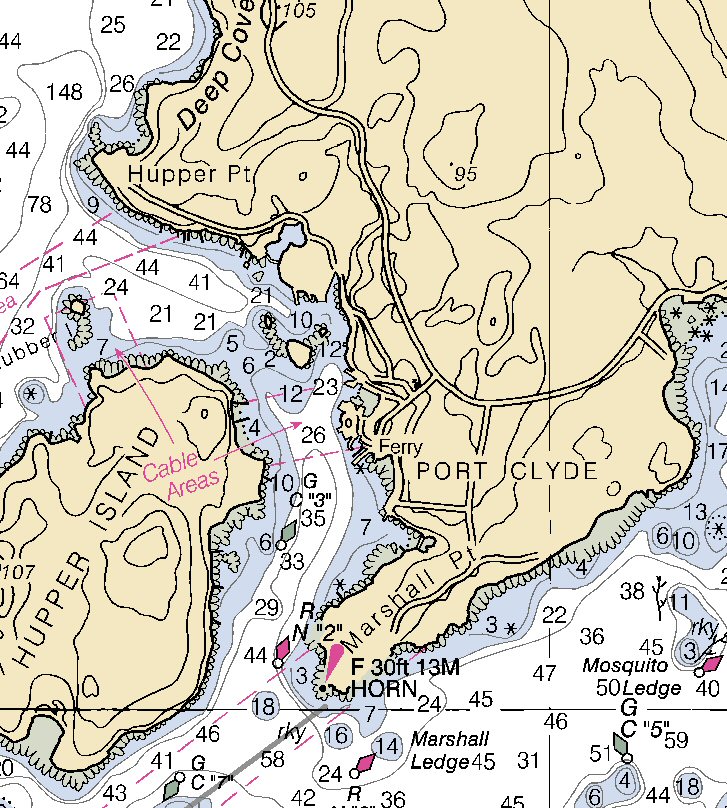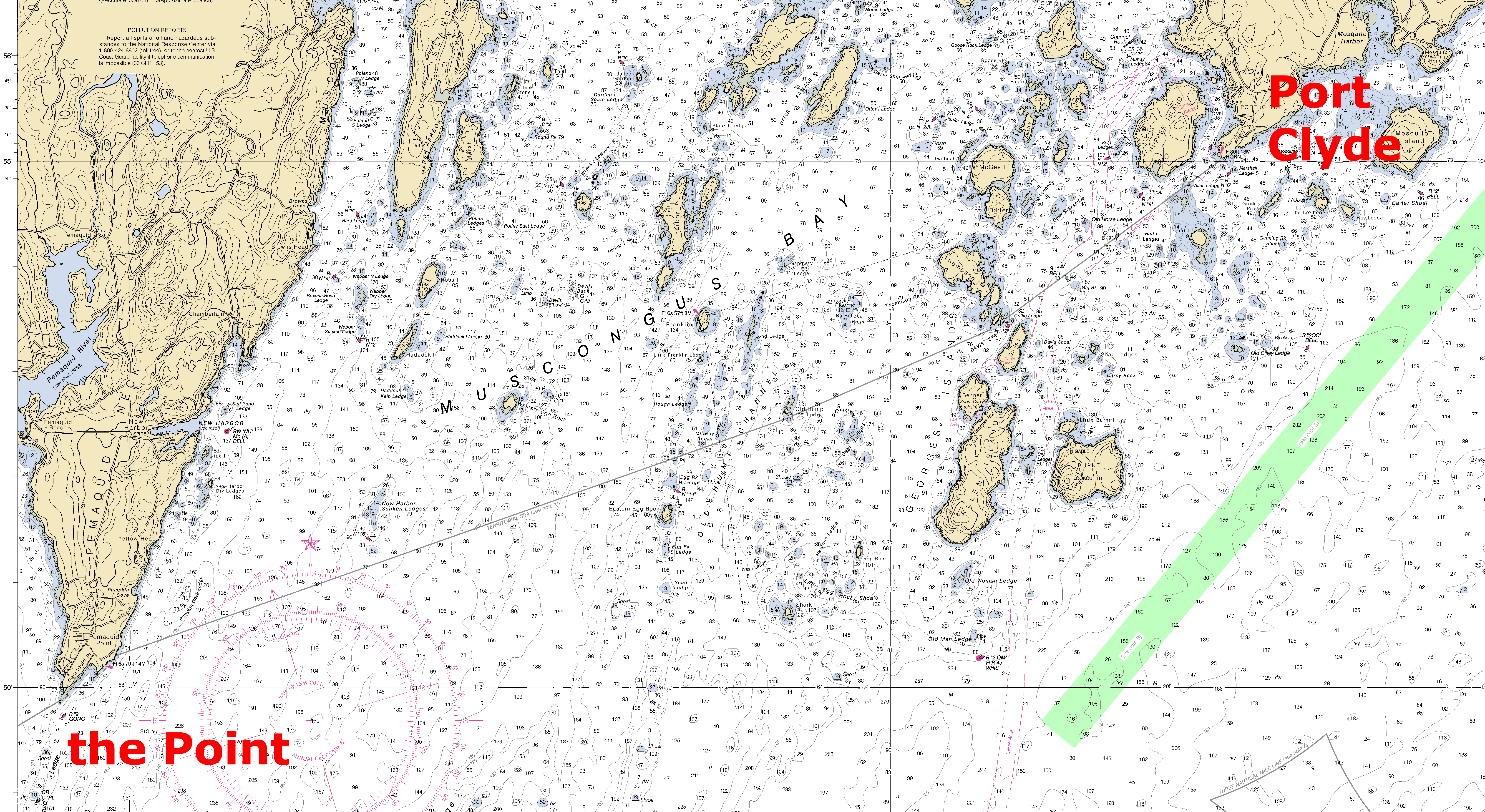 The morning's great breeze had gotten me to Port Clyde, a distance of about 4 n.m., in little time. I set out still hoping to round the Point. These hopes were soon dashed by a waning wind and adverse tide. Five miles out of Port Clyde, Blue Mist was barely making headway, drifting lazily on a tranquil, turquoise sea. The late summer sun, still fierce, bore down from a clear blue sky broken only by a few, wispy, white clouds. Pemaquid Point Light was a distant 10 nautical miles away, but less than a mile to starboard was lovely Harbor Island. It looked very inviting and a stroll along a deserted beach on such a gorgeous day seemed much more appealing than what I was doing. As if to signal his agreement, just off the starboard bow a porpoise briefly showed me his back.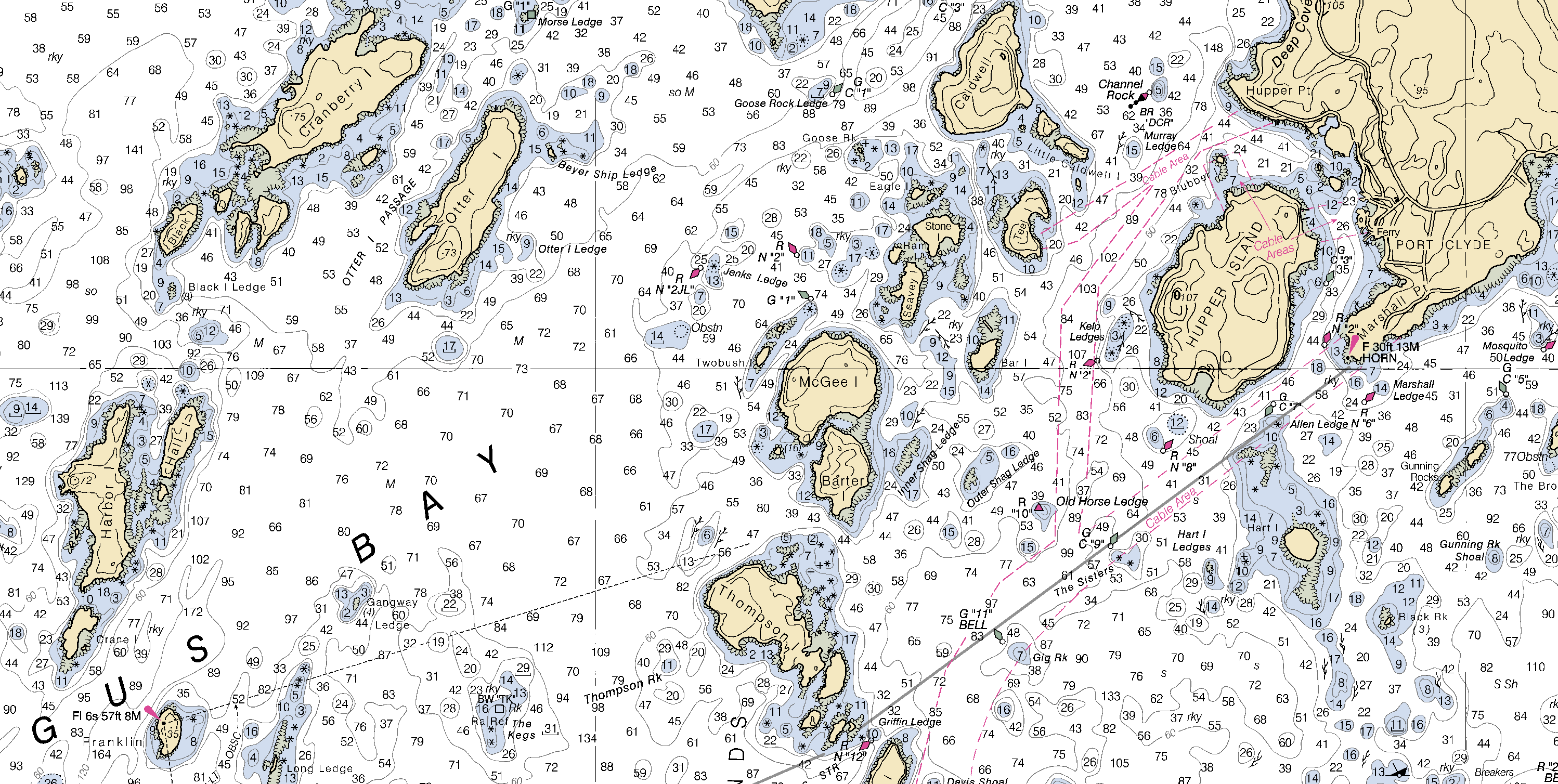 Harbor Island - an Island Paradise
I was cooking hamburger goulash (since the tide had been too far up to gather mussels) when a 16-foot skiff rounded the point and tied up to a nearby mooring. It was a much smaller craft than I had been expecting. The lone man then took the rowboat that had previously occupied the mooring and deftly sculled over to the steep, rocky embankment. There he pulled the boat up and out of the water. Nearly hidden in the shadows of the dense spruce trees were two small cabins. As the man approached the nearest cabin a shaggy dog appeared, offering welcoming barks and a wagging tail. While I ate dinner I watched as the islander went about the chores of fetching water and gathering fire wood. Later as dusk fell, I could see light from a gas lantern coming from one of the small cabin windows.

Taft mentions this sort of thing in his cruising guide. They are usually Lobstermen who live very primitively and privately on a few of the islands during the summer months. I had never thought I would witness it. What solitude and escape from the world this must be! I was impressed. Across the harbor was a much more imposing residence. It was poised to offer a grand overlooking view of the sea and islands, and had a neatly mowed lawn leading down a gentle slope to the water's edge. It occurred to me that this heavenly and peaceful place was no doubt paradise to all who lived here.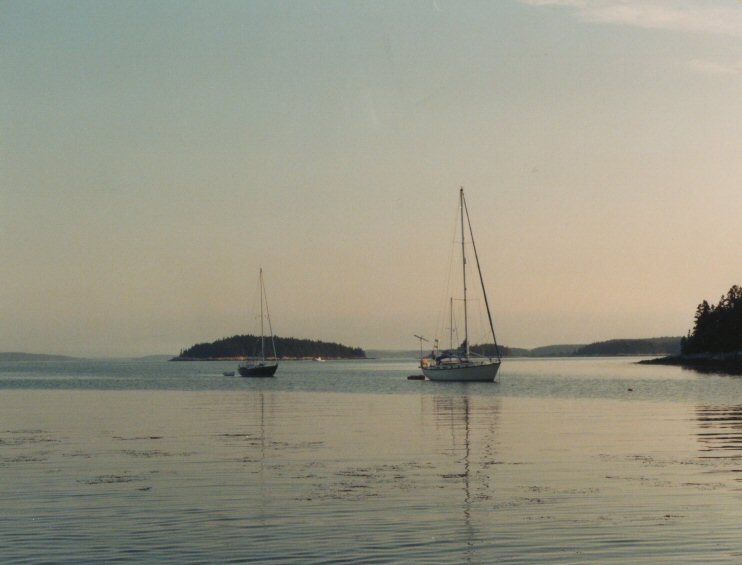 Harbor Island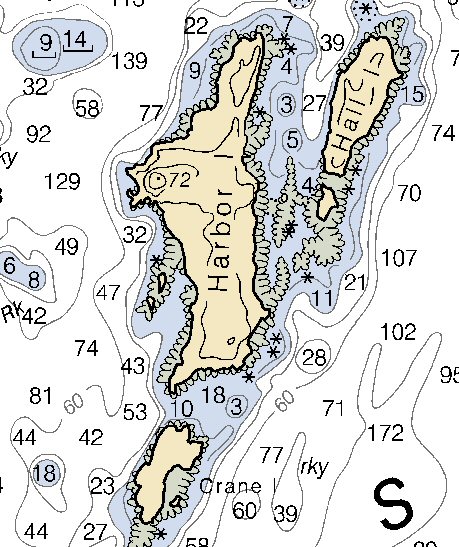 The Harbor Island anchorage is formed by Harbor Island and Hall Island. These are joined at the southern end, the direction from which the prevailing weather comes, by a narrow ledge of rock that is only a couple feet above sea level at full tide. The two land forms spread apart to the north, creating a gorgeous pie shaped harbor that is very well protected. Arriving midway on the flood tide I had sailed to the head of the harbor. There I found a nice exposed stretch of sandy beach and shells where I could anchor Blue Mist in the shallows (below). By later that day I had been joined by three other cruising yachts. Well away from the residences, I had an hour or more of fun exploring and getting in some photography before being forced to leave by the rising tide.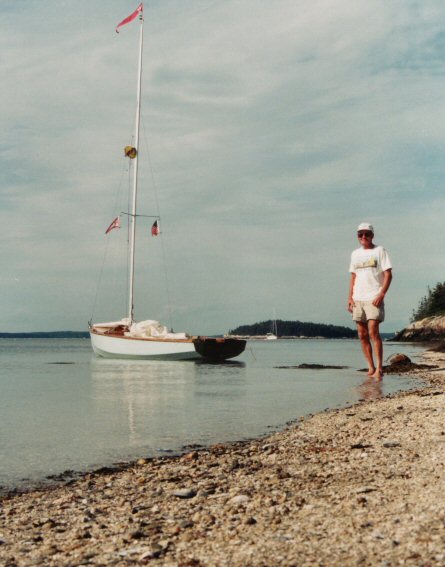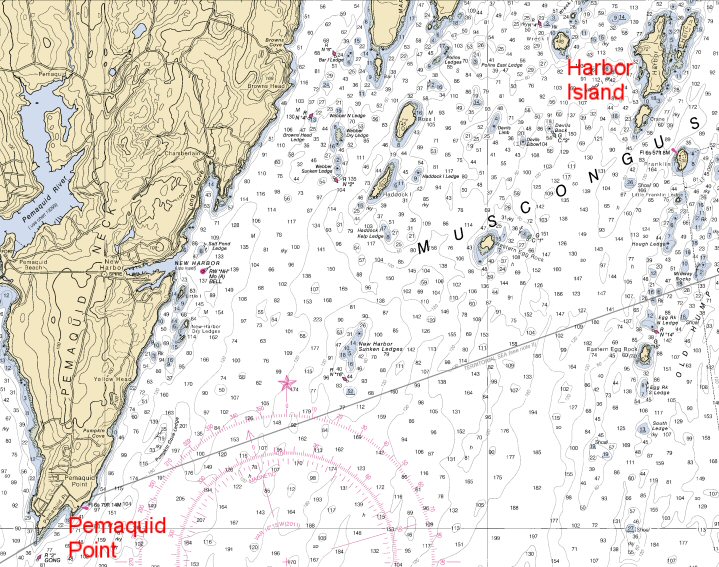 Colonial Pemaquid
It is Friday morning, September 4th. I am at the harbor of Colonial Pemaquid and have been sailing now four days, enjoying outstanding weather. Yesterday's rounding of Pemaquid Point (above), though interesting, was uneventful as the winds were quite light making sailing more work than fun. I am getting to see a part of the coast that I have not seen before, at least as seen from the sea that is. This region, being less of a driving distance from the east coast population centers, is noticeably more developed with an increasing number of houses. Just the same, it is different and fascinating and there is a lot I am anxious to explore.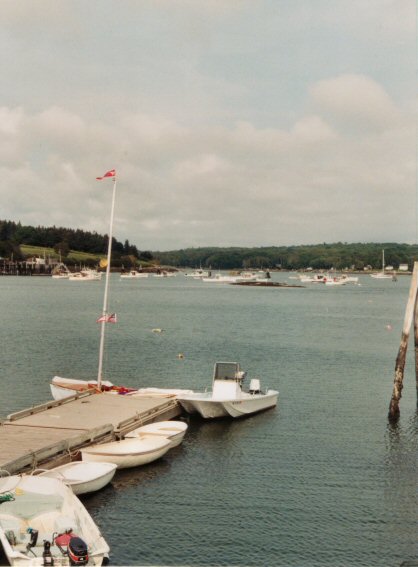 Colonial Pemaquid Harbor
Colonial Pemaquid is a Maine historic site and park. Besides a small museum and the park offices it consists of ruins and a reconstructed fortification, the great western tower of what was Fort William Henry. It dates back to the first settlers who arrived in the 1620's. This puts it among the few early new world settlements. Due to its unique and strategic location the settlement, though completely wiped out at least several times, enjoyed a long and varied history--first as a fortification of the British, then later the Americans. Finally, around the mid-18th century it was abandoned and forgotten until rediscovered in the late 19th century.

Places such as this make terrific cruising stops, especially for someone like me. Besides providing a welcomed break in the daily routine, the good facilities afford an opportunity to wash away several days of grime and salty crustaceans. The excellent harbor and picturesque surroundings make this a great place to visit.

Both yesterday and today there has been a threat of showers, however, nothing has developed. The rain so far has stayed to the northeast. Today's forecast is for clearing and partly sunny by late afternoon. Then surprise, a big change is in store for the weekend. A cold front with "breezy conditions", meaning lots of wind, and much cooler temperatures, is due to arrive. Well, I knew it couldn't hold forever!

Having dallied, listening to the stories of the park ranger who is an excellent story teller and who didn't care that he had an audience of just three (all cruising folks), it took me a bit longer than usual to get ready. It wasn't until 1100 hours that I departed. The wind was nice, and on land the sun shone brightly. But out on the bay thick, puffy, white patches of fog drifted with the breeze. Next stop--busy Boothbay Harbor, for a weather radio shopping trip.


Just a Little Patchy Fog
The wonderful thing about Maine's coast is its incredible variety. The land formations in this, the central region, are much different from the sandy beaches of southern Maine, the flatter Penobscot Bay region, the mountains around Mount Desert Island, or the down-east coast. Here, many high, long, north-south rocky ridges jut far out into the sea like gigantic fingers. This makes for a multitude of long, narrow bays and sounds. There are many prominent points to be navigated and, as always on Maine's coast, lots of intriguing islands. Eons ago major geodetic forces combined to crinkle the rugged granite of this region until the rock layers stood on end, forming numerous parallel, tall ridges. Then at a much later period, the weight of the great continental glacial ice rounded down these ridges and depressed the land. When the glacial ice receded it left behind the sunken coast of today. It also gave us the two great rivers, the Kennebec and the Sheepscot, that flow to the sea along this part of the coast. As anyone can imagine, this coast is wonderfully interesting to cruise and affords many excellent, well protected harbors.

To sail west or east means that most of the time these long points have to be rounded, making for lengthy, although enjoyable, passages. Once in a while, however, there will be a break in the promontories which affords a short cut. Many of these short cuts are narrow passages and are commonly referred to as a "gut". The tidal currents through these guts can be strong, requiring careful passage timing for someone in a small sailboat.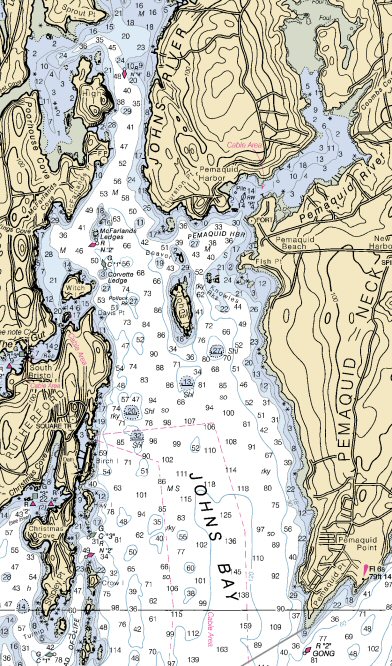 It was the start of the holiday weekend. As I headed into Johns Bay I could see a couple across the way in a small, pretty, gaff rigged day-sailer who were also about to go out to enjoy the pleasant breeze. It all seemed very fitting. My plan was to make a beat south down the Bay, go outside Thrumcap Island and then turn west for Fisherman Island Passage off of Linekin Neck
(see chart below)
. Boothbay Harbor was just a short run north-northeast from there, the total trip being under 11 n.m. I didn't envision the patchy fog presenting any big problem.
I had thought about taking a narrow passage on the east side of Johns Bay. It runs inside a string of rocky ledges and Shipley Point. The channel is buoyed and would provide a sizable short cut. The unusual name of this small channel, "Thread of Life", had caught my fancy. However, being afraid that it might be too narrow, I decided to go the long way around.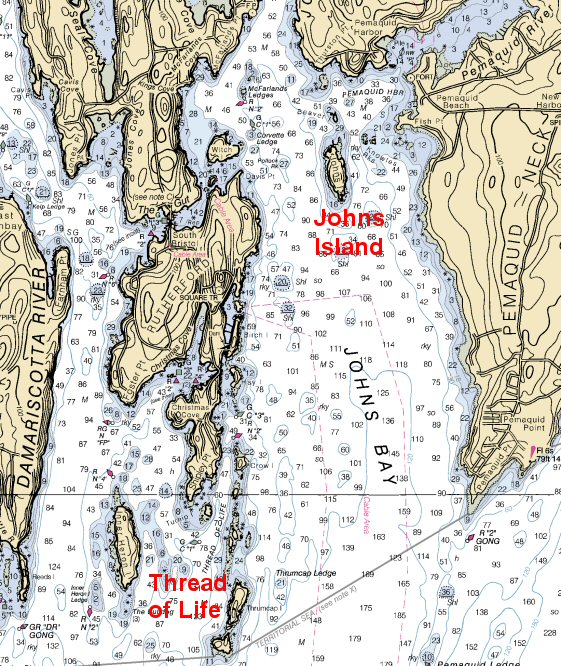 Close-hauled, I cut behind Johns Island and smack into the thick white stuff. My bright, sunny world turned instantly gloomy and damp. One minute I had known where I was, now I was lost in the soup. The fog was thicker and much less patchy than I had expected. Having had plenty of practice sailing in the fog, sometimes with good results and others with less success, I have learned a couple of things. One is not to attempt beating to windward (i.e. tacking back and forth) in dense fog in waters like these with only a compass as a guide, and expect to end up at the desired destination. So, now I hove to and reached for the GPS and chart.

Though having been sailing for several days already, this was the first time I bothered to get that little magical instrument out of its case. I had not taken the time to power it up to acquire a position or input waypoints or routes. Well guess what? That's right! It too was a dead duck, just like the radio. Try as I would, I couldn't det it to power up. I could hardly believe what was happening to all my electronic equipment. Again, as with the radio, I had powered up the GPS before leaving home and it had worked fine. Because it too had taken a dunking in the Chesapeake, I had even removed the batteries to make sure there was no corrosion. The batteries had been nice and clean and, since they were practically new, I had put them back in. But GPSs are known to eat up batteries (for this reason I always carry spares) and all I could conclude was that the batteries were dead. What I would discover later, upon arriving at Boothbay, was that I had gotten confused and reinstalled the old batteries upside down. (This still wasn't the end to my gear problem hangover from my earlier capsize.)

Much different than with inland lakes, sailing in the fog here doesn't always mean experiencing light winds. On this occasion I enjoyed a nice, steady breeze of about 10 knots. The problem was that it was out of the south. Had I been able to reach or run, navigating would have presented much less of a concern. In past situations I have had impressive luck sailing in fog just by compass and dead reckoning. With the help of a GPS, held in the hand or propped on a mount where it is easy to see, sailing in the fog can be an enjoyable experience. The hushed sounds and nearness of the sea and sky imparts a sense of solitude and peace. Often, seals will allow you to approach much closer than usual and will surprise you by suddenly popping up a head right next to the boat. If I'm feeling comfortable with my navigation, I enjoy this kind of sailing.

There was no alternative. I was going to have to make a series of tacks down the Bay and estimate my track as best I could. I had to hope for an occasional break in the fog that would let me recognize some distinguishable landmark. Being completely unfamiliar with the area, the only good aid I could count on recognizing was the buoy marking the entrance to Thread of Life. Beyond that it would be a long way around Thrumcap Island with nothing to navigate by. In my struggle, I revisited the idea of taking the Thread of Life. It was a good short cut, well buoyed and narrow enough to keep me from getting lost. If the fog didn't clear, it would be a much safer route. From the best guess of my position the buoy was about 2 n.m. away. I would try for the buoy. Quickly I estimated
Blue Mist
's speed, the number of tacks and the time it would take. Then I started my stop watch. I would need to be lucky!
It should be about time! I had made several tacks, running blind, close-hauled, until a glimpse of a rocky shore emerging from the fog told me to come about. Breaks in the fog had been few. But now, being in the wider portion of the Bay, I was having to time the length of my tacks. I had been on a port tack sailing toward the rocky east shore for what seemed like a long time. If I had done things right, the Thread of Life buoy should be close by. But, this was a treacherous spot, laced with submerged ledges and rocks. If I missed, I would have very little idea of where I was in relation to danger. A few more anxious moments passed by and then, "bless the Lord", there was a small break in the fog. Less than a hundred yards to port I saw sharp, ugly rocks and a nasty surf--and just a bit out from that, a large, beautiful buoy. Yes, I was lucky!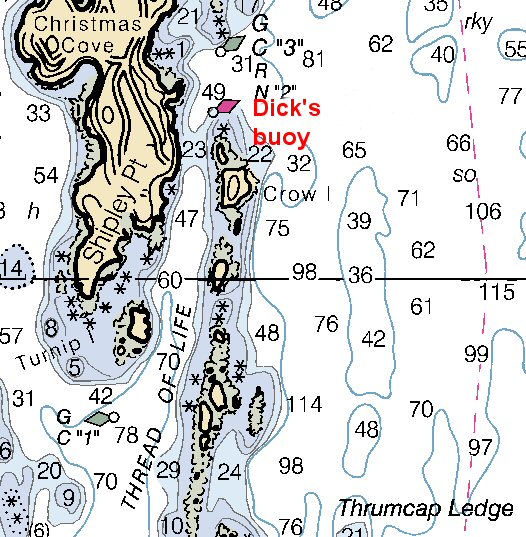 "I saw sharp, ugly rocks and a nasty surf--and ... a large, beautiful buoy."
The Rescue
"Help my diver!" I was so busy congratulating myself on my recent success that the man's shout didn't register immediately. Then it dawned upon me. But where had that voice come from? Again the cry--"Get my diver!" Ah, there he was, standing and waving from a small, beat-up, outboard fishing boat, a couple hundred yards up the channel. I had just cleared the rocks at the entrance to Thread of Life. Having been engulfed in the solitude of the fog for the past hour, it had startled me to suddenly come upon someone. Now I saw the diver. He was on the surface less than 30 yards off my beam. In his black diving suit he looked like a seal wearing a mask and snorkel. It would have been easy to have sailed right on by him even though he was trailed by a small float. With that distinctive, high pitched whistle of compressed air passing though a regulator he sucked one more breath from the tanks. I luffed Blue Mist's sails, then yelled over in my loudest voice, "Are you all right?" Having done some diving myself in my younger days, I know to ask first. It seemed that he nodded his head indicating he was OK. I was about to start off again, but something told me to try one more time. "Do you need help?" I again yelled. This time the reply was an unmistakable "yes!" His air tanks were empty! Now I understood. The tide was running strong through this narrow channel taking him away from his partner. He had no chance of making it back to the boat on his own.

When earlier in the summer, I capsized in a freak thunderstorm on Chesapeake Bay, the always courteous and helpful Chesapeake Watermen had come to my rescue. Now it was my chance to reciprocate. The thought that I, in a small 16-foot boat, might actually be saving someone's life sent a thrill through me. Moving quickly, I put Blue Mist about in order to drop down wind of the diver. From there I would luff up and take the fellow alongside my lee rail. It was probably a good plan, except that I forgot the line and float that he was trailing. Blue Mist's centerboard did not however. Too late I saw what was about to happen. All I could do was pull the centerboard up, clear the rudder, and sail on by. I was supposed to be saving this man, not trying to drown him.

The second attempt went much better, however. I was elated. My new-found passenger was equally pleased to be on board. Once he had handed over his weight belt, which weighed about 40 pounds, and the now useless air tanks, he scrambled over the side quite nimbly. He had been diving for sea urchins and had a large gunny sack that was nearly full. "First time I've been tended to by a sailboat," he said to me with a big grin. I grinned back and welcomed him aboard. A few minutes and short tacks later, we were alongside his boat. "The motor won't start and I didn't dare pull up the anchor in this current!", were the first words from his comrade, whose job it was to keep track of the diver. From the looks of things it was pretty apparent to me that this was a shoestring operation. The motor was old and beat up and missing its protective cowling. Just the same my diver friend proceeded to lambaste his mate, professing it to be in fine working shape. Claiming they would be OK and were no longer in need of my help, with an appreciative thanks, he and his gear switched boats. "Thanks for the sailing lessons," he offered with another big grin, as I continued on my way. Here, on water that was less protected, the fog was beginning to break up.

Townsend Gut
On several different occasions Margie and I have vacationed on Maine's coast. We would stay at Bed & Breakfasts and Margie would drag me through all the gift shops in town. Then I would prevail and get her to go on a whale watching excursion, or maybe take a short trip on one of the multitude of windjammers that reside in many of the larger harbors (all of which, I must confess, she enjoys equally as much as I). But even in the highly touted tourist Meccas such as Boothbay Harbor, the kind of place that makes my sweetheart happiest, I can still find much that fascinates me.

I sailed into teeming Boothbay Harbor, taking care to dodge the wakes of several large hurrying excursion boats, while at the same time making sure to pay proper respect to my fellow sailing folk--those in the glistening million-dollar yachts that crammed this anchorage, by dropping beneath their counter and never across their bows.

Somehow, despite this mayhem, I managed to find the town dock, which of course being Boothbay was bigger than any other town dock I have seen, but surprisingly was practically deserted. Here I was, in one heck of a busy harbor with shops and stores galore, but try to find a boating store or chandler. At last a clerk in the hardware store directed me to the local Radio Shack, which was another two miles outside of town. It was worth the walk because once there I had a fabulous choice of several inexpensive weather radios. This time I made doubly sure the radio worked before leaving the store.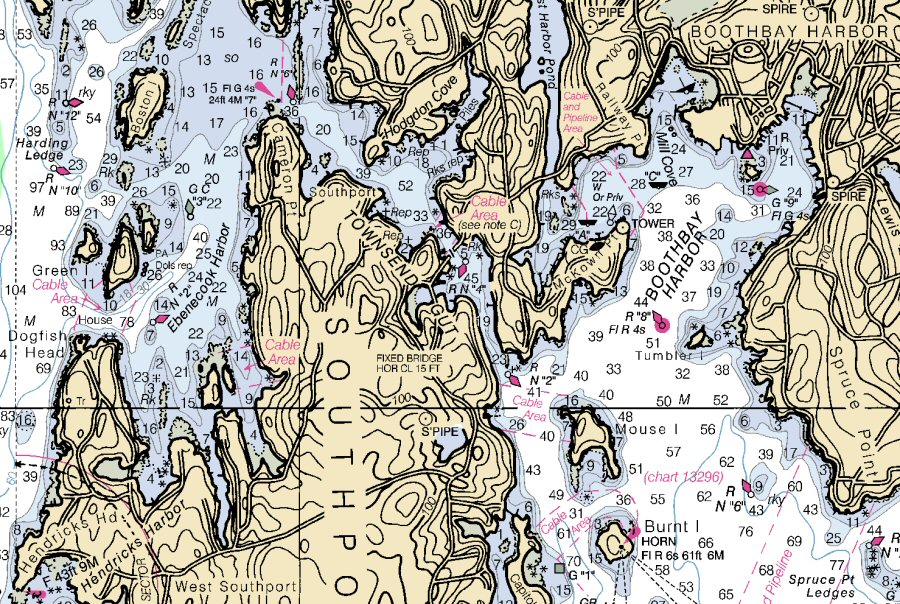 "I was headed for quieter Ebenecook Harbor ..."




With the radio ($30), new GPS batteries (by now I had discovered my error, but I put the new batteries in anyway), and some goodies to munch on, I declared the mission a success. My efforts to reach Margie were disappointing, although I did manage to leave a voice mail since I couldn't wait around any longer for her to get home from work. As Blue Mist glided away from the floating dock, the bells in a nearby church tower tolled 1800 hours. But Boothbay Harbor was not the place for me and my boat. I was headed for quieter Ebenecook Harbor on the west side of Southport Island. The route for getting there was via Townsend Gut.

A large windjammer schooner, out for a sunset cruise, was a half mile in front of me on the bay. A whisper of a wind barely filled its sails and I was slowly gaining on her. Paying insufficient attention to my navigation I sailed past the head of Mouse Island, where I should have turned, and had to backtrack by cutting between Mouse and Burnt Islands. This was a costly mistake as now the little wind remaining was being blocked by the islands. Fortunately the entrance to Townsend Gut was dead ahead and, due mostly to an assist from the flooding tide, it slowly grew nearer.





Did I plan it this way? I have to assume I did, but I don't really remember. As Blue Mist entered the Gut, the current picked up and moved us along at a remarkable rate--maybe as much as 4 or 5 knots. Who needed wind? It was like running down a swift stream in a canoe. I got the oars out and put the rowlocks into their sockets in case I should need them to maneuver. In light air it is no trouble to sail with the oars in place on the side decks, kept from falling out by sliding the handles forward and inside the shrouds. After a spell, the waterway widened out with some bays running off to the sides. Now I put the oars to use in order to keep up good speed. Coming up was the bridge.





In retrospect I may have assumed I could clear the bridge, although the chart shows only a 10-foot vertical clearance. Looking from below it was obvious my mast wouldn't clear. This close to Boothbay, there was a steady stream of traffic going over the bridge. It was a large swing bridge. Would they open up for little me? Did I need to radio them? (If it did work, I didn't want to use my radio for this purpose.) Contemplating my strategy I swung Blue Mist around, bow into the current, and rowed against it to slow my rate of approach. Then, after only a minute or two, I saw a man exit the bridge house. Waving to me he shouted, "Do you want to pass through?" What a terrific welcome that was! No formalities. No hassle. In another minute or two the road gates came down and the bridge was swinging for me in a 16-foot sailboat. The traffic on both sides was rapidly stacking up in a long line. I was thrilled. As I hurriedly slipped through the gap the jovial bridge tender asked for the name of my boat and port o' call--he had never opened for such a small vessel before. I was very flattered by this kind gentleman. He had made me feel just as important as any other boat around. Simple as it was, I will always remember the thrill of that occasion.





The last amber rays of the setting sun were rapidly fading. It would be a pleasant late summer evening--but not without a few pesky mosquitoes to help bring a wayward sailor down to earth. The tide nearing full height and the waterway broadening as I approached the east end of the gut, combined to reduce the current to practically nothing. Occasionally a breath of air would come along, giving me a short respite from rowing, which wouldn't have been so bad if it hadn't been for the mosquitoes. The still water and virtually no wind created a quiet, peaceful scene. I switched on the masthead light as several boats had recently passed by and it was getting too dark not to be lit in such a busy channel. Ruefully I wished I had departed Boothbay a little sooner. About a half a mile ahead was the flashing green beacon marking the west entrance to Townsend Gut. It was time to take a break and study the chart one more time.





Love Cove on a Windy Day

Ebenecook Harbor is a fairly large bay which abuts the Sheepscot River. For a small boat it doesn't offer a lot of protection, especially when Saturday's forecast was predicting the arrival of a mass of cool, Canadian air with winds of 15 to 25 knots from the northwest and gusts even higher. Where I wanted to be was at small, safe Love Cove down on the southern end of Ebenecook Harbor. Unfortunately this was another mile and a half south from the green beacon. By now it was getting pretty dark and difficult to distinguish features of the nearby land. A look at the chart would be helpful.



Certainly one should not make a habit of floundering around in the dark looking for an anchorage in strange waters -- waters that are subject to large tides and nasty rocks as well as other hazards. But even the best of sailors are going to get caught now and then. With conditions being so pleasant I was more annoyed than worried. However, when neither of my two flashlights would work, rendering it impossible to read the chart, I suspect that a string of profanity may have ensued. Both lights were supposed to be waterproof and I had believed them to be working. Opening the big spot revealed a rusty muck. It was useless until I could dismantle it and give it a good cleaning. My other light, a combination strobe/flashlight that attaches to a life jacket, also refused to work. It uses "AA" batteries and is too complicated to disassemble in the dark. Two more casualties of my Chesapeake misadventure! How had these slipped through my inspection! Rummaging around the rear compartment in the dark I came up with my last resort -- a tiny penlight that I keep in my toiletry bag for times when just a little light is all I need. It wasn't waterproof, but it worked.

In semi-darkness I rowed for another hour on a placid sea that mirrored the light of the nearly full moon, ducking in and out behind puffy clouds. It was high tide and the shore was hidden in shadows. Still on the outside, but thinking that I was closer to the little cove than I really was, I decided to anchor rather than risk being too close to some hidden rocks. It didn't seem to be a particularly bad spot, but the fetch from the northwest was probably three-quarters of a mile. Dinner that night consisted of a can of sardines and fresh French bread from Boothbay. Exhausted and lying in my sleeping bag about to doze off, I heard some loud splashing from nearby seals. They are probably expressing their objections to me being in their place, I thought to myself. This couldn't be all that bad of a spot!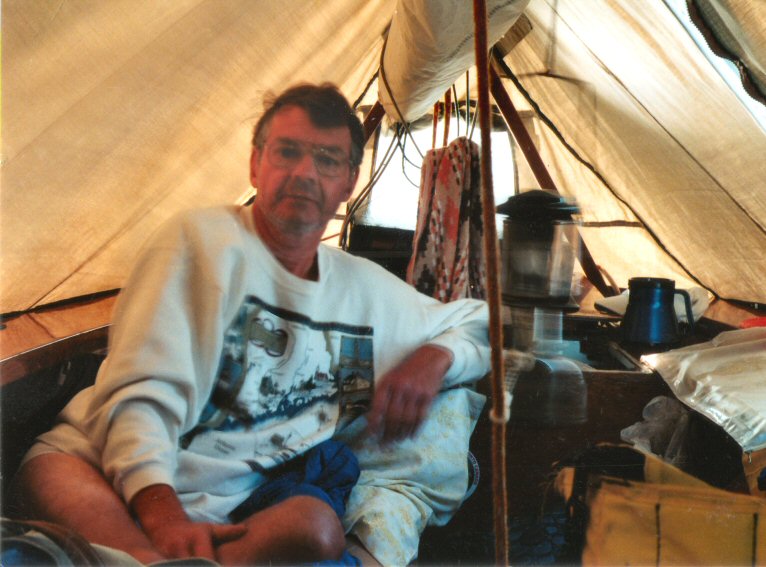 Inside the boom tent
Saturday, September 5th I didn't wake up until 08:00 as it was after midnight when I turned in. A look out the side flap revealed bright sunshine and a flat sea. I made a big breakfast of instant oatmeal, V-8 juice, a mixture of coffee and cocoa, and canned peaches to make up for the light dinner last night. I had been on the right track the night before, but had not gone far enough. Love Cove was about 1/8 of a mile away.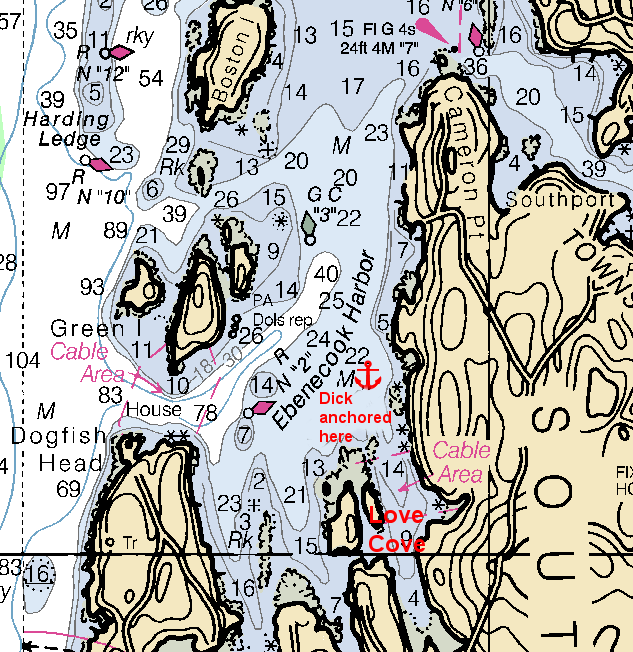 A light breeze had sprung up and as I cleaned up and put stuff away I became aware that it was already getting gusty. Half an hour later, by the time everything was stowed, the waves were running 1-1/2 to 2 feet with whitecaps. The task of working about the Wayfarer was getting uncomfortable and heavy wind gusts were whipping across the open water causing Blue Mist to shear about. It was time to get out of there. (The wind gusts were later reported to be attaining 30 knots.)

It was decision time--where to go and by what means do I get there? My original plan of visiting picturesque Love Cove, then sailing across the Sheepscot River to Five Islands harbor on the west side, was questionable. I felt that I should just find a safe place and stay there. Love Cove was close. One option would be to leave the sails off and row downwind to the cove, but I've always been against the idea of leaving myself vulnerable like that. If I should get into a bad spot and need to get away, sailing, not rowing, is the only solution. Furthermore, according to Taft, there were no facilities or means of going ashore at Love Cove. That could lead to a long, boring day on the end of an anchor line. On the other hand, Five Islands was only about 3 miles away and offered several attractions. Since I had decided to sail, I figured I might as well head there.

For the first time in my sailing life I hoisted a double reefed mainsail. Boy, did it feel good to be able to do that! Also, for the first time, Blue Mist, surging with the waves on a shortened anchor line, yanked the big Bruce anchor right out of the mud! Actually this was a blessing as it reduced my time spent forward retrieving the anchor, minimizing the chance of a capsize. Raising or lowering the anchor with sails on in windy conditions is always unnerving for me. On this occasion I brought so much kelp aboard from dragging the anchor that I was cleaning up seaweed for much of the remainder of the cruise.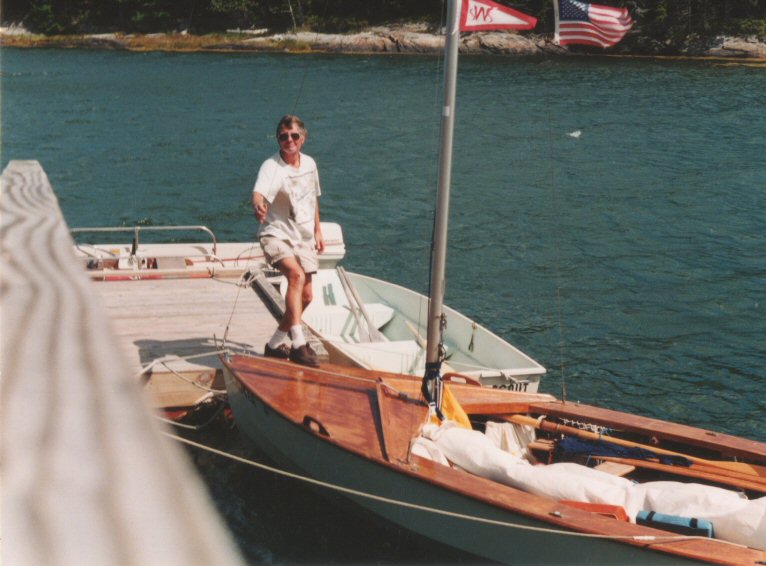 Deserted dock at Love Cove
Even with just the small double reefed main the gusts were knocking me so hard that I was having to let the mainsheet fly. My heart was in my throat--one mistake was all it would take. Still ahead was the prospect of beating through the gap between Green Island and the rocks off Dog Fish Head, then crossing the mile-wide Sheepscot which was flecked with whitecaps. It was too risky. I turned tail for Love Cove.

Love Cove, though narrow, is quite a long and pleasant, peaceful little harbor. Thanks to the local Harbor Master, it even offers a permanent guest mooring--not a bad idea since there are underwater power cables crossing. Not knowing where the cables crossed had been another one of my concerns the night before. Inside the cove sailing conditions were immensely calmer. Finding a small, deserted dinghy dock with no house nearby, I took a chance and tied up. This, it turned out, was a dock and parking place for people with island cottages. I bumped into a nice guy who was kind enough to let me stay for a couple of hours. It is a pretty, wooded location and, being in a mood to take a break from sailing, I thoroughly enjoyed a walk along the deserted forest road that skirts the cove.

Nevertheless I couldn't leave my boat for long as the tide was ebbing fast and exposing rocks below. When the next cottage owner arrived, a woman who more or less ordered me off, I had no choice but to go. To be fair, she was in the right--my boat was too large for the tiny float and the waves running down the cove were bouncing the Wayfarer enough to put a strain on the dock's moorings. Fortunately, it seemed that in the couple of hours since arriving, the intensity of the wind gusts had abated slightly. I thought it worth one more try for Five Islands.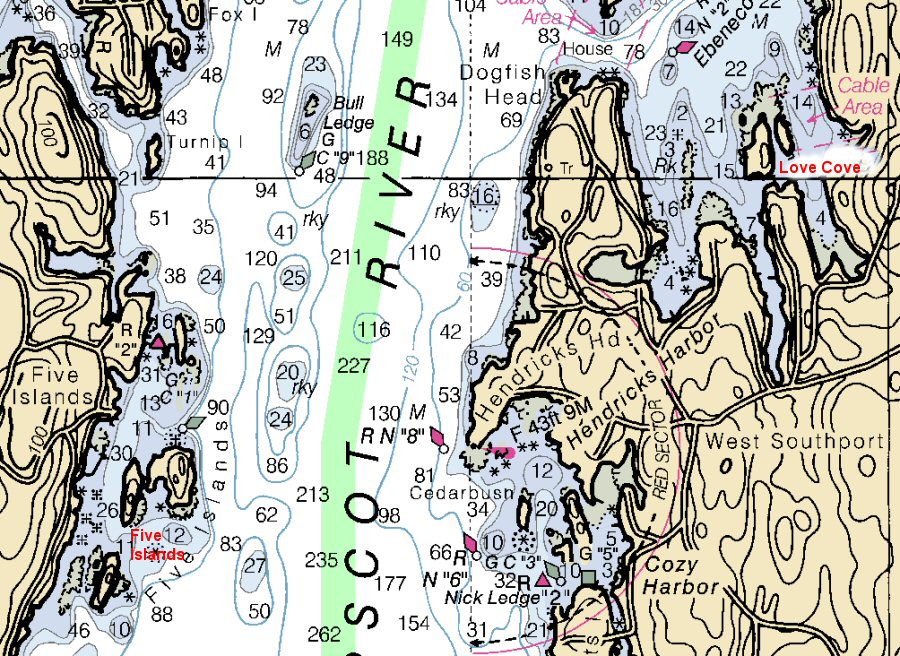 Though this second attempt was still hair raising and very wet, I was able to manage the gusts and arrived without mishap. This was probably my most daring sailing experience to date--although compared to some of the feats of my British friends, it was no big deal. I'm sure the fact that the tide, as well as the current in the Sheepscot River, were running with the wind helped considerably. Had it been the opposite, the dreaded steep waves of wind against tide, it is doubtful I could have managed it.


Whale to Starboard!
The crossing from Love Cove to Five Islands was just a short sail, but the experience and added confidence I gained were well worth it. On the following day, when I had some distance to cover and the wind would still be honking with seas much bigger, I would feel comfortable. The self-confidence gained from experience is what ultimately makes sailing enjoyable.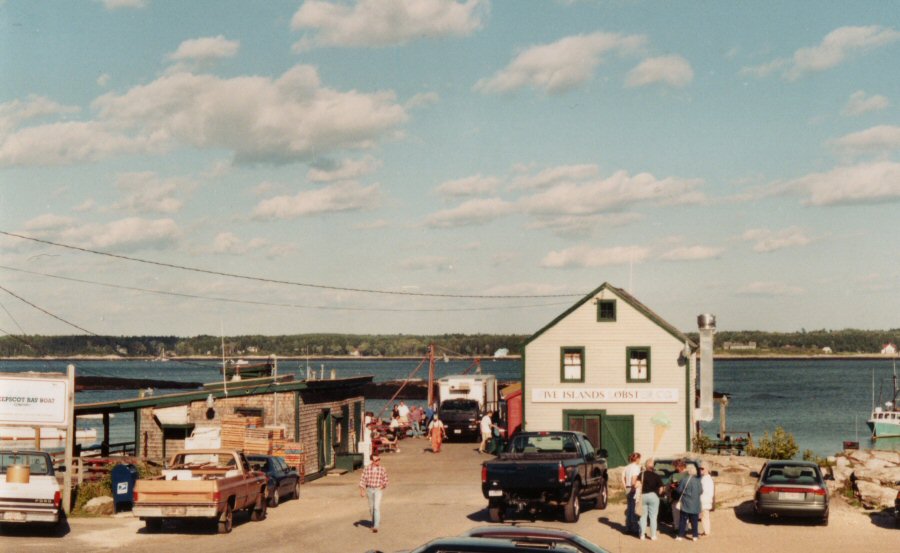 Five Islands wharf - larger image
here
Five Islands is a gorgeous harbor. It is formed by a group of islands situated on the west side of the river. This is a small summer-resident and fishing community. On the large wharf there are not one, but three, small but terrific food shops--a lobster pound, where you can get fresh steamed lobsters; a fried clam and fish shop; and an ice cream shop. One orders dinner, then goes to one of several wooden picnic tables scattered about the wharf, protected from the sun or rain by brightly colored umbrellas. This was absolutely grand (it never entered my mind to think about cooking) and when I talked by phone to Margie I know she was more than envious. This was how it used to be when I was a youngster and vacationing in Maine with my parents. (Except for the prices, that is--Maine fishermen are no longer poor!) This is the only way to really enjoy Maine seafood, but you won't find anything like it along the busy Route 1 tourist coastal road.

On this day there would be some added excitement. Unknowingly, I had arrived on the first day of the tuna fishing season and, lo and behold, while savoring a large plate of delicious fried clams and chips, I noticed a crowd was gathering at the end of the pier. Below, there was a fishing boat backing up to the wharf with a gigantic tuna lying across the aft end of the boat's cockpit. What a marvelous creature it was! I couldn't help feeling pity for the fish, yet at the same time I was happy for the fishermen. No doubt there had been a major battle between the tuna and fishermen, with no certainty as to the final outcome right up to the end. (The Atlantic tuna catch is closely regulated and the fish can only be caught by trolling with sporting type rod and tackle, during a short season.) For the better part of an hour we watched as the big fish was laboriously hoisted from the boat into a refrigerated truck which had come rushing down the wharf. The truck was barely big enough to hold the catch. It was obvious from the excited talk and the grins on the fishermen's faces that this fish was quite a prize and not an every day event.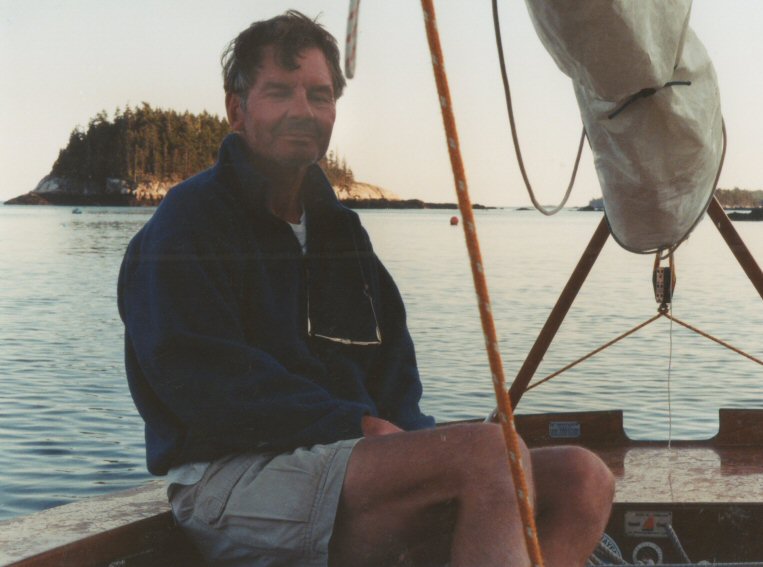 Five Islands harbor
Sunday, September 6th Another bright sunny morning, with a cloudless sky and a breeze that made only small ripples on the water. I had anchored among several small boats near shore. Finding an open spot big enough for the Wayfarer to swing in had taken some searching around. The night had been pleasant, but cool. After my usual quick breakfast that only requires boiling water, I washed up in a bucket then made a trip ashore to replenish my water supply. It was getting gusty again. The forecast was a repeat of the day before, 15 to 25 knots with higher gusts, except this time from the southwest. What fantastic luck I'd had! For almost a week now the weather had been nearly perfect. That would soon change. By Monday afternoon rain, drizzle and fog were due to arrive and then persist for the next several days. It was time to turn back in the direction of home port. Once again under a double reefed main, but also with the small jib set, I headed Blue Mist south down the wide Sheepscot River. This time, instead of taking the short cuts, I would sail around the outside, ending up at "The Gut" (town of South Bristol) on the Damariscotta River. It was an easy sail of just under 12 n.m.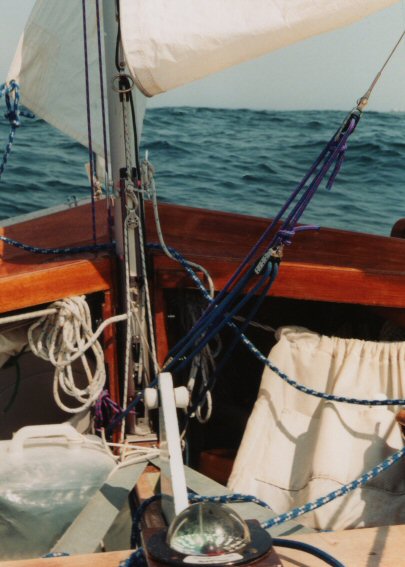 Off Cape Newagen
It is the presence of land that causes winds to be gusty. Once I was beyond a half mile from land, the strength of the wind gusts diminished considerably. I was enjoying an exhilarating sail in the big seas running up from the open ocean. By the time I was abreast of Cape Newagen at the southern tip of Southport Island, the waves were on the order of 4 to 5 feet, with a ground swell of 6 to 7 feet. This was very thrilling to me as I never get to sail in seas like this on the Great Lakes. (Lake Superior will develop large, ocean-like waves, but Lake Erie, even though it can get extremely rough and dangerous, has waves that are short and steep.)

Beyond Cape Newagen and having come around to an east-north-east heading, Blue Mist was running with the wind. Its strength was easing, so I shook out the number two reef in the main. Sitting on the floor, back to the aft bulkhead, it was a delightful and relaxing downhill ride going with the waves. About two miles to starboard was barren and desolate Damariscove Island. She beckoned to me. "Here I am, so lonely and far out to sea, come visit!" she seemed to say. For a brief moment I was strongly tempted. Darmariscove Island has been on my list of places to see and explore for some time. Taft speaks of her in such interesting terms. But trying to be a good husband, I kept to my course. I had promised Margie not to do anything foolish on this trip.

What was that sound? Just a very faint and peculiar "whoosh"--clearly not part of Blue Mist's murmuring with the waves. Then again the blow, this time closer and nearly abeam to starboard. I have company! A small whale (it was a Minke) was traveling the same course as I was. Wow, what excitement! How wonderful to meet such a creature, one on one, on the open sea. I am only allowed a couple of minutes to admire him as Minkes are not that sociable. Still, he does come close, possibly within 60 or 70 meters of me as he moves on by. Finally, I have the camera out, but he is now far away. On film he appears to be nothing but a tiny, distant speck, but I know he was there!

Where is the Ending?
Margie again asks the question, "Where is the ending to this?" After weeks of proofreading she is tired. If you have the task of proofreader you can't enjoy the tale. Besides, to her all my stories sound much the same. (Readers, be thankful, my wife is a wonderful proofreader.) To me, though, there probably will never be an ending. That is one aspect of small boat cruising that is so wonderful--I can go on telling tales and reliving experiences forever. But now it is time to bring this story to a conclusion.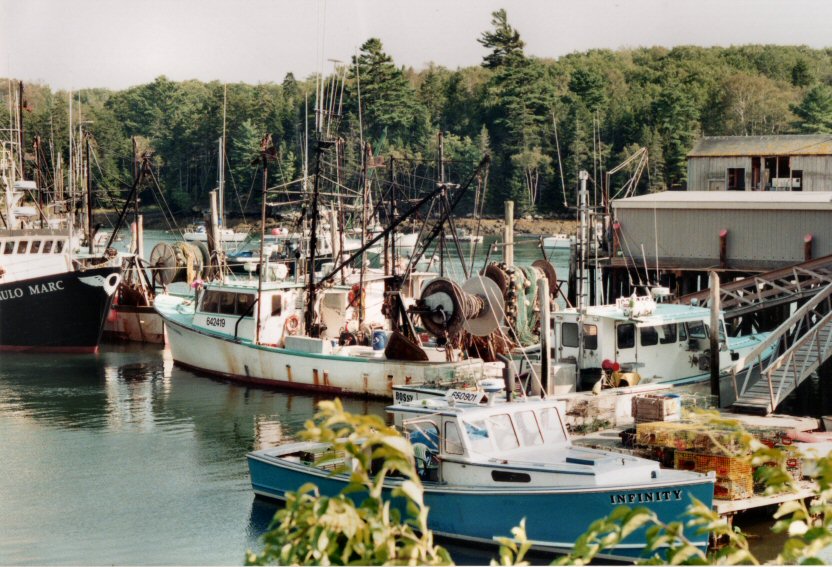 The Gut fishing harbor - larger image
here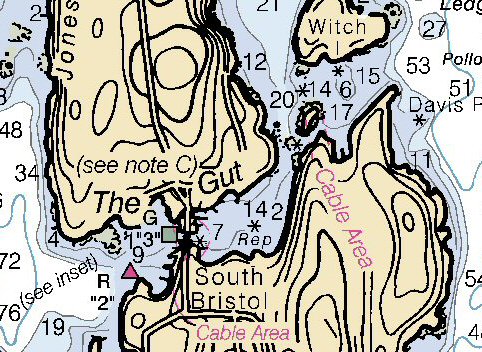 The Gut is a small yet serious fishing harbor. Crammed with fishing boats, it presents a maze of jumbled masts, booms and rigging that confuses the untrained eye. These are the larger, steel hulled, broad shouldered offshore trawlers, not the small lobstermen's boats. It is a very interesting place to visit because one is made vividly aware that seafaring is much more than just yachting. The following day was Monday and once more I rounded Pemaquid Point without the lion baring his fangs--the formidable headland was just a pussy cat, as the wind was again light.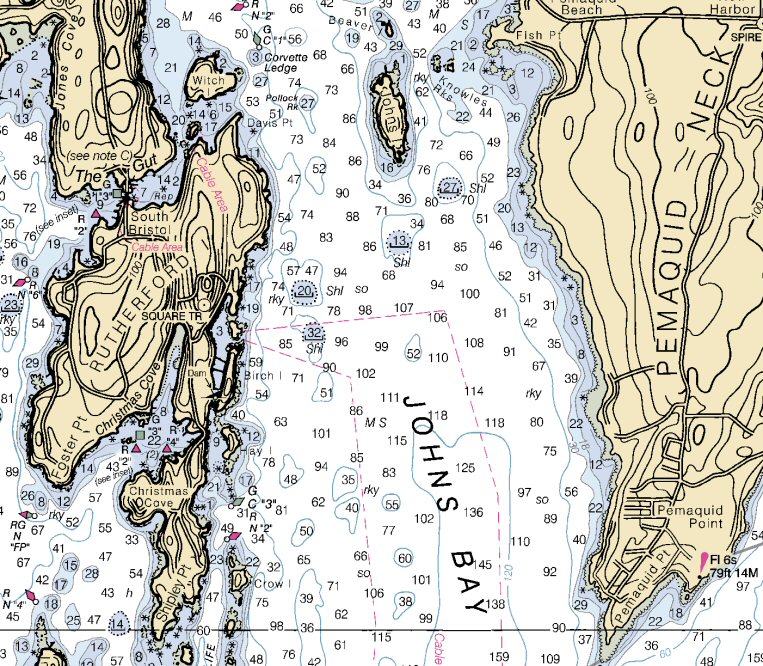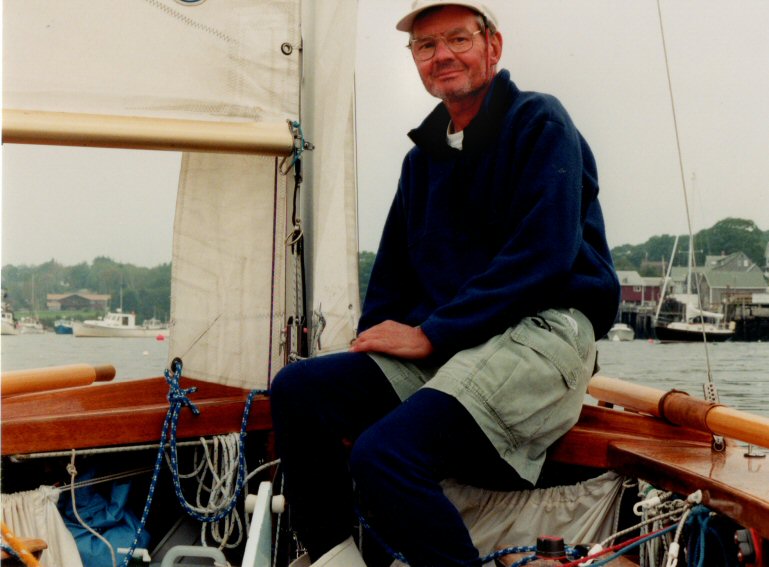 Muscongus Bay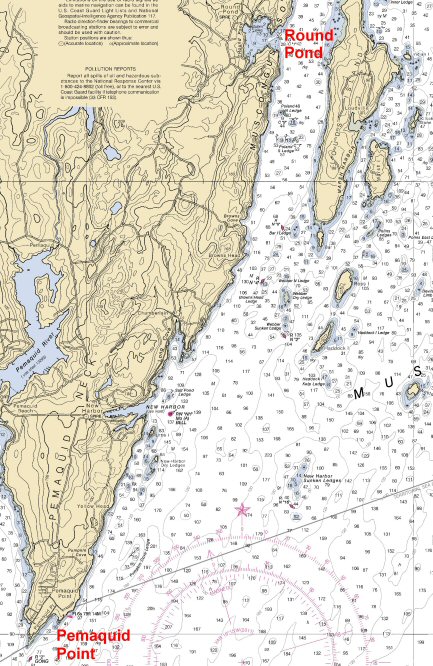 larger image
here
However, the weather was changing and by the time I got to the Muscongus Bay side, light rain was falling and the wind had dwindled to nothing. New Harbor was close by, but it seemed awfully crowded. So I continued on for Round Harbor where I had started from a week ago. (It already felt like a long time had passed since then.) The last couple of miles were almost all rowing and by the time I arrived it was getting dark. I was wet, cold and tired, but luck was with me. The general store was still open and my friendly lady made me a nice hot, tasty pizza. That night I slept like a log, except for an occasional irritating drip on the face from rain seeping through the weathered canvas of my old boom tent.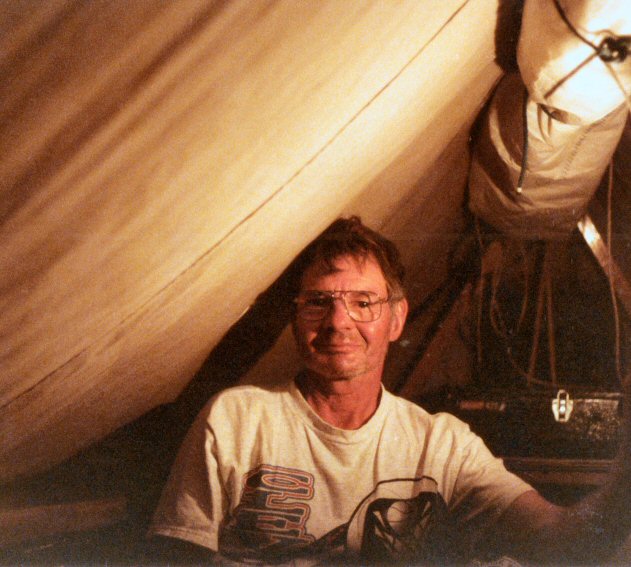 Homey tent cabin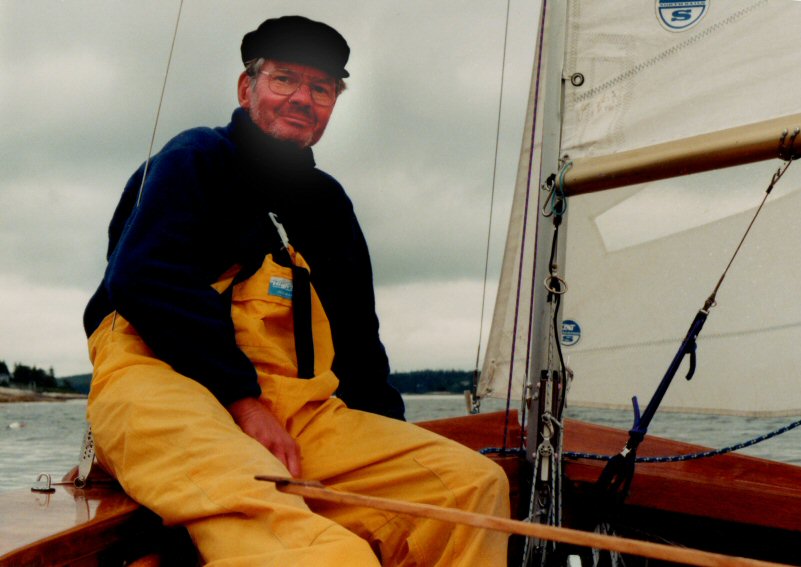 Round Harbor
Tuesday morning I awoke with a much improved outlook on things. Though it was still dreary and damp, I no longer had that strong yearning for the warmth and comfort of home that had overcome me the night before. There were still several nearby places in Muscongus Bay that sounded interesting and worth visiting. As long as there was some wind, a few light showers now and then I could handle. When Wednesday arrived the forecast was getting more ominous--a cold front, with heavy showers and stronger winds, was due later in the day.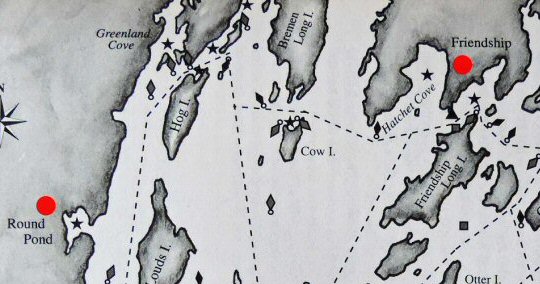 But that morning, as I sailed the roundabout way back to Round Pond from Friendship Harbor, I enjoyed the most pleasant breeze and periods of bright sunshine that anyone could possibly ask for. An invigorating touch of fall was in the air. The emotions one feels on the final leg of the homeward bound journey are difficult to describe. Out on the bay was the lighthouse on Franklin Island, nearly 60 feet high. It had been a familiar beacon for many days. I was reluctant to say good-bye. Yet I missed the companionship of my wife and was glad to be safely on my way home. I had just spent a week and a half gathering memories that would last a lifetime--and I had only grazed the surface of what these waters have to offer. There were places I had missed, such as lonely Damariscove Island, that I would have to come back to visit at another time. Later, as I packed up and got ready to leave, I watched the guys from the local boatyard busily engaged in hauling out yachts for the winter. Maine's sailing season was pretty much over, but I was already thinking of next year. I felt very content and at peace with the world. Once again my thoughts turned to that phrase, "Thread of Life", just a name that had caught my imagination earlier. How appropriately it seemed to capture my feelings about these wonderful waters and the cruise just completed. The experience, it seemed, was now truly and permanently woven into the fabric of my life. Yes, this was a "thread of life" to me!

The End