new Frank Dye book now in print...
We can now share in Frank Dye's almost 20 years of Wayfarer wanderings in North America
through his new book, Sailing to the Edge of Fear which is available
from Nimbus Publishers in Nova Scotia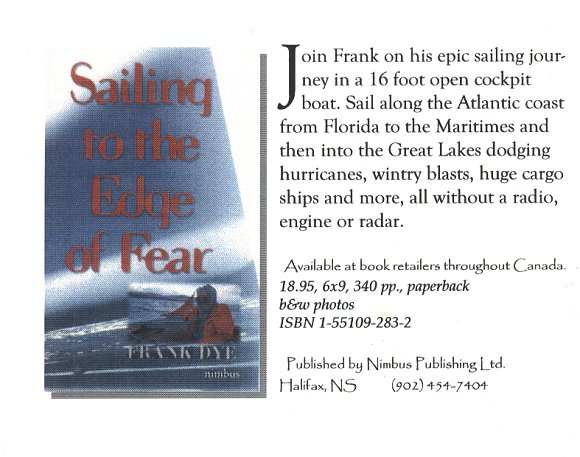 Frank Dye heads home after a canal-filled summer in Ontario
The legendary Frank Dye headed for his Norfolk home on Thursday, September 30th after yet another summer of exploring North America. Starting his Canadian summer in Peterborough, Frank sailed up the Trent-Severn Waterway and then continued on up the Rideau Canal where he finished up in Ottawa towards the end of September. Several Ottawa Wayfarers such as Bill Fyfe and Brian McCleery had the privilege of sailing with Frank as he approached Ottawa - and Bill Fyfe even gave Frank his first taste of spinnakering! Bill is going to do a little write-up for us - with photos, I hope - but until then you'll have to make do with a few pictures I got yesterday when George Blanchard took me and Frank to lunch at Toronto's Boulevard Club:
.....
the real Frank Dye
.....

Frank incognito: no glasses
.....

Frank Dye of Lac Deschênes
.....

a pair of legends:
Frank Dye/George Blanchard
/.....

Frank checks on the bubble gum he plans to smuggle out!
.....

Frank Dye:
a fine man & a fine sailor
.....
.....
Al bails W600 with garbage can lid -
photo by Frank Dye
.....

Frank Dye & Uncle Al at TS&CC -
photo by George Blanchard
.....
.....
return to Cruise logs index