Imagine spending a week at a 17th century coach house - with stone walls more than a foot thick, huge oak beams blackened from age and smoke, and crude plank floors polished smooth from centuries of use. At the Denvir's Inn in Downpatrick, Northern Ireland life began in the year of 1642. Here Margie and I enjoyed a mammoth two-room suite, nightly music in the pub downstairs and a hardy breakfast, all for the amount of $60 per night. A short walk up the street from the inn was the great Down Cathedral and the famous cemetery containing Saint Patrick's grave. Across the street was the infamous ghoul used to house prisoners during the Irish Rebellion now restored into a museum. These were just a few of the many experiences Margie and I relished while attending the Irish Wayfarer International Championships and Cruising Rally this past August.
Located on the shore of Strangford Lough near the town of Killyleagh, the East Down Yacht Club (EDYC) was hosting the 2001 Wayfarer International Championships. Preceding the week-long racing activities would be the International Cruising Rally, a gathering of cruising sailors from half a dozen countries from Europe and North America, many of whom are our close friends. Margie and I had been planning this trip for a year. First we would take part in the cruising rally. Following that we would spend two weeks roaming the Irish countryside exploring the larger towns and small villages while staying at B&Bs. All together the rally promised to be an outstanding event.
Strangford Lough is a very beautiful natural inlet of the sea, approximately 20 miles long by 5 miles wide, located on the Belfast Coast of Northern Ireland in County Down. It is surrounded by high hills of greenery and picturesque villages, with many magnificent castles and cathedrals dotting the landscape. The waters contain hundreds of islands and it is one of the world's largest wildlife bird sanctuaries. As an ancient maritime highway various peoples--the Celts, Vikings and Normans--traveled, traded and fought over the land for the last two millennia. Its surroundings brim with historical artifacts and legends, with monuments and ruins dating as far back as 500 BC. The name Strangford is Viking, meaning angry waters. The usually brisk winds, combined with the lough's ever present strong tidal currents can, at times, make for challenging sailing--a characteristic obviously not overlooked by the Vikings.
Early in the rally week a tent city was already taking form on the grassy grounds adjacent to EDYC's club house. Cruising folks were beginning to arrive along with some of the racing contenders intent on enjoying the cruising activities as well. By mid-week a huge marquee had been erected housing a more than ample bar, a stage for Irish musical entertainers and a full cafeteria style restaurant. Then on Wednesday two Wayfarers arrived after a voyage across the Irish Sea from Scotland. Alice Tyrrell, editor of the UK Wayfarer News, sent a news release to our local paper back home:
"Local Resident Sails Across Irish Sea - Dick Harrington of Euclid, Ohio, led the way into Strangford Lough, Northern Ireland, for the start of the Wayfarer Sailing Dinghy Regatta August 8 - 17, 2001.
Waiting eagerly for them at the Yacht Club were his proud wife Margie Harrington and his friend's wife Alice Tyrrell. Dick had sailed across the Irish Sea from Scotland to Ireland, in a 16-foot Wayfarer sailing dinghy, W7241, "Yellow Mistfit", with an English friend Dick Tyrrell - in company with another Wayfarer dinghy. (The others were Graeme and Pamela Geddess, who sailed W10080, "Angura".)
The cruise from Scotland was the opening event of the Regatta which attracted two hundred competitors in a hundred boats from the USA, Canada, Holland, Denmark, the UK and even one boat from the Isle of Man.
Both Dick and Margie were overwhelmed by the warm welcome extended to them by everyone they have met in County Down and throughout their travels in Ireland, ashore and afloat, and hope more Americans will come over to experience that welcome."
For us this was but the ending of one chapter of a grand adventure and the beginning of another. Still to come would be several more days of wonderful sailing on beautiful Strangford Lough. The wind would blow strong, but not too strong. There would be an occasional rain shower, but by the norms of Irish weather sunshine was plentiful. We would pack a day lunch, maybe include a couple pints of beer or a bottle of wine, then head out by boat to some magical location. One such excursion would find us visiting the ancient ruins of the Monastery of St. Mochaoi Nendrum on Mahee Island - a ringed monastic enclave dating back to 400 AD. Brian Williams, an Irish Wayfarer who is the project manager of the dig and chief archeologist for Northern Ireland, would lead us on a very special tour. Margie and I are deeply grateful to all of the Irish Wayfarers and EDYC for making this event possible, and we are especially thankful to all of our international Wayfarer friends who hosted us and made it possible for us to enjoy such a terrific adventure.
[Note: Dick's account of his Irish Sea adventure is too long to include here. To read his story and see his photos you will need to go to the USWA Cruising Web site, <http://home.att.net/~uswacruising/>.]
Following are a few scenes from the rally we wish to share with you.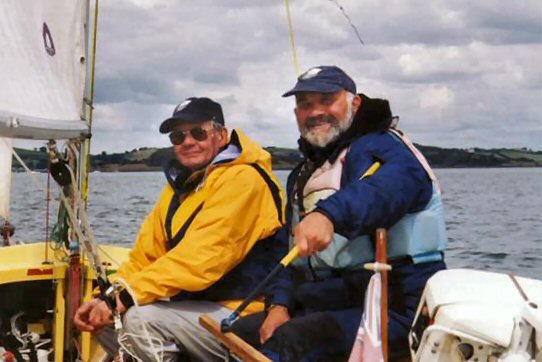 Dick Tyrrell (R) & Dick Harrington (L) are headed into EDYC's landing on the final leg of their four-day journey.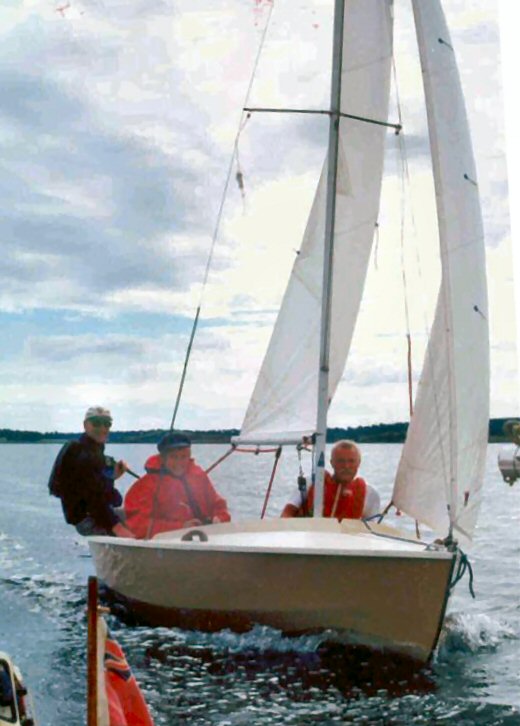 Several Wayfarers come out to greet us. On the helm is
Ralph Roberts (UK International Cruising Secretary) and (left to right) Sue & Allan Parry.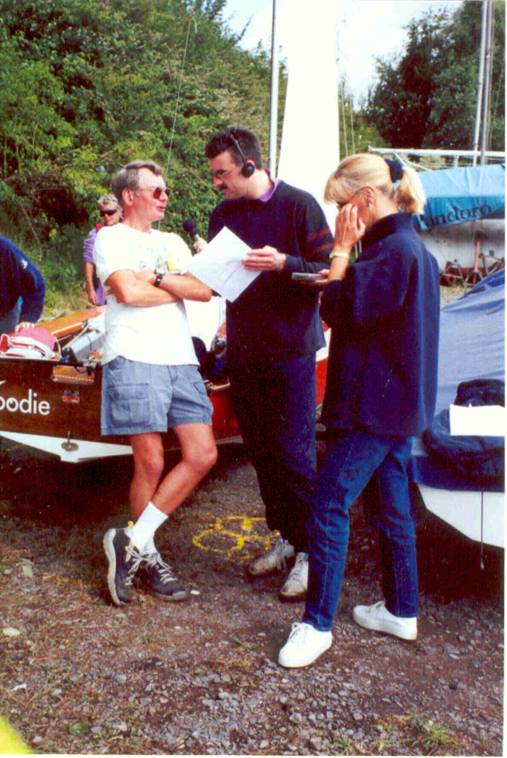 Dick H. giving an interview for a local radio station. Radio host to Dick - "Tell us what it is that has brought you and your wife all the way from the United States to participate in this event?" Dick's answer was a bit lengthy, but it boiled down to the wonderful sailing on Strangford Lough, the chance to experience a very beautiful and uniquely interesting part of Ireland, and the opportunity to reunite with many of our friends from the international Wayfarer community.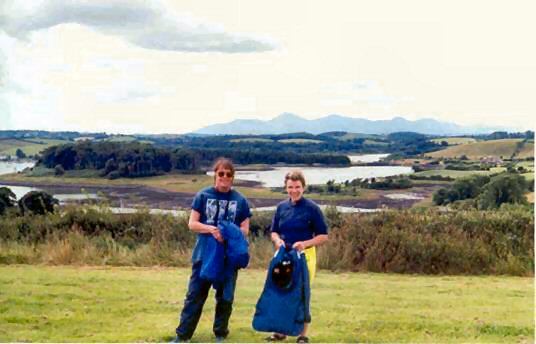 A view of some of the islands and back bays of Strangford Lough.
In the foreground are (left) Margie Harrington and (right) Alice Tyrrell.
In the background are the Mourne Mountains.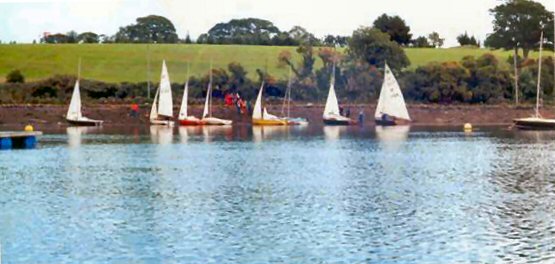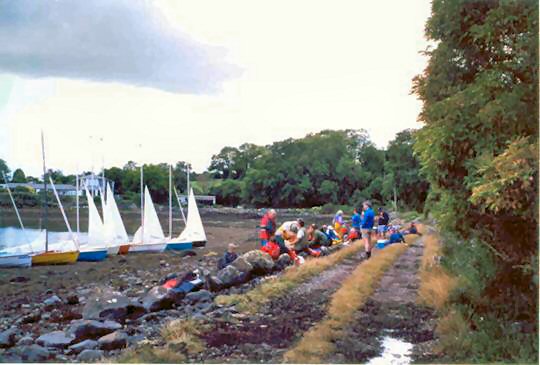 Wayfarers landing on Mahee Island for lunch and a tour of the monastery of St. Mochaoi Nendrum.
Alice Tyrrell and Dick H. on "Yellow Mistfit".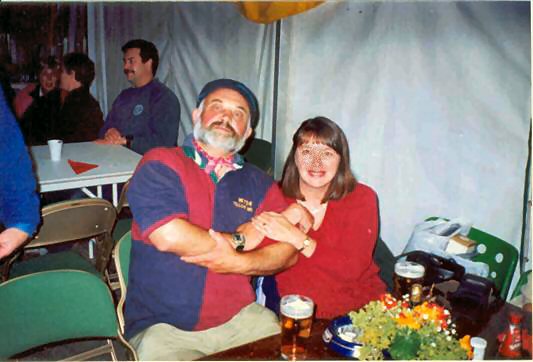 Dick Tyrrell and Margie H. enjoying a pint and the festivities in the marquee.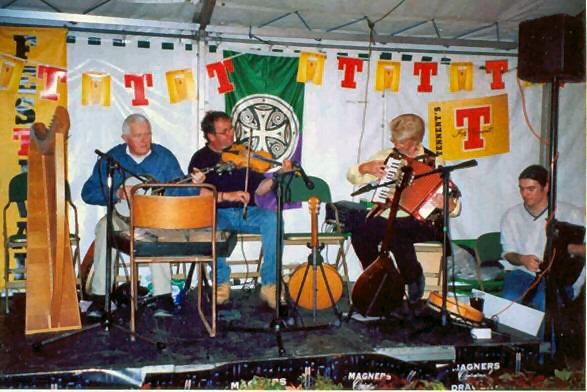 The nightly Irish musicians were outstanding.