Cruising the Mediterranean




two Wayfarers spend two weeks sailing east from Hyères in Sept. 2006


a Log by Ralph Roberts W9885 Spree Lady

Part Two

...
The wind, coupled quite often with torrential rain and an accompanying lightning display visible even through the tent, kept up throughout the night. Fortunately our tents were more than sufficient to keep us snug and dry – or at least, we would have been, had I made sure both of the self-bailers had been properly closed! This lack of attention to detail proved more of an unwelcome inconvenience than a major problem, however. Next morning we received a visit from John and Anne, who were anxious to know how we had fared during the night. They had been half expecting us to come knocking on their cruiser cabin to take up the offer they had made to let us stay the night. Kind though their thoughts were, it was more satisfying to be self-sufficient, even in the worst of weather conditions.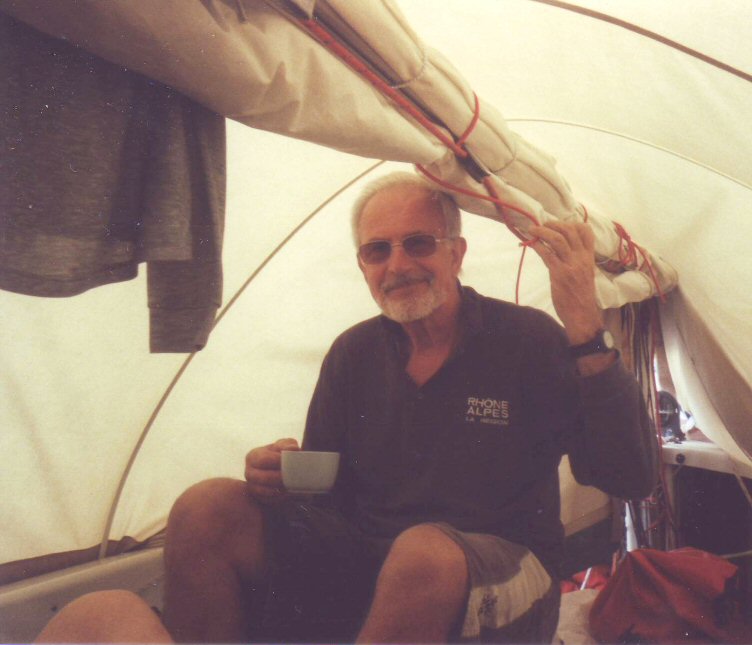 Jacques enjoys a cup of tea aboard
Spree Lady
.
Long sail battens form the curved outer shape of the tent, and provide considerably greater
space inside than the normal overboom ridge tent. The ends of the battens are used to secure
the tent to the boat.
...
The day's forecast was for winds of F.3 from the east, veering ESE, F.4 in the afternoon. The wind already seemed stronger than a F.3 before we left, but we were getting impatient to move on, and Jacques' crew, Xavier, was due in Cavalaire later in the day. Beating single-handed under a reefed main and jib was not a problem to begin with, but after a few hours, the wind strength increased and it became necessary to furl the jib. This increase continued and finally culminated in a local squall, with the winds reaching F.6 or 7. It was time to head for safety!

Fortunately, we had almost reached Cap Nègre, and were able to ease the sails and reach into the sheltered bay behind the headland. We stopped for a break and lunch on a convenient pontoon belonging to a nearby beachside restaurant – with no one coming along to tell us to vacate it. The strong winds had subsided, and the sailing conditions were much more comfortable by the time we ready to move on to Port de Cavalaire-sur-Mer, to give it its full, though seemingly overly wordy title – it would certainly be unusual to find a Port anywhere inland! Being the first to arrive and start to sail in, I was greeted by a loudspeaker announcement, which was completely incomprehensible to my elementary knowledge of French. A reply of "Je suis Anglais" brought forth a much more readily understood waving of the hands to indicate that I needed to take the sails down.

The cost of stopping overnight in the marinas varied greatly. The most expensive, perhaps not surprisingly, was St Tropez. Cavalaire was by far the cheapest, since they made no charge at all. This may have been because they were most impressed by the belief that I had made it all the way from the UK, sailing on my own; or (more likely), that the slot they found for us was so out of the way, that to use the washroom facilities, it seemed a mile long walk around the perimeter of the enormous marina of over 2,500 berths! Jacques' crew, Xavier met up with us on our arrival, and we all enjoyed an excellent meal at a local crèperie.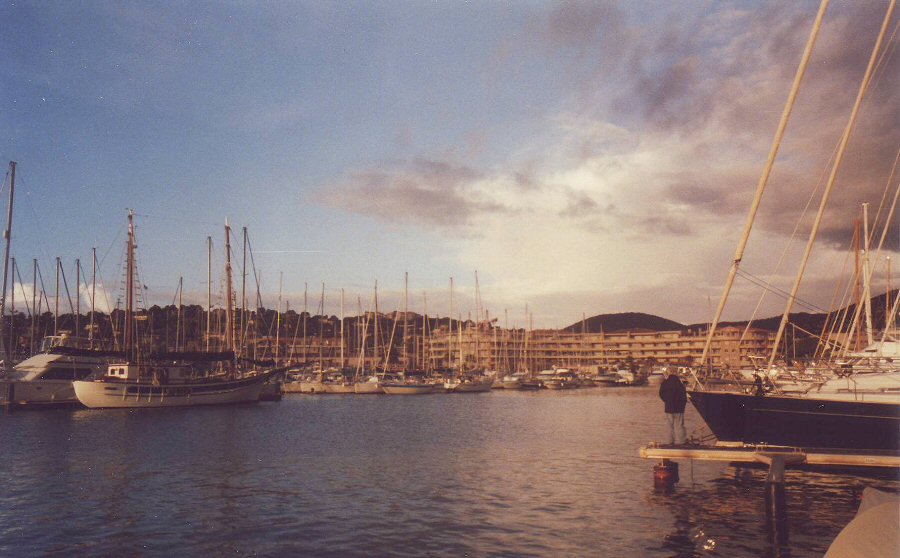 The vast marina at Cavalaire. A bit of
Spree Lady
's tent can be seen in the bottom right corner
of the picture, with the marina stretching for a considerable distance over to the left.
...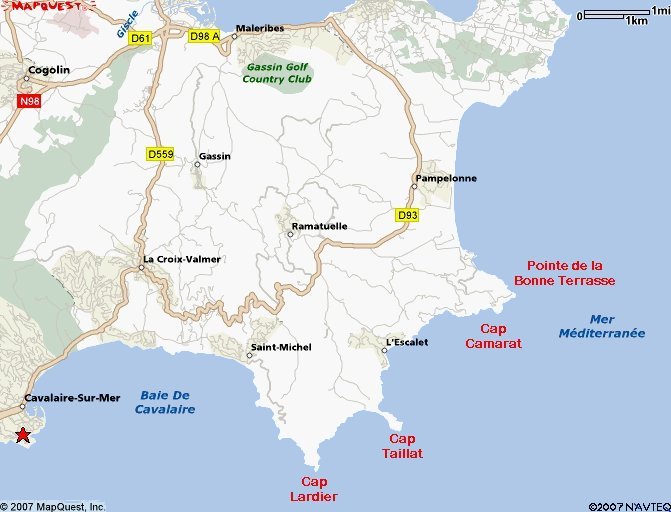 It was gone noon the next day before we had stocked up on provisions and got the boats ready for our departure. The wind had dropped to just a gentle breeze, so our progress along the coast was somewhat slow. But this gave us more time to enjoy the view which was very picturesque as we rounded the headlands of Cap Lardier, Cap Taillat and Cap Camarat. Each cap spawned rocky outcrops, which Jacques felt were best avoided. I was less keen to make detours in the light winds, and always tried the most direct route through the outcrops first. The draught of the Wayfarer is such that anything which can't be sailed over, can be seen and therefore avoided. Jacques was less than convinced by this philosophy, but happy to follow if I led the way.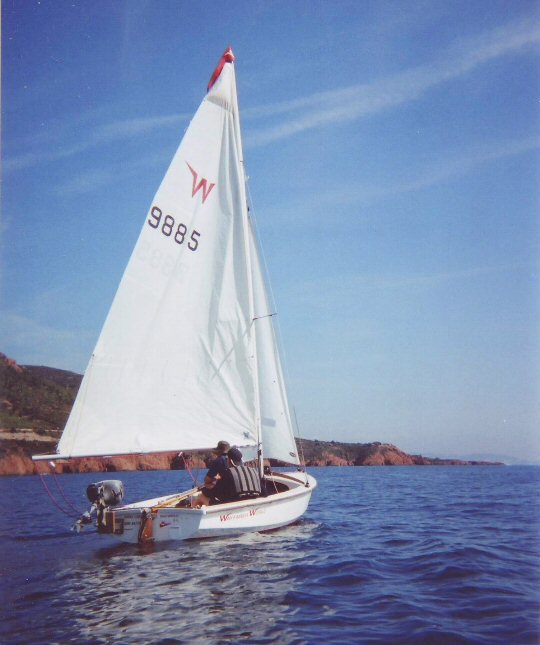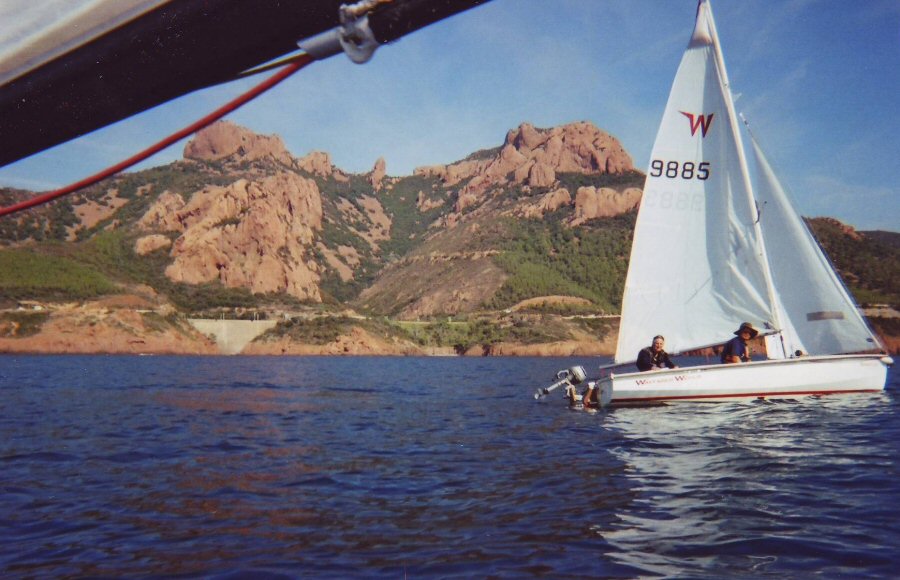 Sailing along the Mediterranean coastline, with its often majestic scenery, has great appeal.

Blue skies, hot days, a warm breeze, and azure blue seas make for cruising that is as good as
one can get!
Having rounded the last rocky headland, we came onto a long stretch of coastline with miles of sandy beach. It seemed an ideal place to stop for the night, as by now, it was late afternoon. Unfortunately, it was also an ideal and popular spot for a vast number of other boats, all anchored at various distances from the shore. The one spot that did seem a much quieter prospect was a small bay nearby, which had some unfriendly rocks guarding the entrance. These were sufficient to deter all but the smaller craft of the local people – as well as those of us cruising in Wayfarers!

Using our large fenders as boat rollers, we pulled the boats up between some bare rock and a bank of seaweed on a small section of beach at Pointe de la Bonne Terrasse. I half expected someone to come along from the houses overlooking the bay to tell us that it was not possible for us to stop on the beach for the night, but instead, a couple of local residents came along to chat with us, telling us of a nearby cold water supply and shower we could use. We all made good use of the shower after a refreshing swim in the warm Mediterranean waters.

Hauled up on the beach in a small bay before the Pointe de la Bonne Terrasse. We thought we
might visit the restaurant along the beach, until Jacques returned to inform us that it was one
of the most expensive in the area - and fully booked!



A lunch time stop at a small beach beyond Cap St-Pierre. It seemed fortunate that it had managed to survive under private ownership, as the picture was taken from a bank of rocks that are part of a private marina adjacent to the house.

...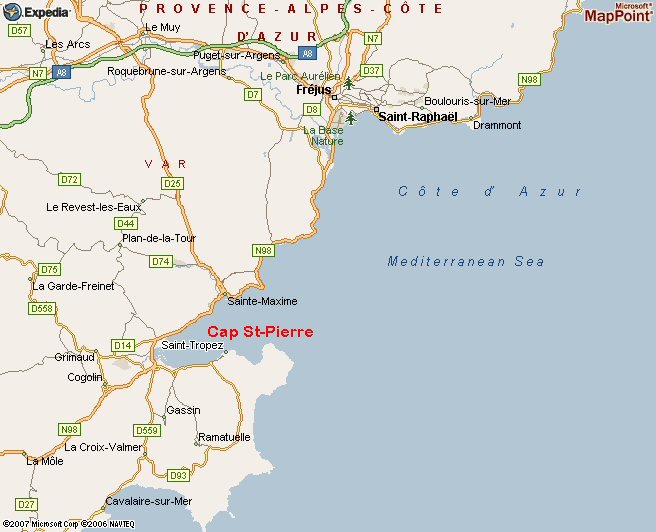 September is an ideal time to do this trip, as the days are hot, without being unbearably so. The next day was fine and sunny yet again, but with a much stronger breeze. We obviously couldn't sail along this stretch of the Med without 'doing' the famous St Tropez, even though it was only a relatively short distance for a day's sail, particularly in the stronger wind conditions. Xavier knew of a very small beach just around the point of Cap St Pierre, immediately before St Tropez, which proved a convenient stopping place for lunch and another swim.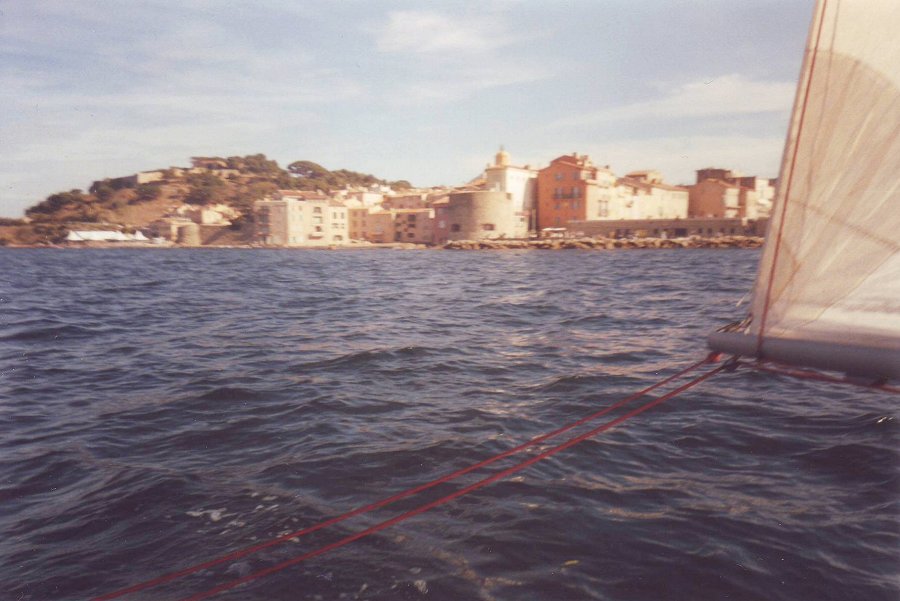 St-Tropez is renowned as being one of the most fashionable resorts on the Mediterranean coast,
but its importance as an old, natural harbour can also be seen by its old towers and fortifications.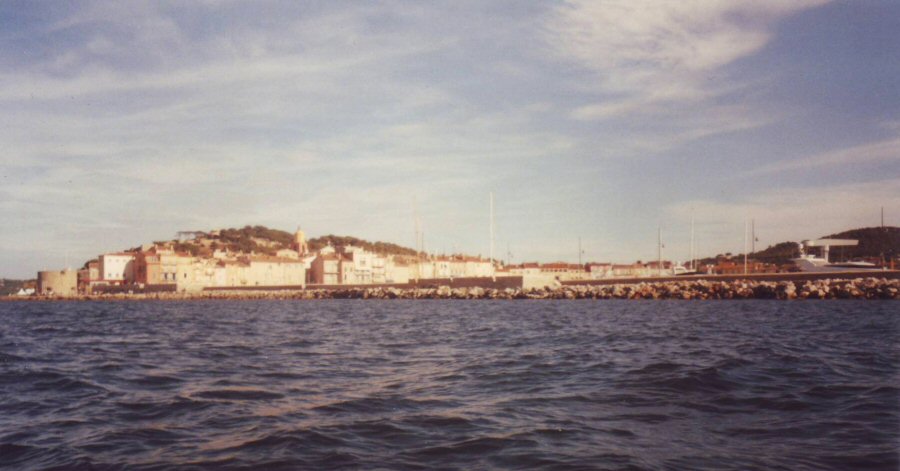 The arm of the outer wall of the marina can be seen on the right of the photo. This extends
from a natural promontory, which offers the port protection from virtually all wind directions.
Not surprisingly, there was yet another large marina at St-Tropez. The biggest and most expensive yachts – perhaps small ships would be a better description – were moored just inside the entrance wall. Almost embarrassingly, some 50% of the many luxury yachts seemed to be flying a British ensign, and had names like
Kiss the Sky
. Cedric came up with an alternative to this, which he thought might be a more apt, and I regretted not bringing my ensign along to fly, in order to balance the scale of extravagance a bit.
Returning from another excellent meal at a local restaurant, we were soon in conversation with a Belgian navigator, whose services had been hired by one of the smaller (40 ft) expensive cruisers moored nearby. He had acquired his seamanship skills sailing a small yacht from Nieuwpoort to most of the English ports along the south coast, and was therefore keenly interested in our sailing trip. It was soon apparent, that whilst life aboard these luxury cruisers might seem to be the height of Utopia, this poor chap was bored out of his mind by sophisticated high technology navigation systems, leaving him little to do except steer the craft in and out of marinas. It was obvious he would much rather be doing our sort of sailing.

...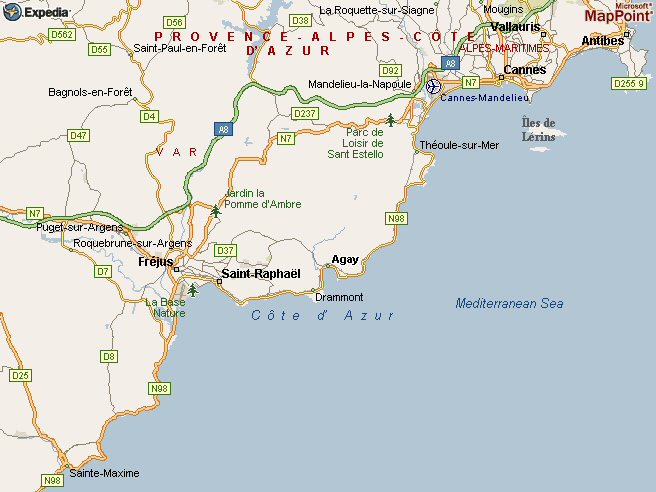 With not a breath of wind the next day, we needed to use the outboard for nearly an hour after motoring out of the harbour at Saint-Tropez. By midday, a sea breeze had sprung up and we were able to make good progress to our next planned stop at Agay. The chart showed this to be an obviously ideal overnight stopping place as it took the form of a horseshoe-shaped bay, offering excellent protection from virtually all wind directions. We reached Cap du Drammont, guarding the entrance to the bay, in the late afternoon and stopped for a break just inside the headland, anchoring the boats off the rocks to give us protection from the breeze.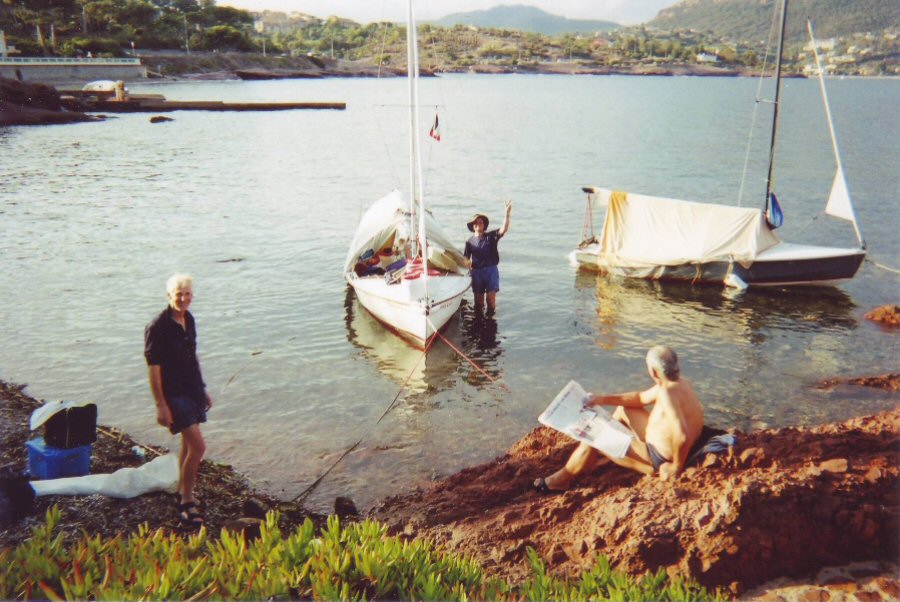 Moored off the rocky headland of Cap du Drammont with the town of Agay in the background.
We checked out the marina there, but it had the busy main road right alongside, so that this was
a far quieter spot for the night.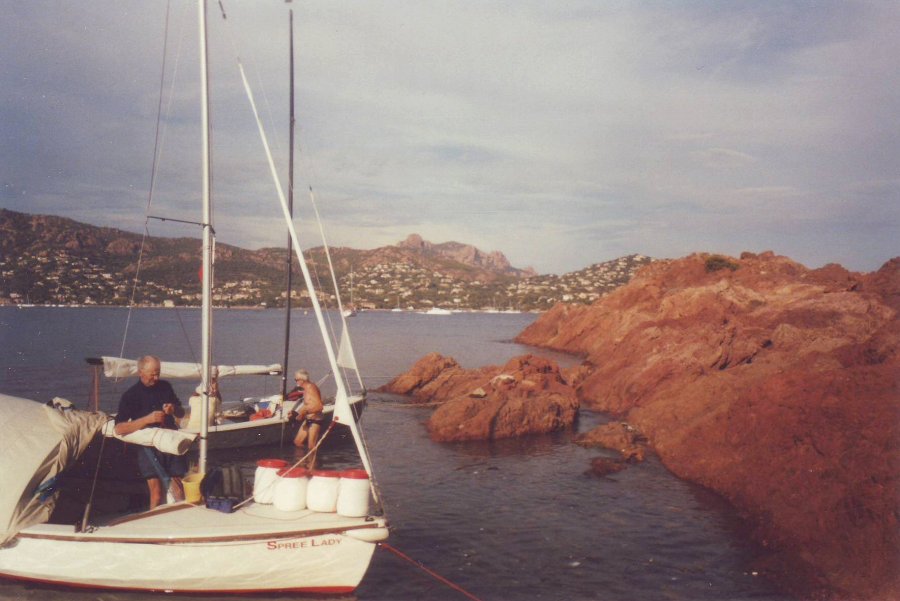 The L'Estérel coastline is made up of rocks with a distinctive reddish hue.
This colouring was
particularly pronounced around the area of Agay.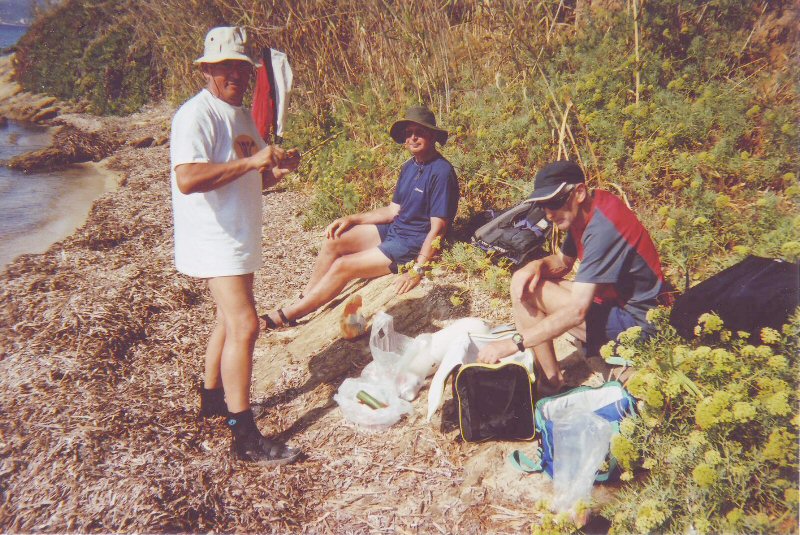 Some beaches, like this one, were lined with seaweed, but as this usually put off other boats from landing, it had its advantages!
It was always more pleasant to get ashore for any break, particularly for stopping to eat.

One of the things that make this type of cruising so interesting is being able to anchor in places other boats would never consider trying to access. After doing a quick reconnoitre of the bay, we decided that our original landing place would be a more than suitable, quiet, isolated spot to stay the night. With the boats fully secure and tents erected, we made ourselves comfortable on the beach with an old upturned rowing boat as a table, and our storage containers as seats. A shared evening meal was cooked from the provisions obtained a few days earlier, and this was capped off with a bottle (or two) of wine. Watching the sun set on the horizon made it a perfect end to the day.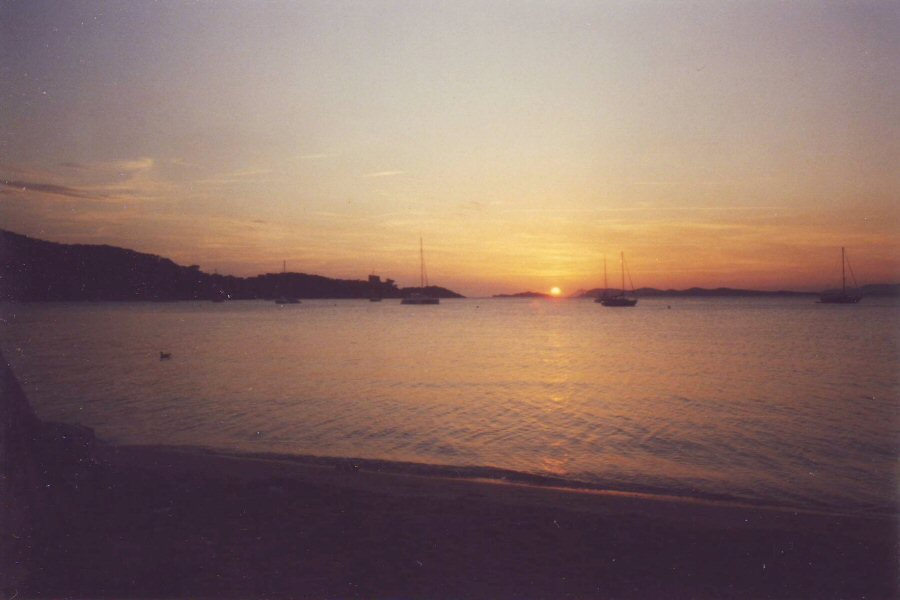 Watching the sun go down has a very special effect when viewed over a watery horizon.
This
makes for a very poignant moment when cruising - and particularly so when viewed from the
safety and comfort of a shore!
...
Part 3
return to Cruise Logs index