Fox Islands Cruise--September, 2007
Tom Graefe



My lazy fingers are finally at the keys to write up a report from the cruise my brother Steve and I took this past September on Penobscot Bay in Maine. Looking towards the Rally this summer inspired me to put together some notes and pictures, because it was indeed a wonderful time.
Steve and I had done a couple of less ambitious cruises before. One in the summer of 2005 on Lake Champlain out of Button Bay, and another in September 2006, when we retraced portions of a trip Dick and I had done in 2003 on Muscongus Bay. Though Steve has long been a boater and a windsurfing wind junkie, his time on dinghies is limited to our chances to sail together near Boston, or if lucky when he visits a W rally, as he did at Cedar Point. So in 2006 we got experience together, I got experience being the skipper, and with that, we planned the 2007 trip on the more exposed waters of Penobscot Bay.

The idea for this cruise was to put in at Rockland, ME on the western shore of Penobscot Bay, sail across SE to the White Islands, spend a night there and then proceed to Brimstone Island, a singular island off the SE tip of Vinalhaven. We would have a lunch stop there and then continue either to Isle au Haut if conditions were favorable, or proceed up the east coast of Vinalhaven to Seal Bay, and then make our way back west through Fox Island Thorofare, stopping as we wished. There are many classic and interesting places a Wayfarer can spend the night in the area. The chart below shows the eventual course we sailed.

The Fox Islands comprise two main islands - North Haven and Vinalhaven, separated by not only the Fox Island Thorofare, which runs unbridged between them - but also by the cultural divide defined by the upper class gentry of North Haven and the working class population of Vinalhaven. We wanted to sample the sailing and geography of both as time and weather allowed.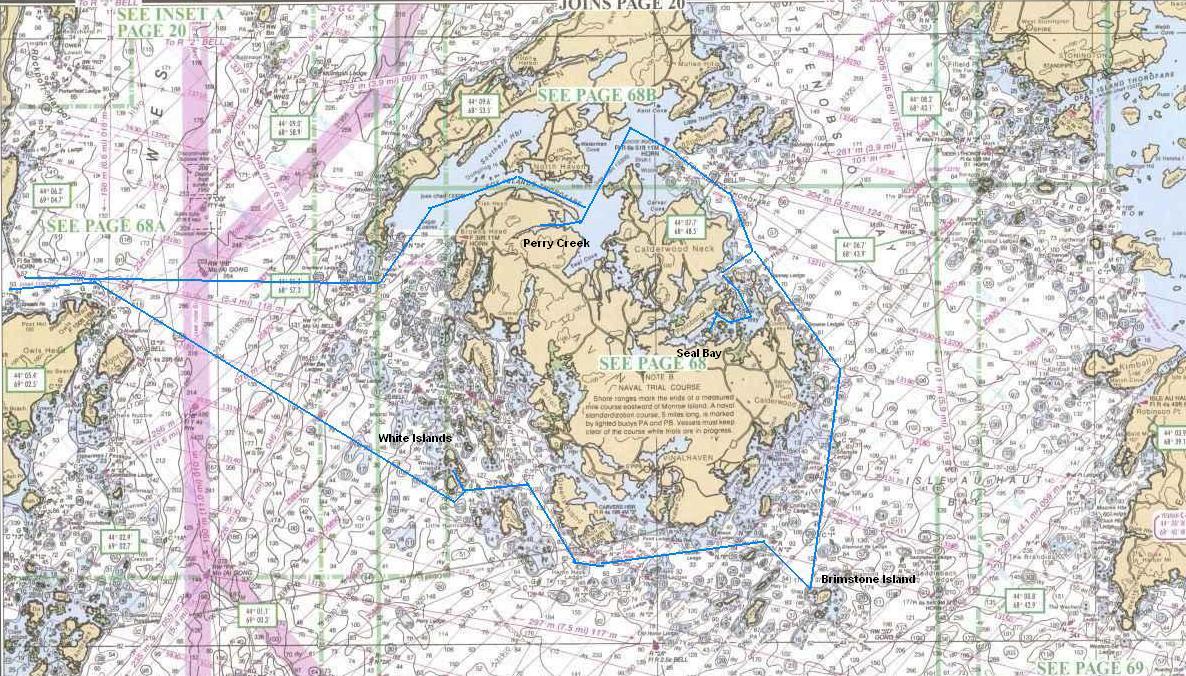 Chart with course of cruise
Rockland prep
As always is the case, anticipation and planning build up to departure, and this cruise was more of the same. While my system for cruising is pretty well tested, it still seemed there were a hundred details to clear off the list. For the boat owner, there is the added requirement to ensure all rigging, equipment and paraphernalia are in working order and ready to take what the weather throws at you. And of course there is the weather. The end of August and beginning of September has proven to be a great time to sail in Maine. Chance of fog is less than any other time in the summer, winds tend to be somewhat more reliable, the crowds (what crowds there are) diminish. For this trip the forecast was good, but on the Saturday we headed to Rockland, the winds were out of the northnorthwest at 20-25 knots, gusting on top and with seas on the Bay building to 5-6 feet. Honest small craft advisory. Driving across from the Maine turnpike, we headed up and over the Camden Hills, and indeed we drove by various establishments with their flags whipping back and forth and trees swaying. The wind was supposed to moderate after noon, so with our put-in time around 1:00 PM or so, I was hoping that we might find the wind dropping, with seas also moderating when we had to leave the harbor proper and head with the wind to the White Islands.
The Rockland town landing is wonderful. We arrived on a Labor Day Saturday and found plenty of parking, two side-by-side all-tide ramps with a floating dock between them, and room to spread out all the gear that needed to be loaded into the W.
After we had put in, a 30+ foot sailboat came to the dock to pick up a passenger, so I walked out to ask them about conditions. Asking a big boat person about wind and sea conditions can be entertaining. In this case, the captain radioed some friends (also in a big boat) they knew were out on the Bay off Rockland, and the report came back that it was very lively, but had started to calm down a bit. Though the relative definition of 'lively' in a 30+ foot boat compared to a Wayfarer warranted a bit of caution, the good news was that it seemed the forecasted easing had started, so we forged ahead, finished preparations and left.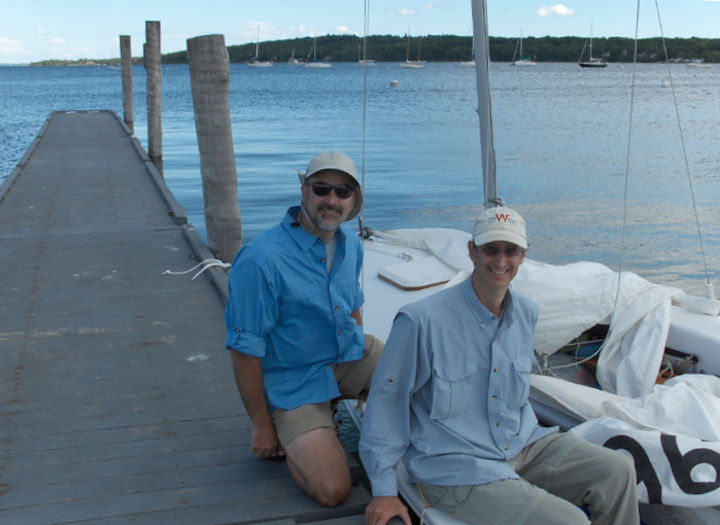 Steve

(l)

and Tom almost ready
Crossing to the White Islands
The ramp itself is very protected from any wind but due east, as it is tucked behind a large wharf and building on one side and nestled back in a cove. So sailing out, we went through a series of transitions in waves and wind. As we left the shelter of the inner harbor, we found white caps, and then the 1-2 foot waves in the harbor came closer to 4+ as we entered the Bay. We had one reef in the main and sailed a close reach, then a beam reach, and finally, as we passed Owl's Head, the furthest southern point of the harbor, went finally to a wonderful broad reach across the Bay to the White Islands. I often sail alone, and the contrast with the boat fully loaded for two for cruising is dramatic. It takes a bit of getting used to, as for better or worse, responsiveness is somewhat diminished but overall stability feels increased. It's especially so on this point of sail. I know it's gusting quite hard, but when the boat gets up and goes it's in a less spritely fashion. Nevertheless, we had an interesting and fast sail riding the waves and gusts, feeling the surge of the wind and the rhythmic motion of the boat as she rode over the waves, across the 7 nm to our destination.
Turning the corner into the White Islands brought us out of our late afternoon reverie. Since you enter the White Island archipelago on the south side, we had to beat our way into the very gusty winds channeled through the islands up to our desired anchorage. As we started this beat, I realized I was having a bear of a time getting the boat to tack. It seemed as if something was stuck on the rudder, or the rudder was loose. Meanwhile there is little room for error in the channel. So I eased the hard beat a bit and slowly we made our way to where we could drop anchor, nestled in between the shoals that line the west-facing bay and in the lee of the northernmost island. I then saw what had happened: the rudder was not in full down position, making it much less efficient. Whether it was due to a chance encounter with a lobster pot line or the motion of the waves, I tightened it up to help avoid the problem in the future.
It's a pristine spot, and feels as far from the tourist traps of the coastline as you can get. Since it is a Nature Conservancy property, there are no buildings, and no camping. Few large boats can fit into the narrow channel that is also the anchorage, so it is a perfect spot for the dinghy camper with a boom tent.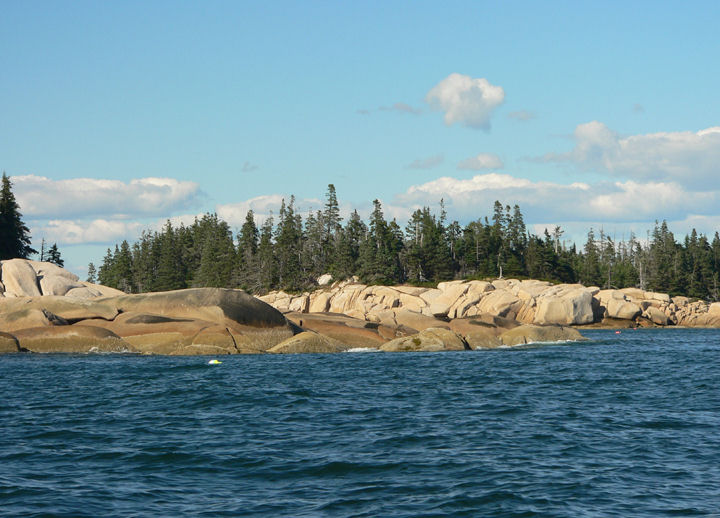 Entrance to White Islands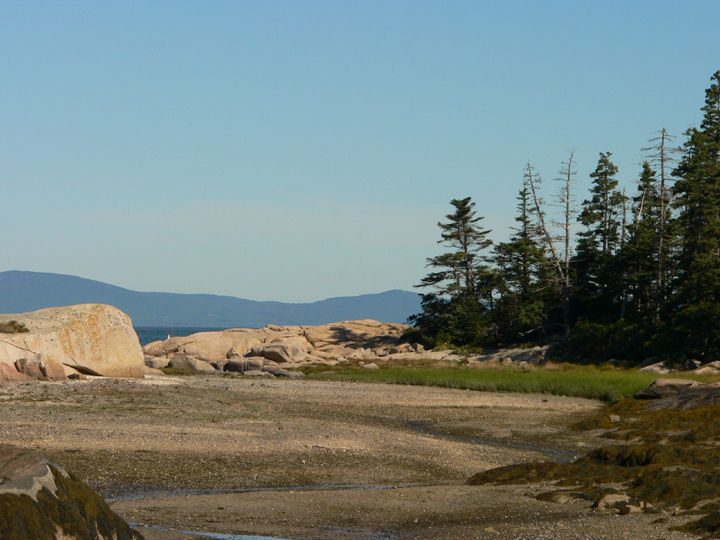 White Islands looking northwest to Camden Hills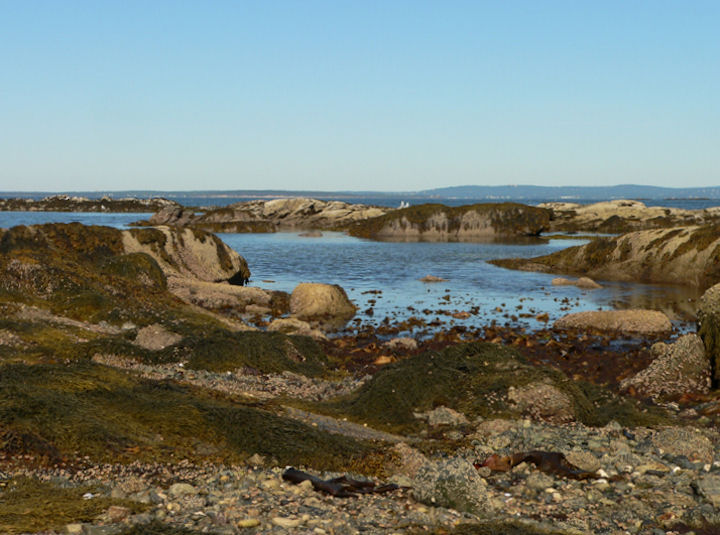 White Islands Shoreline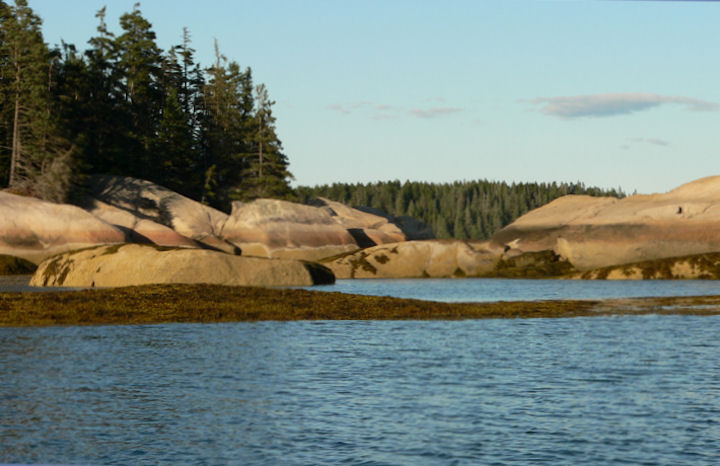 Our backdoor view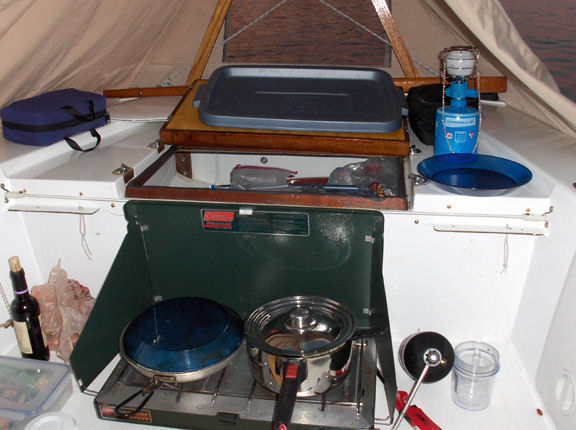 The Galley in action
On to Brimstone
The winds moderated during the night, and we woke to clear blue skies with 5-10 knots of wind. After breakfast and stretching our legs to enjoy a walk on the islands, we headed southeast to round Heron Neck and make our way to Brimstone Island. Brimstone Island lies about 2 NM off shore to the SE of Vinalhaven. It has two distinguishing features. First, it has a hill on it that is over a 100 feet high, that provides a wonderful 360° vista. Second, it has a distinctive sculpted beach (actually it is sculpted almost like two crescents back to back, with one facing SW and the other facing NE). These beaches are made up entirely of flat dark gray and black stones.
Because the forecast for Monday was for small craft warnings and seas 3-5 feet on the Bay, we decided not to sail to Duck Harbor on Isle au Haut, to avoid the need to sail back across the Isle au Haut bay in rough conditions. Rather, we opted to head up the east side of Vinalhaven and make for Seal Bay, next to Winter Harbor, both on the south side of Calderwood Neck.
Our plan to have a lunch stop there and then continue on to our evening anchorage looked like it was on track, until we were about halfway there. Then the wind headed us and got very light. We entered the no man's land of indecision: at what time do we have to give up the idea of going to Brimstone and getting further away from our likely nighttime destination? I did not want to have to find my way around Seal Bay in the dark, and between where we were on the south east side of Vinalhaven and Seal Bay there are no good anchorages. We held on a little longer, and our patience was rewarded. We got just enough of a lift to make our way out to Brimstone.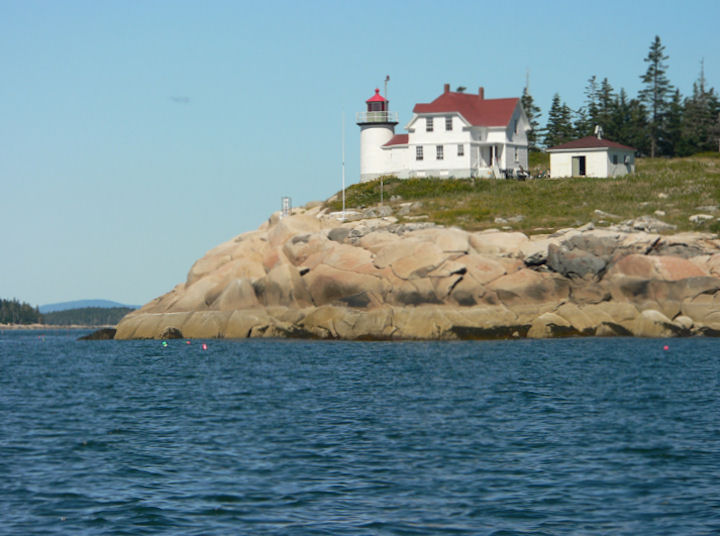 Heron Neck Lighthouse--Carvers Harbor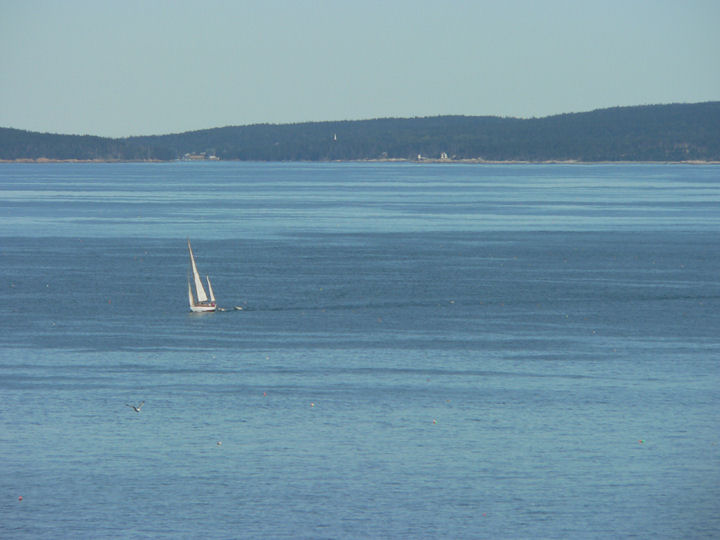 Brimstone view NE towards Isle au Haut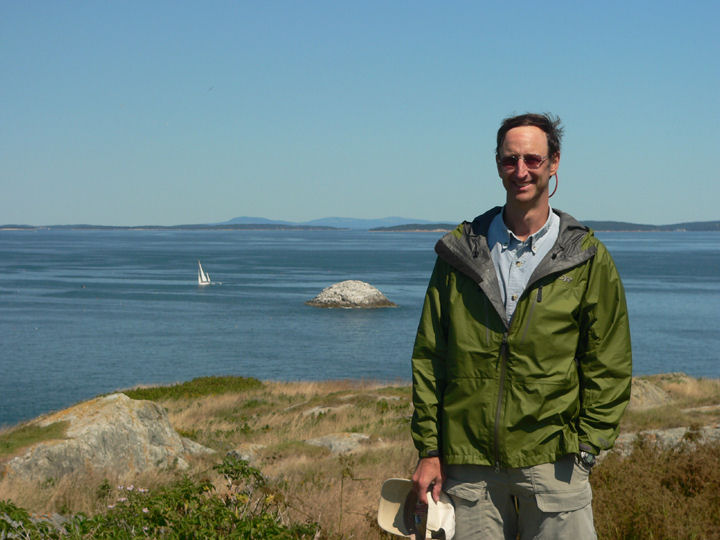 Atop the Brimstone height of land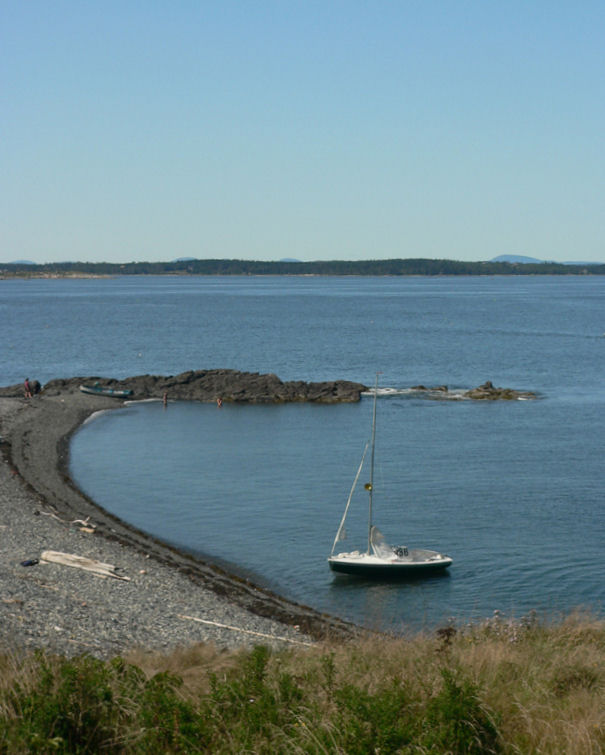 W9668 anchored at Brimstone Island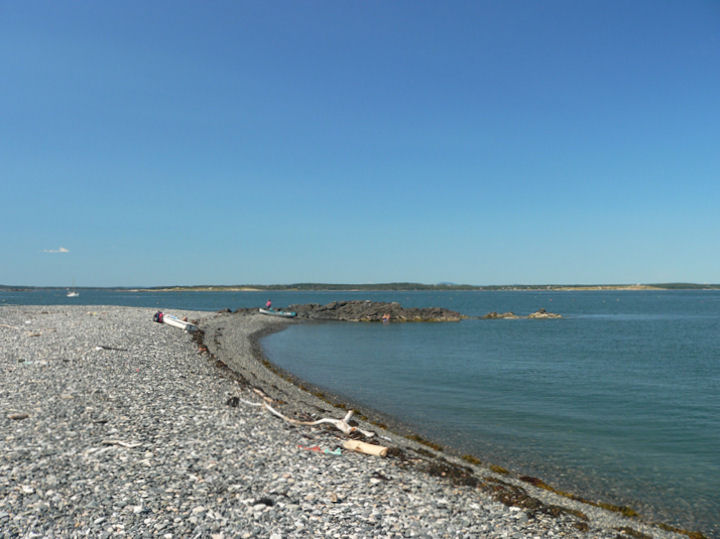 Brimstone Beach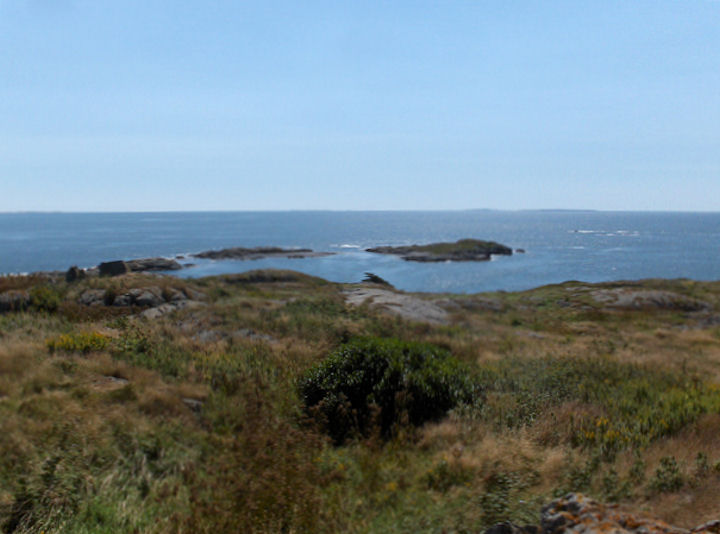 View SW and the Atlantic Ocean
Sail to Seal Bay and on to Perry Creek
As we left Brimstone Island, the wind picked up to a pretty solid 15 and veered to the S, following an often seen pattern of shifts between the northnorthwest and south. Soon we were flying up Isle au Haut Bay, making 6-7 knots, and short work of the sail to Seal Bay. The Bay itself is interesting to enter, since like much of Maine, it has many hazards to avoid. Also like much of Maine, finding the right overnight spot requires not only protection from the expected strong winds, but an accessible place to land, and enough water to see us through the low tide or at least no rocks the boat will settle on if the bottom is too close. After finding our spot, we were visited by a fellow from a 30' nearby, who wanted to check out the dinghy. Very nice guy. He also told us that the 'other island' - not the one we were next to - was heavily infested with both poison oak and ticks. Add those hazards to your list - they were not mentioned in the Maine Island Trail Guide.
Monday brought another hot and sunny day, and a day with winds of 25-30 forecast, perhaps diminishing as the day went on. Up to this point, we had been debating between heading into the Thorofare or out and around the north side of North Haven as a way to have a nice long sail to Pulpit Harbor, a classic anchorage on the NW side. But the forecast decided it for us, and we headed instead into the Thorofare, with double reef in and full foul weather gear. The wind was blowing very strong from the North/NW; periodically gusts would kick up enough to make a pretty good noise in the rigging and really make me feel like this is quite a force. Or maybe holy shit, that was pretty strong. The boat handled very well and even with our small amount of sail, we made very good time, all the while able to keep the boat pretty flat. There were a couple of white-knuckle moments, but because the fetch in the Thorofare is constrained, we did not have to contend with any sizable chop or the resulting pounding. This meant helming through the wind was more predictable, and we did not have to contend with the slowing/momementary stopping and starting that can be quite taxing.
We made our tack through the narrowest point in the Thorofare and decided to check on the North Haven landing, and see if perhaps we could get some seafood for dinner. The landing is alongside the ferry dock, and the wind was blowing hard dead onto it. So instead, we landed at a yacht club just opposite. Clearly this happens often, because, though the dock was empty this day, prominent signs alerted anyone landing that they had 15 minutes and that's all, as well as asking all power boats to move to the inside positions.
Our search for lobster became a saga, a cruiser's quest for the holy grail, not to be fulfilled. In the process, we were driven around half of North Haven by a retired couple who happened to be near the yacht club when we landed. I had asked the wife where we might find lobsters (first bad sign, it's Labor Day right, no one is working). Second bad sign was when the fellow she suggested I talk to, had four beautiful lobsters in a 5-gallon bucket, but said those were his Labor Day lobsters. Off we went with our guides, trying every local spot and being redirected several times from house to house, from Joe's to Pete's, to the owner of the oyster beds where the famous Vinalhaven oysters are farmed, until we finally ended up back at a house near the harbor, and what do I see sitting by the back door (no one home) but the 5-gallon bucket with the four lobseters in it, waiting to be cooked. Very tempting, but not to be. Our hosts dropped us off, and our only benefit from the stop was a water refill and a quick wash-up in the yacht club bathroom.
Our destination for the night was Perry Creek, a long narrow hurricane hole of an anchorage on Vinalhaven, across from North Haven harbor. There are free moorings starting at the entrance to the Creek and placed all the way up to the end of the navigable water. Of course we were heading for the furthest in, where the big boats could not go. At this point, our long time spent searching for food came back to haunt us. The wind started to grow fickle and die at the same time as the tide turned and began to drain the creek. Back and forth we tacked, sometimes simply going side to side, but not willing to take out the oars. Finally with about 50 yards to go, we had to get them out or watch ourselves drift back past several moored boats. The prize was a nice mooring, and perfect spot for evening cocktails and dinner - even if we had no lobster.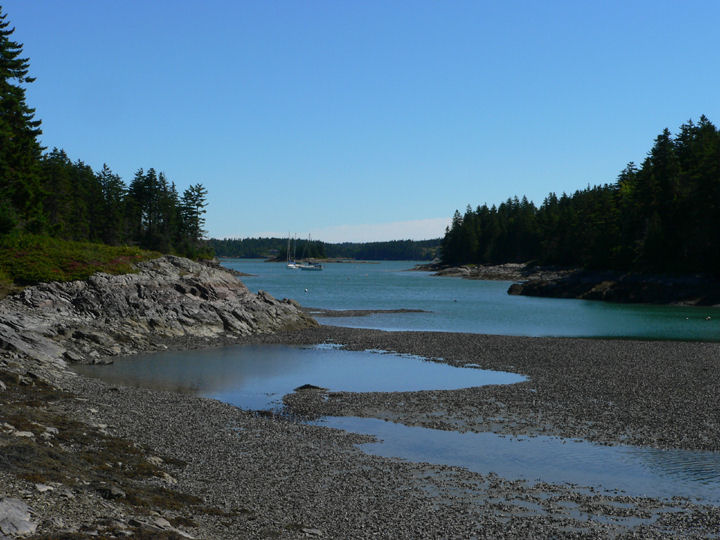 Perry Creek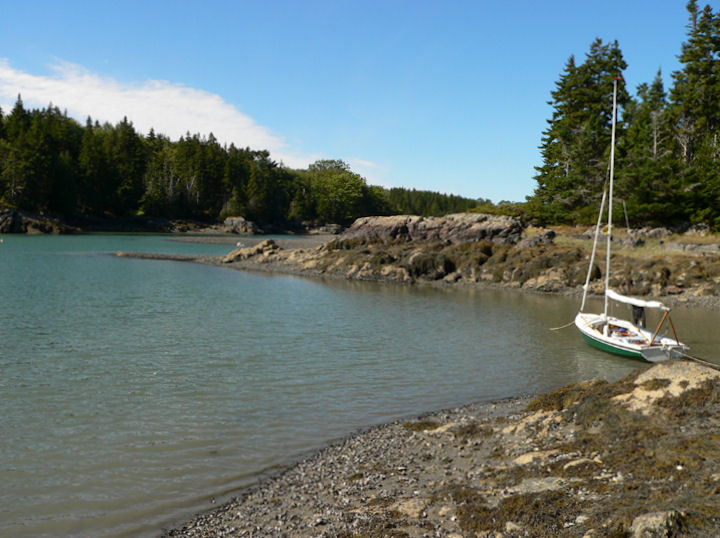 Tucked in
Lazy Day at Perry Creek
The winds picked back up again overnight, and our very lazy start turned into a day of goofing off. Perry Creek has public land on all sides with nice hiking trails mapped out. So we decided to take the day to explore the trails, and gather seafood as we could, getting mussels from the prolific mussel beds that became clear when the tide dropped.
The day was not without its small adventures or comic scenes. After our long walk, we knew it might be chancy getting to the boat. We had moved off the mooring to anchor in a small cove with relatively easy access to the shore. But with ten foot tides, easy is only as long as your longest lines. In our case, it meant one of us taking a swim to loosen the anchor line so that we could bring the boat in to shore. But with the gorgeous weather, Steve had no problem shucking his clothes to take the plunge.
We eagerly anticipated dinner as we had about 60 mussels fresh picked to steam. But little did we know we would have stand-up comedy to go with our cocktails. We were preparing dinner when a 30' sailboat came motoring up the creek to the next to last mooring, which was about 50 yds away from us off the stern. The captain manned the bow and his wife, the first mate, was on the tiller and the throttle. What ensued went beyond the clichés of husband/wife, captain/mate dialog, to the truly inventive.
Husband: (after several abortive attempts to grab the mooring ball, yelling) "You need to throttle down."
Wife: "I'm going to throttle you if you say one more word".
Husband: "Did you take it out of gear yet?"
Wife: "I hate this damn thing; I can't tell what is forward or reverse."
Husband: "Can you bring the line over there?" (Pointing to a place and in such a way, his wife has no hope of seeing what he is talking about)
Wife scrambles to dig a line out of a lazarette in the stern, and charges up to the bow, only to be told he meant the line that was right on the deck next to the cabin - wife throws line at his feet. So it went until the boat was snugged down and they had disappeared inside the cabin.
We were hoping it would be a quiet night. The mussels were great and it was quiet.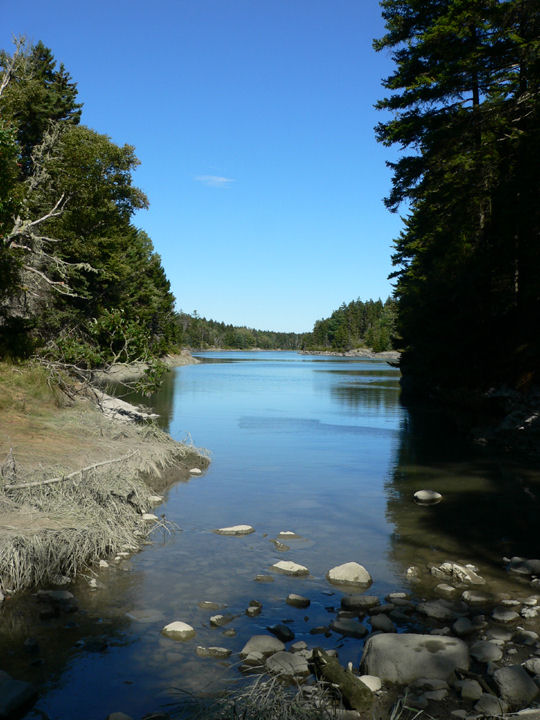 Looking from source of Perry Creek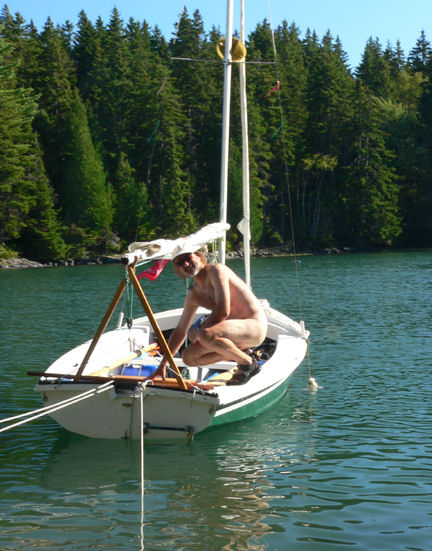 What you do when the tide is too high
Return to Rockland
The weather forecast was for good winds on Wednesday but possible storm and strong winds on Thursday, so we decided to head back to Rockland and haul out rather than to High Island, an anchorage on the North end of the Muscle Ridge channel that is to the south of Rockland.
The winds were 10-15 with gusts, and somewhat fickle within the Thorofare itself. But we made good time out of Perry Creek and onto Penobscot Bay. We sailed a nice reach across, once again getting the feel of the larger Bay, and the delightful sights of the Windjammers taking advantage of the good wind. Though it was nearly low tide on our return, the Rockland ramps were all-tide as billed, and there were no snags with getting the boat out. Our only delay was when a fellow showed up (playing hookey, we learned, from his job as a mailman) to go for an afternoon sail in his home-made boat. Quite the unique project, and certainly bomb-proof, as it was made of 1/8 or 3/16 aluminum. He is already thinking of his next project, and I had the feeling he spends a lot more time building his boats then he spends sailing them.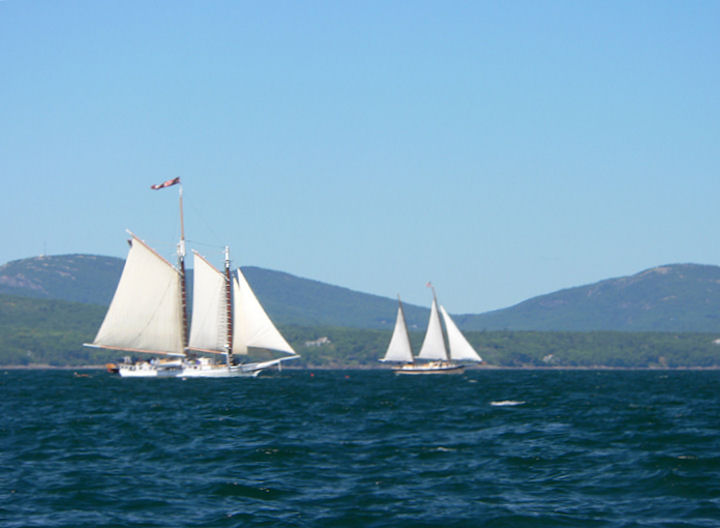 Windjammers sailing from Rockland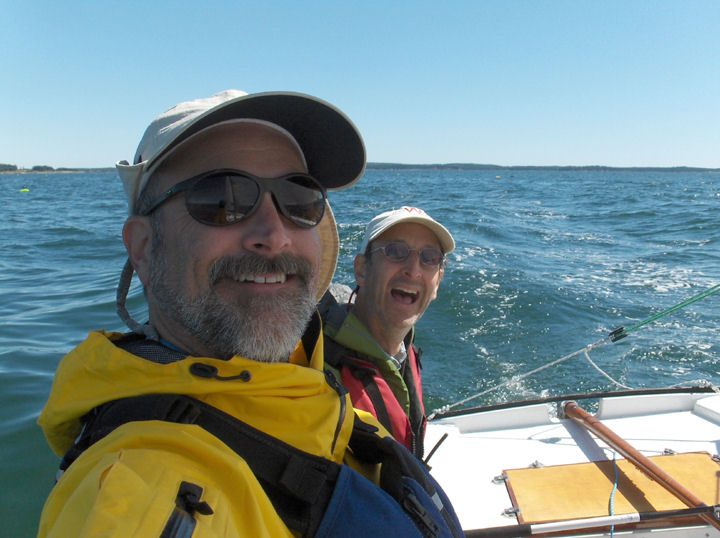 Had a good time or what?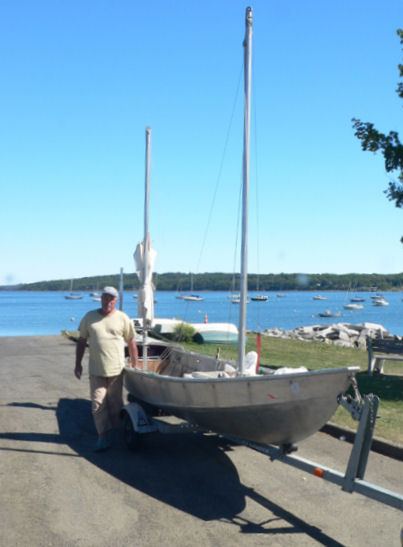 Homemade dinghy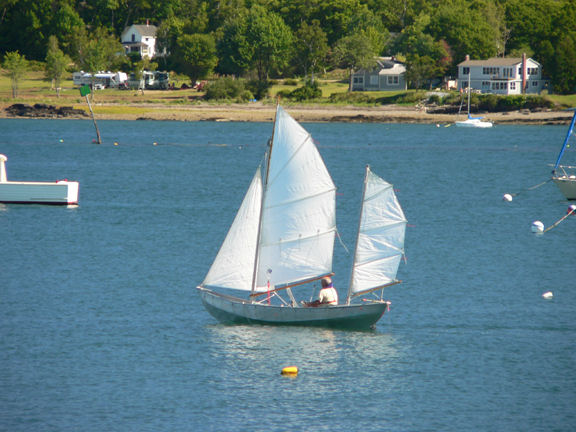 Dory sailing out
Final Notes
Once again it was an amazing experience to get out on the water in the Wayfarer, and backpack on the boat. Big boats and small boats, I have met some great people who are all out there for love of the same thing. But, one line I never thought I'd hear thrown my way came from a big-boat guy we chatted with in Seal Bay: "You guys get the big balls award any day." That's pretty far from how I feel when on the water, so I take it as a compliment to the Wayfarer, being forgiving of my mistakes and letting me take advantage so easily.