Itinerary - 11th to 22nd Sept. 2008:
Map of Adriatic, showing countries (clockwise): Italy, Slovenia, Croatia, and Bosnia
Day 1:
Prepare and launch boat at Zablace - short sail to island of Zlarin for overnight stop - walk one mile across island to main harbour for evening meal - rain during night.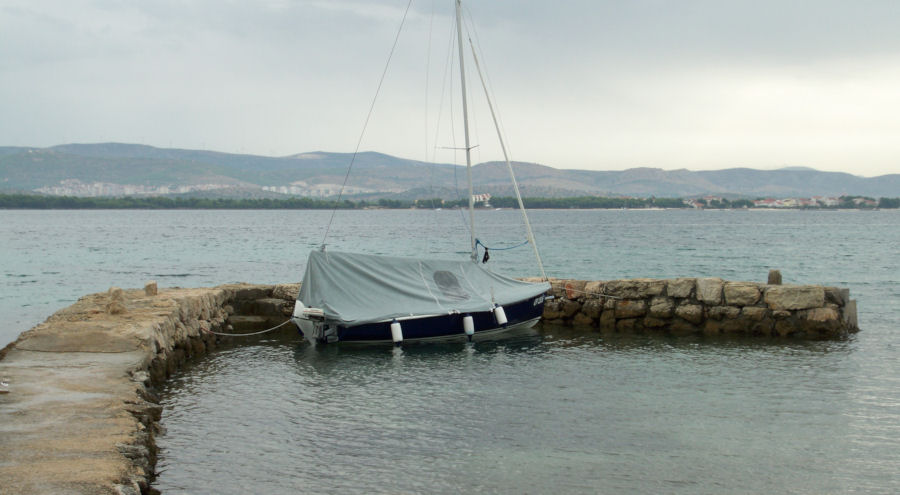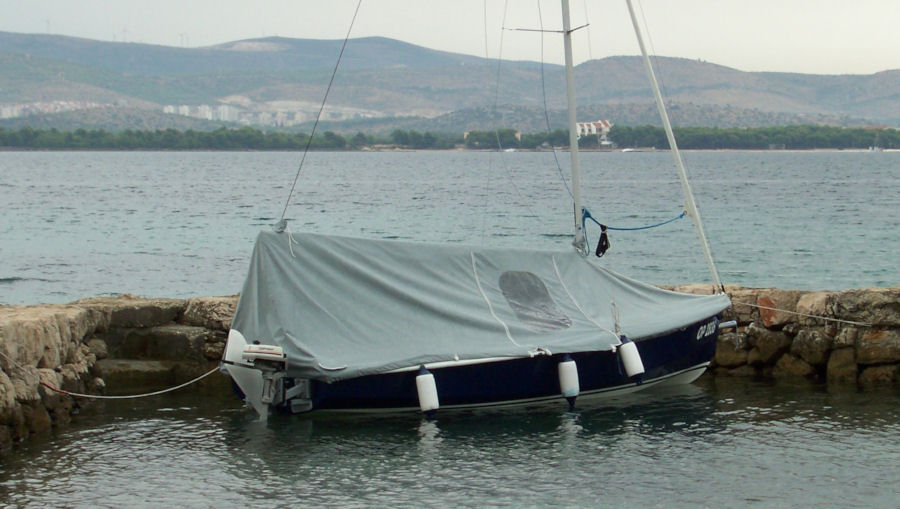 Pinčika
moored at small jetty on island of Zlarin - Zablace in background
Day 2:
Sail and motor in light winds to Vrgada - walk to small harbour on other side of headland to enjoy evening meal in taverna overlooking harbour - rain again during night.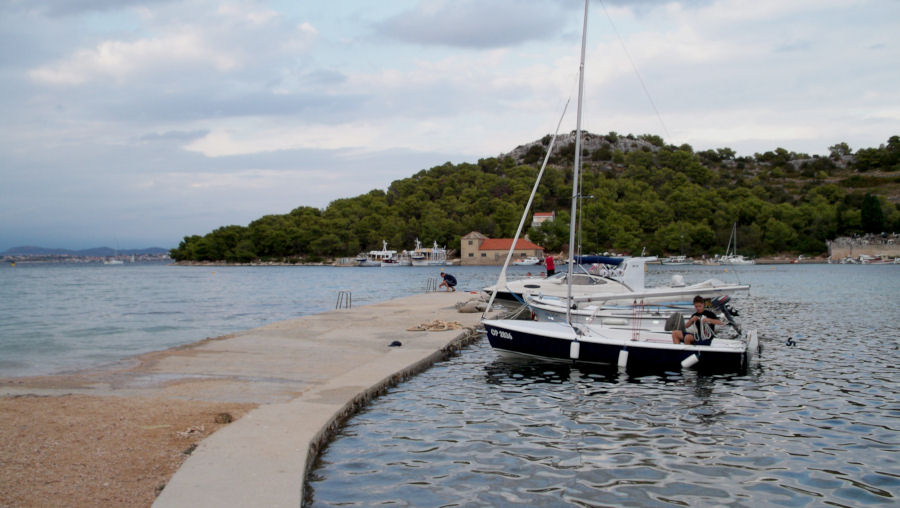 - click
here
for full-sized image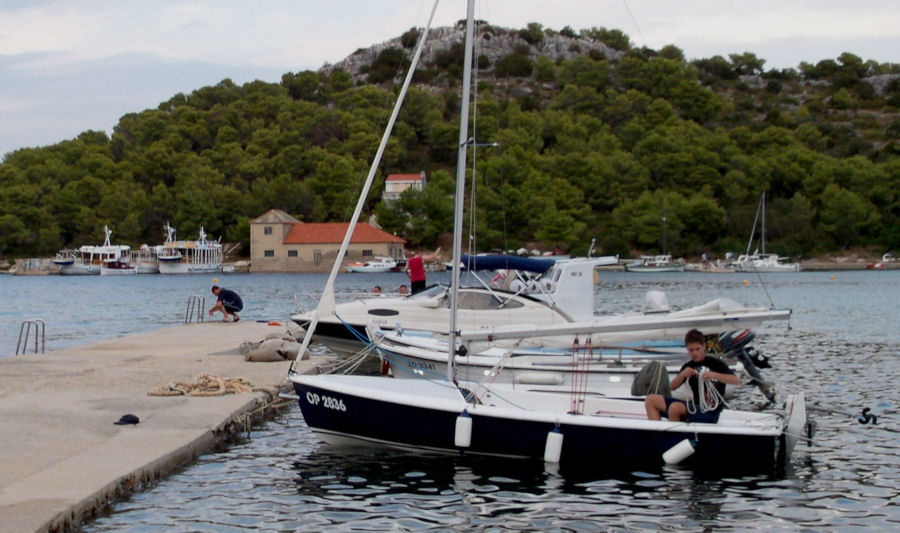 Mato tidying gear in boat before erecting boat tent in Vrgada
Day 3:
Start of a Bura wind - sailed with reefed main and jib to protected bay of Brbinj on island of Dugi Otok - evening meal in nearby taverna - winds very strong during night - walked to harbour with small shop on other side of headland in morning.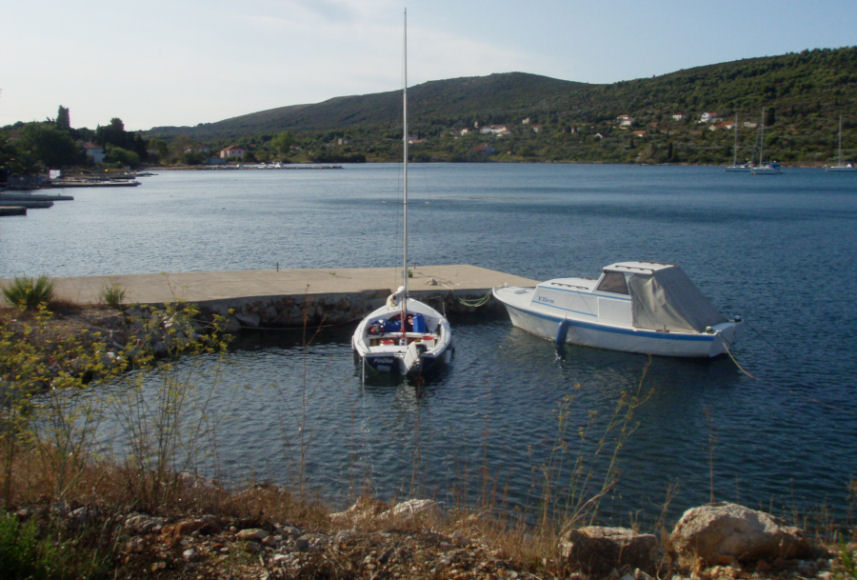 Pinčika
moored up in a perfectly protected bay at Brbinj
Day 4:
Continuing strong Bura wind - we shorten day's intended destination to island of Ist - charged for mooring boat in harbour, but fee did include use of shower, though no toilet facilities! Very strong winds during night - walked up to church/lookout post at top of hill in morning for view of wind/sea conditions on windward side of island.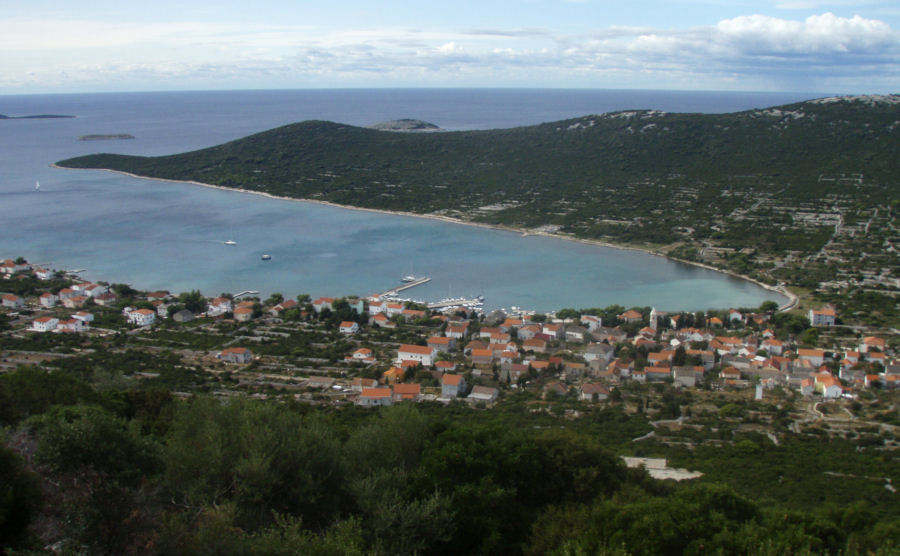 View from hill overlooking harbour of Ist

- click
here
for full-sized image
Day 5:
Decide conditions OK to make further progress northwards - current very strong between islands of Ist and Skarda - make good passage towards island of Silba prior to wind increasing and changing more northerly - pass small island of Grujica before near capsize - run back to Premuda - enjoy superb fish meal in taverna.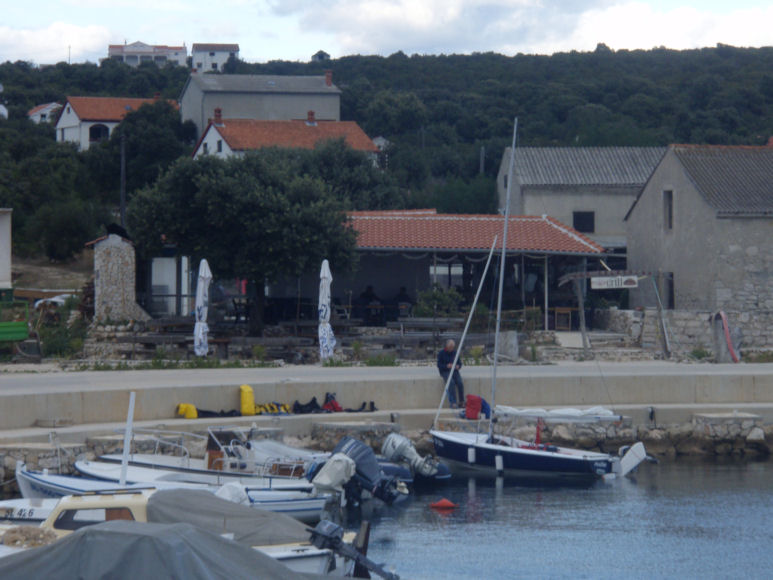 Moored up in Premuda with taverna immediately behind
Day 6:
Wind dropped completely - beat our way slowly toward Ilovik (on southern point of island of Losinj) - use motor for short spells - sail into well protected harbour between islands - busiest harbour with the least ambiance of all the places we stopped for the night.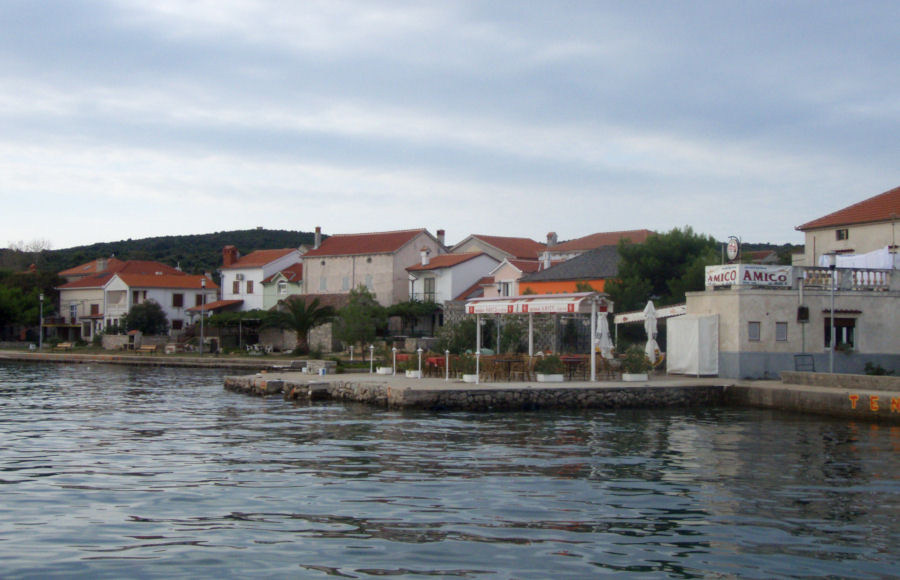 A taverna at Ilovik, serving the many yachts moored within the protected harbour area
Day 7:
Further Bura wind forecast for the days ahead, so decide to return to Zablace - sail in light northerly winds to Silba, then to Zapuntel - first (and only!) evening meal we cook for ourselves - take evening walk along quiet road inland.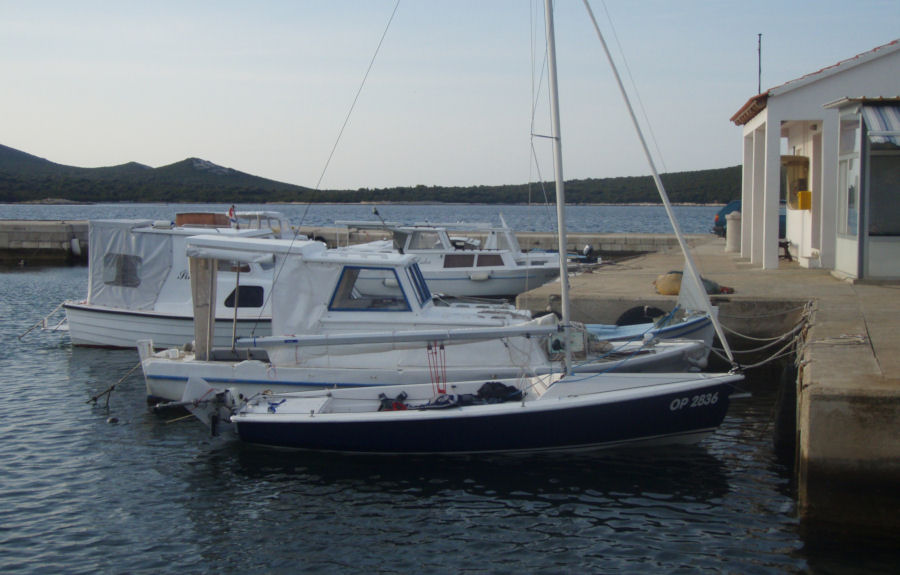 Pinčika
moored in Zapuntel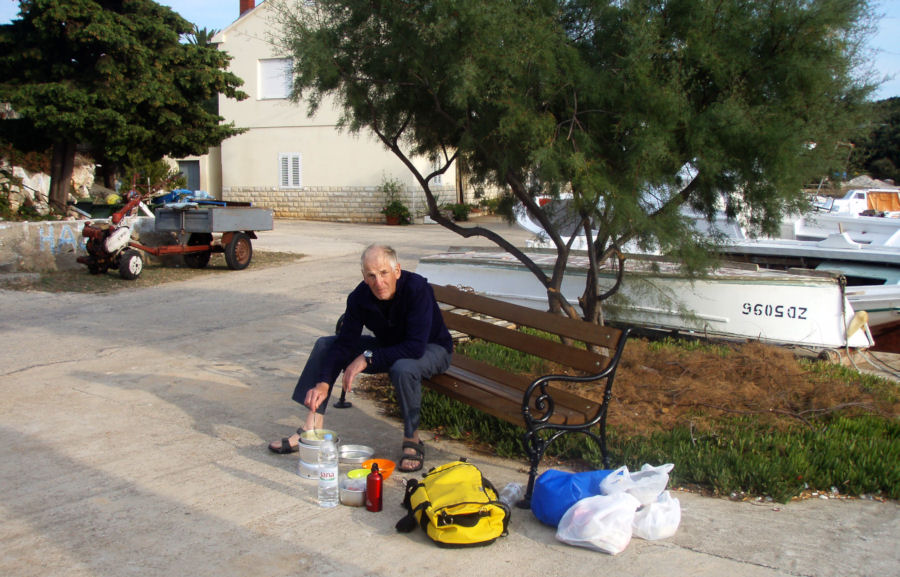 Using a Trangia to heat up an evening meal


Day 8:

Sail in light winds to small eastern harbour of Molat - walk through village to more developed harbour on western side - motor in dead calm to island of Rivanj - then on to Muline on island of Ugljan for night - convenient café by harbour - not able to moor in more protected part of harbour with small fishing boats - wind increases and very strong by evening - not a very comfortable night.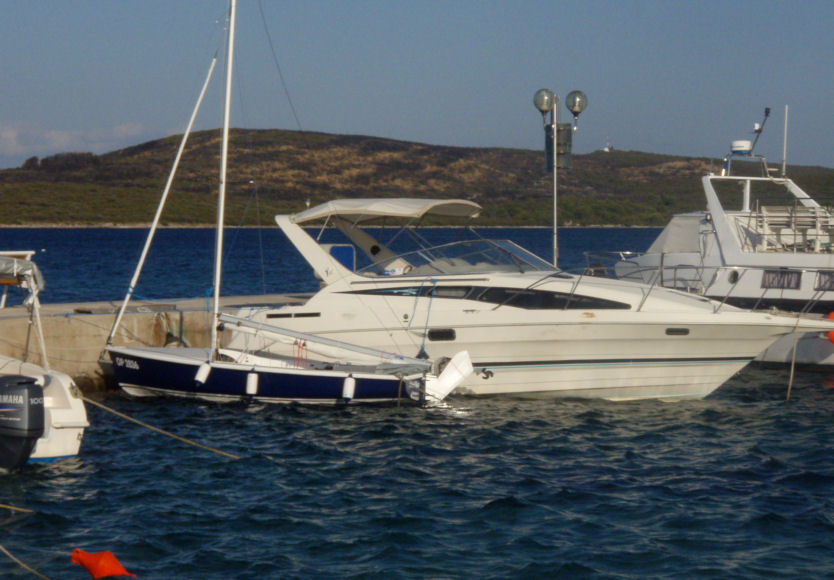 Pinčika
moored in a less than ideal position at Muline.
Day 9:
F6/7 Bura wind blows all day and too strong to sail - walk three miles in morning to small town on other side of island to shop and have coffee - café owner in Muline finds apartment for us to sleep in for night.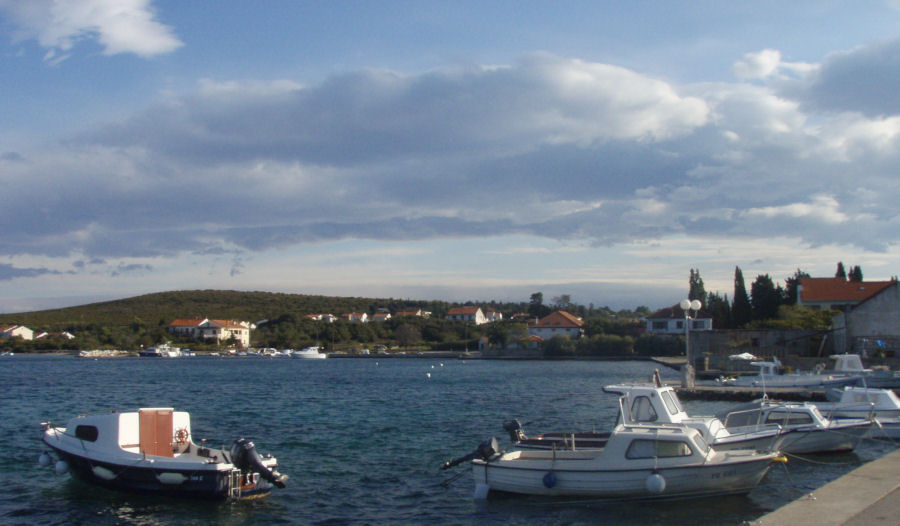 View of Muline and the preferred, more sheltered harbour for small boats

- click
here
for full-sized image
Day 10:
Set off southwards in very light winds - wind increases on reaching southern end of island of Pasman and changes to sudden squall - reef main and run to known safe haven on island of Zut - enjoy excellent meal - camp in old olive grove.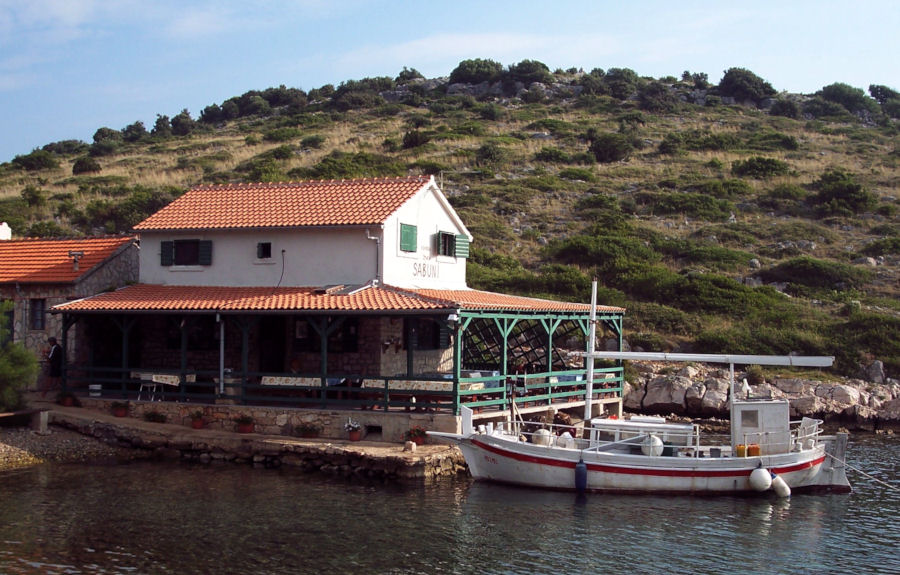 The taverna on Zut, providing us with a good mooring, evening meal, and place to camp
- click
here
for full-sized image
Day 11:
Sail in moderate Bura wind to Prvic - moor boat in harbour and stay with an aunt of Mato's - a group of UK sailors in hired 'Sunsail' yachts are moored along the main harbour wall - many of whom recognise the familiar 'W' on our sail!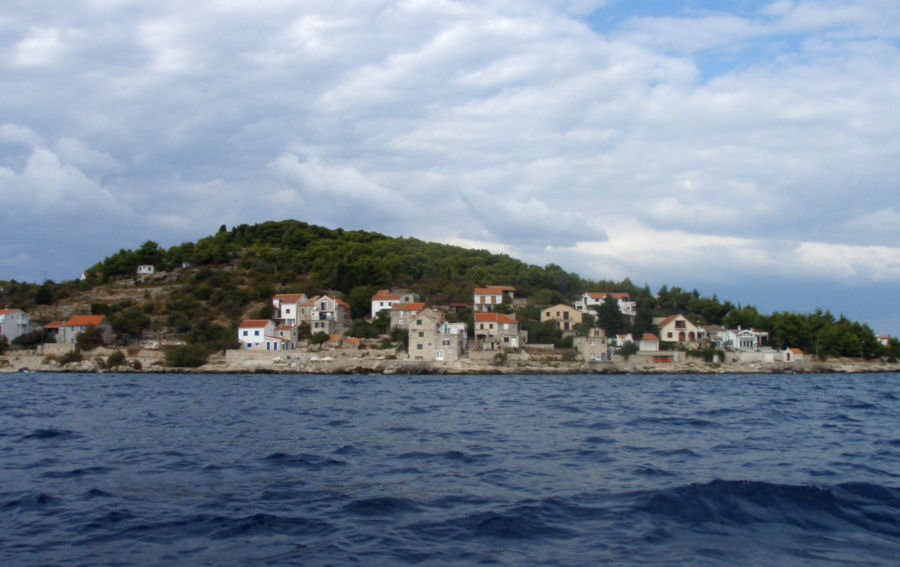 The picturesque entrance to the harbour at Prvic
- click
here
for full-sized image
Day 12:
Sail short distance from Prvic to Zablace and retrieve boat from water.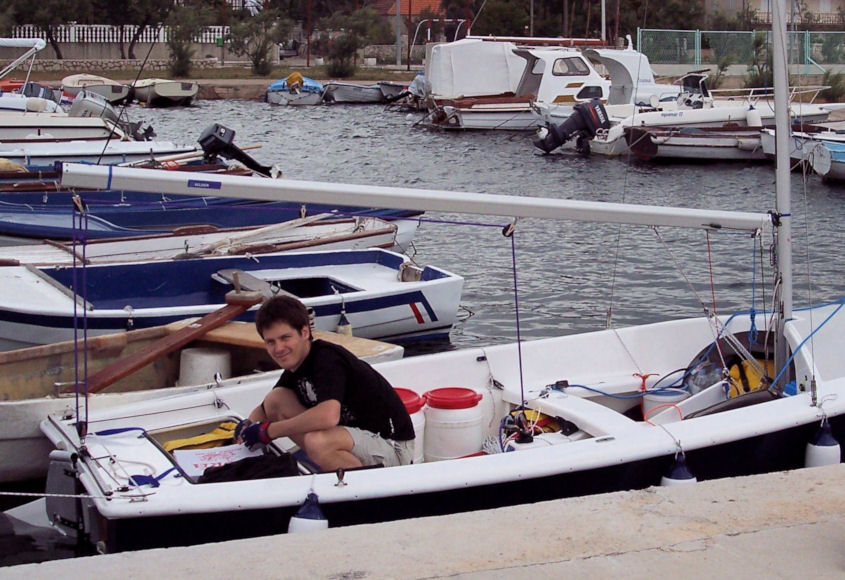 - click
here
for full-sized image
Mato starts to unpack the boat on our arrival back at Zablace.
Ralph Roberts W9885

, but sailing W 10435

Pinčika