Florida 120
May 14 -17, 2009
The Florida 120 was planned as a challenge aimed at small boats.

Over four days, about 23 boats ranging from 10 to 28 feet

in length, would sail, row, paddle or even motor

to see what they could accomplish while sailing the intracoastal waterway inside the barrier islands that separate the Florida and Alabama coasts from the Gulf of Mexico. If it all went as planned, we would spend Thursday and Friday sailing about 60 miles east from our launch point at Josephine, Alabama, ending up in Fort Walton Beach, Florida. And then we would re-trace our steps on Saturday and Sunday. Participants were expected to be self-reliant and rough it with beach camping.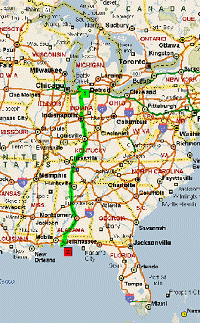 I picked up Robert Mosher in Berrien Springs around five o'clock on Tuesday, May 12th.
We drove until about midnight, stopping in Bowling Green, KY right next to the Corvette Museum.
No time to take a peak however
,
as the next morning we were off early, reaching
Pirates Cove in Josephine, AL around
4PM.
930 miles of driving!
But we were both excited to be there.
...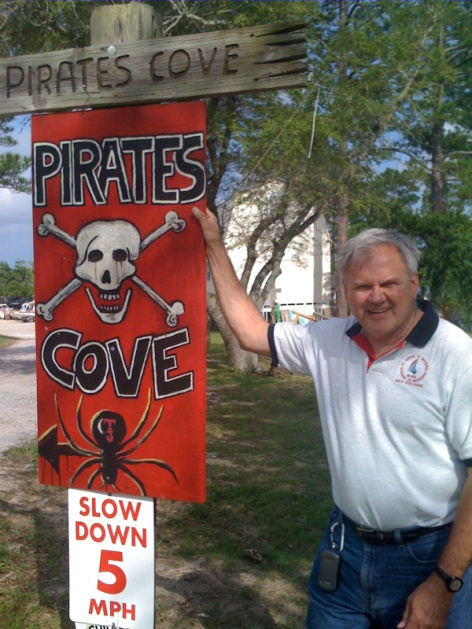 Gary Hirsch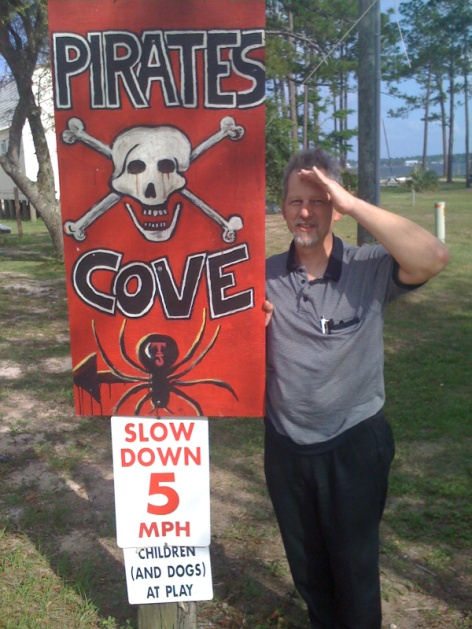 Robert Mosher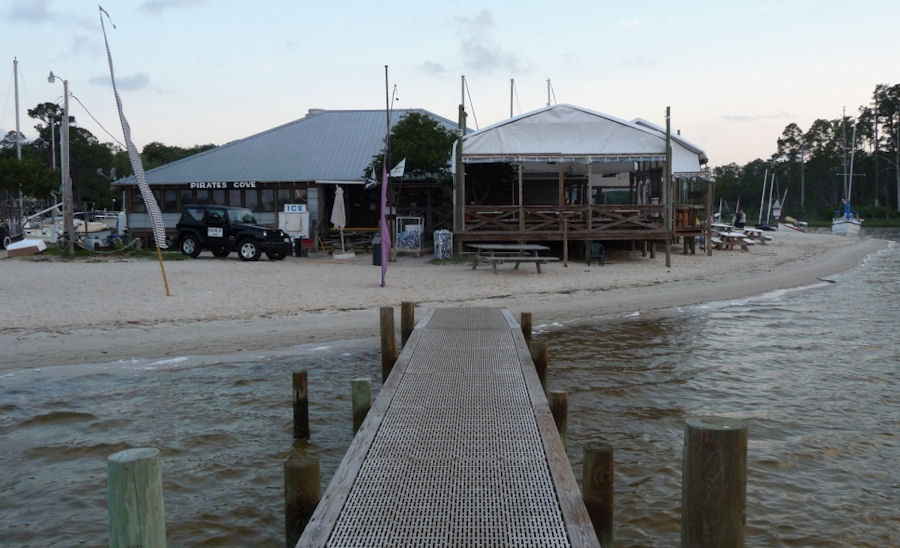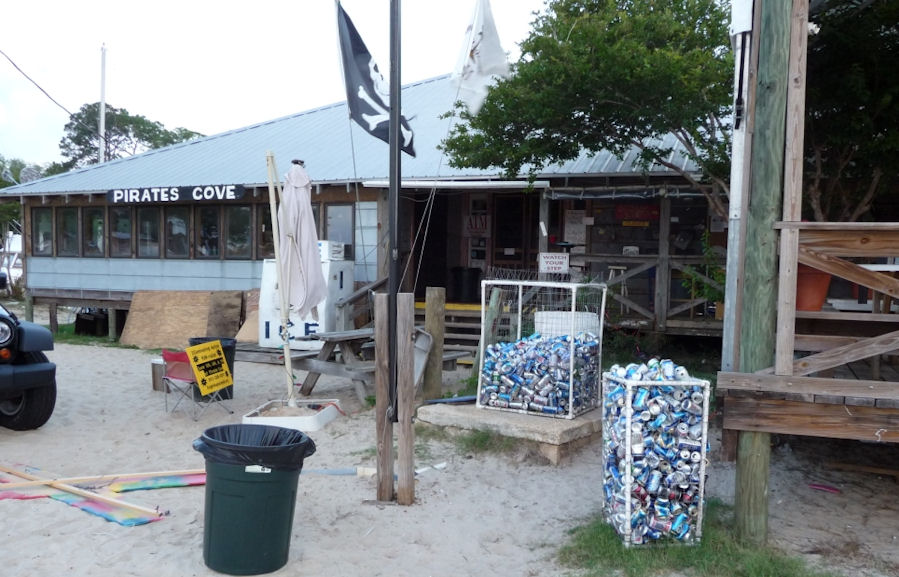 ...
Day 1: Pirates Cove in Josephine, Alabama to Sand Island, Florida

Day 1 & 4 = 12 miles x 2

Pirates Cove in Josephine, Alabama to Sand Island, Florida
We camped on the beach that first night, but were able to get a shower. That came to be the defining item each night. Could we get cleaned up a bit after spending most of the day under the baking sun? Thursday morning, after a short skippers meeting, we were on the water at 9 AM. Right away, I noticed how well the Wayfarer pointed compared to most of the other boats. An Apollo 16
(below)
was the exception.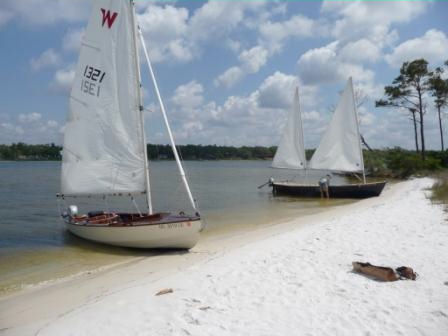 We sailed with a Sea Pearl 21
(above)
for a while before stopping on a little island spit for a lunch break.
After the lunch stop, the first obstacle loomed ahead. A bridge. There was a small tidal current against us and the winds got really fluky around the bridge. Some tacks found us losing ground instead of gaining. We finally tacked through with Robert calling out distances to the bridge abutments to allow us to use all of the distance available prior to the tack. We found out later that almost everyone either rowed, motored or received a tow through that area. A short time later, we made a turn and were blessed with a close reach in about 12 knots of wind the rest of the way to our night stop.

The harsh sun was more than I expected. I had a Garmin Oregon 400C with charting clipped to my life jacket. I tried to read it, but was unable to most of the time due to the glare. A couple of our pictures were taken by holding the camera up and shooting with the hope that it would capture something interesting.

The early evening found us all craning our necks as Navy trainer jets went roaring by what seemed like just feet off the beach. We were directly off the end of their runway. Thankfully, they do not run all night. The beaches in this area are a bright white smooth sand. We ran the Wayfarer up on the beach, dropped the anchor in the sand above high tide (about 14 inches) and relaxed. I never had a problem with catching anything in the centerboard trunk. We did not sleep in the boat, but rather brought tents to allow a bit more stretching out. Many others did the same, although there were varied arrangements that complimented the varied boats.

...
Some of the boats included:
Laser 14, West Wight Potter 15, Norseboat 16, Windrider 17 Tri, Apollo 16, Sea Pearl 21, Grumman canoe with a sail and outriggers, Compac Suncat 16, MacGregor 25, Cape Dory, and a host of home-made boats.
It sure was interesting to see how others were coping with stowage of food & liquids, sleeping arrangements, sail combinations, etc.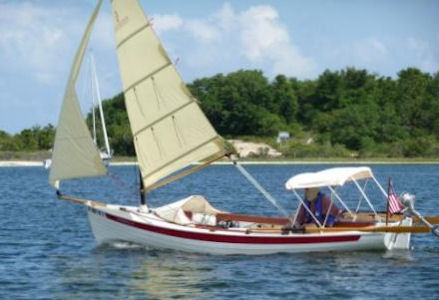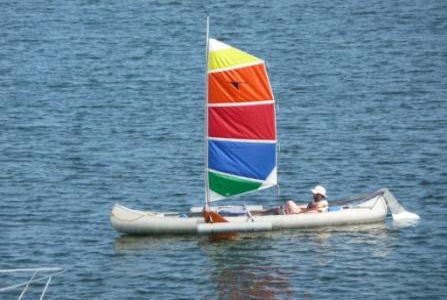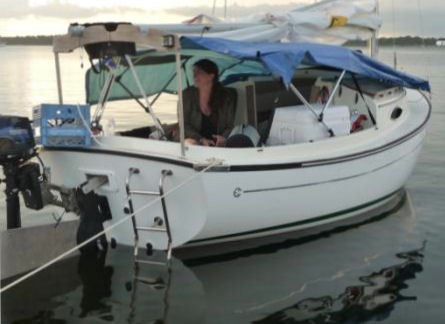 Compac Suncat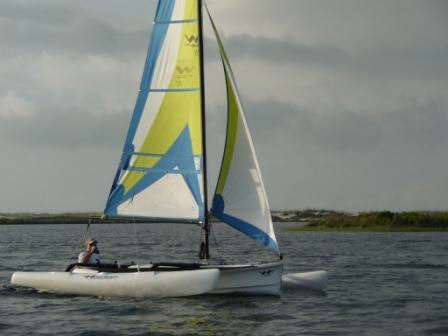 Windrider 17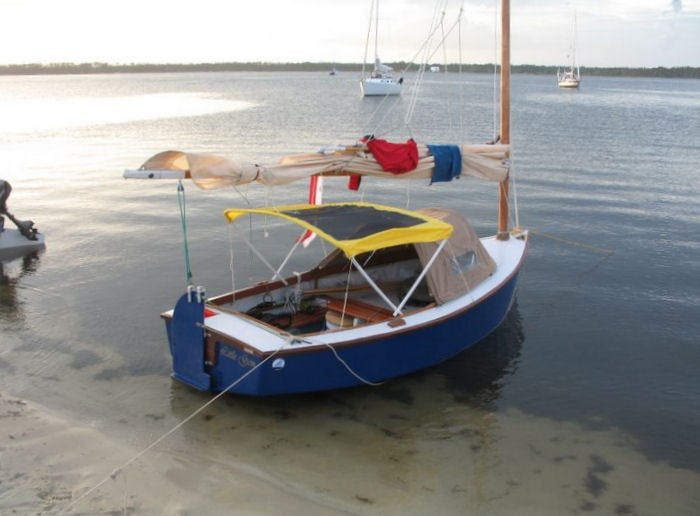 Home-built 12-footer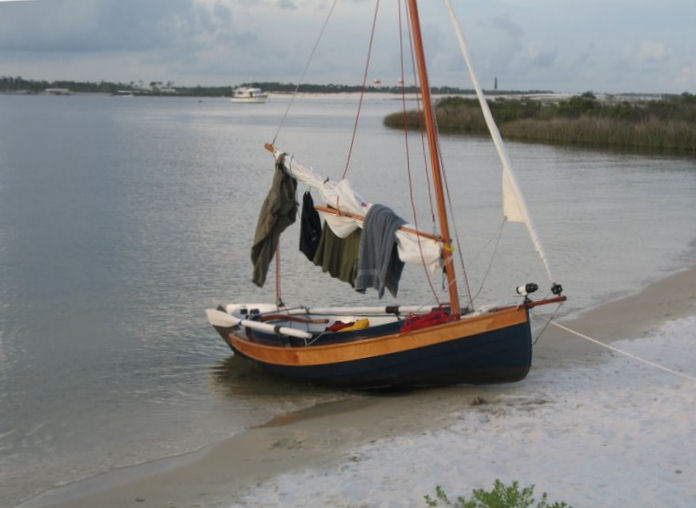 Home-built 10-footer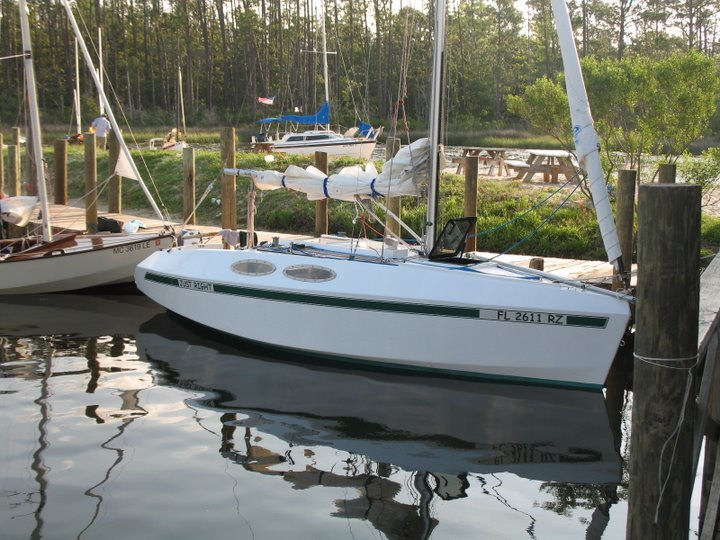 Home-built 19-footer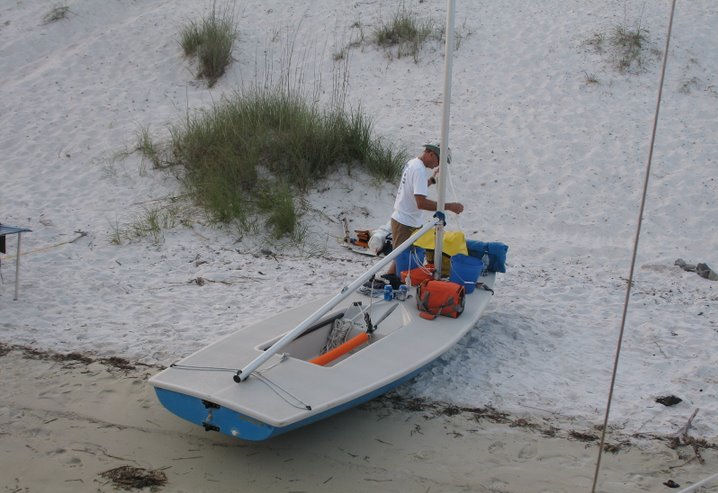 Laser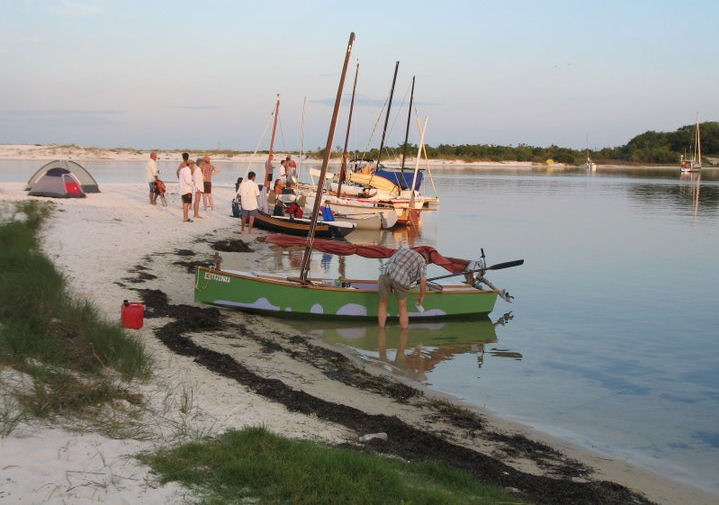 Home-built something in green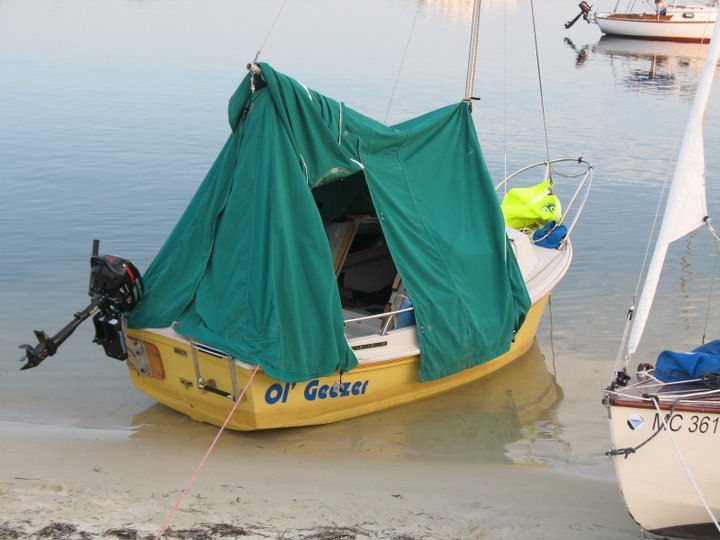 West Wight Potter 15 (I liked the name

Ol' Geezer

)

Day 2 & 3 = 25 miles x 2

Sand Island Florida to Quietwater Beach (005) for lunch and Navarre Beach (008) for night stop
The next day (Friday), we had a brisk wind out of the East. Guess which way we were headed! Although we didn't leave with some of the earlier boats, we ended up sailing through most of the fleet and by lunch time we were so far out there, that we stopped with the Windrider, Apollo and Laser for a two-hour break while everyone caught up. The burger shack at Quietwater Beach
(see pic below)
was more than we could resist!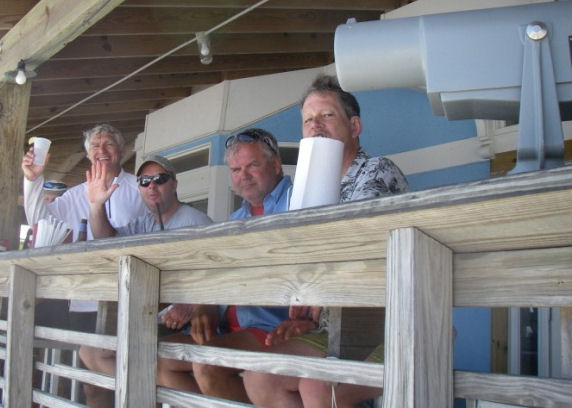 As the others trailed in, everyone was commenting on how well the Wayfarer could point into the contrary wind. The second half of this 30+ mile day was upwind, but we were able to make it to the next stop on one long tack. Most of the other boats had to make a zig-zag track to get there. This headwind caused the group to agree to shorten the course and call it a day at Navarre Beach
(below)
.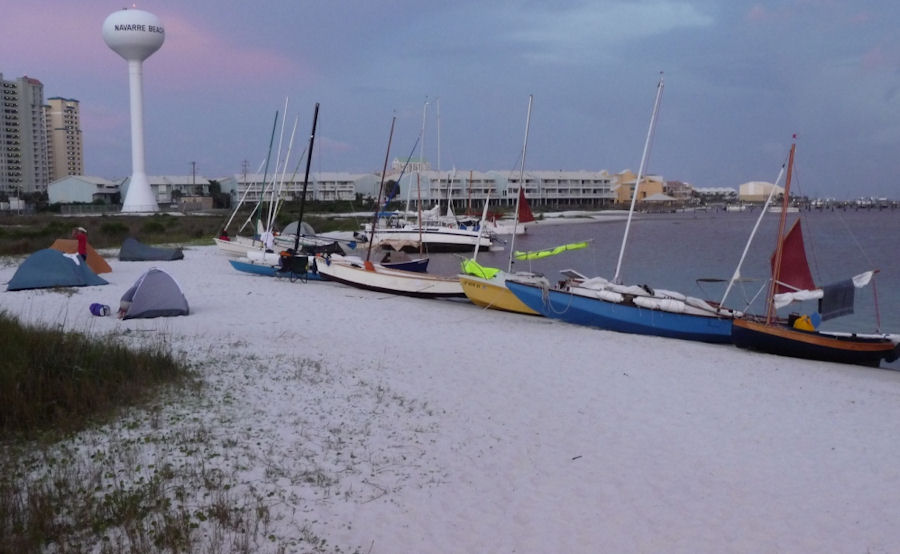 Outside showers, convenience store and restaurant were a welcome way to reprovision at the half-way point. Unfortunately, most were too tired to enjoy the Reggae band that played into the wee hours of this Friday night. Once again we had a sandy beach to run up on and set up our tents.


The part of our Day 2 & 3 plan that was not completed: 12 miles x 2

Navarre Beach to Spectre Island, Florida

...
Saturday
brought more of the same: East winds, but not as much force. The fronts that were passing mostly to the north were getting closer. Our performance advantage was less going downwind and we enjoyed sailing with the fleet most of this day. But towards the end of the day, we were once more ahead of most of the fleet and stopped with the Windrider at Fort Pickens, an abandoned Civil War fort which was built to guard the Pensacola inlet. Saturday night found us beached on a barrier island at a place designated appropriately Sailboat Cove. We were only a short walk across the island to the Gulf side. This had been a long hot day of downwind sailing, very light at times, and the ocean's waves washing over us were an extremely refreshing and welcome change.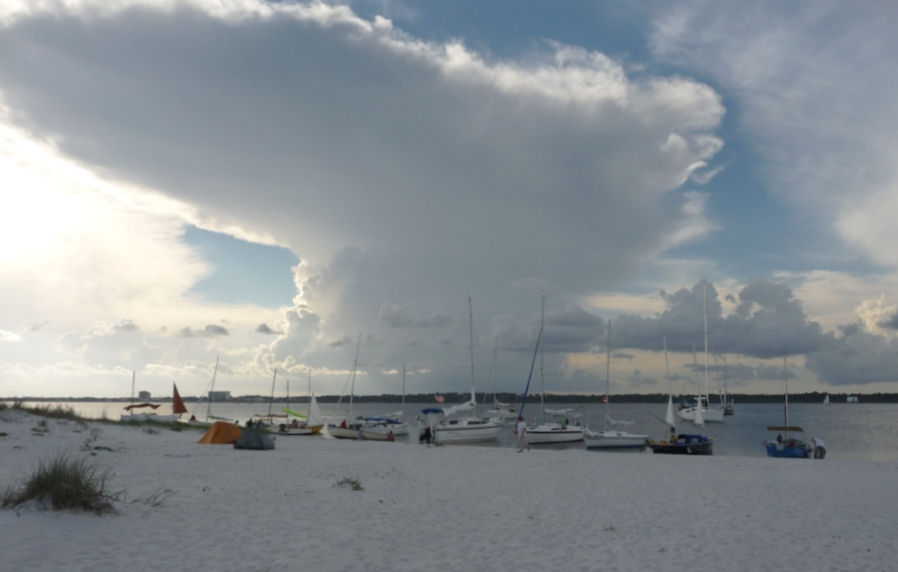 The big cloud picture was taken at our camp at Sailboat Cove.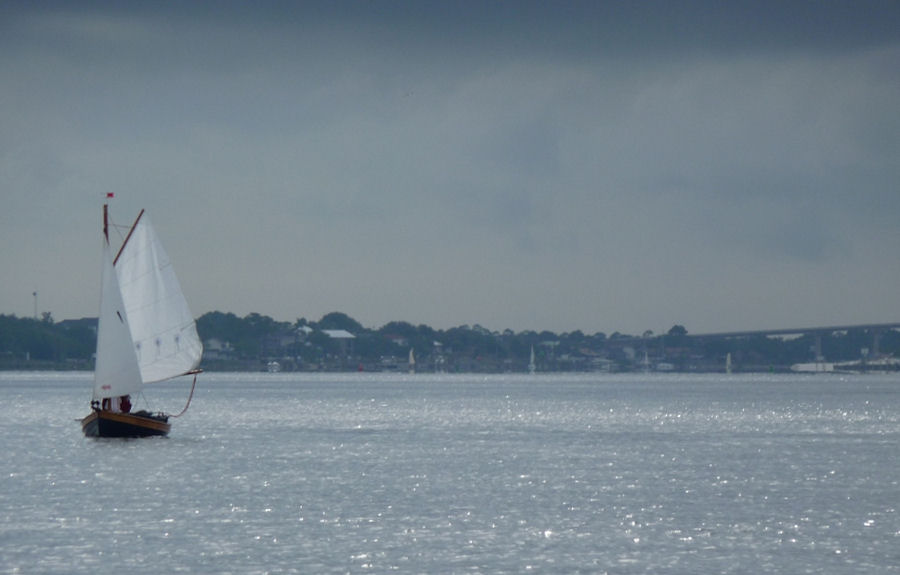 the last leg under the dark sky near Pirates Cove.
Everyone was expecting rain during the night, but the dew was all we had to deal with while packing up the next morning.
The cloud formations were sure signs that we had to be prepared to get wet on this day.
We spent another day of slow going in even lighter breezes.
At times, Robert and I paddled and finally even resorted to the Honda sail for about a mile or two while watching the darkening skies get closer and closer. (It sure looked threatening!)
Then the wind filled in a bit and we shut her down and went back to sailing.
The rain never did reach us.
Robert and I packed up the boat in a hot, harsh sun.
I asked the waitress at Pirates Cove if it was safe to have a Bushwacker
(recipe below)
and drive.
She asked, "How many miles do you have to drive?"
When I answered 930, she raised her eyebrows and promptly said "Sure!"
I think that she just wanted to make sure that I would be leaving Alabama or at least her county.
After a short wrap-up with the Bushwacker drink, we reluctantly got on the road.
What a great sailing adventure this turned out to be!

I think that I will have to plan on returning next year!


Gary Hirsch (W1321) with Robert Mosher (crew)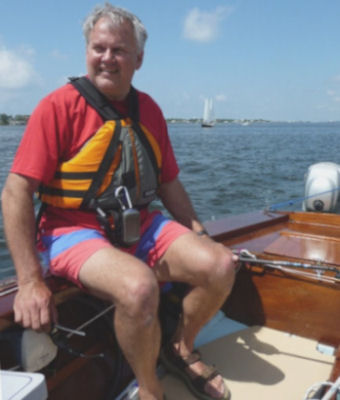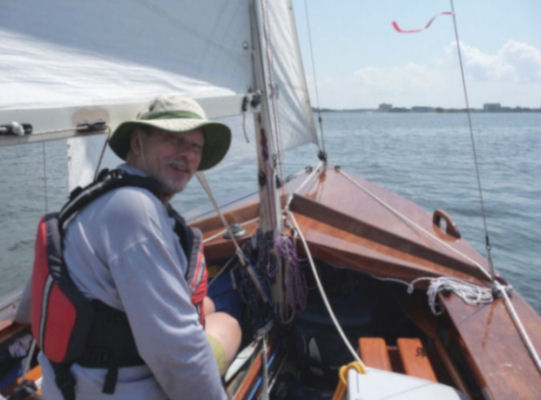 Pensacola Bushwacker recipe
4 oz cream of coconut
2 oz Kahlua® coffee liqueur
1 oz Bacardi® black rum
1 oz creme de cacao
4 oz half-and-half
vanilla ice cream

Pour all ingredients into a blender (ice cream optional) with two cups of ice, and blend until mixed. Serve in a hurricane glass.