Greetings again, Wayfarer cruising friends:
Good news! With lots of help from Uncle Al and David Laux (our local source of knowledge) we've got a good proposal to put before you - Al's Plan C. I'll give you an overview and then go into details.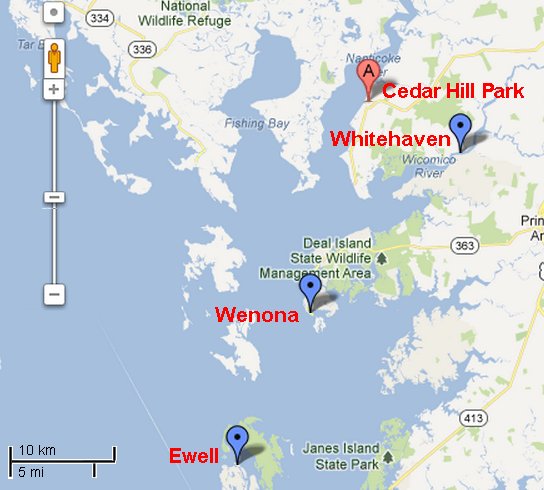 Overview.
Sunday and Monday remain the same. We'll meet Sunday at Cedar Hill State Park Marina and stay overnight there. Jane and I will not arrive until later in the afternoon while Al & Tony will arrive by water from Wenona Harbor (Saturday I think). Monday we will sail to the Whitehaven B&B & Marina on the Wicomico R. Some of us are planning to book rooms at the B&B.
Tuesday, instead of Scotts Cove we will sail to Wenona Harbor. Wenona (not shown on my NOAA chart) is situated on the southern tip of Deal Island at the gut separating Deal and Little Deal islands. There is a good State boat launch and a restroom facility there. On Wednesday we will sail across Tangier Sound to Pauli's Smith Island Marina. Thursday we will return to Wenona where Al & Tony will pull out and head for home.
On Friday the remainder of the group will sail back to Cedar Hill. That will conclude the official part of the cruise.

Note:
This plan does not make allowances for bad weather. If necessary revisions will have to be made.
Details.
Confirmations: I need confirmation from all of you to reserve slips at Cedar Hill Marina and hold rooms at Whitehaven Hotel. (You'll need to make your own reservation.) I want to make these reservations ASAP (this week) because time might be running short. I don't know how quickly bookings fill up down there.
Whitehaven B&B: I contacted them on Saturday and am waiting a reply - e.g., for reservations on Monday, May 26. I requested room availability and rates; rooms with two beds; possible meals other than breakfast; and the possibility of being able to sleep on aboard boats (plus rates?). As soon as I hear back I'll let you know. You can find the web page by Google-ing Whitehaven Hotel, MD. It contains quite a bit of information.

Food at Whitehaven: When I get to talk to the B&B I'll ask them about a dinner meal Monday when we arrive. But I'm not expecting they'll do that. If that's the case, my next question will be how can we find a restaurant. The past two years when cruising the Choptank R. we actually fortunate to have two marinas who provided us with loaner cars. Can we get so lucky again?
Alternative food plan: Because this whole region is so remote, it has long been in the back of my head we might need to organize a group pot luck dinner once or twice. This would entail several boats - not all - being prepared to cook for the group. I'm thinking that might be Tom Goldsmith, Steve Roney and myself. Three is enough to handle the group. We would jointly plan menus and divide up procurement responsibility. Everyone would be responsible for part of the food and supplying their individual eating utensils, plates, cups, etc. Can Whitehaven offer a picnic area? We will discuss this in more detail when we know more.
Wenona: Scotts Cove, as well as any alternative at Deal Is. harbor were just not attractive. There's nothing there. Unfortunately, there are no other marinas nearby. So Al and me, consulting with David Laux, started looking at the State of Maryland-operated boat launch ramps. There are quite a few in the area. Some of these are pretty good and most provide portable toilets. Portable toilets didn't thrill me but I wanted to give it a shot before throwing in the towel. I felt the facility at Dames Quarter Creek, located on Deal Is. a short ways out from the mouth of Micowico R. held possibilities. There is a big fishing pier we could tie up to and a potable toilet (referred to as a temporary toilet). But being remote we would have to resort to the pot luck dinner approach noted above. The biggest problem, however, was the +/-17 nm sailing distance to Smith Is. We decided this was a little too much.
At Wenona we discovered a much better situation. There is very good boat ramp with permanent toilets. Based upon the toilet at the State launch at Crisfield there should be a decent washroom, albeit, with cold running water only. No showers of course.The fact sheet lists dock rentals, but I expect this is mostly intended for locals. The Google sat pics show plenty of dockage, albeit most likely largely commercial (watermen). Nervertheless, I feel confident we will find space to tie up. The web page for Wenona lists three delis along with some tourist information. What I need to do next is contact someone in Wenona (possibly one of the delis) to find out how we might find space to tie up overnight.
Restaurants/Wenona: Al & Tony's car and trailer will be parked at Wenona. I've invited Al to follow this email with his thoughts regarding dinner Tuesday. Al's note: Dick recalls a nice restaurant an estimated 15 mins'. drive from Wenona. I could drive the whole group uo and back in two segmants - or we could do the drive in one go if someone else wants to start and finish at Wenona like I plan to.

Conclusion. I've tried to condense a lot of information into this email. If I've missed something I hope Al corrects me. If you have questions let me know.
DICK