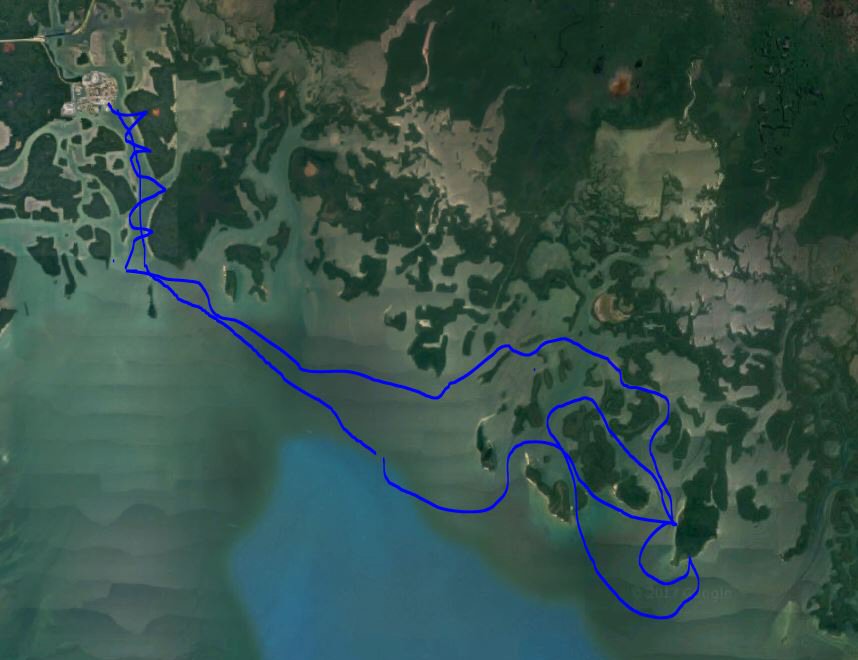 Ever since moving to Florida, I've wanted to cruise the Ten Thousand Islands on Florida's south-west coast. These islands
(above)
are a labyrinth of shallow water and mangrove passages about thirty miles long by five miles wide that runs south east from Marco Island along the Everglades. After cruising the area hundreds of times in my mind, I finally was able to make the trip a reality this year with the
West Coast Trailer Sailing Squadron
. The Squadron is a very active group of sailors that gets together for day-sails and mini-cruises throughout the year. I joined in 2015 after picking up my 1971 Wayfarer
(below)
that I christened
Truant
.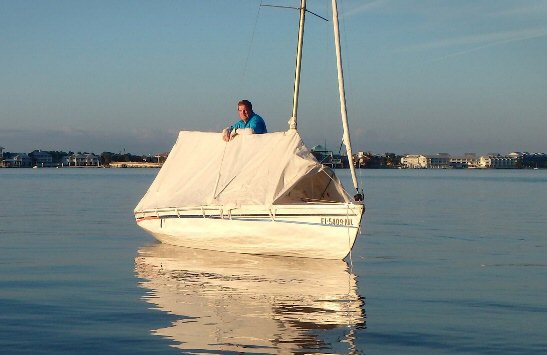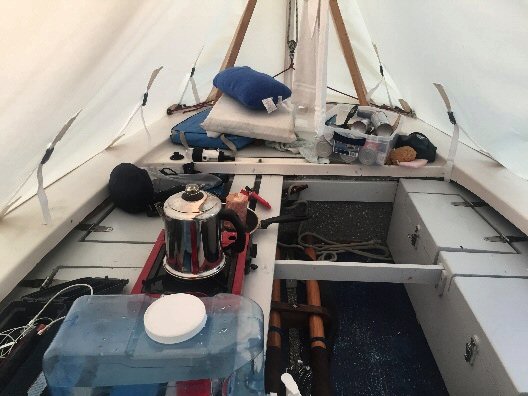 I have outfitted Truant mostly for cruising (above). I built cockpit lockers for her, a sleeping platform, and a custom canvas tent. The WCTSS scheduled the Ten Thousand Islands cruise for Tuesday January 2 through Monday January 8. Sailors could join the group anytime. I was able to carve out Wednesday through Saturday. I made the usual preparations, replaced my trailer bearing and races to be on the safe side (it had been two years) and watched the weather reports in anticipation.

The front that would eventually become the "bomb cyclone" that chilled the entire East Coast was scheduled to pass through our area about the time of trip. I did not want to be out when the front came through with winds forecast at over 35 miles per hour. Eventually the forecast settled on Wednesday for the front's arrival and I prudently decided to delay my start by a day. Several others gladly followed suit.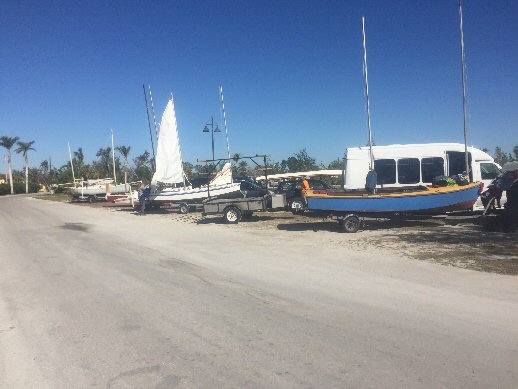 The extra day gave me plenty of time to pack up
Truant
and make final preparations. Early Thursday morning I was on the road by 5:30 am as planned. An uneventful three and a half hours later, I was in Goodland Boating Park. Soon I was joined by my friends Roger in his Core Sound 17, Michael in a lovely Canoe Yawl, Joe, also in a Core Sound, and Craig in his restored Lightning
(above)
.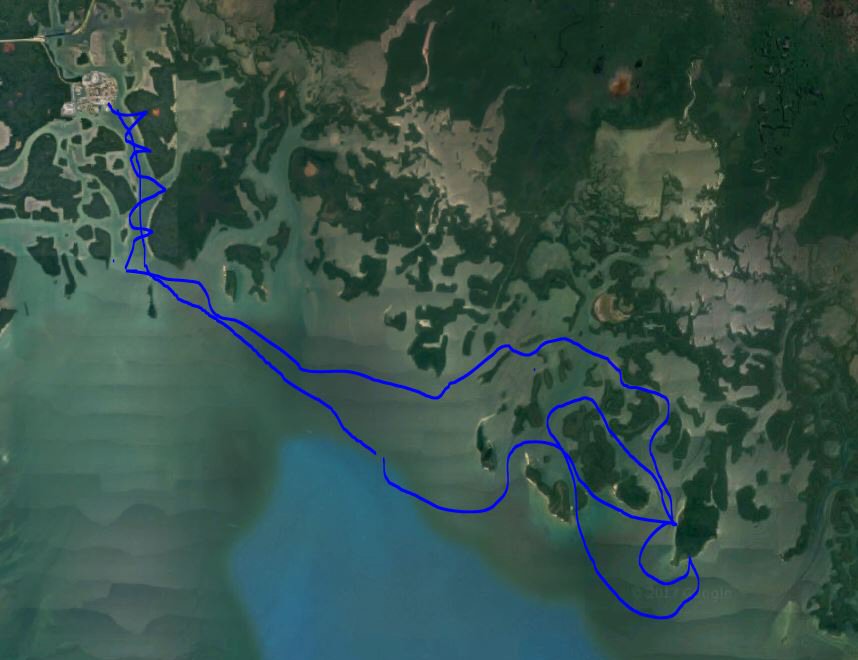 Eventually we got all the boats launched and, after overcoming some group inertia, set off down Coon Key Pass just after lunch. The wind was north-west, light but building when we launched. I had up the main only with the first reef tied in. The prediction was for around 15 but gusting to 25. As we went down the pass, the wind picked up greatly. I pulled over to Coon Key and tucked in my second reef, as had all the other boats by that time. We cleared the key, entered Gullivan Bay, and headed for Dismal Pass, about two and a half miles away on a heading of 115 degrees. The winds were now blowing in excess of 15 with gusts of 25+. We flew down Gullivan Bay, surfing most of the way. I managed to shoot about thirty seconds of video during one of the more settled moments, but mostly had no time to take pictures. A mistake would be costly in these conditions.
We quickly made Gullivan Key and turned to port to enter the pass. Turning to a beam reach, Truant accelerated, hitting the trip's maximum recorded speed of 7.9 kts. Soon we were in the lee and the sea flattened out considerably. I was grateful for the reprieve and was sure the others were as well. We rounded the tip of White Horse Key and headed south through a narrow gap along its south east shore. I had scouted out a nice sand beach there with deep water next to it as a potential anchorage. We stopped for a little break but there was too much wave action. We continued on to nearby Panther Key, rounded Gomez Point, and found a nice cove with good protection and some water in it to anchor.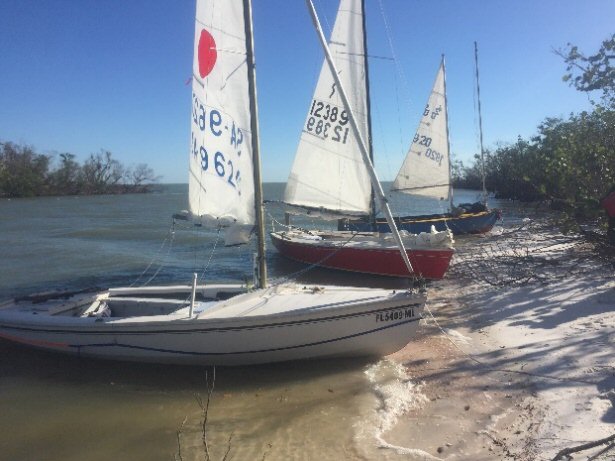 After a quick exploration of the beach, I got about the business of converting
Truant
from sailing to camping mode: sail furled, tent set up, sleeping platform/bench put in place. Once the boat was suitable for living, I met up with the other sailors for a fire and some socializing on the beach. Later using my butane stove, I made a nice dinner of pasta with Italian sausage, red pepper, and onion, served with some red wine. After dinner I washed the dishes, then washed my hair and took a sponge bath. I try to keep up this routine when cruising to maintain an air of civility. I inflated my air mattress, set out my sleeping bag, dressed warmly and turned in early around 9pm. The temperature dropped into the low forties during the night, but I was fairly comfortable until I discovered my air mattress had sprung a slow leak ... ughh. I pumped it back up but woke up every two hours or so lying on the hard platform.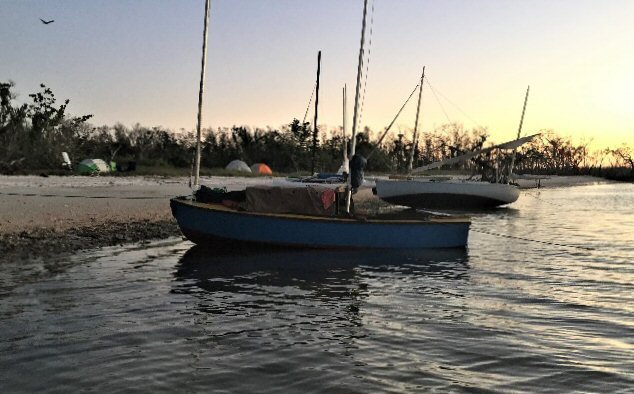 When I awoke early Friday,
Truant
was high and dry, as were all the boats. I made a hot breakfast, coffee and hash, and went out to check on the other sailors. After lunch we were able to float off and set off for the west side of Panther Key. The winds were switching to the north east and the water was much deeper there. After scouting out an anchorage, I organized a sailing excursion through the mangroves with Roger and Craig. The three of us set off on a lovely trip ghosting along the mangroves, often just 10 feet away, eventually circumnavigating Hog Key.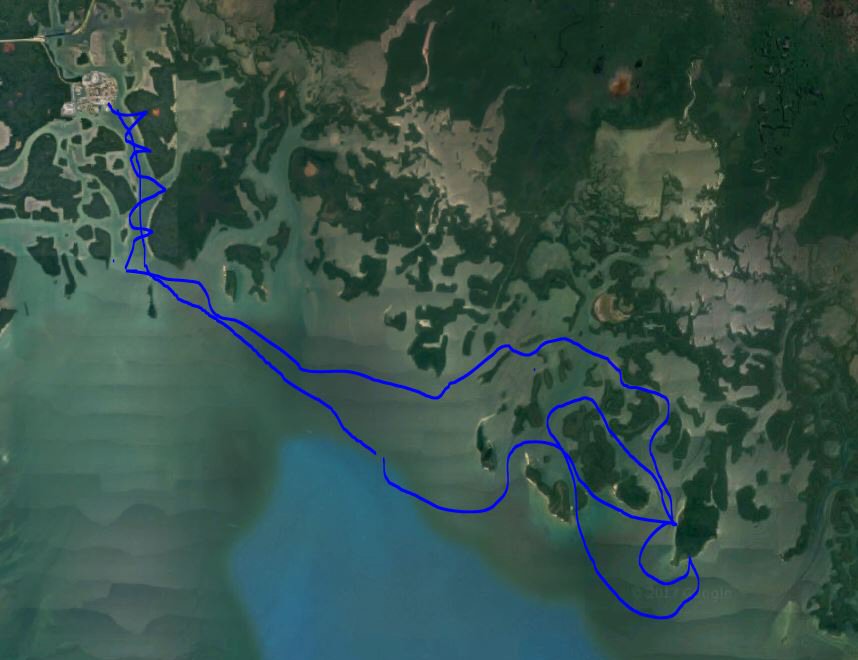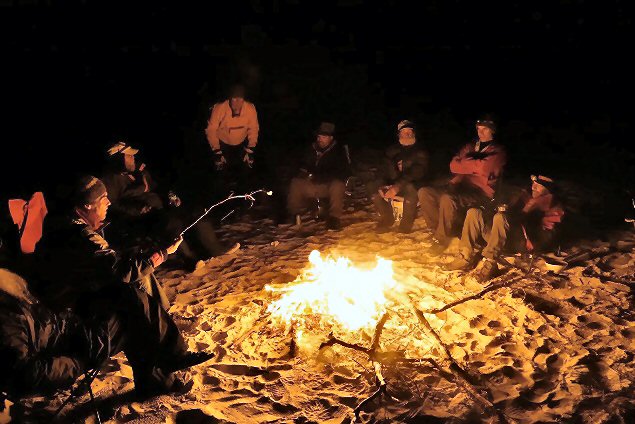 We were back in time for more socializing on the beach. Several other boats soon arrived. There was plenty of firewood available due to the ravages of hurricane Irma and we enjoyed a large warm fire on the beach and good conversation once again. That night I used life jackets to make a sleeping mat which allowed a little better sleep. After breakfast it was still very cold so I joined a group around a beach fire until eleven. Craig joined me for another mangrove sail, and after a half an hour, I headed off through the mangroves to join up with Turtle Key Pass. Once out in Gullivan Bay and clear of the shoal off Turtle Key, I set off on a close reach for Coon Key. Winds were north-east around 15. I was double reefed and a little under-powered so I set the genoa. I picked up a knot and a half and now was comfortably going along at five to six knots. I made Coon Key quickly, furled the jib and tacked back up the channel to Goodland. Soon I had Truant off the water and ready to go home - the end of a truly memorable trip.