Subject:
2005 report
Hi Uncle Al,
When I sent you the picture I was still too embarrassed to tell you the whole story. Guess what happened next... For those that aren't into physics I give one clue: Leverage... Not just one but two Wayfarers slid down their own CB's, hilarious! Unfortunately no pictures were taken.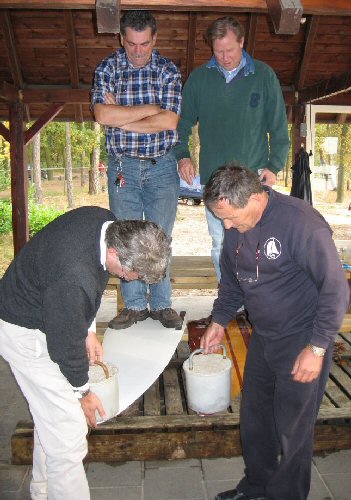 We had a good summer that included a long visit to the UK and some river sailing back home. I started last year with cruising all the rivers of our country. I made some good mileage this year. Next year's plans are to go north, the Rhine and IJssel. As an extra handicap, I try to sail when possible the old river beds as they were in the middle ages. This means sailing quite some detours but I get to see some of the most beautiful places in the country, old castles and fortified towns. I started solo but like the tail of the swan, I soon got W-company, next year we will be a fleet of five boats.
In England, we visited London and joined the International Rally. During our stay in London, we had our share of terrorism when we had to leave the tube and walk to another station. I have never seen so much police with big guns in one spot, scary! It was great to see all of London, including the tourists, continue as if nothing happened. "Business as usual" was what we heard many people say.
We had a fantastic
Nationals
with some well known international sailors. To everyone's surprise a Scottish cruising couple on holiday beat teams such as Martin Collen & Terry Palmer, Quentin Strauss & Rachel Rhodes, the Danes Peter Boye and Thomas Raun Petersen, not to mention our own finest, father-and-son Olyslagers.
Currently I am trying to line up SWS, UKWA and NEDWA for a new event: European championships. On short notice I have two events on my list: The Midwinters or the Wayfarer ski in Norway. Since both are outside school holidays, I guess I won't go to either. My son is still too young (12) to leave home alone. Maybe I'll come to Florida with Anne Lotte. Due to family circumstances I can't make a decision just yet ...
And now the biggest news: KNON is up for sale. I will be leaving for England soon to visit Porters and order a brand new W. The last boat I'll ever buy. It will be built 100% to my specs; a +S (full champ specs) that can be easily converted to full cruising specs. (I love the set-up of both
Whistle
and
Maitken
). If all goes to plan, I'll be seeing Ian Porter before the end of the month. This and the cruising bikes I just ordered for Conny and myself should give us many years of pleasure on land and sea.
Best wishes,
Ton
This email was cleaned by emailStripper, available for free from
http://www.papercut.biz/emailStripper.htm