Toronto's "horrible" Humber Bay was characterized during Worlds week by winds that were mostly in the 6-12 knots range – with occasional stretches of 15 and perhaps a puff or two of 20 knots. Unlike the first Worlds where four boats clearly dominated the field, this 7-race series remained wide open until the very last race as boats were pretty even throughout the fleet and the shifts seemingly random.
...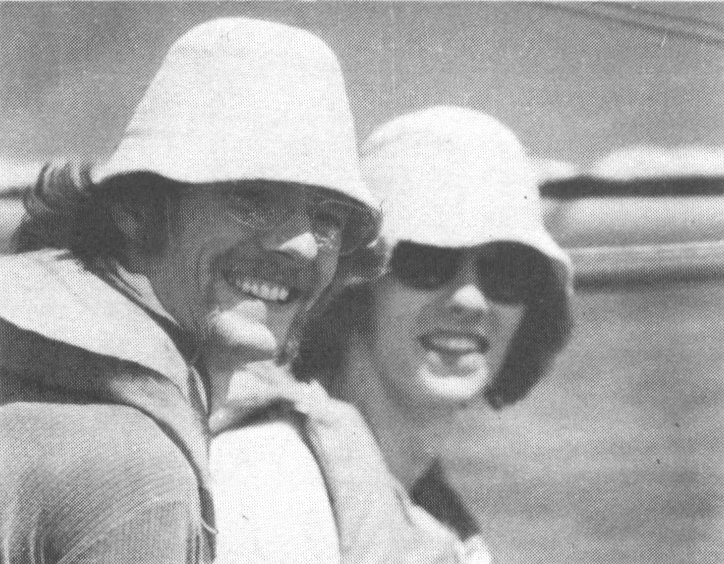 ...
Colin Wilson and his brother, Iain, (see photo above) – one of two UK crews sailing their own boats, ended up with the title even though they placed only 12th in the final heat while none of their closest rivals could place high enough in that final race to surpass them.
...

There was little doubt that Jeff Jones, then in his run of five straight North American championships, was the fastest boat there. However, Jeff's easy wins over the previous two years had not prepared him well for the strategy that would be necessary in this much tougher fleet. It is rumoured that the essential total of one Jeff Jones seminar on how to win races was: "I just like to get out in front and stay there!"
That approach was never available to Jeff in this series as he consistently went well out to one side of the first beat – and guessed wrong all seven times!! Thus he was well down the fleet at the first mark before he turned on the afterburners to end each race back near the leaders. But not near enough!!

Meanwhile, not to be outdone, your Uncle Al made the first of his many not too smart Worlds experiments that year as he installed a beautiful new home-made centreboard with a half-round leading edge in time for the event. It took him until spring '78 to determine that, unlike on rudder blades, half-round is terminally slow off the wind. Belatedly, Al figured out that he had lost 20+ points' worth of boats on reaches that should have been "parades". Had he and Freddie maintained their position in which they rounded each first windward mark, they would have won the series decisively.

Among the half dozen or so potential World champs who started race 7 in light airs were Canadians, Heider Funck and André Laframboise who had lost potential strangle-holds on the title when both were DSQ'd out of excellent race 6 finishes for (hotly denied) violations of the (then) 30-second Rule.
Anyway, it turned out that the Wilsons' 12th in the finale was just good enough as all the pursuers finished in just the right places to remain close behind. Meanwhile, defending champion, Alan Wilson, obviously suffered from the light airs and a borrowed boat, ending up 12th overall.
Like the UK, the SWS sent a full team of 6 boats but they seemed rather lost in the light and shifty winds, especially the three who were sailing "three up"! Murphy's Law was in operation as I remember telling Søren Ejsenhardt and his two big, strong crewmen who were borrowing my W4000 that it was suicide to race with 3 in the boat, especially in Toronto in August when it almost never "blows". Naturally, as we got out of the car at my club, the wind almost ripped the doors off the car, and Søren and his crew just smiled politely…...