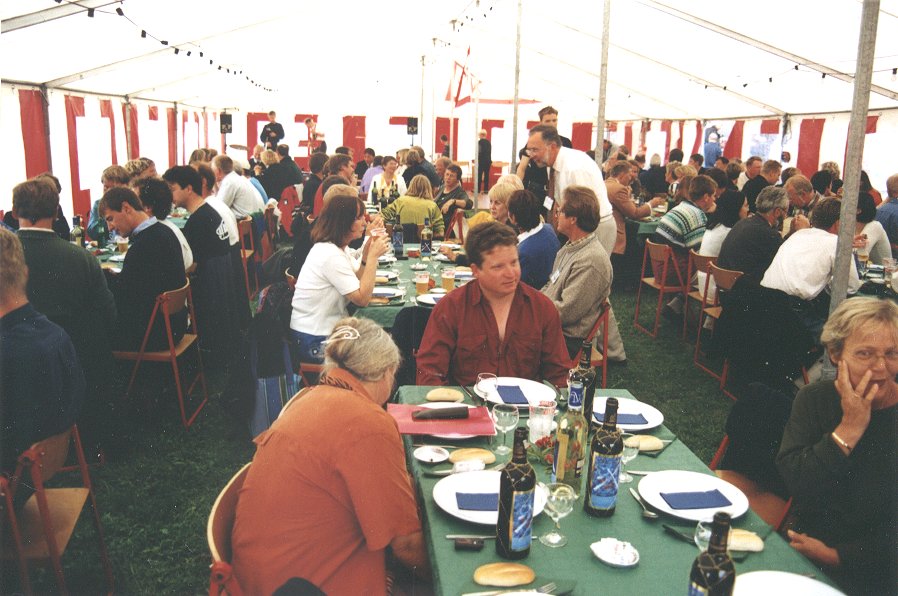 Hungry sailors, volunteers and family members await their "dejlig" dinner under the Big Top.
...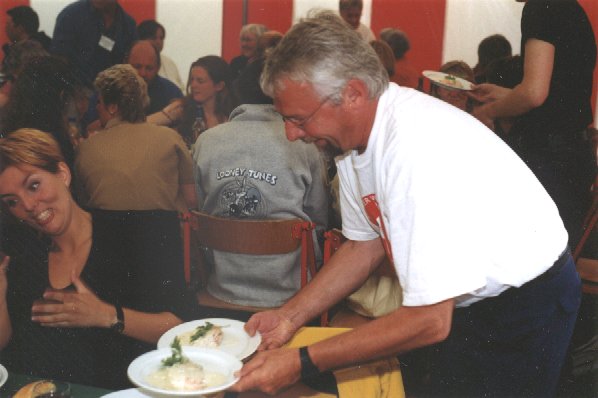 A Coach's work is never done! After his week of looking after his three crews,
Jesper Graves Petersen served tables at the dinner - our table first, of course!!
...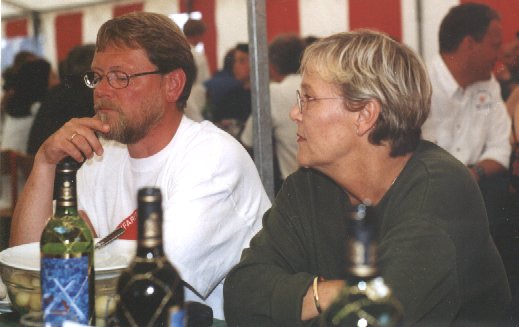 Jesper Friis and his wife, Aida, contemplate weighty matters such as the quality of the wine.
...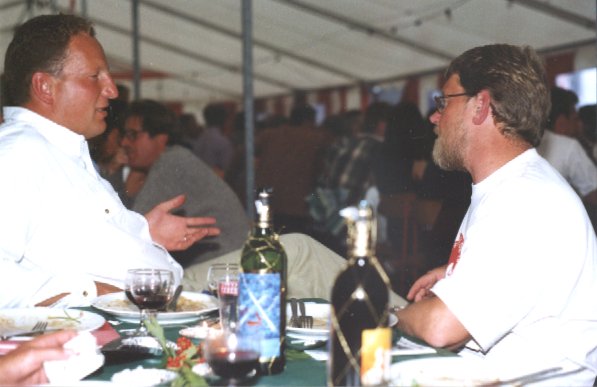 UKWA Treasurer, Quentin Strauss (left) discussing the state of the W with Jesper.
...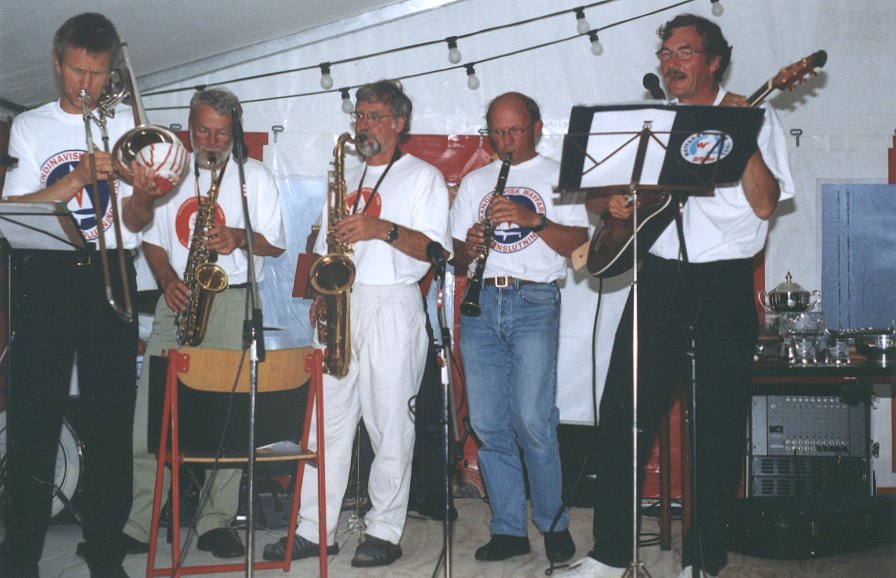 For Saturday night, the Wayfarer Stompers brought in the 'heavy hitters'
such as Staffan Hallroth on trombone and Elof Andersen on clarinette.
Other from left are Jørgen Vekslund, Joel Bøgh and Poul Ammentorp.
...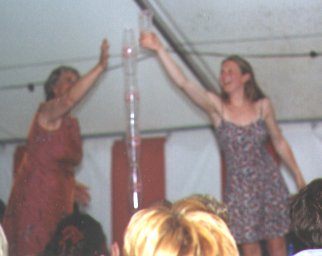 This scene reminded Al of the lovely Steeplejack story told by Nick Hodshon at the '92 Worlds!!
...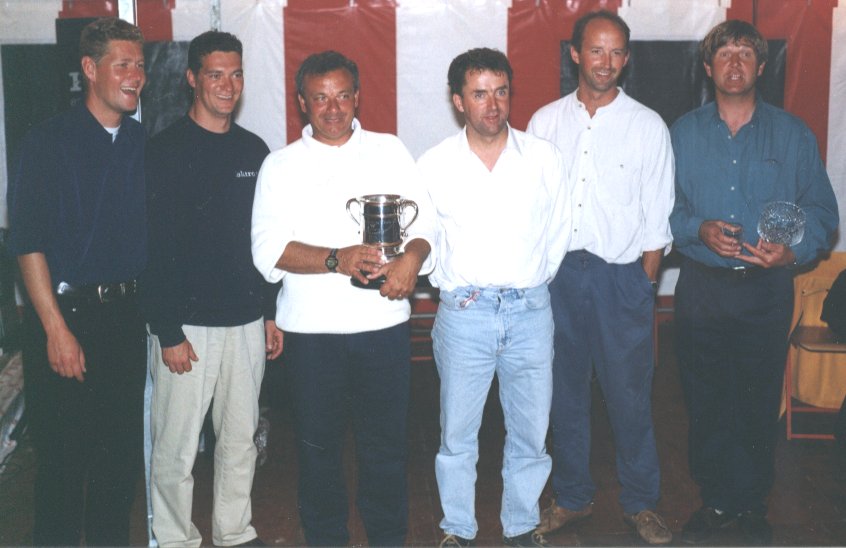 The Best of the Best:
from the left:
Runners-up to the World Champs, Anders Friis and Steen Ammentorp
The 1998 World Wayfarer Champions, Ian Porter and Kevan Gibb
Third among 55 selected crews: Simon Townsend and Mike McNamara
...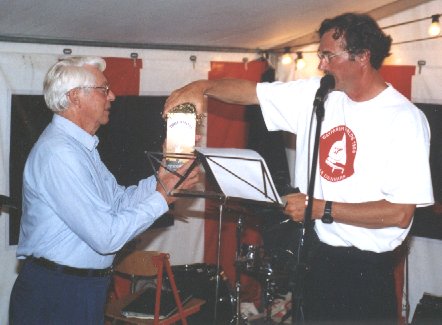 A special 'liquid' award was presented by Poul Ammentorp to Regatta Chairman, Torben Møller
to express our sincere appreciation of the magnificent work done by Torben and his committees.
...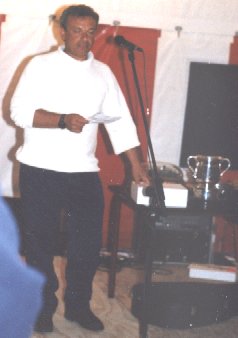 Ian Porter's gracious and entertaining victory speech was enjoyed and appreciated by all of us.
...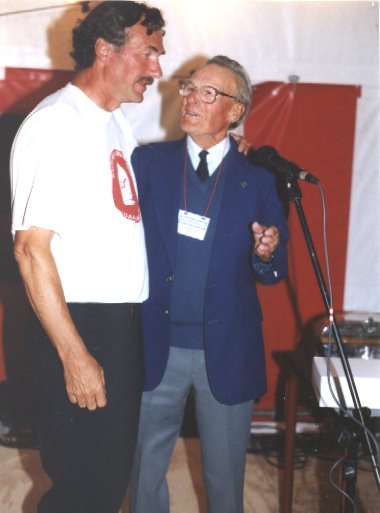 And of course, no Wayfarer Worlds is complete without a few words from George Blanchard
(which Poul seems to be giving his very complete attention).
...
Winning crew, Kevan Gibb, graciously delivered the refreshment-laden World Wayfarer Trophy for his fellow competitors to sample.
...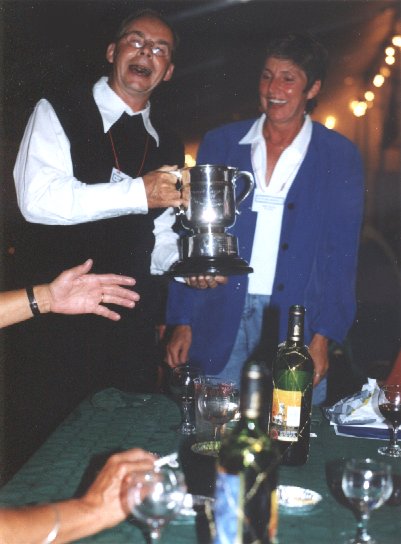 It appears that Arne Stahlfest (left) may have had a few samples even before this one.
Arne wrote the lovely article about The importance of politeness to ladies in sailing boats (click here for complete text).
On the right, we see Vibeke, the lady in Arne's sailing boat, Wave Dancer, W6791.
...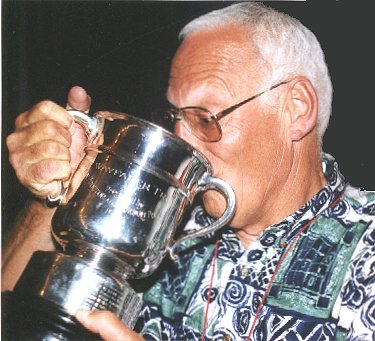 It is a well documented fact (by Whiffle editor, Uncle Al), that newsletter editors present - see Uncle Al above...
...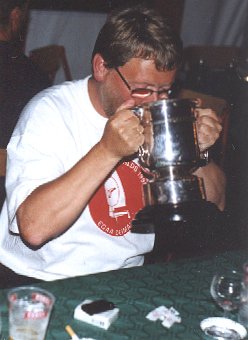 past: Jesper Friis above, ...
...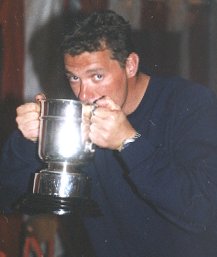 and future: Steen Ammentorp above and ...
...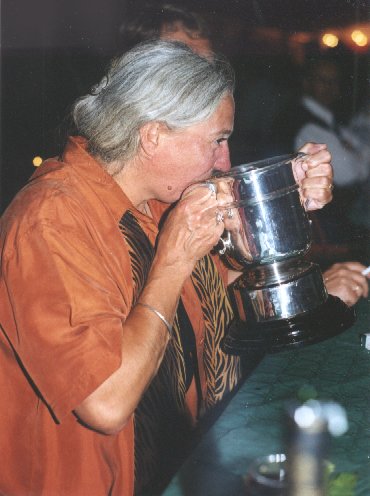 ... his step-mother, Irene Ammentorp,
are especially susceptible to thirst!!!
...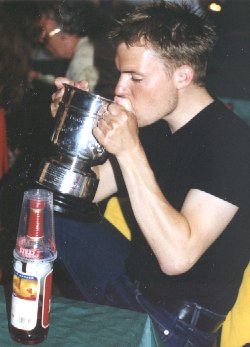 A chip of the old block: Jesper's son, Christian Friis, a volunteer at this Worlds like he was as a young lad in '89.
...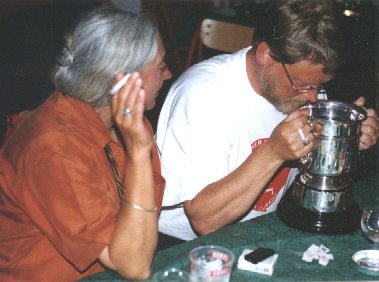 Here we have Jesper either checking that Irene has not mistaken the Wayfarer Worlds Trophy for an ashtray,
or Jesper is seeing himself as the winning crew in Northern Ireland in 2001!!