Montreal's Peter Rahn and son, Alex, are the new Wayfarer World champions, having decisively won Wayfarer Worlds XV, hosted August 3-10, 2013 by the Mississauga SC with valued assistance from the Port Credit YC. The Rahns are the first Canadian team to become Wayfarer World Champions since the TS&CC husband/wife team of Chris and Carolyn Kofler won the 1980 Worlds sailed on Michigan's magnificent Tawas Bay.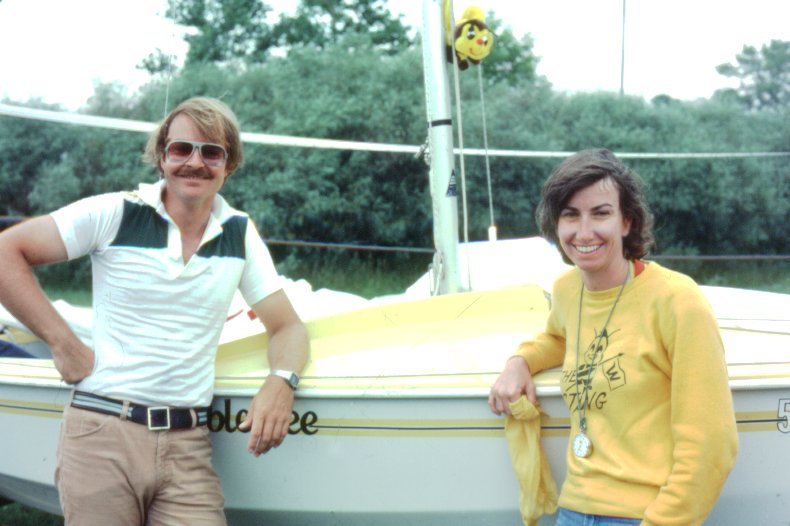 Chris and Carolyn Kofler, 1980 Wayfarer World champions
A fleet of 34 Wayfarers from Canada, the United States, Ireland, England, Denmark and the Netherlands thoroughly enjoyed their week of light-to-medium winds, summer weather, and exciting, well matched competition. No fewer than 19 teams managed single-digit finishes in at least one of the nine series races which were again superbly managed by veteran Race Officer, John Weakley from the Port Credit YC. To keep the art of reach-to-reach spinnaker gybing alive, four of the races were sailed on a modified (triangle-sausage-windward) Gold Cup course with a gybe mark angle of 70°. This is the 3rd Wayfarer Worlds for which Weakley has been the RO, the others being 1995 at TSCC and 2004 at PCYC.
The relatively small fleet of 34 boats gave the event a relaxed and cozy feel and an atmosphere in which friendships were made and flourished while all of us were able to learn things and refine our sailing skills. Our MSC hosts and CWA members contributed in no small manner to the success of our Worlds with many hard-working volunteers assuring that everything from measuring to a fine series of social evenings. And a specially heartfelt thank you to our Copyright Holder, Richard Hartley, his son, Mark, and the NP Boats duo, Nick Seraphinoff and Marc Bennett, who spent much needed prep time helping others with their boats. And in fact, on the day after the Worlds, Richard gave a lovely seminar aimed particularly at Mark IV owners but open to all. In this, Richard talked about the essentials of upwind and downwind work as well as the reaches plus the various manoeuvres associated with these. Videos of this gem may well appear on youtube shortly, courtesy of Joanne Van Kampen.
the competitors and how we did:
Gold:
Months and months of hard practice and studying films paid off handsomely for our winners, Peter and Alex. After an unpromising opening-race 10th, the Rahns were back into the thick of things by the end of Thursday's racing where a memorable three boats were within one point of each other on top of the standings:
Friday's three races in (ultimately) healthy lake breezes, proved decisive for Peter and Alex who scored 1-1-4 to suddenly clinch the series with a race to spare. Congratualtions, Peter and Alex! The Rahns should also have won the Bacardi Trophy as top Canadian finishers in the Worlds but that seemed to get lost in the shuffle at the awards banquet.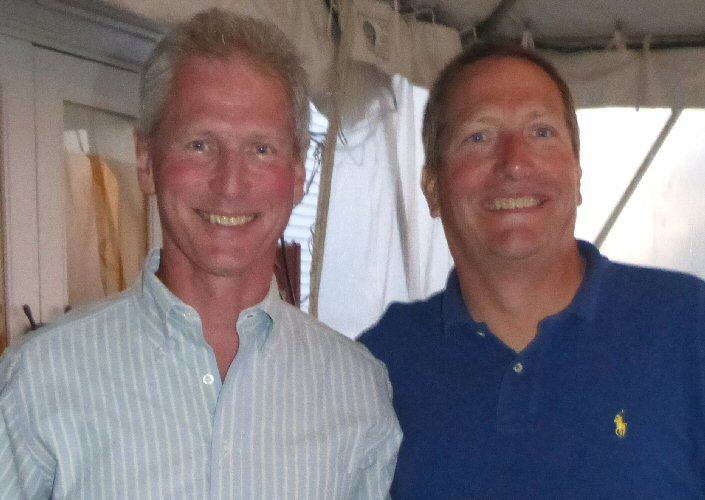 Silver:
Sailing a borrowed Mark IV, freshly crowned Canadian champion, Simon Strauss of Shokan, New York, along with crew, Kingsley Hill, took the runner-up spot in the series despite never winning a race. They finished their series with a 3-2-3-2-4 run to move from 5th to 2nd overall.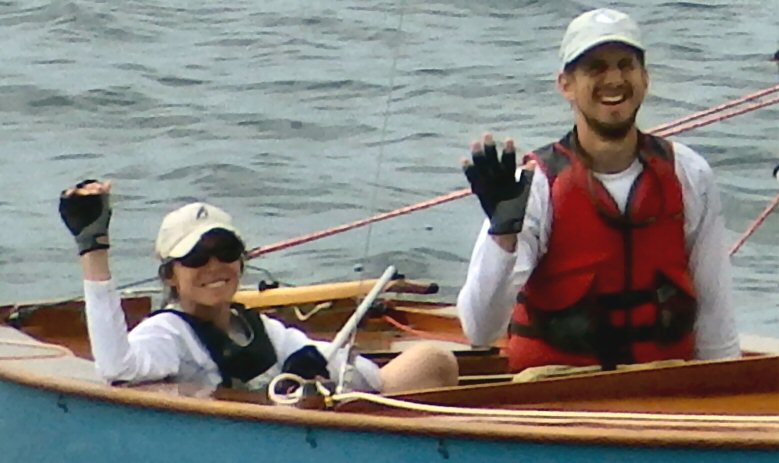 Bronze:
The battle for bronze went right down to the wire. After 8 of 9 races, it was hard to figure out also, since a 9th race automatically kicked in a second series drop. When the dust had settled, it was Parry Sound's Sue Pilling and Steph Romaniuk who took series 3rd by a single point ahead of Richard Hartley and our lone Danish entry, Søren Svarre, both of whom ended up with 28 points. Sue's fine finish also earned her the
Top Lady Helm
trophy freshly donated by Monica Schaefer. Steph and Sue demonstrated clearly that the old boats can still compete effectively and proudly with the newer Hartley Mark IVs.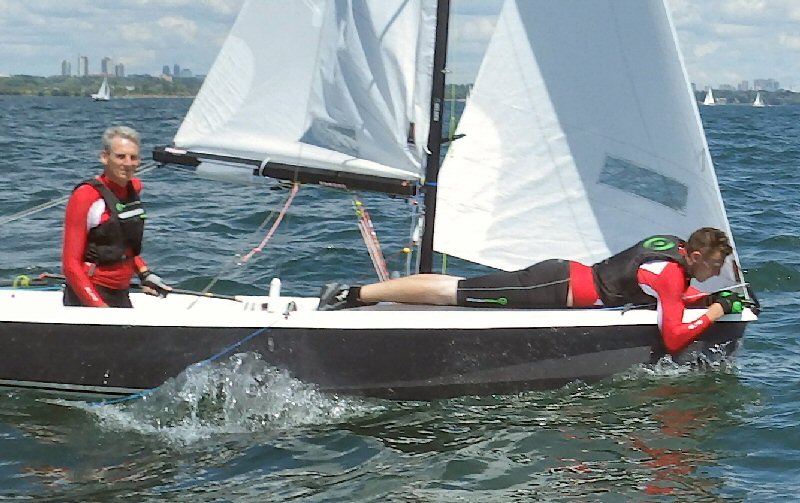 4th:
A most unfortunate "brain fart" proved very costly indeed for Richard and Mark Hartley who barely ended up taking series 4th on a tie-breaker. Unable to see the finish flag on the RC boat, the Hartleys assumed we were being sent around again as they were poised to win race 7 and the
Irish Wayfarer Trophy
. By the time they realized what the situation really was, Richard and Mark had fallen to a 5th-place finish rather than their well earned first, which would have given them series Silver.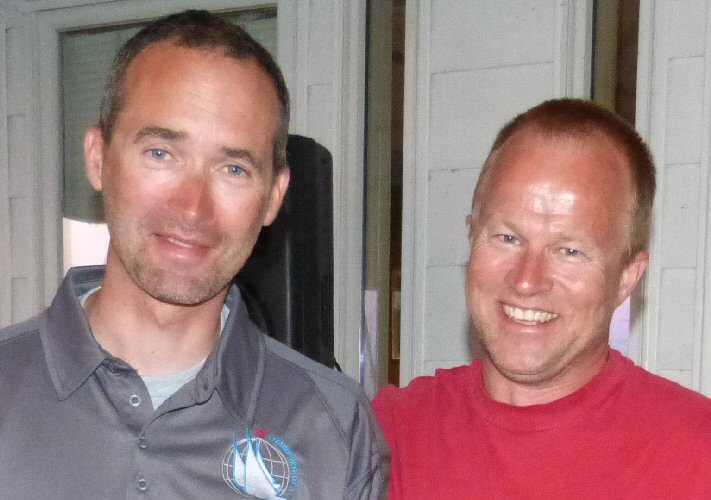 5th:
Our lone Danish team was just rounding into top form as the series ended. Søren Svarre and crew, Jesper Pilegaard (a former 470 Olympian) from the Roskilde Sejlklub west of Copenhagen scored a fine 2-3-1 in the last three races to fall just one point short of a "podium" position. In addition to dazzling us with fine racing ability only two years after being converted from cruising, Søren showed off his excellent English in several microphone appearances.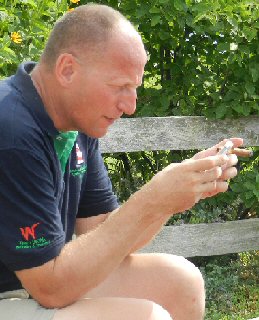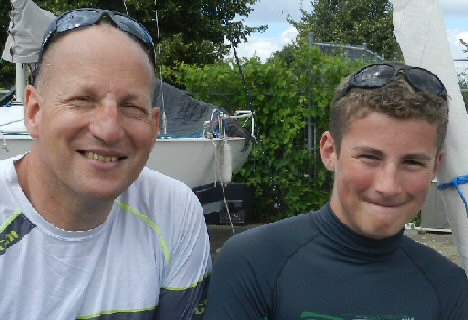 6th:
The cigar-smoking younger brother of Simon, Quentin Strauss, very ably teamed up with son, Harry, who at 13 was far and away the Worlds' youngest competitor. A 2-3 on the first day had Quentin and Harry looking unbeatable with Monica Schaefer and Dave Moy at 4-5 their nearest competition but after that the sailing became less smooth and the
Gorgeous Worgeous
team had to be content with series 6th.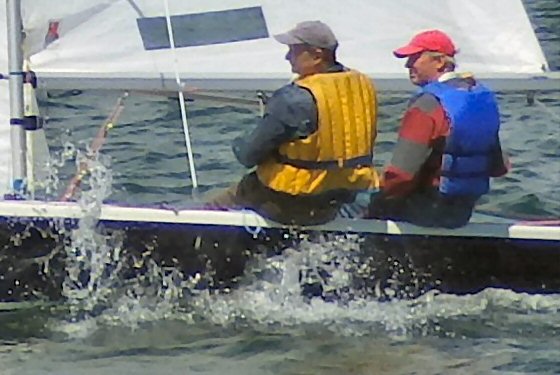 7th:
The quiet but deadly Toronto Sailing & Canoe Club duo of John Cawthorne and Robert MacDonald piloted their Mark IV to a fine series finish, showing fine speed all the way - especially in race 5 where John and Robert took a sparkling 2nd! John's tendency to start near the pin end and play the far left side of the course was also a perfect match for this series in which playing the left side usually brought big rewards.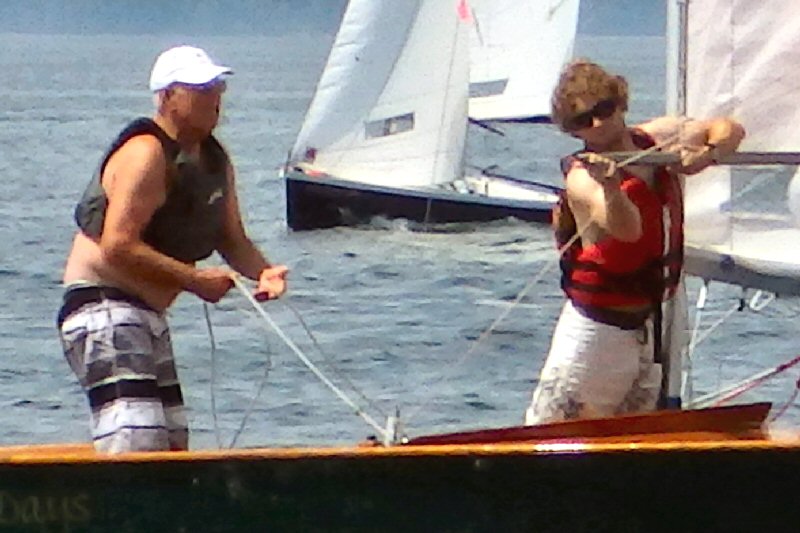 8th:
Also representing the TS&CC and classic Wayfarers were Oakville's Al Schonborn and son, Dave. Despite superb crew work from Dave, Al was usually down the fleet after the first beat and then had to play impressive catch-up to rescue series 8th. In one race, Dave and Al were actually poised to round 2nd off the first beat when the race was inexplicably abanadoned in a lovely breeze. Perhaps this was the gods reminding Al that giving his boat the alias
Glory Days
was coming very close to a name change and its attendant bad luck? Actually, Al and Dave could yet move up to series 7th. Al is appealing to Sail Canada, a protest decision that saw him DSQ'd from race 7. The appeal should decide whether Al is indeed a Rules guru of sorts or if his understanding of the RRS is seriously flawed.
This was, in fact, a rarely contentious week for Uncle Al who made no fewer than three appearances in the protest"room". In race 4, John Weakley gleefully scored him 29th instead of 6th when Al inadvertently crossed the finish line a second time on his way to a pick-up from the lunches boat five plus minutes after his original finish. John's stated reasoning was that for all he knew, Al was doing a penalty turn after hitting the RC boat (that John was standing on!), or had continued to race.
And after finishing the final race, Al was spinnakering back to the harbour with two other boats in a lovely breeze when a competitor still racing approached on the starboard layline. The helm yelled at all and sundry to get off the course since he was still racing. In an intended gesture of kindness, Al sailed across the beating boat's course about 100 yards off his bow so that Al would pass about two or three boatlengths to leeward of the yelling boat and thus avoid disturbing his wind. Imagine my surprise when he later said he was protesting me. In the end, the protest was declared invalid since I was not informed at the time of the incident.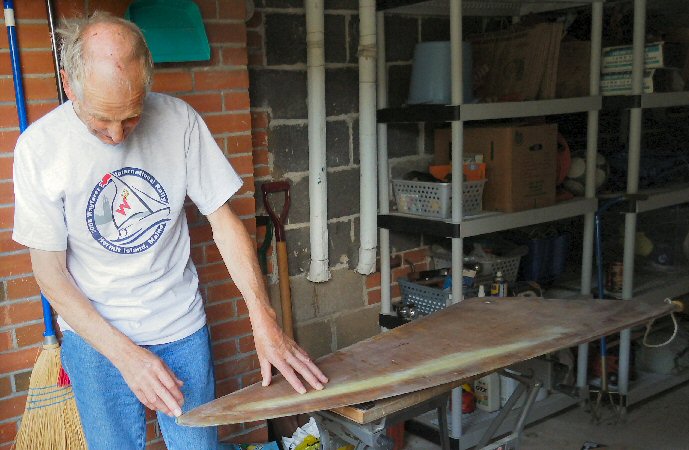 Ralph checks out his 5-minute epoxy centreboard job
in Uncle Al's garage.
Al was extremely fortunate in other ways though: He had Ralph Roberts, his more or less co-Secretary of the WIC, as a house guest who loved to keep busy by being the
Shades a.k.a. Glory Days
support team. Not content to fix leading and trailing edges of two Uncle Al centreboards and a rudder blade, Ralph took lots of action shots with the new water-proof camera the WIC is (God willing!) about to buy for Al, and was the go-to guy for anyone in the series who needed emergency foil repairs.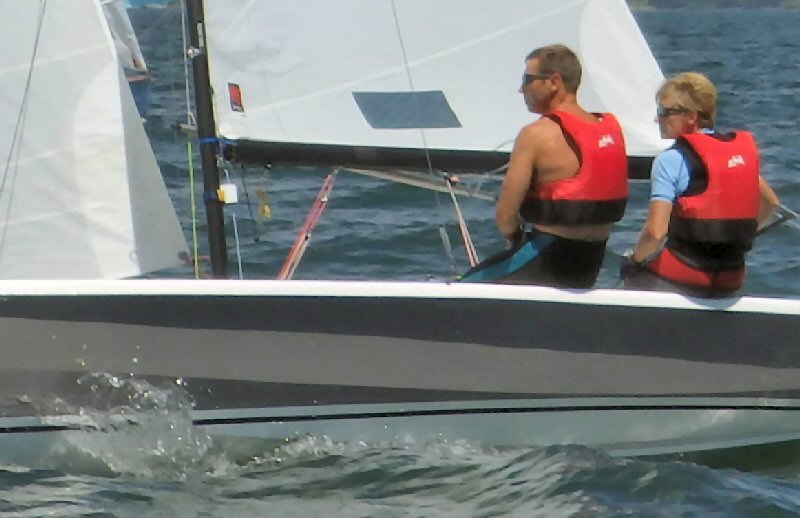 Monica and Dave
9th:
Ireland's Monica Schaefer and Dave Moy were having a dream series after three races, lying first
(above)
after 4-5-1 placings. But after that, they fell out of bed, so to speak, as they succumbed the same problems most of us faced: trying to figure out where the better wind streaks were. In the end, inconsistency was their nemesis as they scored four top-five finishes but also had four eminently droppable
results
.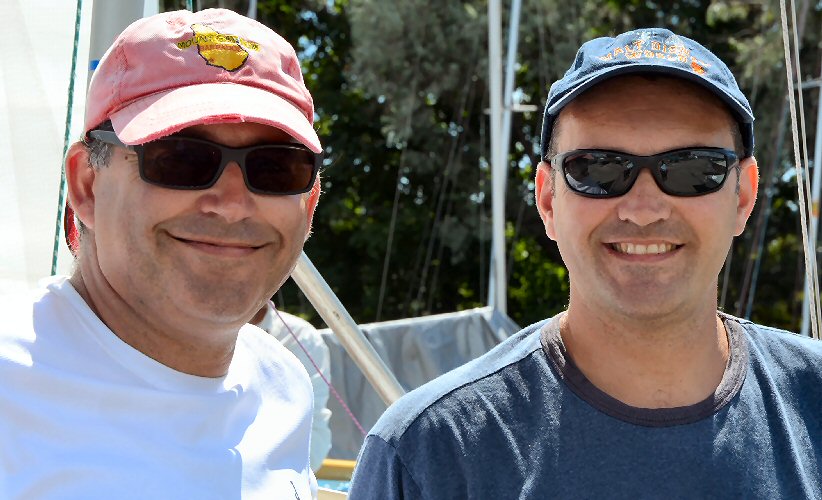 10th:
Top reps for the host Mississauga SC were the Brothers Taylor, Mark and Paul. Like Uncle Al, the Taylors never did manage a top-five result despite sailing very well with excellent speed in their venerable Abbott Mark I. In addition to doing his invariably excellent crew work, Paul was part of Monday night's fine MSC roof garden reception as he and ... provided fine musical entertainment.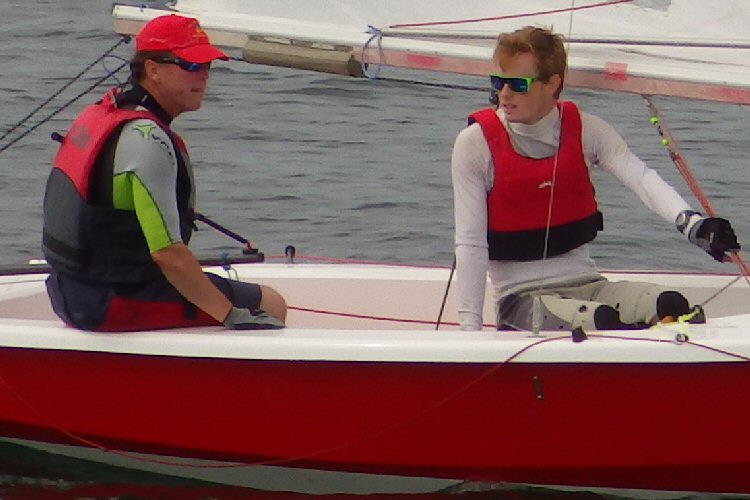 11th:
An unfortunate 16th in the finale dropped Mike McKechnie
(above)
and son, Mark, of East Grinstead, England back out of a top-ten position that they had just acquired with a fine 8-7-5 Friday. A guy after my own heart department: Mike gained my undying respect when he arrived with his Mark IV for the 2007 Worlds in Copenhagen, discovered it would be ineligible to sail, turned around, drove back across Denmark and onto the ferry in Esbjerg. A quick North Sea crossing and scenic English drive later, Mike was back home hooking up his other, old-style Wayfarer for his second trip to the 2007 Worlds, this one succeessful.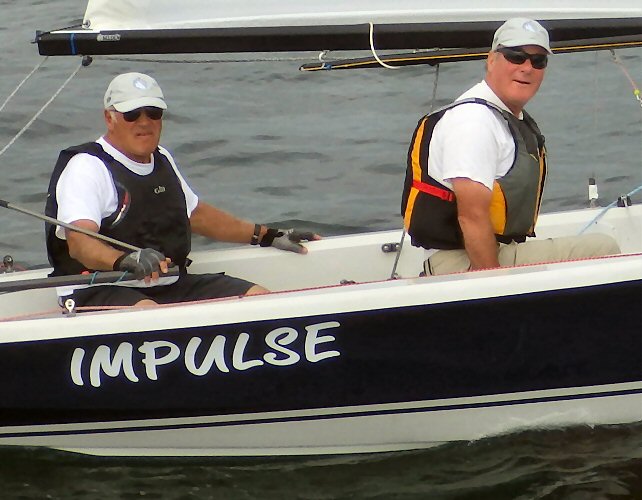 12th:
A late string of top ten finishes (4-7-10) enabled Inspector Clouseau and his house boy, Cato, a.k.a. Michigan's Nick Seraphinoff and Chip Cunningham to edge out the Heffernans and the Bennetts, their American arch-rivals by a single point. After the series, Nick praised his rookie crew's ever-improving performance which was of course borne out by Team
Impulse
's late series surge. With a total age of 138 years, Nick and Chip were easily the oldest team in this Worlds. Congratulations, guys. Click here to see Chip's closing
speech
.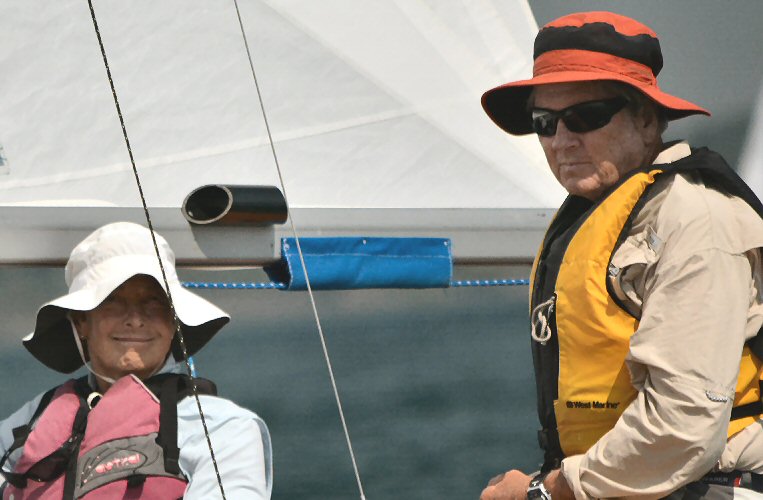 13th:
Another AARP pair, North Carolina's Jim and Linda Heffernan followed Nick in 13th place in their wooden W1066
Dawn Treader
, beautifully restored by Jim. Four of their nine races resulted in top-ten finishes as Jim and Linda also underscored the fact that a well sailed classic Wayfarer is very much a match for an equally well sailed Hartley Mark IV. In addition to supporting Wayfarers in North America by regular event attendance, Jim and Linda are the heart and soul of the USWA: Jim is USWA Commodore while Linda edits the
Skimmer
, the USWA's fine newsletter.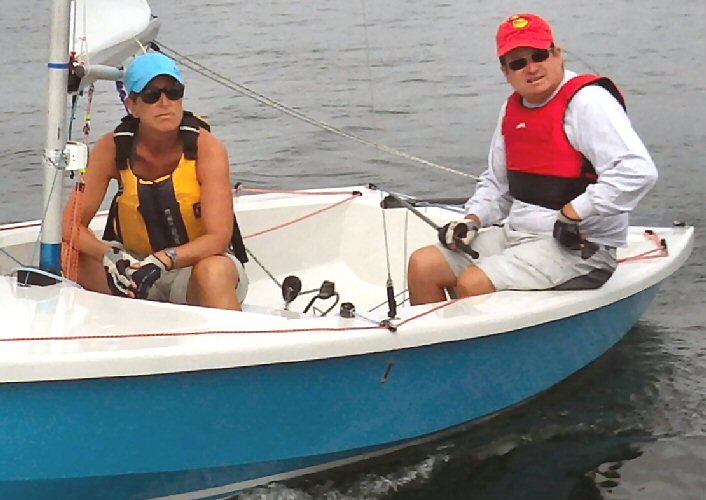 14th:
After finishing a very close and impressive 2nd to Simon Strauss (the runner-up in this Worlds) in the prestigious Bayview YC One-Design Regatta in June, Marc Bennett and his wife, Julie, felt they had everything set up for a fine run at the Worlds. A sub-par performance at Canadians off TSCC on Lake Ontario in July gave them pause for thought however, and their Lake Ontario blues continued in this event where they ended up losing their tie-breaker with the Heffernans. This disappointing finish by Team
Jamaica Blue
did however, serve to illustrate just how beautifully evenly matched most of our fleet was. It certainly made for very exciting racing!!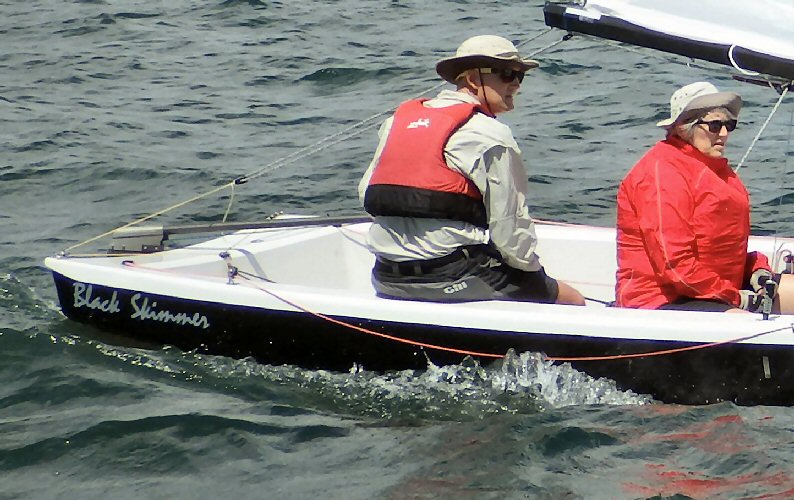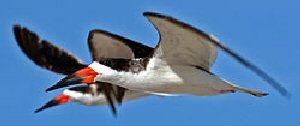 15th:
A second North Carolina top 15 finish was scored by Richard Johnson and his wife, Michele, in the beautifully named Mark IV
Black
Skimmer
(see image at left. The Charlotte, NC team had a number of flashes of real, sustained brilliance - a 4th and a 6th (as good as or better than anything Uncle Al managed!!!) but lacked the kind of consistency that regular racing with top competition brings. But Richard and Michele have certainly given notice they'll be a force to be reckoned with in this Fall's regattas in North Carolina!!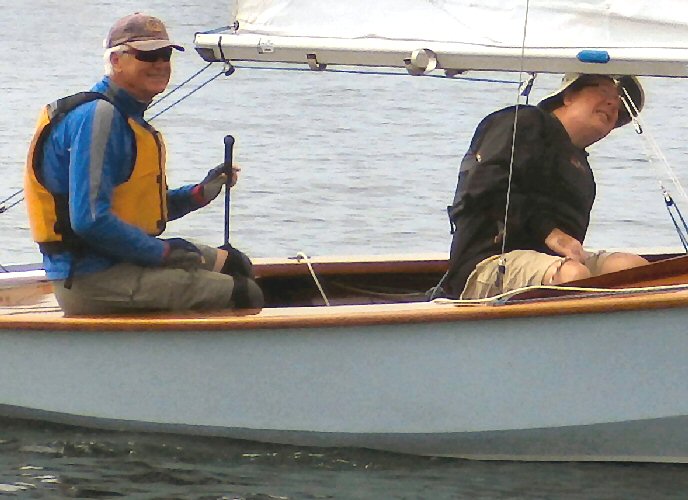 16th:
TSCC's Kit Wallace and George Waller sailed their wonderfully rebuilt W994
Peregrine
to fine 8ths in the first and last races but could not match that in the rest of the series despite a number of promising race beginnings. Many thanks to Kit who organized billets for visiting competitors that turned out to be a huge and much appreciated success.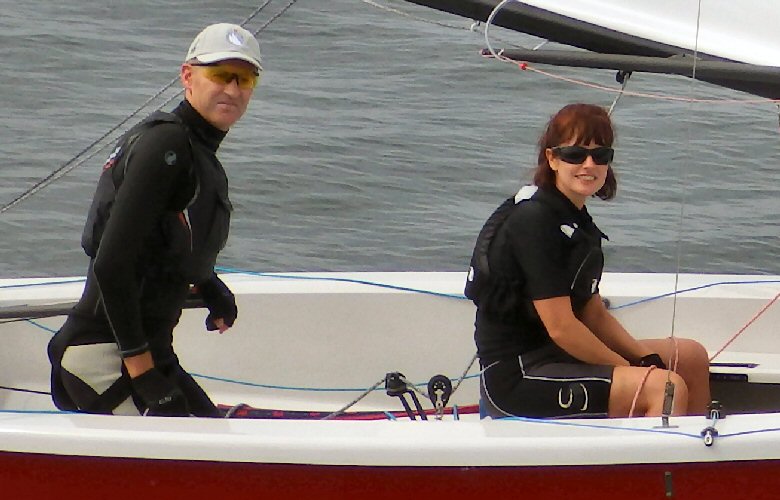 17th:
Equal in points with Kit and George but losing the tie-breaker - best race 9th vs. Kit's 8th - were the Irish team of Henry and Elaine O'Friel sailing one of the brand new Hartleys fresh out of its container. They, too, made frequent early appearances near the top of the fleet but seemed to lack the experience to hold onto their early edges.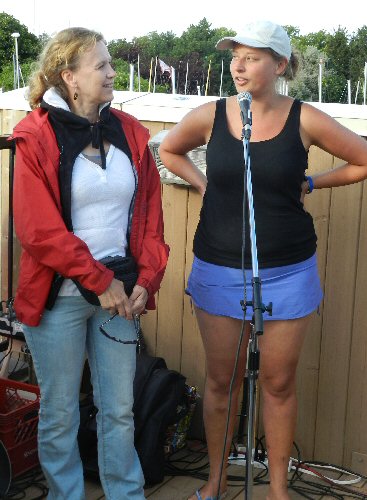 Steve Carroll's Dutch wife, Margaret Boersma
(left)
translates NedWA greetings for the perfectly fluent Elise at the reception.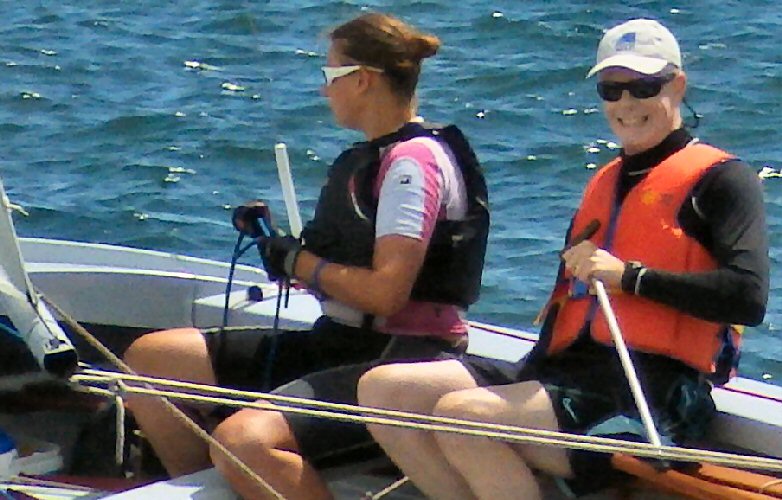 18th:
Sailing one of only two - or was that three??!! - borrowed boats were Toronto's Steve Carroll and pick-up crew, Elise Beket, who was the Netherlands' only competitor and in fact the first ever Dutch sailor to take part in a North American-based Worlds. Perhaps the main story here was the borrowed boat saga: After being offered several W's to choose from, Steve opted for Alan Hallwood's hardly-ever-used Abbott Mark III (W8745) instead of his own
Fanfare
(W6066) which has been sadly neglected of late while Steve sails Lasers out of Water Rats SC east of Toronto Island. Alas, 8745 turned out to have the Abbotts' infamous "cottage" foils which once more proved to be truly unacceptable for racing with quarter-inch-plus, well-rounded trailing edges designed to withstand the rocks of Georgian Bay.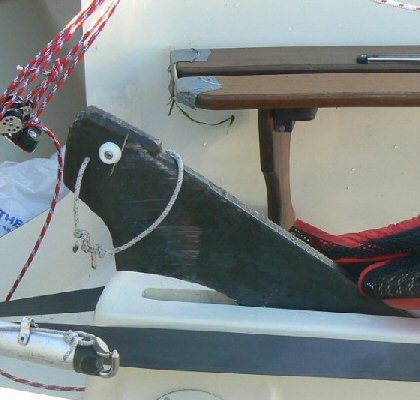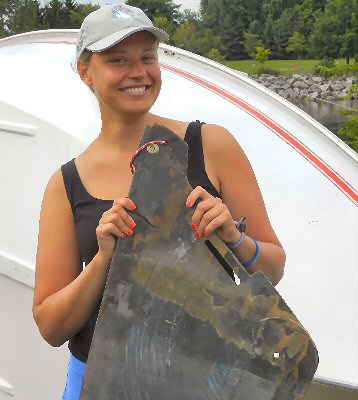 (left)
Marc and Al's beloved
Pony Express
in a borrowed CL at Hilton Beach
(right)
Elise with the reconstituted
PE
before it was found not to fit a Mark III centreboard box
Once Steve and Elise had confirmed this sad state of affairs in Monday's practice race, Uncle Al offered his and Marc Bennett's beloved "Pony Express" and a racing rudder blade. The former had just been removed from W3854 for repairs but Ralph thought he would be able to make Al's "best by Nov. 2008" 5-Minute epoxy do its thing one last time. Sure enough, after several evening and very early morning trips to Al's garage, a very sleek-looking Express was proudly presented to Elise the next morning. Rats! After a lot of sanding and missing the first race, the upper part of the
Express
remained too wide for the Mark III's rather narrow centreboard slot, and Team
Fanfare
sailed with the "old" foils and place 26th in race 2. Not what was to be hoped for one of Canada's more capable W sailors and Elise who had twice represented the Netherlands in the Youth European Championships!!
Over roof-top drinks that evening, Al convinced Steve and Elise to switch to the TSCC-based W3613, an Abbott Mk I of proven Worlds pedigree. However on Wednesday morning Team
Fanfare
were still stuck without new wheels as the logistics of moving the trailer-lessW3613 to MSC had proven too much trouble. Boat borrowing Chair, Uncle Al, then came up with perhaps his best move of this Worlds by remembering W3568, an Abbott Mk I sitting unused right where Al was storing his spare sails, etc. Painstakingly equipped for racing by Rod Anderson and his crew, Rod McIver, W3568 was not being sailed in the Worlds because her owner is seriously ill in hospital.
As luck would have it, Rod McIver was as usual, on breakfast duty upstairs. He cut off a phone conversation, got to work, and soon had permission for Steve and Elise to sail the
Rocking Rods
' Wayfarer. And the latter promptly went out and took a 6th in Wednesday's only race. The rest of their series brought them back to earth a bit but still included a couple more fine results, 11th and 12th.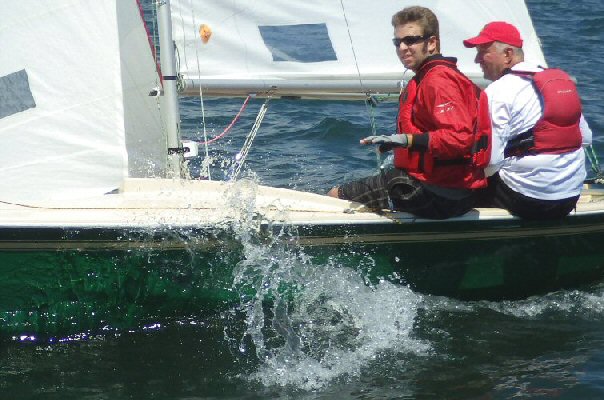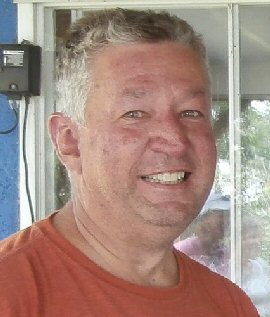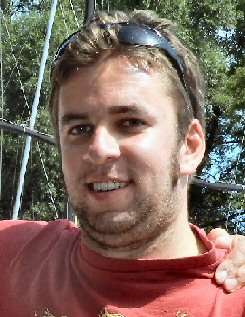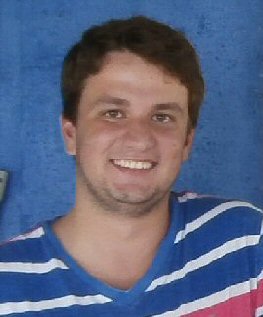 Alastair, David and Andrew
19th:
Tasmania's Alastair Ryder-Turner who sails out of TS&CC looked very good in his Mark III
Aoteroa
. With his sons, David and Andrew, taking turns crewing on alternate days, Alastair very ably represented the CWA before having to leave the series early due to an unbreakable earlier engagement. But not before Alastair and Andrew scored a most impressive 3rd place in Wednesday's race 3. Well done, guys!!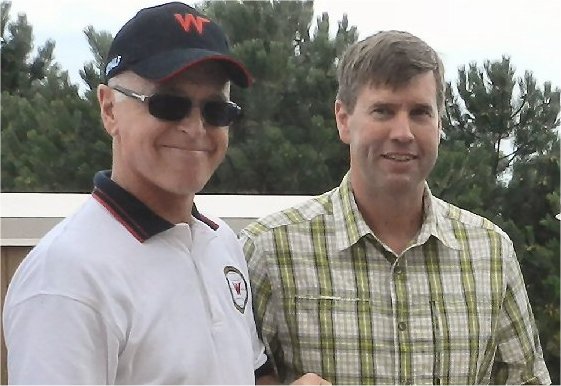 20th:
Sort of representing Chile, North Bay's Dave Hansman and crew, Dave Richardson (W4582? in North Bay) sailed the Hansmans' Mark IV
BeoWulf
with good speed. They, too, were in the top part of the fleet a number of times but then too often for their liking failed to "seal the deal". Probably because for the past couple of years, Dave and his wife, Carol, have been living many thousands of miles south of their North Bay home as Dave oversees Redpath mining operations from a lovely home away from home in Chile, rather than practising in
BeoWulf
. Dave R got to take the helm for one race but was quickly disabused of any notion he might have had that his own touch at the helm was what
BeoWulf
needed and happily returned the tiller to the other Dave.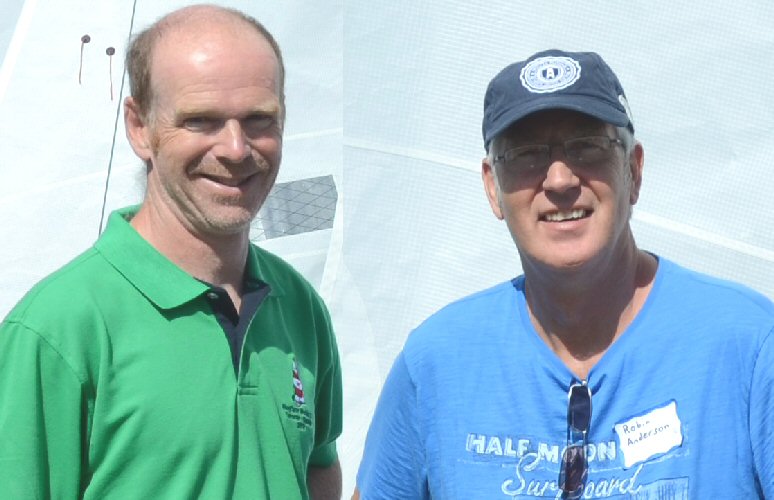 A group of four boats followed, that seemed evenly matched and who could be seen in the top ten during the racing with some regularity. A fine 11th in the last race left Gordon Reid and Robin Anderson and their container-shipped Mark IV
Lamprey Beware
at the top of this group. Gordon and Robin are part of the very active Irish Wayfarer fleet that sails out of the East Down YC on Strangford Lough near Belfast.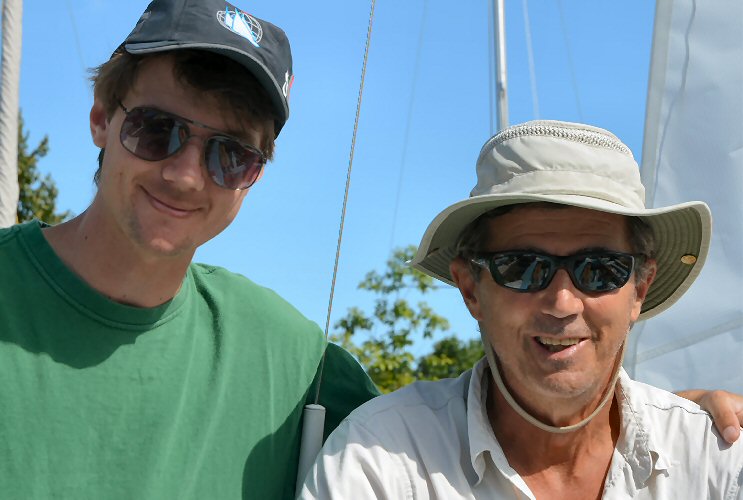 Two points further back were Doug Ryan and his son, Chris, who sail on Georgian Bay out of Wiarton, the home of
Wiarton Willie
, Canada's answer to Pennsylvania's
Punxsutawney Phil
, weather gurus who are consulted each February 2nd Groundhog Day.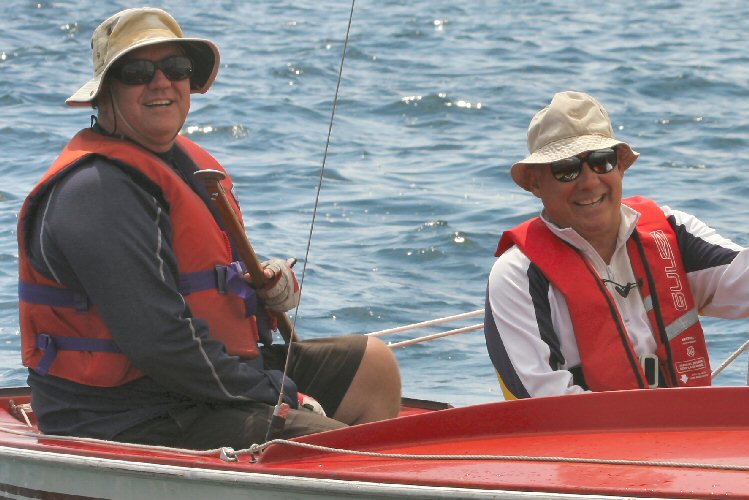 Three points further back in 23rd were CWA Chairman, Mike Codd, and his chicken-farming crew, Kirk Iredale, who coped pretty admirably with light-air conditions that are not really their forte. Ironically, this TSCC pair's series-best 11th came in race 3, a partial drifter.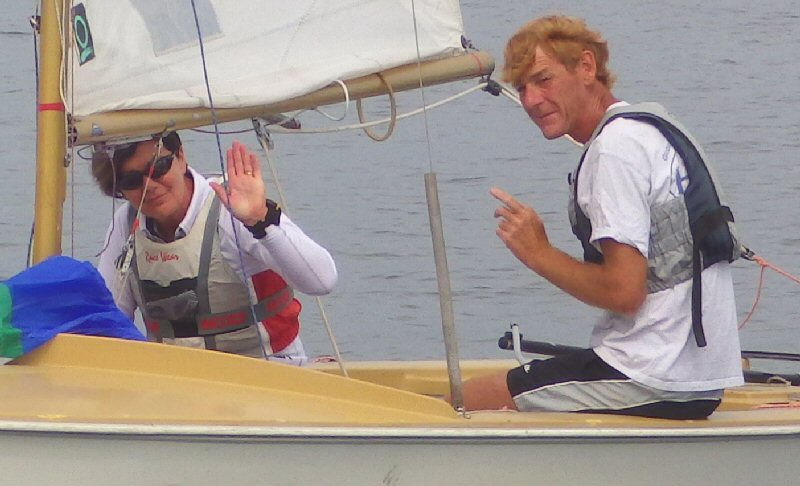 Following Mike and Kirk were the Pughs, David and Anne, a couple of keen English GP 14 sailors who are sailing Wayfarers out of the host Mississauga SC while Anne completes a two-year? stint on the new Oakville hospital project. Rumour has it that David and Anne purchased one of the used Hartleys right after the Worlds as a replacement for the venerable W3654
Cabri.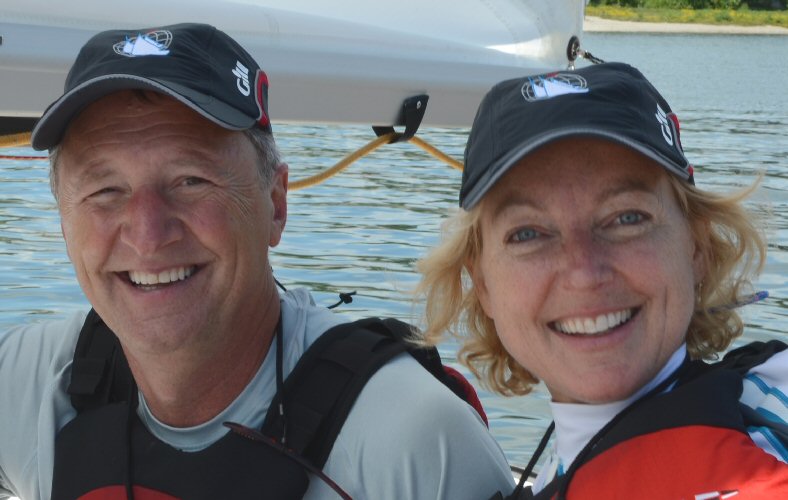 Another boat that seemed to be in front of us in all my recollections of it was the Van Kampens'
Blij Zijn
. Leo and his wife, Joanne, made this the grand finale for their Mark III, W9667, as they, too, followed up their Worlds by buying a Hartley - W10944 which had been sailed in the series by Quentin and Harry Strauss.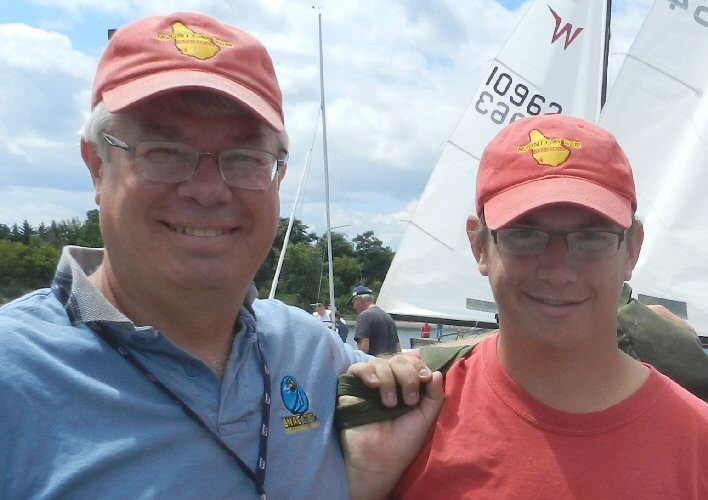 Following the Van Kampens in series 26th was Worlds Chair, Rob Wierdsma
(above)
. Sailing with his 17-year-old son, Daniel, out of Mississauga SC, Rob got the very weather - light airs - that two men of such "substance" are noticeably disadvantaged by - even in their new Mark IV
Winter's Edge
. Nonetheless, they admirably gave it their best right to the end.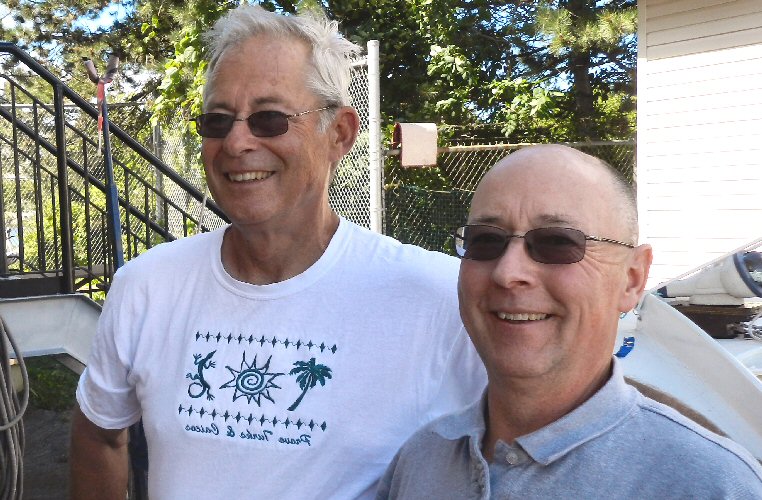 The ever cheerful rookie MSC team of Mike Dale and Phil Harbin
(above left)
made their Worlds debut quite a respectable one as they sailed
Whiskey Run ... no more
to series 27th of 34 in their first-ever regatta. Very nicely done, guys! It was a pleasure to sail with you.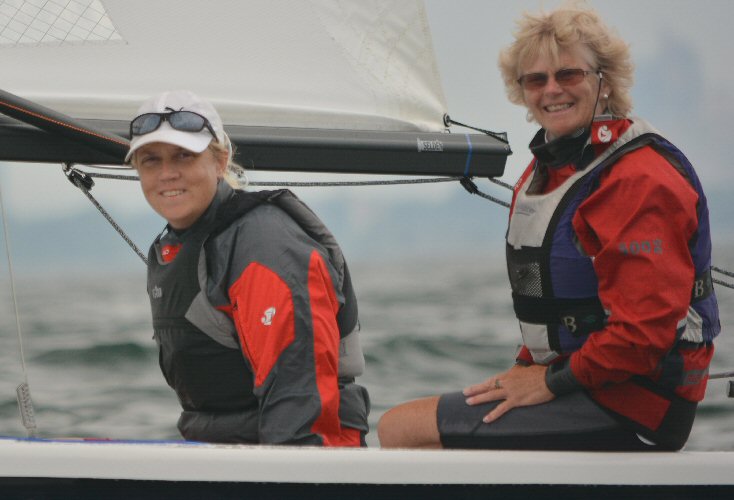 28th place went to our one all-female team, Margie Crawford and Rachel Reid of Ireland's East Down YC. Margie and Rachel sailed
Celtic Chick
, one of the container Mark IVs. My feeling was that they must have found it very difficult to move their boat well in such light winds with the tight rigging recommended by the British tuning guide?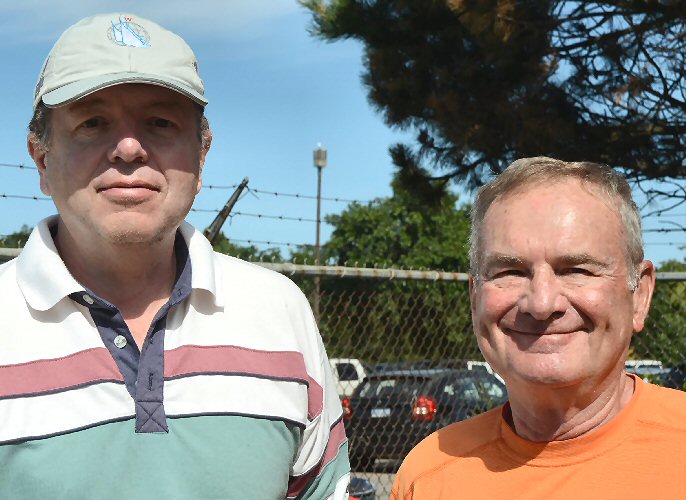 Three boats were virtually tied in 29th, heading into Saturday's finale. Al Nichols and Ken Nethercott, who had come down from the Conestoga SC about an hour NW of Toronto to sail their Abbott Mk I
unplugged
, ended up a single point ahead of Bob Stevenson, Commodore of the TS&CC, after Al and Bob placed 26-27 in the last race. Unfortunately for Team
unplugged
, the winds rarely reached strengths in which their good upwind speed could be displayed, and they ended their series in 29th.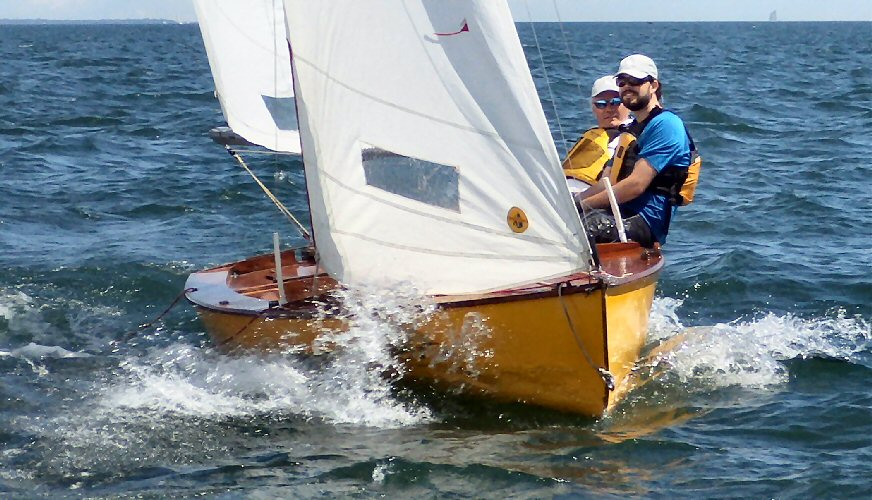 Radiant is the best word to describe the look on Bob's face as he explained that he and crew, Jeff Hocking, were finally getting an undertanding of all this tuning stuff and beating some boats after piloting his venerable wooden W440
Bob Cat
to series 30th. Rumour has it that a week later, Bob and Jeff, sailed their freshly acquired Mark IV W10960 to a close 2nd behind John Cawthorne (Worlds 7th!) in the
George Blanchard Memorial Toronto Island Race
, a race in which they beat several times Canadian champs, Heider Funck and Tom Wharton.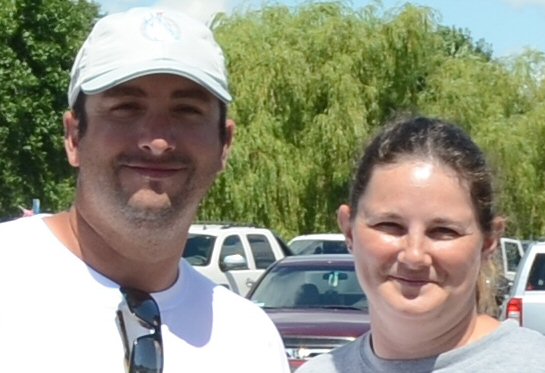 Coburg's Colin Junkin and his wife, Heather, unfortunately had their worst finish in the final race and thus dropped from series 29th to 31st. They nonetheless did a pretty fine job getting a good performance from their ancient glass Mark I
Jabberwocky
W1281 which they had to use when their garage and wood Wayfarer restoration project burned to ashes last year.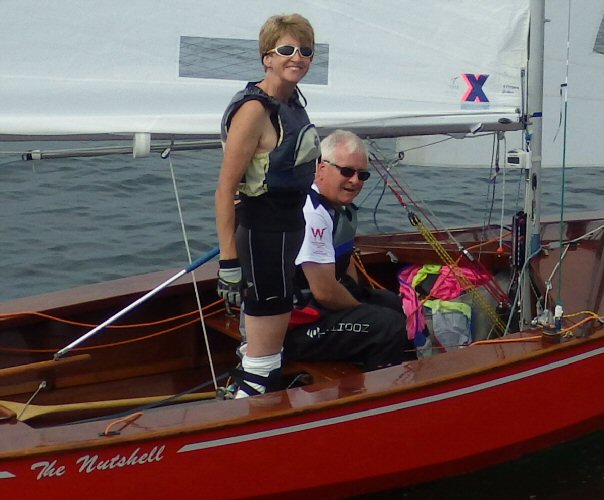 Beautiful and functional as
The Nutshell
is, Hans Gottschling's beloved W938 did not end up being a good fit for Margaret Hynes and Paddy Halton. This Irish team who currently sail a Mark IV out of the Cullaun SC had speed and pointing troubles throughout their series, quite possibly due to excessively tight rig tension as per the UKWA tuning guide which made the steering groove overly narrow for our light-air sailing. Hans, too, felt awful about
The Nutshell
's sub-par Worlds performance, but was relieved when W938 - using the
simplified Uncle Al Tuning Guide
- gave John Cawthorne's W10863 which had just taken 7th in the Worlds, a very good run for her money in the following Tuesday's TSCC club race. Margaret and Paddy meanwhile, beautifully illustrated the point of the entire exercise as they made sure they enjoyed every minute of their Canada trip.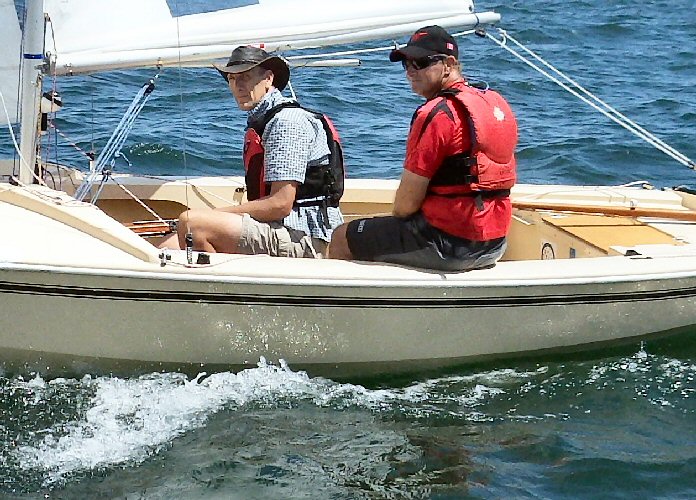 Virtually 100% attendance for our small but keen Conestoga Fleet as Scott Ramsay and Jan d'Ailly made it three for three. Like a number of others, Team
St. Brendan
and their Abbott Mark III, found the large-fleet experience and ideas exchange enlightening and educational. Scott was pleased to note as the week progressed that he was finally managing to put some of the coaching advice into practice with visible success. Flash! And the Conestoga Fleet now has (at least) four Wayfarers: Scott's crew and former CSC Commodore, Jan d'Ailly, is now the proud owner of the virtually new Mark IV W10964 which will join W10944 which was purchased by Conestoga's Leo and Joanne Van Kampen. Lovely to see the Hartleys' and NP Boats' efforts bring forth such enthusiasm!!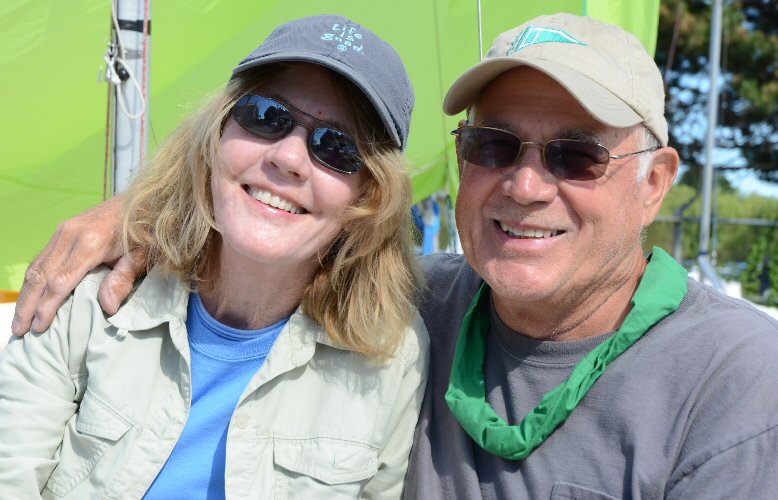 And speaking of enthusiasm, North Carolina's most recent addition to the Wayfarer family, Ken Butler and Beverly Swanson, who are Lake Townsend YC mates of Jim and Linda Heffernan in Greensboro, NC, bought the Wierdsmas' old Abbott Mark I, W7372 earlier this year. They then promptly signed up for not only the Worlds but also the International Rally the week before the Worlds at Killbear - and had a great and educational time. The spirit of these exemplary new Wayfarers!!! Even though they beat only a handful of boats across the finish line in the various races, they stuck it out to complete every race - except race 3 where they fell victim to the time limit. It is lovely indeed to have you with us, Ken and Bev!! See you at the
HOT Regatta in October
!!
...