1. august 2019 11:55 , af Poul Ammentorp
Klik her og læs beretning fra VM på minbåd.dk
Du finder flere flotte og dramatiske billeder fra sejladserne, ved at klikke på linken herunder
Klik her for at se billeder fra sejladserne:
Her er billede af de glade vindere af 1. 2 og 3 pladsen.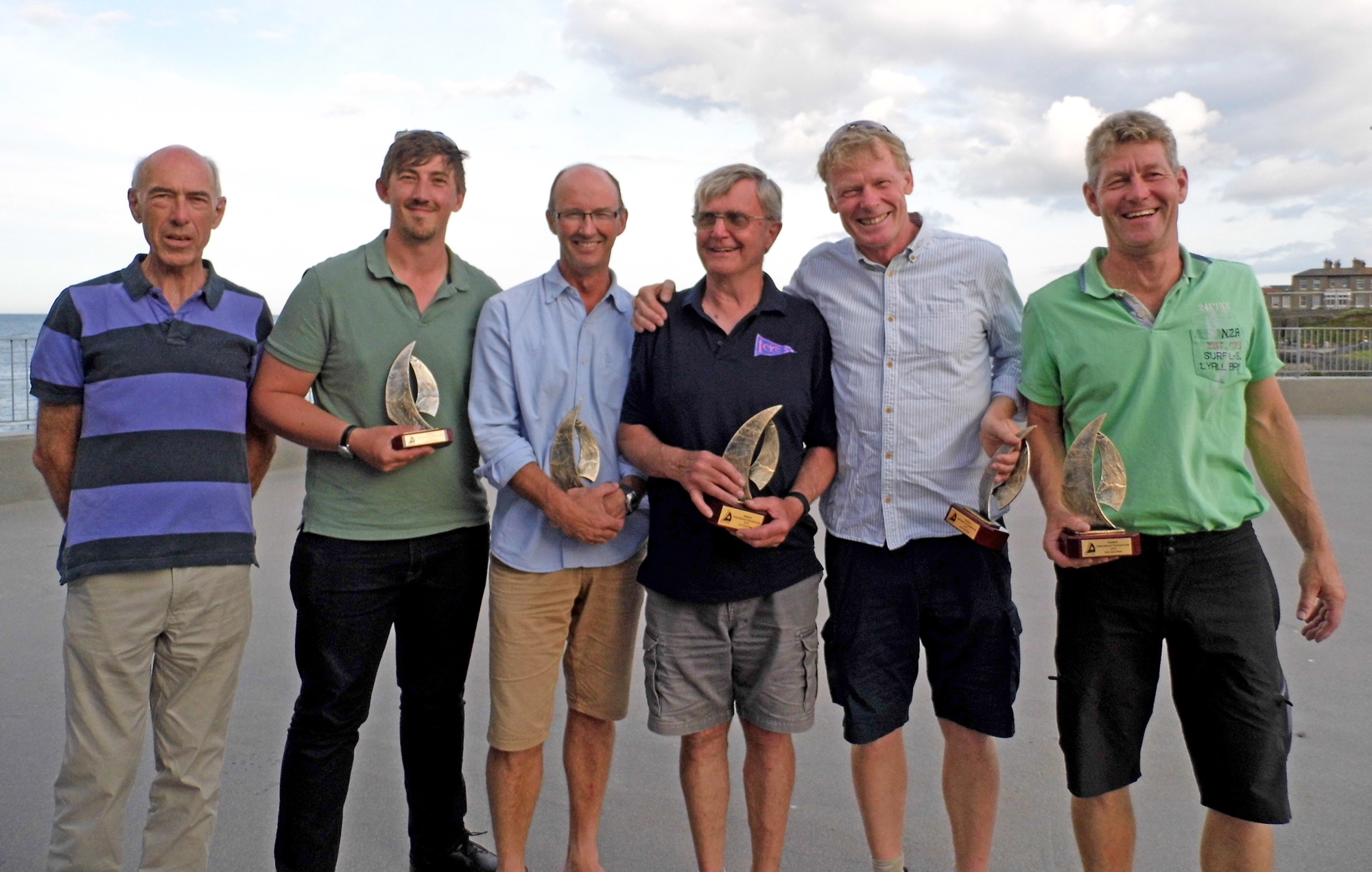 Podium – Tom + Andrew Wilson UK 3rd, Simon Townsend and Michael McNamara UK 1st, Mogens Just and Anders Friis (Den) 2nd
Klik på link herunder for det endelige resultat og læs mere under d. 26. juli sidste sejladsdag! Gå også ind på facebookgruppen wayfarersejler og se video fra præmieoverrækkelsen.
Klik her for at se det endelige resultat:
Herunder er nyheder fra VM i Irland, hvor det meste er noget, der er "plukket" på facebookgruppen Wayfarersejle
D. 26 juli 4. sejladsdag
Niels Alslev har lagt et foto af resultatlisten op på wayfarersejler: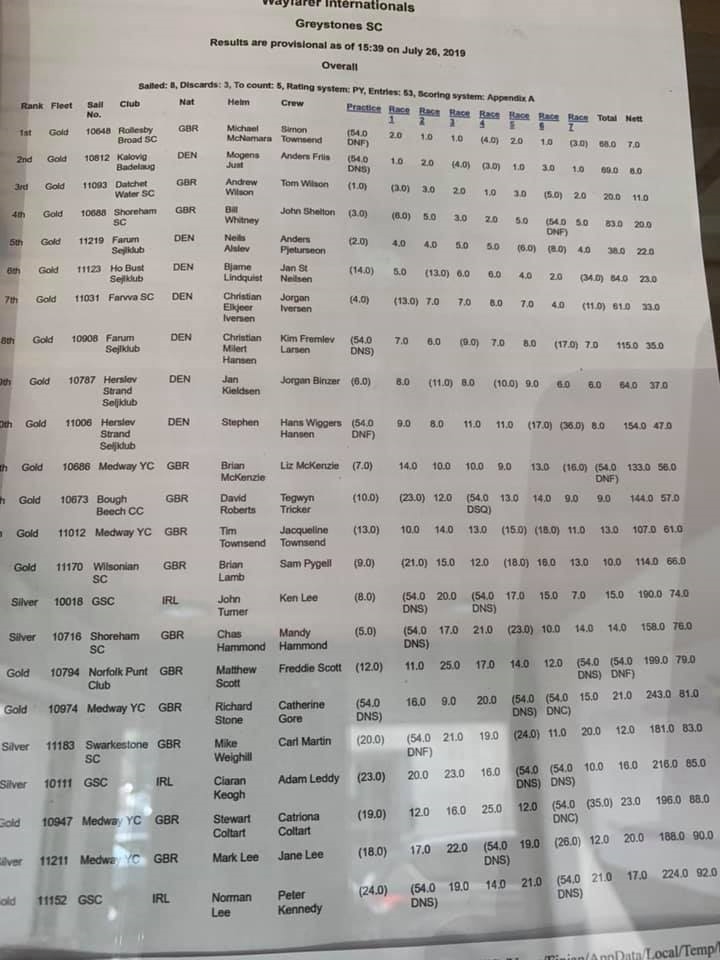 Her kan du se at Mike McNamara & Simon Townsend bliver verdensmestre med kun et point ned til Mogens Just & Anders Friis. Tættere kan det næppe blive!
3. og 4. pladsen går til joller fra UKWA og herefter er der 6 joller fra SWS.
Det er rigtigt godt sejlet og det flotteste samlede resultat SWS har præsteret ved et VM for Wayfarer. Stort Tilllykke!
Facebook gruppe Wayfarer North America Jim Heffernan skriver fra sidste sejladsdag,.
And the latest update from Ireland - Day 5 - the excitement continues:
A Bright and beautiful Irish sky greeted us as we looked out to sea and saw a few white horses building on the horizon. 'Twas a lively and enjoyable beam reach to the start area with 4-5 foot waves forming some very steep edges as the ebbing tide came up against the 18 kt southerly breeze.
RC briefed for three races. After a brief delay while marks were locked firmly to the bottom, the fleet was started under a black flag which kept everyone from being too aggressive which would be hard anyway in the building seas.
The 20 or so gold fleeters sailed quickly through the triangle and then drove upwind again staying in close touch with each other. The rest of the boats were evenly spread out and far enough behind the lead group to allow the RC to take finishes as they rounded the leeward mark at the end of the high speed reaches.
As the winds settled in at 20 kts gusting to 27, a second start went smoothly and the racing was similar to the first race. The last third of the fleet was allowed to again finish
At the leeward Mark and were then signaled to go back to harbour as the International Championship was over.
The safety staff were magnificent throughout the regatta as they rescued sailors who had overturned or suffered gear failures.
Looking forward to calmer waters in Feb 2022 at Lake Eustis, FL
Fair winds! Jim
Stor tak til Jim Heffernan fra USWA, som også har sejlet med i Irland og alligevel haft tid og energi til at holde os alle orienteret.
D. 25. juli "Hviledag / Reservedag":
Niels Alslev skriver på facebook: Hviledag – her: Greystones Sailing Club.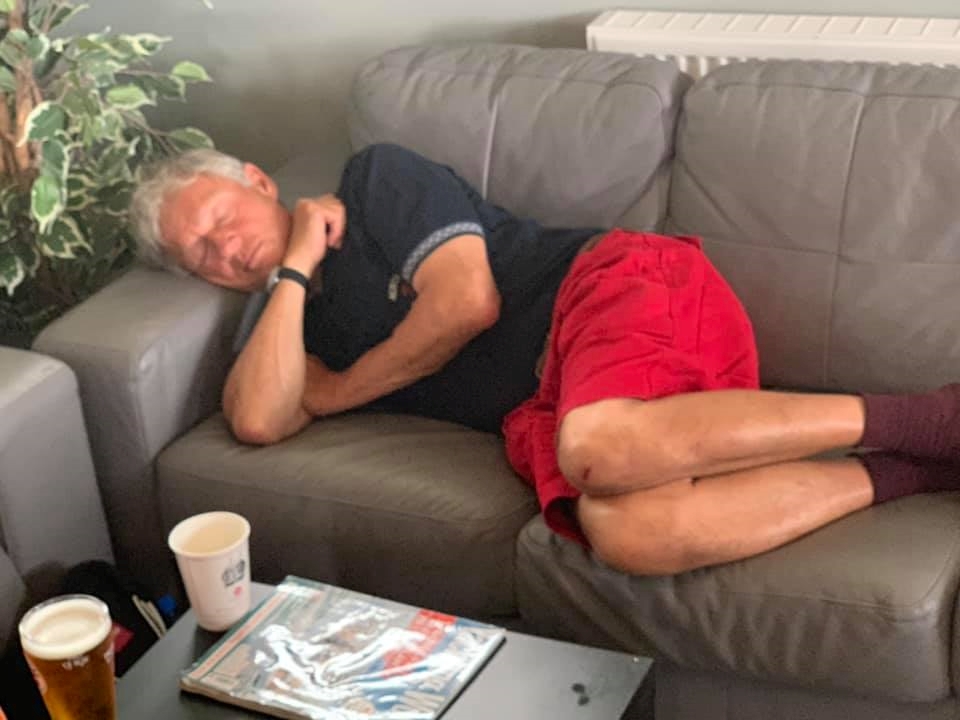 Der er blev ikke sejlet sejladser i dag torsdag d. 25, og det var mange nok glade for med en vejrudsigt, som varslede vindstød op til 29 knots, hvilket svarer til ca. 15 m/s.
Facebook gruppe Wayfarer North America Jim Heffernan skriver fra tredie sejladsdag:
Day four from Greystones, County Wicklow, Ireland
A lay day was scheduled for today to give everyone a rest and avoid a sailing day with forecast winds with gusts to 29.
The Wayfarer International Committee had a meeting with representatives from four Class Associations along with the Irish representative. Then everyone was off to see Dublin, Powerscourt, the Wicklow Mountains or just hike the 7 kilometer Cliff Walk that runs north from Greystones to Bray. We met Brits and Danes along the trail that overlooked our sailing area. As the wind grabbed our hats and hit us hard in the face, we were happy to be ashore.
Tomorrow will moderate slightly and most likely allow two races to be sailed.
D. 24. juli 3. sejladsdag:
Der er åbenbart problemer med at få opdateret resultaterne så Niels Alslev har igen taget et billede af resultaterne efter 3 dags sejladser hvor Mike McNamara og Simon Townsend nu er et point foran Mogens Just og Anders Friis. Det er godt nok spændende.
SWS har stadig 7 både med i top 10, så det går rigtigt godt!
Niels Alslev har lagt dette avisudklip op på facebook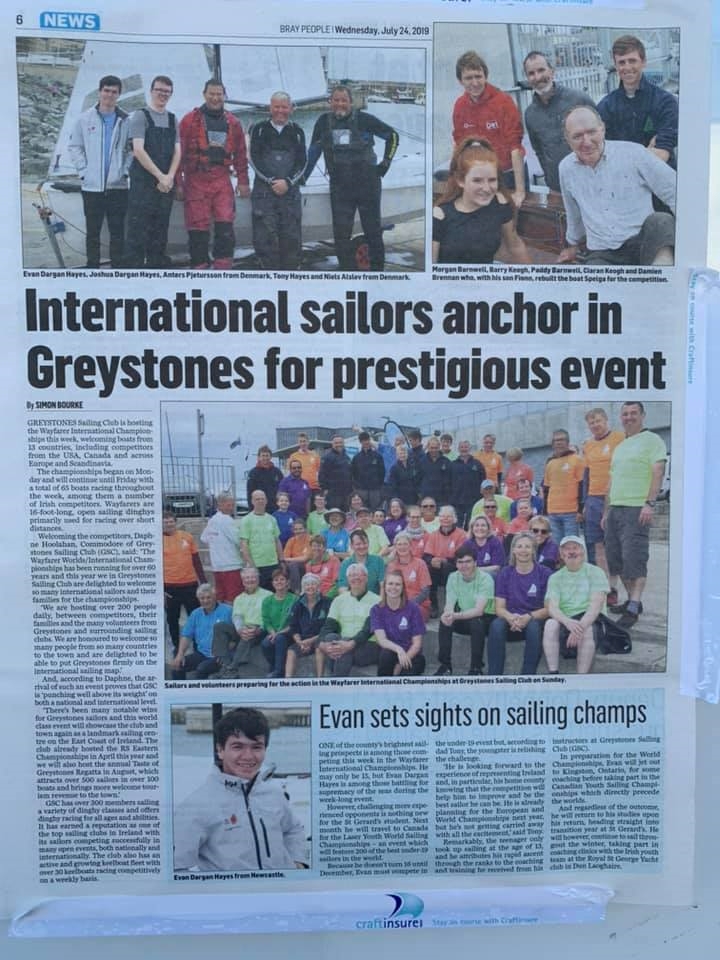 Facebook gruppe Wayfarer North America Jim Heffernan skriver fra tredie sejladsdag:
Day 3 from Ireland
Lovely morning in and around Greystones Ireland with some low clouds touching Bray Head with a bit of sun poking through. Fleet was launched at 1000. A comfortable beam reach in 12 kts took us out to the starting area with just a couple of rough spots outside the harbour entrance.
The flood tide held the fleet back from the starting line so no recalls or subsequent black flag. Which way to go upwind? Inshore with possible less current or out to sea with larger waves, a tad more wind unknown current. The leaders came into the mark from both directions with the boats having the edge.
Two lively reaches saw top class spinnaker gybes. As the race progressed, The wind began to build as forecast, gradually rising to 20 kts with higher gusts and steeper seas.
The leaders crossed the finish line after 75 minutes of wet and bruising sailing.
The RC signaled C2 with a downwind finish after a triangle and sausage. With the wind and seas building, prudent attrition began and the fleet was reduced to near 30 boats for races 2 and 3.
Fortunately there were very few capsizes to challenge the safety crews as was the norm on Monday. However there were a few dicey moments inside the harbour due to swirling winds around the high breakwaters.
Jim H
D. 23. juli skriver Niels Alslev: Starter dag 2 med udsættelse i 2 timer pga vindstød op til 14s/m og dårlig sigtbarhed
Billede: Der er sat udsættelse for de næste 2 timer!
Niels Alslev skriver på facebook: Efter timers udsættelse blev vi sendt på vandet og fik én sejlads i ordentlig vind. I anden sejlads i dag, var vinden aftagende og det endte med vacum og en aflyst sejlads, da man ikke kunne nå bundmærket pga strøm. På vej ned mod bundmærket sejlede de forreste kryds - midt i feltet lå man stille og bagerst sejlede man med spiler - alle på vej mod samme mærke - det eneste rigtige var at aflyse sejladsen.
Samlet resultatet efter dagens sejlads er at Verdensmestrene Mogens Just og Anders Friis ligger lige med Europamestrene Mike McNamara og Simon Townsend. Der er nu 7 joller fra SWS i top 10!
Der har også været lidt dramatik ude på banen hvor Jan og Jørgens båd er blevet lettere skadet. Se billede herunder.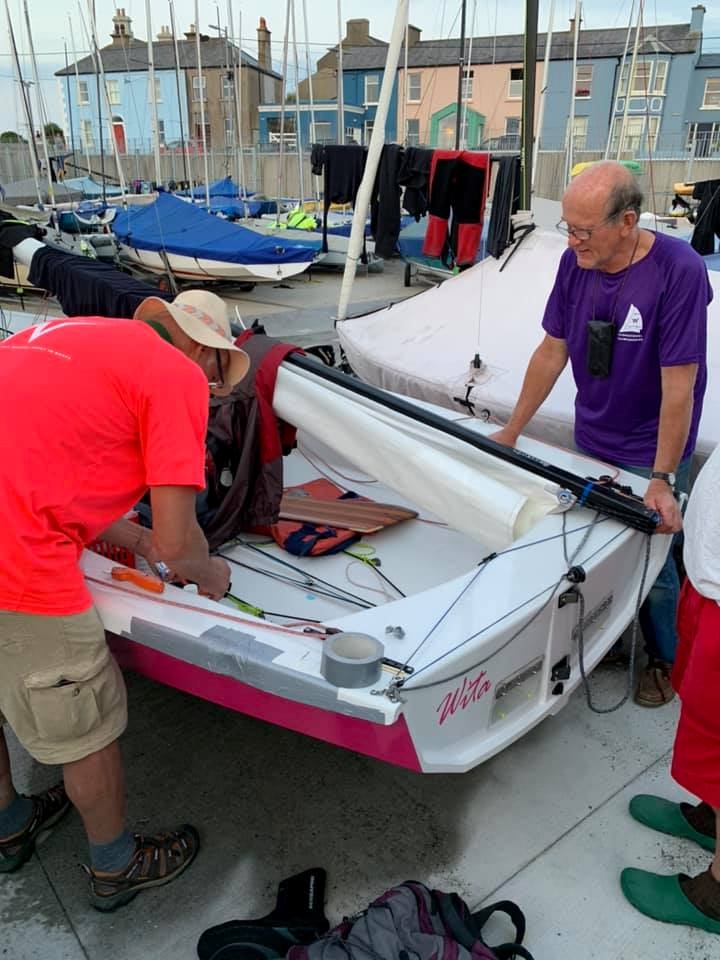 Niels Alslev skriver på facebook: Efter en lang dag på vandet, så var der nogen om overså "JJ" (Jan og Jørgen) og bommede direkte ned i dem, hvilket de nu reparerer , samt en en hængestrop som er på vej ud af bunden.
Facebook gruppe Wayfarer North America Jim Heffernan skriver fra anden sejladsdag:
Day two from Greystones SC Ireland
Mist and sea fog greeted us along with a rising wind. Forecast was for rapidly increasing winds that would only last for two hours. AP over the Numeral 2 was raised. PRO was ferried to the start area to check it out and reported very confused and uncomfortable seas. No start until 1300.
AP was dropped at 1330 and the fleet crossed the start line at 1445. The quiet following current caused multiple skippers to misjudge its strength and a general recall was signaled. The new start was clean thanks to a black flag and the fleet quickly divided, with each group dealing differently with the pushing current and the opposing 4' waves.
We did a triangle, then a windward leeward and another triangle finishing on a beam reach.
A short break was had and the second start also had many over early boats so the restart saw the black flag again. With a 12 kt breeze, the triangle was nicely sailed with the air filled with the rainbow colors of spinnakers. However the wind began to ease and the fleet had a traffic jam at the leeward mark while the end of the reach ended as a run directly into the opposing current. This was a precursor to the wind dying completely and the race was abandoned.
Possible 4 races tomorrow.
D. 22. juli skriver Niels Alslev: Resultat efter 1 sejlads - god dansk 1 sejlads, hvor Mogens og Anders fik en flot første plads.
Se resultater ved at klikke på link øverst på siden.
Helle Emsvang har lagt følgende på facebook: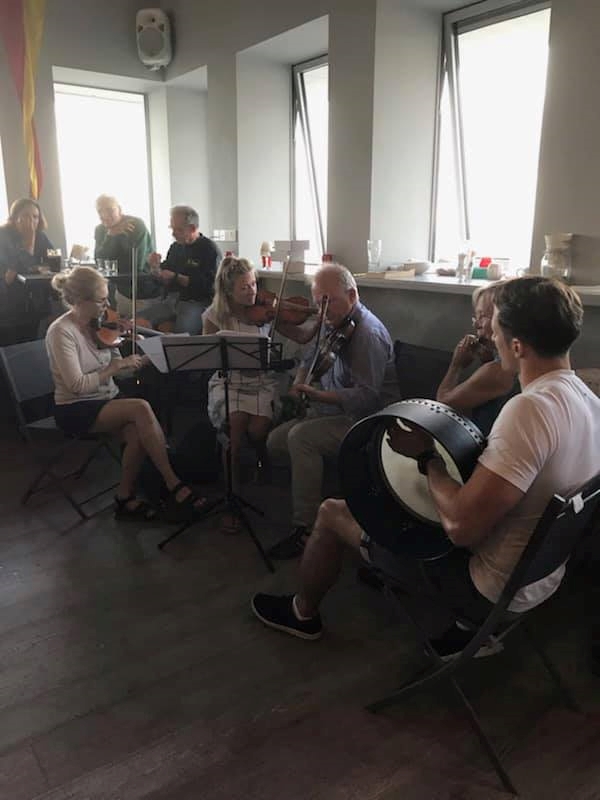 Der bliver også hygget med god irsk musik og med dansk gæsteviolinist Meike ☺️, efter en hård dag på vandet
Facebook gruppe Wayfarer North America Jim Heffernan skriver fra første sejladsdag:
From Ireland:
Day one is in the books! Comments from competitors and rescue personnel follow:
We were tossed asunder, very shifty and gusty, exciting, an animal out there,
Oh S....., absolute carnage, no tactics, just survival,adrenalin at first then fright!
Exhilarating and exciting while wild with hard work.
You get the idea. How many capsizes? a lot in both races.
35 of the 64 registered boats ventured out for the practice race which was delayed until conditions were tested by a brave UK sailor and evaluated by the RC.
Before the start, a number of boats returned to safe harbor after capsizing or for repairs or with an abundance of prudence.
RC stated the winds were 18-20 kts with long gusts of 24 Kts. The real difficulty was the sea state which was high, steep and confused as wind, current and a large swell came together on the race course.
Many of the capsizes occurred after bearing away from the windward mark and the rudders lost their bite in the water as the stern rose on a steep wave and control problems led to a broach and capsize. Most boats did not fly spinnakers.
One crew member was briefly trapped under a boat and swallowed too much seawater and then capsized a second time while trying to get up and running.
Fortunately the water temperature was warmer than the average of 57 as noted by some of who spent time swimming.
The self rescuing qualities of the Mark IV design were well used as most of those that went over got underway quite quickly after recovery.
A Danish crew won the points race that followed with a UK crew close behind.
Margaret Hynes was the top female skipper in that race. More tomorrow.
D. 21. juli skriver Christian Milert på facebookgruppen wayfarersejler:
Nyt fra Worlds i Greystones
Så er de otte danske besætninger klar. Alle joller og sejl er målt, og nu venter vi bare på at komme i gang. Mandag indledes med practic race kl.11.55 og efterfølges af 1-2 tællende sejladser, I følge SI vil sejladserne vare 90-120 minutter og foregå 2-4 sømil fra land - i sandhed noget andet end Furehavet....
Vandet, vi skal sejle, på er noget andet, end vi er vant til derhjemme. Der er 4 meter tidevand og op til 5 knobs strøm. Med udsigt til vind fra sydlige retninger kan der forventes bølger på størrelse med en dobbeltdækkerbus

På land er servicen i top. Irerne er et af de mest hjælpsomme folkefærd og står nærmest i kø for at hjælpe os.
Vi glæder os og ser frem......................