Disaster Strikes, Wayfarers Rise
Tweaked by Uncle Al, facts by John Cadman


One thing, I believe, that has made Americans such an attractive beacon of hope to so many people is their can-do spirit and willingness to help others. American Wayfarers continued this fine tradition last month. In the Summer 2020 issue of the UKWA Wayfarer News, Hartley Boats announced their charter boat scheme for the 2022 International Regatta. The structure was similar to the arrangements in Mississauga in 2013 and Heeg in 2016 but with the additional stipulation that, in order to make it a viable undertaking, the boats would need to be sold in advance to North American buyers. In February 2021 following the first ever delivery Wayfarers directly from the UK to Lake Eustis, Richard Hartley called me at home in the UK to give me the details of the terms of purchase which I passed onto to Marc Bennett, who responded immediately, "Thanks I will jump all over this."

True to his word, Marc had five confirmed buyers by August and the program was confirmed and the boats were built during October. In December, the responsibilities for importation were agreed with Nick Seraphinoff handling the commercial arrangements in the USA on behalf of Hartley Boats and David Hepting managing the physical receipt, unloading, inspection and storage in Eustis. In mid-January the container was collected from Hartley Boats factory in Derby. The shipping company confirmed that it had been booked on the OOCL Seoul and was due to leave Southampton on 22 January and arrive in Miami on 12 February: comfortably in time for the regatta.

All seemed to be well until on February 1st, John Driver, one of the purchasers, queried with Julie Graham at Hartley boats why the tracking websites made no mention of the Seoul berthing at Miami. Julie contacted the shipping company and received the reply that, due to an operational error at the port, the container had not been shipped as planned. On Friday February 4th, we were advised that the revised shipping plan had the container arriving in Miami on Friday 5th March and therefore would not be delivered to Eustis until after the start of the Regatta.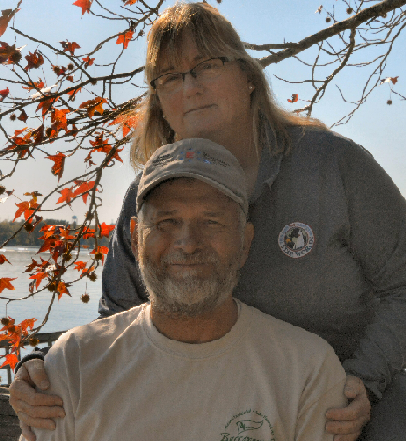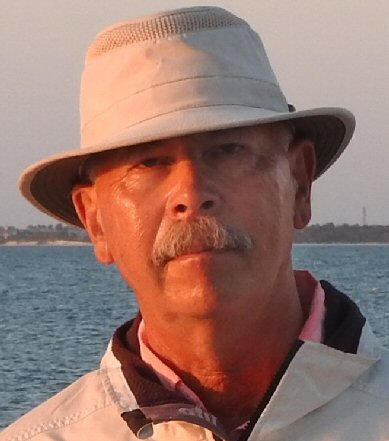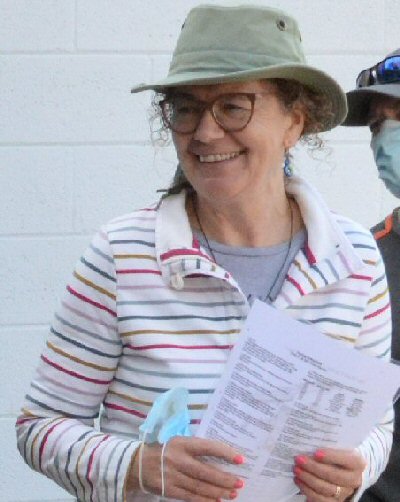 (l to r)
Ali Kishbaugh (with Mike Sigmund, Dave Hepting, Anne Pugh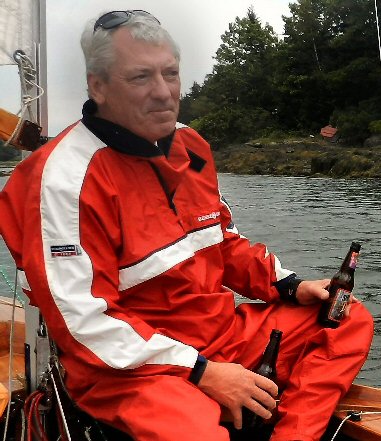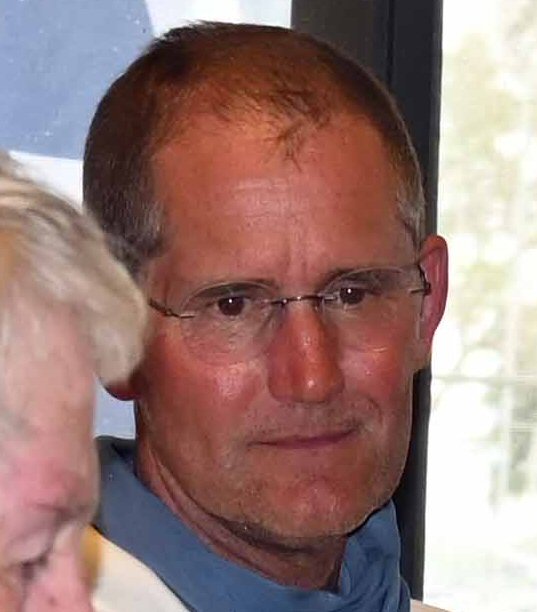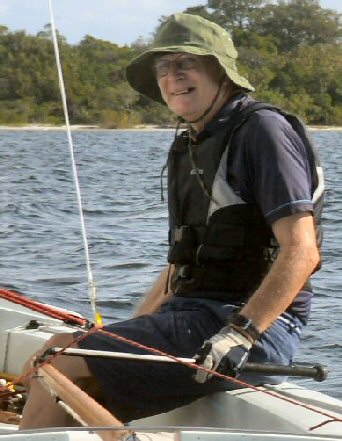 (l to r)
Tony Krauss, Richard Johnson, John Cadman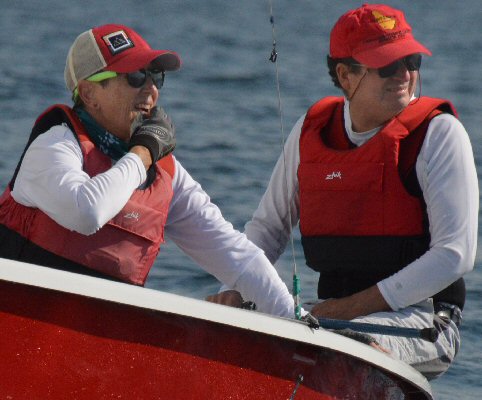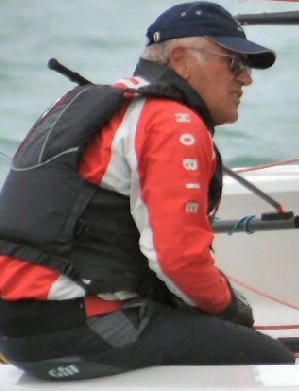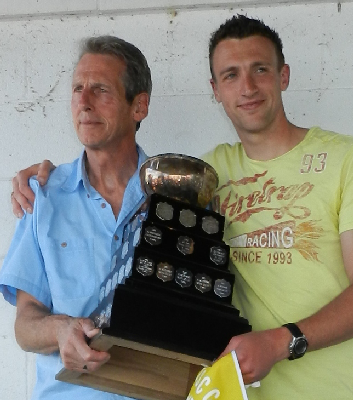 (l to r)

Marc Bennett (with Julie), Nick Seraphinoff, Richard Hartley (with son, Mark)

Over the weekend of February 5th/6th there was a flurry of communications involving Florida (Dave Cadman), North Carolina (Richard Johnson), Michigan (Nick Seraphinoff) and Ontario (Anne Pugh) in a search for replacement boats. Within ten days (by Tuesday February 15th) we had five possibilities: Richard Johnson and Ali Kishbaugh in North Carolina offered to sail their MK 1s and provide their Mk IVs (W11336 and W11137) to Quentin Strauss and Monica Schaefer respectively. Tony Krauss agreed to let Henry O'Friel sail W11044 and David Hepting and myself made arrangements to make W11344 available to Simon Strauss. Fortunately, Shane Harvey (LESC) had already agreed to lend W11345 to Nigel O'Donnell. Toronto's Bob Stevenson also offered to make his boat available but, as it was logistically easier to get the other boats to Florida, we were able to decline his offer with thanks.

It only remained to get the boats to Eustis. Here the most arduous travel prize goes to Nick Seraphinoff and his grandson who collected Tony Krauss's boat on Wednesday March 3rd and drove through the night to deliver it to Eustis on Thursday March 4th: the same day that Henry O'Friel flew in from Ireland. All the borrowers were delighted with the condition of the boats and made good use of them. Quentin Strauss placed 7th overall, Simon Strauss 10th, Monica Schaefer 13th and Nigel O'Donnell 15th. Henry O'Friel unfortunately fell sick on the first day of the regatta. Elaine Vogel stepped up from crew to helm on Tuesday, Wednesday and Thursday with two unfamiliar crew and together placed 32nd overall. Despite being unwell, Richard Hartley took the trouble to telephone and email Nick, Richard Johnson and myself to express his disappointment and apologies for the shipping delays which were totally out of his control. The text of his email follows.

Message sent on behalf of Richard


h February 2022


Good afternoon to you all,

Have been carted off to hospital and am likely to be there for some time, so my office decided that they had to talk to me and bring me up to date with the container situation. You are now aware that the shippers did not load the container onto the boat due to human error on their part. We have been given an ETA of the 5th March which is far too late, bearing in mind it could take several days for customs clearance depending on how busy the port is.

To learn these facts after we worked so hard to prepare has annoyed me intensely. I waited today until I was at my best and rang the Export Sales Manager who has been my contact. I explained my disappointment and unhappiness regarding the current situation. I did that in two ways, one is when we were having problems in November with Penguin, my shipping agent for 25 years, I researched other shippers to find alternatives. After a day of looking at options I choose Expeditors which are a world-wide company with many offices and depots abroad including the USA.

I spent a long time on the telephone explaining I would be a new customer having spent 25 years with one shipping company. I explained the nature and importance of the container and that the container had to be delivered well in advance of the event to give us flexibility. I then asked what could he guarantee me in regard to shipment and ETA dates, this conversation took place in mid December. During the conversation I asked for shipping dates and ETA dates. Being aware that several ports had ships waiting to be unloaded, I asked that they look into a given destination port before we committed so that we could expect the container to be freed without delays.

Within a few days the Export Manager came back and said I had three options on ports with regards to clearance times and his advice was to take Miami as they have the least time delays. He also said, "I have been able to get you on SOOCL Seoul with a loading date from Hartley Boats of the 12th January 2022 with an arrival date of the 12th February 2022." Bearing in mind that it was Christmas and everything was subject to the Christmas holiday rush, I stressed that if I give the go-ahead that you must deliver to the time scales. He advised that this was achievable and confirmed the same.

I then made an instant decision that this was the best option with a massive shipping company that would have some leverage and signed the agreement. This is the background information that you need to understand my next very lengthy conversation with the same person today, explaining the circumstances that I find myself in and the possible disappointment to many people because of the shipping problems. I explained that I require his promises to respond and tell me what his massive company can do to solve this problem that is not my making and comes after their assurances that they could deliver when I signed the contract especially with a customer that convinced me to move a long standing account to them. I have informed the Sales Export Manager that I require a phone call at the end of the day with the progress or no progress until this matter is sorted.

I am sorry you have been dragged into the mess going forward. I will talk every day to the company until I have the best option available. I intend therefore not to take any action and get any more sailors involved until I have a satisfactory outcome. I would like to thank you for all your endeavours to help sort this problem and you can be assured that Hartley Boats will deal with this going forward now that we are aware of the problems and we will keep you informed.

Regards, Richard