the 2022 Wayfarer Worlds
Uwe and Nancy's daily updates
From: Uwe & Nancy Heine
Sent: Saturday, March 5, 2022 8:15 PM
Subject: Day 1 Saturday 5th

Bright, sunny and windy. Second day of club racing. There were white caps and puffs. Some Wayfarer people went out. The hardy, the enthusiastic and the ones for whom this was pretty common. Others didn't want to race to save their energy. As the day has gone on the wind has fallen off and people are randomly heading out.

There was a lots of socializing. Many people enjoyed the breeze under the shade of the live oaks with their beards of Spanish moss. Some enjoyed the small Florida wildlife, the anoles (lizards) were frequent visitors and there was one jumping spider that had lots of photos made.

All the boats have been checked in and measured. The raffle prizes are displayed.

The food volunteers have been very busy all day, making lunch bags and getting things ready.

Tomorrow looks like a great start to the week. Uwe and Nancy Heine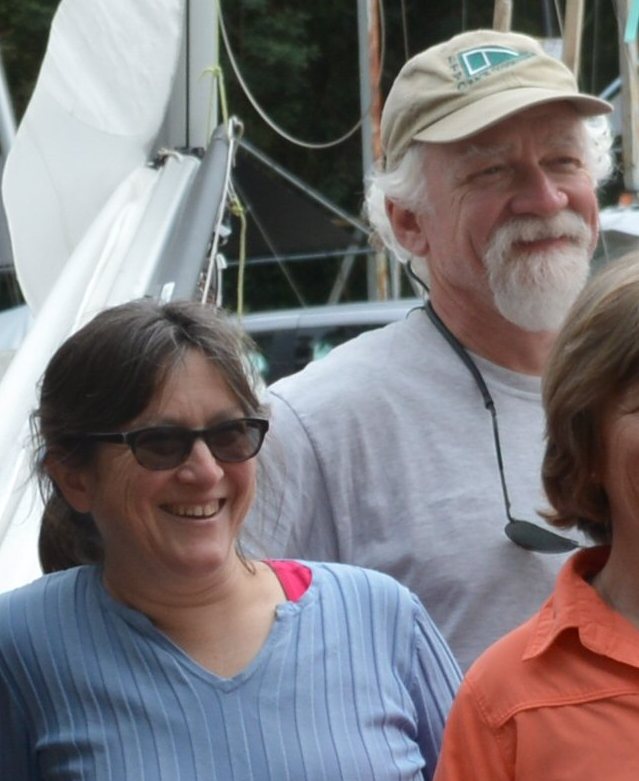 Nancy and Uwe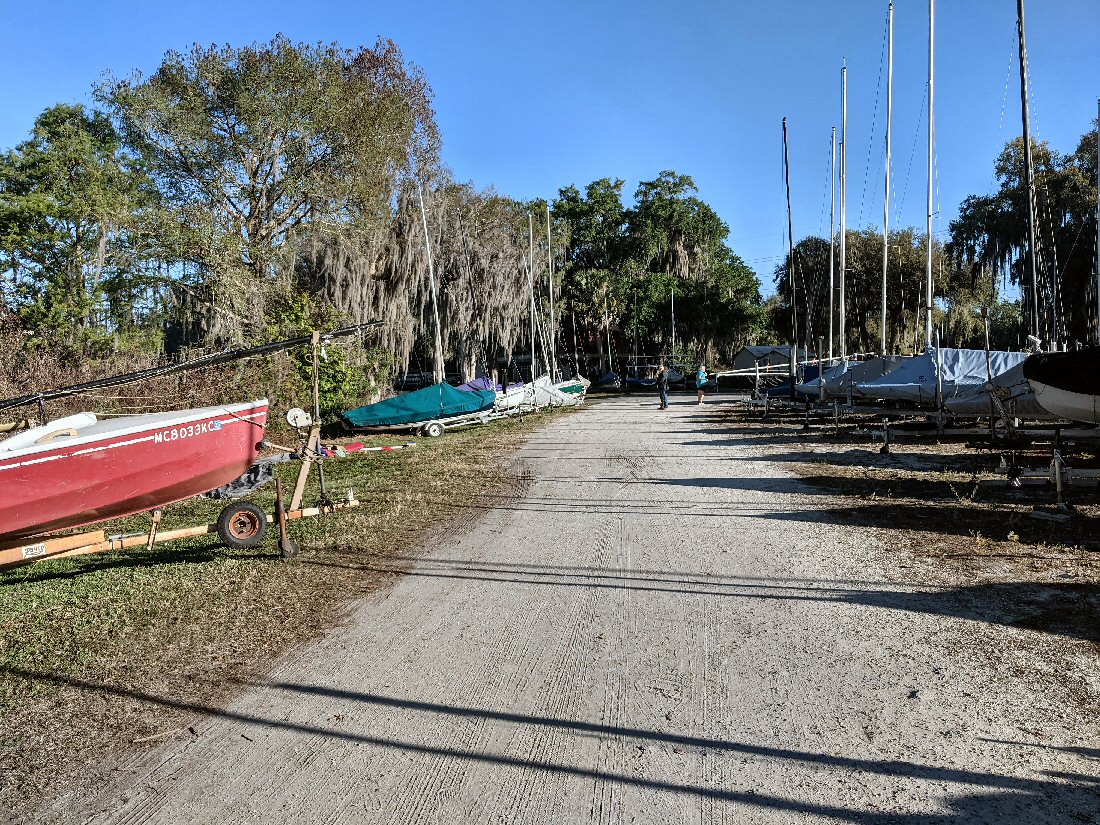 View towards the cluhouse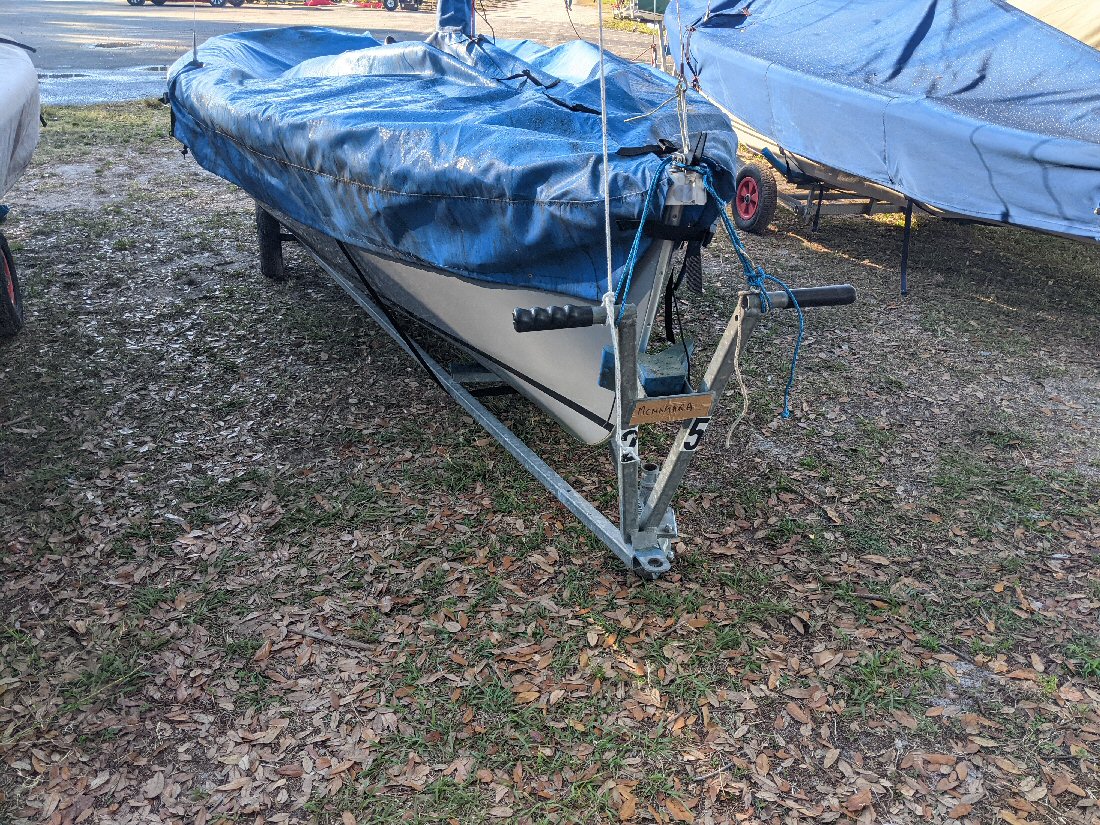 a rare bow-on view of the Mike Mac mobile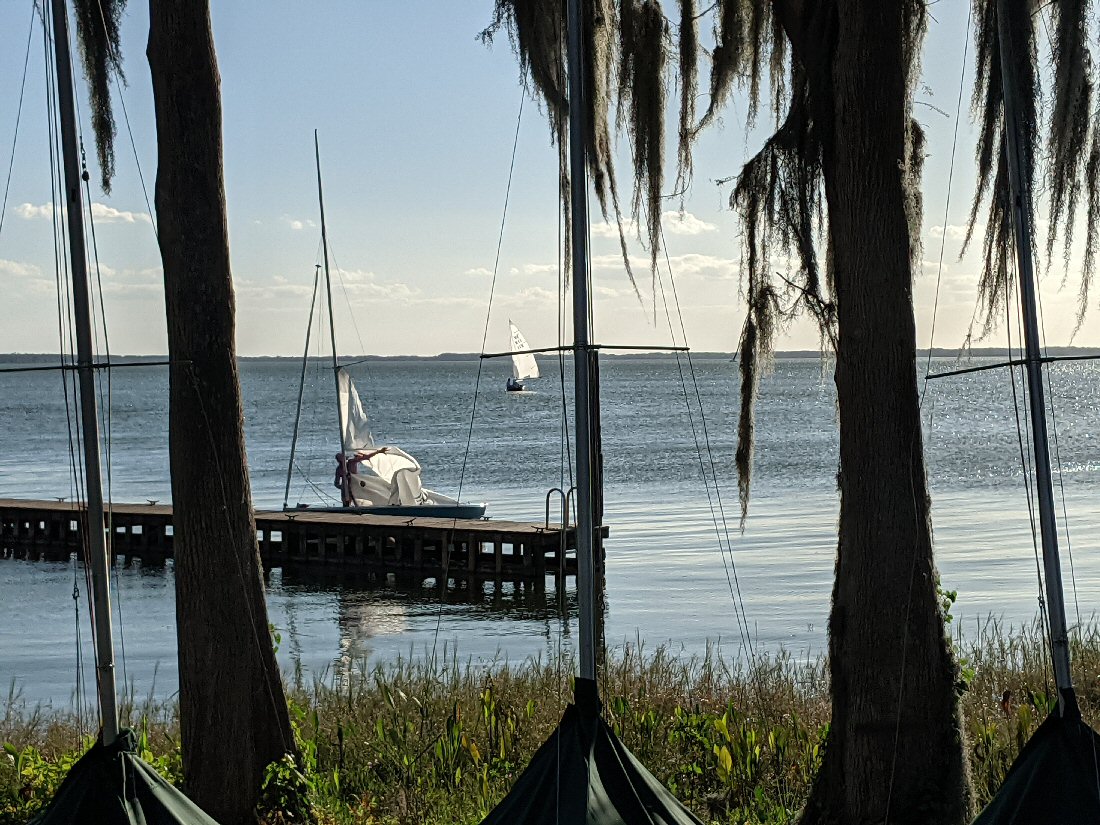 a fine sailing day on Lake Eustis; Dave McCreedy practising in the distance.
Sunday the 6th
From: Uwe & Nancy Heine
Sent: Sunday, March 6, 2022 8:19 PM
Subject: Day two pre-race

Bright, sunny and windy. Second day of club racing. There were white caps and puffs. Some Wayfarer people went out. The hardy, the enthusiastic and the ones for whom this was pretty common. Others didn't want to race to save their energy. As the day has gone on the wind has fallen off and people are randomly heading out.

There was a lots of socializing. Many people enjoyed the breeze under the shade of the live oaks with their beards of Spanish moss. Some enjoyed the small Florida wildlife, the anoles (lizards) were frequent visitors and there was one jumping spider that had lots of photos made.

All the boats have been checked in and measured. The raffle prizes are displayed.

The food volunteers have been very busy all day, making lunch bags and getting things ready.

Tomorrow looks like a great start to the week.

Uwe and Nancy Heine

Monday the 7th
From: Uwe & Nancy Heine
Sent: Monday, March 7, 2022 9:14 PM
Subject: Race day one

Today racing consisted of one practice race and the first two races of the series. The wind was again blowing white caps but was supposed to reduce. Humid; upper 80's.
The day was launched with the skippers' meeting. Reminding everyone to hydrate and if they didn't and passed out they would get to pay for an ambulance ride. No universal health care here. I had dressed for a super hot humid day. This first race got me fairly wet. But I didn't really mind. I had heard someone yesterday say that here they could get wet and not get cold.

There was an accident at the start with two boats not racing. And there was a capsize. But both boats were racing in later races.

Race two we thought was a triangle. But it also had a windward leeward. We did try to tell another boat that was there with us that we should clear the course. They quickly corrected any misconception we had. The wind was reducing in the second race. There seemed to be a preponderance of yellow spinnakers at the front of this race.

Race three the white caps were long gone but it was still around 5-10? Enough that we were quite comfortable flying the spinnaker and while our red and white boat didn't win, its look alike did.

There were only a few boats that stayed on the moorings. Maybe because it did rain some right after dinner. There was a lot of working on boats, repairs tuning before dinner. Dinner was catered from Greg, from the MC scow fleet. A nice Italian fest. Accompanied by tasty desserts.

Sailing advice and tuning with Mike McNamara. After dinner was the first raffle. Jim Cook won.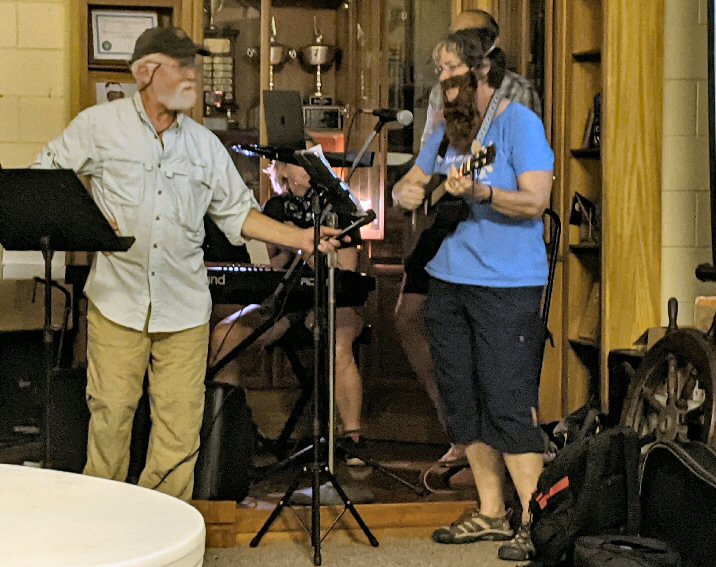 Post dinner, Scott Bogue, Trish, Annette, Marie-Lyne and her crew, Dave

- Oh... and Uwe and I - played some songs, one dedicated to Jim Heffernan.

Nancy & Uwe

Anne Pugh posted the scores on Facebook.


Monday sunset

Tuesday, the 8th
From: Uwe & Nancy Heine
Sent: Tuesday, March 8, 2022 9:45 PM
Subject: Sailing day two.

Overheard Sailor pirate Dave say that today was a good golf day. Skippers' meeting was held under a grey scale sky. A nice steady gentle breeze blowing. We were greeted by the mayor and other officials from the town of Eustis. Today was group shot day before for we headed out under light sprinkles.

First signal was scheduled to be at 10. Most of the boats hadn't floated out yet. AP was called. There was a lot of committee boat movement , trying to find any sort of a steady breeze. Several of the young people enjoyed bobbing around on the lake. Patty calls the hot drifty days "Bake-n-Bob".

Around 11:30 race committee put up AP over H (Races not started are postponed Further signals ashore.)

Peggy had asked RC if we were going to have a lunch break after the first race or the second race. Turns out it was before the first race.

As lunch progressed a small breeze trickled in. The PRO had binoculars and was watching the wind. Then every eye was on the RC as the pontoon boat went out, still with the AP over A, motoring down the lake. There was enough breeze that every one knew the outcome. RC radioed back they were going to race. ( They did come back in and properly drop the AP. )

Two races were conducted. The wind was more than forecast. Psst: the forecast hasn't been that close all week. Race committee has been getting good at getting the I flag out after the recalls. We are getting lots of practice at starts.

But the racing was fun. And the evening's entertainment was Canadian Night. Greg from the MC Scow fleet made all sorts of yummy treats. Meatballs with poutine, fried cheese curds and fries, with poutine. Red and white foods. All good. Then there was a Canadian quiz. No real surprise we didn't win. But we had fun.

Totally tired. Hoping tomorrow isn't as windy as forecast.

Nancy

Wednesday, the 9th
From: Uwe & Nancy Heine
Sent: Wednesday, March 9, 2022 9:39 PM
Subject: Day three

Today's skippers' meeting was started with a fair number of skippers holding one hand up to block the sun in a partly cloudy sky, looking for a view of the Space-X rocket launch from Cape Canaveral. Sadly there were too many clouds to view the horizon.

Some days I'm not sure why we bother looking at the weather. The accuracy is about 70%. The weather was supposed to be 13 with gusts to 20-30. When we got there it was white capping and we were concerned. Several people were concerned. We borrowed a storm jib, one boat was reefed. Others I talked to were anxious. It was windy and the storm jib was very comfortable. It made sailing easy.... But pretty slow. While we retreated to shore to change out jibs, the winds calmed a bit and RC was able to conduct a second race. We did complete our task in a hurry, but they had already started. So we had an extended lunch break. The weather had also called for rain showers. There was one storm cell that was dark and stormy (the only one we've had so far). The rain from it didn't reach the lake. It didn't expand, so the RC conducted their third race. While the storm had stolen all the wind for a bit, it did fill back in for the third race. Which was pretty exciting. The windward mark had been moved and we somehow managed to get to it close to first. Of course we got passed but we had some exciting times with the spinnaker on that reach.

Dinner was a southern BBQ dinner. They even bought in a wood-fired smoker. It smelled good and tasted good. Dinner was followed by the awarding of many raffle prizes donated by supporters of the regatta.

Tomorrow looks like a greater chance of rain. We'll see how accurate that forecast is.

Nancy and Uwe

Thursday, the 10th
From: Uwe & Nancy Heine
Sent: Thursday, March 10, 2022 9:39 PM
Subject: Day four

I'm not sure what the scores are, but the person who does the scores came to visit for dinner so they must be done - they should be on the link I sent. So you will know before me..

It was raining when we woke up this morning. It had tapered off by the time we got to the lake. Somewhat overcast, forecast: rain. The wind tried to behave like a small lake; it was rather unsteady in direction. One of the things that I equate sailboats to are birds. The sailboats followed the RC around on a tour of the lake like a flock of birds. We got to see places that we had never seen before. There is an actual HILL! on the north side of the lake that I had never seen! This is FL; it is all pretty flat

RC had hoped to do three races today. The first race, while delayed, was pretty good. Wind maybe 7? The second race, had a general recall. Of course it was our best start. The wind was OK, but as storms were building close by all the wind got sucked to into the storm. It became incredibly flat and airless. Several boats had managed to be close to the windward mark when RC shortened the race, with 2 horns and an S flag. Ten boats managed to drift across the line. There wasn't breeze enough to get too many people across the line before the 20 minute time limit expired so the majority of the fleet was scored TLE (Time Limit Expired, # of finishers plus 1 point). One boat, in 12th place, was five feet from the line when the time limit expired!

The judge kindly motored by to say we could quit. They were towing people in. By then the storm, with thunder, that RC was watching, was giving back the breeze. We sailed in on a nice breeze. We were even ahead of some of the towed boats. I did see, on the way in, a wooden boat sailor trade places to get on a "soulless plastic boat" aka Mark IV and sail it around. When we got to the dock, it was beginning to rain. As we threw the cover on, it was raining harder. I did hide in the quiet of the van before joining the cacophony of the club.

Race week is quieting down. We didn't stay at the club; we made dinner and enjoyed visiting with friends. Last day of racing tomorrow. One race scheduled. We'll see.

Friday, the 11th
From: Uwe & Nancy Heine
Sent: Friday, March 11, 2022 10:01 PM
Subject: Day 5 the finality

Well, you've already gotten the results. It was a pretty lively day. Today was only scheduled for one race but since we were one race behind, they were going to try for two. The PRO told everyone that they were not going to have any general recalls, that they were going to start with the I flag and go up from there.

It was pleasantly cool and overcast. Not too splashy. The first race kicked off with an I flag. And they did manage to get a general recall. Of course, our start was great. Waste of a perfectly good start! So the restart was the U flag. Then they had a delay because the wind had shifted. They moved the mark and restarted the race. The wind was about 10.

The second race they moved the weather mark again. The I flag again went up as the prep flag, and this time no one managed to be over early.

All the races have been long and have lots of opportunity to do a lot of tactics to get ahead of fall behind. :)

After the boats were all tucked in and ready to travel, there was the awards ceremony. With lots of awards for special categories.

It is fun to visit with everyone and to meet new people.

Hope to race with you soon. Nancy & Uwe