...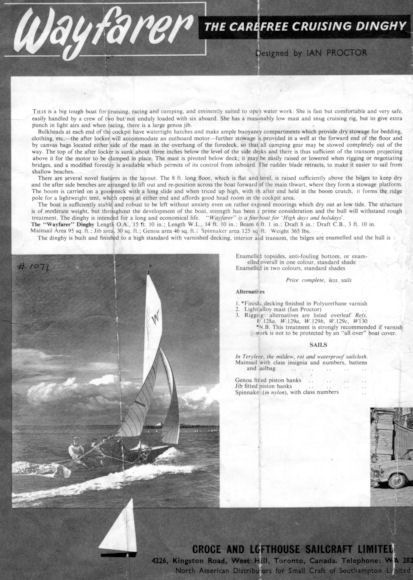 click
here
for larger image

After being introduced to the sailing public in January 1958, the Wayfarer rapidly became very popular on both sides of the Atlantic. Enthusiastic associations of W owners were formed within a year in both the U.K. and Canada. The number of WOAs grew to four in the 1960s with the addition of the USWA (1961) and the Scandinavian Wayfarer Association (SWS) in 1968. By the early 1970s, the Wayfarer had developed a keen racing following in the UK and in North America while the Scandinavian Wayfarers remained more cruising oriented.
Not surprisingly, each side of the Atlantic wanted to test its skills against the other, and a step in that direction was taken in London, England on April 14th, 1972 with the inaugural meeting of the Wayfarer International Committee. For all intents and practical purposes, the WIC's main task has turned out to be standardization of W Class Rules.

After a fair bit of "horse trading", divergences in our Class Rules that had developed between European and North American Rules were removed and the stage was set for our first cycle of World championships.
It was agreed that Worlds should be held at two-year intervals and alternate between the two sides of the Atlantic Ocean in the following order: UKWA > CWA > SWS > USWA. In order to accommodate the need to have an adequate number loan boats of reasonable quality available to overseas competitors, this first cycle of Wayfarer Worlds was limited to 6 boats per NCA with the host country being allotted twice that number. Defending champions were automatically eligible for future Worlds without being counted against their country's allotment.


WAYFARER WORLDS I: Hayling Island SC, England * August 6-11, 1974


complete results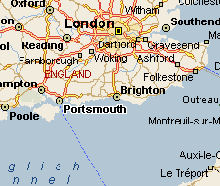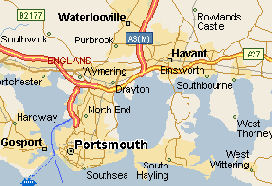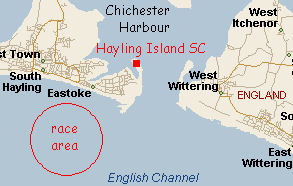 Early hopes of a 1973 Worlds were soon tempered by the realities of life and the first Wayfarer Worlds got underway at Hayling Island on August 6th, 1974. In point of fact, the latter part (3 races) of that year's UK Nationals doubled as the first three races of what turned out to be a five-race Worlds after some cancellations due to weather that was too nasty, even for the Brits. In the end, England's Alan & Martin Wilson edged out fellow Englishmen, Alec Stone and Peter Thorning. The only non-UK in the top 10 was Detroit's Jeff Jones and his dad, Dave, who were in the early stages of a five-year run as North American champions and sailing a brand new glass boat bought locally for the occasion.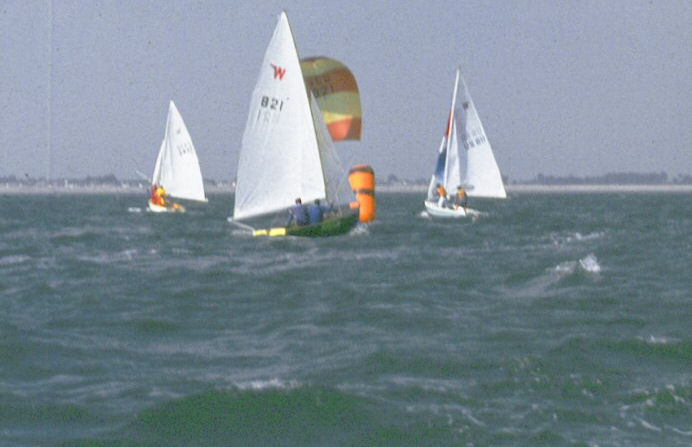 Most of the series was impressively breezy. Note also the "old" European small-size spinnaker on W821.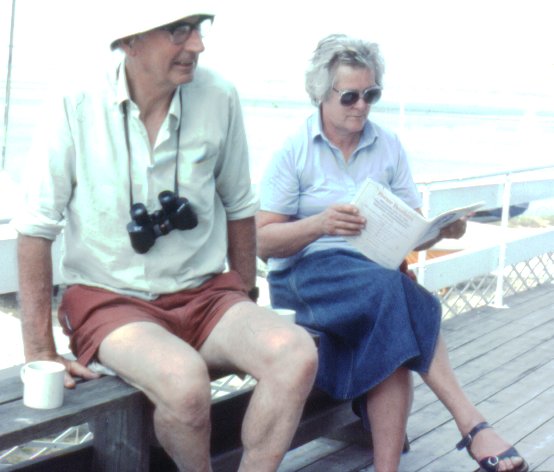 This 1983 shot is the only decent shot I have of Alan Wilson, our first World champion.


...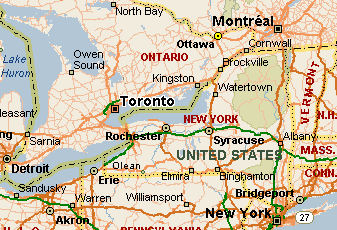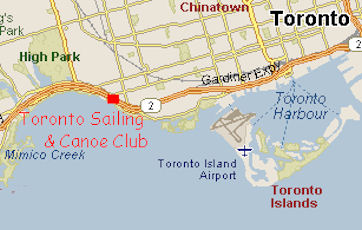 The three Worlds that rounded out our first cycle – our only complete one– were marked by moderate weather and close competition. In 1976, at least half a dozen boats still had a legitimate shot at victory as we lined up for the last of seven scheduled races off Toronto Sailing & Canoe Club, but in the end the Brits prevailed again as Colin & Iain Wilson took a close series over Jeff and Dave Jones. Sailing our own boats and on home waters seemed to make a big difference as this time, the top ten showed only two Brits along with four US and four Canadian Wayfarers. This Worlds showed the beginnings of serious race rigging on the Wayfarer. Uncle Al for instance set up an inside-the-mast spi halyard and pole control system and also used his Fireball learning to create double-sided controls for the vang and outhaul.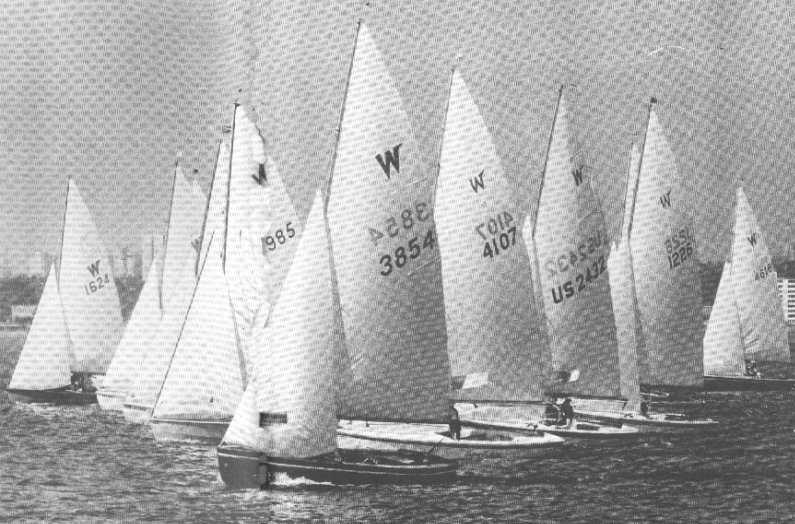 A race start in the typically light airs on Toronto's Humber Bay.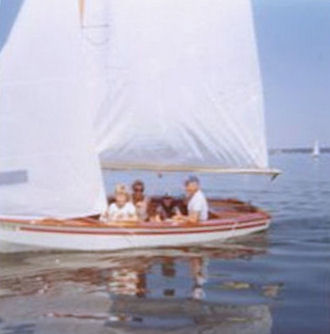 Sailing "4 up" were Ken Jensen, his wife, Mait, and two young sons.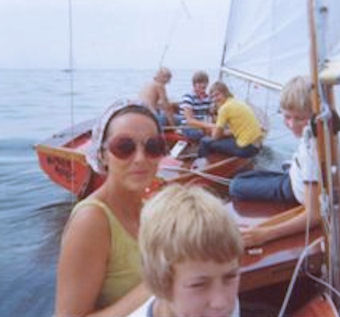 Off Ken's bow is Uncle Al's W4000 being sailed by three young Danes.
whom I could not convince that sailing "3 up" was hopelessly slow.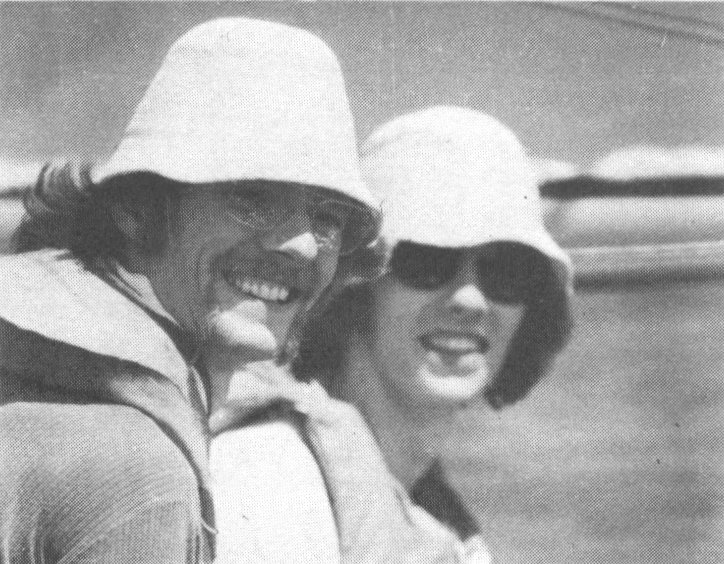 the 1976 Wayfarer World champions, Colin and Iain Wilson
...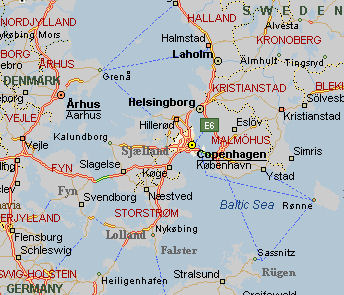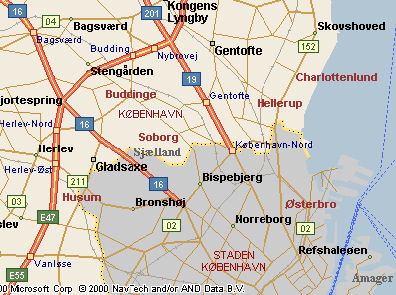 1978 saw us make our first trip to Denmark where we sailed in Copenhagen out of Hellerup Sejlklub, the home club of Paul Elvstrøm. The Brits brought their own boats plus ample spares by car and ferry while the five North American entries sailed borrowed boats. Although they didn't dominate this mostly light-air series, several Alec Stone-built wooden "jewelry boxes" as the Danes called them, showed us what the "high end" Wayfarers would look like for the next couple of decades. The high-tech rigging on most of the Brit boats was certainly an eye-opener, especially to the Danes whose racing efforts remained pretty low key.
The Brits dominated this series. With their eight entries which included automatic eligibility for past World champions, Alan Wilson and Colin Wilson (east), the Brits took the top seven spots, while Canada, Norway and Denmark rounded out the top ten. In our loaner W, we (Uncle Al and crew) were at no intrinsic speed disadvantage against even the best of the Brits who simply outsailed us. This was especially true of the speedy trio of Alan Neville, John Doerr and defending World champ, Colin Wilson, in his lovely new woodie. But mere speed was not enough for Alan and crew, Neil Harvie, who managed to pack two disasters into their first three races and staked John and Colin to pretty well insurmountable leads. By the end of race 4, it was just about certain that the title fight would be between Colin Wilson with brother, Iain, and John Doerr with his wife, Stevie. Going into the rather breezier finale, John held a very slim 0.7 point lead over Colin, which he proceeded to protect by relentlessly covering and sailing Colin down the fleet. Quietly placing a modest 6th overall were two young English brothers making their Wayfarer debut: Ian and Mike Porter.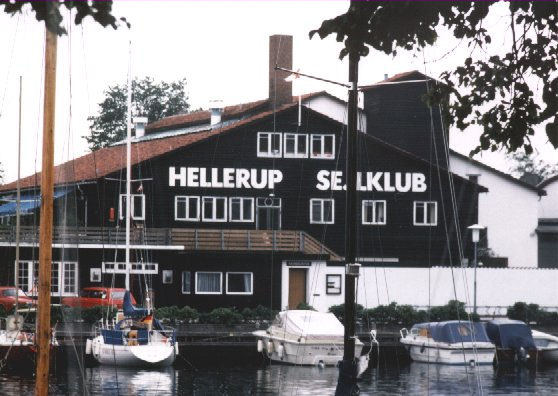 the palace of the King of Sailing, Paul Elvstrøm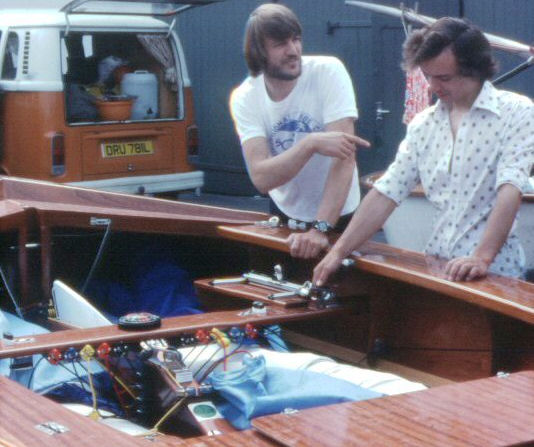 Before the series, young newcomer, Ian Porter
(r)
explains his spiffy new rigging systems to John Doerr
who placed an unspectacular 20th in Toronto but became our 1978 World champion here in Denmark.
The series was mostly sailed in winds such as these.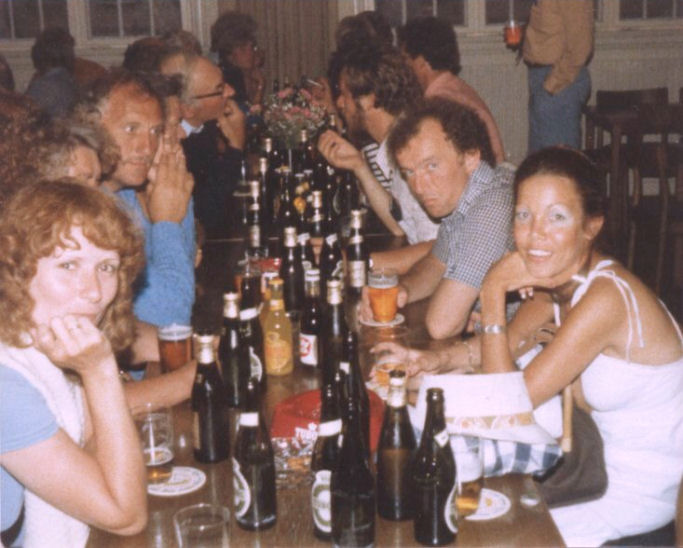 Fortunately, the Tuborg brewery is right next door to the Hellerup SK.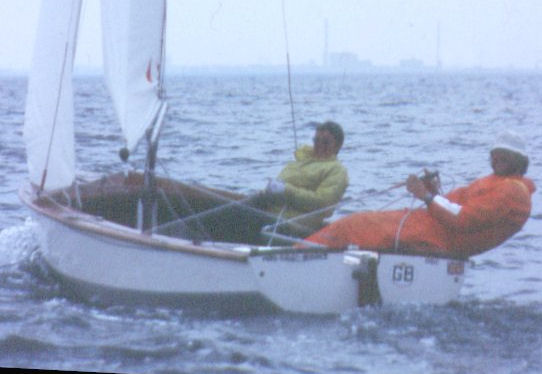 Our 1978 champions: John Doerr and his wife, Stevie

...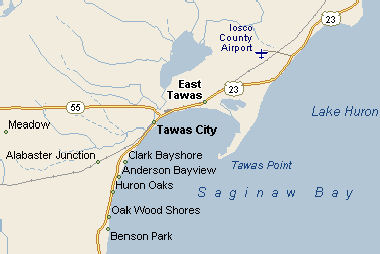 The first Worlds cycle was completed in 1980 on the stunningly lovely waters of Tawas Bay in Michigan on the west side of Lake Huron. The playing field was levelled by the Brits and Danes having to sail borrowed boats and by the fact that winds were relatively light for five of the seven races. As had been the case in Toronto four years before, a good half dozen boats began the final race with a realistic shot at the title. Two of those could justifiably claim that were it not for rather dubious Committee decisions, they would have had the Worlds clinched by then: Geoff Hodshon, that consummate good sport, appeared to have clinched the World title after winning race 6 from which he was then disqualified in a very strange decision by an inexperienced protest committee, and Uncle Al had been stunned to hear that his 4th in race 1 would become a DSQ by the RC – the same RC that had been proven to have lied about Al's supposed OCS in the practice race – who insisted that Al had broken the 30-second rule (i.e. broken the plane of the start line during the half-minute before the start).
Still, the title was there for the taking by any one of six crews as we began the last race. And after a most unprepossessing 6-10-12 start to their series, Canadians, Chris Kofler and his wife, Carolyn, won the race and the series, becoming the first non-British Wayfarer World champions.
Despite the success of these first four Worlds, it was decided that a three-year interval between Worlds would be better and more affordable to competitors. And little did we know that this would be the last Worlds – so far – hosted by the USWA whose racing numbers were rapidly dwindling.
USWA Commodore, Dick Socha, prepares to raise the Wayfarer Worlds !!! pennant at ...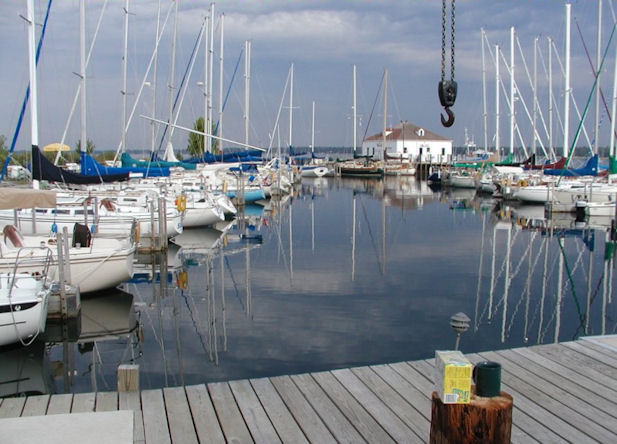 ... beautiful ...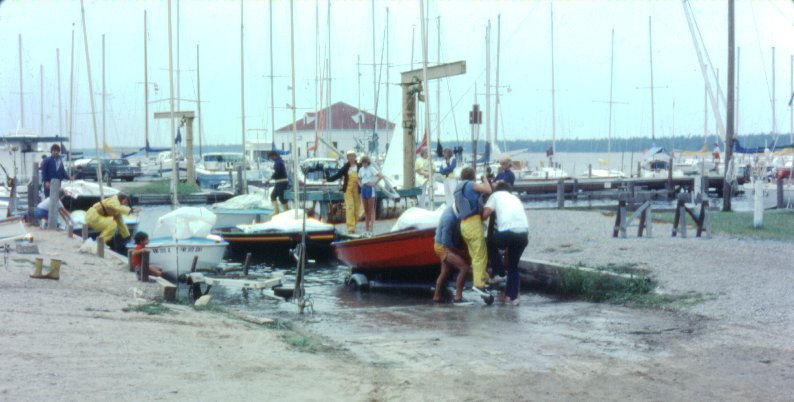 ... Tawas Bay in northern Michigan.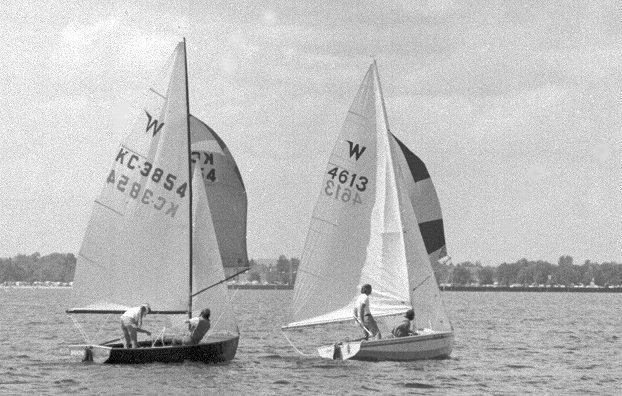 In light winds that prevailed for 4 of 7 races, Uncle Al and Julia (3854) duel with
Chris and Carolyn Kofler (4613), the eventual 1980 World champions.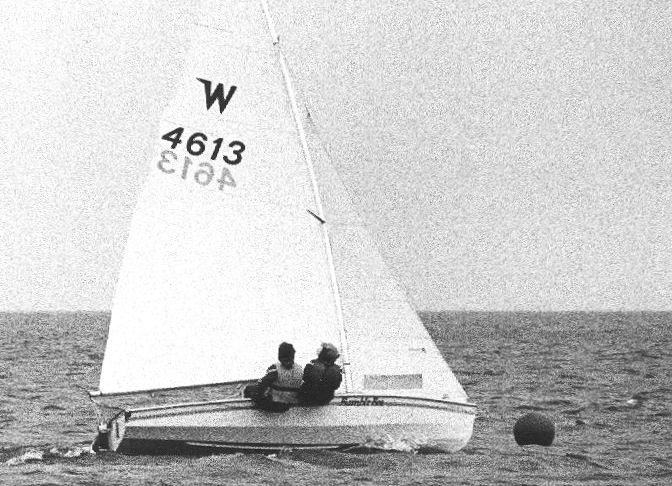 The Koflers take the gun in the finale and clinch ...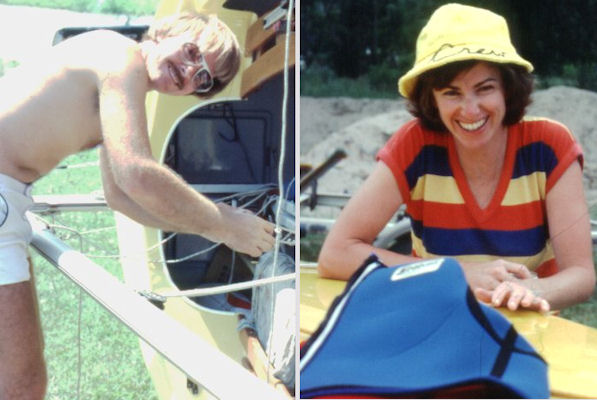 ... the 1980 Wayfarer World championship.

...

Our second cycle of Worlds would once more start at England's Hayling Island. The fees being charged by our hosts made it imperative that these costs be spread among more than 30 boats. This virtually "open" Worlds attracted 49 entries, representing no fewer than eight nations: Canada (7), Denmark (3), Ireland (3), Norway (1), Sweden (1), Tanzania (1),

the UK (32), and the US (1). Ironically, our North American contingent went to the 1983 Worlds with great hopes and expectations. After all, hadn't the marvellous George Blanchard talked his long-time flying pal, Max Ward, into flying our Wayfarers and trailers to and from England for free via Wardair so that we would not have to sail in borrowed boats?? We even got to put in some on-the-water practice since the UK Nationals and W 25th Anniversary Race (150+ entries!!!!) had been thoughtfully scheduled as a lead-in to the Worlds at the same fine venue.
Little did we know that we were about to encounter the Ian Porter phenomenon! Not only were Ian and his brother, Mike, now the excellent builders of the ultimate in WEST-epoxy-coated wooden Wayfarer racing machines, but also, while we North Americans had lost some of our top W racers, the UK Wayfarers had been sharpening their skills in working to stay competitive with Ian – especially once the wind got up to hiking strength.
Gone were the days of series that were undecided until the last race was done. In our breeziest Worlds to date, the team of Ian Porter and Tim Hancock dominated with four horizon jobs in four windy races while dropping their only blemish, a 10th in Wednesday's light-air race. The only non-UK crew to break into the top 20 was a Swedish duo who placed 8th and apparently only became Wayfarers for this one event. A Danish and a Norwegian crew tied in 21st place while Team North America managed nothing better than a 32nd.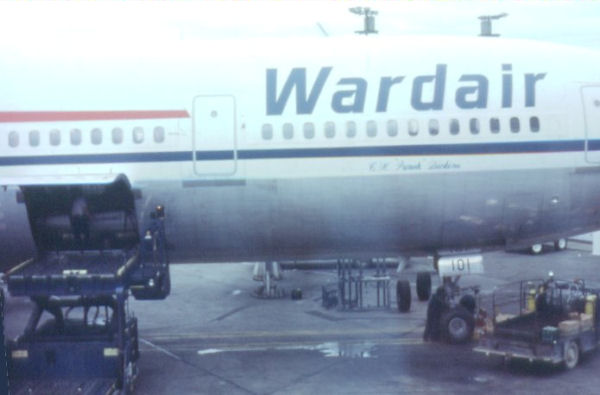 Wayfarer being loaded aboard one of the Wardair jetliners going to London Gatwick.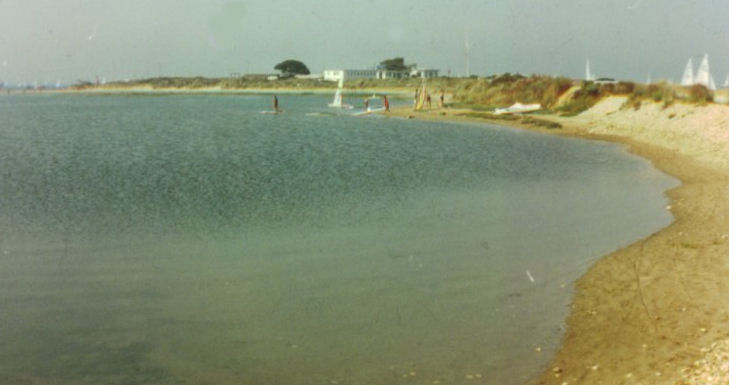 The Hayling Island SC is located at the mouth of Chichester Harbour just east of Portsmouth.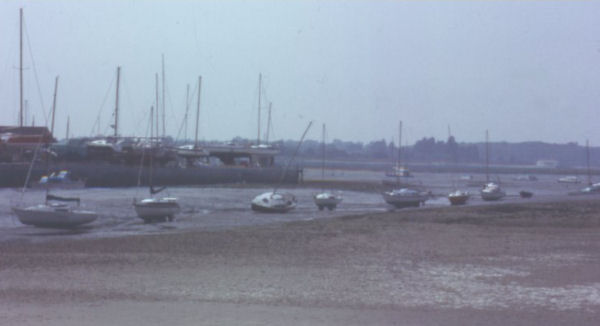 looking north from the club beach towards Chichester Harbour at low tide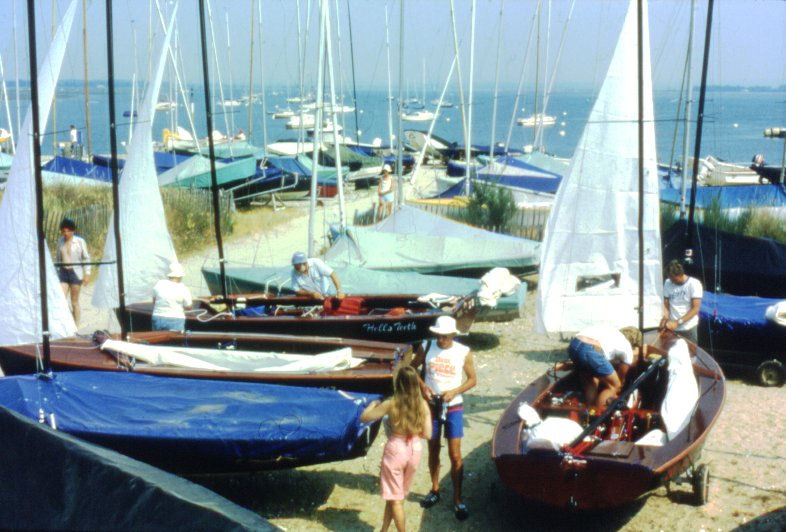 a similar view point at high tide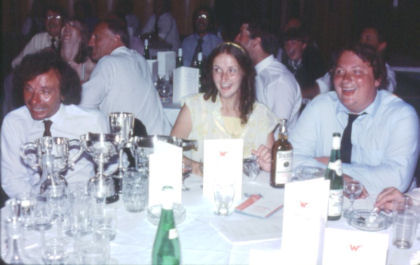 Celebrating 25 years of Wayfarer: In the Portsmouth Guildhall we enjoyed a festive dinner that also saw Ian Porter
(above left with brother Mike and Mike's wife, Annie)
collect a lion's share of the hardware from the UK Nationals which was held the week prior to the Worlds at Hayling.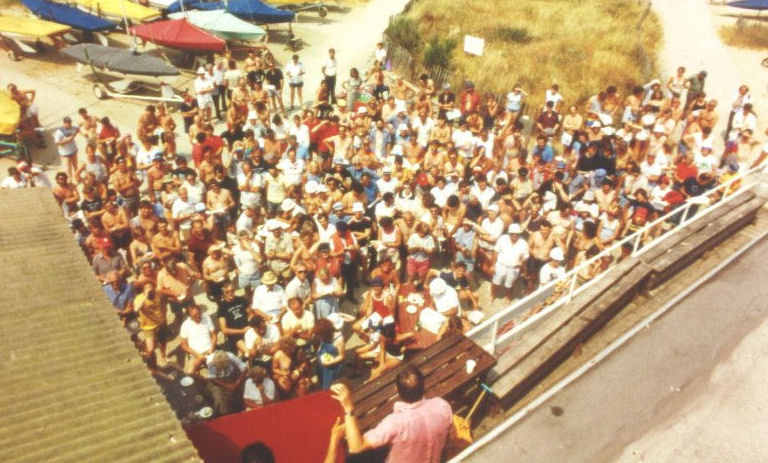 Skippers' Meeting for the Wayfarer 25th Anniversary Race around Chichester Harbour
- an event which attracted an amazing 152 Wayfarers!!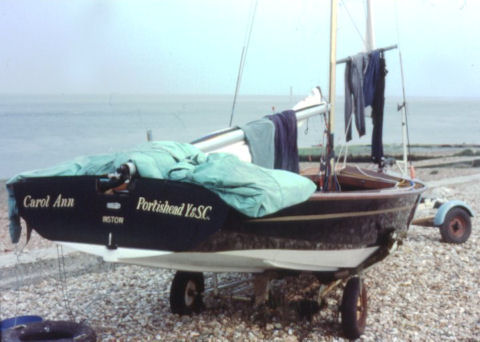 Also seeing action in the UK Nationals and the Anniversary Race
was Wayfarer #1 still being kept pristine by Colin Wilson (West).

Except for one mid-week race, this Worlds was sailed in overpowering winds on the Solent.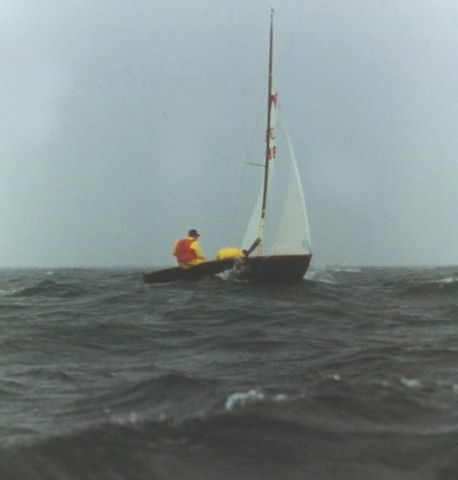 This may have been the race where, near the end of the first triangle, I said to Julia, "You know, if we keep going straight on past the leeward mark, we'll be heading straight into the harbour. Shall we?" During our 30 years of marriage, I have rarely made Julia this happy!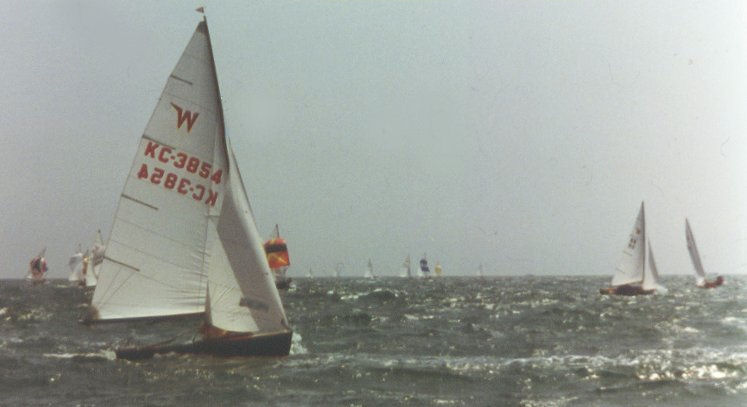 The days were mostly hot and sunny and thus the heavy air sailing tended to feel less threatening.
And also, the water was warmer than on Lake Ontario.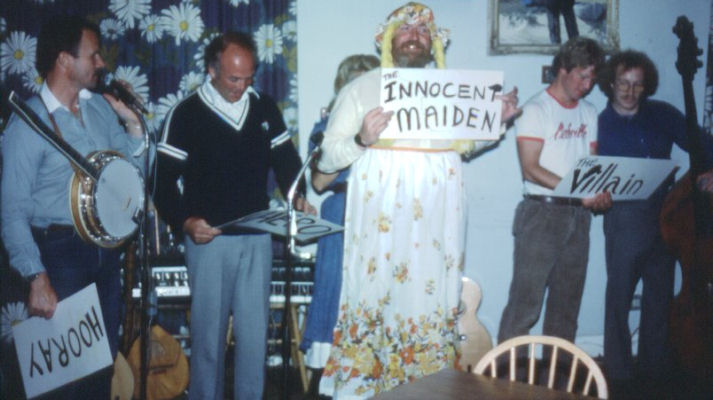 The Brits set a fine example for us all with a most enjoyable social calendar. This was beautifully hilarious moment during Folk Night as the 20-stone Scotsman, Ed Gillespie, was recruited to be the Innocent Maiden for the classic song
No! No! A Thousand Times No!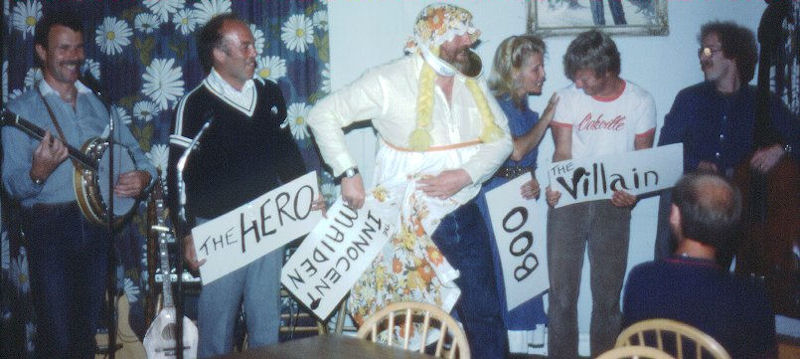 While our MC coached the innocent young Canadian, Tim Miller
in the finer points of being a villain, the Maiden shows some leg!!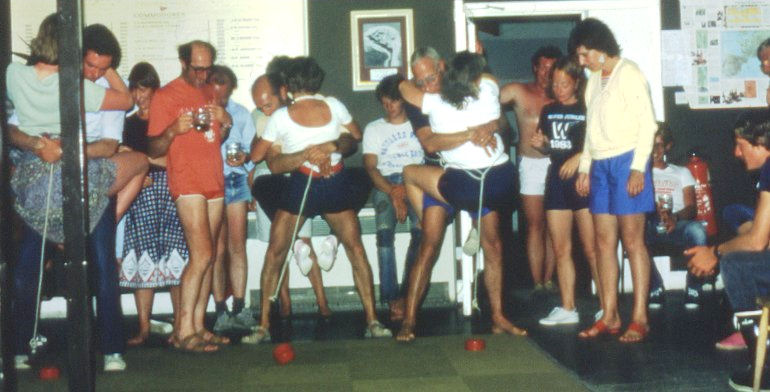 And then there was the infamous Games Night.

A typical wind-blown scene from this Worlds: a horizon job being done by ...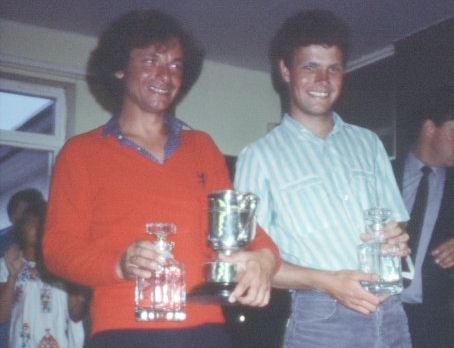 ... Ian Porter
(l)
and Tim Hancock, our 1983 World champions.
...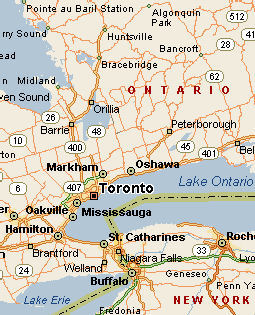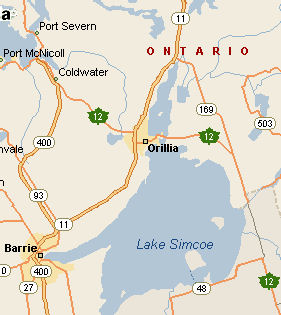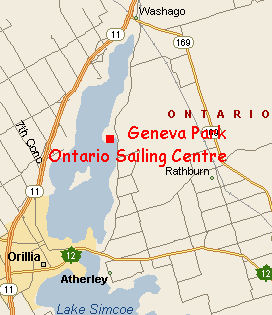 Only a little daunted, we Canadians set about making the 1986 Worlds an event to remember by sailing out of the Geneva Park Convention Centre on the lovely waters of Lake Couchiching, about an hour's drive north of Toronto. For the first and only time, all Worlds competitors lived together for the duration of the regatta. Moreover, we introduced the "buddy system" in which each overseas guest was assigned a local Canadian buddy who helped with whatever the visitor required. As a result, the Worlds began to be more than just a championship series but a real opportunity to establish cross-ocean friendships, many of which are still alive and well today.
Much to the relief of the organizers' Borrowed Boat Department, all but three of our overseas visitors – all Brits – brought their own boats in two containers. And it paid off in spades. Ten of those 15 Brits swept the top ten with the top Canadians and Americans placing 11th and 19th respectively. After taking part in the 1985 UK Nats in Looe, Uncle Al and Roger Shepherd had brought back stories of a transplanted Laser sailor, Julia Redman, who was giving Ian Porter and our world-class newcomer, Mike McNamara, all they could handle in a restored fibreglass insurance write-off which he was to all intents and purposes sailing like an oversized Laser. Teaming up with Scotsman, Kevan Gibb, Julian was part of a three-way battle for victory that also featured defending champion, Ian Porter, and Ian Townsend any one of whom could still win after the first five of seven races. In the end, it was Julian and Kevan who hung on to become champions despite a late Ian Porter surge. Mr. Redman would, alas, move on to other pastures after reaching the W pinnacle, but Kevan Gibb would stick around and repeatedly dazzle us with his abilities.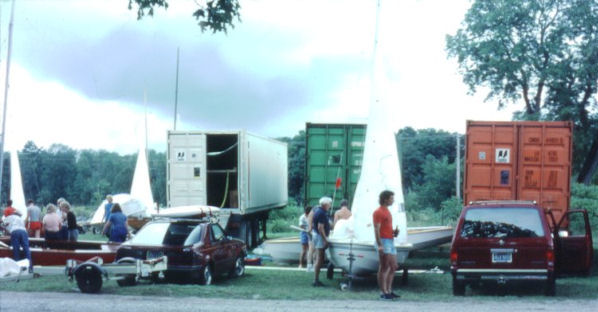 Containers full of UK Wayfarers have arrived at the ...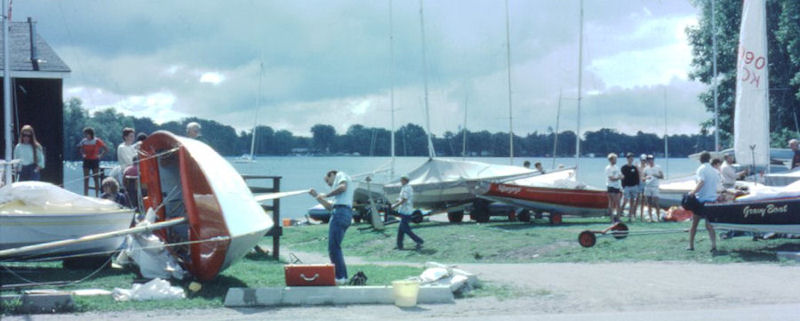 ... Ontario Sailing Centre in Geneva Park on Lake Couchiching.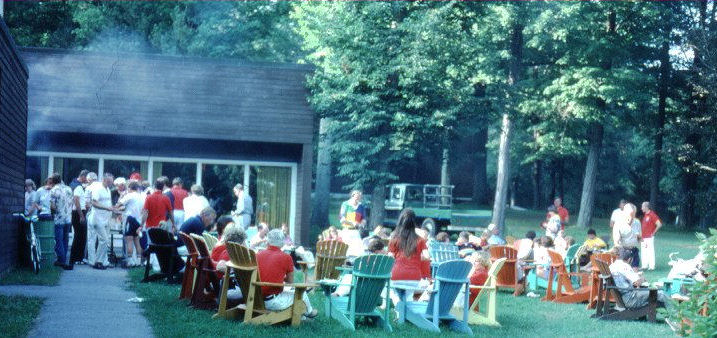 the pre-Worlds reception, sponsored, like the Worlds, by Bacardi rum.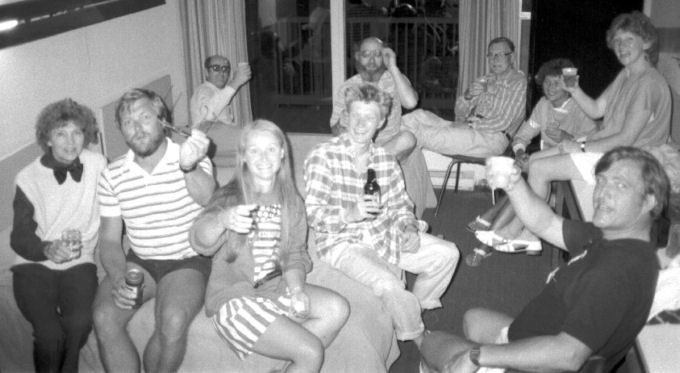 Unlike the rooms at the "Hayling Hilton", the convention centre's rooms were ideal for partying
- especially since Geneva Park is in essence a "dry" facility.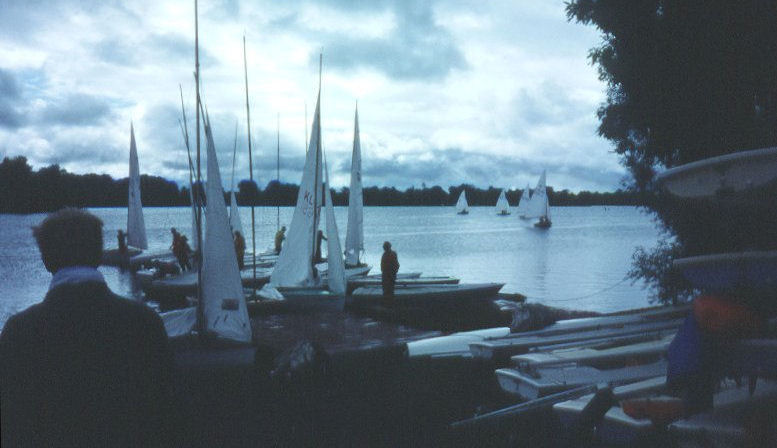 Heading out towards the race area which is to the right on the open lake.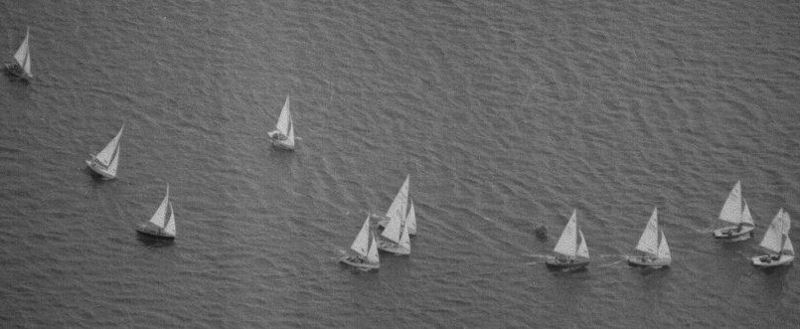 A scene from the practice race for which the CWA photographer went up in a helicopter.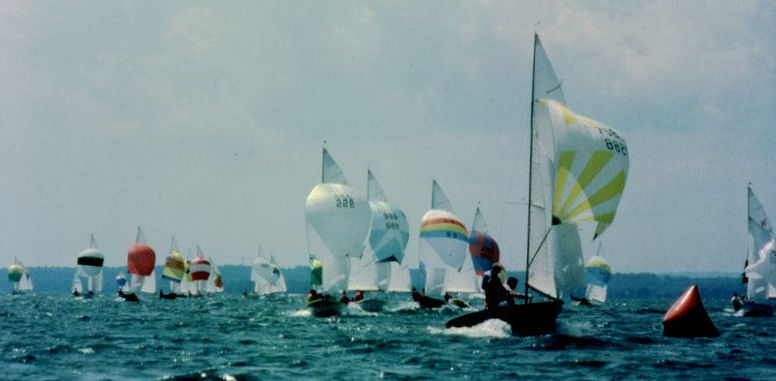 As at Hayling, most of the racing was done in the overpowered mode in which ...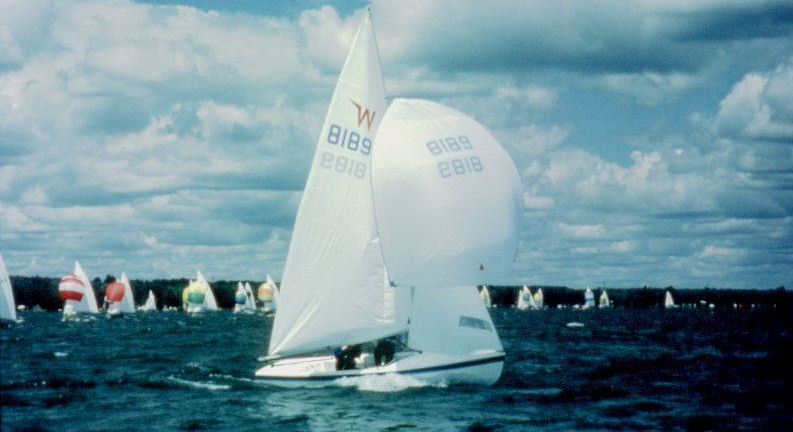 ... those phenoms, Julia Redman and Kevan Gibb (8189) outdid even Ian Porter.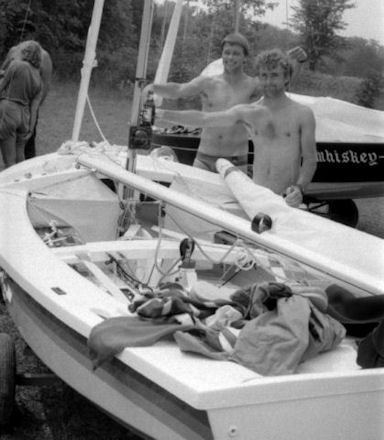 Julian and Kevan
(r)
show off their relatively simply rigged boat.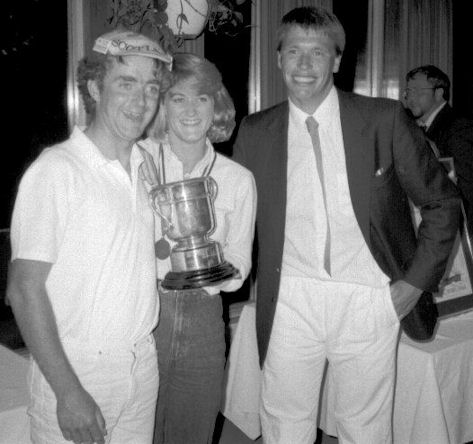 the newly crowned champions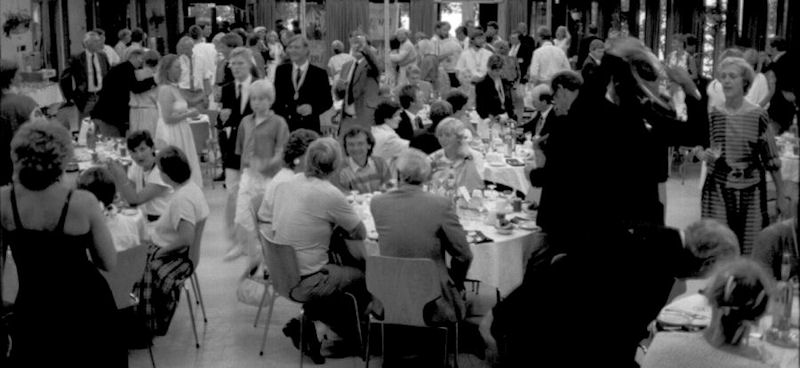 The awards banquet was a wonderfully convivial time ...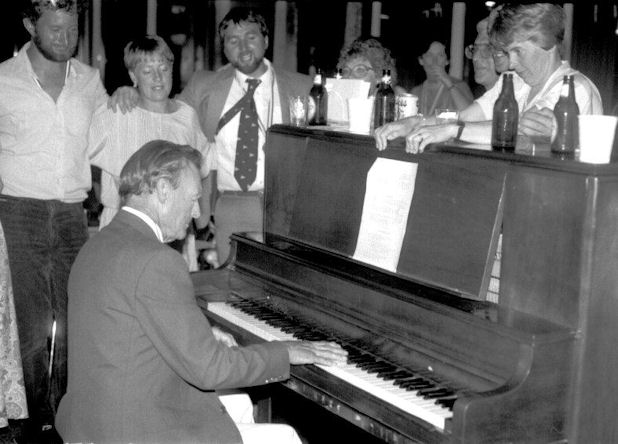 ... a perfect opportunity for George Blanchard to show off his outstanding piano skills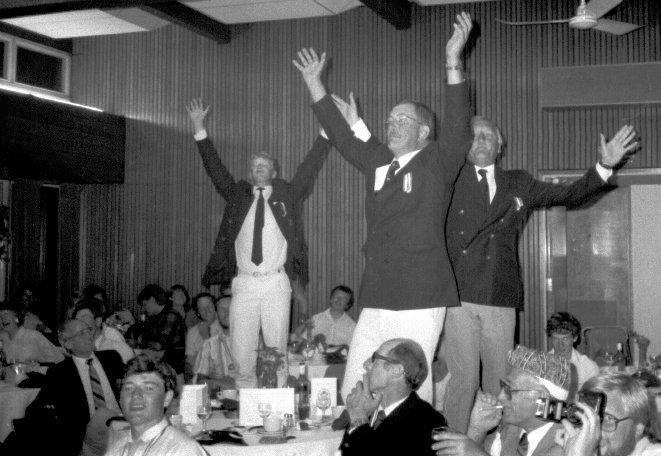 Sunshine Mountain
became our sort of farewell song.
...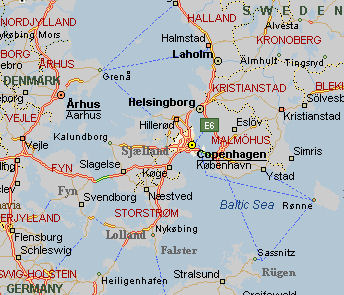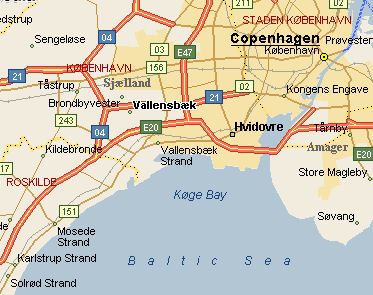 The total absence of Scandinavian entries in 1986 made many of us wonder if we were witnessing the demise of Scandinavian W racing, but in fact, the very opposite turned out to be true. From a personal perspective, I found these Worlds to be a life-changing experience. A few months before the 1989 Worlds in Vallensbæk, just south of Copenhagen, SWS W-Nyt editor, Jesper Friis, wrote to me and offered his services as a buddy for me and my crew, Tom Wharton. What a glorious time we had, finally getting up close and personal with some of the Danish Wayfarers during those two wonderful weeks which led to numerous "exchange visits", especially for me!!
But while this Worlds was a social champion, highlighted by The Wayfarer Stompers, a talented band composed of Danish W sailors, and their entire book of sing-along Wayfarer songs, the weather could probably have been improved upon! After a summer of warm, gentle breezes the local weather turned blowy and unseasonably cold just in time for our Worlds: temperatures that struggled to reach 10C all week, and, except for one mid-week day of light, flukey airs, winds that reached 12 to 14 m/sec (24 to 28 knots) in 4 of the 5 races that we completed.
In these breezy conditions, Ian Porter (this time paired up with Simon Wetherill) became the first to repeat as Wayfarer World champion
in a fleet of 48 boats:
19 each from the UK and Denmark, and 10 from Canada
. As he had done in Hayling, Ian counted a perfect four firsts. And while the Brits still dominated, scoring nine of the top ten finishes, Danish Wayfarer racing had taken a huge step forward. Four Danish crews finished ahead of the top Canadians so that the Danes were now arguably second behind the Brits in the Wayfarer pecking order.
Actually, we came very close to having no result in this regatta which our hosts wanted/needed to be sanctioned by the Dansk Sejlunion. Their rules required at least 5 races to make a valid series, and going into the final day of racing we had completed only four. After the initial attempt at race 1 in which even Ian Porter capsized in winds regularly gusting to 22 m/sec (F9: 41 to 47 knots), our RC had posted a notice that no racing would take place if winds were averaging over 14 m/sec (28 knots).
With the last day's early morning breezes once again shaking and rocking our on-site campers, and wind readings indicating 15+ m/sec, it looked like the day – and our Worlds – might be a wash-out. During a postponement of several hours, we had lots of time to contemplate the irony of this situation: Ian and Simon had already clinched the series and did not need to sail this last race, but it had to be sailed to make our Worlds a valid series. BY mid-afternoon, the winds were occasionally down below 14 m/sec, and race 5 was duly held. It was mainly to avoid a repeat of such a situation that our Wayfarer Worlds Guidelines were put into place a year later.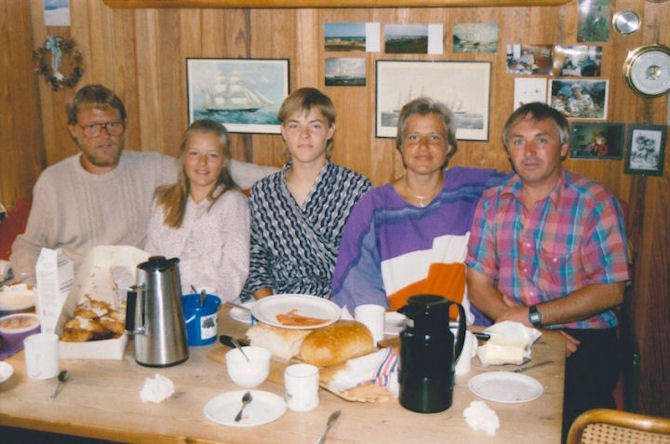 Our first time on the receiving end of my "buddy system" invention,
Tom Wharton
(r)
and I were "adopted" by the family of ...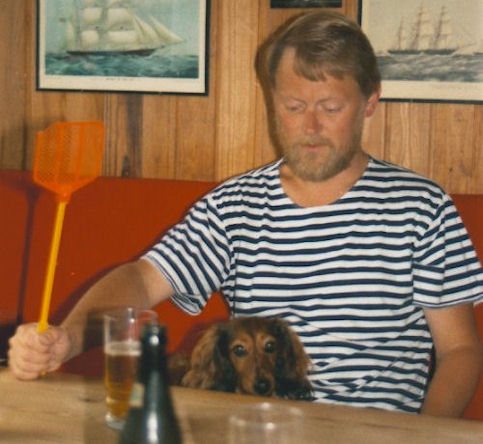 ... Jesper Friis (and Tata) in particular and ...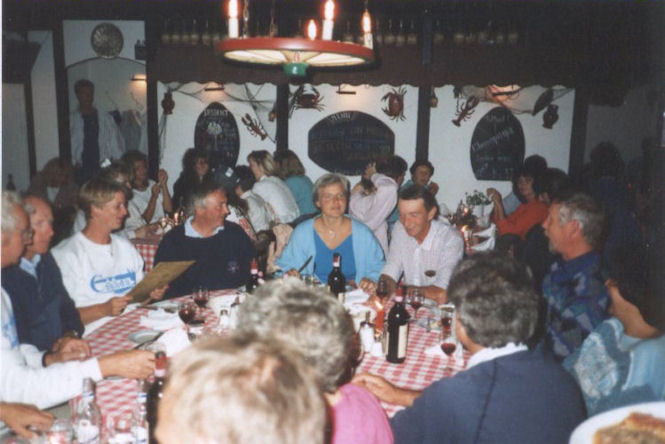 ... the Danish Wayfarers in general - a lovely relationship that continues to this day.
Alas, an almost record-breakingly warm and benign summer Denmark had been blessed with came to a crashing halt ...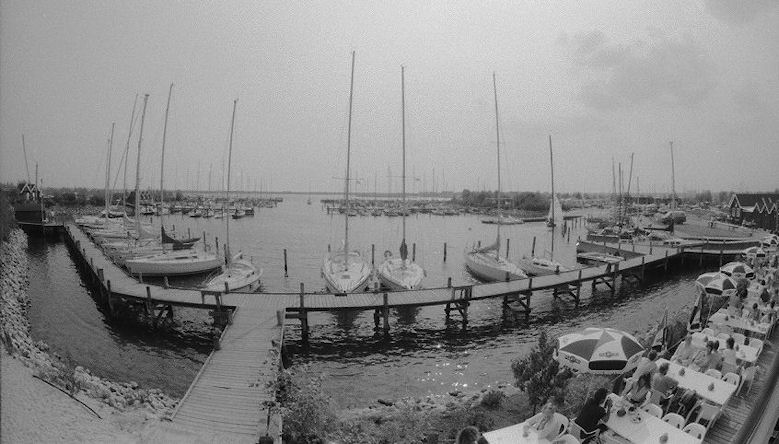 ...
just as our Worlds were about to start in Vallensbæk at the very west end of the Baltic Sea just south of Copenhagen. Cold winds (10°C) that regularly exceeded 20 knots and often neared 15m/sec (30 knots) were enough to prompt some wag to post a Psychological Beaufort Scale borrowed from
Yachting Magazine
, an item that seemed quite appropriate at the time as the RC sent us out for race 1 in ...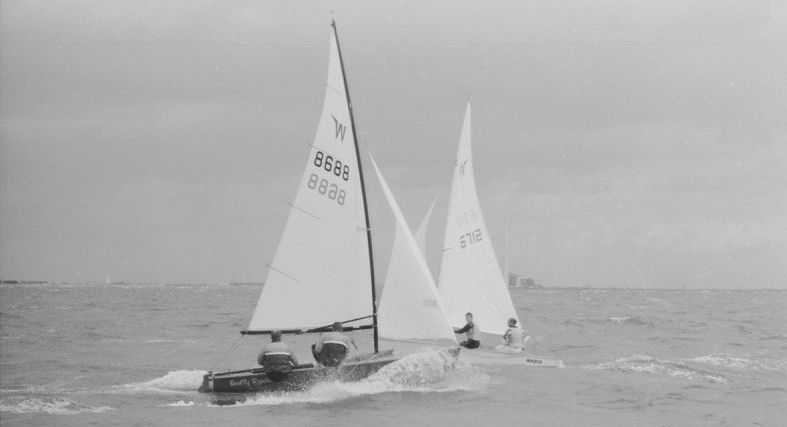 ... winds that were regularly gusting to 22 m/sec (44 knots, F9) Several broken masts later and much to the disgust of Mike Webber-Walton (W8688) who was leading at the time, the race was abandoned because the mark anchors were no longer able to hold their charges in position.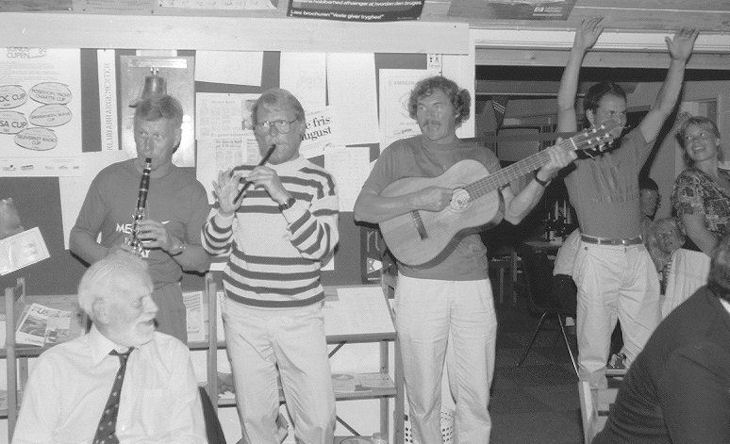 Ashore however, the hospitality remained very warm and melodious as the
Wayfarer Stompers
(above) called upon us to learn/sing the Danes'
Wayfarer Song
which our hosts had thoughtfully translated into English. Here, the Stompers were doing a lovely sea chantey called
Between Esbjerg and Fanø
that requires audience gesture participation.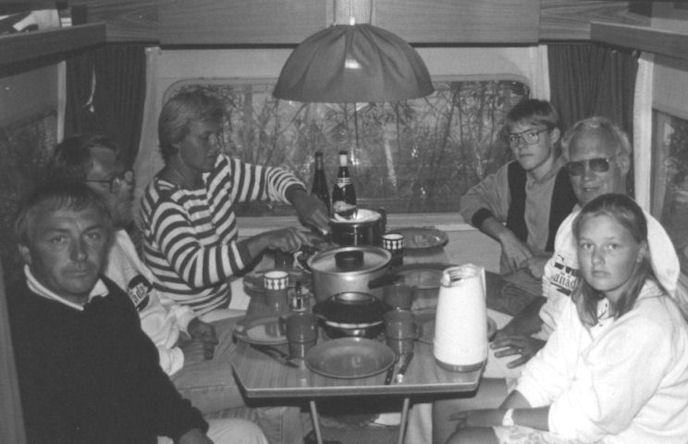 Many of us lived in rented campers/caravans for Worlds Week
that were bounced around by the cold winds nearly every day.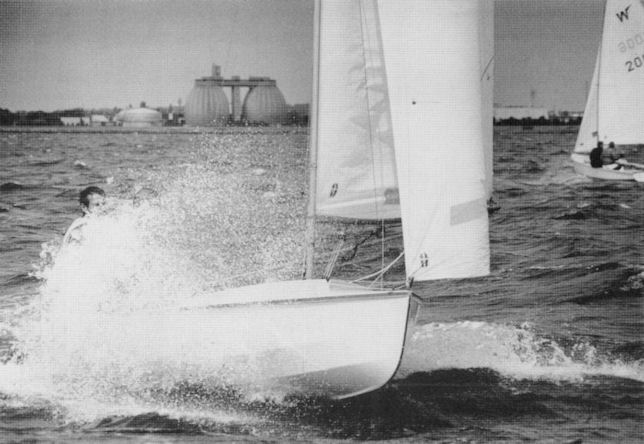 In these Worlds, action was often hot and hairy as can be seen above and below.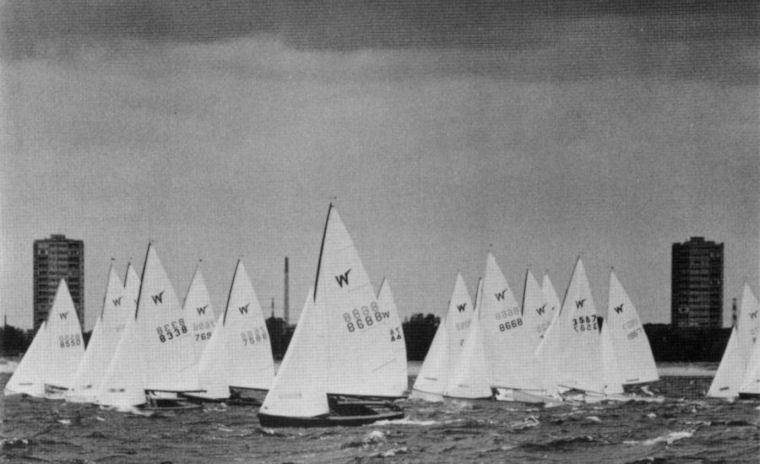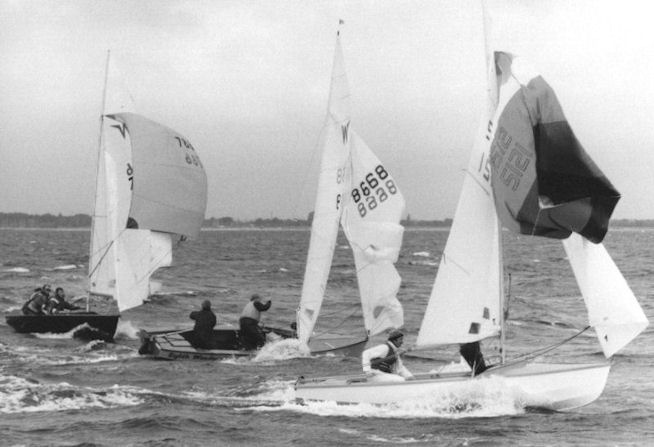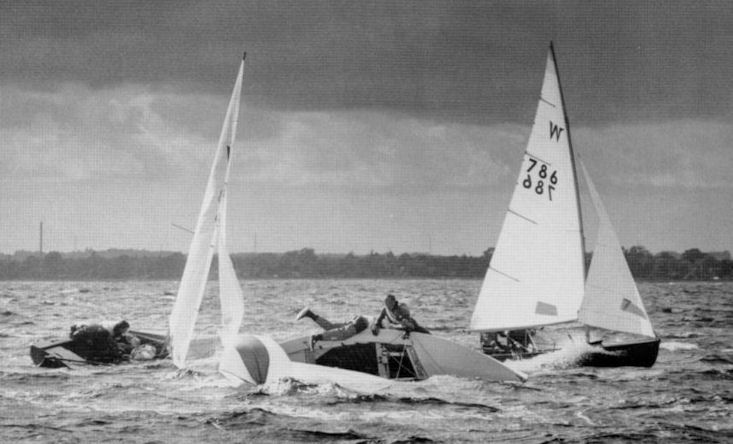 Apart from a nicely video-documented capsize in the abandoned race 1,
Scavenger
excelled in the most capable hands of ...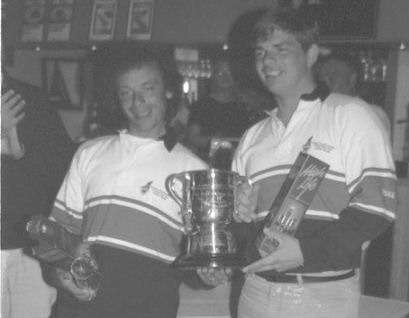 ... Ian Porter and Simon Wetherill who won this Worlds hands down.

...

And in 1992, it was back to Hayling. Numbers of overseas visitors able to attend were down – Ireland 4, Canada 3, US/Can 1, Denmark 1 (actually residing England) – so the organizers bolstered our numbers with Wayfarer Hall-of-Famers like the Hodshon brothers, Geoff and Nick, who had done so well in the early Worlds. We did, in fact, end up with our largest Worlds fleet so far: 53 entries.
That year saw world-class racer, Mike McNamara, make his first appearance in our Worlds. Mike had been making quite a splash on the UK W racing scene for several years, where he and Ian Porter had become arch-rivals. As in 1983, we were blessed with gloriously warm and sunny weather for most of our week as well as fairly breezy conditions. In mid-week, we sailed race 4 in warm, sunny winds of F6-7 (near 30 knots) and nearly 20 boats capsized, a number of which had to be abandoned by their crews who were unable to effect a self-rescue.
On that day, even Mike Mac looked bedraggled as he sailed happily back to Chichester Harbour after he and crew, Simon Townsend, had beaten out Ian Porter and his new light-weight super-crew, Kevan Gibb, for the fourth straight time. In the end, Mike and Ian totally dominated the series, with Mike counting 6 bullets for a perfect 0 points while Ian ended up with one win and five 2nds. Showing flashes of brilliance was another Worlds rookie, Stuart Rix, who placed a clear 3rd overall and would do even better at the 1995 Worlds in Canada!
Once again, the vast depth of the talent pool in UK W racing was demonstrated in a more striking way than ever: with the exception of Canada's Al Schonborn and Frank Goulay (18th), the Brits took the top 35 places. Al and Frank might in fact easily have higher but for
a 7th that turned out to be an OCS in race 6

.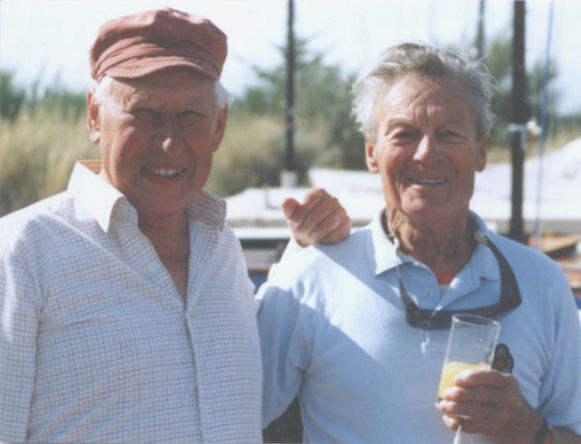 Ian Proctor
(l)
and George Blanchard share a happy moment during the '92 Worlds.
One very poignantly sad note of this Worlds was the fact that our beloved designer, Ian Proctor, died quite suddenly of a heart attack on Thursday afternoon. Still, he had just returned from a lovely, windy sail on the harbour, and was surrounded by his Wayfarer children when his amazing life came to a close. Who could ask for a better way to go??!!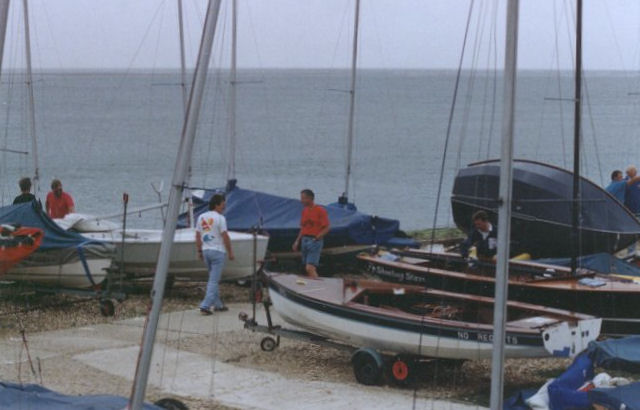 Sadly, I have hardly any photos from these Worlds - my main efforts having gone into videotaping here.
...

1995 brought the Wayfarer world once more to Canada and the Toronto Sailing & Canoe Club where we enjoyed a pleasant week of warm, sunny weather with moderate winds that were rarely overpowering. A fleet of 52 was pretty evenly split between Canadian boats (25) and guests (27). The 18 Brit teams once again mostly brought their own boats as did the one Irish entry and of course the five USWA teams. Three top-notch Danish crews came over and borrowed boats, but more of them later.

After Stuart Rix had won the UK Nationals earlier in 1995, the title fight was expected to be among the same three Brits who had placed 1-2-3 in 1992: Mike McNamara, Ian Porter, and Stuart. And what an exciting fight it was! In the end, it was Stuart Rix and crew, Matt Frary, edging out Ian and Mike for the title. The Brits as a group dominated once again taking 8 of the top 10 spots, but some Canadian and Danish pride was salvaged as Al Schonborn with Frank Goulay placed 6th overall and the top-ranked Danes,
Anders Friis and Bjørn Christiansen took 7th.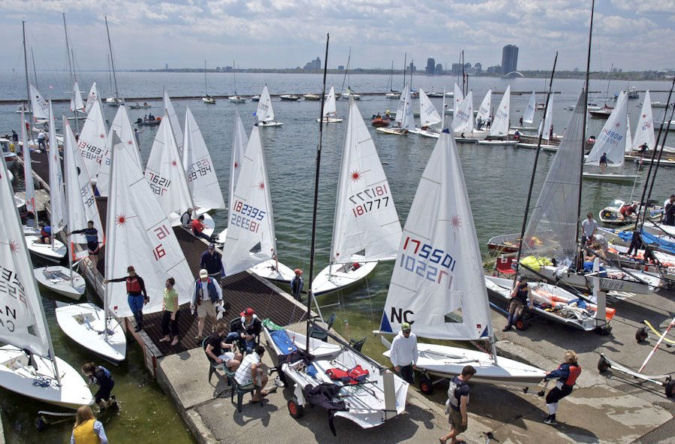 Rooftop view from the TS&CC onto Humber Bay

Looking out onto Humber Bay on one of the 1995 Worlds' predominantly light-air days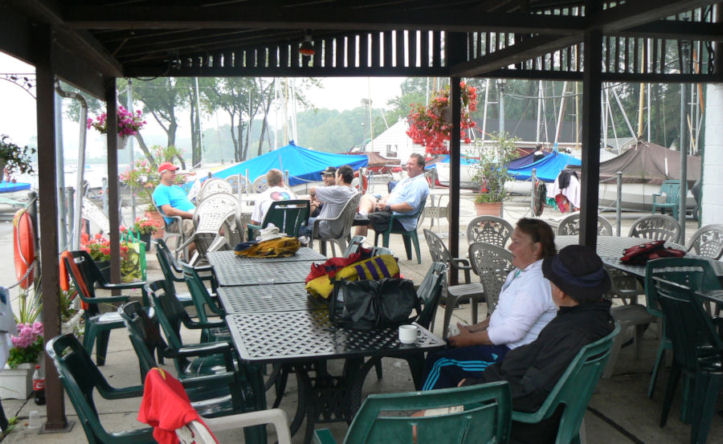 the TSCC "deck"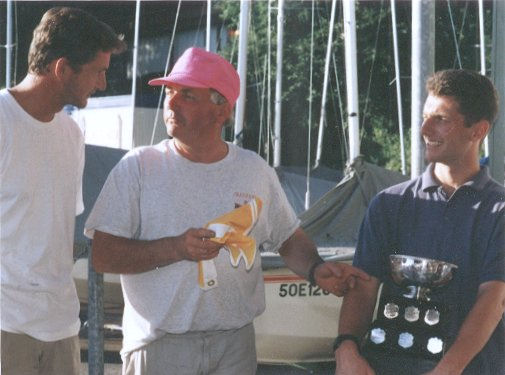 The 1995 Wayfarer North Americans were held as a lead-in to the Worlds and attracted most of the boats visiting from overseas. In dominating a 43-boat fleet, Stuart Rix
(l)
and Matt Frary
(r)
served notice that they would be a force to be reckoned with in the upcoming Worlds.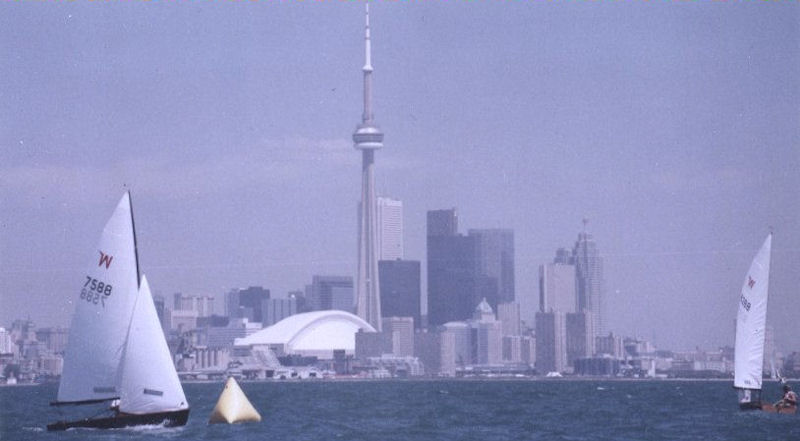 Worlds 95 action with the Toronto skyline as a backdrop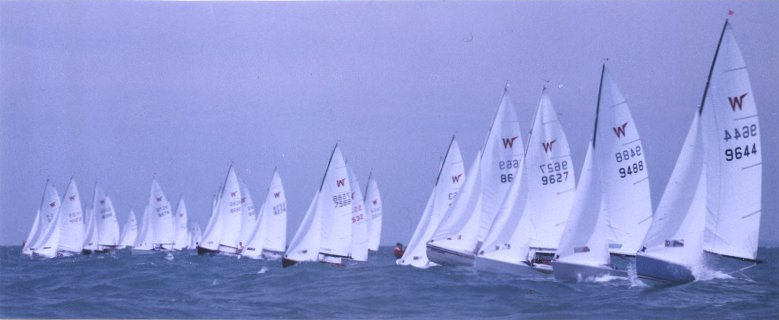 One of this Worlds' few races with nice hiking breezes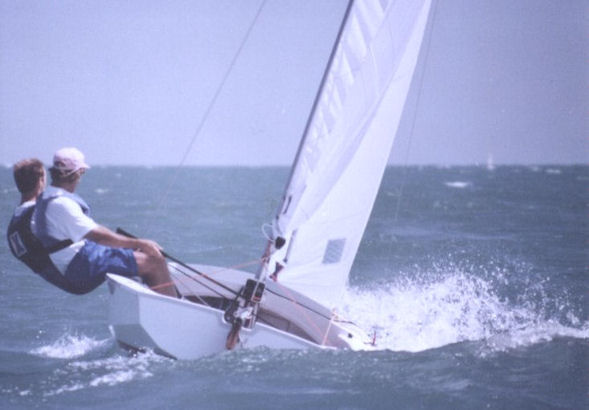 Defending champions, Mike McNamara and Simon Townsend more than had their hands full with ...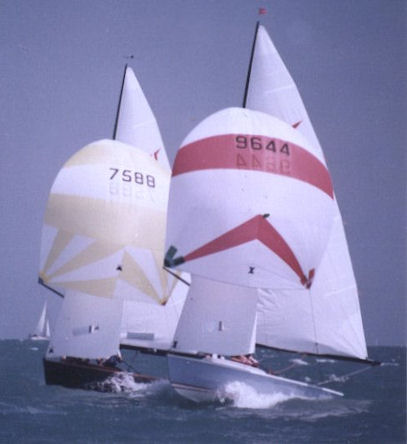 ... Ian Porter (7588) and Stuart Rix (9644).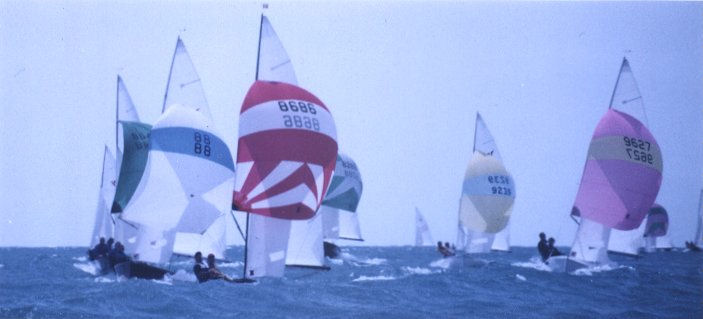 Here, Lake Ontario and Humber Bay were at their best: warm winds and water.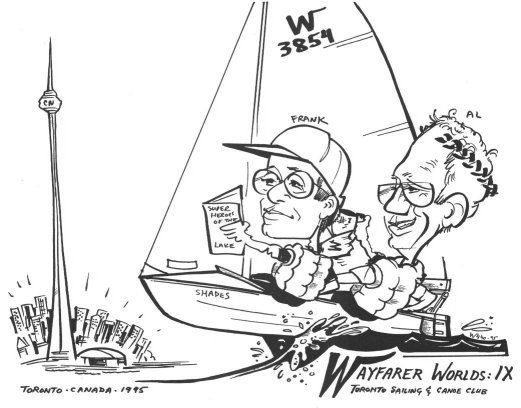 Diane Zaremba who sailed W440 out of Ontario Place when she wasn't being one of their resident cartoonists, very kindly donated her talents to the Worlds and came up with lovely mementos for us all - this one for Frank and Uncle Al.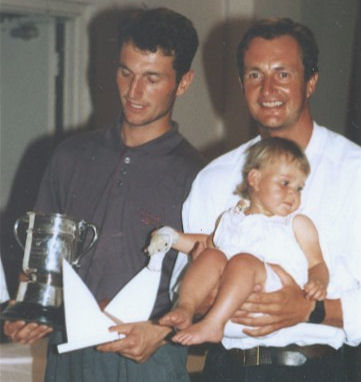 And our 1995 Wayfarer World champions were Stuart Rix (holding daughter, Megan) and Matt Frary.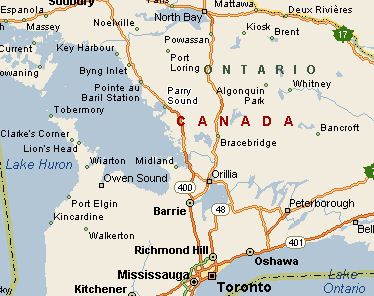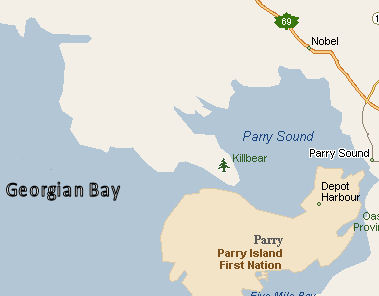 1995 also saw a further Worlds-related innovation: Having already set a fine example for the rest of us by using the Wayfarer for both cruising and racing, Poul and Irene Ammentorp and their two lovely daughters asked if the CWA could arrange a camping/sailing week for just before the Worlds. A fine idea, we all thought, and the International W Rally was born with a marvellous week of sailing, fellowship and fun. Unlike the Worlds, this event has been a cherished annual fixture ever since.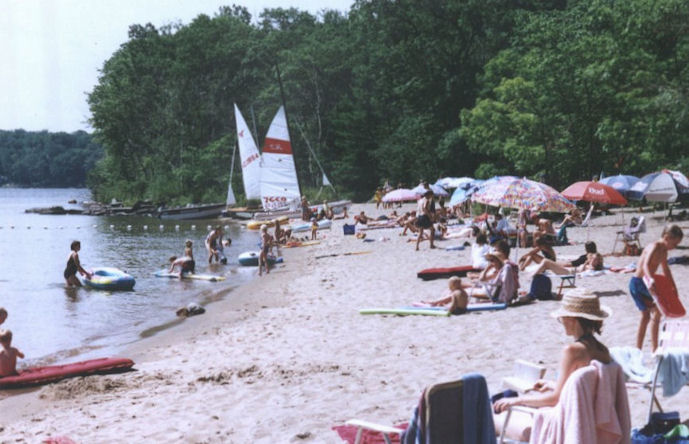 Killbear Park Wayfarer Rally HQ: the beach at Lighthouse Point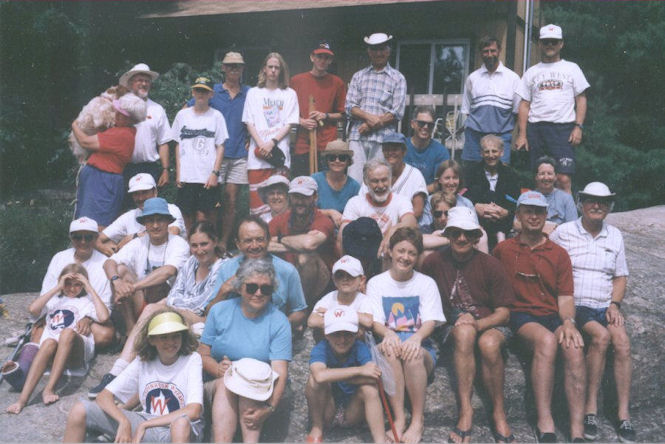 a group shot of our history-making bunch during a lunch stop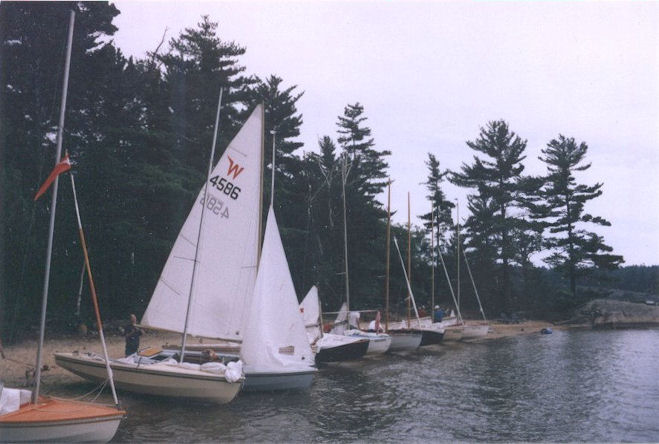 classic Georgian Bay scenery made famous by Canada's Group of Seven artists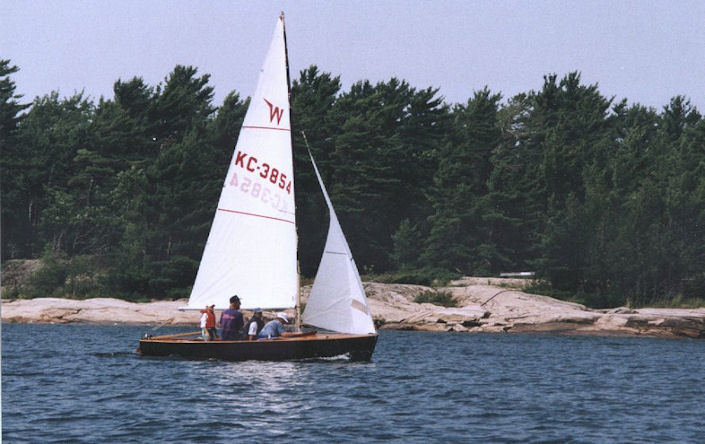 Uncle Al's
SHADES
demonstrates the Wayfarer's wonderful ability to be both a cruiser and ...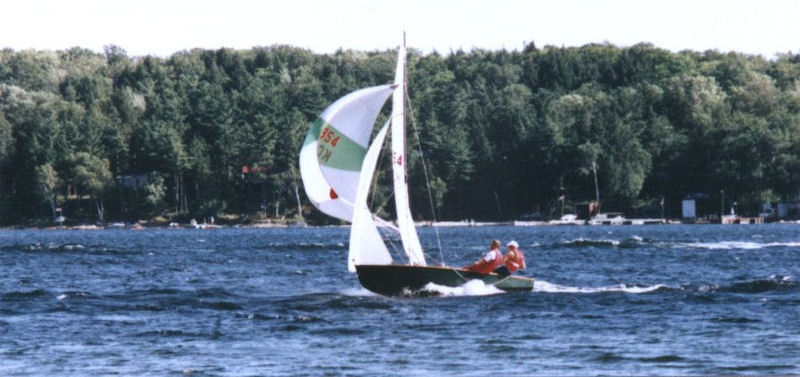 ... a racer. Here Poul Ammentorp and Jesper Friis put her through her paces off Lighthouse Point in the lovely planing
lake breezes that are virtually guaranteed by any warm summer's day on Parry Sound off Georgian Bay.
...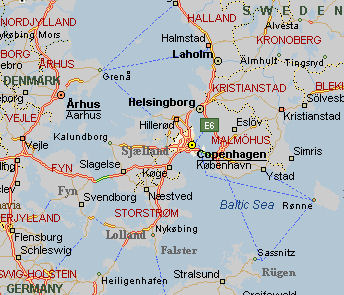 After two Worlds held on the outskirts of Copenhagen, the Danes decided to move the 1998 event to Egå in Jutland, just north of DK's second-largest city, Aarhus. Again, an International Rally Week was held just before the Worlds - this one at Rantzausminde near Svendborg on the island of Fyn.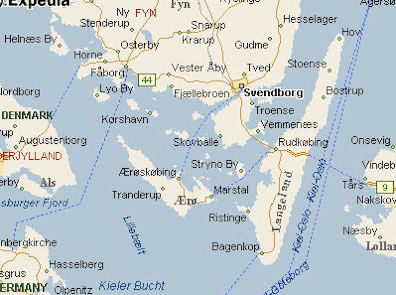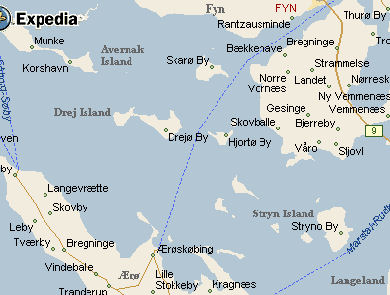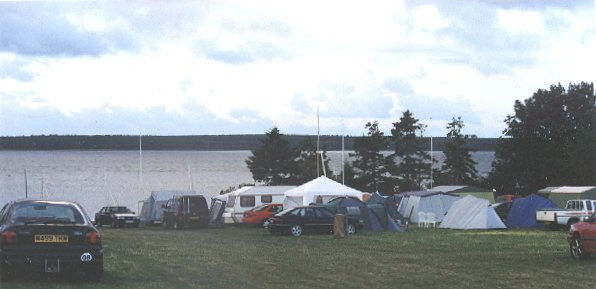 the campground at Rantzausminde: view towards ...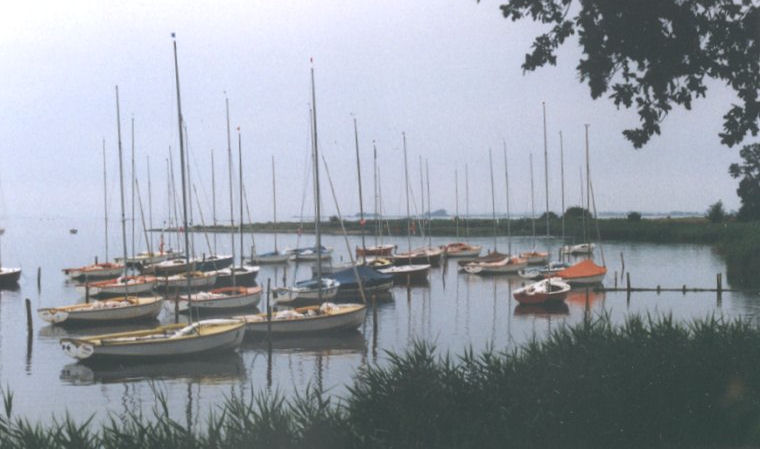 ... the water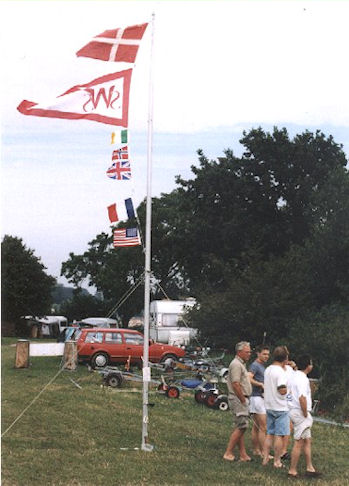 A lot of countries were represented at Rantzausminde in 1998.

Then the spotlight shifted to the Worlds where 55 entries made it the biggest W Worlds yet. The vast majority of the fleet was British and Danish with a few Canadians (4), Norwegians (2) as well as one Irish and one American boat mixed in.
In a relatively light-air series, Ian Porter and Kevan Gibb -
to no one's great surprise
- became Wayfarer World champions for a third time. Mike McNamara and Simon Townsend had two bad races early and the real excitement then came in the battle for 2nd place where Denmark's ace team of Anders Friis and Steen Ammentorp went toe to toe with Mike and Simon and were most impressive in clinching series 2nd with a race to spare. This was easily the best Danish finish ever in a Wayfarer Worlds. By contrast, we non-British visitors were never really a factor and not one of us hit the top 30.

The man-made harbour of the sailing centre at Eg
å has tons of lovely ramp space plus ...

...

huge fields that are ideal for camping, not to mention everything from ...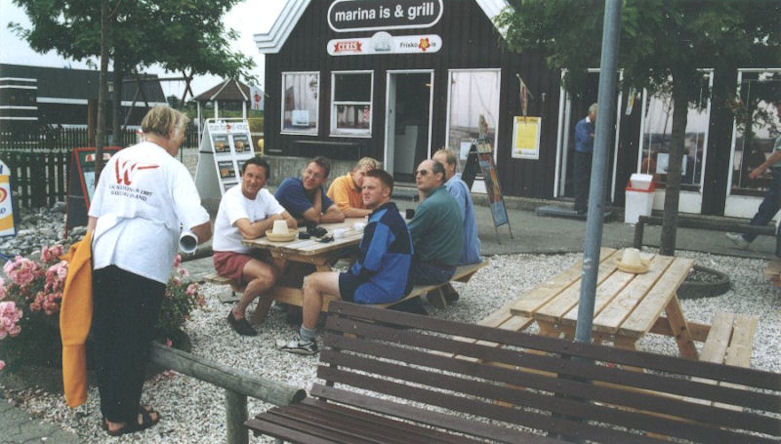 ... fast food outlets through elegant dining and chandlery.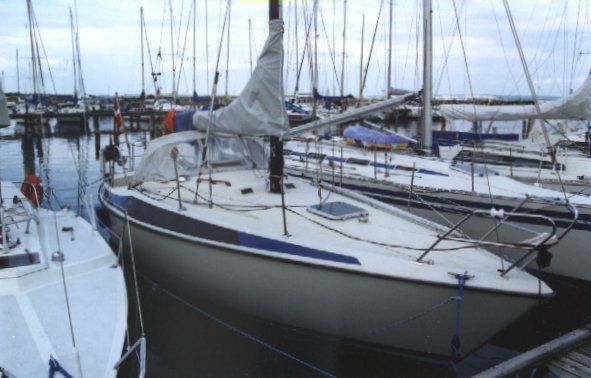 This was our home for the week - very cozy and soothing!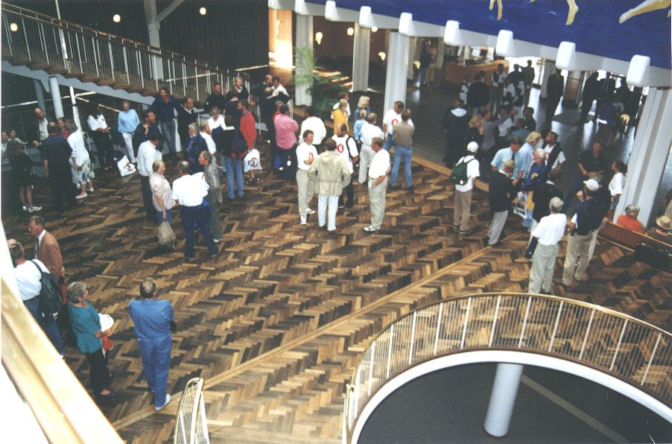 the Wayfarers' reception at Aarhus city hall

Winds were mostly light to ...

... medium.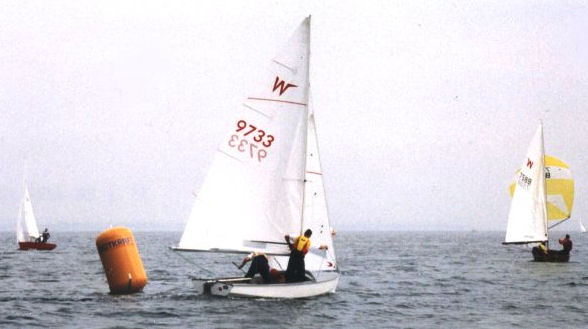 The way they finished: Ian Porter and Anders Friis lying 1-2.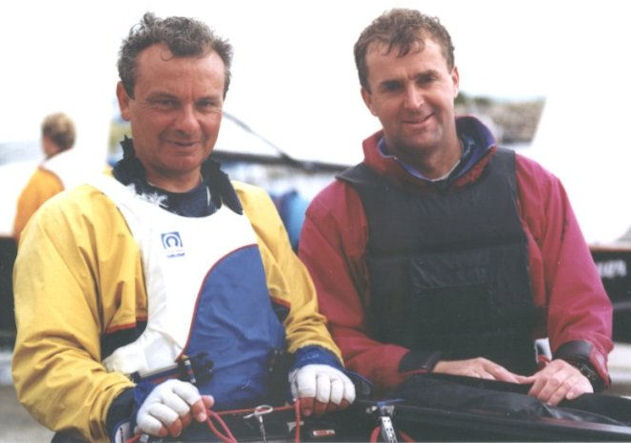 our 1998 World champions: Ian Porter and Kevan Gibb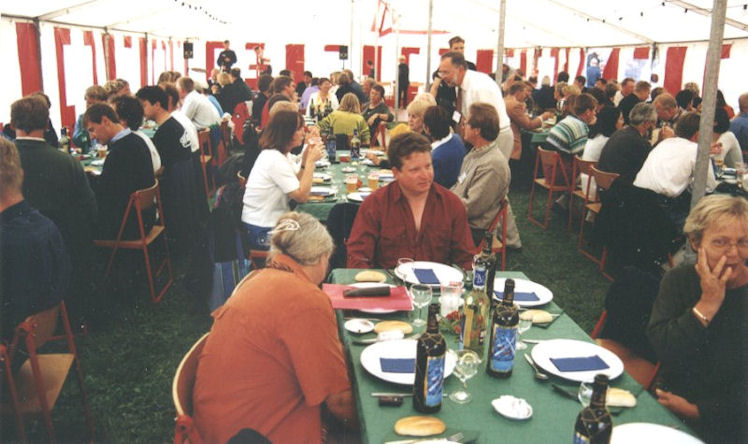 No permanent large dining facility, so a rented marquee tent served very well as our Awards Banquet hall ...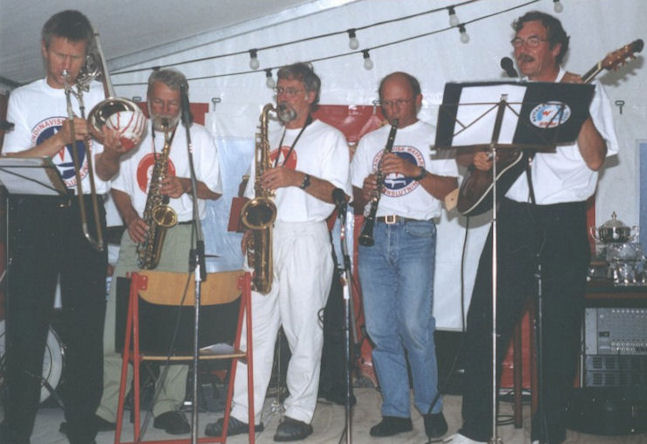 ... with the

Wayfarer Stompers

once more doing yeoman service.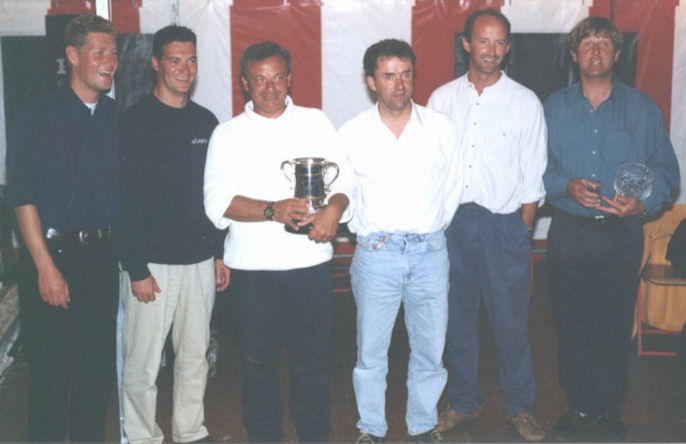 the 1998 Worlds top three teams:

(l to r)
Anders Friis with Steen Ammentorp, Ian Porter with Kevan Gibb, Mike McNamara
(r)
with Simon Townsend
...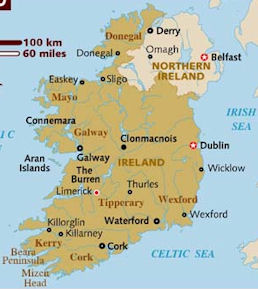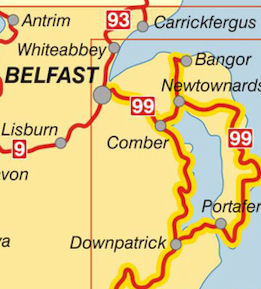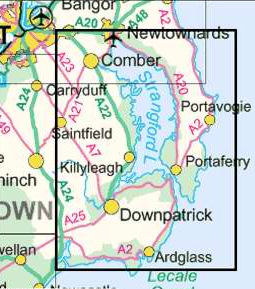 An exciting new twist arrived with the new millennium as the UKWA-hosted "2001 Internationals" went "overseas" to (Northern) Ireland Aug. 12-17. To unanimous praise, the East Down YC on Strangford Lough near Belfast, coped magnificently with a record-smashing 84 Wayfarers. The weather – mostly light winds – could perhaps have cooperated a bit better as only 6 of 7 planned races were completed on the tricky tidal waters of the lough. As was expected, the fleet's two past Wayfarer World champions, Ian Porter and Mike McNamara, fought a close battle – as close as it gets, since they in fact were declared co-champions when each scored a fine 9 points from their five counted races and in accordance with WIC Worlds Guidelines, the tie was not broken.
Although the vast majority of the teams came from the British Isles, it was worth noting that our irrepressible Canadian, George Blanchard (almost 88 and sailing with Mike Codd) was the only North American entry, thus keeping alive his astounding streak of having sailed in every Wayfarer Worlds ever held. Also of note were Jan Katgerman and Ton Jaspers who became our first-ever Dutch entries, and the ever reliable Danes had four entries.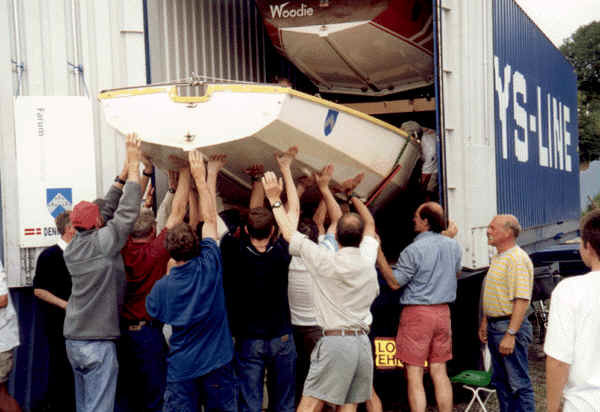 Team Denmark's boats arrive.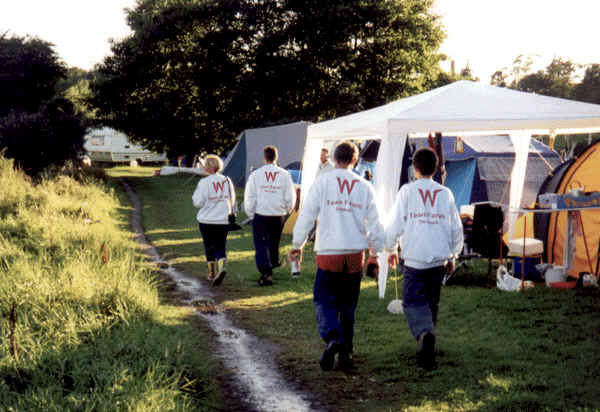 the 2001 Worlds tent village at the East Down YC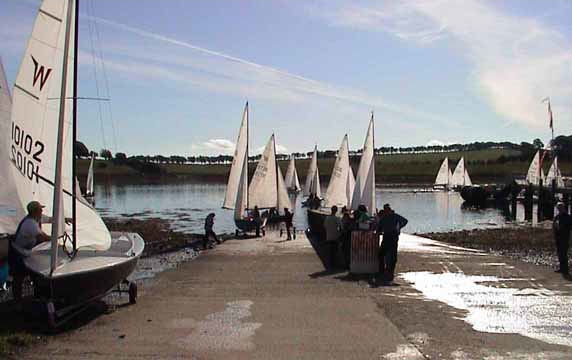 the launch ramps tended to be a busy but well organized ...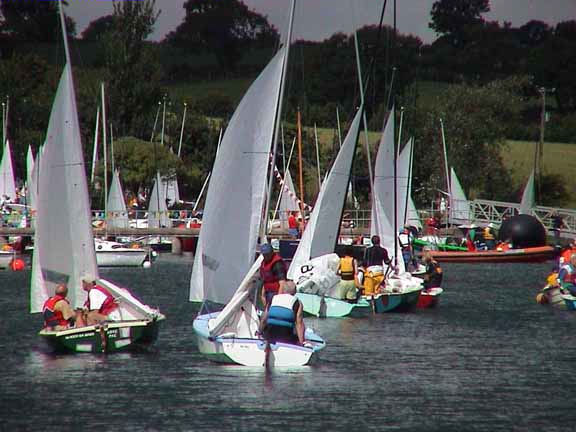 ... place.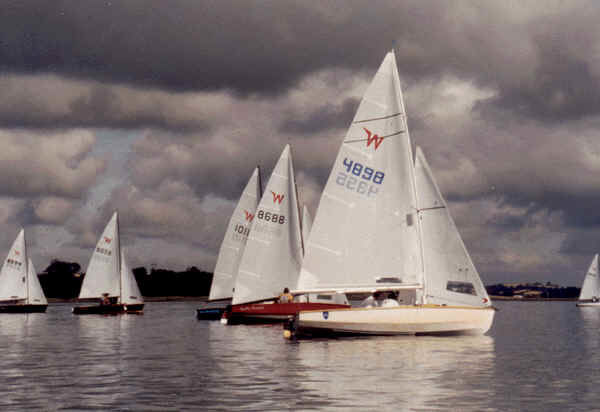 The winds were mostly fairly light.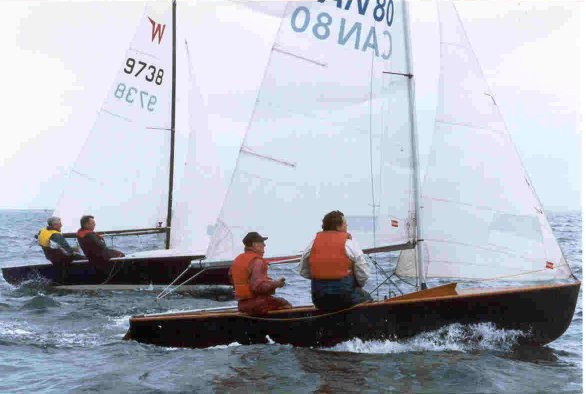 George Blanchard (CAN 80) took part in his 11th straight Wayfarer Worlds at age 88.

Wayfarers adding to the beauties of a lovely lough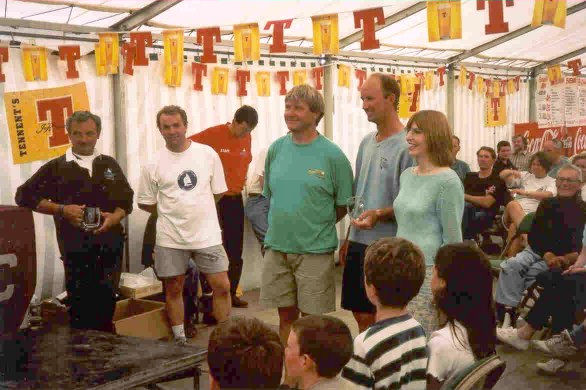 2001 Wayfarer co-World champions:
(l to r)
Ian Porter, Kevan Gibb, Mike McNamara, Simon Townsend
Very conveniently, Strangford Lough also lends itself to fine cruising sailing, such that the by now traditional pre-Worlds International Rally was held on the lough during the week before the championship.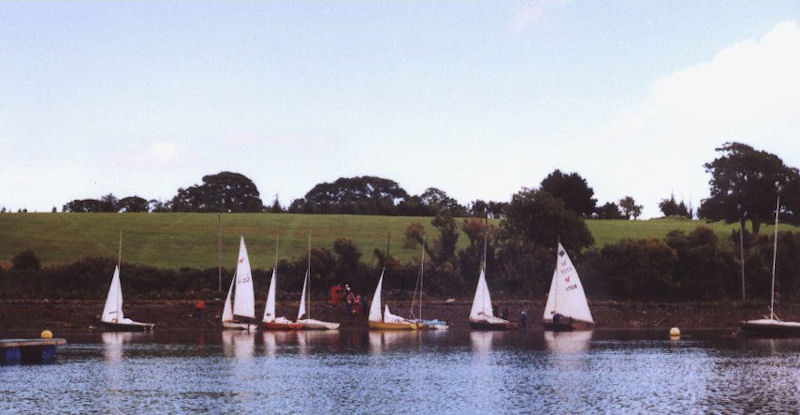 a lovely, rustic scene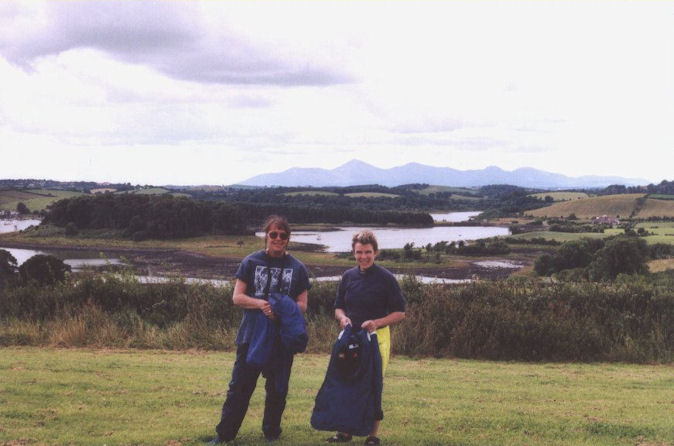 A view of some of the islands and back bays of Strangford Lough. In the foreground are
Margie Harrington and Alice Tyrrell (r). In the background are the Morne Mountains.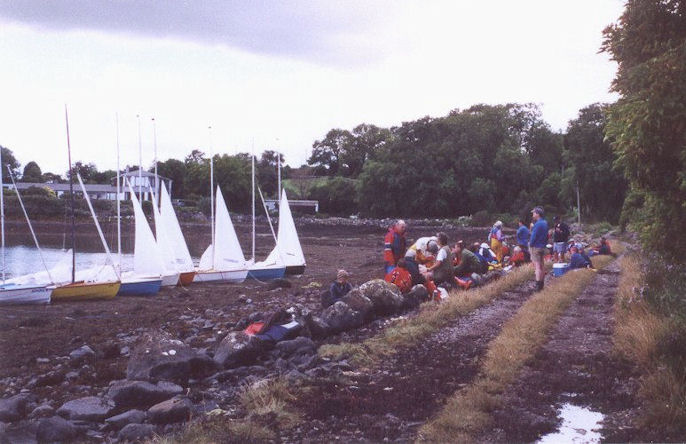 lunch at low tide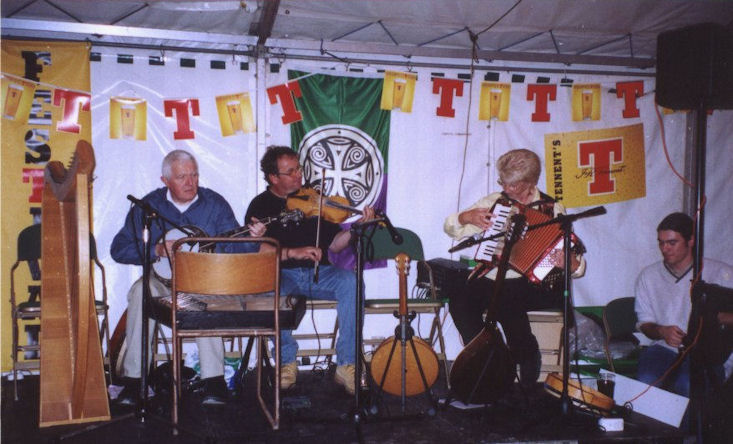 The nightly Irish musicians were outstanding.
...

As in 1995, Killbear Park near Parry Sound on Lake Huron's Georgian Bay was the site of a much enjoyed Rally just prior to the Worlds.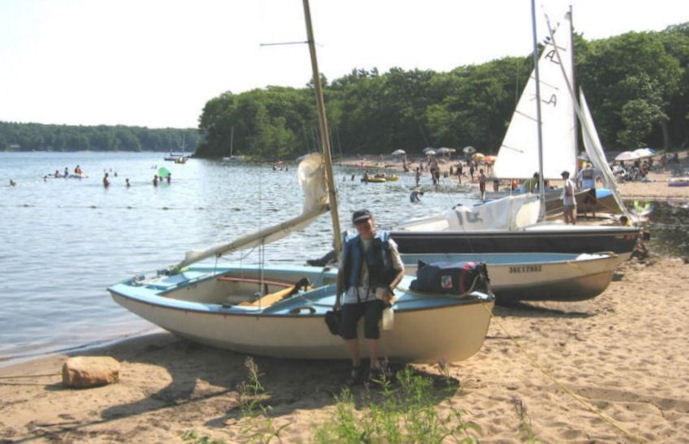 Wayfarer time once more on the beach of Lighthouse Point, which was also an ideal spot to convene ...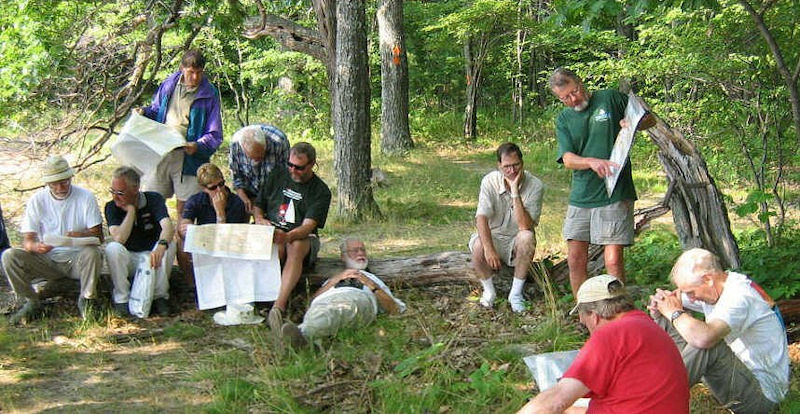 ... the Skippers' Meeting - a meeting with a ...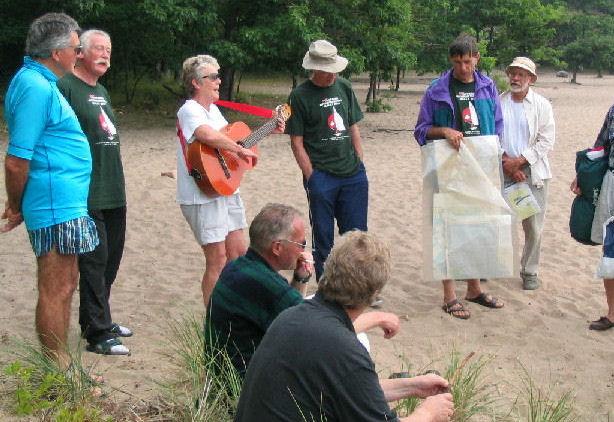 ... musical difference supplied by Sue Parry.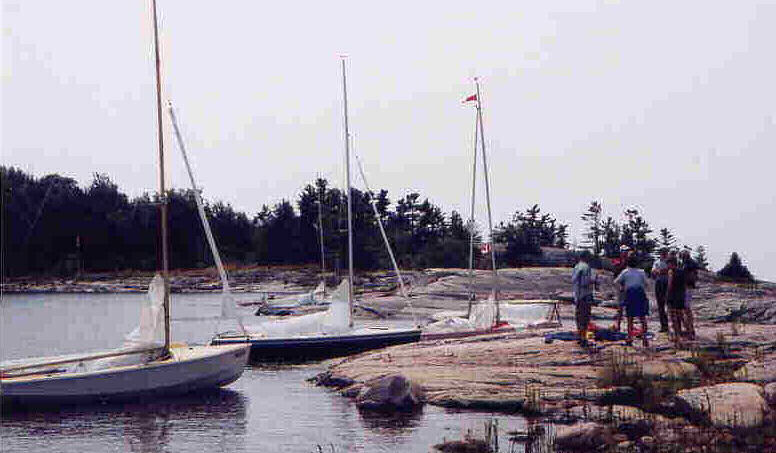 lunch stop on the Pancake Islands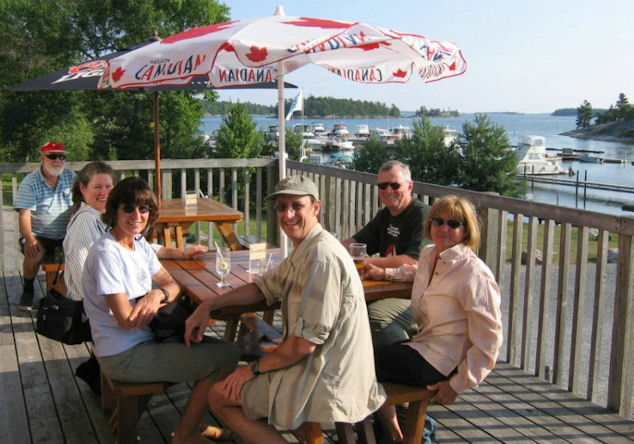 By now, it has become a rally tradition for the whole group to dine
towards the end of our week, at the most elegant restaurant that will tolerate us.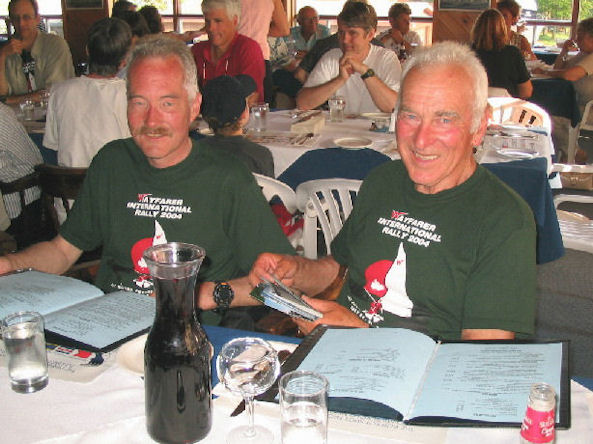 Ken Jensen and his son, Ken, peruse the menu.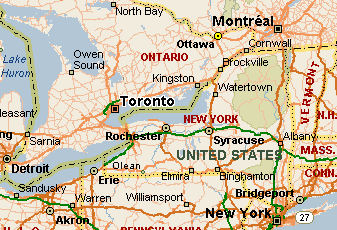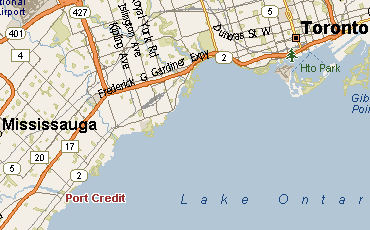 After contributing only one entry in 2001, Canada bounced back with a terrific show as the Port Credit YC with fine help from its neighbour, the Mississauga SC hosted the 12th Wayfarer Worlds Aug. 1-7, 2004 just west of Toronto.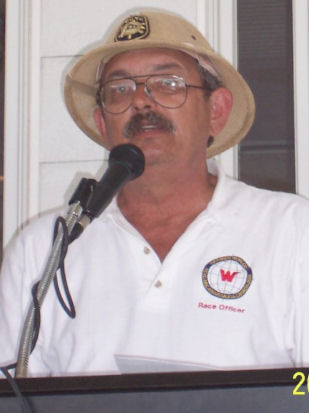 our Canadian one-man band, John Weakley
The second largest field ever, 59 entries, proved but a small challenge to Regatta Chair, John Weakley, who had made us nervous by taking on a lot of jobs in addition to being PRO as he had been in 1995. John assured us nervous ninnies that it was all in hand, and by gar, so it turned out to be – from John's fine Worlds web site through arranging for visiting youngsters to get a free week in the PCYC Junior Sailing programme to running the races in his usual impeccable manner, to name just a few of John's fine works.
Visiting boats were as follows: UK – 17, Denmark, Ireland and US – 2 each, and Isle of Man – 1. The Brits again brought a couple of container-loads of their own boats and the Irish a half-container, so there was again little need for borrowed boats.
With Mike McNamara missing from the mix, it appeared that four-time Wayfarer World champion, Ian Porter, and crew, Kevan Gibb, would be the team to beat. And so it turned out. In a nine-race series that saw all but two races feature planing winds that were very cool for summer time, Ian and Kevan steamrolled the rest of us to the tune of seven firsts and one second before they sat out the finale.
The good news for us non-Brits was that the top Irish, Danish and Canadian boats were eminently competitive with the rest of the Brits who still dominated the top ten with seven spots, however. But the Danish duo of Søren Jensen and Jesper Friis scored a fine series 6th, the best borrowed boat finish in any Worlds to date. The top Canadian team of Al Schonborn and Marc Bennett finished a proud 8th overall, especially given that it was windy and that Al managed to screw up first beats to the tune of rounding worse than 40th off the first beat in 6 of the nine. Rounding out the top ten were the Irish team of Jay Colville and Ian Harley who scored far and away the best ever Worlds finish by an Irish crew.
This proved to be the end of his amazing Worlds streak for the nearly 91-year-old George Blanchard. Considering the windy conditions, it was simply marvellous to see George (and crew, Mike Codd) pull off a 35th in the 59-boat fleet in George's farewell performance.
At the Saturday night awards banquet, we talked happily of meeting again in three years in Denmark, not even suspecting in the slightest, the upheaval that would shake and reshape our Class in the meantime.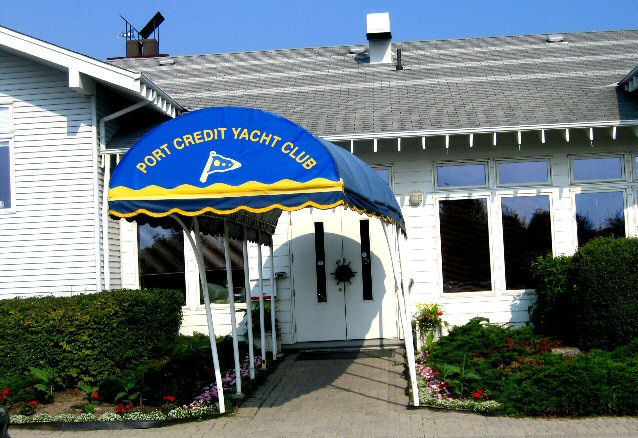 Our main host was the lovely ...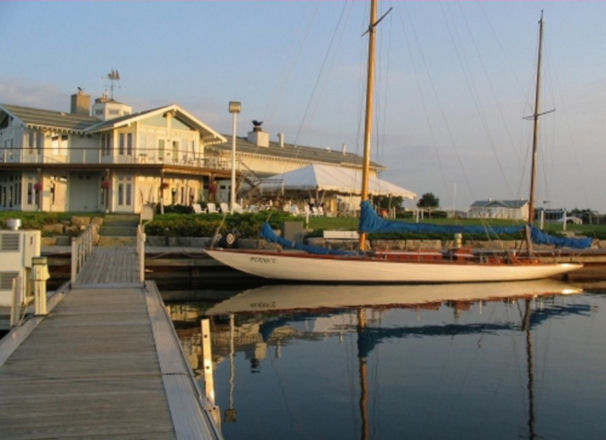 ... Port Credit Yacht Club which offered a full range of ...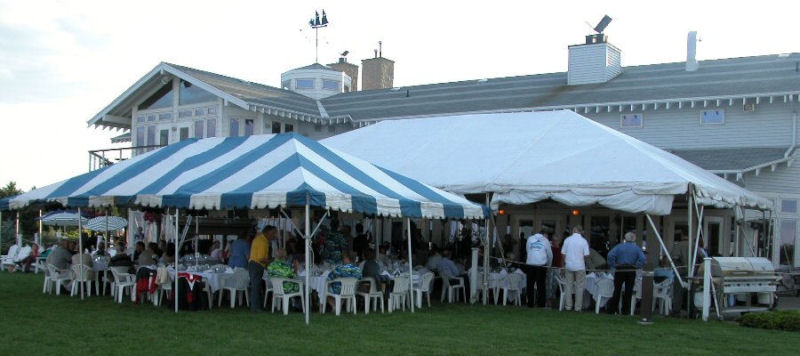 ...
facilities from dining al fresco to a lovely swimming pool - not to mention a classy bar.
Even the Isle of Man flag is flying as the 12th Wayfarer Worlds ...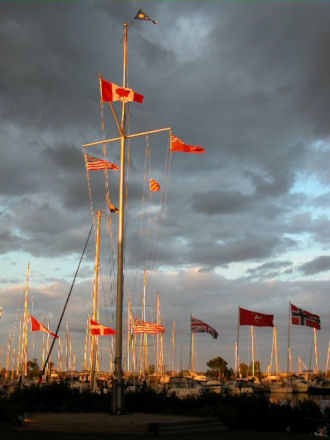 ...
gets underway.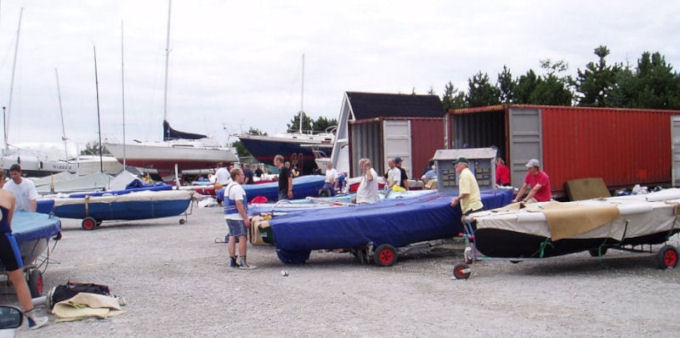 Once more , containers have arrived bearing British and Irish Wayfarers.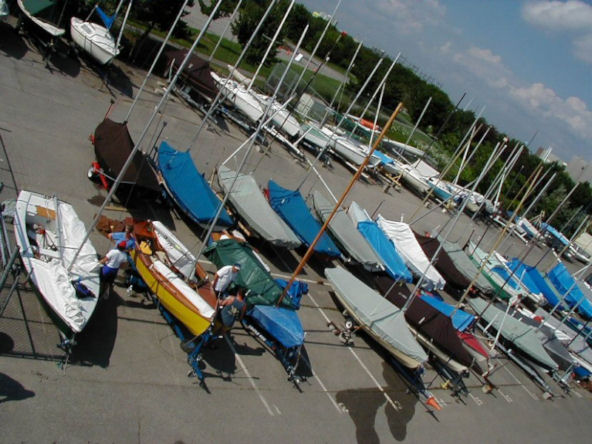 Worlds co-hosts were the members of the Mississauga Sailing Club, a ...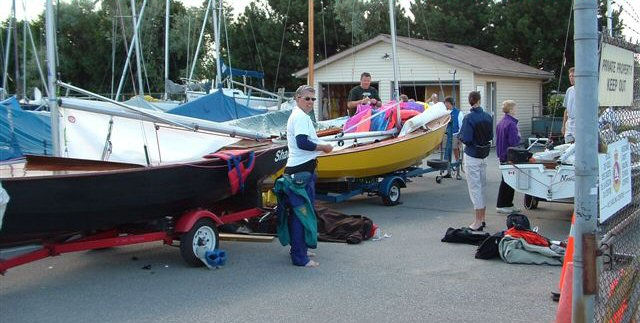 ... working man's club across the road from the PCYC.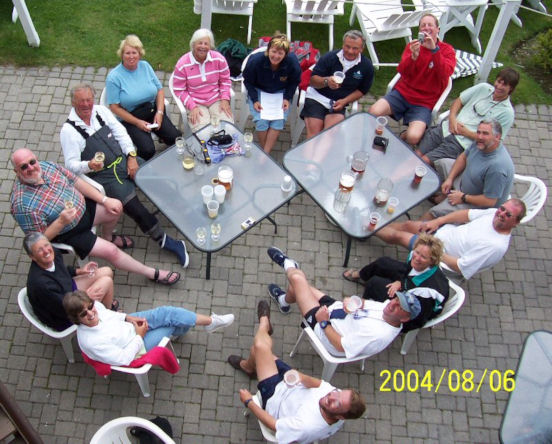 The patio behind the PCYC bar was a lovely and very popular place to relax.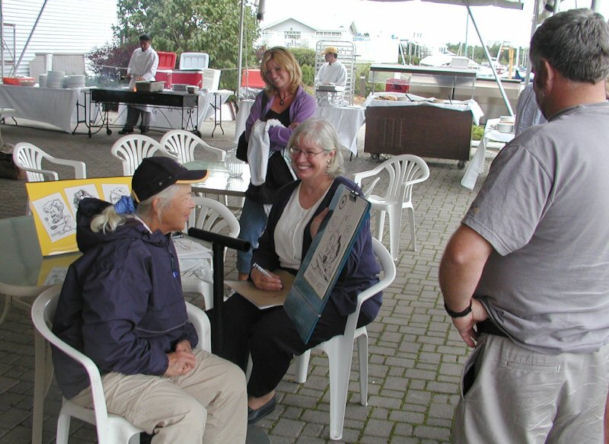 As she was in 1995, Diane Zaremba, was again on hand to immortalize
people like Liz Feibusch (if there are any!!) in cartoon format.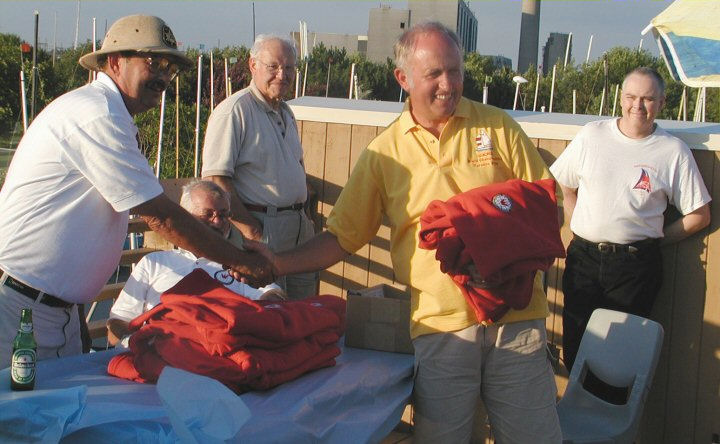 Around mid-week, the Mississauga SC hosted a BBQ for us in their roof-top patio. After supper, John Weakley
handed out the special embroidered prize shirts to helm and crew of the top three boats in the day's race(s).

One of the few lighter-air starts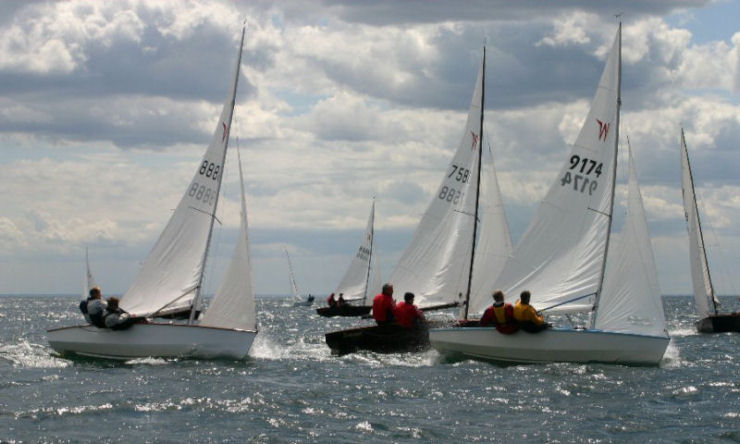 More typical weather as the leaders near the first windward mark.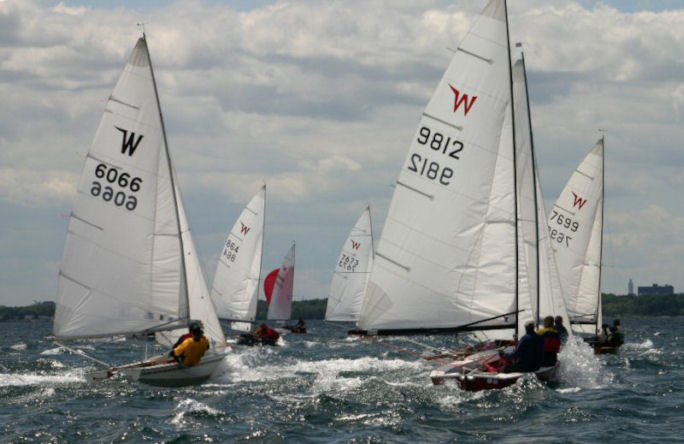 Co-operation was duly rewarded as the CWA's plan to run windward-leewards only was modified after the Brits expressed concerns about leeward mark debacles they had experienced in such races at home. John Weakley was given carte blanche to run Olympic triangle courses as well, especially if the winds were likely to produce enjoyable planing reaches. As you can see above, this was an inspired move!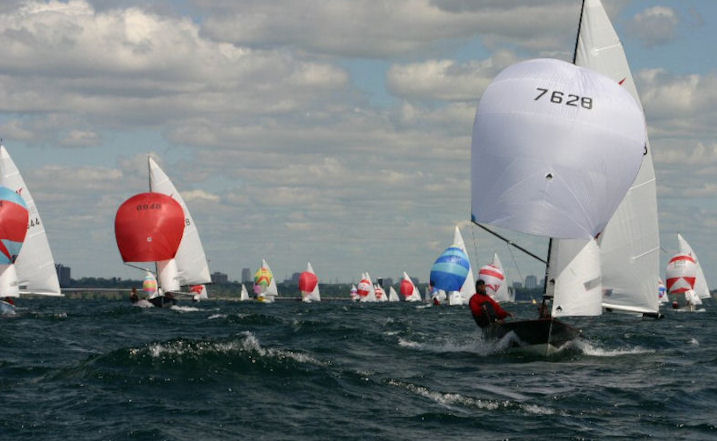 And the windward-leewards were also exciting.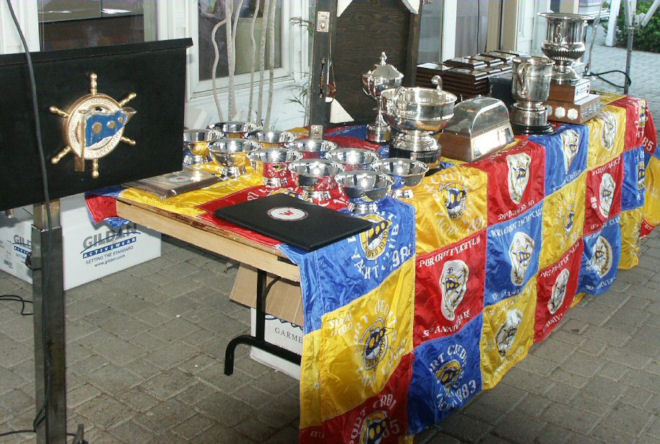 The Awards Banquet was held under an open-sided tent behind the PCYC clubhouse.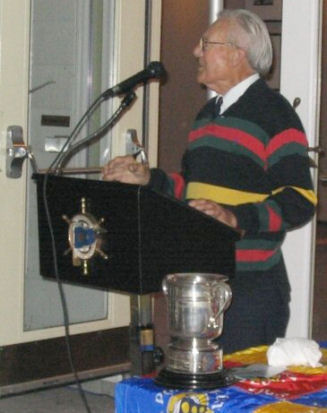 At age 91, George Blanchard had just completed his 12th and likely last
Wayfarer Worlds with enough energy left over to make a fine speech.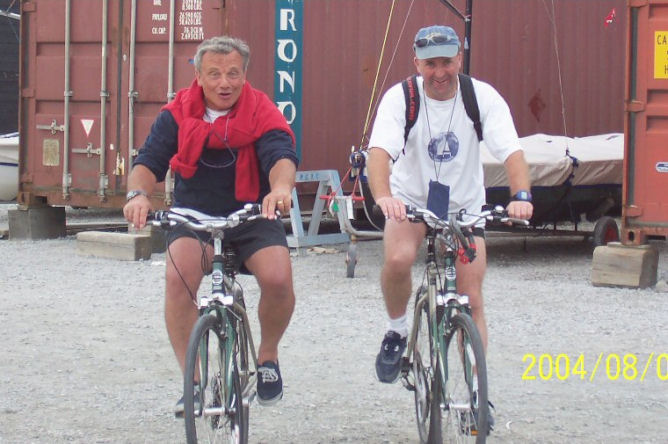 A slightly different perspective of our 2004 World champions, Ian Porter and Kevan Gibb
(r)

who rented bikes and cycled each day from their B&B to the yacht club!!
...
By 2006, it was becoming clear that the Wayfarer was losing its appeal to UK boat buyers and sailing schools, and that we were going to have to move with the times. But refurbishing the W's design properly was going to take far deeper pockets than were available to the Proctor family, so with a heavy heart but high hopes, Roger and his siblings sold the Wayfarer copyright to Richard and Mark Hartley of Hartley Laminates who were willing and able to invest the large sums of money that it was going to take to modernize our beloved Wayfarer. Top-notch dinghy designer, Phil Morrison, was commissioned to come up with a design that would be "as fast as the fastest existing Wayfarer but no faster". And now, three years into the Hartley Mark IV era, the general consensus is that Phil succeeded admirably.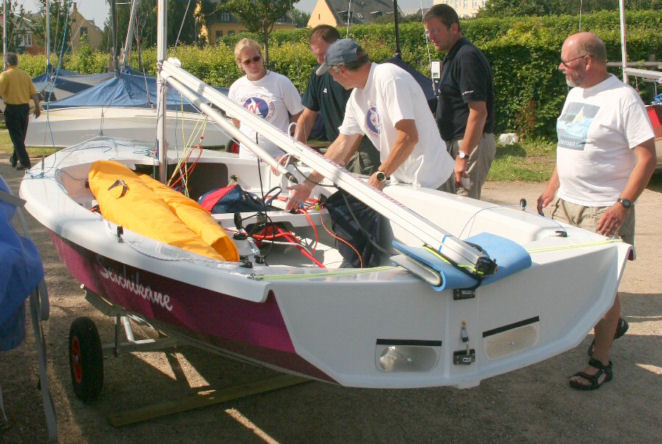 This Hartley Mk IV took part in the ...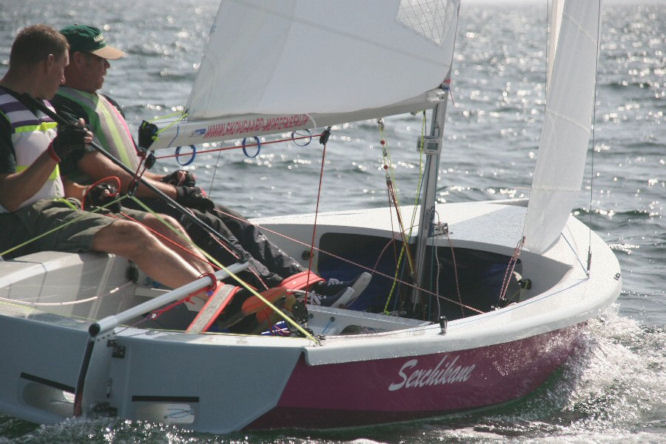 ...
2007 Worlds Practice Race and was not blindingly fast on the windward-leeward course. However, it was characterized shortly thereafter as a "fleet breaker" by WIC International Secretary, Poul Ammentorp, who was among several who watched in dismay as the Mk IV was able to plane away on the spi reach "race" back to the harbour when no one else could plane. This "defect" has since been rectified.
There was however a very unfortunately timed glitch. After a very respected and high-tech equipped measuring team pronounced the Hartley Mk IV prototype to be a Wayfarer that measured in nicely under existing Class Rules early in 2007, the new Wayfarer was rushed into production so that it could show its stuff at the upcoming Worlds. Having seen the measuring team's report, the UKWA Committee announced that the Hartley boats would be OK to be raced in the 2007 Worlds. But early in the summer, the excrement hit the fan when the first Hartley boats were protested at the UK Nationals as being well outside the Class Rules. Subsequent checks by a UKWA measuring team confirmed a couple of significant problems that had been caused by rushing the lamination procedure. After much soul-searching and virtually at the last moment, the UKWA Committee decided it could not give carte blanche to the Mk IV for the upcoming Worlds. This understandably upset the Hartleys and their boat owners and there was much bitterness on both sides. Enough unhelpful talking was done that Richard and Mark were no longer willing to talk with Wayfarer Class emissaries, and it wasn't until we asked Roger Proctor to step in a mediate, that progress was made. Roger put in literally hundreds and hundreds of expert, unpaid hours, to prepare a report that ultimately led to a solution which all parties now seem able to live with.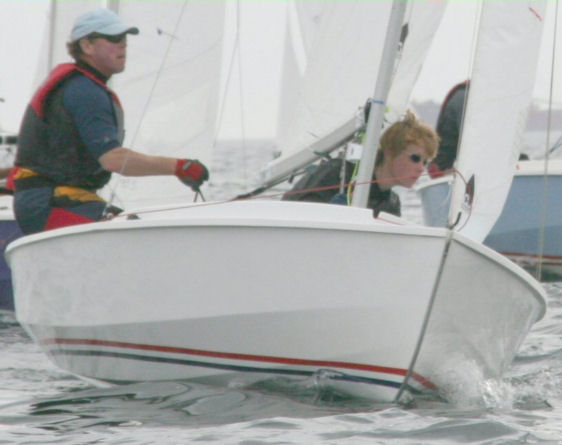 Mike McKechnie and son who went all the way back to England to get their "old" boat.
The upshot was that neither Mike Mac nor Ian Porter ended up sailing the 2007 Worlds
, but mention must be made of UKWA Racing Secretary, Mike McKechnie

(above)

, who arrived early with his Hartley Mk IV. When he arrived at the Hellerup SK, he discovered that his Mk IV would not be legal to race in the upcoming Worlds. Now here is a reaction after my own heart: Mike turned around, towed his Mk IV back home and returned with his "old" Mk I+S. Is that spirit or what??!!


When the fleet of 39 mostly UK and Danish boats lined up to begin the Worlds, there was, for the first time since 1980, no clear pre-regatta favourite. And after a series of eight light- to medium-air races, the World title had been brought to Denmark by a virtual Wayfarer unknown, Peter Sigetty Bøje who sailed a used Mk I+S with his 12-year-old son, Marcus, so well in rather flukey airs, that they won with a race to spare. The top 10 were evenly split between UK and Danish teams.
Kim Søderlund and Jesper Friis almost made it 1-2 for Denmark but fell one point short of catching Quentin Strauss and Rachael Rhodes who held onto the runner-up spot despite a first-race DNF.
Also making a noticeably improved were the Dutch Wayfarers who had no fewer than five of their small number of Wayfarer teams take part and were led by
Dirk and Arnold Olyslagers who placed a fine 12th in their first Worlds. Sadly, there was only one Irish, one Swedish and one Canadian entry, and none from the US.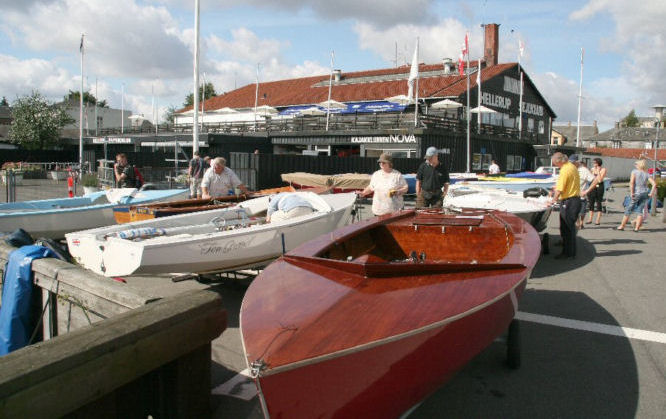 Not too much has changed in the 29 years since our Worlds were last at Hellerup.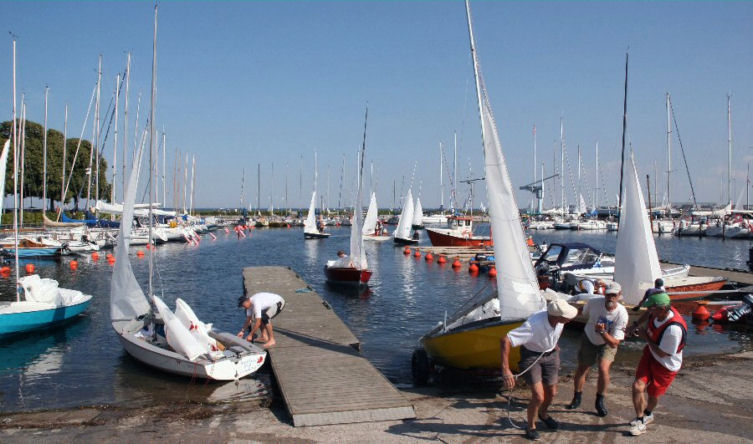 The pretty harbour is still small and haul-out facilities are still first-rate.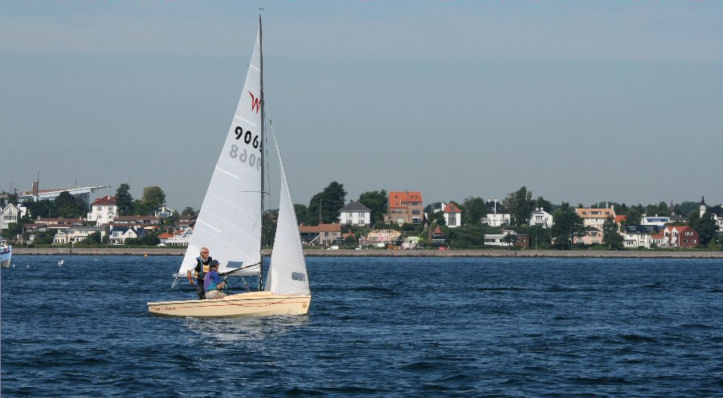 The shoreline remains charming.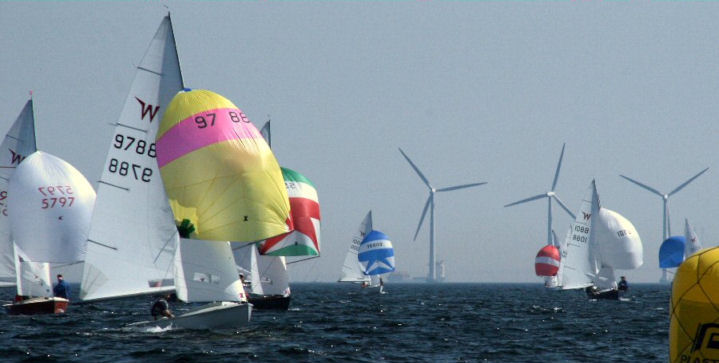 The wind farm is new though.

Light airs were the order of the week.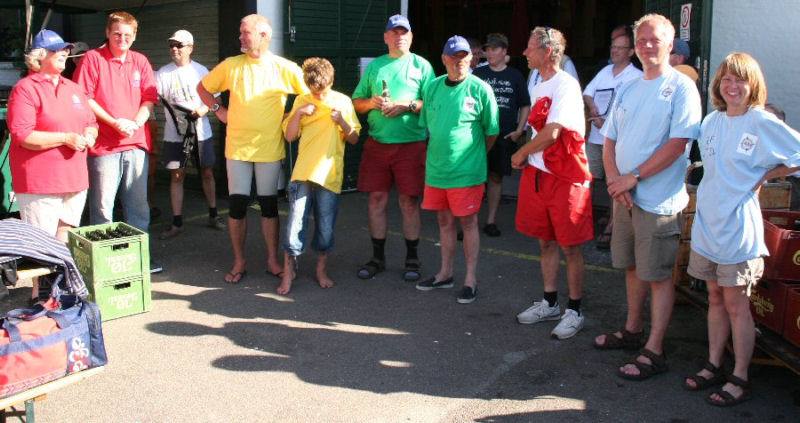 As in 2004, there were daily awards. Here different colours indicated codes that ranged from
"beware of these guys" to "series leaders" (yellow as in the Tour de France).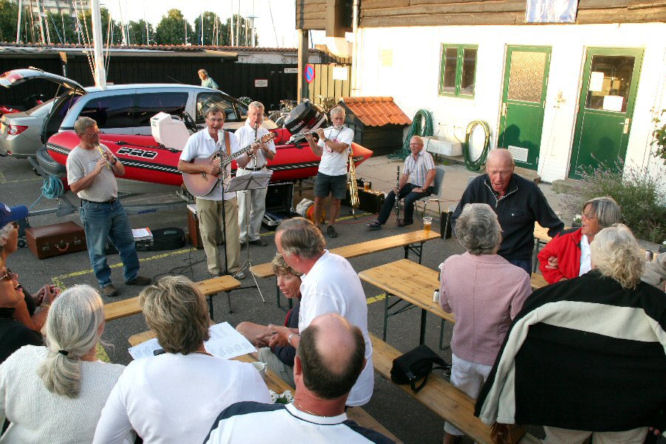 As always, the Wayfarer Stompers set the tone for the
post-race festivities which ranged from
...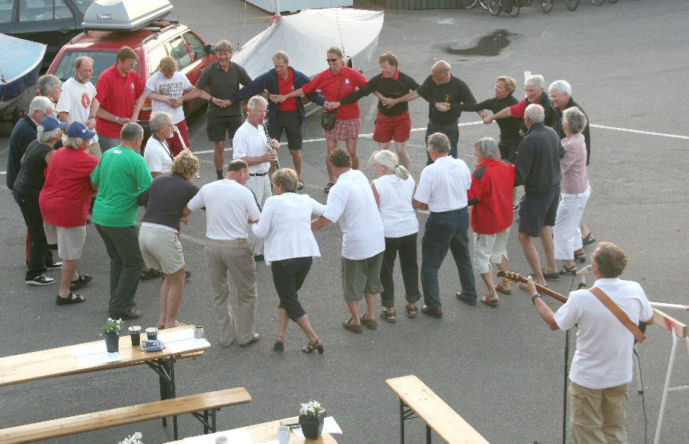 ... the group dances so popular in Denmark to ...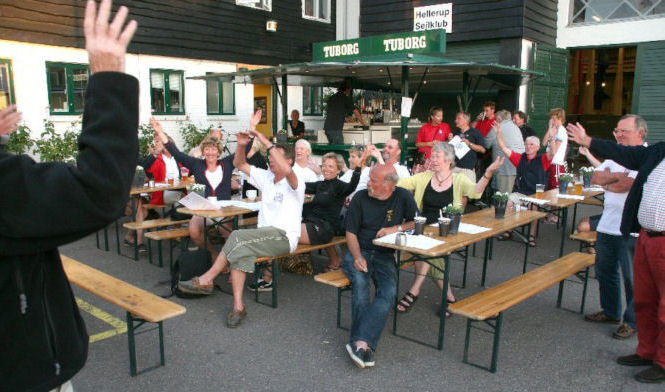 ... enthusiastic sing-alongs!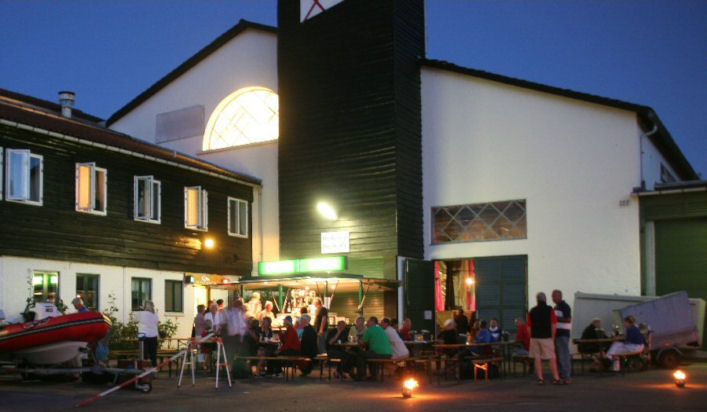 Summer dusk comes pretty late in these northern latitudes
but the beer-lubricated socializing is still in full swing as it finally arrives.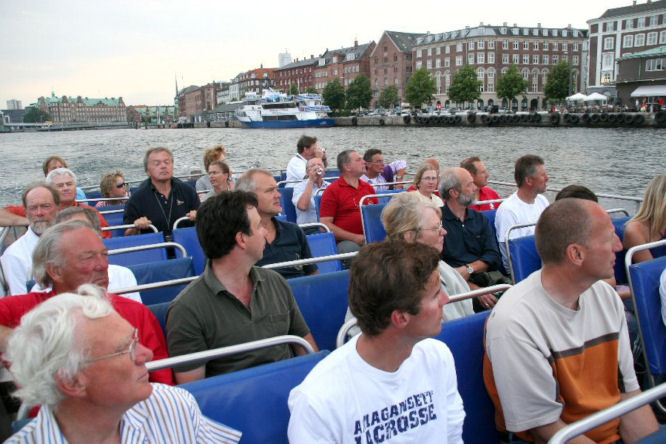 Lay day: group tour of the Copenhagen Harbour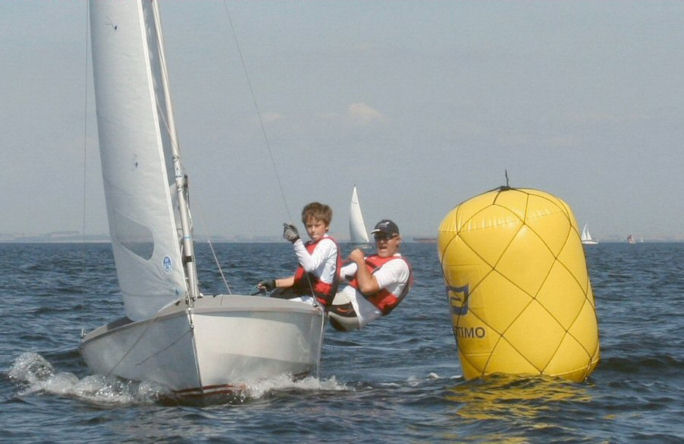 Our 2007 World champions in action ...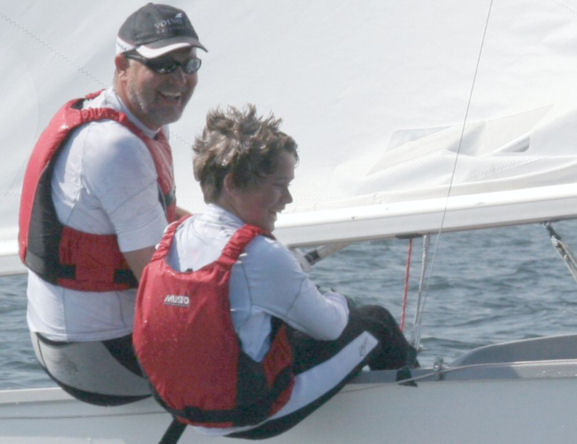 ... Peter Sigetty Bøje and his 12-year-old son, Marcus.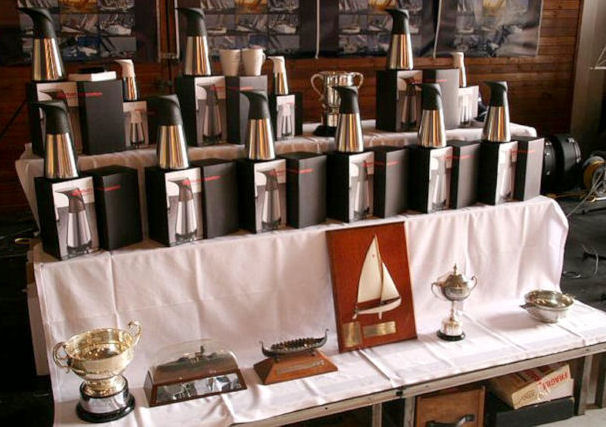 The awards await.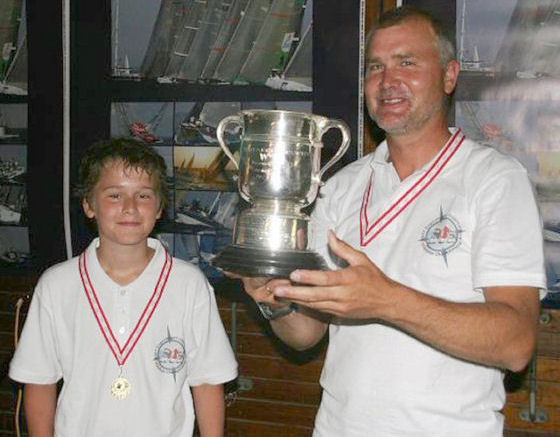 The new champs with their trophy and gold medals.
As a change of pace, the 2007 International Rally was held the week after the Worlds, in
Kragenaes on the Storebaelt SW of Copenhagen. This year, Ralph Roberts plans to do likewise by holding the IR on the Isle of Wight the week after the Weymouth-based Worlds.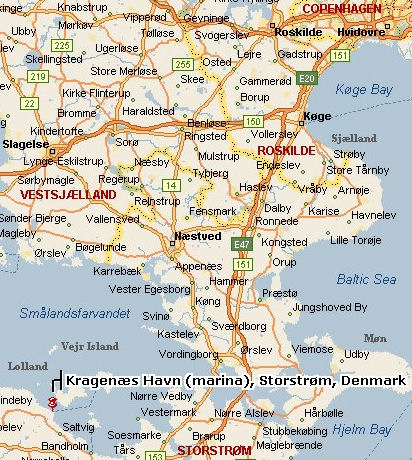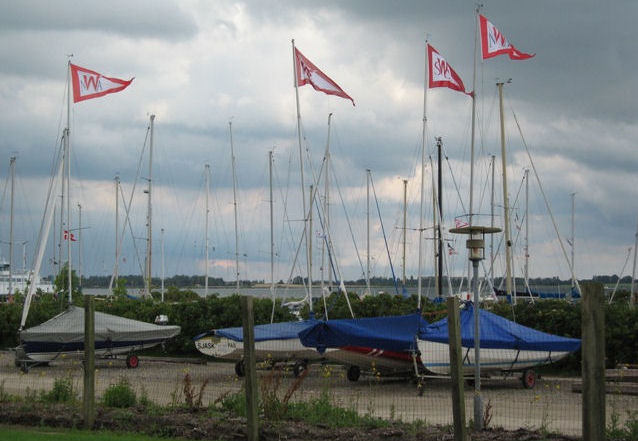 An interesting variety of weather conditions kept the ...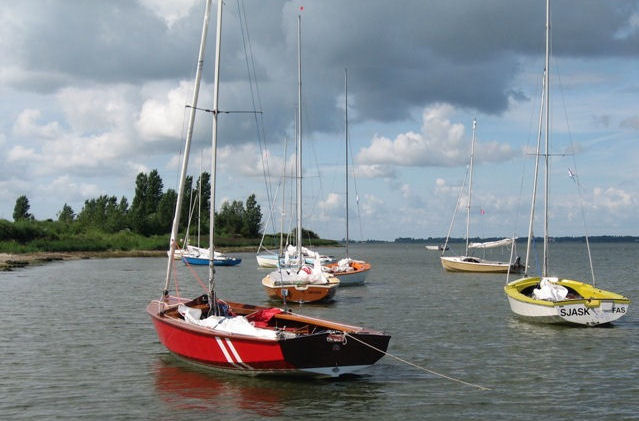 ... International Rally sailors on their toes in
2007.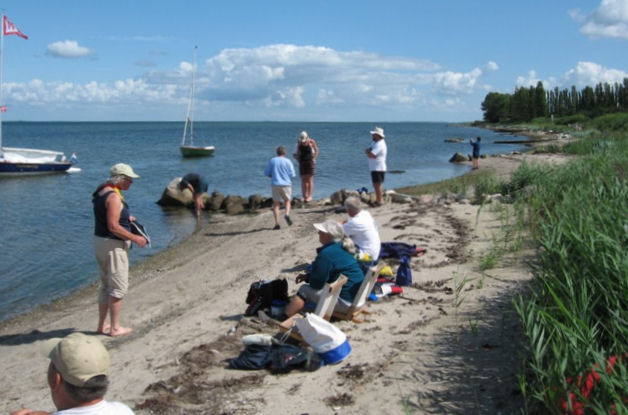 Many Danes brought their purpose-built beach chairs and put them to fine use.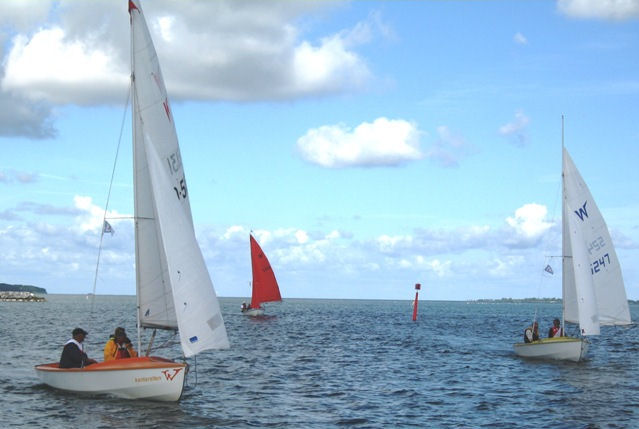 Relaxed sailing is usually the order of the day at these Rallies.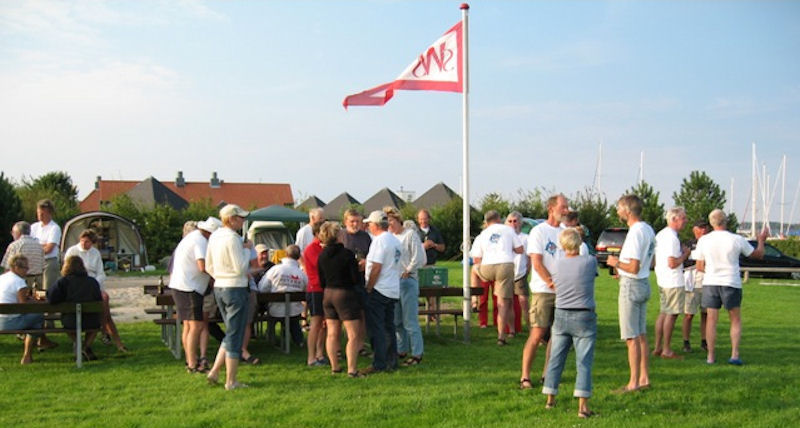 I believe this may have been one example of the very civilized Danish custom
of the "official back-at-the-dock beer" that has lately been introduced.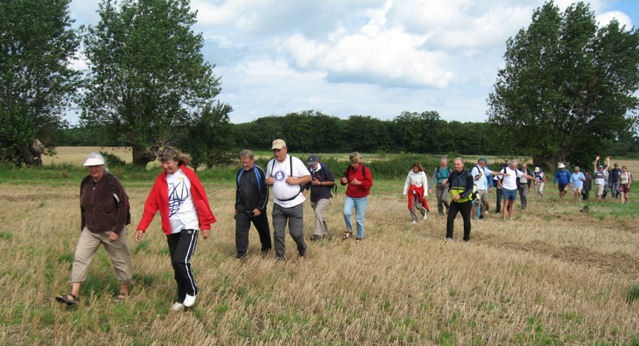 After a morning of hiking the boat flat, what could be finer than a lunch-time hike
through the fields to secure some award-winning Fej Island cider.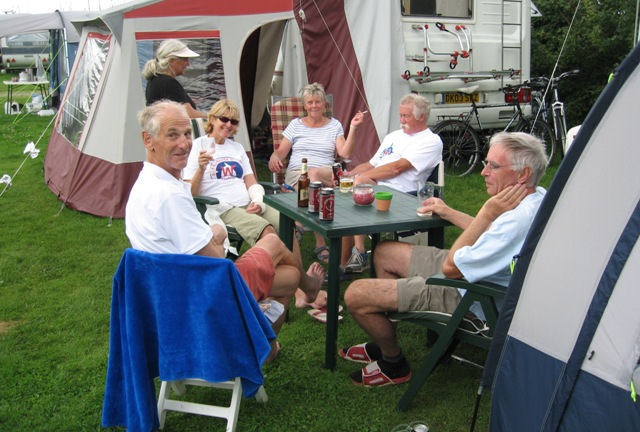 Ralph Roberts
(l)
who has become the main force
behind these International Rallies over the years smiles for the camera.