----- Original Message -----
Sent: Friday, November 21, 2003 7:31 AM
Subject: Boom Crutch
Uncle Al:
A friend of mine, and the only other Georgia Wayfarer, is looking for a pattern for a boom crutch. Do you know where he can get one? I am still looking for a boom tent and may need to make a crutch some day too. Let me know and I will pass along the information.
Thanks a million!
Wind, water, and Wayfarers,
Bill Waller (W923)
Albany, GA

Hi, Bill:
Speak of the devil - I just had an e-mail from Ton Jaspers in Holland who is sort of collecting pictures of "weird" Wayfarers for me to publish in the Weekly Whiffle, and he found dear old W923 in an old "issue". I'll forward his note to you. I have had trouble getting through to you last time so will try again and otherwise go to my hotmail address.
Regarding boom crutches, I will copy Dick Harrington who is good at this kind of thing for his cruising endeavours and wood work in general (unlike me!!). Subject to Dick's corrections, I would suggest that most boom crutches I've seen lately were made from an old hockey stick or two bolted together about 2-3" from one end. The "legs" of the boom crutch will stand on the back tank against the transom and will be kept from "doing the splits" by the side decks. I expect it's then simply a matter of measuring the distance between your centred boom at the correct elevation for your cover and the aft corner of the outer surface of your aft tank - leaving a little extra if you intend to angle-cut the "feet" so they sit flat on the aft tank. The part above the bolt wants to be quite short and likely faired such that it won't dig into your cover or boom tent?
Hope you had a good sailing summer and are still doing a bit of sailing now??? Best to your family and especially the pirate!!
Uncle Al (W3854)
----- Original Message -----
Sent: Friday, November 21, 2003 8:05 PM
Subject: Boom Crutch
Hi Bill & Al,
Attached is a photo of my boom crutch in use. In the past I've made several for others which were similar in design. If you want the rough dimensions and the shape of the top end I can send it as well as do a trace for you.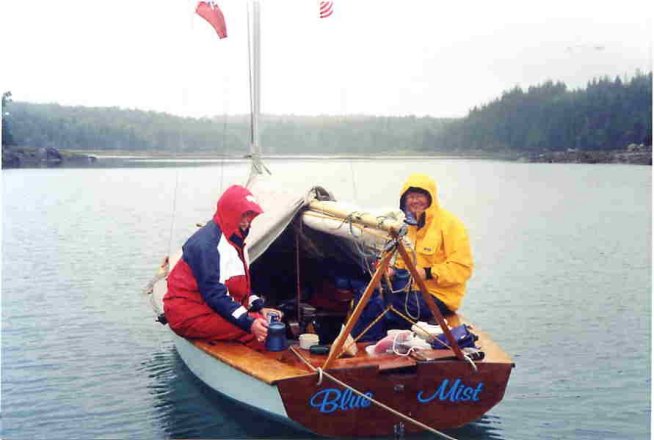 There is nothing magical however. The one thing Al didn't mention is putting a large pan washer in between the two sticks so that they don't bind. Also, I put a piece of rubberized non-skid strip (the 1" wide self adhesive stuff you place on the floor boards) on the bottom of each stick to keep it from marring the deck. You will notice that there is a small raised boss (or usually a recess on FRP boats) on the aft compartment deck near the transom and side decks which is there specifically to receive a scissors style boom crutch. You may need to trim the thickness of bottom outside edges of the sticks so that they fit into the recess.
Best wishes---DICK
Hi again, Bill:

Have run out of room in this week's Whiffle, so will wait for Dick to provide dimensions - hopefully in time for next week???

Uncle Al (W3854)
----- Original Message -----
Sent: Monday, November 24, 2003 1:28 PM
Subject: boom crutch dimensions

Bill & Al,
As requested, attached is a drawing of my boom crutch which can be used for what ever purposes you wish. ... You will probably need to perform some final trimming, which means having access to the boat and boom at the last test stage. This pattern only works with the older style round (Proctor) boom. If you have something that's different, check the measurement first.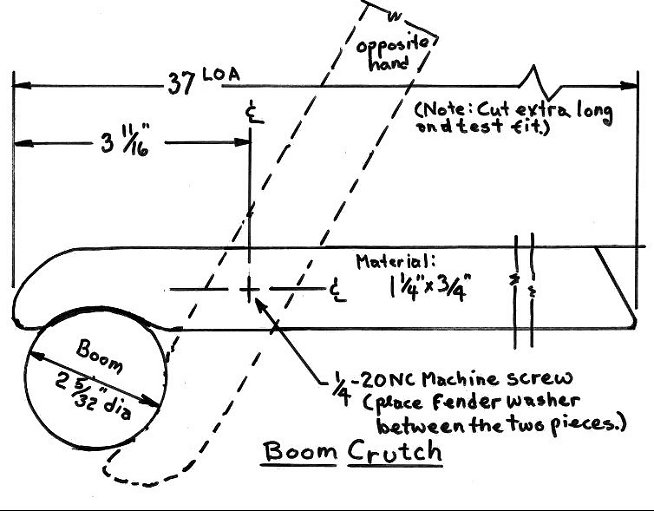 When I've made this boom crutch for friends I've used whatever material I had handy in my shop (cherry/walnut, etc.!), but no hockey sticks. (I think hockey sticks are often made of maple, which is not a good wood for exposure to wetness.) The width and thickness has varied some from that shown in the drawing. If you follow the pattern using the 2-5/32" (2-1/8 plus) diameter for your boom you can compensate for differences in the material width.
Best wishes---DICK