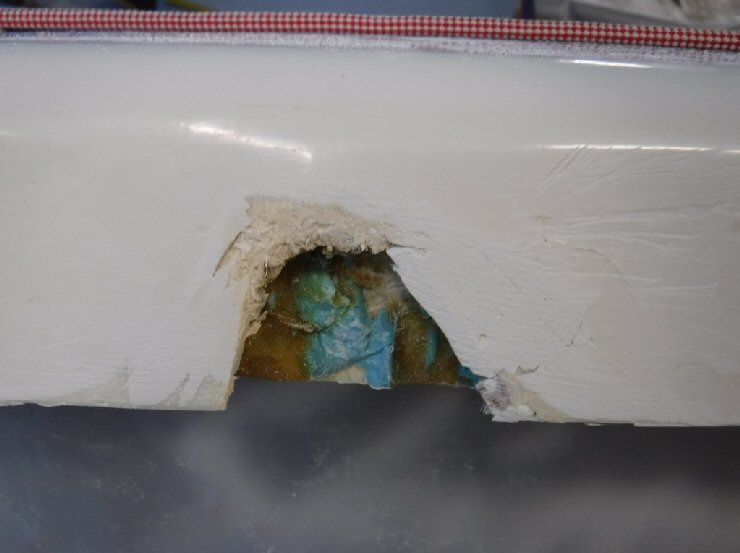 Things can go wrong on the race course. The older glass boats and wooden boats can take a punch. Mk IV's tend to be a bit more sensitive. MK IV owners tend to be a bit more nervous at starts, marks, and any time another boat is within 50 yards, and for good reason. Mark IV rails don't just crack; they explode, sending blue foam everywhere.


As with any wound, the first step is to excise the extraneous material.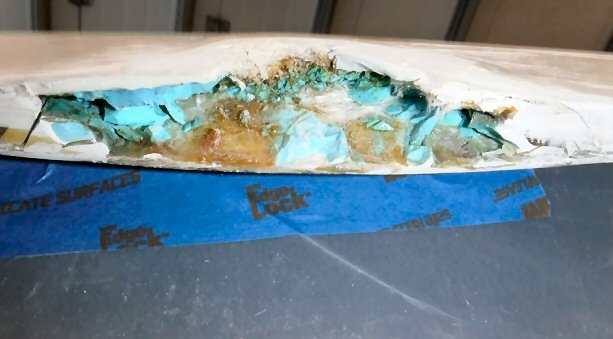 The photo above is taken from below the rail. The extent of the damage is visible.
Once it is clean it is a matter of repair.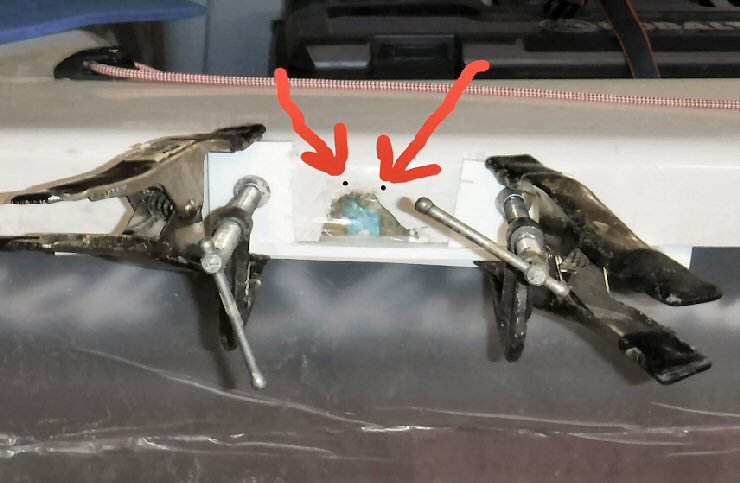 Uwe Heine gave me the idea of encapsulating the wound with polyethylene and then injecting the pouch with epoxy.
As you can see from the photo, I held the polyethylene film in place with clamps and flat squares of Starboard. The two dots were holes I put in the polyethylene. One was for injection the other was a vent. I mixed a ketchup like epoxy glass fiber slurry. It inject easily with a syringe. I squeezed the bag to push any air bubbles out. It was not completely full to the top but it was full enough.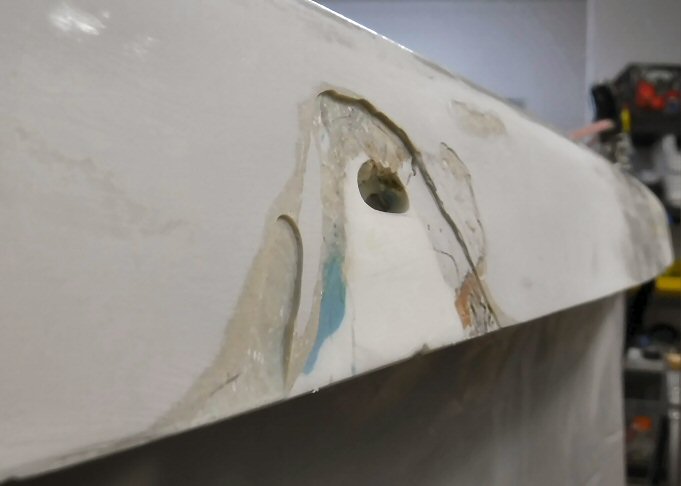 After the epoxy had set, I set up a router to cut between 1/16" and 1/8" deep into the epoxy. As you can see, an air bubble was revealed which was easily filled. The purpose of cutting the epoxy down was to allow space to build up the gel coat without the epoxy showing through.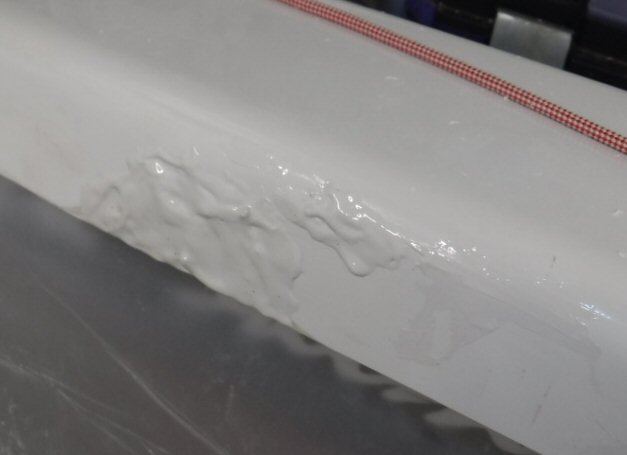 This is where the real work begins. Several layers, many, many layers, of gel coat must be applied and sanded. The first coats of gel coat are sanded to remove the high spots and reveal the low spots. Also the purpose is to generally shape the repair work to match the curvature of the rail. For each successive coat the filling and sanding is less aggressive. I started with 80-grit paper in the beginning and by the third to 4th coat I was using light sand of 120 then 320. Finally when I was satisfied with the gel coat coverage I sanded with 1000 or 1200 grit then followed with West Marine polishing compound.
So how were the results? In my estimation they were OK. The gel coat I was using was two to three years old and thicker than putty and hard to use, so that was very frustrating. There is one small area where the epoxy is barely visible, but the rest looks pretty good. All in all it was better than buying a new boat. Please come by and judge for yourself. It's not bad, or as they say, "That'll do, pig. That'll do."