Subject: Kevin Pegler reveals how to "dry" dock your Wayfarer with ease and style


----- Original Message -----




From: Kevin Pegler (W1071)




To: <uncle-al3854@cogeco.ca>




Sent: Tuesday, September 11, 2007 12:14 PM


Subject:

Finally, something useful about Jet Skis!



Hi Al

So whatever happened to

Wildwood

you might ask? Well, she is still alive and well and enjoying a very busy summer of sailing on the head pond in Mactaquac New Brunswick.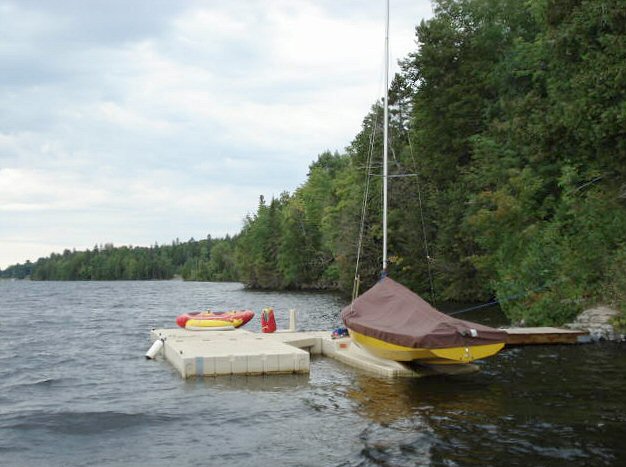 And now for something completely different. Attached is a picture of

Wildwood

sitting at her (and our) new home. I made the discovery that a Wayfarer hull fits perfectly on an EZ Dock "EZ Port III" Jet ski (PWC) lift. I just roll her on and off and it keeps her wooden hull high and dry. Pretty cool.

I'm not much of a fan of jet ski's but, this jet ski lift works the very best for a Wayfarer.

Maybe another sailor out there will find this useful.

I hope you are having a great sailing season.

Cheers.



Kev



W1071

Wildwood






----- Original Message -----




From: "Al Schonborn" <uncle-al3854@cogeco.ca>




To: <Kevin Pegler (W1071)>




Sent: Monday, October 15, 2007 9:41 AM





Hi, Kevin:





Sorry to be so slow in getting back to you. My excuse is that times have been busy and that I saw your excellent docking hint as not only WIT material but also something to help me launch the fall Weekly Whiffle season. Your info will go into next Monday's edition and later today, on the WIT.





Glad you had a busy sailing summer in Wildwood, as we did in SHADES - a fine year it has been, too!!. Are we going to see you at the Rally, Agu. 9-16 at Hermit Island? It would be a (relatively) short haul for you guys!! Campsites are being snapped up already - check the Wayfarer events calendar for details.





Hi to the family!! Best regards,





Uncle Al (W3854)