Uncle Al's
Pictorial Pearls of Wisdom
from the North Americans
a potpourri of educational items suggested by the photos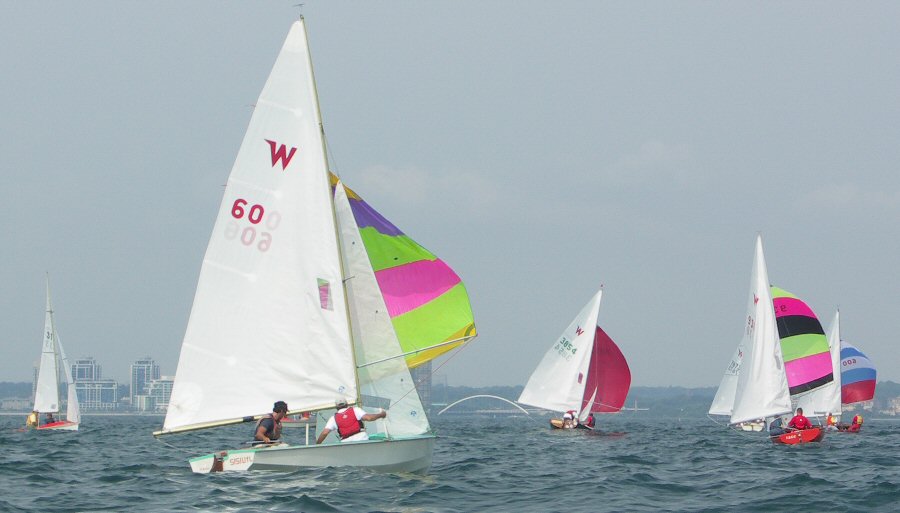 And a lovely, fast set it is, too, for W600! The waves don't look like much in the photo but the mast angles show that we

were

bouncing around a fair bit. Al and Marc (3854) are pulling out all the stops by taking down their jib here.
...


Al (nearly new red Mike Mac chute) has his jib down and is sticking to the rhumbline to sail the shortest distance that he can.


...

Having done his "zig" out to the right, Tommy (60) now "zags" across on port. He and Stefan will have to gain a lot of speed to make up for the extra distance they are sailing, and at near hull speed, that'll be tough to accomplish - unless they can actually plane by going this high.


...

Al (red spi) meanwhile has gotten near enough to Heider to attempt to take his wind, and will now put his hull to leeward of Heider's while heeling way to windward to leave his sails where they can still block Heider's wind from very close astern and still not risk running into Heider's transom should the latter suddently slow down due to blocked wind - a clever trick that Marc learned while sailing 470's in his misspent youth in Jamaica. By doing it this way, Al is also able to block Heider from gybing.


... ...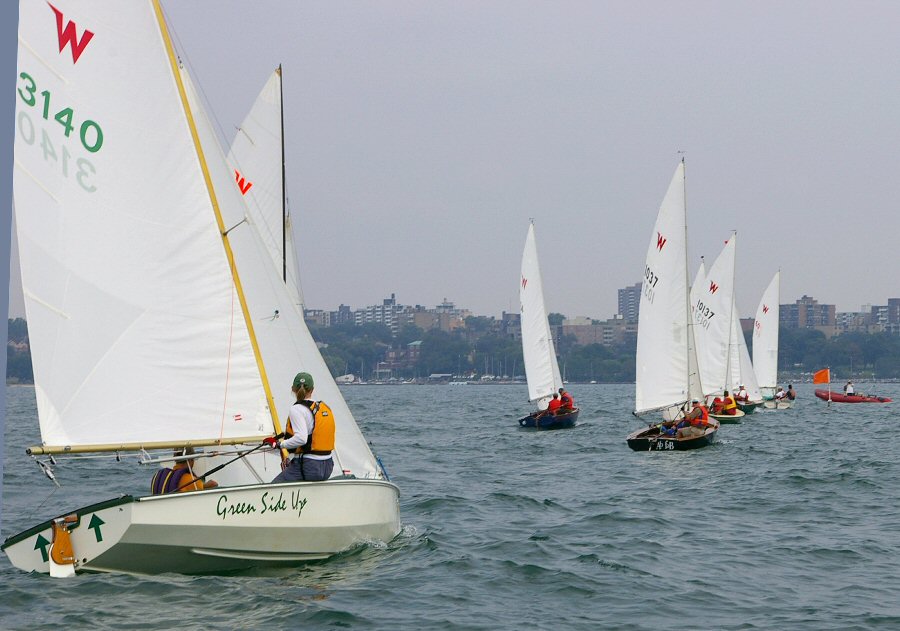 About two seconds before the start: A major back during the final two minutes of the countdown has really favoured the pin end to the extent of making the line hard to cross on starboard. Al (behind Tommy near the pin end) is about to put the helm down and tack to port. Once Al has started his tack, Alastair, half a boatlength off Al's transom, won't be permitted to make any course change that prevents Al from keeping clear (rule 16) - not even to luff up to cross the line. The start gun went as Al was tacking, and Alastair grumbled but did not protest. It was indeed a win-win situation since Al's tack got Al what he wanted but also left Alastair in clear air as Al's tack removed a source of backwind that would - given Al's ability to pinch - have buried Alastair at this crucial juncture of the race.


...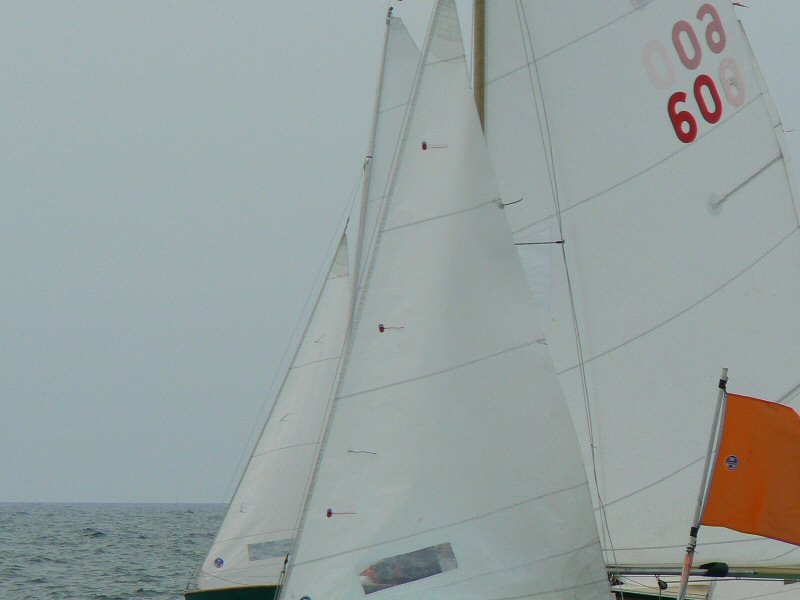 It was hard but not impossible to cross the line on starboard: Tommy (60) once more gets

the

start - or

doe

s he??!! The

real

key to this start was that the late shift had made it possible to virtually lay the windward mark in one tack on port, and the #1 priority now was to get onto port tack as fast as possible since any time spent on starboard might well end up being wasted time. Above, you can see the bow of Al's

SHADES

already tacked to port.

...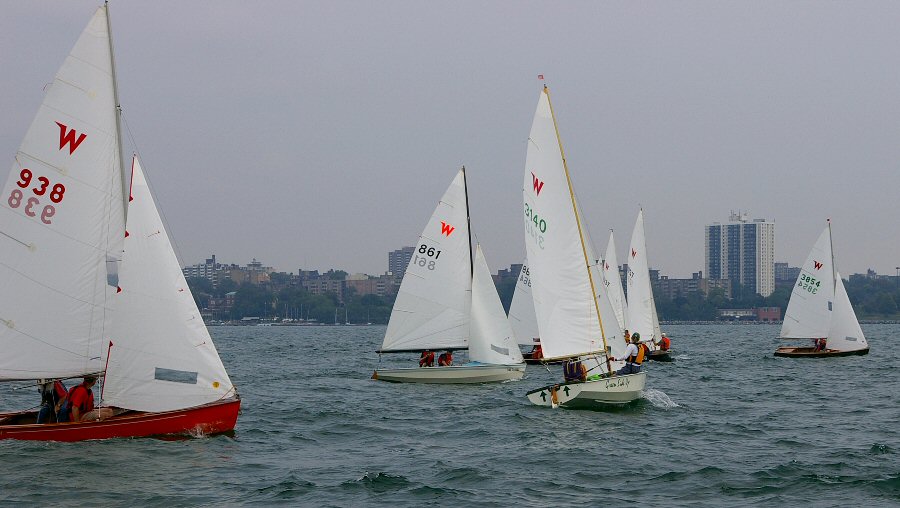 Al and Marc (3854) are off on port, laying the mark, while even those with the best pin-end starts are now trapped on starboard by others on starboard astern and to windward. We could, of course, have settled for a start near the unfavoured RC boat end and tacked without undue stress or excitement but look where that approach has left Hans (938)!! This is where the race was won: Marc and I ultimately fell about 50 yards short of laying the mark, but most of the others leaders had to sail much more than that on starboard before they finally managed to tack, and anything more than that 50 yards was pretty much wasted distance.

...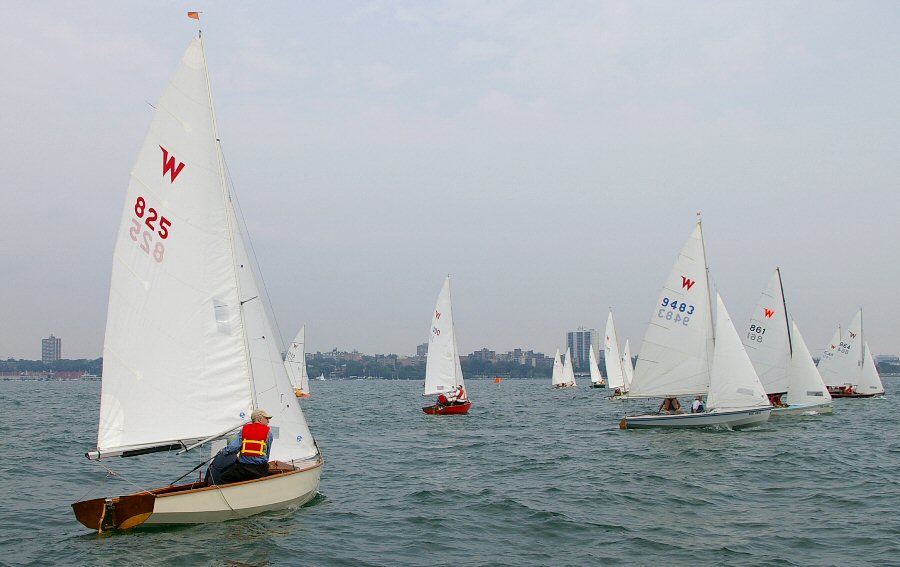 View from the RC boat: This photo illustrates graphically what is meant by the advice "Keep your eye on the big picture!" Less than half the fleet seems to have realized (or care??!!) that we can (more or less) lay the mark on port tack.
...

This shot illustrates boats trapped on starboard tack: Kit (1037) will starboard Alastair (10137) if the latter tacks, so Alastair feels trapped on starboard. By continuing on starboard, Alastair does the same to the boat to leeward of him, and that boat is turn keeping Fred (7379) from tacking. Tommy

(l)

has benefitted from his great start and tacked to port. He'll likely just nicely lay the mark, but he's already on the lay line with nearly the whole beat to go - a dangerous place to be!!

...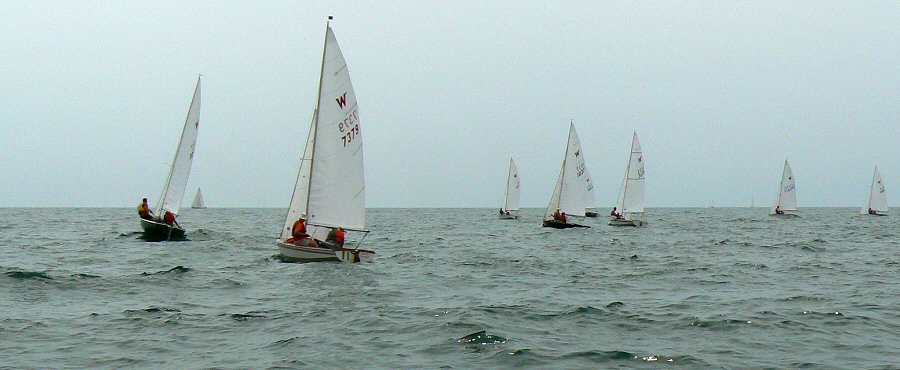 It looks like Alastair

(l)

and Fred (7379) have gone too far left. This is a classic case of

Avoid the lay line as long as possible!!!

And with the wind having skewed the course so badly, the port lay line is virtually the line from the start mark to the windward mark. Which is why Al and Marc were so desperately eager to tack right at the start!

Unless Fred and Alastair get a better breeze of their own (or a known advantage like the George Blanchard shift - not applicable here, with the wind veered this far towards the south), only bad things are likely to happen to them out here on the lay line:

1. if there is a port lift for all boats, the boats to leeward and ahead will easily lay the mark and get there well ahead

2. if there is a port knock for all the boats, the boats to leeward and ahead will be able to tack and cross

3. if any of the boats slightly ahead decide for any reason to come out to where Alastair and Fred are, they will likely tack on Alastair's/Fred's wind and leave them to sail in dirt all the way to the mark or force them to throw in two more tacks and the wasted distance sailed between those tacks.

...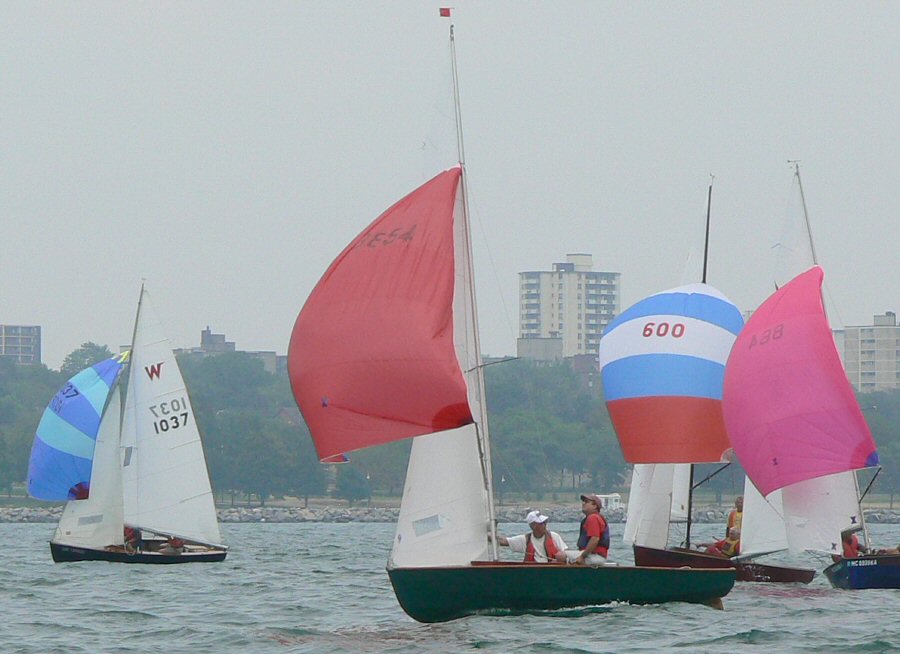 Note how the two veterans, Heider and Al continue to make every effort to sail the rhumbline, although we

were

more than willing to surf down any suitable wave. Note also how Al is looking astern to see if he can spot any juicy gusts coming - hard as that was in these waves. He should really stand up to look for wind on the water!

...

A poorly planned rounding for Peter and Nick (off the end of Heider's boom) has left them wallowing
and may well let Tommy (60) cut inside and pass them.


...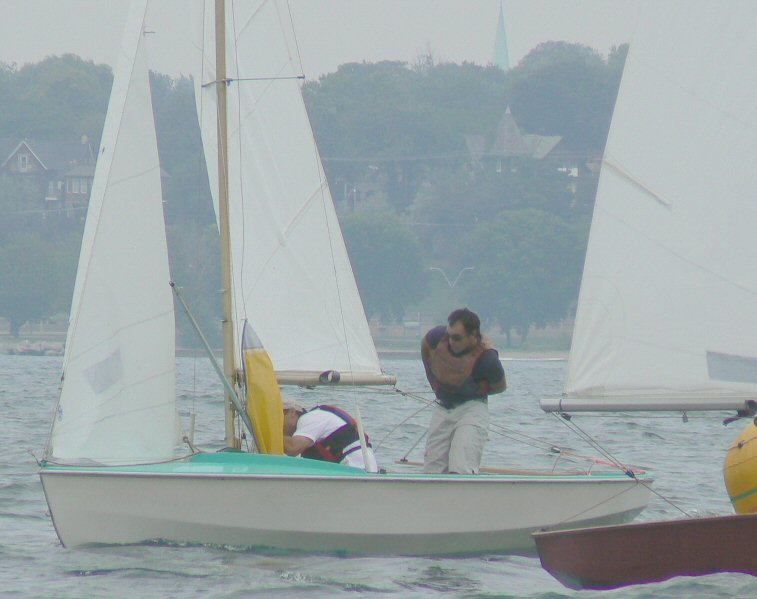 Busier than a one-armed paper hanger would describe Tommy Wharton and his crew, Stefan Larson, who are having to do a last-second spi douse and an almost 180° turn at the mark. Right here, Tommy has a split second in which to judge whether he can sneak around the mark ahead of Nick and Peter

(see previous photo)

who probably don't have to give him room but who may not be able to get there in time to cut Tommy off!

...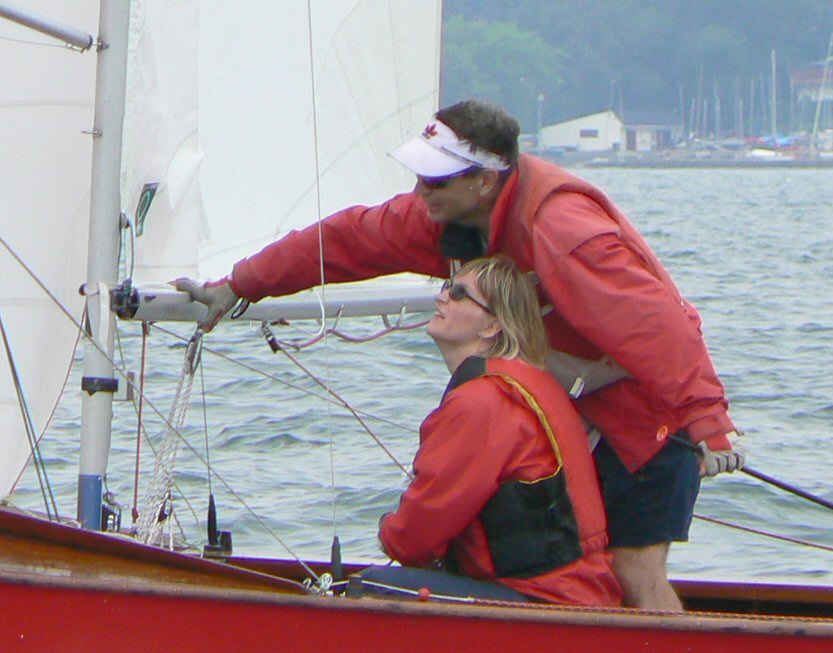 Perfect form for the Kozaks: While Linda gives the spi her entire concentration,
Peter holds the boom out and stands so that he can easily adjust the heel to minimize helm.
...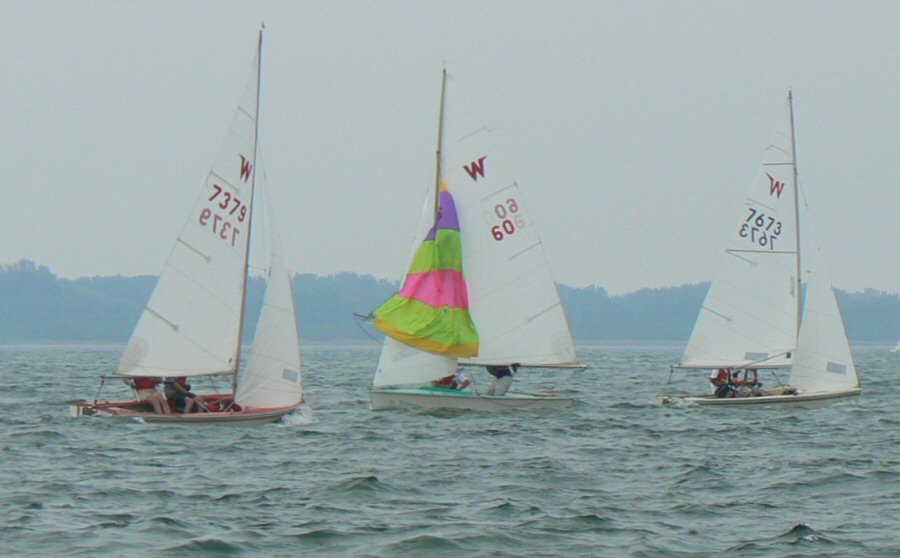 Our leader, Tommy (60) is being careful not to change course in such a way that Fred (7379) cannot keep clear.
...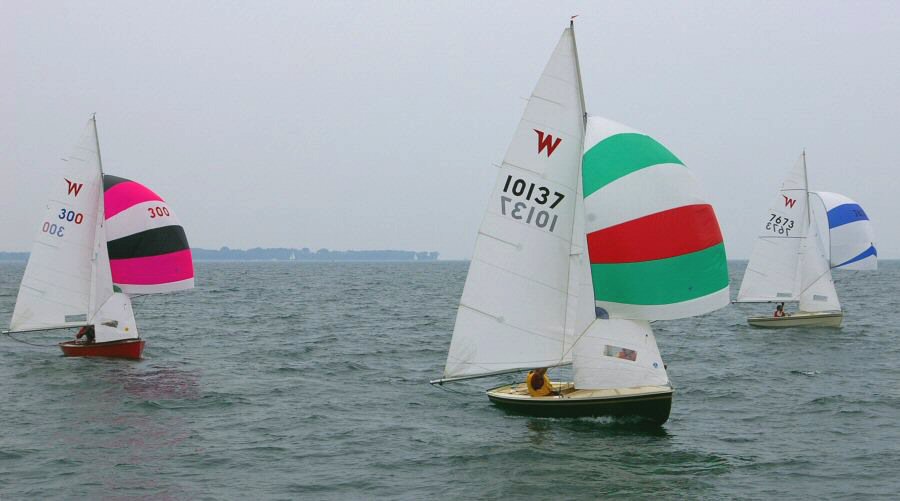 A close three-boat race here. Note how nicely Alastair (10137) has placed himself in the gap between Peter (300) and Mark (7673) so that he will keep his air clear or even pick up a little funnelling effect between the two boats astern.