----- Original Message ----
From: "Balint, Bridget Kennedy"
To: "
rmharrington@sbcglobal.net
"
Sent: Wednesday, October 10, 2007 5:56:49 PM
Subject:

Wayfarer launching from hoist?
Hi Dick,
Mike Anspach sent me your e-mail address, and suggested I get in touch with you about my launching question. I am a brand-new Wayfarer owner, and I have just brought the boat to a club on Lake Lemon in south-central Indiana. There's no ramp, just a hoist, and I'm trying to figure out what the best procedure for hoisting the boat would be. Other boats that use the hoist have bridles specially made for them, but there aren't any local Wayfarers that I know of. The club does have a simple sling I could use, but it doesn't look very substantial, and apparently finding the exact balance point of a boat is tricky - so I'd really prefer to have something that attaches at 3 points. Any advice you could share about hoist launching and
how I might get the right kind of hoisting bridle would be greatly appreciated!
With best wishes,
Bridget Balint (W4098)
----- Original Message -----
From: Richard Harrington
To: Balint, Bridget Kennedy
Cc: Al Schonborn
Sent: Wednesday, October 10, 2007 10:02 PM
Bridget,
I'm copying Uncle Al, the "Mr. Wayfarer" of North America in case you haven't heard yet.
As you've already concluded, a three point sling is what you want. The forward lifting points should be on the same lateral plane as the shroud chain plates. This puts just enough weight aft to keep the boat stable while lifting. I have a wooden Wayfarer that has the lifting lugs permanently installed. However, since the framing is totally different none of that is of any help to you, assuming your boat is fiberglass.
As a temporary solution for glass boats I know of people who've attached shackles for a sling in the shroud to chain plate pins and then take a line back to the mainsheet traveler on the transom. This is okay but not a good long-term solution as there are bending and twisting forces at the chain plates which will eventually damage these parts and using the traveler as a lifting point is equally inadvisable. What I would suggest doing for the long run is epoxy in solid blocks of oak (or something equally strong) beneath the side decks at the chain plates and through bolt sturdy lifting eyes. You can do the same aft at the base of the floatation tank bulkhead. Be sure to use good size blocks so that the load is well distributed.
Regarding the sling, try out a rope sling first in order to get the proportions right. Sometimes the clearance between the boat and the high point of the hoist is such that the lifting ring on sling needs to be fairly close to the boat in order to lift the boat clear of the trailer. Don't assume it will work until you've tried it.
Hope this helps.........DICK
From: Al Schonborn <
uncle-al3854@cogeco.ca
>
Date: Wed, 10 Oct 2007 23:36:57 -0400
To: Richard Harrington , "Balint, Bridget Kennedy"
Hi, Bridget:
Welcome to Wayfarers! It's great to have you with us!! Dick's advice is good - though I believe you already have the three lifting points you require, none of which should have to bear a load of more than 175 to 200 pounds: what we used to do was use a good strong, stainless steel shackle such that its shackle pin does double duty by replacing the pin that currently holds your shroud to its chainplate, i.e. you attach the shackle to the chainplate by putting its pin through the chainplate hole and the shroud turnbuckle (or shroud plate) holes. The curved part of the shackle should of course face towards the centre of the boat as you will be snapping the hoisting bridle to these shackles using a strong snap hook or snap shackle like the one pictured below: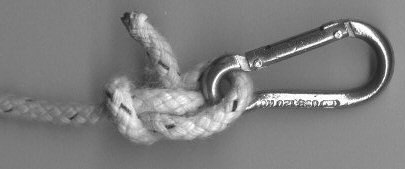 Your aft attachment point should already be there in the form of your hiking straps attachment point (provided it is solidly anchored on or near the aft bulkhead - this should certainly be strong enough to bear 1/3 of the weight of an empty Wayfarer since it is made to hold a good heavy crew). Like Dick, I recommend starting with a 1/4" rope bridle until you have the length to your satisfaction and then get one made from 1/8" stainless steel 7 X 19 (halyard) wire.
Do stay in touch. Best regards,
Uncle Al (W3854)