Subject: lighting the night-time Wayfarer - a query from Cyprus brings a variety of responses


----- Original Message -----

From: Richard in Cyprus (W5386)

Sent: Saturday, April 25, 2009 10:26 AM

Subject:

Navigation Lights on a Wayfarer




Hi Uncle Al

Looking through the new home of the WIT, I cannot see anything related to navigation lights for a Wayfarer. Last year by accident on a day cruise [part over-estimated time for the trip, partly forgot about a clock change] I ended up sailing/motoring by night.

It actually looks enjoyable to do some sailing by night - over the winter I did my RYA Day Skipper Course and part of the practical involved about 3-4 hours of night sailing which was very enjoyable so want to do the same with my Wayfarer this summer.

Apart from the ambiguity in ColRegs over navigation lights for small boats the size of a Wayfarer [which I won't touch] I am thinking of tricolour masthead and separate white steaming/anchor light.

In each case what I'm thinking of is the Nasa Supernova LED lights mounted on top of a pole slightly shorter than a whisker pole, with guides that would fit into the mainsail mast track - thus when hoisted, the light should be oriented correctly by the sail track. The pole would have some sort of mounting to take the shackle from the
main halyard and at the bottom of the pole another shackle to take the mainsail. Thus the Nav lights would be on a pole which in turn means that the mainsail would always have to be reefed [not a bad idea for night sailing in a Wayfarer in my opinion].

Then I am also thinking of putting 2 or maybe 3 self-lighting keyrings on the boom so that crew and helm are aware of where the boom is when it's dark.

As I said... I haven't seen anything in WIT about sailing by night. are there any articles about this?

Regards



Richard






----- Original Message -----

To: Richard

Cc: Ken Jensen (W1348) ; Ton Jaspers (W10445) ; Ralph Roberts W9885 ; Dick Harrington W887

Sent: Sunday, April 26, 2009 12:26 PM




Hi, Richard:

You are right. The WIT has no navigation lights information - yet! You are the first one who has raised the matter. I will copy a few of my favourite resource people who should be able to give informed views. Then we can add the results to the WIT. My own navigation lights knowledge is nil, I'm afraid.

Best regards,

Uncle Al (W3854)

PS: Where do you sail? In the UK, I assume, given that you did an RYA course. My home base is just west of Toronto, Ontario in Lake Ontario.





Original Message -----

From: Richard

Sent: Sunday, April 26, 2009 2:42 PM




Hi Uncle Al

On 26 Apr 2009, at 19:26, Al Schonborn wrote:
You are right. The WIT has no navigation lights information - yet! You are the first one who has raised the matter. I will copy a few of my favourite resource people who should be able to give informed views. Then we can add the results to the WIT.
I was quite surprised there was little about sailing by night in the cruising section. I did eventually find one sentence in the Philips cruising book, saying
According to Canadian Coast Guard Boating Handbook, these lights are not required by boats under 7 metres long; but a white light must be shown in the direction of an approaching vessel "in time to prevent a collision"
. But this is Canadian Coast Guard rather than International ColRegs, and it is exactly the ambiguity I referred to.
PS: Where do you sail? In the UK, I assume, givden that you did an RYA course. My home base in just west of Toronto, Ontario in Lake Ontario.



No, Cyprus... we emailed a year or so ago when I was asking if you knew of other Wayferer sailors in the area. Hence balmy summer evenings where sailing is warm and pleasant.




We can do RYA courses here in Cyprus quite easily - they are preferred over the Greek sailing courses. Actually the Greek courses seem to have better books, but the RYA courses are better overall. Since I don't speak Greek, the Greek courses would have been useless to me!




Kind regards




Richard



... Ton Jaspers suggestions with Richard's responses:


Original Message -----

From: Richard

To: Wayfarer

Cc: 'Al Schonborn'

;

'

Ken Jensen (W1348)' ; 'Ralph Roberts W9885' ; 'Dick Harrington W887'

Sent: Sunday, April 26, 2009 3:39 PM




Hi Ton, Uncle Al

On 26 Apr 2009, at 20:56, Wayfarer (Ton Jaspers) wrote:
I have added a cheek block to the side of the mast near the top. A line through it can be used for a variety of purposes. To name just a few:

- A topping lift to keep the boom from fouling the helm while motoring.

- A means of hoisting a string of cheerfully coloured flags while sailing

- Hoisting a light source while night sailing

- Hoisting unwilling crew......
Yep, already have the topping lift... I'll add an extra use for your list... for taking masthead photographs... [see
http://wayfarer-cyprus.blogspot.com/2008/11/1-november-2008-unexpected-night-sail.html
which is the story of my first night sail but also includes a masthead photograph using the topping lift]
On top of that I always carry a waterproof electric (halogen) flashlight. It is made by Maglite and can withstand a lot of physical

abuse.
A lot; but I've managed to abuse my Maglite enough for it to stop working... but then I've used my Maglite for years in the TV industry... and this one has done about 15 years I think!
With this, I light my sails if I suspect an approaching vessel did not see me. I also point the

M

aglite at the steering position of the approaching vessel to attract attention. Usually this is not necessary, for most of the time we sail in waters where large ships can't go.
I'm often crossing a harbour entrance in Larnaca and in Limassol [where I did my RYA Day Skipper Course] I was sailing in a VTS where they are pretty strict.
I would do the same with a bright torch too. However, as my son [an Able Seaman on a 6,000 tonne ship and who does night watches] pointed out to me, depending on how bright the torch is that possibly wouldn't do the night vision of the watchkeeper on the ships much good. Hailing the ship on VHF channel 16 would probably be useful... now if only my VHF would do AIS also so that I can get their MMSI that would be even easier ;-)
Finally, there has been a discussion on this subject on the UKWA forum and there were some links mentioned to new LED navigation lights. When I checked them out it soon became clear that these LED lights must be mounted on a bracket for only when they are perfect in a horizontal plane they would meet navigation light minimal

distance

requirements. LED's can be very bright but they also have a small opening

angle. If you bundle a conventional bulb with a parabolic mirror you would get about the same amount of light as with LED's

from the same current draw. I believe LED's have the future but the future is just not here yet. Anyway, here is the link:http://www.wayfarer.org.uk/forum/viewtopic.php?t=541
The Nasa Supernova claim 'Night time visibility - 2 nautical miles minimum (25 degrees above and below the centerline)', which means so long as we are heeling less than 25 degrees we'd be OK. You are right about the conventional bulb with parabolic reflector - but then that would have the same problem with being only 25 degrees[ish] viewable.
I was not so concerned about the horizontal angle of the LED lights - which are designed for yachts heeling over anyway - but the way to keep a tricolour vertically oriented, hence my thought of a pole with fittings into the mast track hoisted above the main sail and only sail reefed.
Personally I would not bother with three colour lighting. It is just too troublesome on a W and it brings nothing extra over a white light. On a W, only simple solutions work.
I agree with the KISS - simple solutions on a Wayfarer. The problem with a single light hoisted as you suggest which, while complying with ColRegs 25 (d)(i), is ambiguous and could also imply the Wayfarer is complying with ColRegs rule 23 (d)(i) ie is a motor vessel rather than a sail vessel. One thing our Day Skipper course was quite strict on was the different rules between different types of vessel... as the Ousso disaster showed... especially after dark. If we want to comply, we should be following rule 25 (d)(i) which suggested IF PRACTICABLE a 3 way light OTHERWISE a torch or lighted lantern showing a white light. So although it's quite OK to do the simple hoisted white light but would create exactly the ambiguity we wish to avoid of being a thought of as a motor vessel.
There is some discussion at the moment [following the Ousso disaster] about 'defensive sailing' and I have discussed this with some commercial captains who are not all that happy with the concept of 'defensive sailing' as it creates exactly the ambiguity ColRegs seeks to make clear. Despite that, I think I would tend towards 'defensive sailing', which was actually what we did on the RYA practical course anyway!
Kind regards
Richard
... and from Ralph Roberts:
----- Original Message -----
From: Ralph Roberts
To: Richard
Cc:
'Al Schonborn'
; 'Ken Jensen (W1348)' ; 'Dick Harrington W887' ; Wayfarer
Sent: Monday, April 27, 2009 4:22 AM
Richard,


I'm not sure my imput to this discussion will be of great value, since you are obviously far more aware of the official regulations than I am. I always understood that an all-round white light is all that is needed for a 5m vessel like a Wayfarer, and is therefore all that I have used on each of my North Sea crossings. It was a standard 12v light designed for yachts, for which I made a special fitting to (permanently) fix it to the very top and front of the mast, and I powered with a m/cycle battery, secured to the base of the mast. If I were doing another trip, I would certainly look into using LED lights, since this would save adding a heavy 12v battery to the already considerable amount of gear that is loaded aboard for such a trip.
With regard to the defensive sailing issue, this is always something that I have practised, but I do make sure I make an obvious change of course away from the impending collision route, so that the ship is aware that I am taking the responsibility for avoiding a collision.
As I try to file all correspondence, it would help me if you could let me have your surname, together with the country you are based, if it is not in the UK. As the International rep, it is certainly helpful for me to know of any overseas contacts.

Best wishes, Ralph
Richard L. responded:
Last year I had an argument with one of the glass-bottom tourist boats in the bay. I was stand-on boat under sail, but they under power, and with no restricted navigation problems just loudly used their horn to tell me to get out of their way... which I did since they were making it obvious they had no intention of changing course... to roars of laughter from the drunken passengers on the boat. Moral: Never debate ColRegs with a boat load of drunks!
Best wishes, Richard
----- Original Message -----
To: Ralph Roberts ; Richard
Sent: Monday, April 27, 2009 3:13 PM
Richard,
I'm in solid agreement with Ralph, having mostly done my night sailing on the Chesapeake Bay and the Great Lakes, plus having used the masthead light when anchored where there might be night-time power boat traffic. For Wayfarer-size sailing vessels, the 360° white mast head light is legal in the US. Even motoring, I would do the same -- though technically it is not legal. Simplicity is very important when cruising.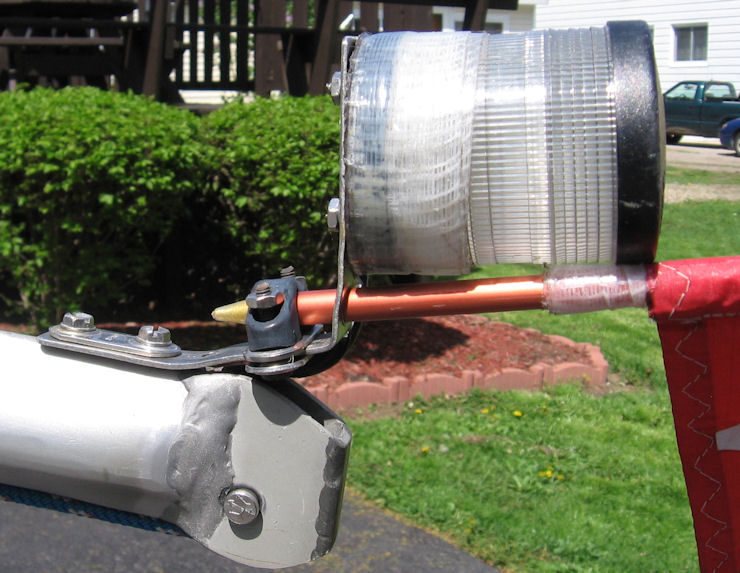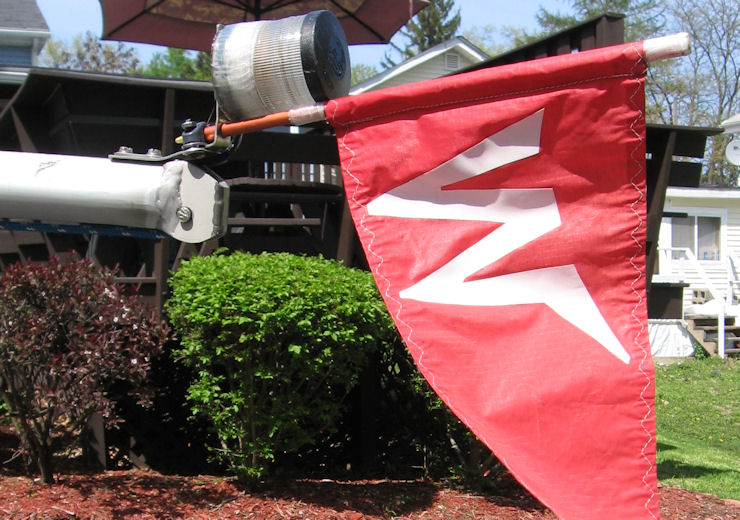 The clear globe is mounted on an SS angle bracket at the top forward face of the mast. I recently replaced the guts with a clear LED lamp. The wire runs inside the mast, exiting at the base and has a simple 2-prong automotive type connector that mates with a connector on the 12V-battery. No switches to corrode! Just connect the leads when needing the light. Keep a dummy connector on the battery lead for protection when not in use.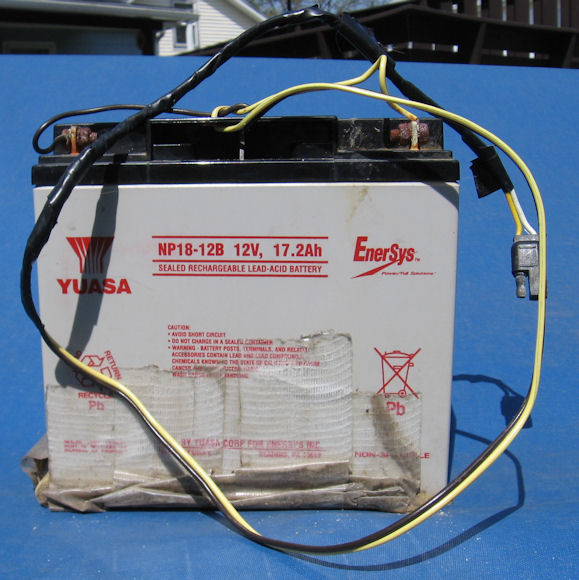 I use a long-lasting, totally sealed hi-tech battery that is designed for use in hospitals for backing up critical electronic monitoring systems. They are very compact and last for many years!

DICK








Richard responds:




Makes sense - and was one of the ideas I started with but had discarded because of not being able to be seen from the stern. There's a fair amount of fishing boat traffic about round here, so a single 360 would generally get thought of as a motorised fishing boat. However, it sounds the easiest to rig permanently and have available. Sounds reasonably economic, too. Did you use one of those masthead lights that normally takes a festoon bulb but can be replaced with a LED festoon?




Do you use a radar reflector too?




Richard





Dick:


The original light fixture was a cheap plastic device intended for small boats. I bought the 360° white for the masthead and a combination red/green to attach in front of the mast. They took 12V bulbs. (Normal yacht lighting fixtures are pricey and not really suitable for a 16-foot sailboat.) Very quickly, I abandoned the red/green....too complicated. The bulbs were always a problem because of vibration when traveling on the road....mostly they would fall out of the socket--they weren't screw-in type bulbs. Later I found an LED lamp fixture in an automotive store that I disassembled and was able to re-fasten inside the cheap plastic fixture--can remember the minute details now. I figured if LED's work in trailer lights, I'd give it a try. At night the light looks pretty bright to me....much better than the old situation when I never knew if the light would show up.

If I had to make a choice between a radar reflector and night lights, I would go radar reflector. The bigger boats are going to see the radar reflector before lights. The small high speed night time drunks aren't going to see either one...you're screwed regardless.

DICK