Uncle Al wrote in Feb. 2010:

Hi, Ralph and Ton:

I was just editing some Midwinters pics and they brought to mind a neatly removable masthead buoyancy system that I saw on LESC Commodore, June Howell's MC Scow: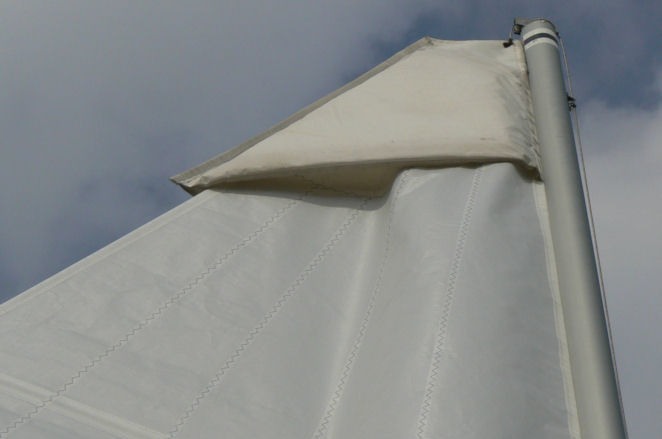 When I saw June just slipping this whole unit over the head of her main, which I amazingly refrained from comparing to a condom, I rushed to get my camera. Unfortunately, the main was hoisted by the time I got back (see pics) so I did not see exactly how both main bolt rope and the sleeve manage to go up the mast together. If this is news and useful to you guys and the intrepid European W cruisers, I did learn before June cast off that North Sails (St. Petersburg, I assume) will make these for any class of boat that desires them. FYI...

Best regards,

Uncle Al (W3854)

It's easy to make your own says Glenda Libby who sails out of the Lake Eustis SC, home of our Midwinters:

----- Original Message -----

From: Libby, Glenda

Sent: Monday, February 15, 2010 8:34 AM

Good Morning AL…

I made one for my boat and designed a pattern which I gave to June. They are very simple to make and I just used a piece of children's skimboard closed Styrofoam. It can be made for any sail for less than $10 and a little time and WORKS GREAT!





----- Original Message -----

From: Gary Hirsch W1321

Sent: Saturday, February 13, 2010 9:48 PM




Al,

Here is a similar float. It may not be as efficient while sailing (air flow), but I had not seen the other option and decided to give this a try. I recently received it from Annapolis Performance Sailing, but have not tried it out yet. Too cold to set up the boat right now.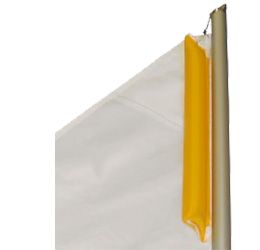 Mast Float for Top of Mainsail

APS part number: EX2600 Cost: $67.00


http://www.apsltd.com/p-2072-mast-float-for-top-of-mainsail.aspx

It isn't boat specific and like the one you saw, it does run up the sail track with the main. There is a tube on each side of the sail that holds air.

Gary (W1321)




... from Richard Watterson (W10423):




----- Original Message -----

From: richard watterson W10423

Sent: Saturday, February 13, 2010 11:05 PM




I've used a 2 gallon bleach bottle before, what's the diff? (except the $$$)






... and from André Girard (W3098):




----- Original Message -----

Sent: Sunday, February 14, 2010 10:49 PM




I have wanted to have a mast head floatation device for a while, so now is definitely a good time to go for it.

First I had to decide which one of the three models I would select.

The first consideration being safety, I have first done a comparison of the buoyancy of the models proposed. I arrived at the following values:
A 2 gal bottle (Richard's suggestion) has a buoyancy of 7.6 L or 16.7 lbs
From the values given by Tom on his drawing, the slip-on masthead model would have an approximate buoyancy of 8.0 L or 17.6 lbs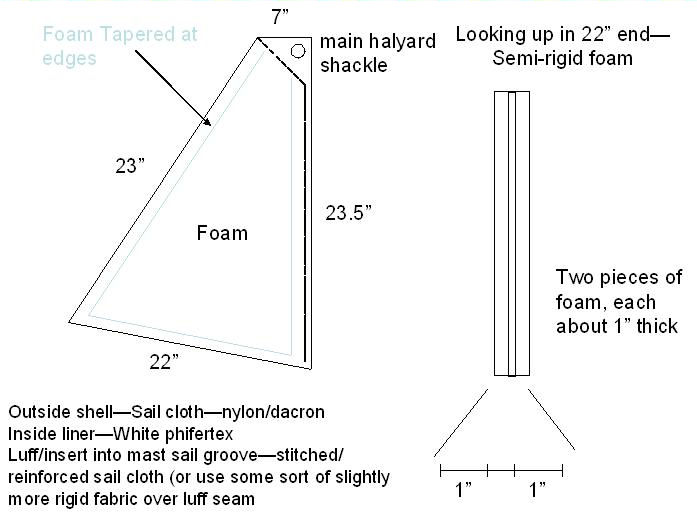 The APS mast float proposed by Gary has, from the APS litterature, 8 L of buoyancy, i.e. 17.6 lbs of buoyancy.
Considering that all three models have approximately the same buoyancy, the decision will be based on cost, ease of use and aesthetics:
As far as ease of use is concerned, all three models seem very easy to use, the empty bleach bottle being the easiest since it would simply be tied to the head of the mast with a knot
Costwise, the bleach bottle is definitely the cheapest, followed by the slipping mast head model (but you have to make it yourself), the APS float being the most expensive.
Assessing the aesthetics is much more difficult as it is fairly individual. In my opinion, the APS float would stand out with white sails and would rate last from the aesthetics point of view. The slipping masthead model is neutral. The bottle of bleach is also fairly neutral if it remains white but it also offers an infinite number of possibilities for decoration. An interesting way to do it would be to put a decal or paint it in a way that would identify the boat as belonging to the Chesapeake Wayfarer cruise.
Taking all this into consideration, I will probably go for the white bleach bottle, but I certainly would be open to any suggestion to make it more aesthetically pleasing.

André





... to which Tony Krauss (W4105) replies:


André,

i certainly admire your sense of aesthetics.

-tmk




----- Original Message -----

From: richard watterson

Sent: Monday, February 15, 2010 10:11 AM




Bravo, André! Your decorating idea is brilliant. Perhaps we can have a competition with artist Pauli as judge?






... but wait! There's more - from Richard Johnson (W10339):




----- Original Message -----

From: Richard Johnson W10339

Sent: Wednesday, February 17, 2010 8:23 PM




Dear Al and Ralph,

Unfortunately there is a 4th option. It is the humble pool noodle. I have placed a small eye strap at the top front of my mast and then another about 3 feet lower. Between the two I place a pool noodle threaded with a bungy cord. The advantages are color coordination, keeps the floatation at the top of the mast where it is needed, even when reefed, and does not seem to mess with the air too much. Also it stays out of the way. I think my total investment was about $5.00. I would not use it for racing but have used in when cruising with my daughter.

Cheers,
R Johnson
W10139



... all of which elicited contributions from Ralph Roberts (W9885) and Ton Jaspers (W10445) as follows: