A Frank Dye Saga*
by Bill Fyfe (W937)
(* saga: medieval tale of Icelandic or Norwegian heroes)
During the month of September 1999, Frank spent the time sailing/rowing on the Rideau Canal, and did some visiting in Ottawa. Some Ottawa Wayfarers had a chance to meet with Frank and get to know him a wee bit. I'm going to write this, as Frank might have, using the ship's log method.
Ottawa: Friday 3 September 1999: Receive call from Bob Thompson, W7346. He says he met a little grey-bearded chap in a Wayfarer at Chaffey's Locks on the Rideau Canal. The boat was flying the British ensign from the stern. It was Frank Dye and he was heading for Ottawa.
.....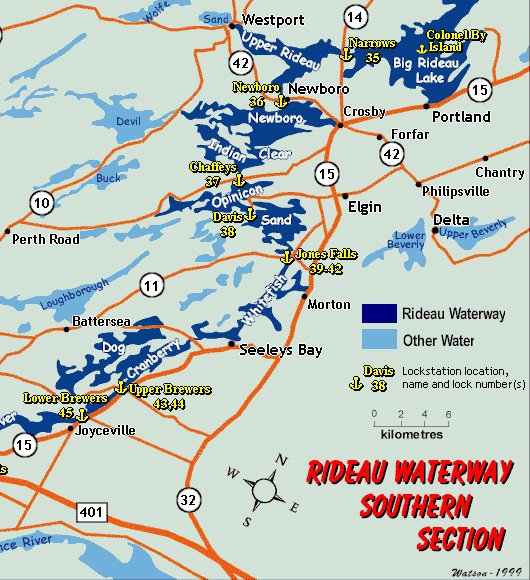 ......

Sun 12 Sept: Starting at 6 a.m., I spent the day looking for Frank on the Rideau Canal system. Drove to Newboro, north of Chaffey's Locks, and worked up the system: Portland, Rideau Ferry and then Poonamalie. Frank had not reached Poonamalie Locks, so I went back to Rideau Ferry Locks. The lockmaster there had seen Frank and said he had left two or three days back. The lockmaster suggested that he call the lockmaster at Beveridges Locks on a spur off the Rideau system leading to the town of Perth. Yes, they had had Frank with them for 3 days, but he had left around 11 a.m. that morning and was headed for Poonamalie!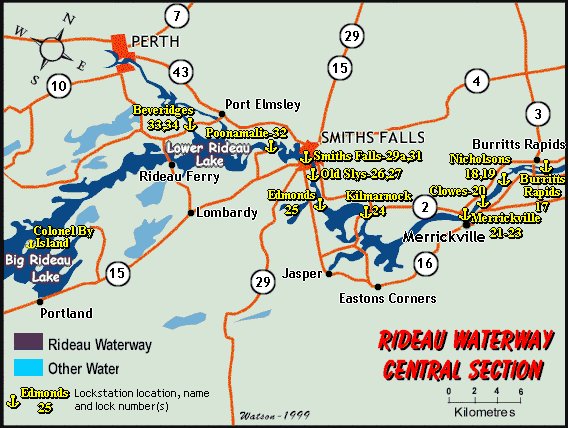 .....

Sun 12 Sept (continued): It's now around 2 in the afternoon. I'm back at Poon but Frank is not in sight. I go for a walk along the banks of the canal and suddenly, there, above the treetops, is the familiar W panel of the Wayfarer. I've found Frank! We spend the rest of the afternoon chatting. Frank says he'll stay overnight at Poon and continue up the canal tomorrow.

.....
(left)
Frank Dye in Wanderer at Poonamalie Locks, Rideau Canal, Sunday, Sept. 12th

(right)
Frank rows Wanderer through the Poonamalie Locks
.....

Tues 14 Sept: Smiths Falls Locks. I meet Frank at 8 a.m. as previously agreed. There sits Wanderer all by herself looking lonely in the rain. We plan to spend the day looking for winter storage for Wanderer. It isn't as simple as just getting storage. The Canadian Customs requirement is that a foreign registered boat may be left in Canada for repairs only. Frank had to produce a work order for work to be done by the boatyard storing his boat.Frank finally settled on Aylings boatyard at Merrickville on the canal system. The owner of the yard produced the necessary paper work for Canada Customs. We celebrate this by going to Smiths Falls for an ice cream cone.
That evening, I phoned Brian McCleery and told him where Frank and Wanderer could be located.

The next portion of this log is based on Brian's narrative:

Fri 17 Sept: I met up with Frank at Aylings boatyard in Merrickville. We had a great afternoon together, had lunch and found an ice cream parlour in town. We arranged for Frank to sail to Kars' Long Island Marina by Sunday. (Brian lives in Kars Village.)

Sun 19 Sept: Frank spent the day with us in Kars. Daughter, Kelly Ann, thinks Frank is great fun. They have lots to talk about and in the village, have time for some ice cream.

Mon 20 Sept: Frank leaves Long Island Marina and sails up the canal to the village of Manotick.

.....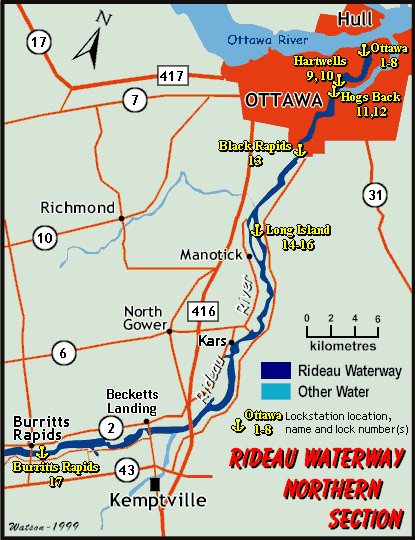 .....

Tues 21 Sept: Black Rapids Locks. Kelly Ann and I meet Frank and we drive to Ottawa to find a Canadian Customs Office. Frank receives his permit to leave and repair Wanderer at Merrickville over the winter/spring season. Then we drop Frank off at Black Rapids for the night.

Wed 22 Sept: I go to Black rapids, and Frank and I sail Wanderer up the canal to Ottawa. We go right through the system to the locks that pass you to the Ottawa River. We tie up on the east side of the canal at the Westin Hotel for lunch. We are greeted from the other side of the canal by Janet Foster, the Rear Commodore of the Lac Deschênes SC. She is having lunch at the National Arts Centre restaurant. She wonders what Brian is doing in a Wayfarer in this part of the city.

Thurs 23 Sept: Frank sailed Wanderer back down the canal to the Hartwell Locks near Carleton University. From here, he plans to visit some friends in Ottawa.

Frank and Bill get back together the following Sunday:

Sun 26 Sept: I pick Frank up at Hartwell Locks. We have a busy day planned. First we go home for breakfast and then it's off to church. Just before the service starts, Brian McCleery joins us. After lunch, we all go to the Lac Deschênes Sailing Club.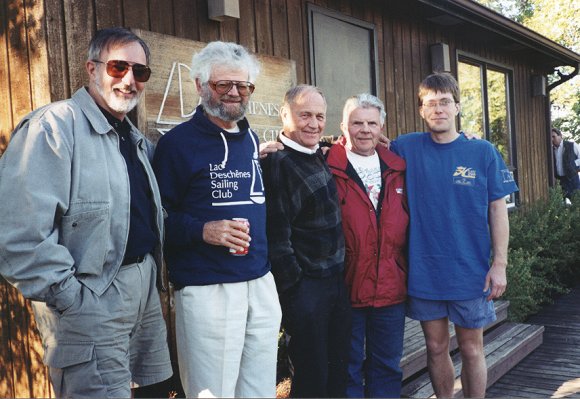 Sept 26th, 1999, Lac Deschênes Sailing Club:(left to right) Robin Allardyce (W6071), Frank Dye, Bill Fyfe (W937), Brian McCleery (W828), Frank Goulay (Wayfarer Man!)
.....
At LDSC, we rig Walrus (ed. note: Bill's beautifully rebuilt W937, the 1999 Wayfarer Ontario champion!) and go for a sail. It's a sunny day – wind 8-10 knots. I'm at the tiller with Frank as my crew. Wanting to show off, I suggest we fly the spinnaker. Frank says he doesn't know about spinnakers, so we switch positions and up goes the spinny.
Frank handled the tiller with ease and then exclaimed that he didn't realize how simple it was to work the spinnaker. After we came ashore, Frank pointed out that he had never sailed with a spinnaker before!
Later, we drove back to Hartwell Locks as Frank says he prefers to stay on his boat.

(left) Frank Dye helps to rig Walrus (W937)
.....
Frank Dye waits for Bill Fyfe
prior to sail on Lac Deschênes

Frank is about to board W937 - note the spiffy sailing costume!
.....
Mon 27 Sept: Dows Lake. 7 a.m. Brian McCleery, Frank Goulay and I meet Frank at the docks in order to load Wanderer on my trailer. When this is done, we're off to Merrickville to put Wanderer up in winter storage at Aylings'. After the boat is cleaned and emptied of all the cruising gear, I'm off back to Ottawa while Frank stays overnight in Kars with Brian.





(right) Brian McCleery, Frank Dye and Frank Goulay at Dows Lake on Monday, September 27th.
.....
Tying down Wanderer prior to
trip back to Merrickville
.....

the finishing touches -
note the evidence of a summer afloat!
.....

Aylings' Boatyard: Wanderer clean-up before winter storage after a summer of cruising

Aylings' Boatyard: Wanderer gets her bottom cleaned by Frank Dye and Brian McCleery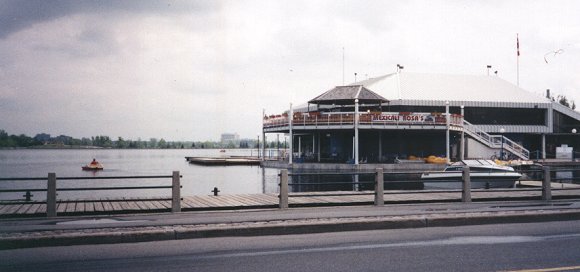 Dows Lake Pavilion, Ottawa

.....

Tues 28 Sept: Brian brings Frank back to Ottawa and he and Frank enjoy one of Dorothy's (ed. note: Bill's wife) delicious dinners. Brian says good-bye to Frank who stays overnight with the Fyfes.

Wed 29 Sept: Dorothy and I had planned to go to Toronto for a visit so it was convenient for Frank to travel with us in order to get his flight back home from Toronto. At about 1:30 p.m., we drop Frank off at George Blanchard's house in Weston.

Thurs 30 Sept: I have no idea how George and Frank spent the day – but they did. (ed. note: George took Frank and Uncle Al to lunch at the Boulevard Club.) Frank boarded his plane at 7 p.m. for his flight back to England.

The period of 8-10 days spent gamming, working and sailing with Frank Dye was an interesting experience. I still don't know what makes the man 'tick'. However, he is fun to be with, has a definite sense of humour, he loves his ice cream, and the Wayfarer is part of him. And by the way, he doesn't think he has an English accent!

Bill Fyfe (W937)