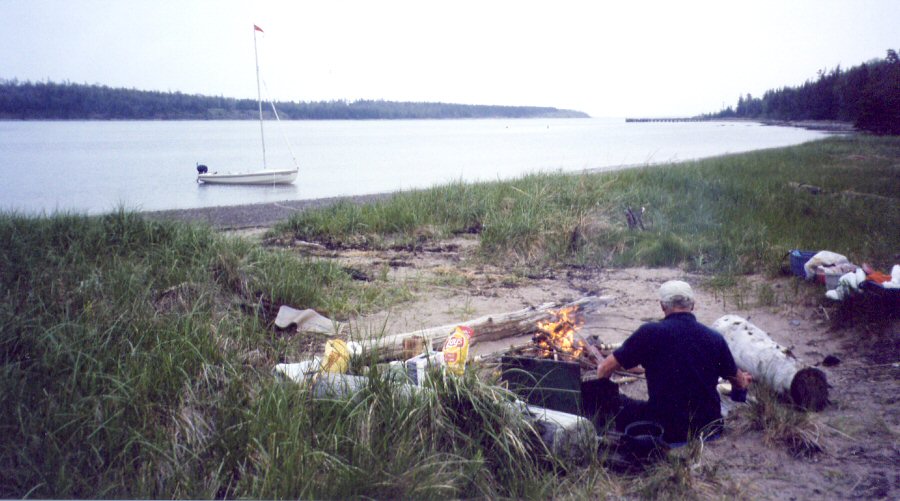 McNabs Island - 2

Day 2:
The next morning we were awoken early by the snarl of huge outboards as sinister black RIBs charged into our bay. Frogmen dived overboard and swam across the bay. The RIBs raced about, creating waves to challenge the frogmen. Two landing craft approached and put landing parties ashore at both ends of our beach. Military bods in white plastic suits with large plastic bags moved towards us along the beach picking things up. Had there been a nuclear incident? Were they closing in on us? Suddenly a tracked vehicle approached through the undergrowth behind us. Trapped!
The French SBS frogmen started doing press-ups on the beach. I watched through binoculars. "Probably not a good idea that," said Jim. Finally the shore parties converged on our Wayfarer. Were we destined for the Foreign Legion? Fortunately they were just doing a beach cleanup! Perhaps the French admiral was coming ashore for a barbie?


We left McNabs Island under sail. There was hardly any wind, but under the eyes of the French and Canadian navies, we could hardly do otherwise. When out of sight, we fired up the motor and headed out of harbour, turning left at Devils Island.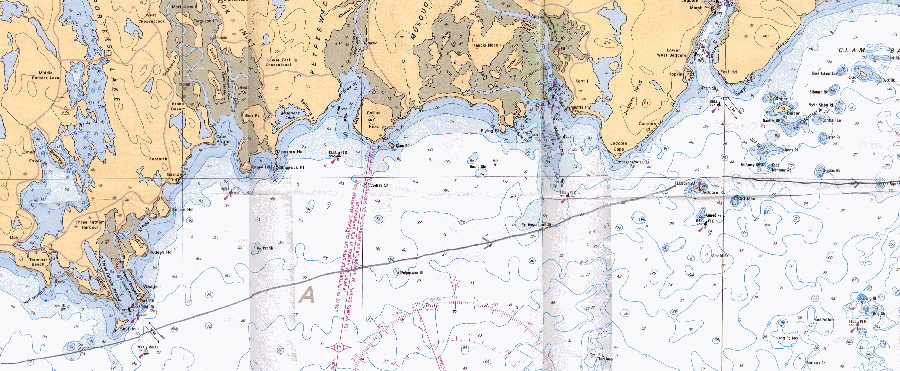 We planned to cruise the Eastern Shore from W to E to take advantage of the prevailing southwesterly winds. Of course, today the wind was easterly, so we motored against it all day, getting through a whole gallon of petrol in Jim's 2hp Honda. Finally, we arrived at Cable Island. The canoe guidebook had suggested this as a good campsite, and so it was. We anchored
Naomi
off the beach. There is only about a metre of tide on these shores.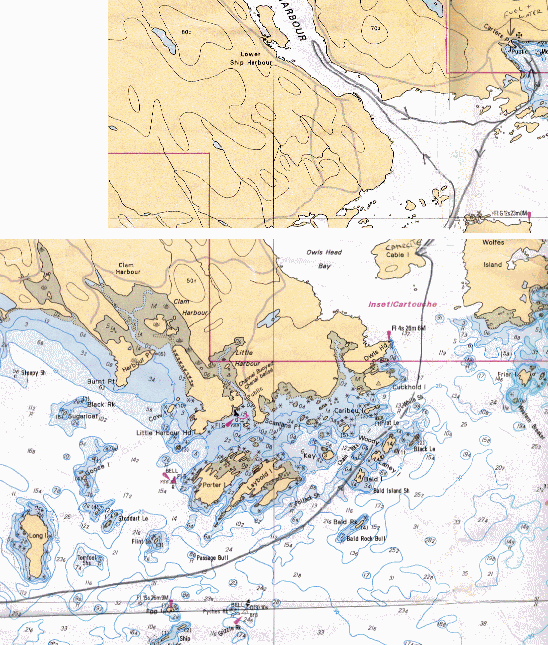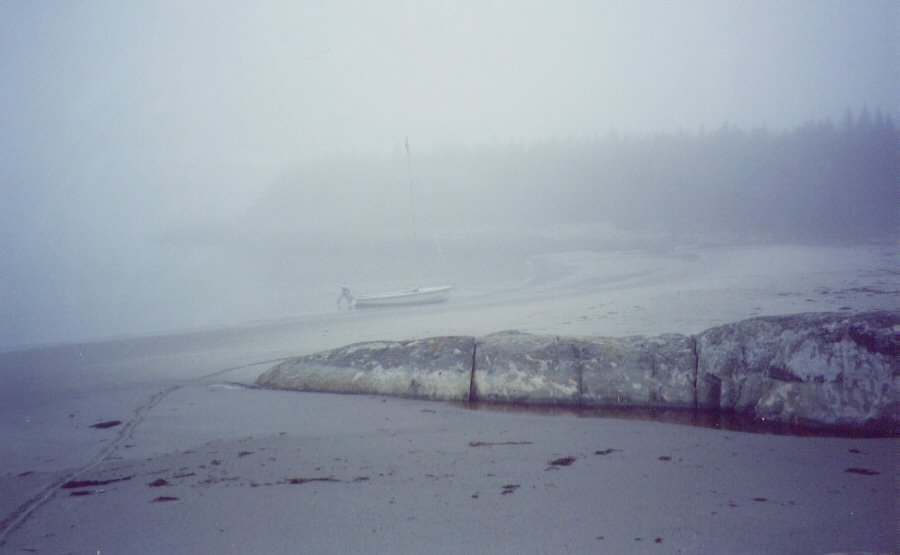 Cable Island.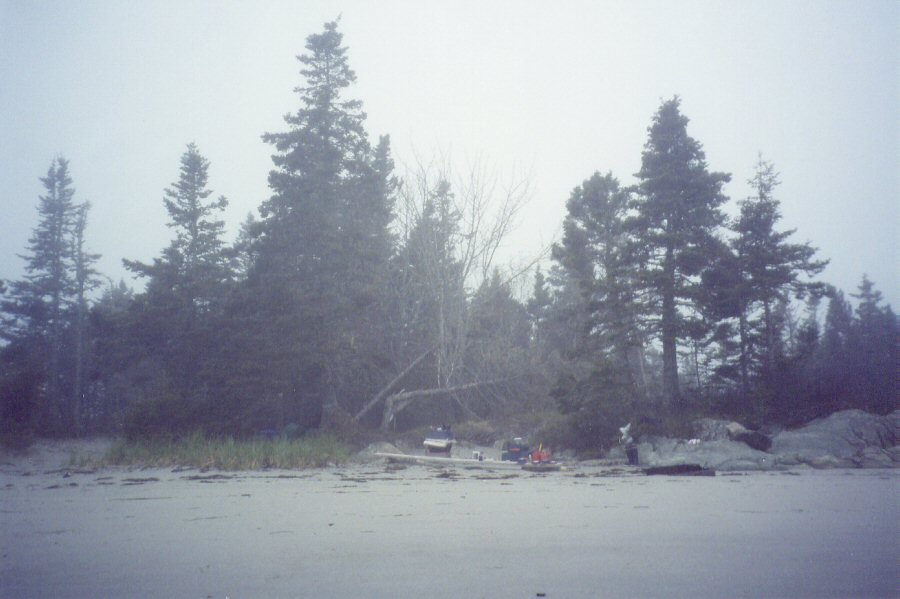 Cable Island:
Tents in tree line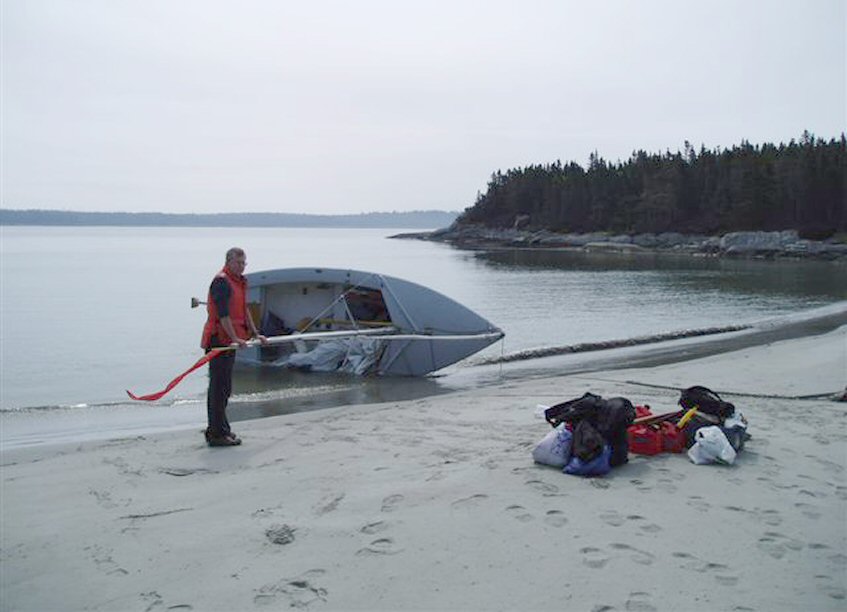 Careening
Naomi
.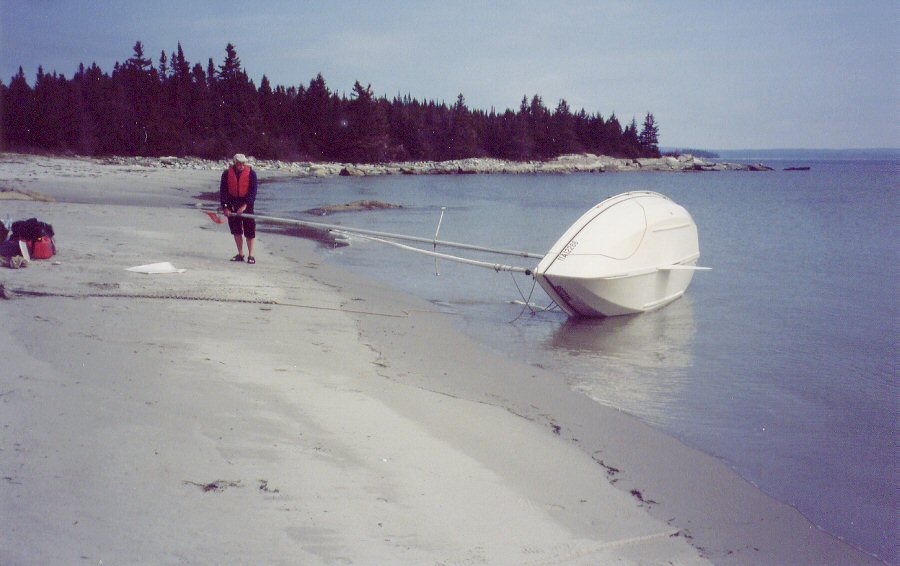 Cable Island: Centreboard cleared
After our long day of motoring we were short of fuel and water. Last year a gallon of petrol had lasted us two weeks in Newfoundland. We left camp and sailed off the beach. 'Oops, the centreboard's stuck'. I said. Back to the beach we came. I was getting used to stuck centreboards this season - mine had been filled with large amounts of the Dee estuary two weeks previously. We careened
Naomi
and Jim deployed his stone removing tool - cut from an aluminium meter rule - true to the Wayfarer mantra of everything having a dual use.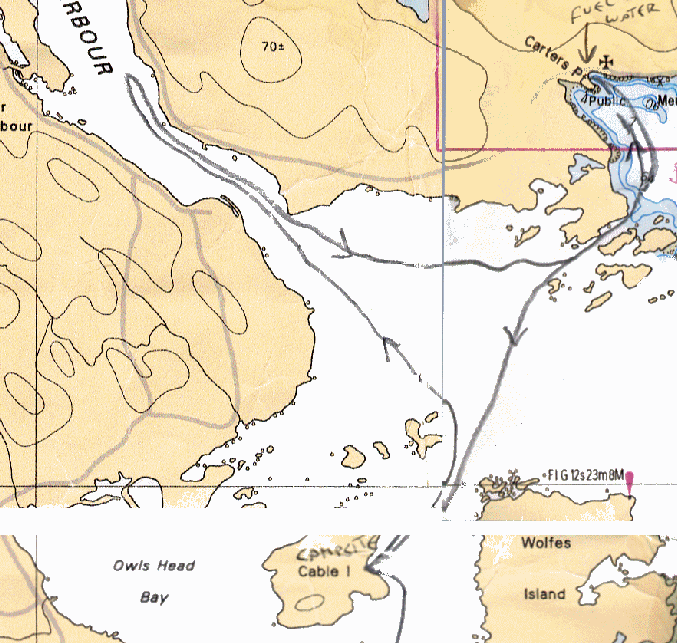 Carters Point wharf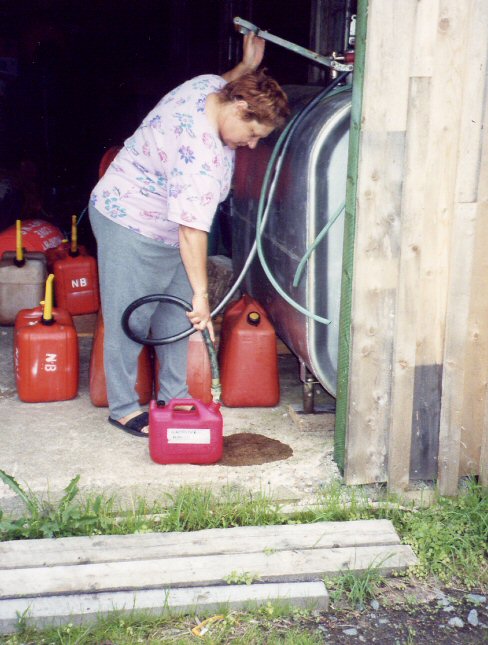 Lorna
Off we went again. We scanned the shore with binoculars for any sign of a gas station. Nothing. "It used to be here," said Jim. We sailed into a small fish dock. A fisherman spoke to us in broad Eastern Shoreese. I didn't understand a word. "He says we can get water from the white house but petrol is only from a fuel truck," said Jim. Up at the house we had a stroke of luck. "Aren't you Jim Fraser?" asked the lady. It turned out they used to work together at the Halifax hospital. Lorna gave us water, filled up our petrol can and wouldn't accept any payment.

We fished on the way back to Cable Island camp using high tech paravane equipment but with our usual lack of success. Tinned stew and rice for tea! And a campfire on the beach.

...