gunboats, fog and lobster larceny
Jim Fraser and Allan Parry's June 2005 cruise
on
Nova Scotia's
Eastern Shore from Dartmouth to Sherbrooke
in Wayfarer 8328 Naomi
continued


Note: to see much larger versions of the various charts involved, click on the relevant items below:
chart 1 chart 2 chart 3 chart 4 chart 5 chart 6


...




Day 5:
Next day dawned foggy. I put two waypoints into the GPS, and off we went. We were aiming for Marie Joseph, a small fishing hamlet, which Jim said had a small shop, phone box and fish plant. On a previous trip he had enjoyed fresh haddock from the fish plant.
How times change! The shop had closed for good, there was no answer on the phone home and the fish plant only handled lobster. There was an air of desolation about the place: a fishing boat rotted on the slip, houses were for sale. We asked at the fish plant for fuel and were directed to the office. A face watched us as we approached. The fog had turned to drizzle at this point. They sold us petrol; it was green-coloured stuff for fishing boats. This was probably illegal but they said they wouldn't see us go short!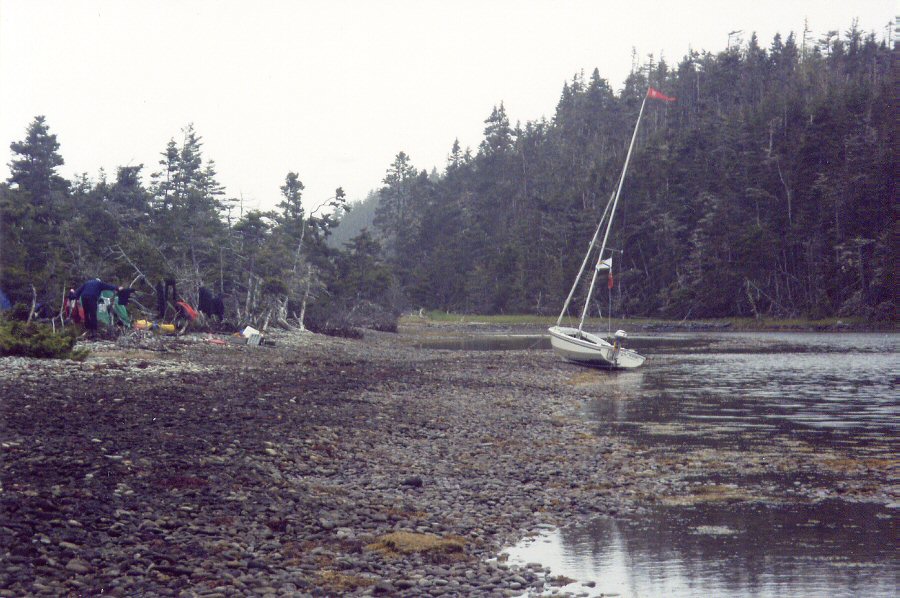 in the shelter of the ...
On the chart we had spotted a huge barrier beach. These are common in Nova Scotia, and often make good Wayfarer camping spots. Sure enough, this one was perfect. The 20m high beach forming a large sheltered lagoon made an excellent campsite. There were flat areas for tents amongst the small bushes and the usual huge amounts of driftwood for a fire.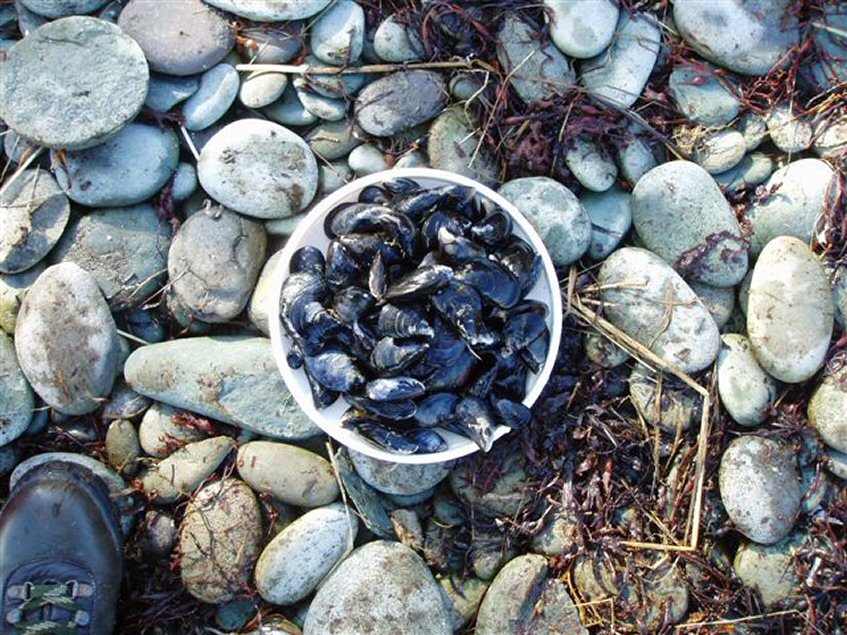 Moules marinière
As a bonus, there were lots of mussels in the shallow lagoon, so moules marinière was on the menu. (culinary note: due to lack of supplies, used water instead of white wine, onion instead of garlic, and marg to fry in).
...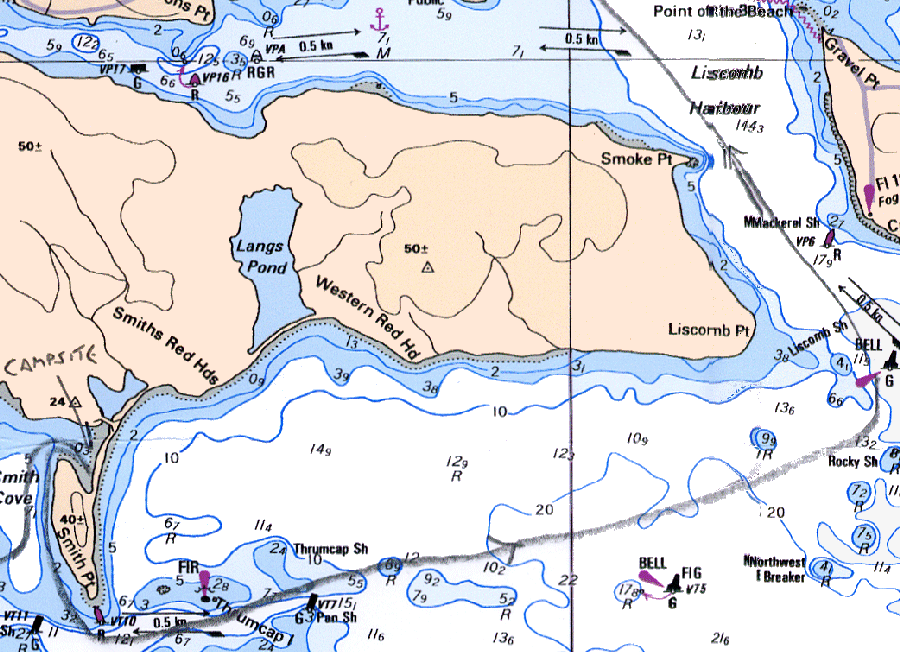 Day 6:
Windy next day. Barrier beach doing sterling job - almost calm in its lee. We sailed off and soon rounded an island that Jim said marked the end of the 'inshore passage' - we must have a drink to celebrate - no problem there then! We pressed on, motoring into the wind and waves again, heading for Liscomb harbour.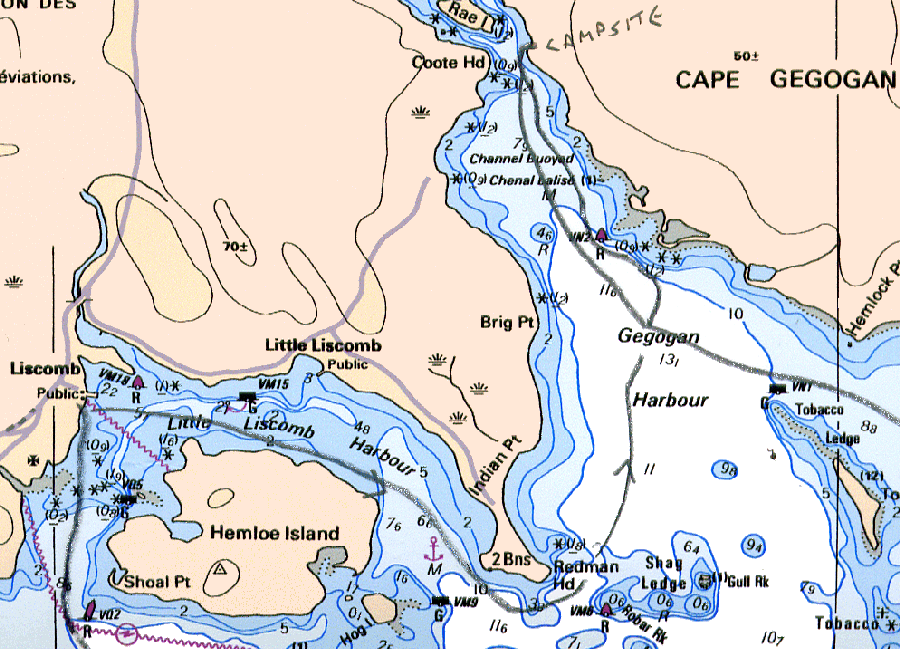 Jim had held out the promise of Liscomb Lodge for some time. This was said to be an oasis of luxury on this coast, with showers, fine restaurants, strong drink, soft beds, you name it. Of course we didn't go there. Instead, we headed for a store that Jim remembered in Spanish Ship Bay. We parked

Naomi

and set off along the road in oilskins. Jim asked a local lady where the shop was. "About a mile down the road." After 15 minutes, I said, "Don't forget the tide is falling - perhaps you had better go and check that we don't dry out." I carried on in the by now bright sunshine. I removed oilskins, and plodded on. After 45 minutes I came upon the shop. It was a sort of 'open all hours' place that sold everything - shovels, sausages, souwesters - you get the idea. I went into shopping mode, ordering bacon, a sack of spuds, cereal, etc. etc. It then struck me that I didn't have a car outside and would have to carry all this stuff! Then a voice asked, '"Are you Allan?" Startled, I said that I was. "I've come to take you back to your boat," he said. John had come across Jim sleeping in

Naomi

and, having been told of my plight, had come to rescue me. He also offered to let us have a shower in his house and camp on his lawn.


Reluctantly we declined all this luxury and sailed on to Gegogan Harbour. This was a large uninhabited estuary where the canoe guide had identified a good sheltered inlet. We couldn't find this place. Even the GPS location was bare. Presumably it had been closed up by winter storms.


Gegogan Harbour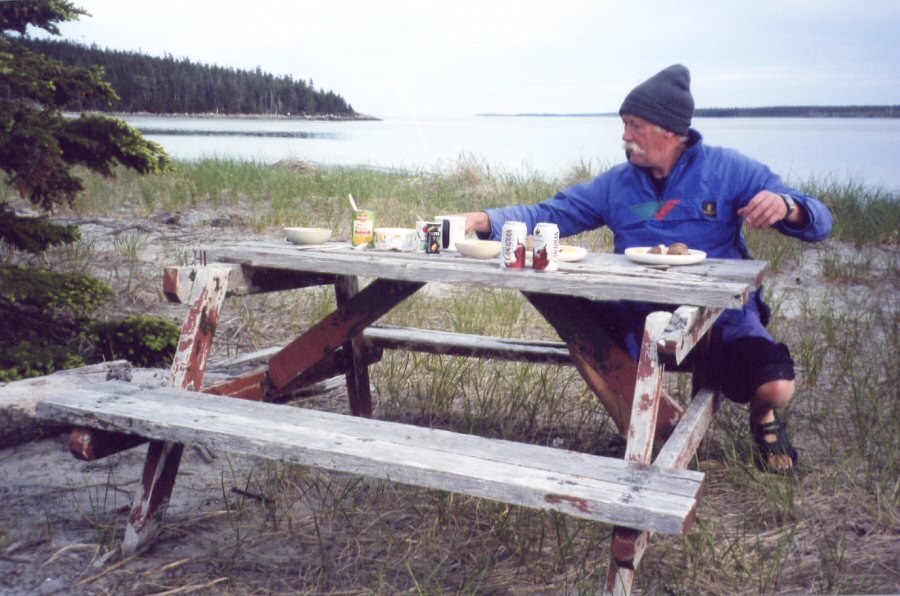 the dining room: more moules?

We pressed on and found a good spot further up the estuary. This was an excellent camping spot in the wilds. It was another good spot for mussels.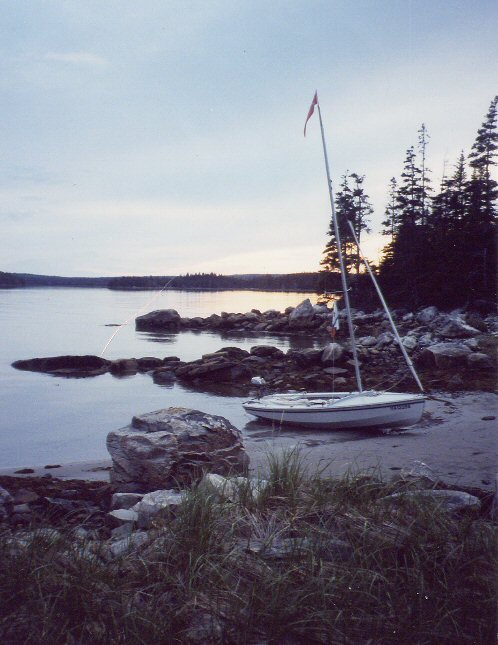 ...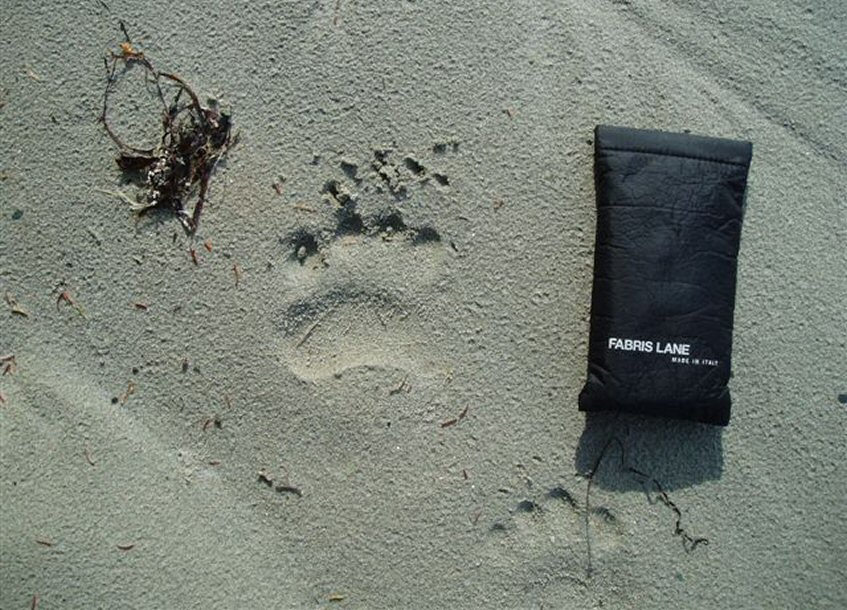 Day 7: Next morning Jim pointed out bear footprints

(photo above)

. I was glad I hadn't seen them the night before. "There are lots of bear in Nova Scotia," said Jim! A hare came into the camp and calmly started eating the vegetation.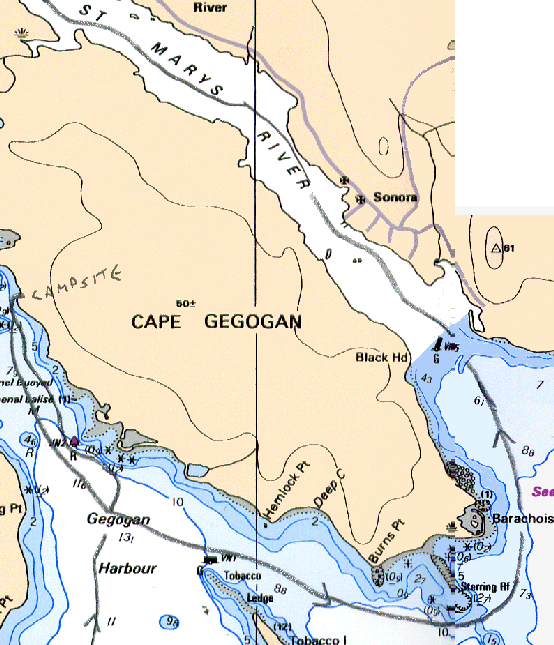 The forecast next day was for strong Easterlies by late morning. We had to get around Cape Gegogan so needed to get off a.s.a.p. Unfortunately,

Naomi

was aground. We levered her down the beach and set off.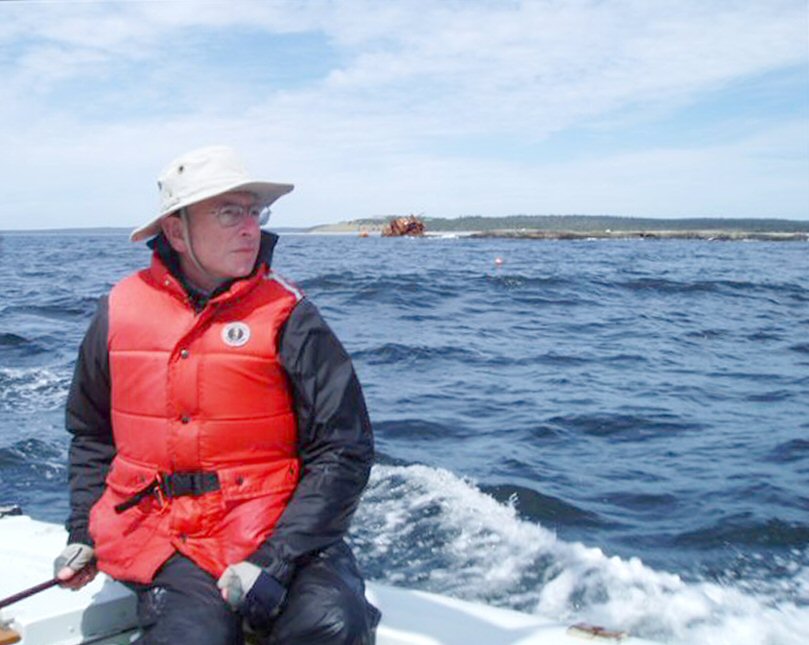 Jim steers well clear of ...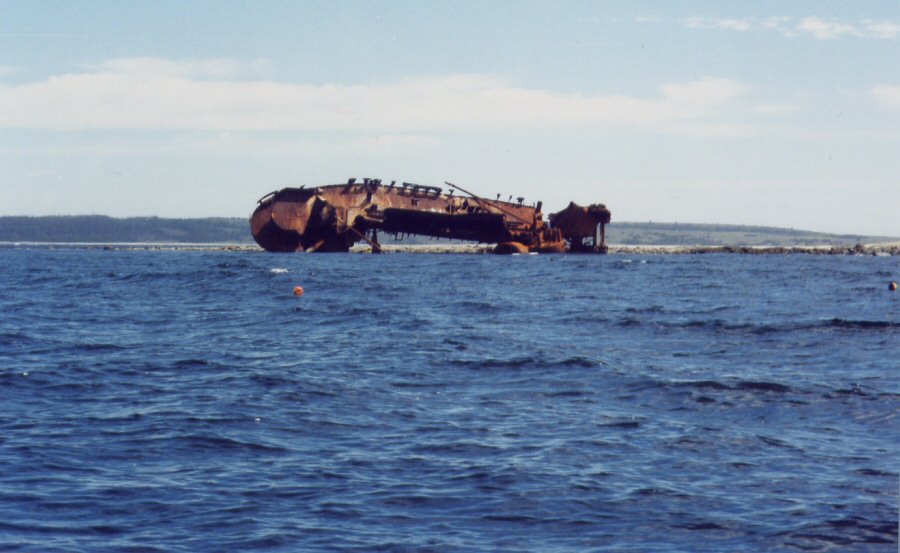 ... the wrecked Liberty ship.


It was an exciting sail around a rather grim headland with the backdrop of the rusting wreck of a Liberty ship hard aground on the point.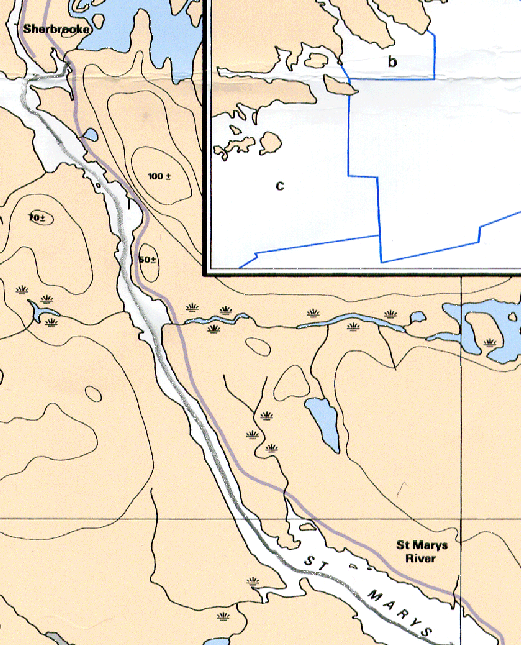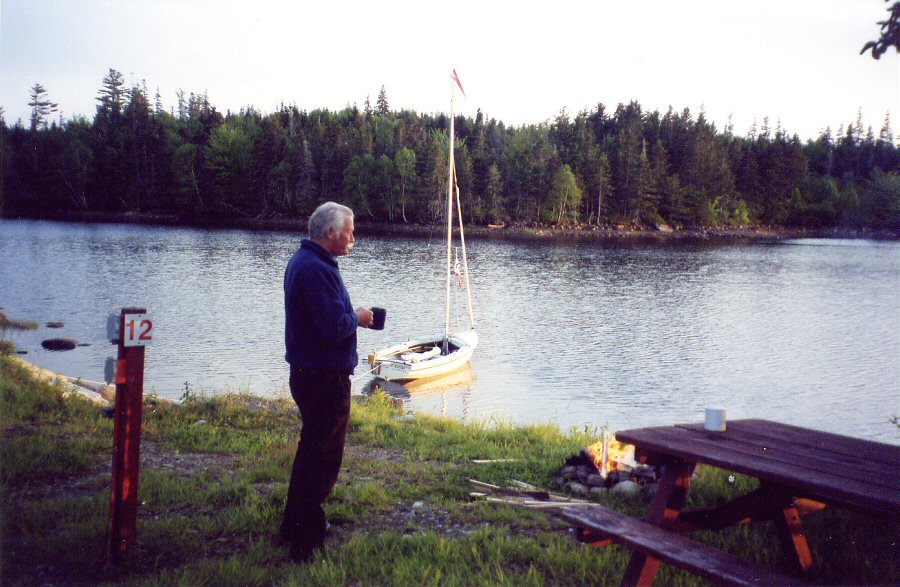 Campsite, Sherbrooke
We then had a delightful sail up the St Anne River to Sherbrooke with the wind and tide. This was a decision point for our trip. Sherbrook is the end of the line for the bus to Halifax. Beyond here we were committed to go on to Canso.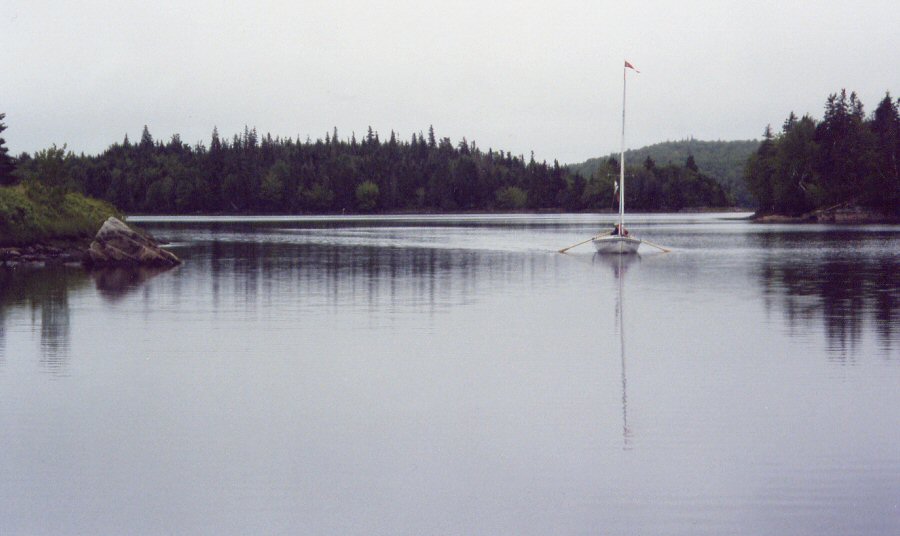 Rowing to the haul-out ramp in ...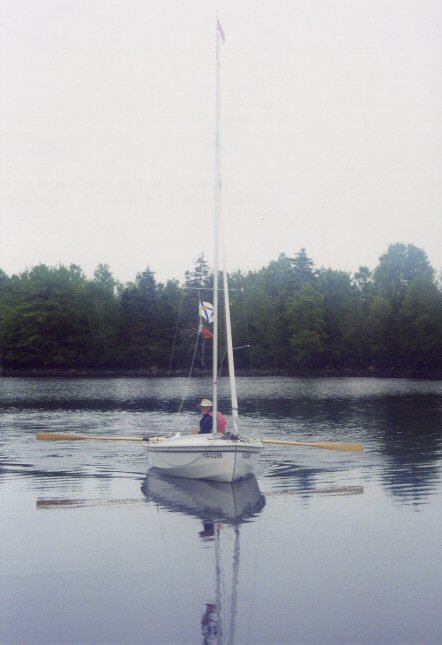 ... Sherbrooke.
With the easterly winds forecast, we decided to cut our losses and return to Dartmouth to recover the boat. Plan 'B', canoeing in Kejimkujik National Park (Keji), would then take effect.

Our bus trip back to Dartmouth took us along the coast and through Marie Joseph. We learned from the local paper that there had been a robbery in Marie Joseph the day after we were there. Two tonnes of lobster had been stolen! . We imagined the questions from the RCMP Troopers 'did you notice anything unusual before the robbery?' 'Well, there were these two dodgy blokes in this small dinghy hanging around'! We felt rather sorry for the place and wondered if this would finish it off altogether.

...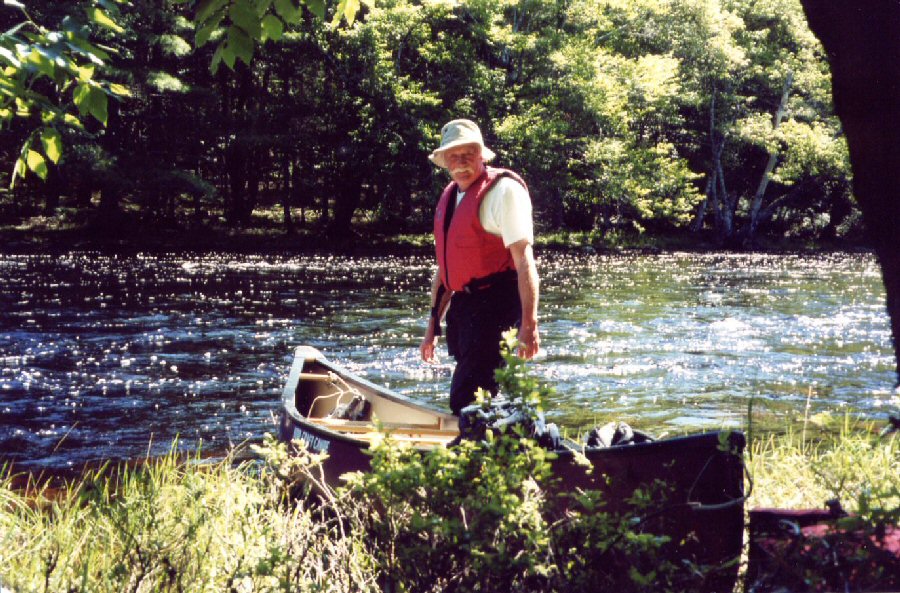 Canoeing in ...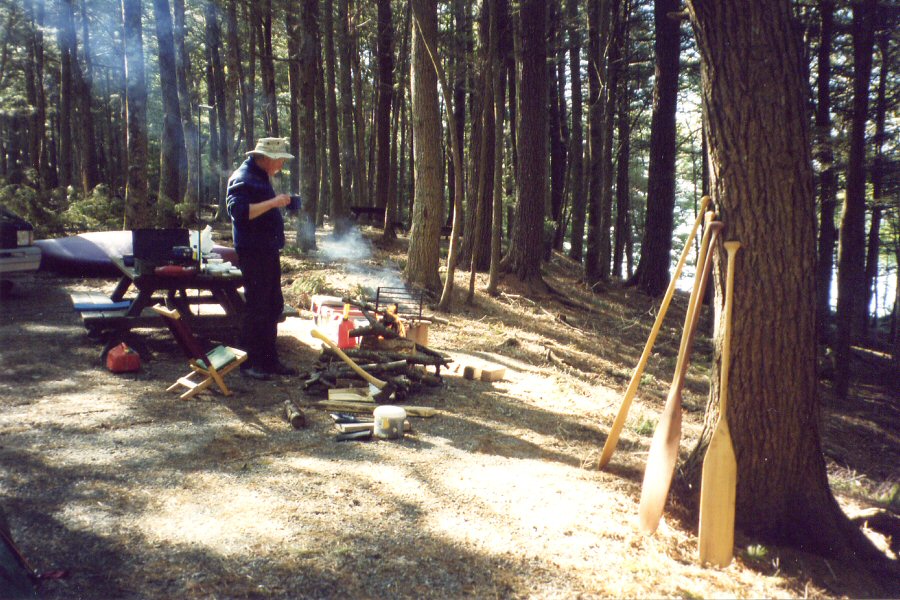 ... Keji.







Epilogue:

We had a great time canoeing in Keji. On our last night, we were rather lax at stowing all the grub, and were visited by the racoons (source of Davy Crockett hats). They tested, but ignored, sachets of porridge oats. They stole bacon, bread and the last of our margarine - could they have been making bacon butties?


Thanks again to Jim and his family for putting up with me.



Allan Parry W7556 Dylan