Mato seemed a little surprised that my question was asked in a fairly relaxed manner, having been knocked over far enough for water to pour in over the side of the boat
**
. Mato had handled the increasing wind conditions perfectly well up to this point, so the sudden near knock-down had surprised me a little. Though as it was far from being my first experience of this situation, it didn't appear too much to worry about. However, it now seemed prudent to change our planned (windward) overnight stopping point on the island of Losinj, and instead turn back south, running to the safety of a protected harbour on the much smaller island of Premuda. (A video link of the run to Premuda at up to nearly 10 knots can be found at:
http://video.google.com/videoplay?docid=7599338468797649932
)
** A contributory factor to the near-capsize may have been Mato's changing his mainsheet system to a complete centre main, which meant that when sailing close-hauled, the downward pressure on the mainsheet to keep the boom central was considerable, and made it a little less easy to release quickly. Mato later added a bridle to the system, which made the complete centre main system work much more efficiently when sailing close-hauled.
Mato had been reluctant to permanently seal the transom flaps on his

Wayfarer World

to resolve the problem of allowing water to leak into the boat whilst sleeping, preferring instead to keep the option of being able to use them after a capsize. He found however, that the self-bailers worked far more effectively in removing the excess water once the boat was sailing again, than the transom flaps.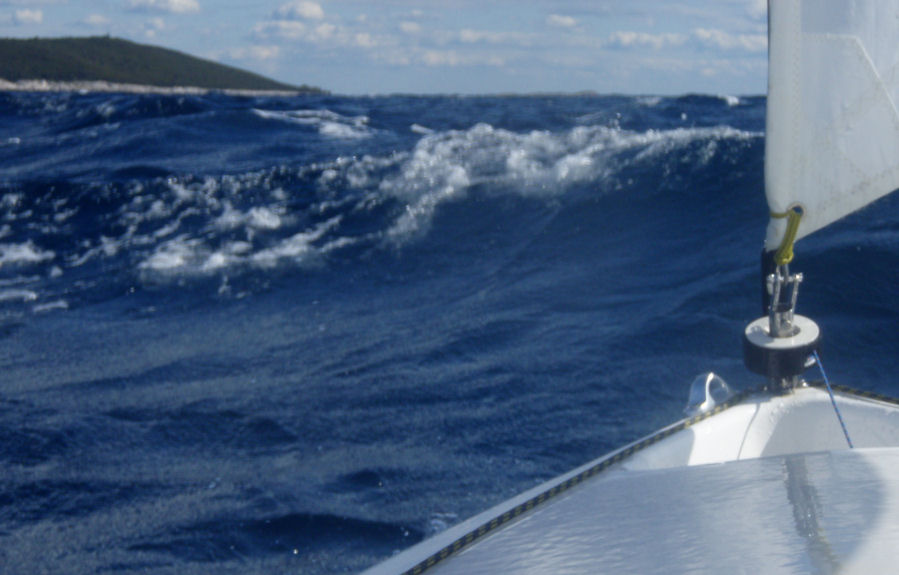 Sailing in strong winds towards Premuda


Sailing with Mato Ilijic in his
Wayfarer World
, we had made good progress north from our starting point at Zablace (near Sibenik) to our intended destination of Opatia (near Rijeka), but this was to prove about as far north on our cruise as we were going to get. A strong north-easterly wind - locally named a 'Bura' - had been blowing for the previous 2 days, but had increased in intensity. The weather along the Croatian coastline tended to differ quite widely from day to day, and we had experienced conditions ranging from too little wind, when we had needed to either row or motor; to too much, making it necessary to sail with a deep-reefed main and jib. One common feature though, which I hadn't previously experienced anywhere else, was a fairly regular change in wind direction and strength, between noon and 2 pm.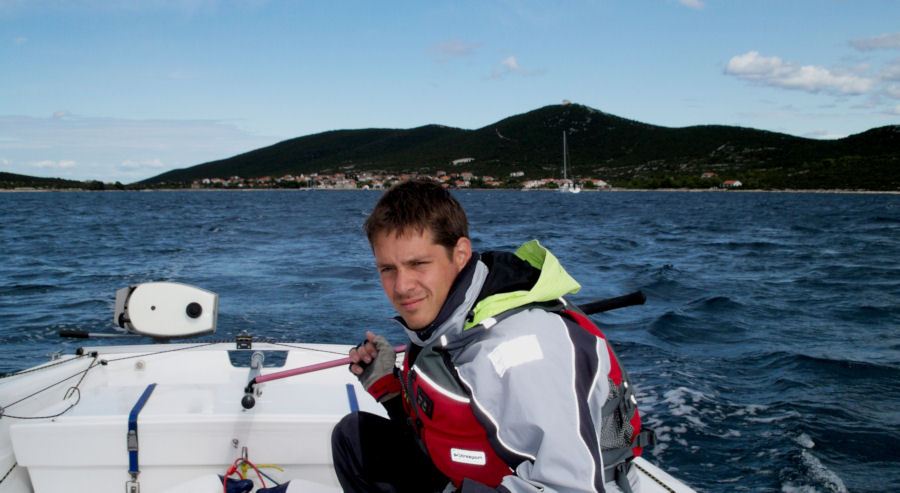 Mato at the helm of his
Wayfarer World
- click
here
for full-sized image
Sailing in Croatia can be compared to sailing off the rocky west coast of Scotland, but with a far greater abundance of islands, much warmer seas, and no midges!! There are also a far greater number of coves and harbours from which to choose somewhere to stop for the night. Small harbours had been built long ago at any naturally sheltered spot on the islands, and each had its own distinctive village, based around the local fishing community. On many of the islands, there had also been extensive olive tree cultivation, but this had gone into decline a few hundred ago, although the extensive walls built around the olive groves were still in prominent existence.

There are many islands along the Croatian coastline
Whilst fishing is still of obvious importance to the local community, catering for the increasing number of yachts and motor boats appear to be the current growth industry. Fortunately all the harbours we visited have largely retained their natural stone-built character, and the area appears to have avoided building the typical modern concrete marinas now usually seen in most popular yachting areas. In many places the harbours are either too small or shallow for the yachts, and mooring buoys are conveniently situated for them to tie up to. It was often an interesting spectacle, whilst sitting quietly with a beer at the local taverna, to watch the skippers of the hired yachts picking up these moorings!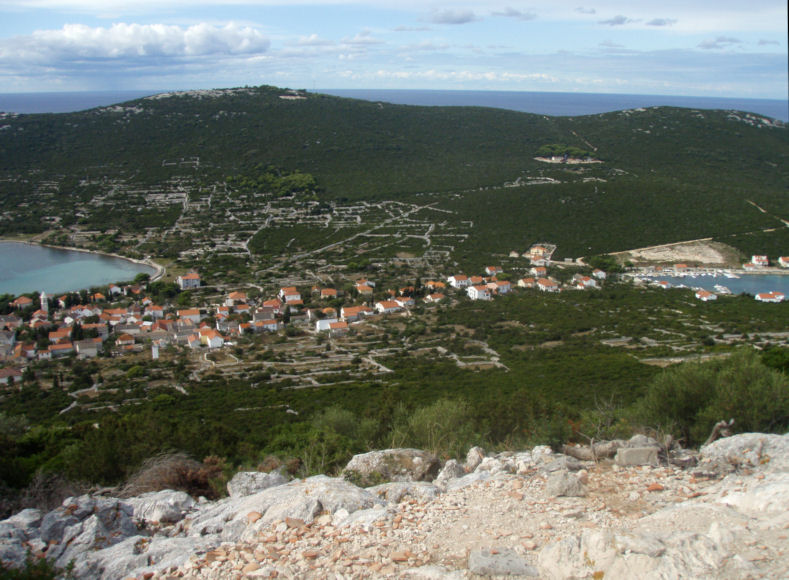 Most islands have natural harbours - old olive grove walls are also clearly visible

- click
here
for full-sized image
There were no such mooring problems for any Wayfarer sailing the area though. We were usually able to sail straight into the inner, shallower area of the local harbours and find a space among the fishing boats. Only in Ilovik, the most commercial of all the harbours we visited, was Mato told that he would need to move to the main mooring area, where he was promptly charged for the privilege by the harbourmaster. It was here also that I had one of my more comfortable nights of the trip, since it was the only place with a 'No Camping' sign by the harbour wall, and it seemed a good idea to pay for a bed for the night. Mato was happy to sleep in his boat each night, but with the back locker remaining in place, it was a bit too cramped for two people. In virtually all the smaller harbours, there seemed to be no problem in me putting up a small land tent somewhere nearby.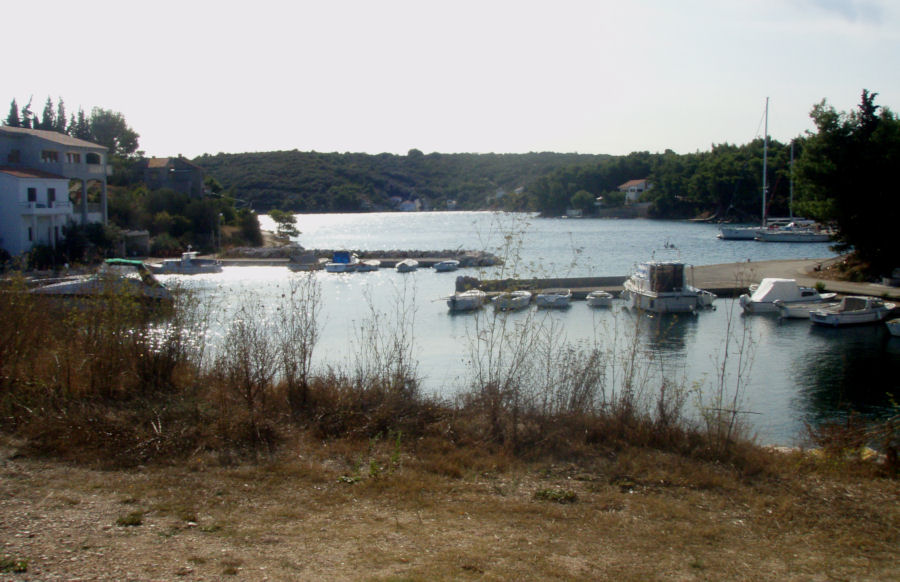 A typical small harbour, offering ideal overnight shelter for a Wayfarer
With the profusion of islands to navigate between, it was important to have a good chart of the area. Mato had made up a series of laminated A4 sections of the relevant parts of the coastline we would be sailing, and it was useful to be able to have these readily to hand without the need to keep them either well protected, or dry. A GPS also proved extremely helpful, particularly Mato's latest version, which gave a picture chart of the area being sailed, together with all other information needed. Mato had already programmed the chart for the Adriatic area into his GPS for a previous trip.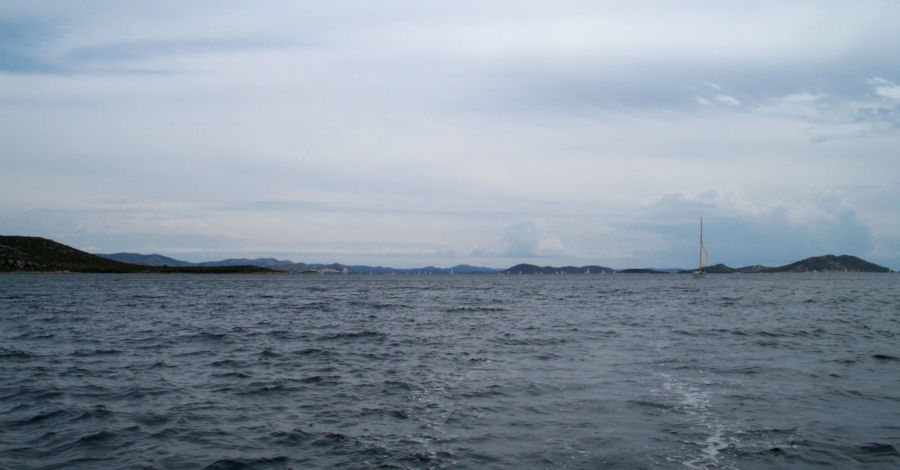 The coastline has become increasingly popular for chartered yachts.

- click
here
for full-sized image
We had first visited a local supermarket to stock up on the provisions we thought we might need before setting off on our trip, but we found we brought much of the food - even the cans of beer! - back with us, since at virtually every stop there was a convenient taverna to provide us with a more comfortable place for both a drink, and an excellent evening meal. Not surprisingly with a local supply of freshly caught fish, there was an abundance of fish dishes to choose from, which Mato and I made the most of. For an area with such a mild September climate, the sailing season seems to finish surprisingly early, with both tavernas in Zapuntel already closed down for the winter when we stopped by, and others we visited very quiet, and preparing to close down.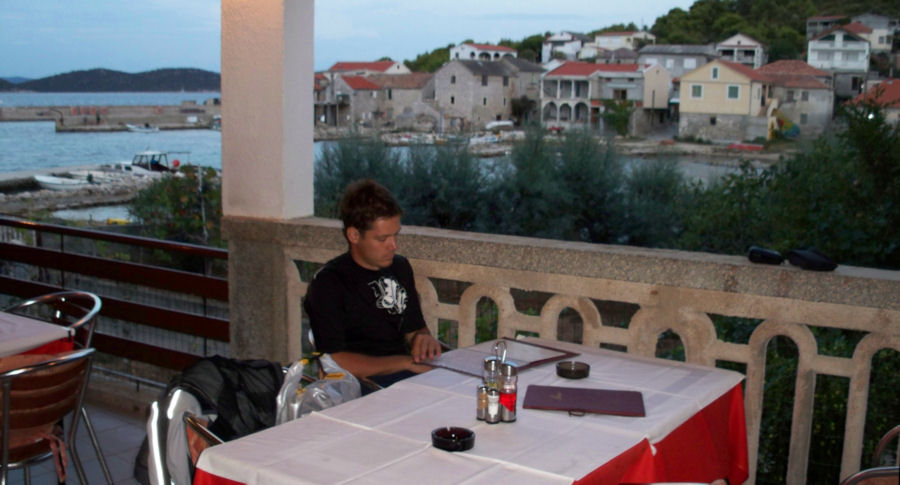 Mato at a typical taverna overlooking a harbour
- click
here
for full-sized image
Though we curtailed our intended trip to Opatia, making it a round trip back to Zablace instead, the abundance of islands meant that we were able to return by an entirely new route to that of our outward trip, and even largely different from our previous year's cruise. One is so spoilt for choice for islands to sail to, as well as different places to visit on each of the larger islands, that it would be impossible not to have a great sailing experience wherever one sails along the Croatian coastline.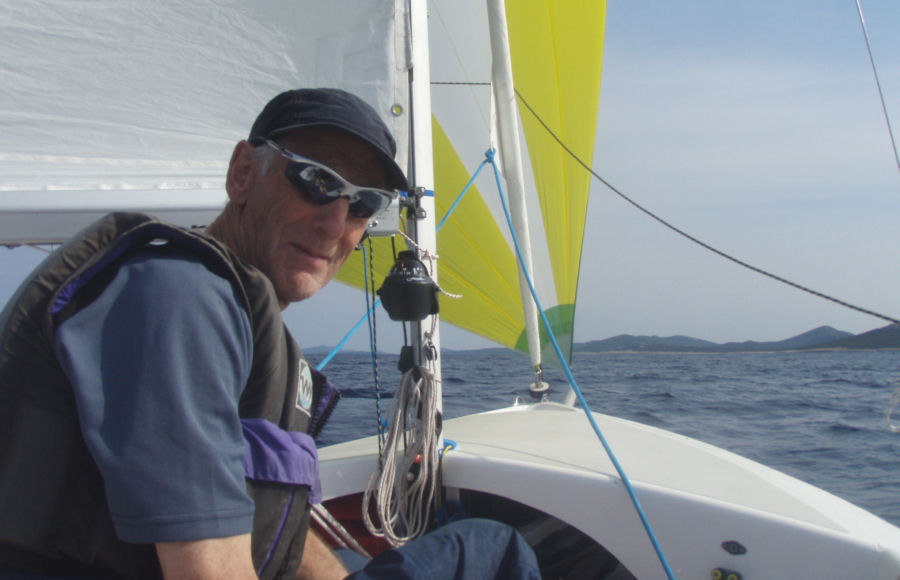 Sailing in ideal conditions with the asymmetric spinnaker hoisted