Monday:
With overseas participants duly arrived and welcomed
(above),
a 42-Wayfarer fleet
in perfect sailing breezes embellished Florida's Lake Eustis as they began competition for the 2022 Wayfarer world championship. After Monday's practice race and two series races, we had a surprise in the results as local hero, Dave Moring and daughter, Ava,
(10864 above)
placed 2-2 and held a one-point lead over defending World champions, Mike McNamara (11149) and Simon Townsend with their 1-4 at day's end. Winds causing whitecaps early but 5-10 mph later.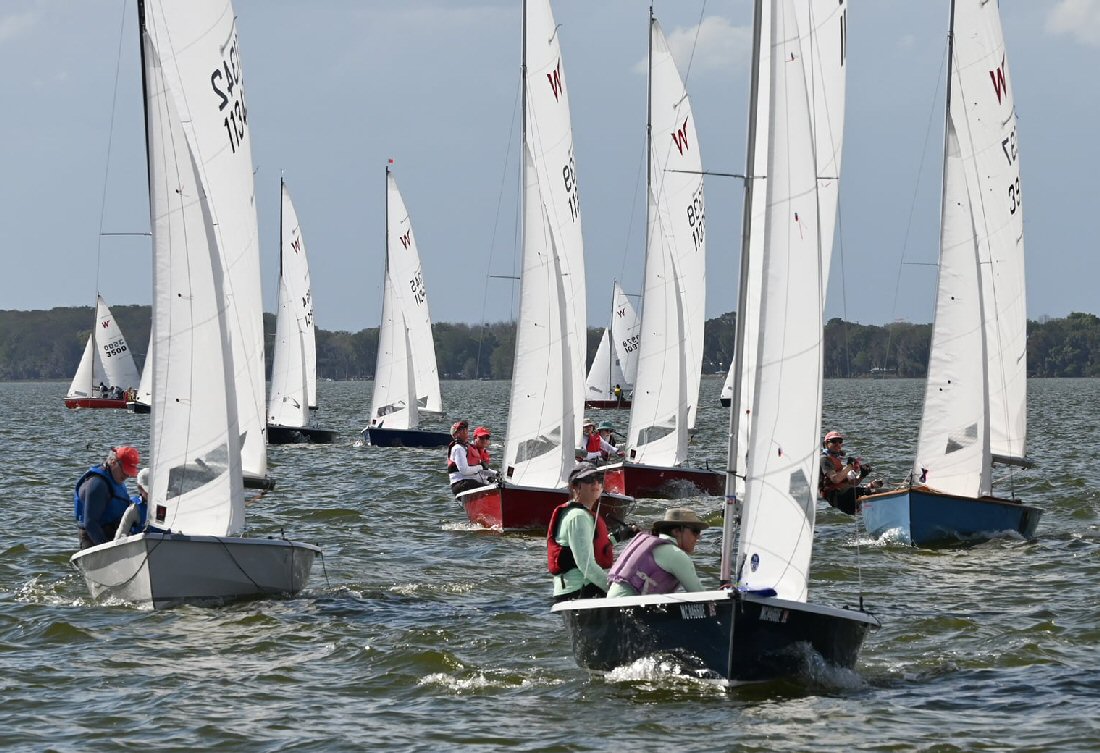 Tuesday
however, saw the heavily favoured team of Mike and Simon
(already ahead of the group in the photo above)
leave no doubt with a pair of convincing wins as they began to pull away from the Morings and the fleet in breezes that abated as the day wore on.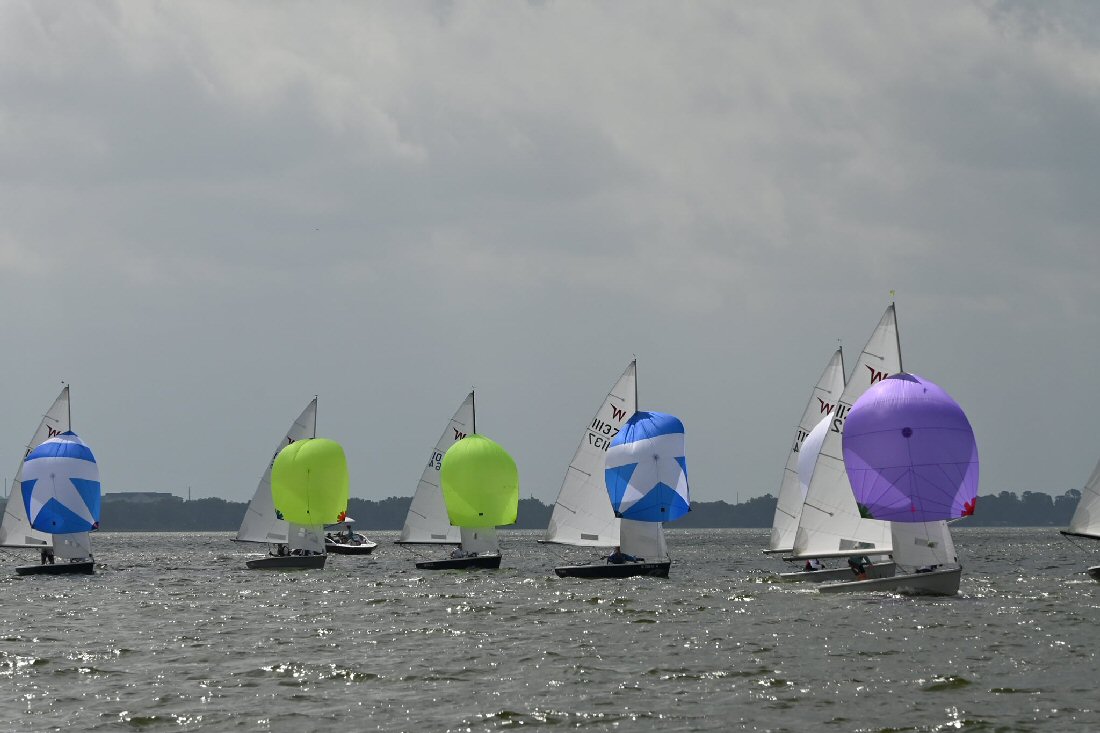 Wednesday:
Storm cells in the area, and the day began with whitecaps once more but became a nice sailable breeze for all as the day wore on
(above)
. Three races saw Mike Mac place 1-1-3 while the Morings finished 4-5-1 as Mike and Simon appeared to take a strangle-hold on the series.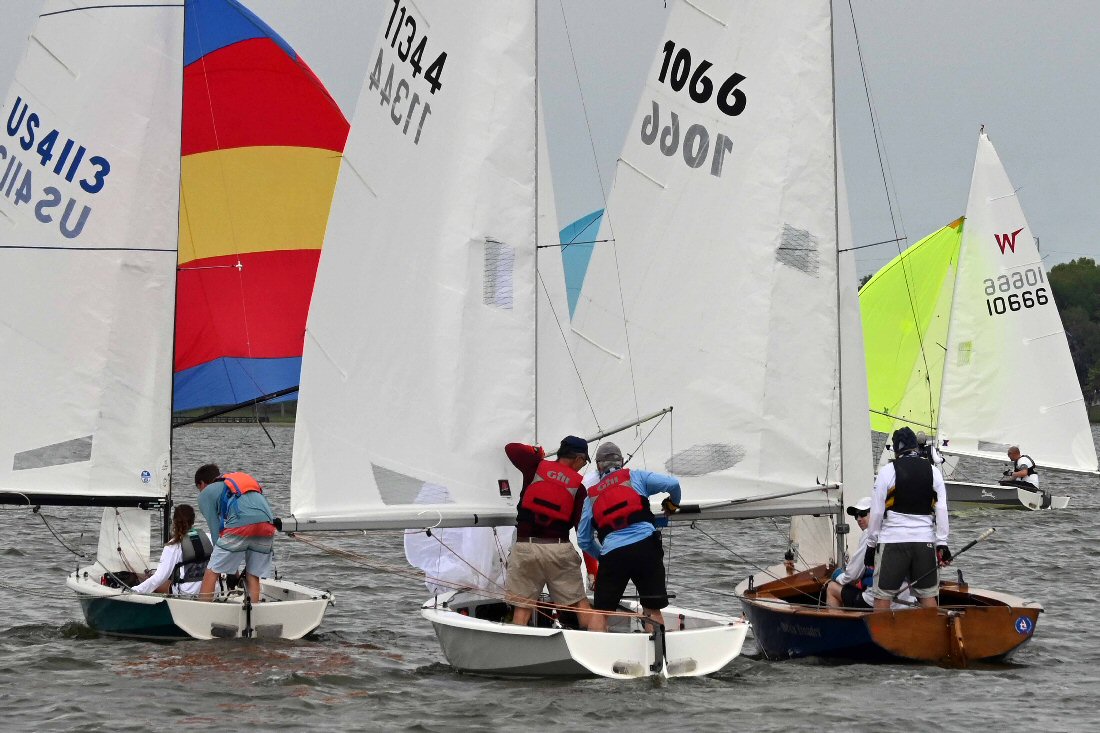 Thursday:
Uwe Heine reports:
"It was raining when we woke up this morning. It had tapered off by the time we got to the lake. Somewhat overcast, forecast: rain. The wind tried to behave like on a small lake; it was rather unsteady in direction. One of the things that I equate sailboats to are birds. The sailboats followed the RC around on a tour of the lake like a flock of birds. We got to see places that we had never seen before. There is an actual HILL! on the north side of the lake that I had never seen! This is FL; it is all pretty flat.
RC had hoped to do three races today. The first race, while delayed, was pretty good. Wind maybe 7?
(above)
The second race, had a general recall. Of course it was our best start. The wind was OK, but as storms were building close by all the wind got sucked to into the storm. It became incredibly flat and airless. Several boats had managed to be close to the windward mark when RC shortened the race, with 2 horns and an S flag. Ten boats managed to drift across the line. There wasn't breeze enough to get too many people across the line before the 20 minute time limit expired so the majority of the fleet was scored TLE (Time Limit Expired, # of finishers plus 1 point). One boat, in 11th place, was five feet from the line when the time limit expired!"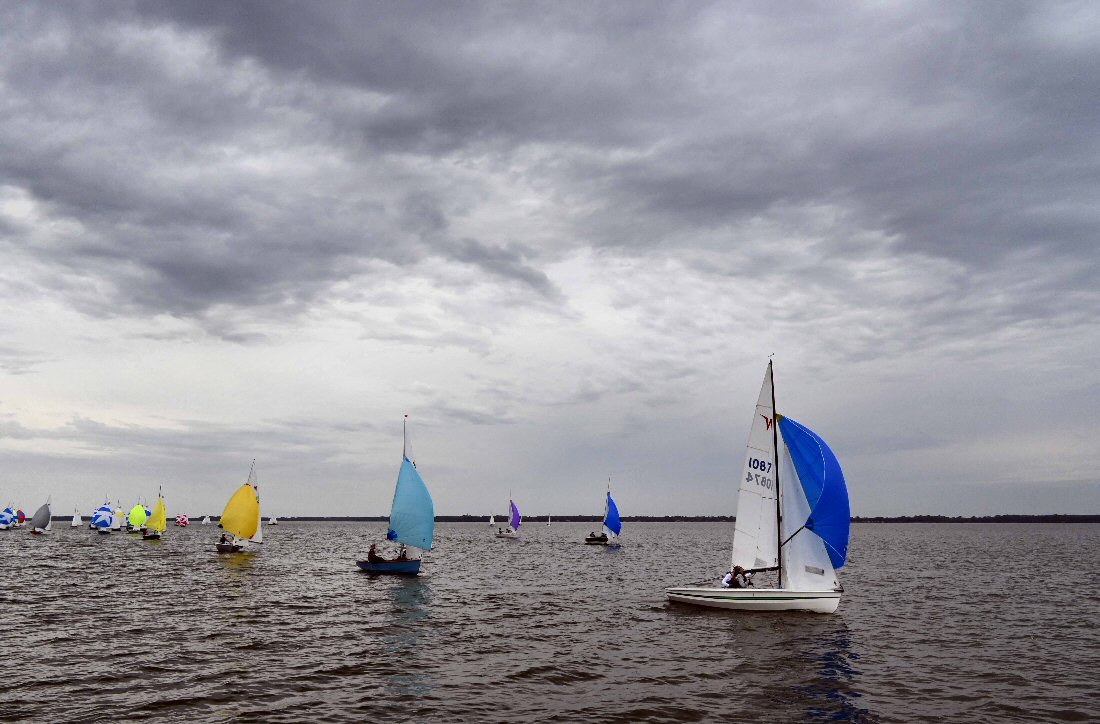 Word from those who were at the front of race 9 before the wind crapped out:
I asked Steph Romaniuk (W397 crew) if the rumour was true that he and Sue
(light blue spin above)
had been leading in the race just before the wind went squirrelly. Here is what he explained - with remarkable restraint:
"Yes, the junior [Bea Newland] and b-day crew, Grace Morning, led to the top mark. We and Mike Mac and Peggy all passed them before the leeward mark. We had a beautiful rounding in front of Mike and then headed to the right side which was paying more (the middle was often dull all regatta long so you had to choose a side). Sue tacked away on a shift and when we headed back right we had gained a pile on them and were well out in front. After rounding well back, Dave Moring tacked at the leeward mark and went left under the spinnaker fleet. He gained by doing this and soon looked like he might now be ahead of us. We tacked across the middle to see if we were still ahead. I could see Dave standing up in the boat and should've taken the hint that he was looking for wind before tacking to the right side. Instead of tacking to follow Dave as we crossed ten boat lengths behind, Sue kept on going left and then we started lifting. She was waiting for the knock but it kept on lifting and we realized we were on the outside of the curve in a permanent shift… a tack would head us straight into the fleet backwards, so we held on. Then the wind completely died! Soon the first horn went, and a second, but not a third. Shortened course. 5 min later Moring crossed. And we watched the specks move by as we drifted, painfully, a tack - now moving backwards and the Weirdsmas, Marc and Julie and the junior girls drifted by. Marc and Julie were two feet from the line at time limit… Peggy five feet and us about 15 boat lengths. Mike Mac came up to Sue after, and all he could manage to say was, "Hard luck." He was befuddled by the wind that week."

Uncle Al's op ed on the TLE and the way it was scored: In October 1972, I sailed my first really windy (25+ knots and shifty) Fireball regatta, the Pumpkin Regatta at the Fanshawe YC in London, ON. The day's high was later broadcast as having been 42ºF. Of 16 Fireballs, only Dave Wallace and I made it past the first windward mark. Dave and super-crew, Dana Seymour, pulled ever further ahead as Erik Yeo and I ran our capsize total up to six by the time we finished. I was shivering so violently when we docked, that it took several attempts before I was able to light my well-earned cigarette. Then we were off to the hospital where my knee that had been badly gashed on the Fireball's sharp chine during one capsize, was duly stitched up. But it was all worth it, since we had hung in to place 2nd while 14 other boats would be DNF. Rage does not begin to do justice to my reaction when I discovered that all the Fireball DNF's had been scored as 3rds. I have never forgotten or forgiven that BS, and my admittedly biased views on TLE scoring follow:

When the RC probably rightly chooses not to abandon a race like race 9 considering the fine efforts by those who won, I feel that one of only two things should happen:
1. all other boats be scored a full-blown DNF, or, much preferably,
2. RC gets general approval of the competitors prior to the event, to use the TS&CC club race finishing procedure of having an RC boat motor down the course, finishing boats in position X according to the RC's best judgment; judges' decision final. I lean very much towards approach #2 since this rewards all boats for their efforts rather than just lumping them together as (over-rewarded?) also-rans. And how cute the code would be: FOC for "Finished On Course).


Friday:
Nancy and Uwe report:
"It was a pretty lively day. Today was only scheduled for one race but since we were one race behind, they were going to try for two. The PRO told everyone that they were not going to have any general recalls, that they would start with the I flag and go up from there.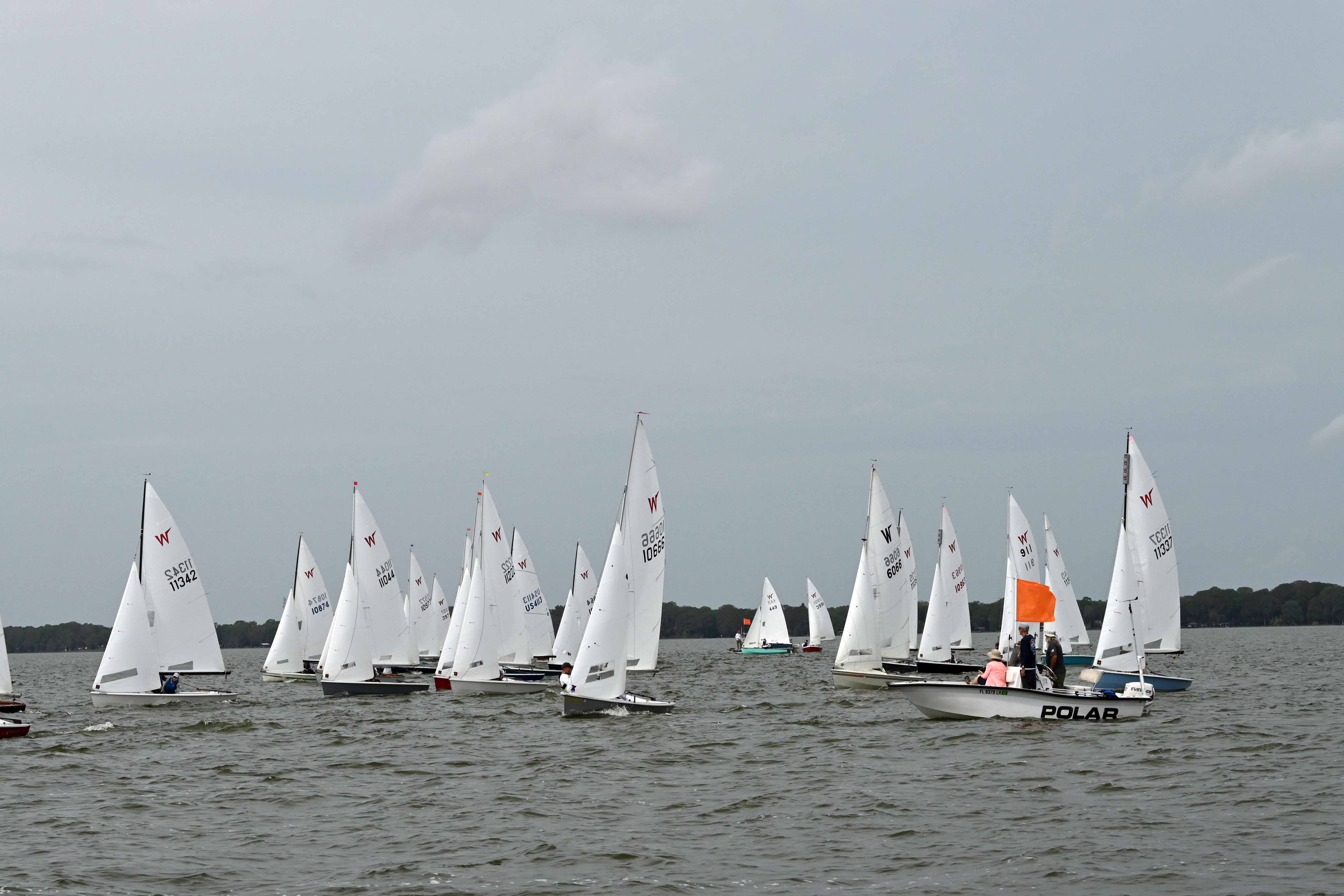 It was pleasantly cool and overcast. Not too splashy. The first race kicked off with an I flag. And they did manage to get a general recall. Of course, our start was great. Waste of a perfectly good start! So the restart was the U flag. Then they had a delay because the wind had shifted. They moved the mark and restarted the race. The wind was about 10.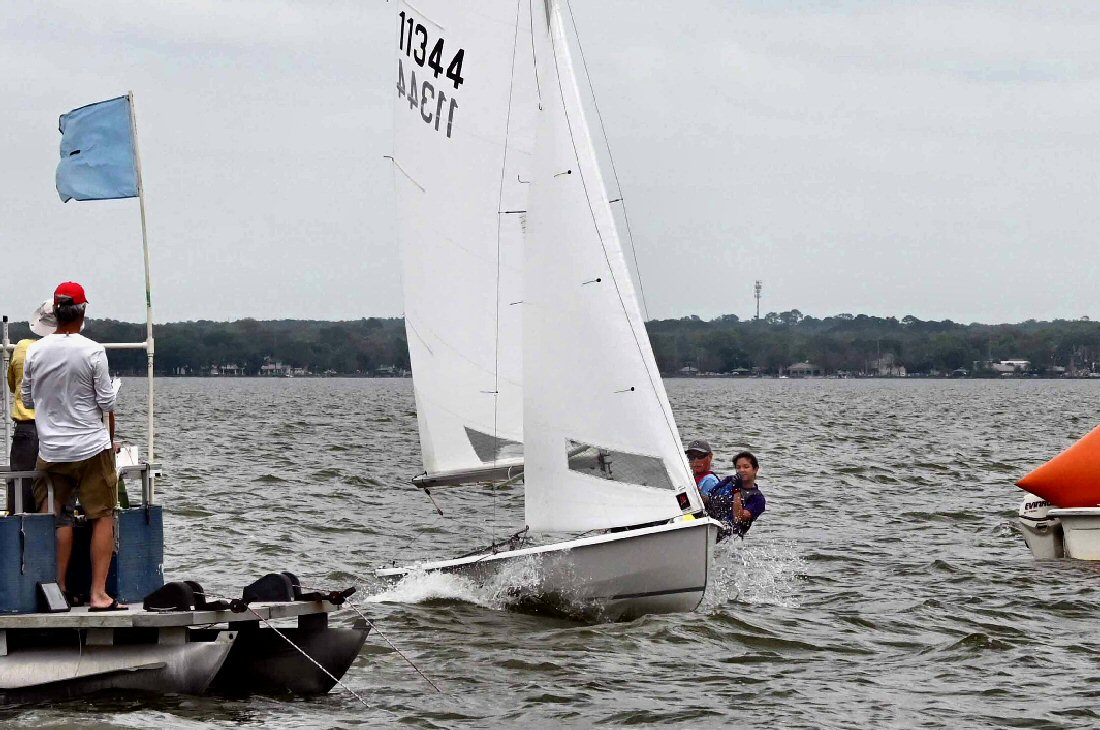 Winning race 11, Simon Strauss and Christa Bray end their Worlds on a high note.


The second race they moved the weather mark again. The I flag again went up as the prep flag, and this time no one managed to be over early.

All the races have been long and have lots of opportunity to do a lot of tactics to get ahead of fall behind. :) "