The winners, and still champions, are the perennial team of Mike McNamara (Rollesby Broad SC, Norfolk) and Simon Townsend (Emsworth SC, Hampshire). The English team captured bragging rights to no fewer than five race trophies as well as the
World Championship Trophy
in winning overall. Asked by Uncle Al about the team's ages exactly 30 years after their first World championship at Hayling Island in 1992, Mike revealed:
Many congrats on reaching your 80's. Luckily I am only 78, so got ages to go. Simon's age is undisclosed at late 50's which means that when he started out with me 30 odd years ago he was barely out of nappies! He was absolutely superb in Florida. He has that knack of being calm even when I get agitated!"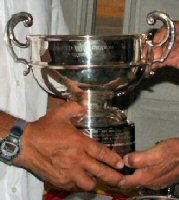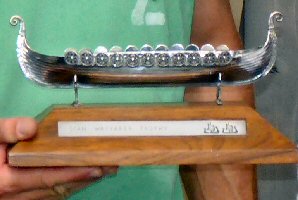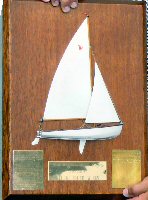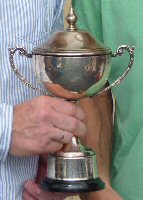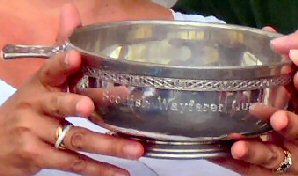 (l to r) the UKWA Trophy (race 1), the SWS Trophy (race 3), the USWA Trophy (race 4), the Ian Proctor Trophy (race 5), the Scottish Wayfarer Trophy (race 6)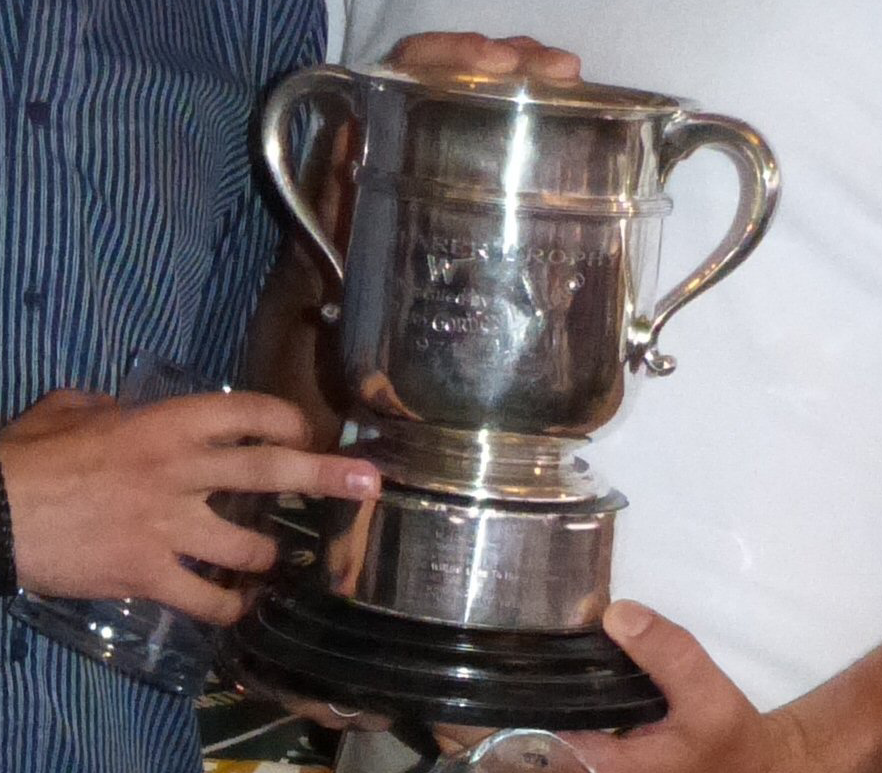 the Wayfarer Worlds Championship Trophy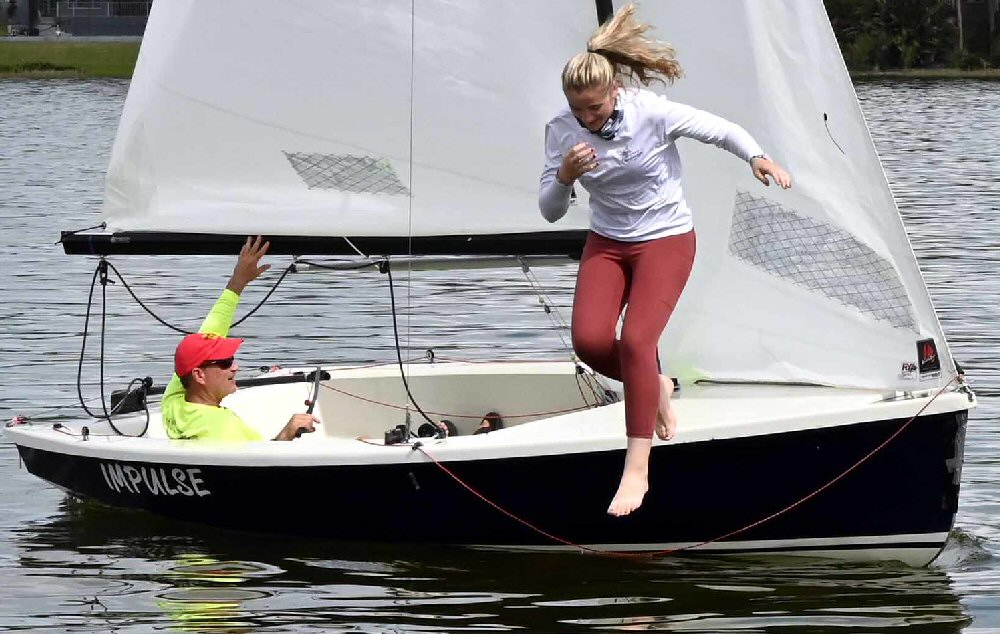 Despite falling just short of victory, Dave and Ava Moring were extremely impressive in taking Silver, by far the best ever Worlds finish by a U.S. Wayfarer team. That distinction had been held since 1974 by Detroit's Jeff Jones and dad, Dave, who placed 4th in the first Wayfarer Worlds at Hayling Island in England. In addition to scoring four race wins, Dave and Ava (jumping ship above) can take pride in having been the regatta's most consistent performers with 35 points overall, one better than Mike and Simon.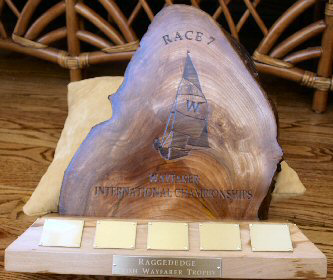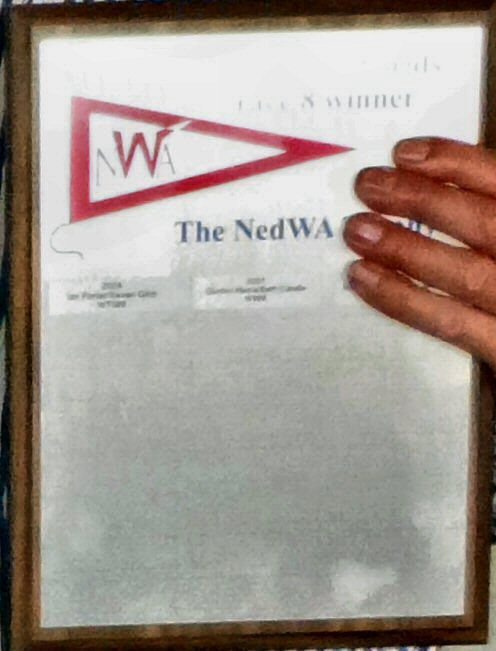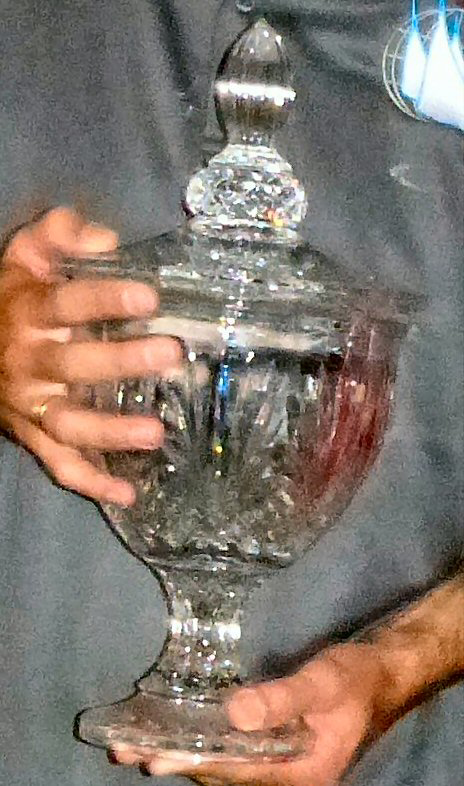 (l to r) the Irish Wayfarer Trophy (race 7), the NedWA Trophy (race 8), the Hartley Trophy (race 9)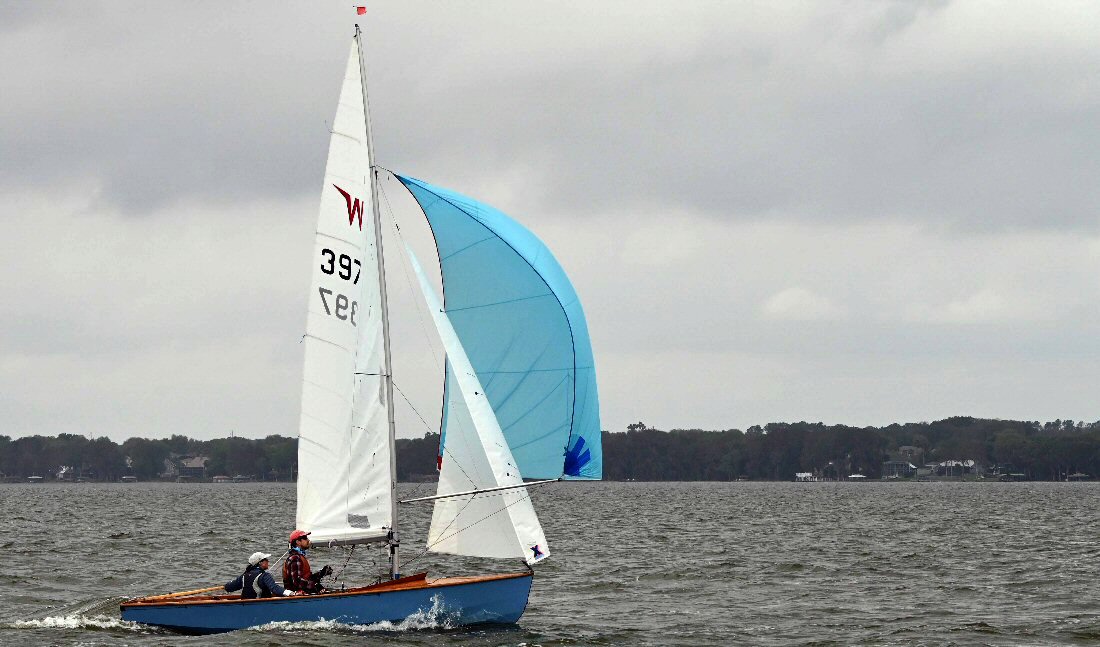 Bronze went to Canadians, Sue Pilling and Steph Romaniuk
(above)
from Parry Sound, ON, sailing their wooden Wayfarer
Chich.
W397 was the oldest Wayfarer in the Worlds fleet and the only non-Hartley in the top 16, this in spite of getting
shafted
by the winds in race 9, and their missteps on day 1. In the practice race their beloved
Chich
was holed (repaired on the water with Gorilla tape) and in race 1, Sue and Steph missed a change in the designated course which led to their first-race DNF. As Sue and Steph tell it:
"We didn't want to overdo it on day one, so we decided to start the practice race late and take off to the right to see how the fleet did on each side of the start. Sue wanted to tack back onto starboard as we were getting dirty air from another boat. Sue hailed before she tacked. I should've hailed too or banged on the hull like usual and kept a more watchful eye. I could see we were on a collision course and then a puff hit and we were temporarily blinded. W and when we came back down, the collision was imminent. Both skippers' reactions were not quick enough - Sue recalls Al via Paul Henderson saying that in this situation it is always best if both boats go head-to-wind. There were other close calls that day and Dave McCreedy actually capsized after a crash tack to avoid a port-tacker. A wave put the port-tacker's boat just below the gunwale so it punched through just ahead of the thwart and at the thwart level and a 6" square barn door opened inward. Their luff-spar spool cracked and flew up in the air. It was really sad to see the other boat retire from racing that day and when we came to the dock, he caught our boat at the dock and was very honourable and apologetic. Sue always has lots of gear on board - I remember Jesper Pilegård from Denmark being incredulous that we carry fenders, etc. while racing. The roll of wide Gorilla tape saved the day! Sue kept the boat up on its ear and I wiped and taped over the hole on both sides - the tape surprisingly stuck okay even with some moisture and the odd wave.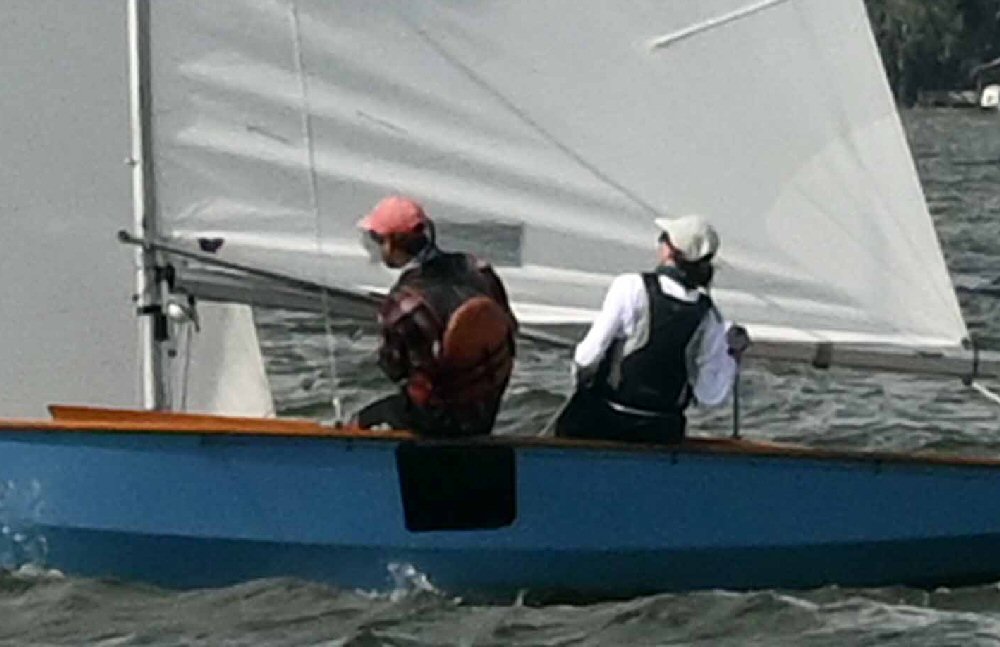 It was heart-warming that the Pughs abandoned their practice race to follow us and make sure we were okay. The repair (above) held the entire regatta without leaking and didn't seem to slow her down.

A lot of people thought the DNF in race 1 was due to the collision, but that is not the case. We started Race 1 pretty well. The reason we didn't finish is that we didn't notice the course change posted before the first race started. I talked to the PRO later and the reason he postponed for a few minutes was solely to change the course from one lap to two. Most didn't know about the change, but figured it out after rounding the windward mark - we were not as smart and pulled out our lunch, bailed the boat, avoided the leeward mark and figured it out a third of the way up the leg when we realized folks were still racing. So no, that one was on us.

A rough start to the event, but it all worked out in the end. Being the holed boat and the oldest boat, we amassed quite the cheering section at the windward mark that we were feeling quite guilty about. Everyone was so supportive and offered marine plywood, West Epoxy, etc., etc. but the hot Florida sun welded that tape on nicely.

During one race, Michael McNamara got noticeably frustrated when I called starboard loudly and continually on him - maybe because everyone had been hailing and tacking on him. After the race, I approached Michael and apologized for the hailing, but explained that I'd been doing that ever since we were holed and I was paranoid. He smiled and put his hand on my shoulder. It was so great to have him there for the event."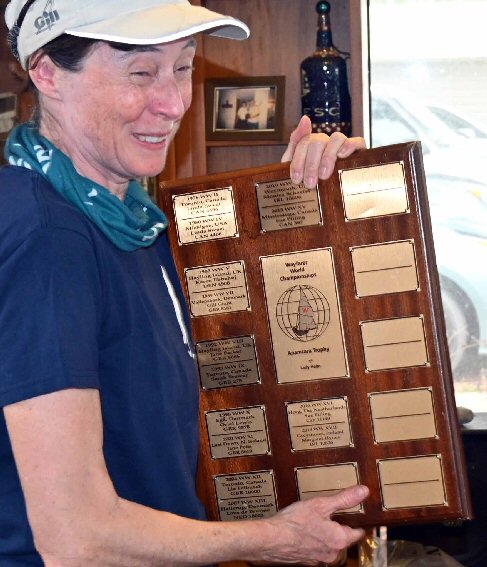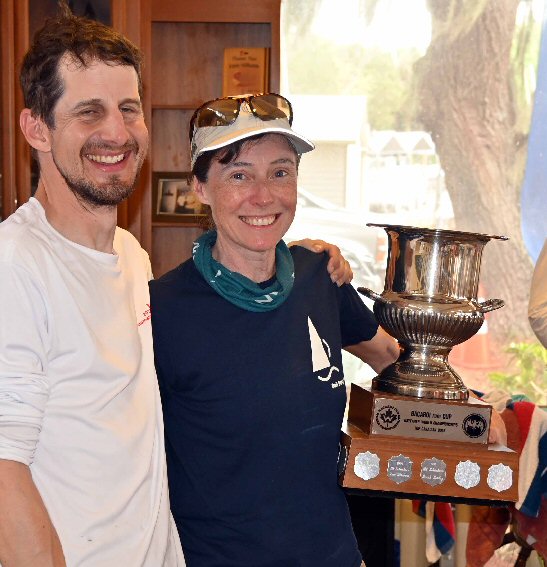 the
Anamcara Trophy
for Top Lady Helm; the
Bacardi Trophy
for top Canadian finish
In a fleet that included a record-high number of female helms (and crews!!!): Peggy Menzies (5th overall), AnnMarie Covington (11th), Monica Schaefer (13th), Bea Newland (14th), Margaret Hynes (22nd), Ali Kishbaugh (27th), Elaine Vogan (32nd), Pat Kuntz (34th), competition for the Anamcara Trophy was at its highest level ever. In the end, the winner was crowd favourite, Sue Pilling, once again with her 3rd overall finish. That placing also won for Sue and Steph, the Chich team the Bacardi Trophy which at each Worlds, goes to the Canadian team finishing highest.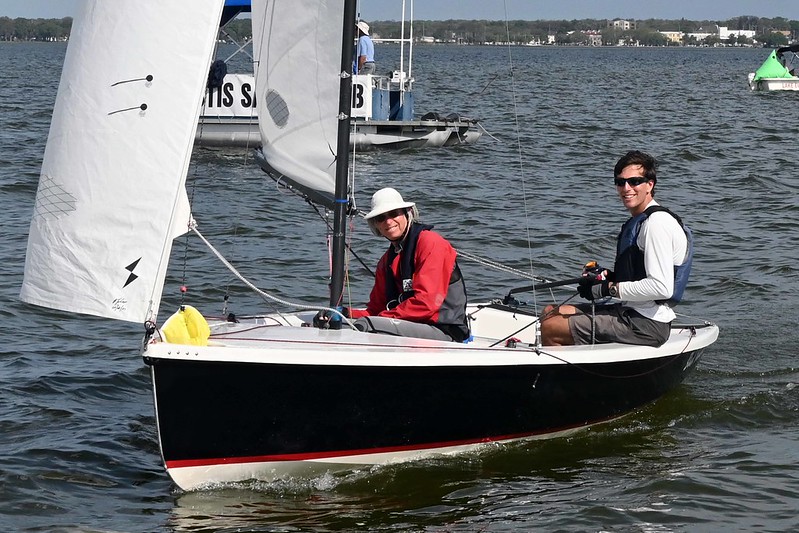 Team
Skimmer
flashes well-earned smiles after their 2nd in race 7.
Jim Cook of Charlotte, North Carolina's Catawba YC, put it all together nicely in time for the Worlds. He replaced the venerable Abbott mark 1 W7372 that Rob Wierdsma and Ken Butler had owned before him, with the sleek (above) mark 4 Black Skimmer W10873 acquired from long-time fellow club members, Richard Johnson and wife, Michele Parish, and lined up his dream crew, Mike Taylor. Who could ask for more? After finishing all 11 races in the top ten, Jim and Mike finished 4th overall, just three points from a "podium finish".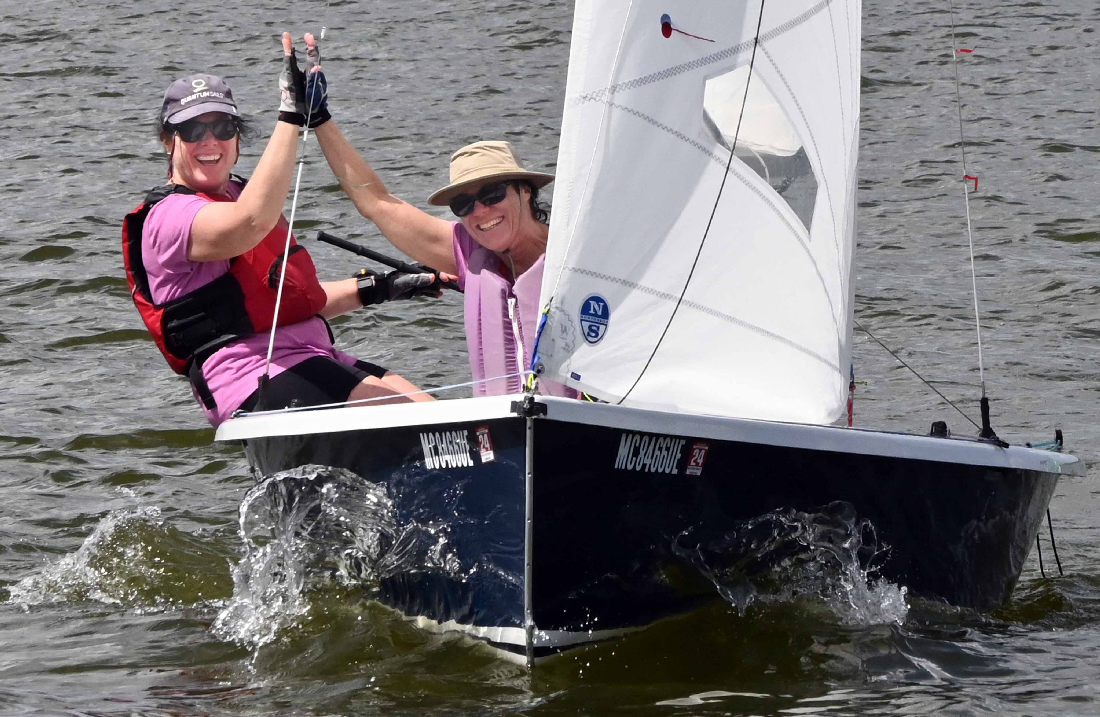 Sisters from Michigan and Minnesota rounded out the top five in fine fashion, counting nothing but single-digit finishes. Peggy Menzies (left above) sails out of Detroit, Michigan's Crescent Sail YC on Lake St. Clair while sister, Kathy (Sanville) makes her sailing home the White Bear YC on Minneapolis/St. Paul's White Bear Lake.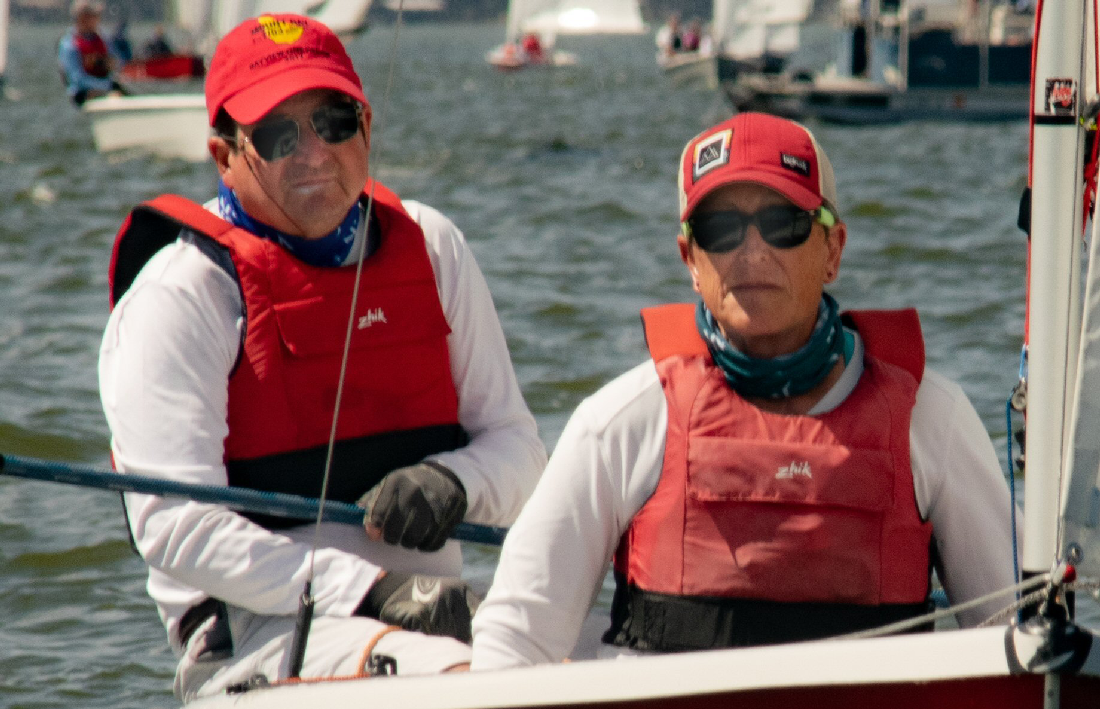 Nothing but top ten finishes for Marc Bennett and wife, Julie Seraphinoff (above), of East Lansing, MI and the Lansing SC this time around and a marked improvement over their previous Worlds in 2013 where they took 14th at the Mississauga SC. Highlighting Marc and Julie's performance was victory in race 2 which won them the lovely Canadian Wayfarer Trophy (below).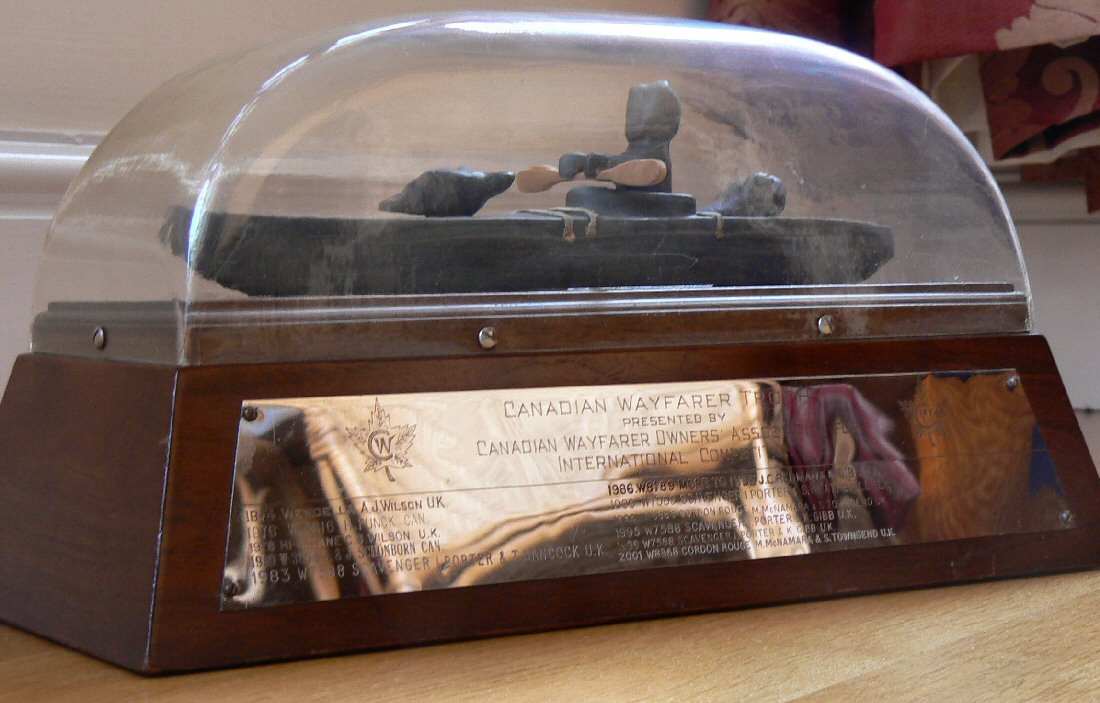 Fond memories for Uncle Al here as this, in 1980 at Tawas, was Julia's and my only such victory. Marc and Julie join a pretty illustrious group above.
When the dust had settled, they had edged out the English team of Quentin Strauss and UKWA Secretary, Sarah Burgess, for series 6th by a couple of points. Quentin and Sarah (below) had five finishes in the top five as part of their 2022 Wayfarer Worlds résumé as they sailed Fetch W11336 (disguised by mainsail number 10666) on loan from Richard and Michele to 7th overall.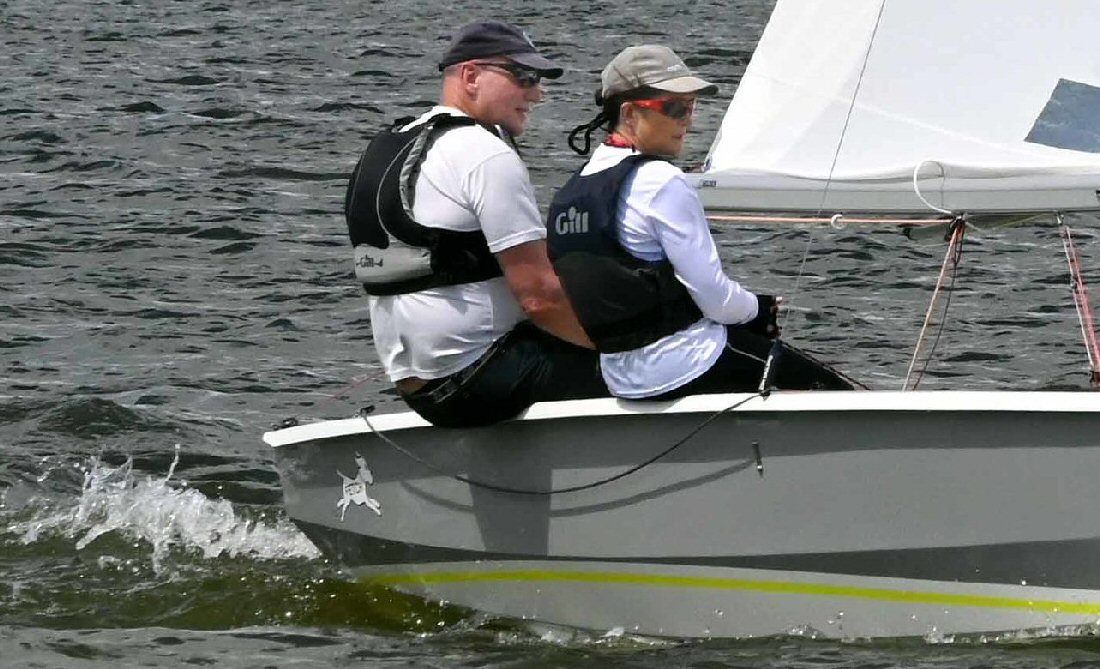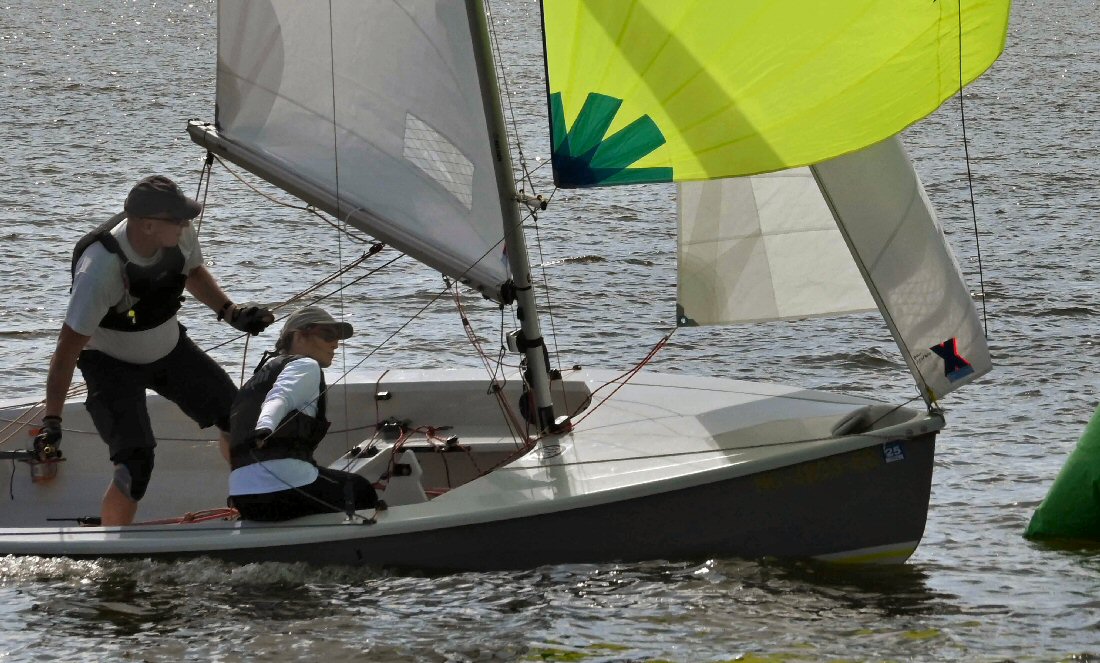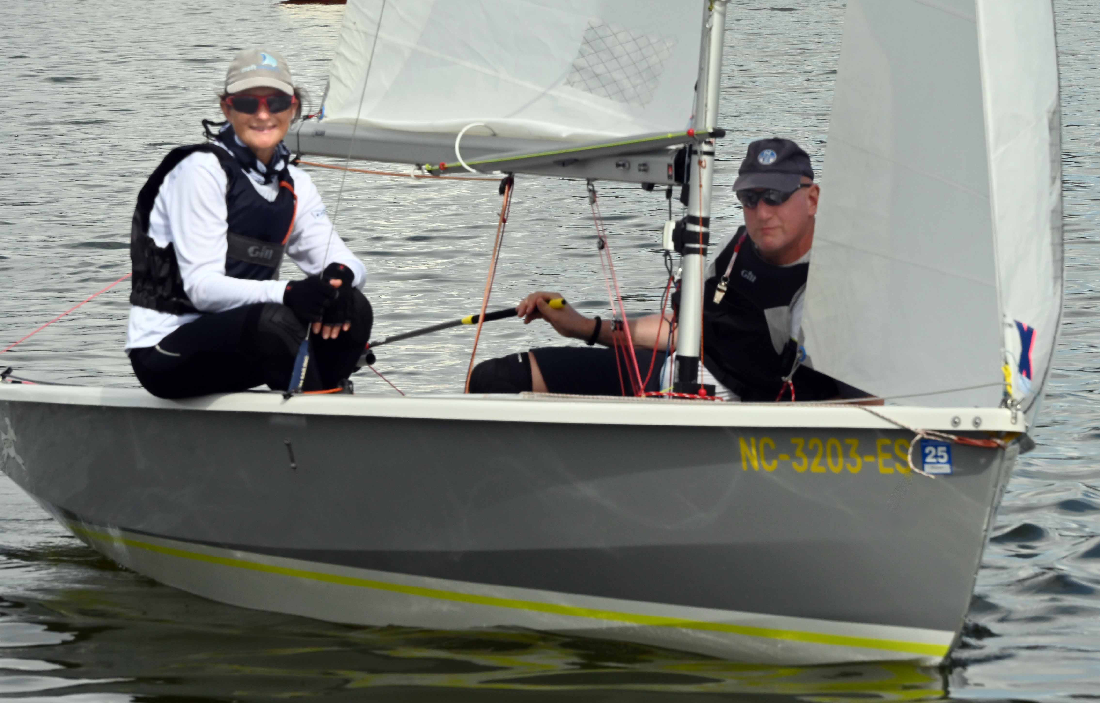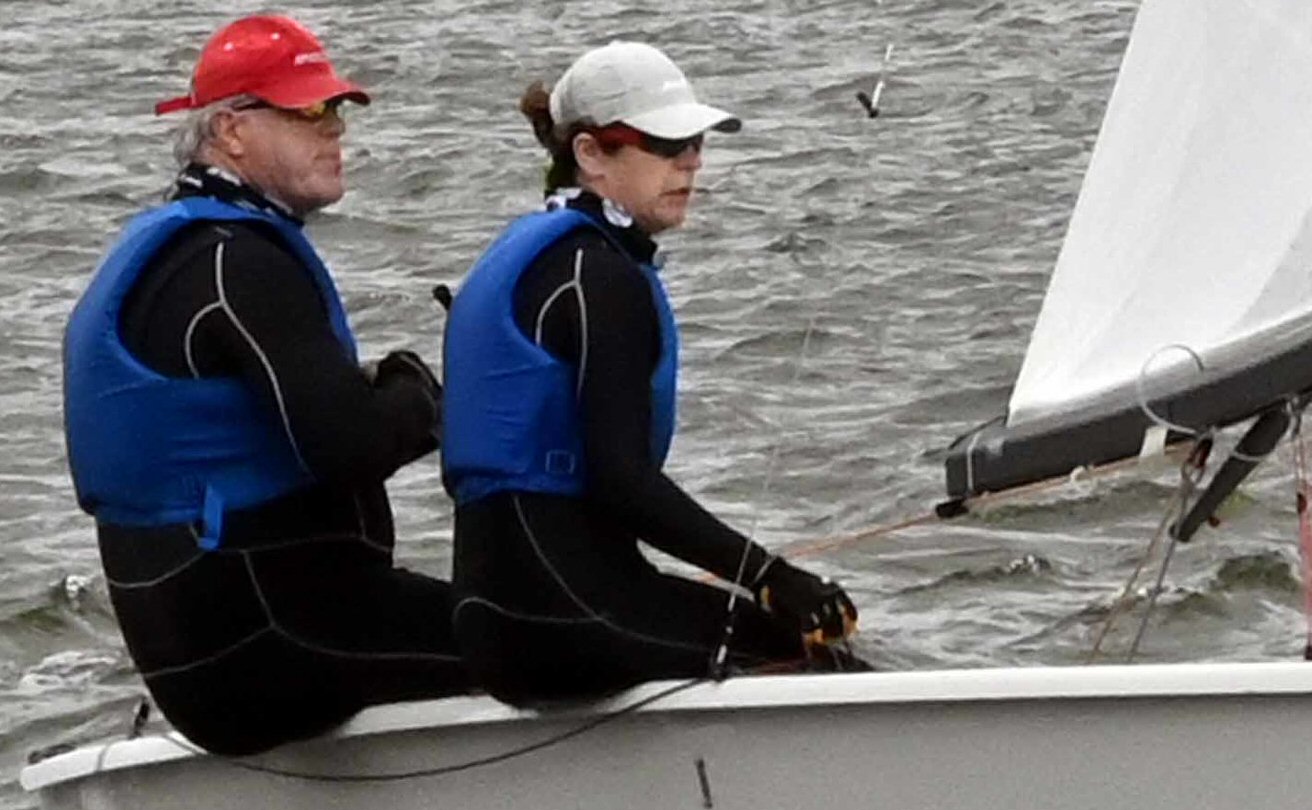 With a 7th in the finale, Tim and Jacqueline Townsend from Canterbury, Kent (Medway YC on the Thames) leap-frogged expatriate Brits, David and Anne Pugh, into 8th overall by a single point after the Pughs placed 9th in that race and the series. After the regatta, Tim proudly announced on Facebook: "Tim and Jacqueline Townsend and Simon Townsend are all now honorary members of Lake Townsend YC and have the LTYC branded sunglasses retainer bands to prove it."

David and Anne (below), newly minted citizens of Canada who live just up the street from Uncle Al and Julia in Oakville (west of Toronto) and sail out of the Mississauga SC had a relatively consistent series as they beat their 12th seed by three spots.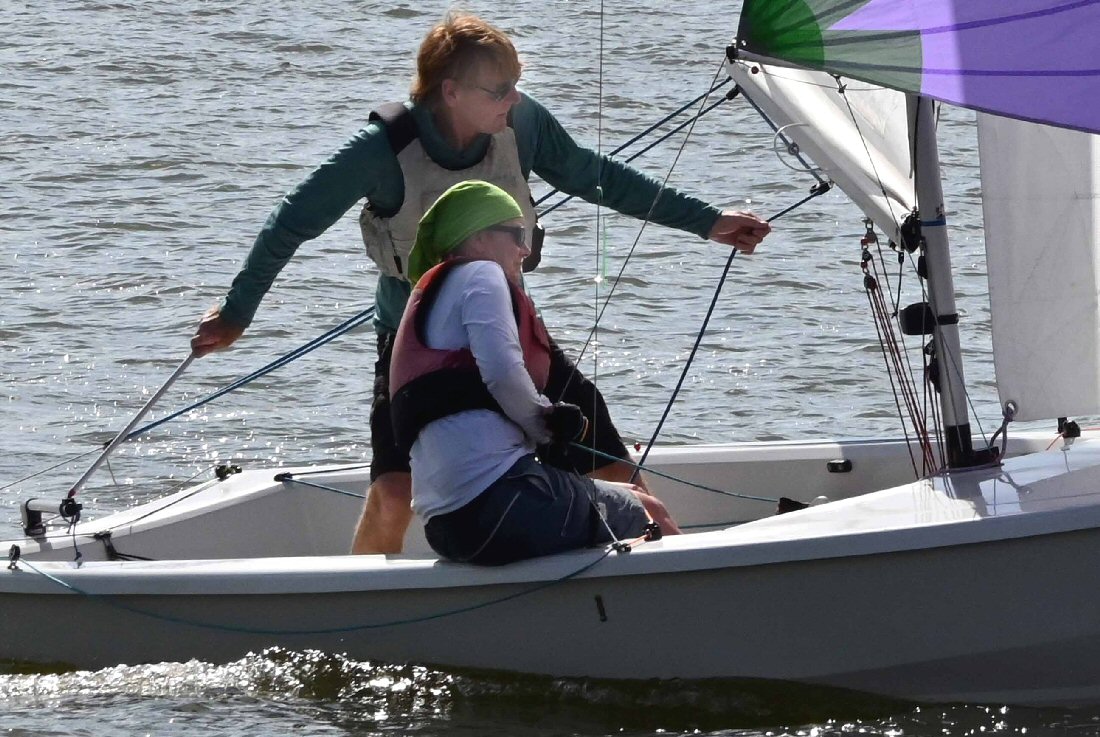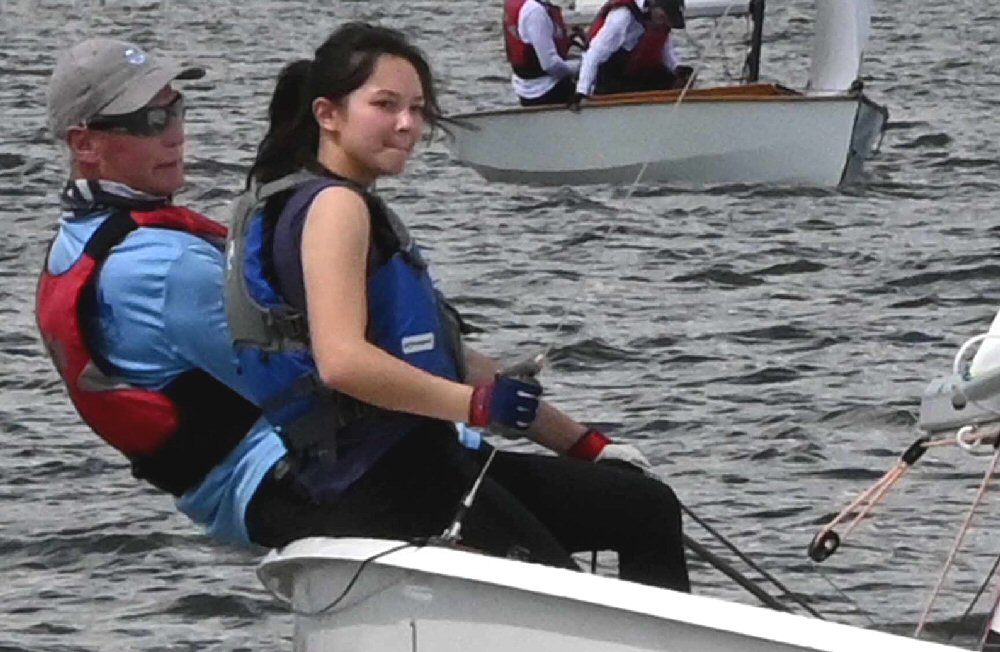 Simon and Christa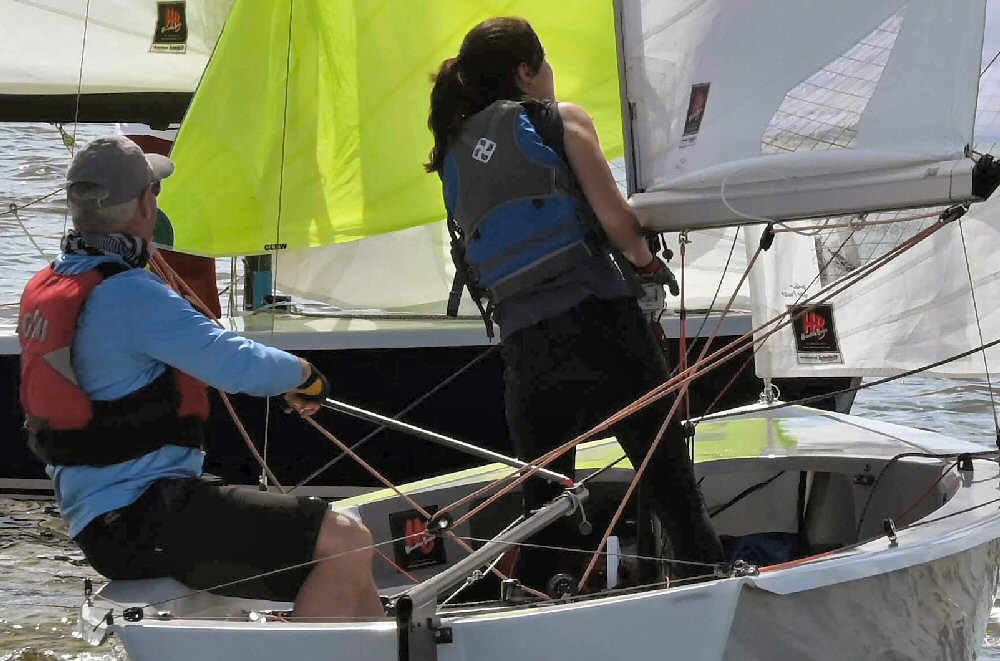 Seeded 2nd behind only Mike McNamara after his string of fine North American results prior to the 2013 Worlds, Simon Strauss was in tough, sailing in a borrowed boat (albeit an excellent Mark 4) with two pick-up crews. Simon, Christa Wray and Jim Rotella nonetheless managed to finish in the top ten. As (I can't resist!!) Simon says: "Info for Simon; home town Shokan, NY (Al's note: two and a half hours north of New York City - a hamlet, says Wikipedia; first real, live hamlet I have ever come across.) Current sailing club: Larchmont Yacht Club. Originally from London, England and the Medway Yacht Club. Two crews sailed with me this week - Christa Bray from Eustis FL and University of Central Florida, sailed races 1,2,10,11. Jim Rotella of Tavares, FL sailed races 3 through 8. We did not sail race 9 as Jim hurt his back necessitating Christa's return for the final day. We enjoyed very much winning the final race and the most important race at the end of the regatta - to the dock!"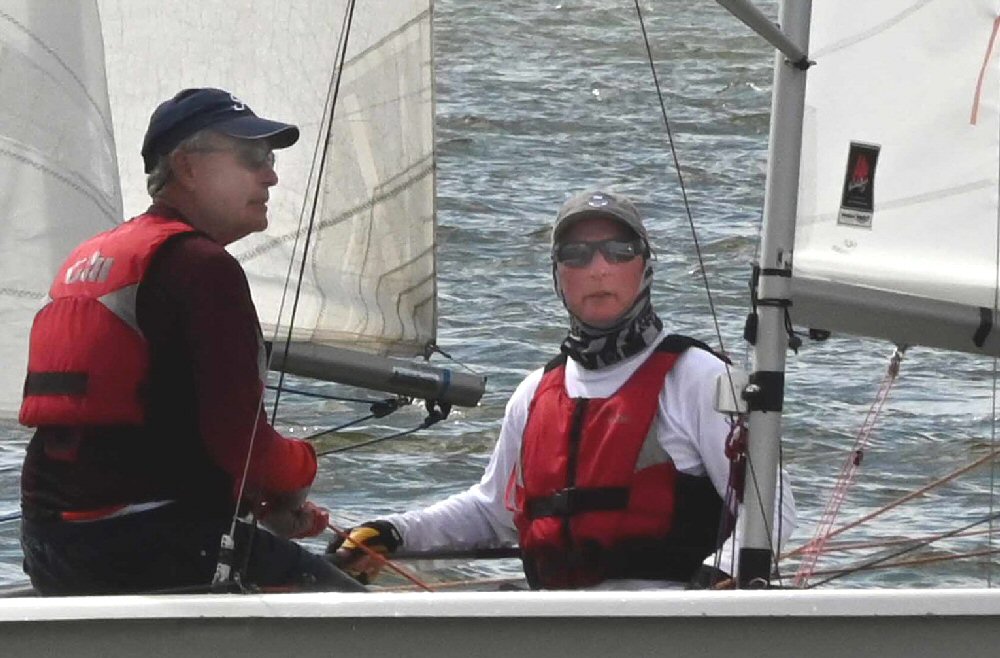 Jim Rotella at the spinnaker sheets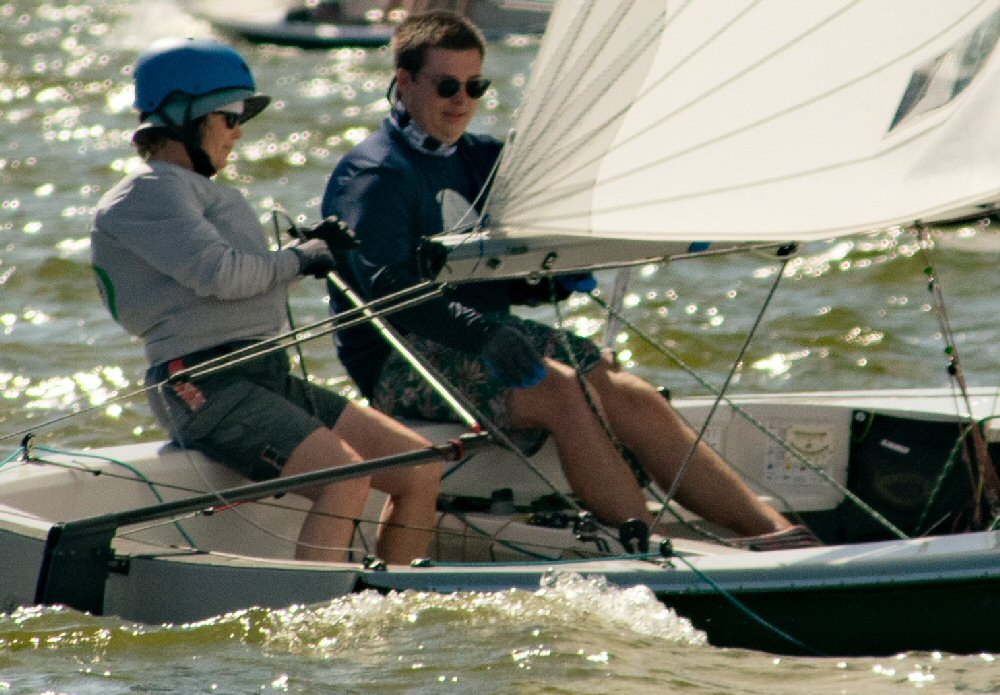 Series 11th and bragging rights for North America's largest and most active Wayfarer fleet, the one at the Lake Townsend YC in Greensboro, North Carolina, went to AnnMarie Covington and Gareth Ferguson (above) who edged out clubmates, Uwe Heine and wife, Nancy Collins by two points. AnnMarie beat her seed by an impressive four positions. Of course her crew, Gareth, currently sits atop our North America only seeds after helming AnnMarie's Intrepid in one race. Our daily on-the-spot reporters, the 11th-seeded Uwe and Nancy sailed their new mark 4 Anansi W11338 to a 12th overall despite missing race 6 when they went back to shore to replace their storm jib with the regular genoa that we all usually race with.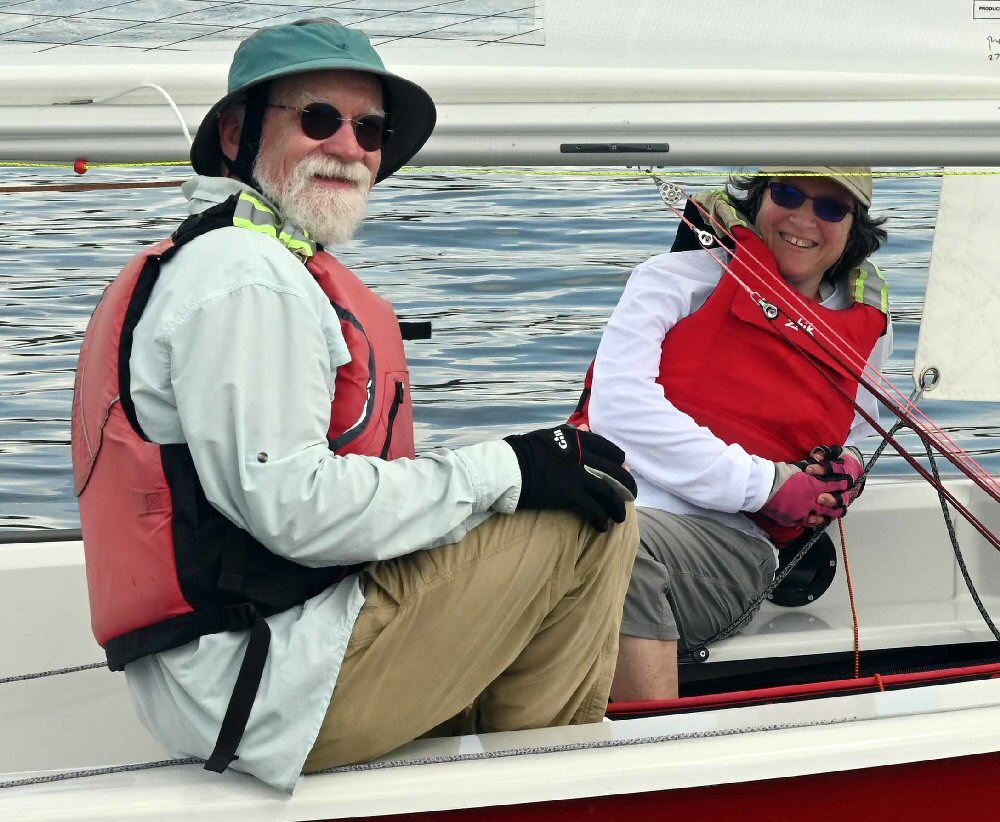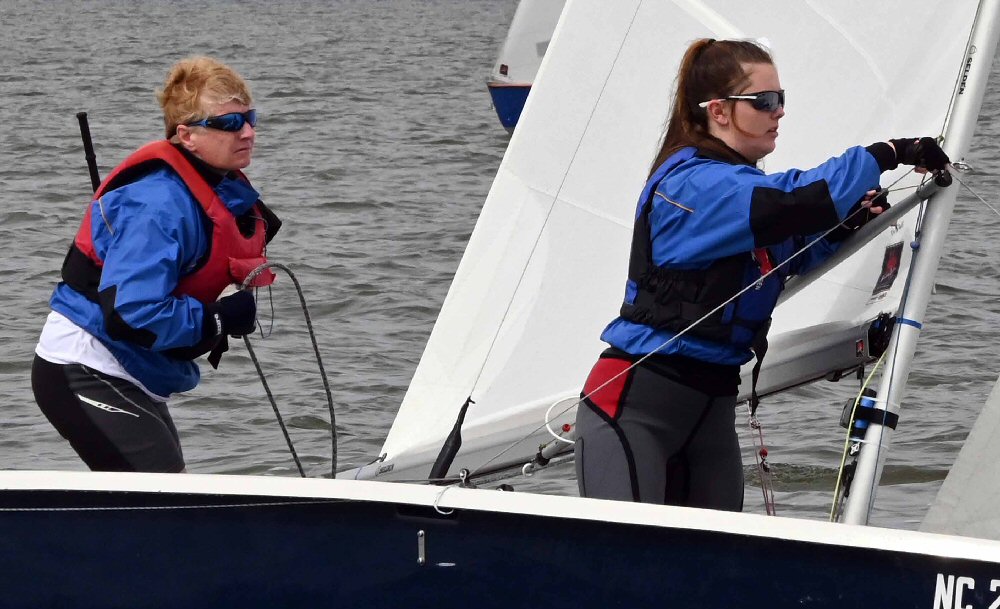 Sailing W11137
Calypso
loaned to them by Ali Kishbaugh to 13th overall were the Irish team of Monica Schaefer and Rachel Lawlor
(above)
who sail out of the club that hosted the 2019 Worlds, the Greystones SC near Dublin.