Here come the Juniors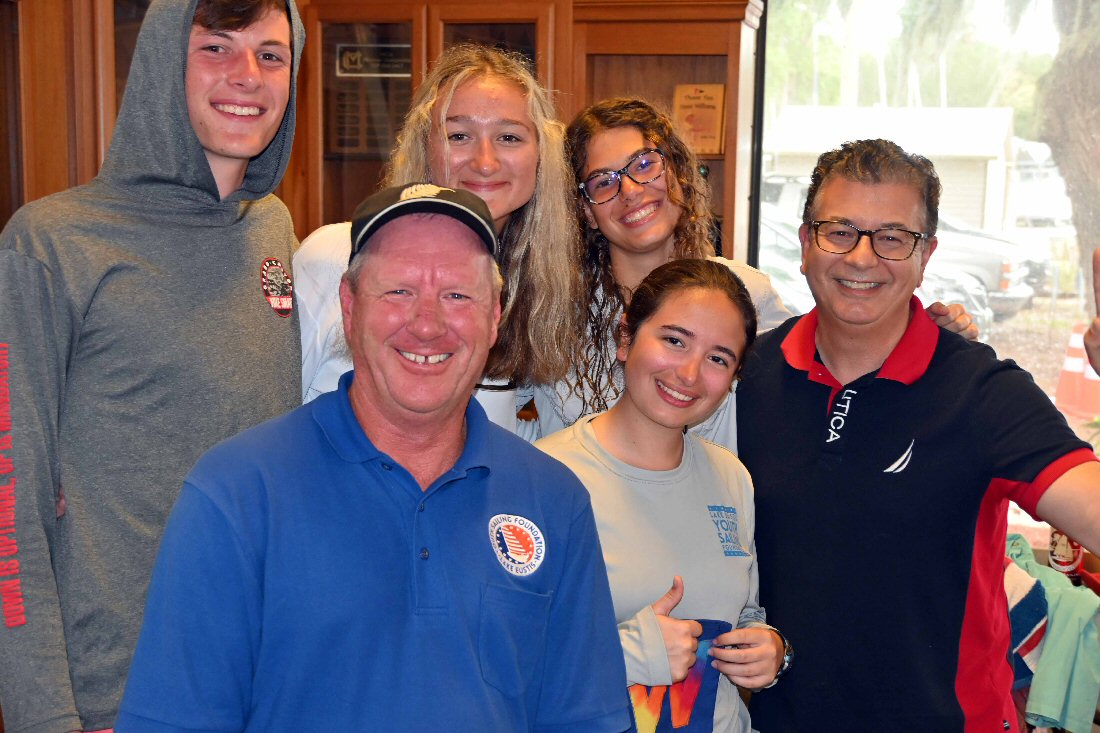 (back) Ben Kelley (18), Grace Moring (turned 17 during the regatta), Merce Newland (15)
(front) Craig Yates. Bea Newland (16), Robert Newland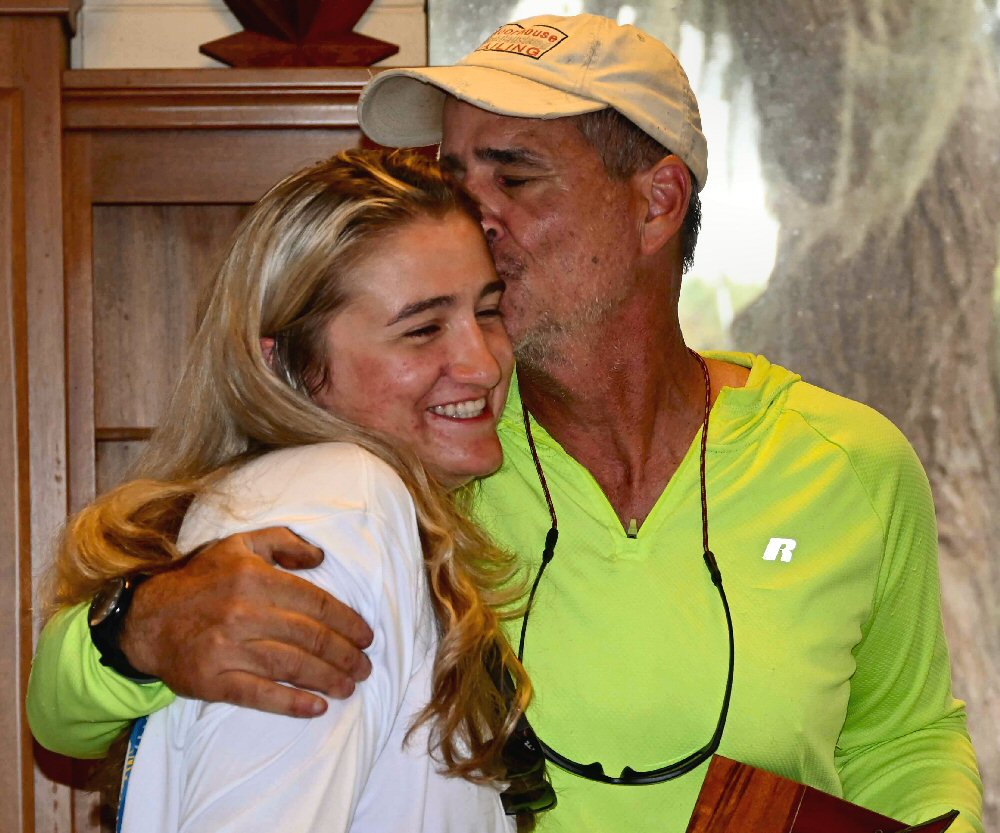 And speaking of young sailors: Silver medallists, Ava Moring (18) and her dad, Dave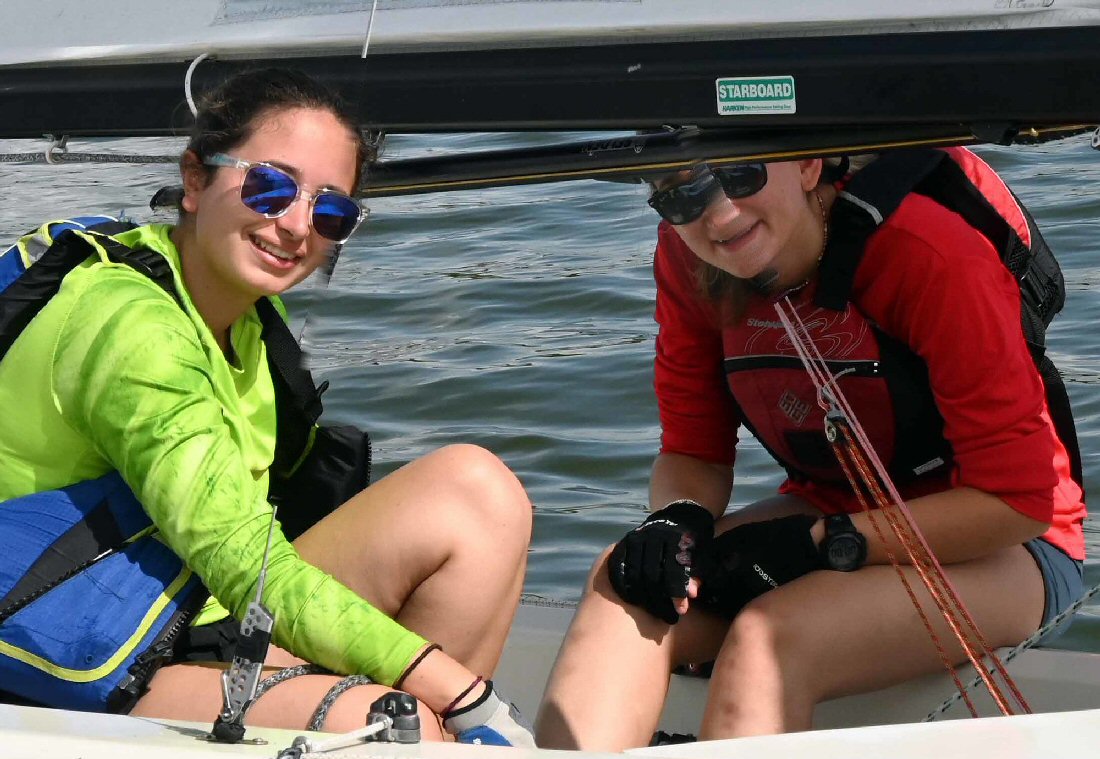 The next three crews finished within one point of each other. The junior team of Bea Newland (16) and Grace Moring (a freshly minted 17) (above) in W10874, one of the original shipment of mark 4's in September 2011 ended in a points tie with Nigel and Belinda O'Donnell of Kegworth, Leicestershire, and the Swarkestone SC who were sailing the newest Wayfarer, W11345 (below), kindly loaned to them by new LESC Wayfarer, Shane Harvey. Series 14th went to the girls on the tie-breaker where their best two results, 8-9, topped the O'Donnells' 8-12.

16th overall and one point out of 14th were Canadians, Leo Van Kampen and wife, Joanne, who sail out of the Conestoga SC an hour's drive north-west of Toronto. With a first-race 7th and a sparkling 5th in the finale, our CWA Chief Measurer and Joanne had great book-ends but lacked the necessary consistency to hit the top ten. Still this year's result was a significant upgrade on their 25th in 2013 in Mississauga, and their 6th in the Silver Fleet of the Netherlands Worlds, 2016 in Heeg.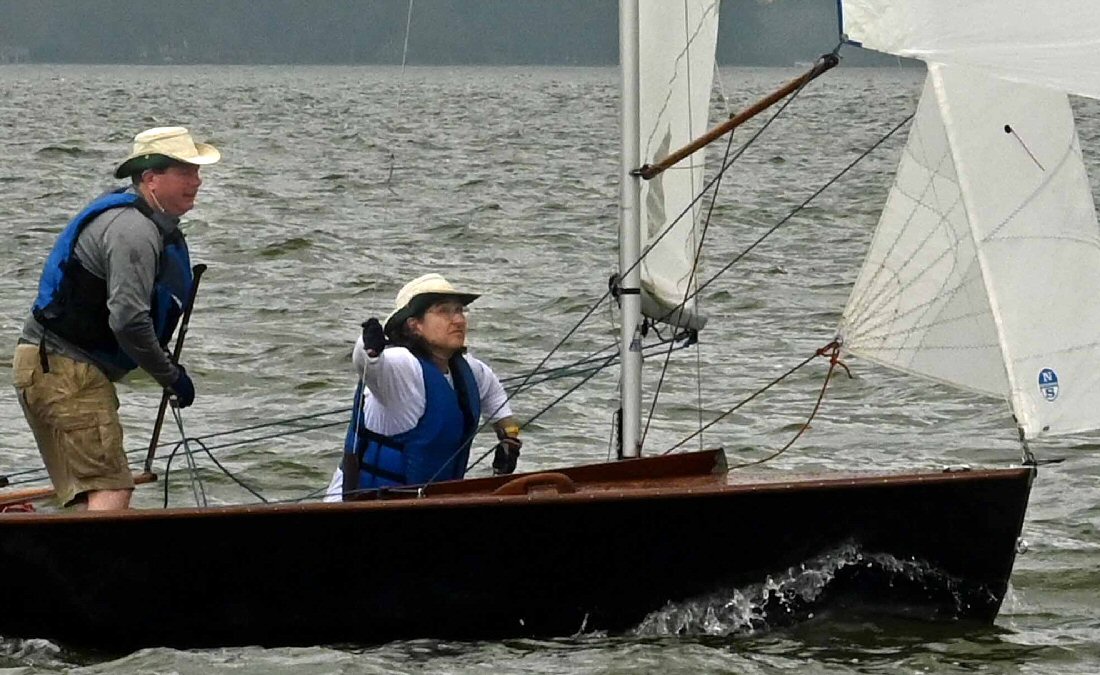 a wooden spin pole, just like I made for W116 SNOOPY in 1964
(I however, got folks to autograph it with pithy sayings. The one I still remember was Noli urinare contra ventum from my dad.)

Mystic, Connecticut's Paul and Dawn Miller
(above)
, the current U.S. National champions were seeded 8th and expected to be serious contenders in their wooden W971
Wind Shadow
that calls the Mystic River Mudheads Sailing Association home. But alas, the start line got in the way. Gossip has it that the Millers were OCS (over early) in at least six of the eleven races, three of which found their way to the
scoresheet
. And voilà, there they were in 17th overall at the end. But looking at the photos like the one below,
their consolation has to be that they were near the top more often than not.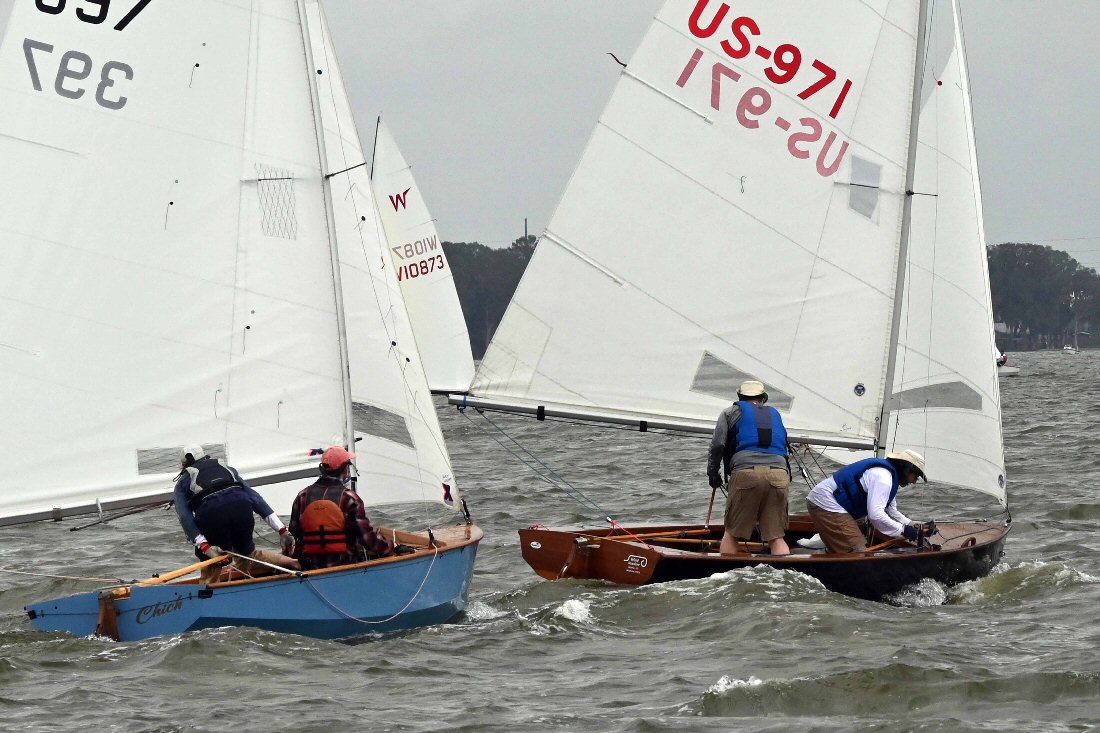 My request for a fact check provided the following interesting reply from Paul:

W971 had the name
Wind Shadow
when we got her and we've kept it, although we were talking about possibly renaming her "Recklessness" after the comment in
Yachts and Yachting
!

The write-up is pretty accurate, although we were OCS in only five of the 11 races! I've been trying to figure out why my standard starting method didn't work. I have some ideas, but may need to find another large fleet to check. I think I've been in about 3000 races and can count all my OCS on two hands, one of which was this regatta!

Here is my brief take on our lackluster results. In the practice race we did just fine until the wind went below 8 knots or so and suddenly the boat slowed down. Instead of going back in and quickly replacing the new set of Mac sails with the old Norths, we stuck it out and got mediocre results in the first two races. I grovelled and Michael Mac, who is a super nice guy, came out with me for about ten minutes. He pointed out a number of things, but the key thing was not enough pre-bend, which was causing a hooked leach. Our mast has the 1980's swinging spreaders setup and although I tried a lot of things until late in the night, I was not able to change the tune to get the needed pre-bend. The end result was two outcomes:
1. we switched back to the 40-year old Norths (40 years ago the Norths were cut for no pre-bend to match the swinging spreaders, while current mains are cut to expect 1.5 inches or so with fixed spreaders.)
2. we ordered the updated spreaders and bracket. (They arrived last week and should be in for Rock Hall!)


After that we had pretty good success with boat speed and much of the time, good strategy and tactics. Unfortunately, from discussions with the RC, we were over early by half a boat length or so in three races, but thought we were OK twice so didn't go back. In one other we were over about a minute before the start, but behind at the gun, but unfortunately did not see the "round the ends" flag. In another race it may have been mistaken identity as we thought we were late, so didn't go back, but W911, which looked identical, wasn't called over, but the pictures showed her in front of us.
... I went back and figured what would have happened if ... we had kept the finishes instead of the OCS. We would have been two points out of 5th. Oh well, that's sailboat racing!

Al's note: Great minds think alike. In my first Worlds, I tried a radical new centreboard with a half-round leading edge. Slow on the uptake barely begins to describe my 1976 woes:


"There was little doubt that Jeff Jones, then in his run of five straight North American titles, was the fastest boat there. However, Jeff's easy wins over the previous two years had not prepared him well for the strategy that would be necessary in this much tougher fleet. It is rumoured that in essence, the sum total of one Jeff Jones seminar on how to win races was: "I just like to get out in front and stay there."

That approach was never available to Jeff in this series as he consistently went well out to one side of the first beat – and guessed wrong all seven times!! Thus he was well down the fleet at the first mark before he turned on the afterburners to end each race back near the leaders. But not near enough!!

Meanwhile, not to be outdone, your Uncle Al made the first of his many not too smart Worlds experiments that year as he installed a beautiful new home-made centreboard with a half-round leading edge in time for the event. It took him until spring '78 to determine that, unlike on rudder blades, half-round is terminally slow off the wind. Belatedly, Al figured out that he had lost 20+ points' worth of boats on reaches that should have been "parades". Had he and Freddie maintained their position in which they rounded each first windward mark, they would have won the series decisively."

The SA in the Mudhead name stands for Sailing Association. Al's note: I absolutely love the name of your club and must visit and sail there one day.

Thanks again, Al, for all you do! We were really bummed that you weren't able to make it to the Intergalactics, but are really looking forward to sitting down and eating some crabs and drinking some cold and frosties with you for a week in June!
Take care,
Paul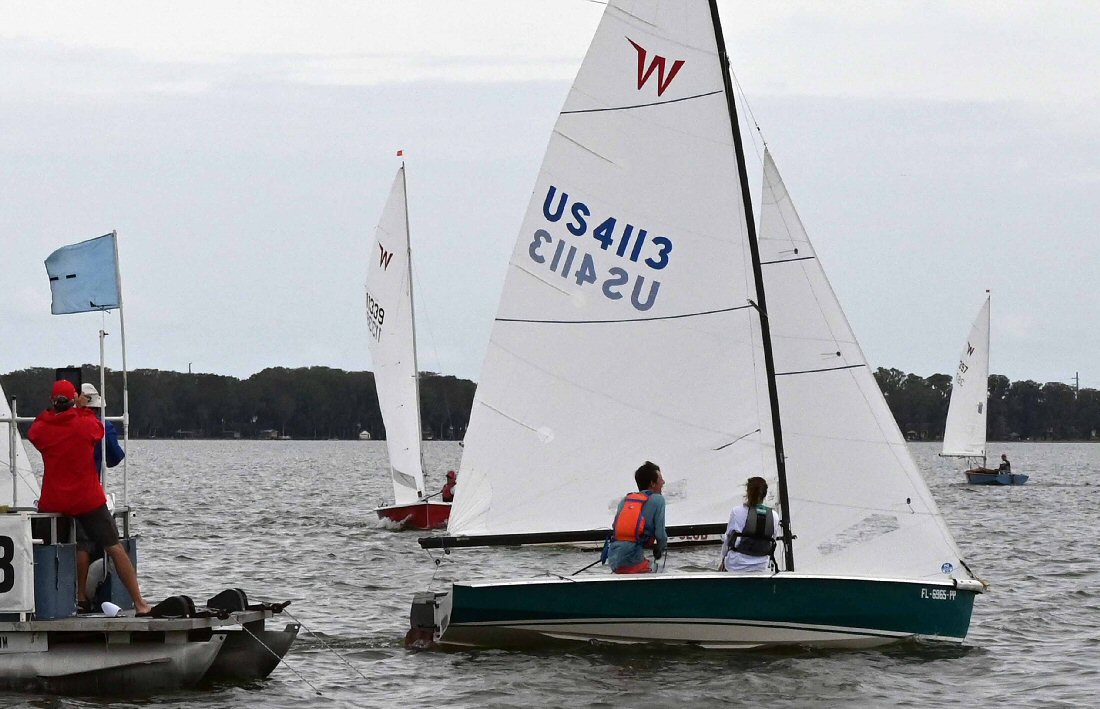 Race 8 saw Ben and Merce finish a spectacular 4th.


Sailing Bubbles W10862 disguised as W4113, a club boat now owned by the Eustis Youth Sailing Foundation was the other Lake Eustis SC Junior team, Ben Kelley (18) and Merce Newland (15) who seemed to take a while to hit their stride (19-22-26-30-20-21-23 on the first three days) before making a spectacular turn-around to complete their series with 4-2-9-13 and place 18th overall.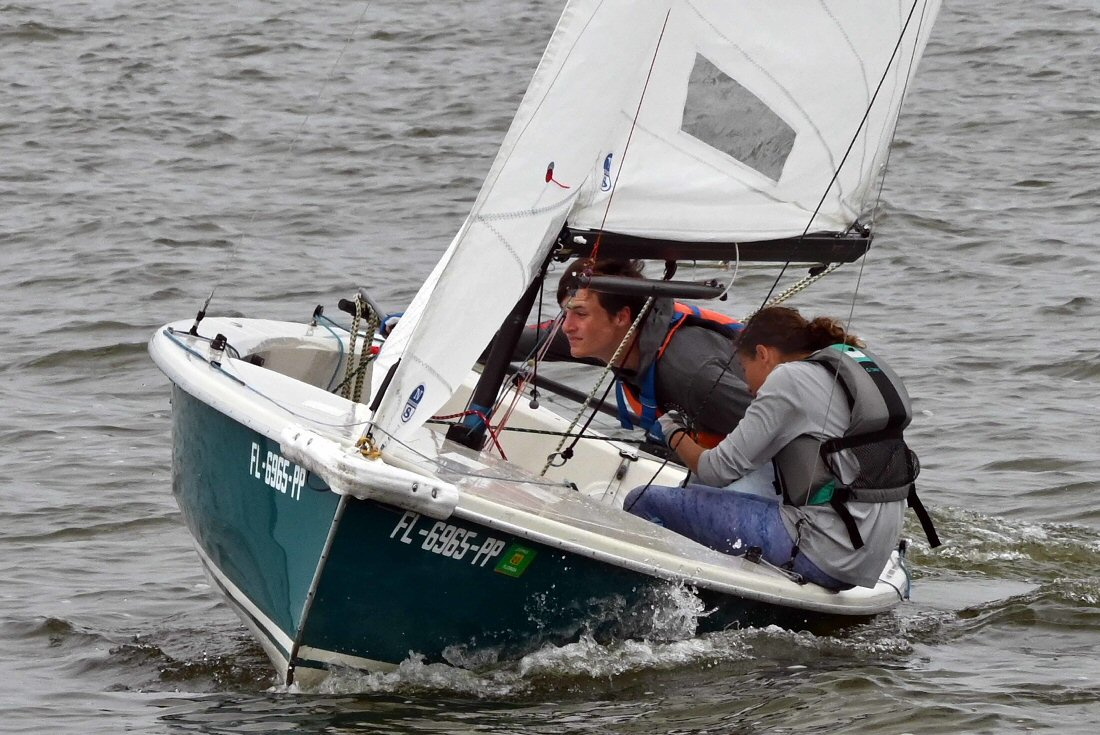 a lovely roll tack just before ...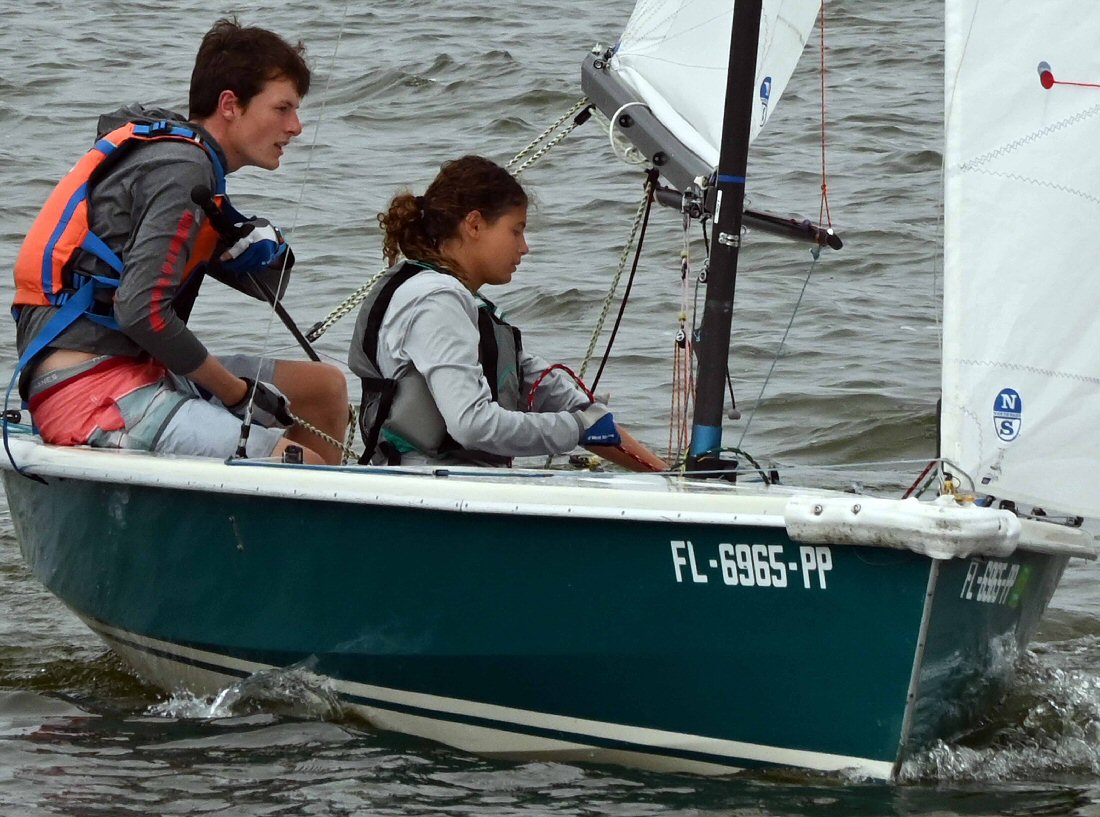 ... the finish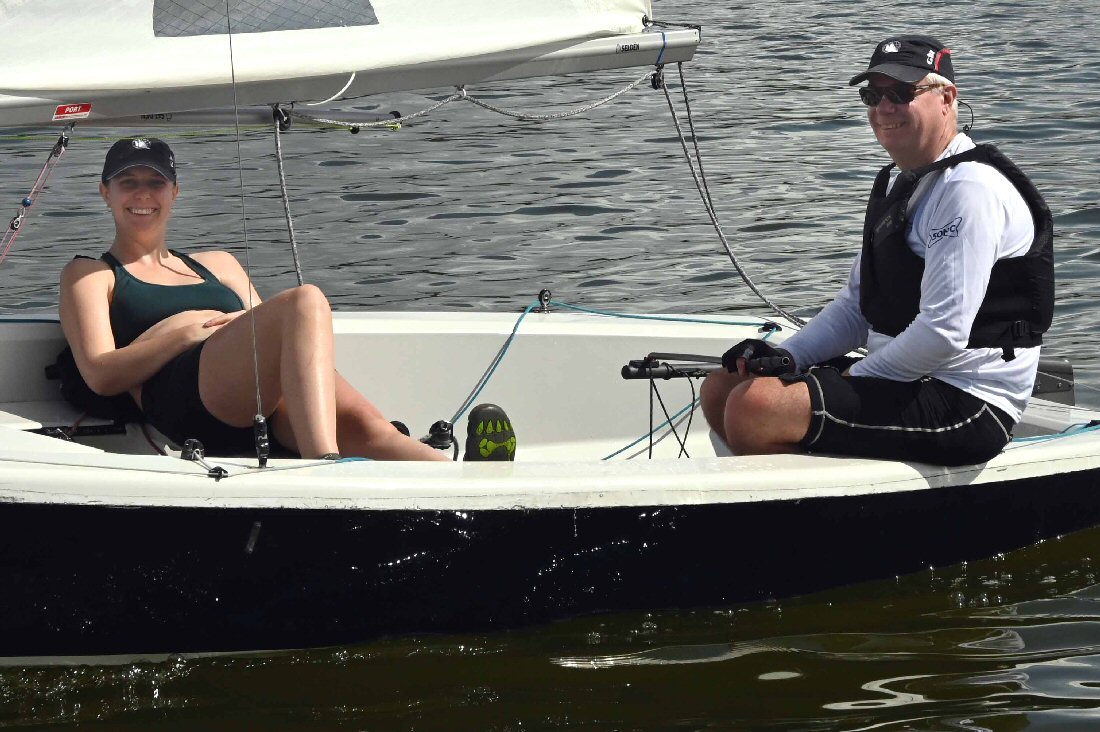 Long-time Mississauga SC stalwart Rob Wierdsma again teamed up with his daughter, Samantha
(above)
, and placed 19th after relatively consistent finishes that saw them beat their seed by one place. Our CWA Chairman, Rob, has just retired to Peterborough, about an hour north-east of Toronto, and invites all Wayfarers to the Peterborough SC for our
2022 Canadian Nationals
July 23-24.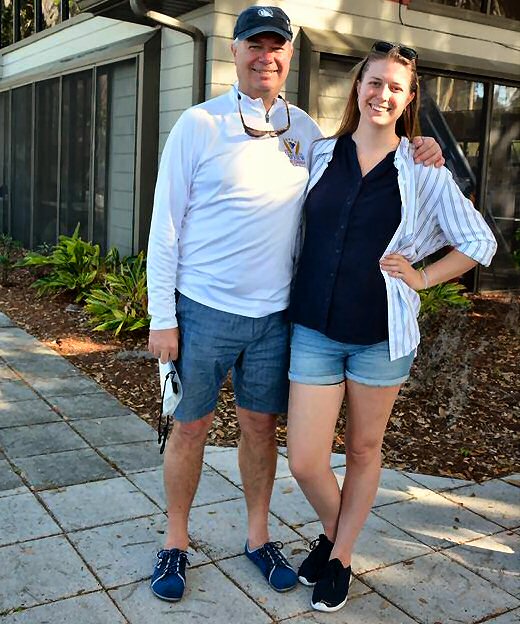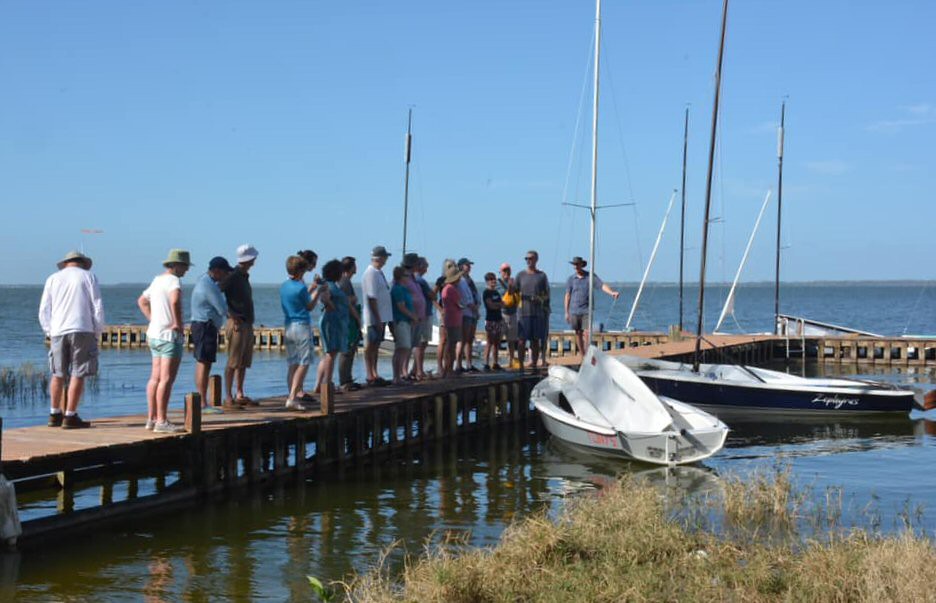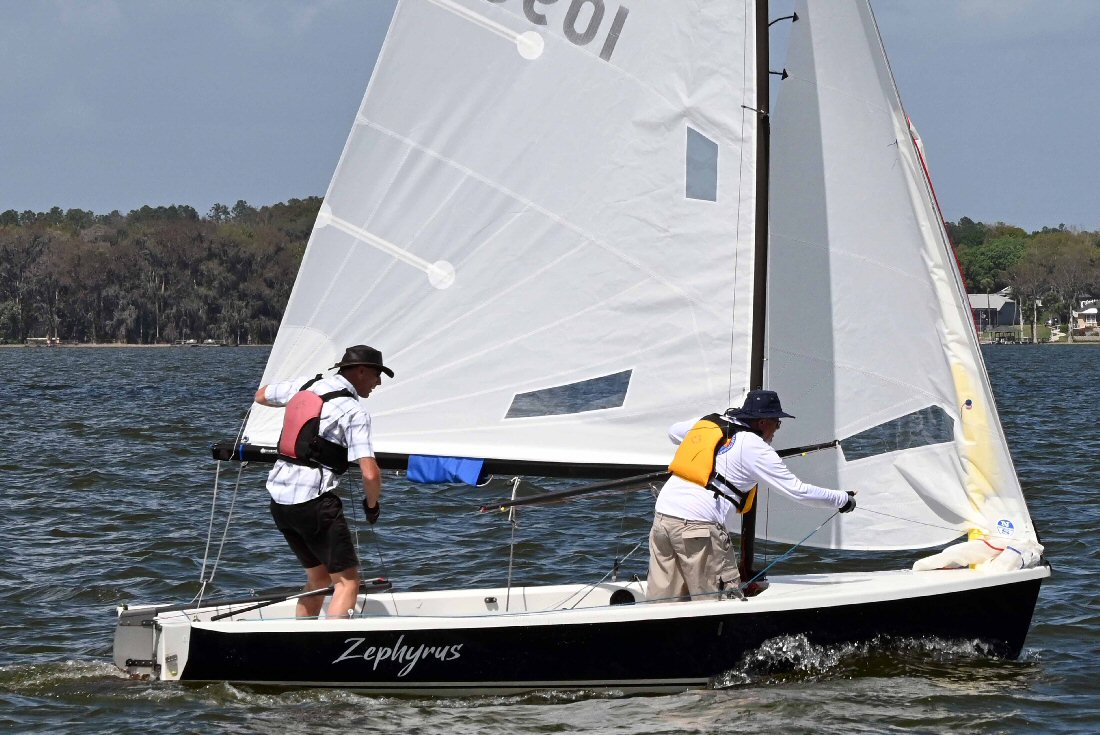 Two points further back but beating their seed by an impressive three places in 20th was another Canadian team, Jan d'Ailly (Past Commodore of the Conestoga SC) wirh Tom Legrady in their freshly christened W10964 Zephyrus. Jan and Tom will doubtless remember with smiles, race 8 in which they took a stellar 6th. That finish not only made them happy but it also gave them the nod in their tie-breaker with Team Heffernan - and I do mean team!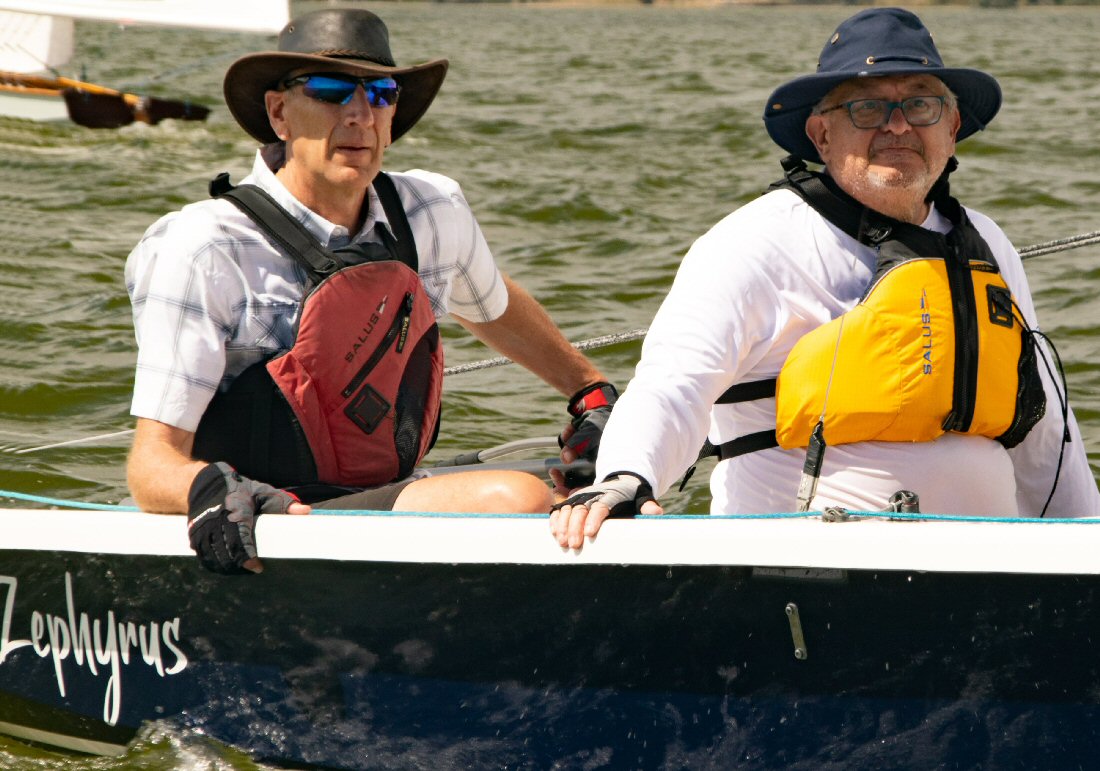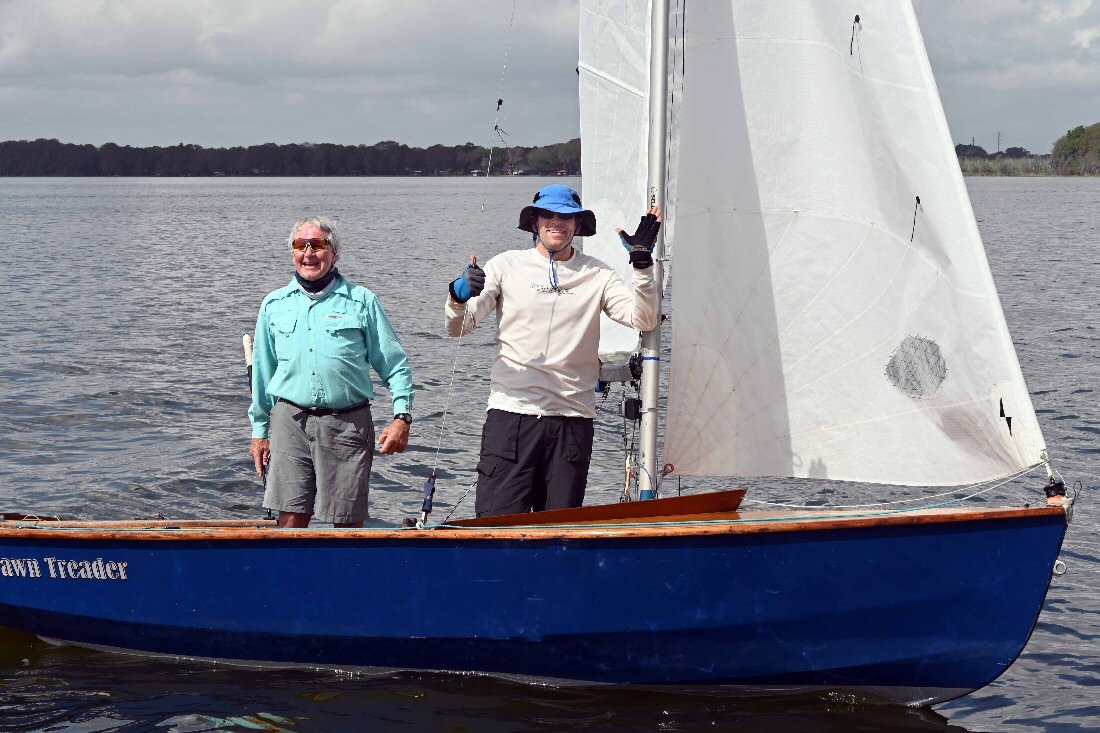 Jim Heffernan sailed with son, Mark, on the Monday and the Tuesday.

Dawn Treader W1066 and Team Heffernan tied in 20th place at 145 points with Jan and Tom but lost the tie-breaker and ended up 21st. Grandpa, Jim Heffernan (above left), long-time USWA Commodore and WIC Secretary as well as father of our Lake Townsend Wayfarer fleet (which is the strongest and most active in North America) gave his wife, Linda, a rest since a trio of sons were eager to crew for Dad in a Worlds. Paul did the Saturday and Sunday club races with Jim and then was pressed into service on the Monday as an emergency crew replacement for Izak Kielmovitch's wife, Lori, and on the Tuesday to crew for Elaine Vogan.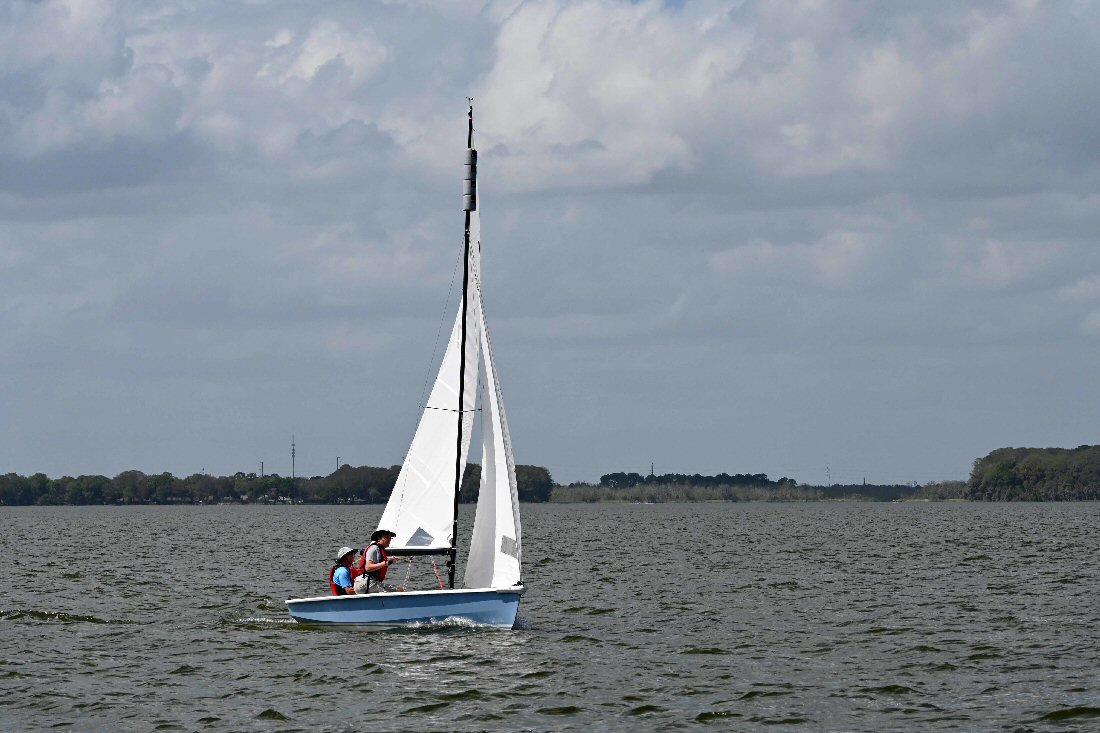 Paul crewed for Izak on the Monday, and Elaine Vogan on the Tuesday.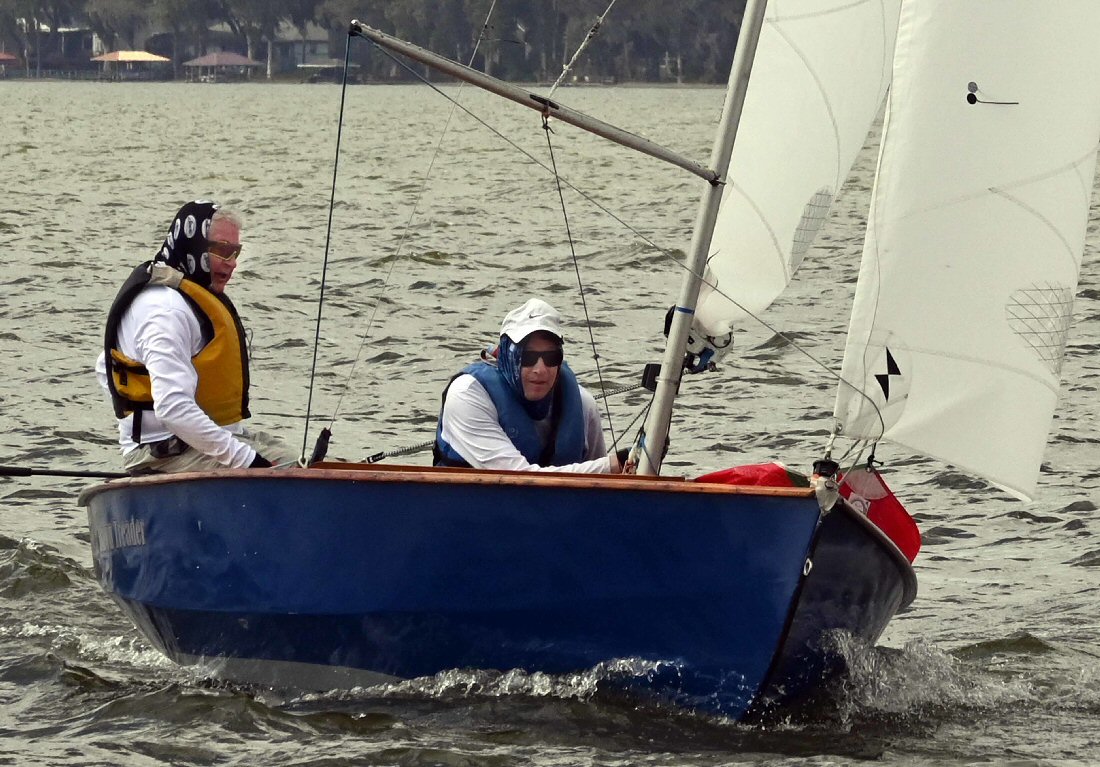 After Mark got his turn on the Monday and Tuesday (four races), Mike crewed the remaining three days (seven races).
(Pole forward!!!!!)


In addition to the two father-daughter duos, we also had a mother-son team this year. Ireland's Margaret Hynes and her son, Sean - seeded 36th based on Margaret's results at the 2013 Worlds in Mississauga - sailed W2458 Morning Star, a mark 1 composite provided by Jim Heffernan, and shot up 14 places above their seed to 22nd overall, highlighted by an 8th in race 9. This made Margaret and Sean who sail out of the Cullaun SC the 2022 Worlds Most Improved. Congratulations, Margaret and Sean!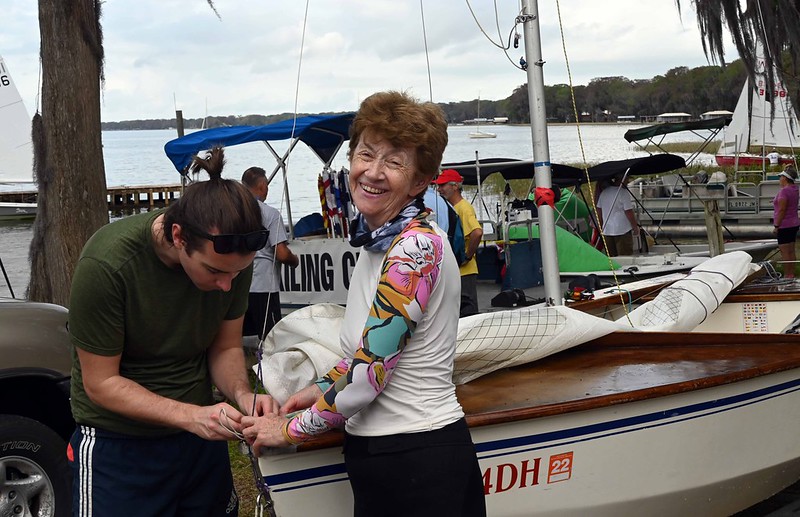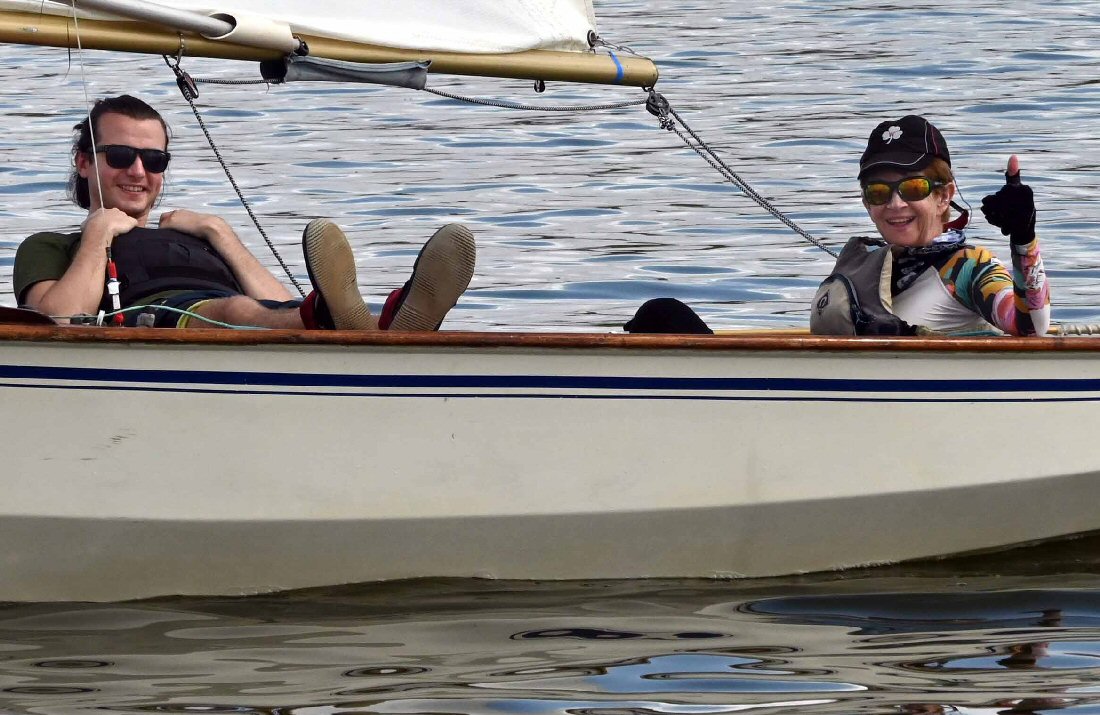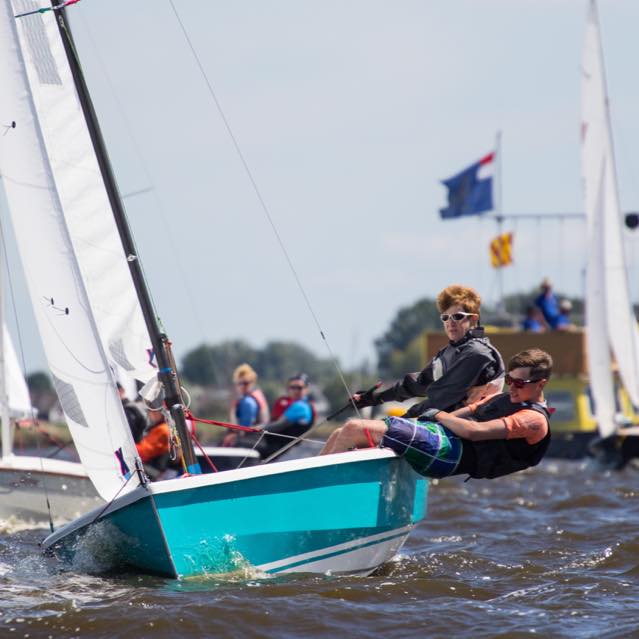 Margaret and Sean? at home in Ireland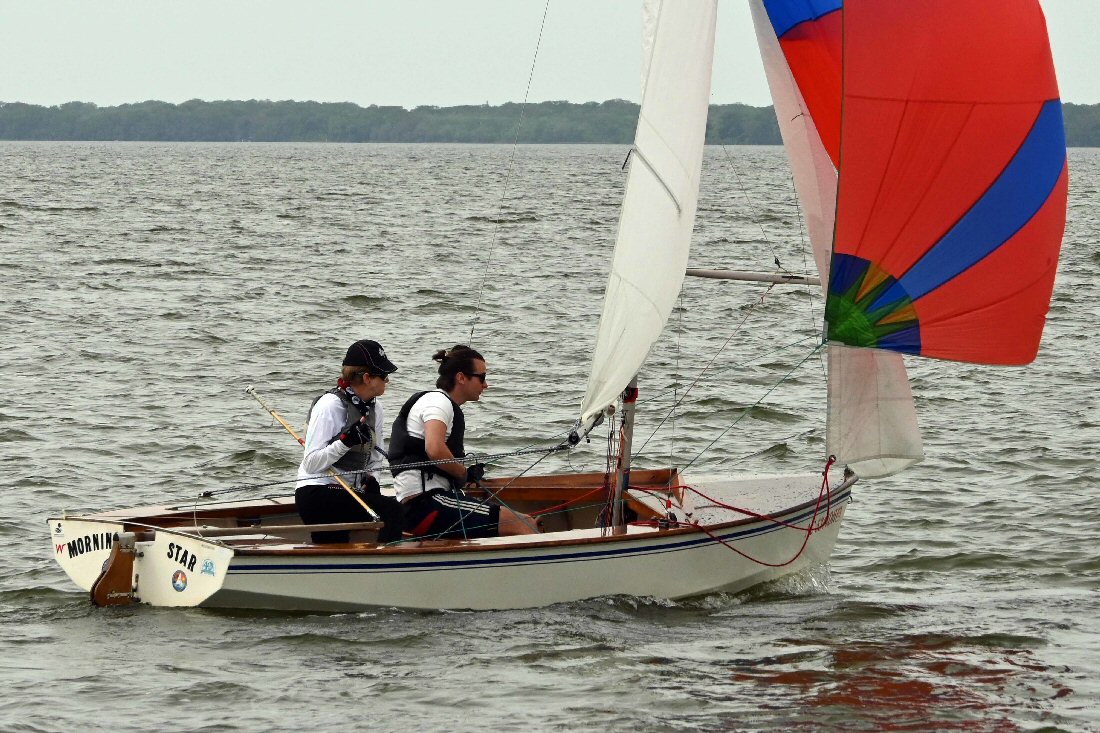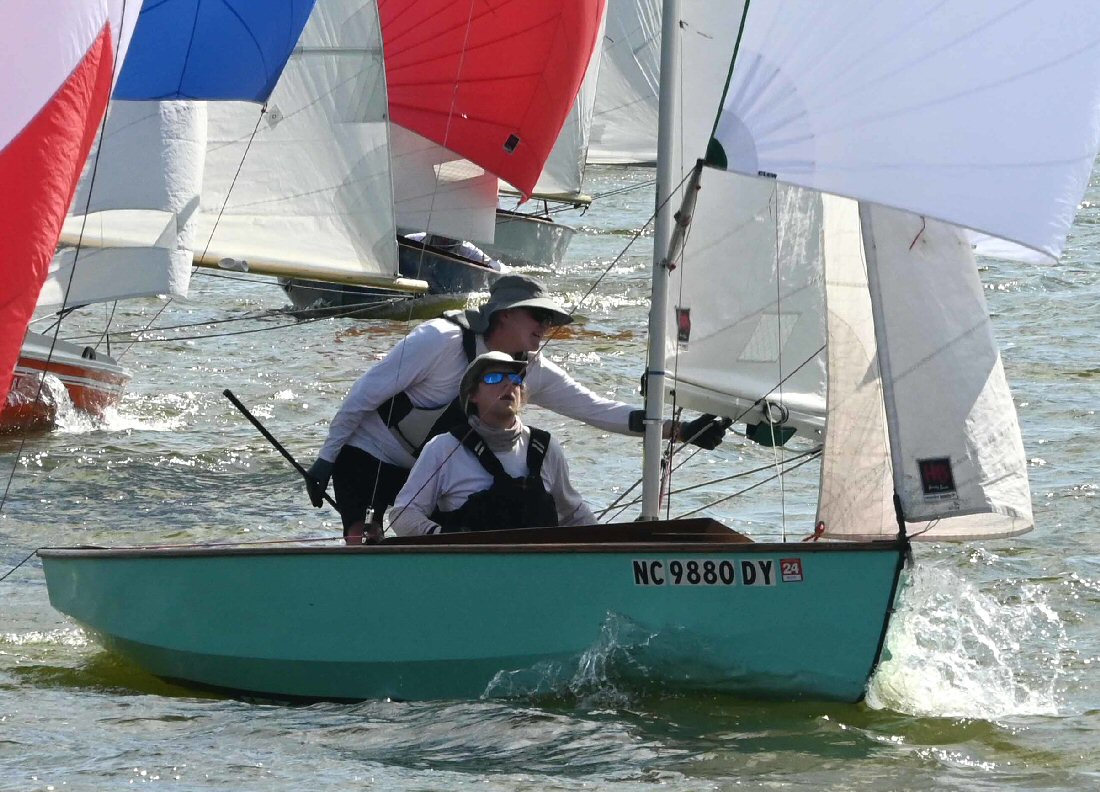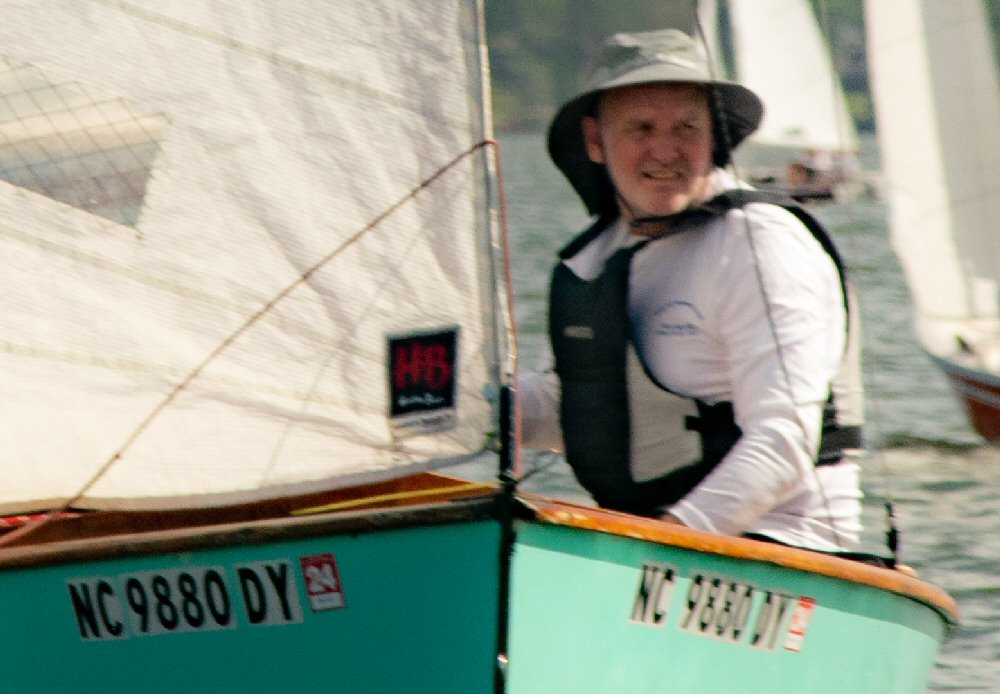 Expatriate Canadian, Neil Smith, now sailing out of Lake Townsend YC, combined with Craig Ambler to sail the second-oldest boat in the fleet, W449 (above) which had been brought down to NC from Kingston, Ontario, before being completely and beautifully rebuilt by Ken Butler who has moved on to larger, more comfortable sailboats. Beating their seed by three places, Neil and Craig scored series 26th, including 5th place in race 9.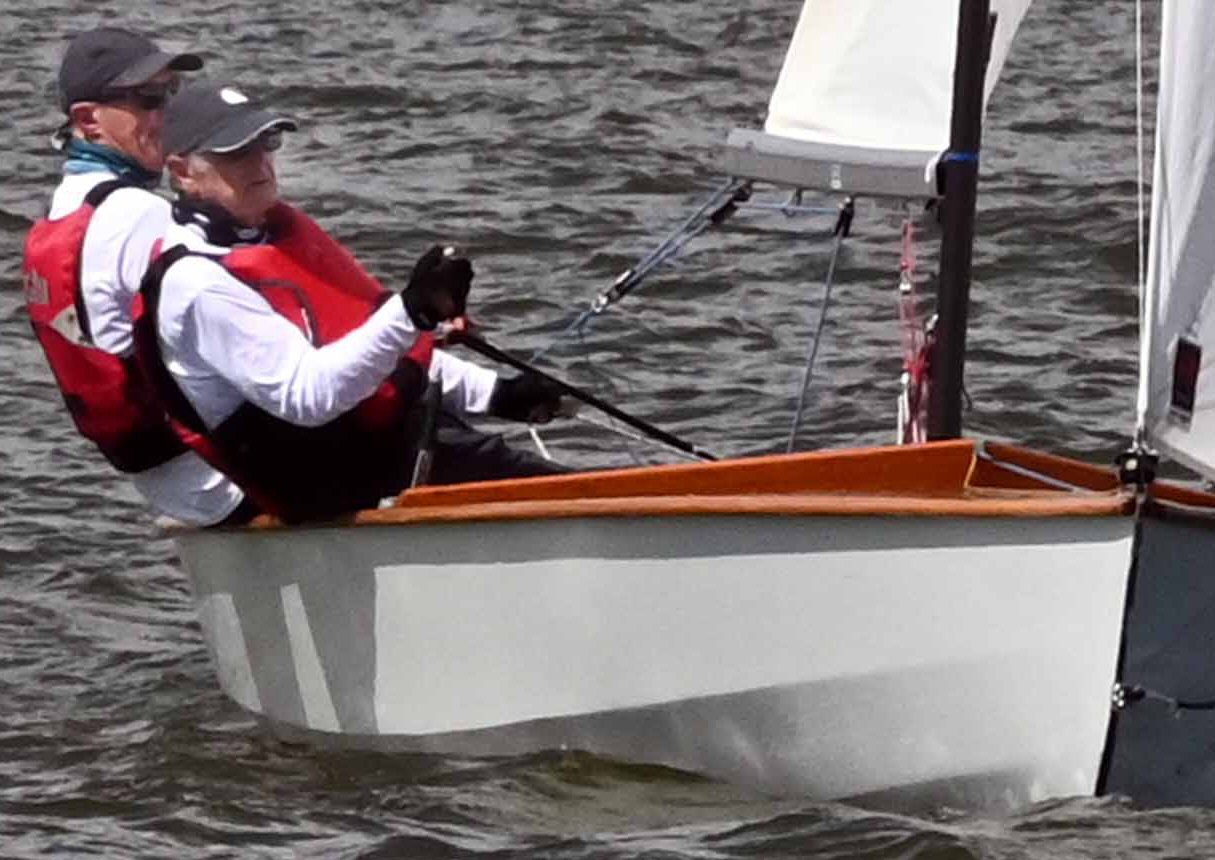 Gold medallists in the Silver (non-spinnaker) Fleet and 24th overall were the very international team of Terry Cook and Karlheinz Krüger: Helm, Terry, came in from Norfolk, England, where he sails out of the Beccles Amateur SC and the Hickling Broad SC, and stepped aboard W8705, completed by the late and beloved Frank Pedersen of Danish heritage as the last kit-built Wayfarer before Ian Proctor banned further kits, and now sailed by expatriate German, Karlheinz, now living in Eustis. Having been seeded 34th, Terry and Karlheinz beat their seed by a most impressive ten places, which made them the
Most Improved
team in the white sail fleet. Well done, gentlemen!
Lake Townsend's Pete Thorn and Chris Peterson even sailing their newly acquired mark 4 W10978
Impulse II
left themselves ample room for improvement, better pointing heading their to-do list. Their 11th in the first day's second race was the most promising note in their results table.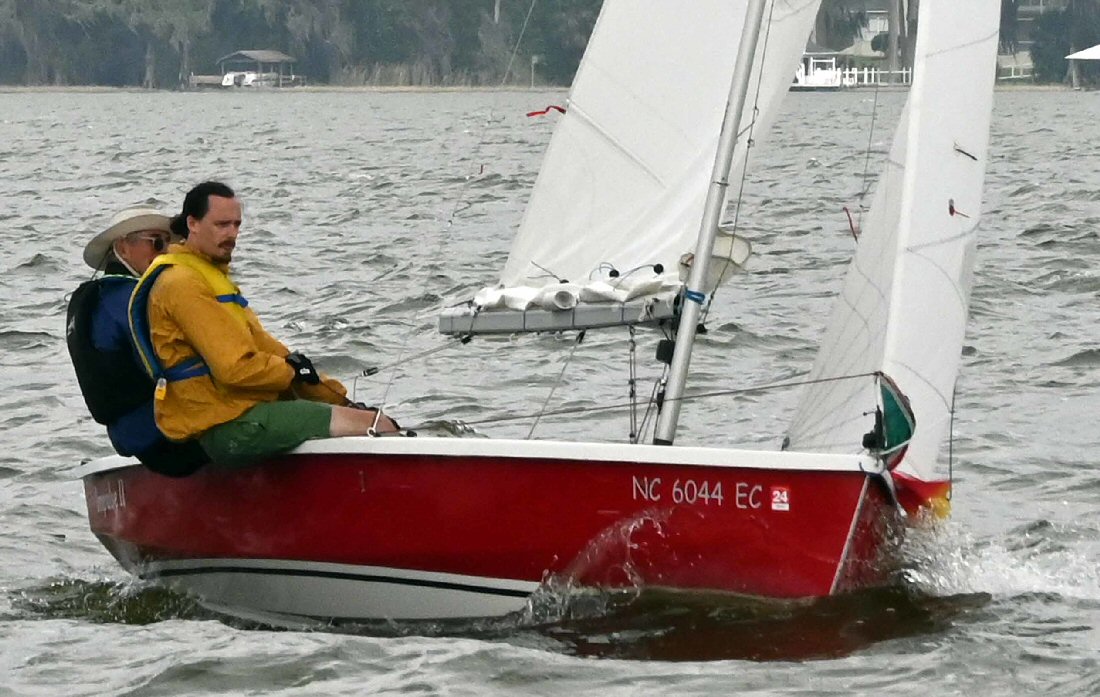 A nice, neat reef but that's one more thing that won't improve pointing.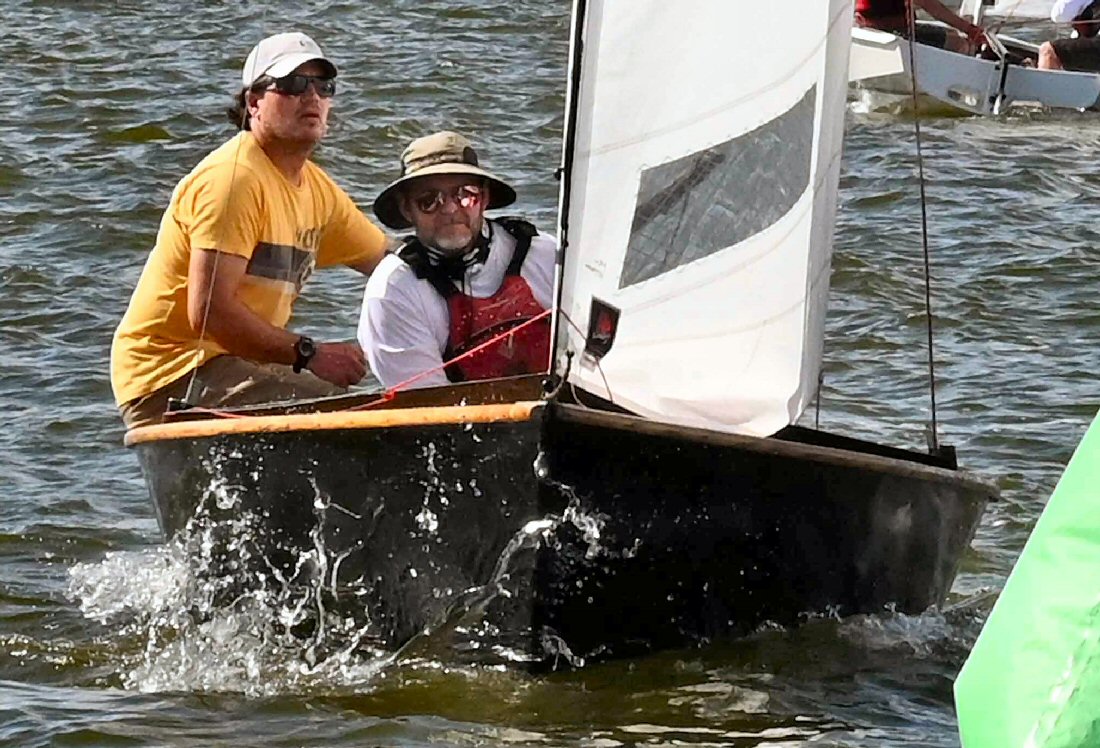 A disappointing result (26th overall) in the rebuilt W911 for the 17th-seeded Dave McCreedy and Dave Wilpula (above) who sail out of Wampler's Lake in southern Michigan's Irish Hills home of the annual Wayfarers on Wamplers (WoW) Regatta each October.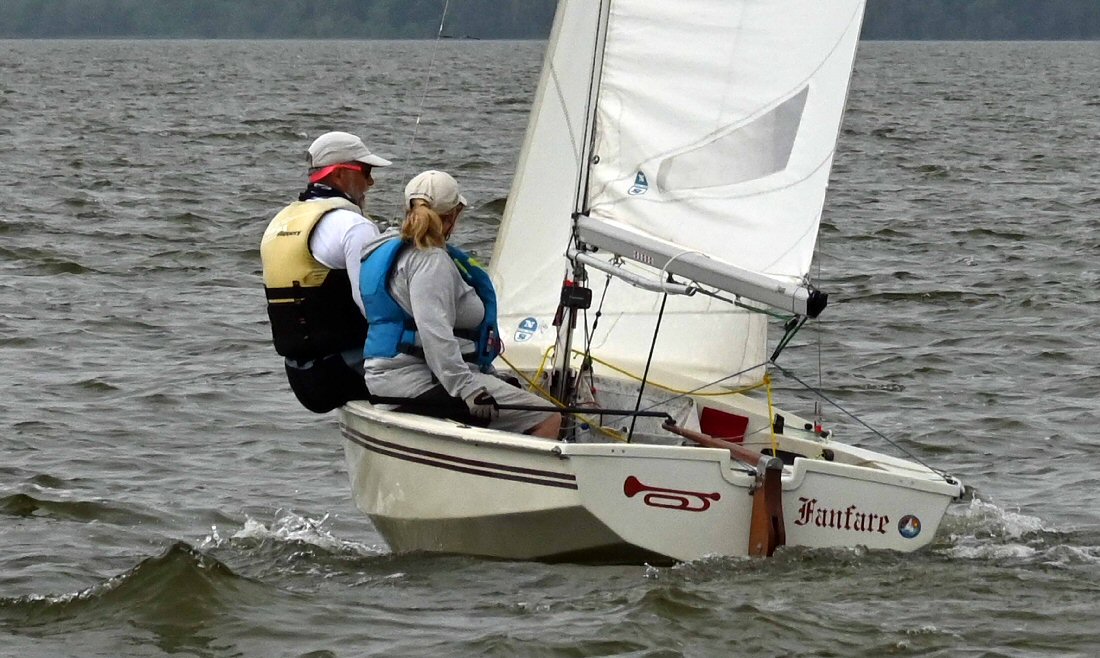 Sailing to the Silver Fleet (white sail) silver medal after leading that fleet in the early going in
Fanfare
W6066, the former Fanshawe fixture in London, Ontario, were North Carolina's Ali Kishbaugh out of Charlotte's Catawba YC and Mike Sigmund of Greensboro's Lake Townsend YC. In the overall picture, the 32nd-seeded Ali and Mike improved nicely (five places) to finish 27th.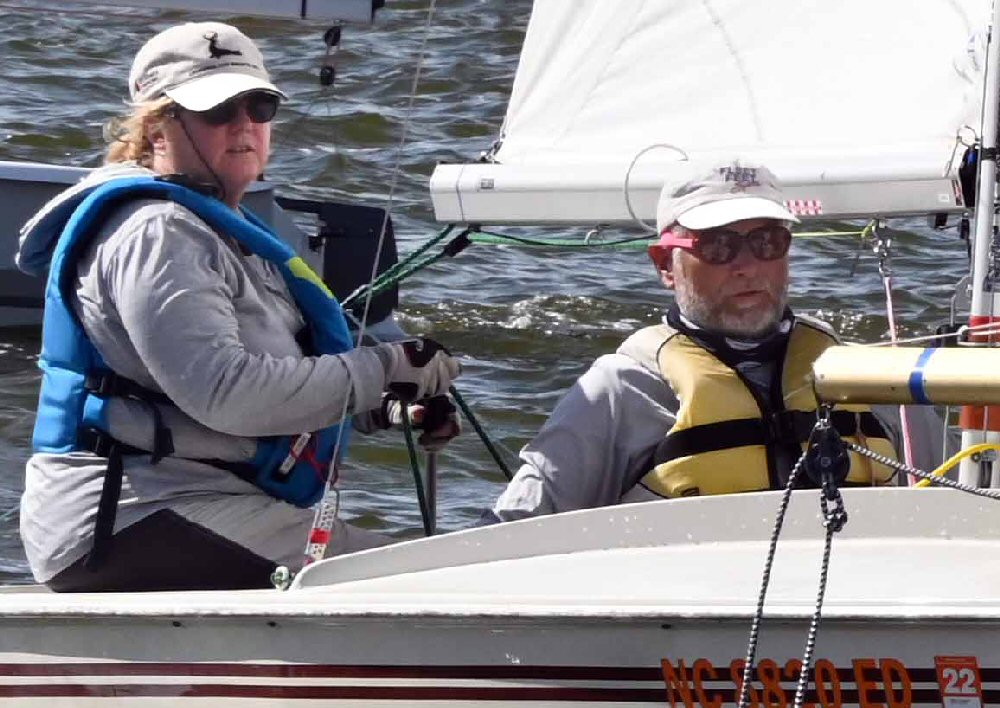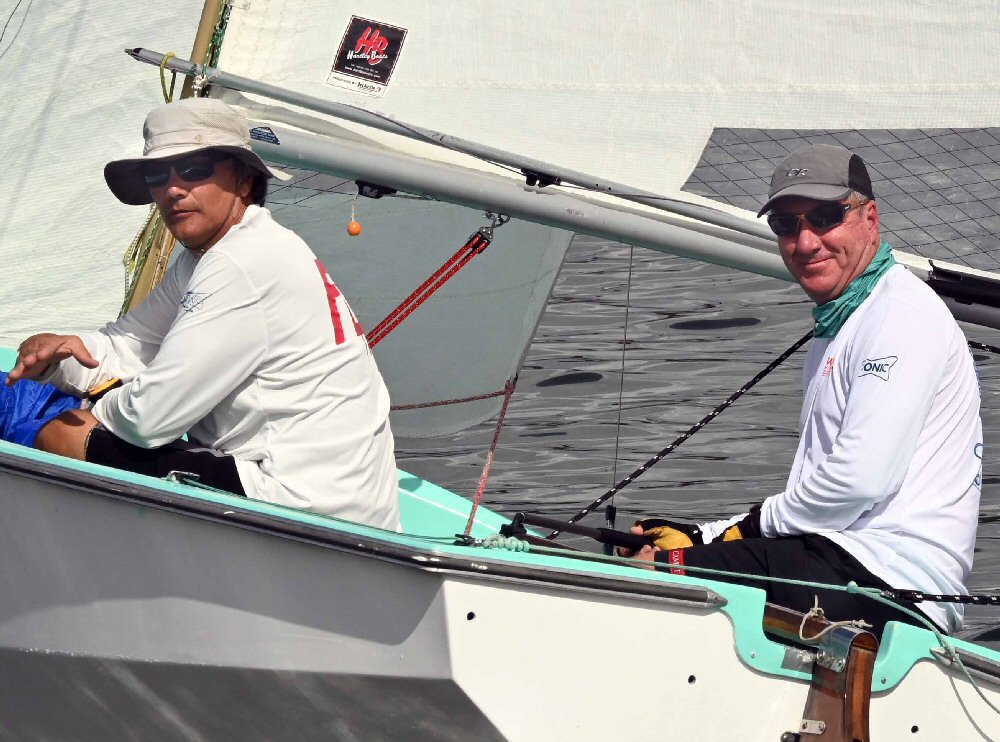 The veteran Eustis team of Craig Yates and Rob Krentel let Craig's Juniors have the "hot" Mark 4 borrowables and made do with the venerable W4113 (above) that is nearly 50 years old as he sat back and watched his Juniors dazzle the fans..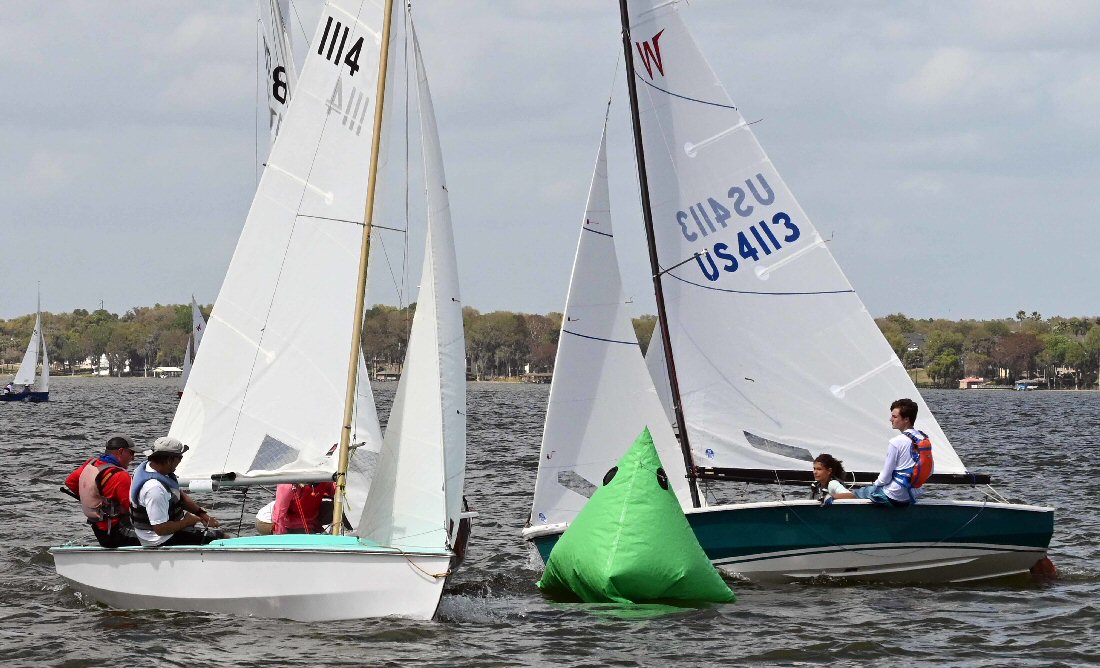 Craig W4113 disguised by sail number 1114[9] beats two of his junior whippersnappers to the windward mark.
Ben and Merce sailing W10862, the former
Bubbles
wearing mainsail US4113.
No Good Deed Goes Unpunished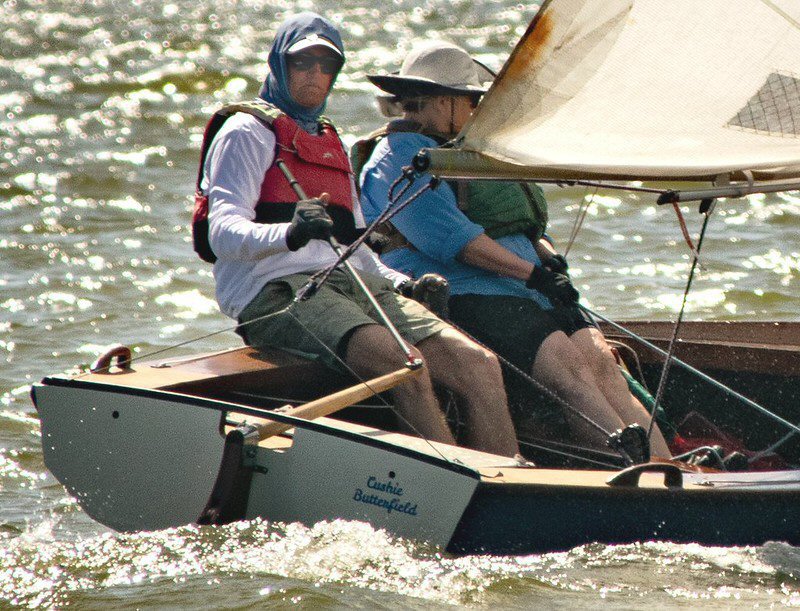 As if Richard Johnson, USWA Commodore, and wife, Michele Parish, USWA Treasurer, didn't have enough responsibilities weighing them down as the USWA was about to host the Wayfarer Worlds for the first time since the fourth Worlds in 1980 at Tawas, Michigan, the non-arrival of the expected container of Hartley Mark 4s came along less than a month before the event. The Americans rose to the occasion in absolutely magnificent fashion as described
elsewhere
in this chronicle, and perhaps the most shining example of selfless assistance was Richard and Michele giving up the brand new W11336
Fetch
and their dream of a high quality result as they went to their Plan B: W560
Cushie Butterfield
, freshly brought back to life by Richard after her previous existence as Don Parker's
Brer Rabbit
, and some relatively restful years with Nick Seraphinoff's son, Nicky, would make her debut on the big stage, using the Worlds as her shakedown cruise.
After a pair of unspectacular days, the "shakedown" element stepped up. To hear Richard describe it: "We were sailing and we heard a bang from the mast and then the leeward shroud went slack. Turns out the foot of the mast came off. We fixed it but that did not fix everything. We really struggled upwind. We could not get the jib halyard sufficiently tight. Downwind
(red spin below)
the boat did really well."