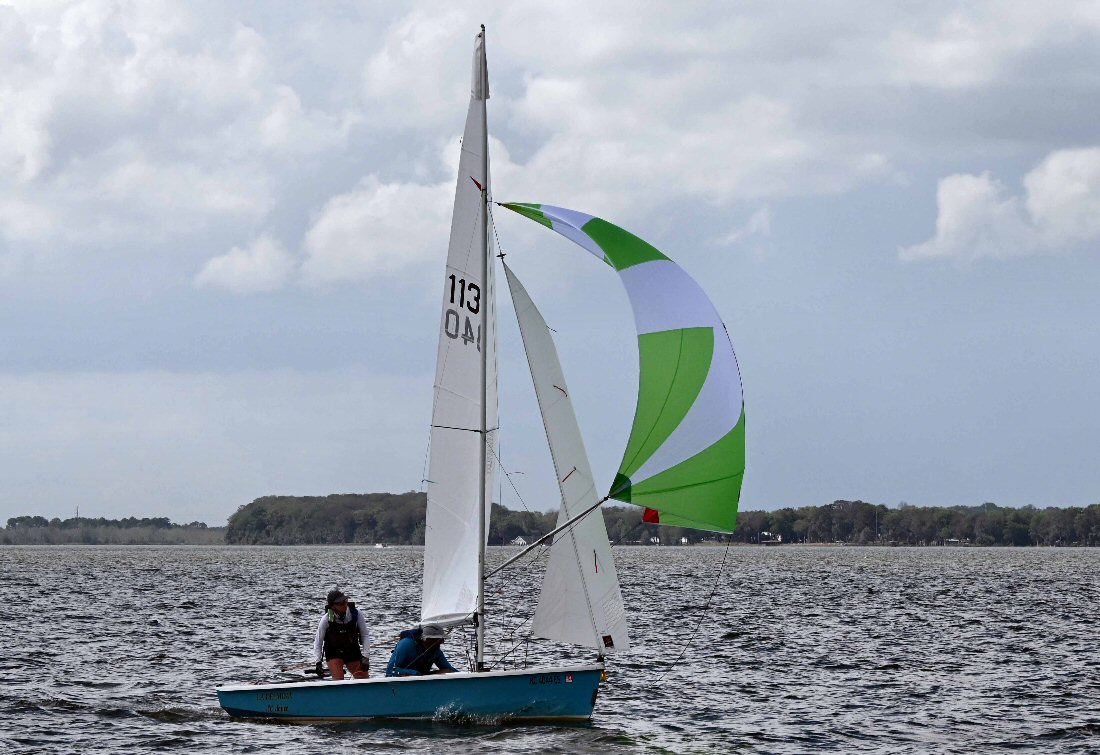 Another recent addition to the already strong Lake Townsend fleet in North Carolina is Marie-lyne Lavoie. Jumping right in at the deep end, Marie-lyne crewed for several of the fleet's top racers and then bought a new Mark 4, W11340, which she christened LA DELMINA d'O douce, a name she explains as follows:



"Delmina" is the name of my wonderful paternal grand-mother who had 9 children and lived her life with a lot of determination, courage and intelligence up there in the cold around beautiful lakes up to the age of 103. "d'O douce" or "d'eau douce" literally means "of the fresh water", but it refers also to the expression "marins d'eau douce" which means "sailors of the fresh waters" as opposed to the "real" ocean sailors. Therefore, the "marins d'eau douce" are the funny ones, the ones that are not too serious.

Hope that answers your question, Uncle Al.

Best and hope to see you soon, … before I become a sailor of the salty waters.



Brief ventures into the world of dinghy racing in 2021 left Marie-lyne seeded 33rd as she and David de Miranda (below) entered the 2022 Worlds - in the Gold (spinnaker) Fleet no less. Not to be intimidated, Marie-lyne even racked up an OCS (over early) on her way to beating her seed by three places! Impressive! Welcome to Wayfarers, Marie-lyne (and David)!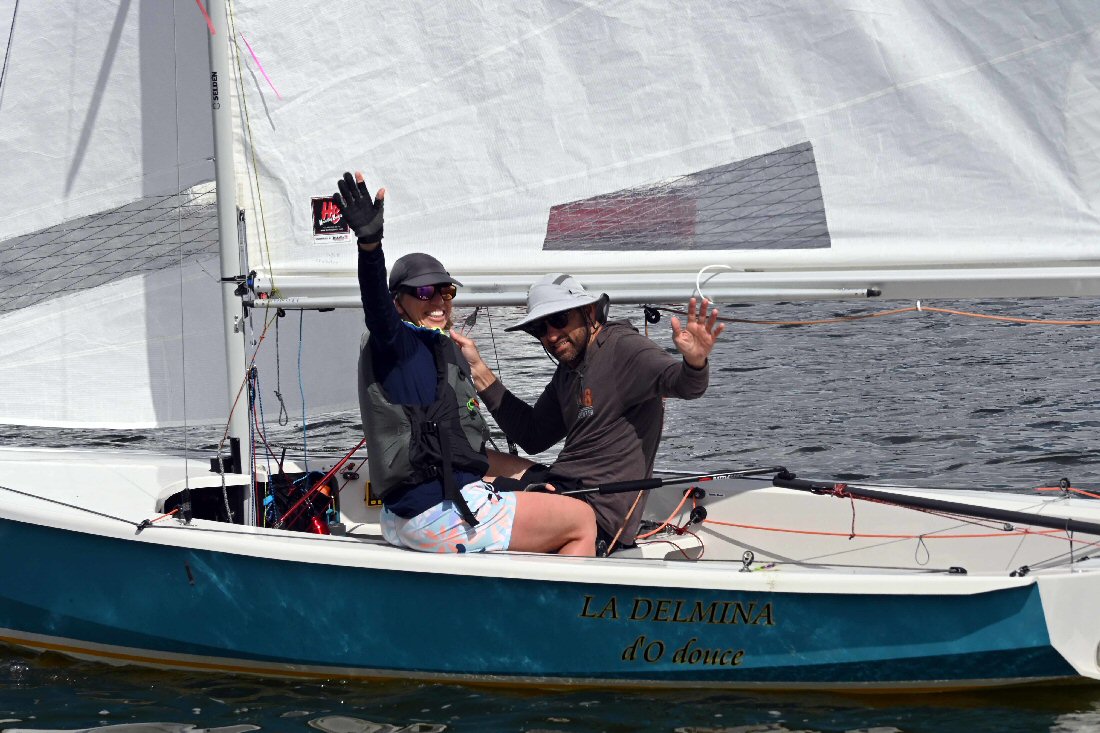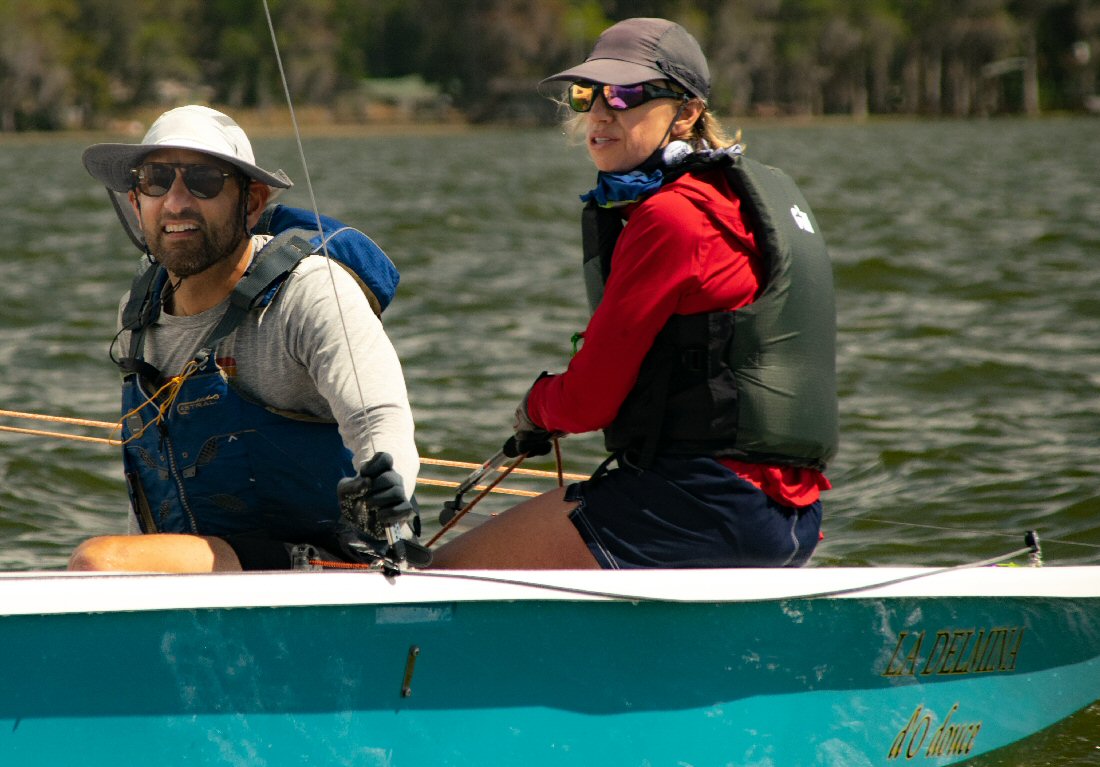 Enthusiasm Plus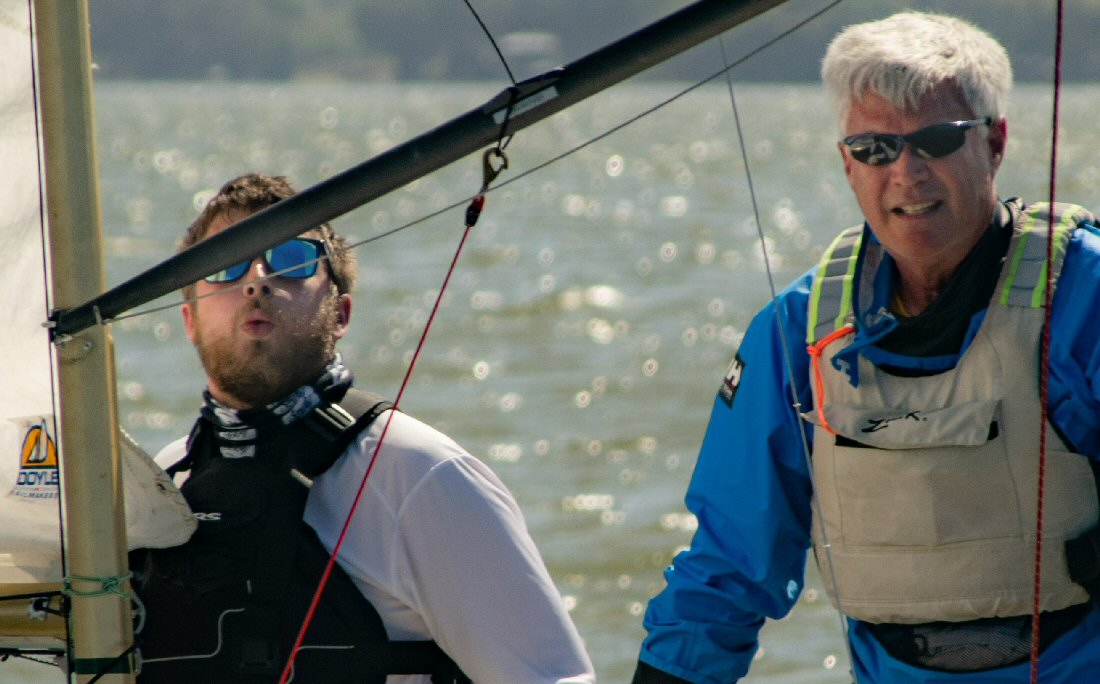 It must have seemed to Andy Forman
(with crew, John McAdam, above left)
that racing in the numerous races of the Wayfarer Worlds was the relaxing part after what he went through to prepare the borrowed W3500 for Eustis.


I sailed W3500 which has been temporarily donated by the US Wayfarer Association to LTYC (Lake Townsend Yacht Club) so that we could insure it. We refurbished it somewhat:

New shrouds
New spreaders
Replaced high field with 7:1 block system
Installed new bailer
Relocated cruising blocks on boom
Installed spin pole stow pipes on boom (thanks, Jim H ! for cutting the pipes.)
Installed downhaul on spin pole

Hiking straps broke on first day of racing so we replaced them with the main sheet which twisted at the end of the boom and locked, and borrowed a main sheet from Pat K. (Thanks Pat!)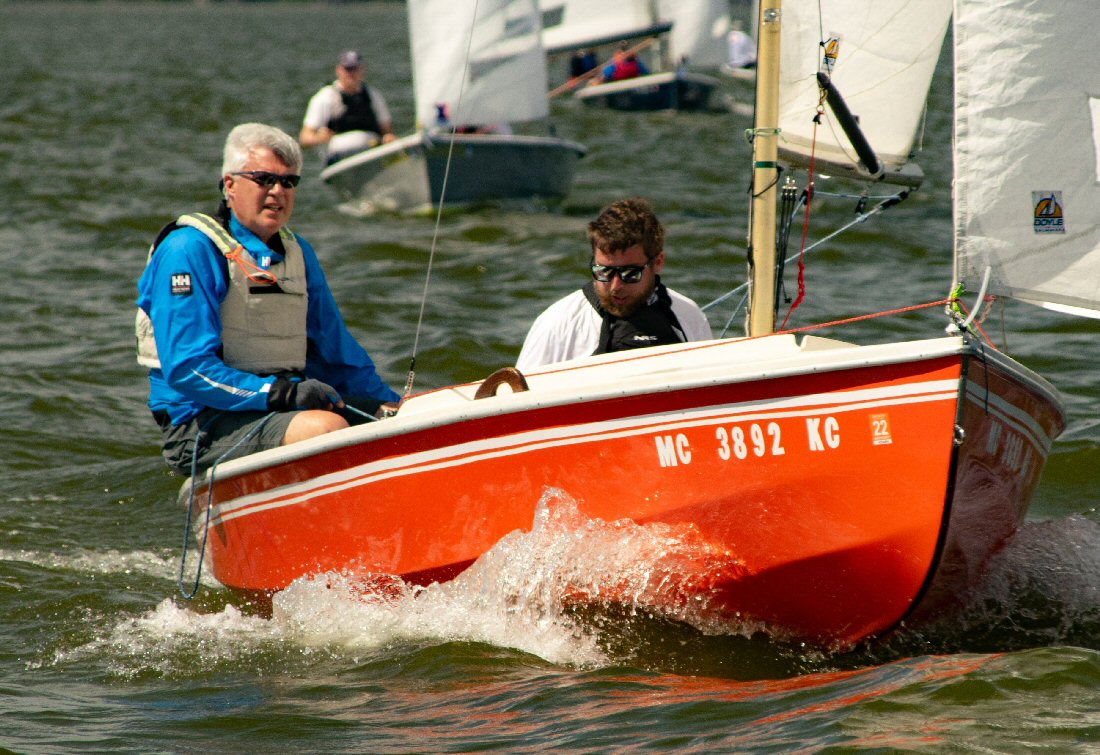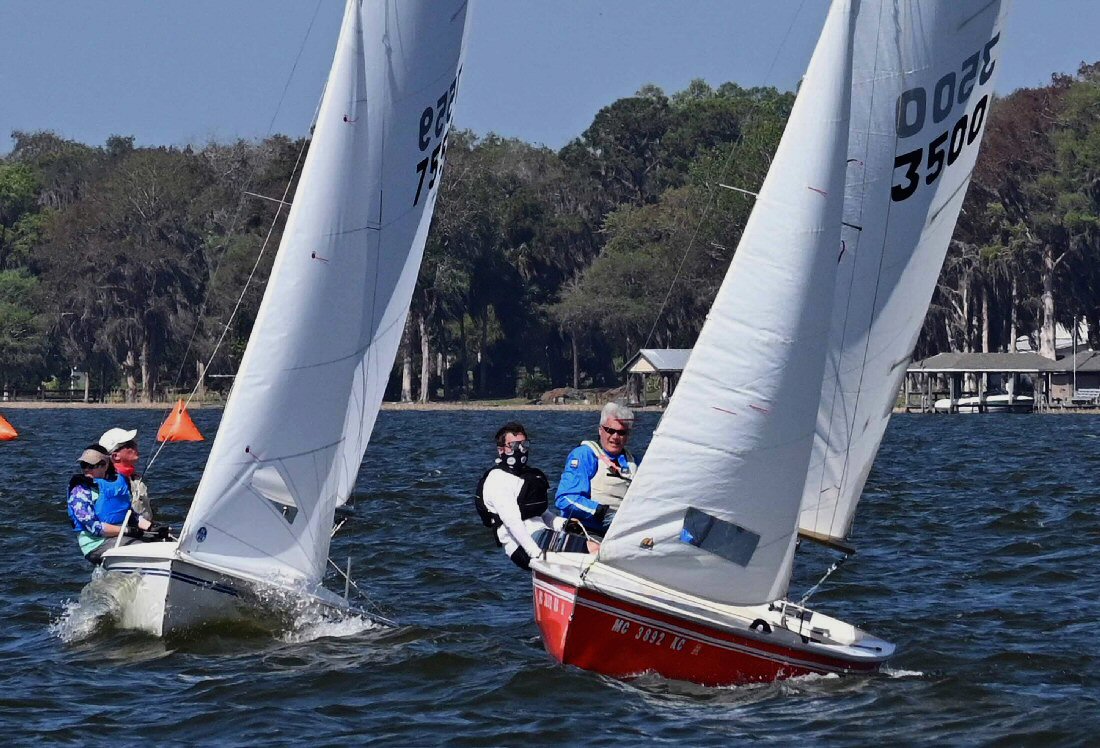 Lloyd Weed and Sharon Campbell battle with Andy and John
- note the twisting mainsheet which was about to transmogrify into a hiking strap.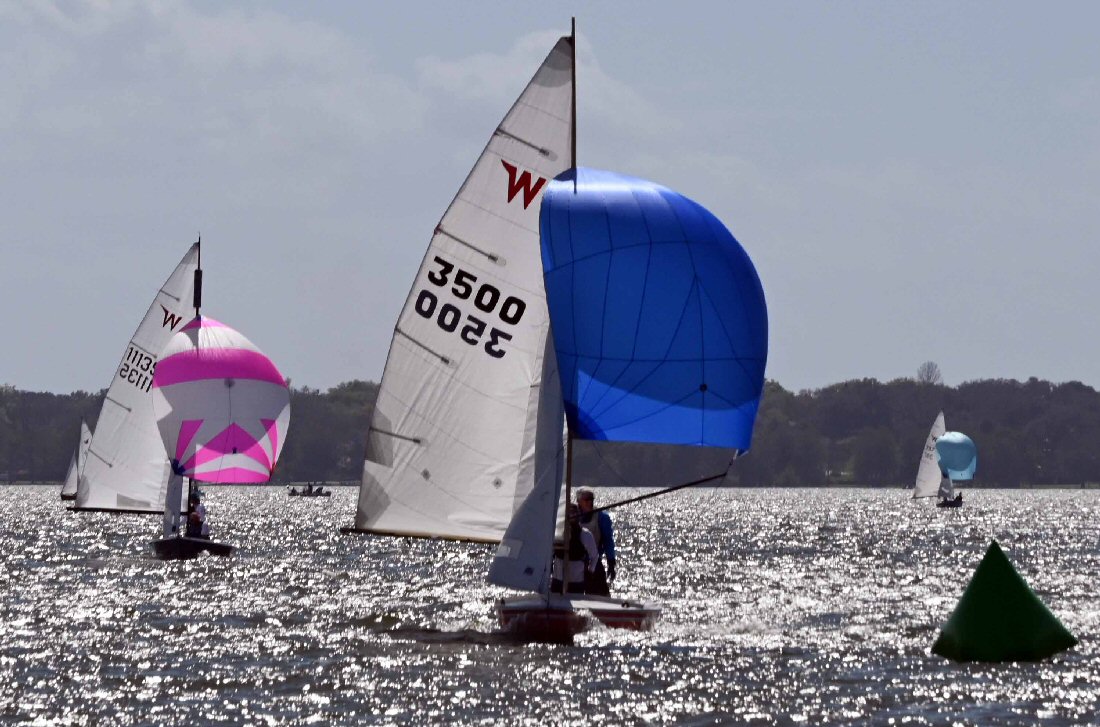 What a time to get sick!!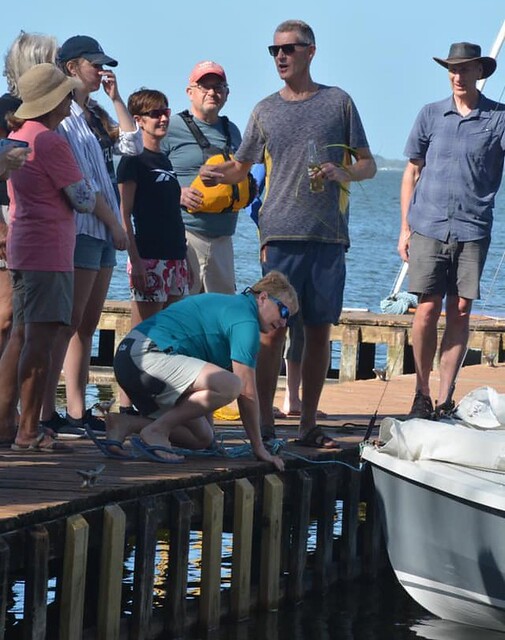 Christening W11044
TONY'S
(borrowed from Tony Krauss up north and delivered by Nick Seraphinoff)
Henry
(beer)
promptly got sick and was only well enough to sail on the final Worlds day.
The Irish husband/wife team Henry O'Friel and Elaine Vogan from Belfast made their second North American Wayfarer appearance after placing a fine 17th in the
2013 Worlds
in Canada where they sailed W10962, the boat that would become
Bubbles
in the hands of Pennsylvania's Richard Watterson before heading south to Dave Hepting at Lake Eustis SC where it is now in the hands of the Eustis Youth Sailing Foundation, and placed series 18th in the capable hands of young Ben Kelley and Merce Newland . Not so with husband Henry who fell ill from Monday through Thursday, forcing Elaine to step in as helm with Ansis Roskalns filling in as crew while his helm, Ralph Roberts, lazed on the "beach". As Henry tells it:

I have a very debilitating medical condition and got hit bad the night before the racing started so neither I nor my crew, Elaine Vogan (also my wife!), sailed on the Monday as we searched for a doctor all day! Elaine helmed with borrowed crew (Ralph Roberts' crew, Ansis) Tuesday, Wednesday and Thursday and I managed to crawl back on board to helm and complete the two races on the Friday with Elaine.
It was a shame as we had performed very well in the club racing on the Saturday before but the positive was that Elaine got great experience helming in a World Championship which I am sure she will benefit from. And Ansis thoroughly enjoyed himself and now wants to buy a Mark 4 to go with his Mark 2! Take care.

Henry, Belfast
Northern Ireland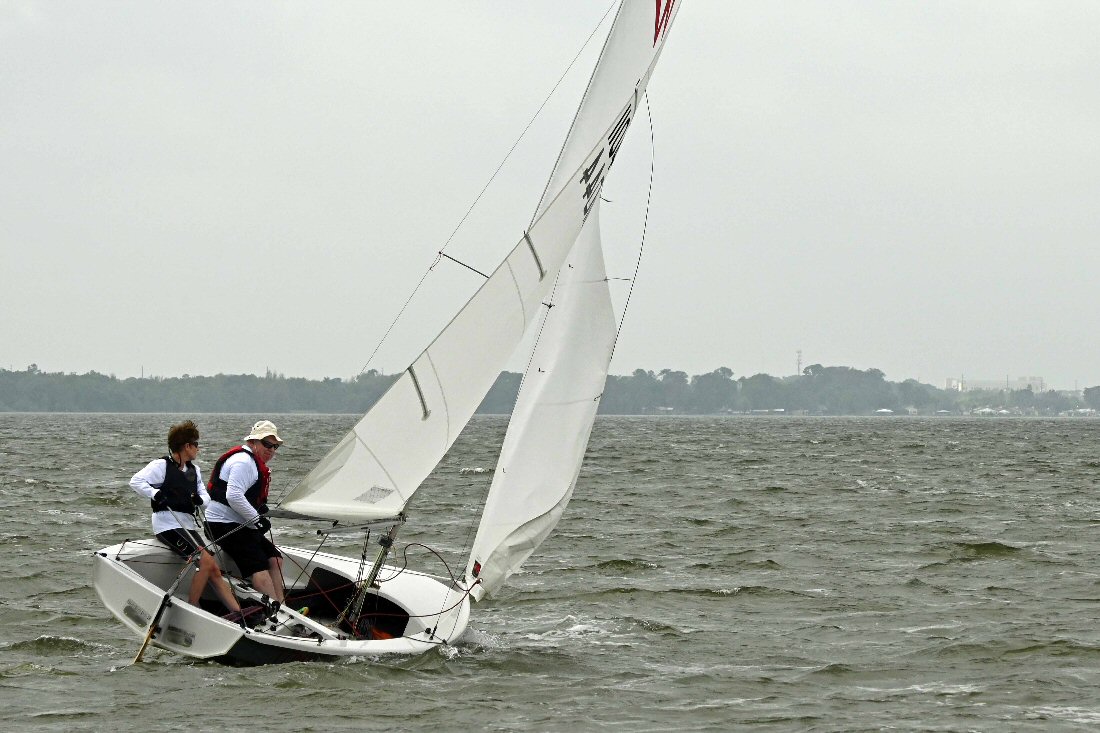 The are a few teaching points here, but let's just say there was no capsize.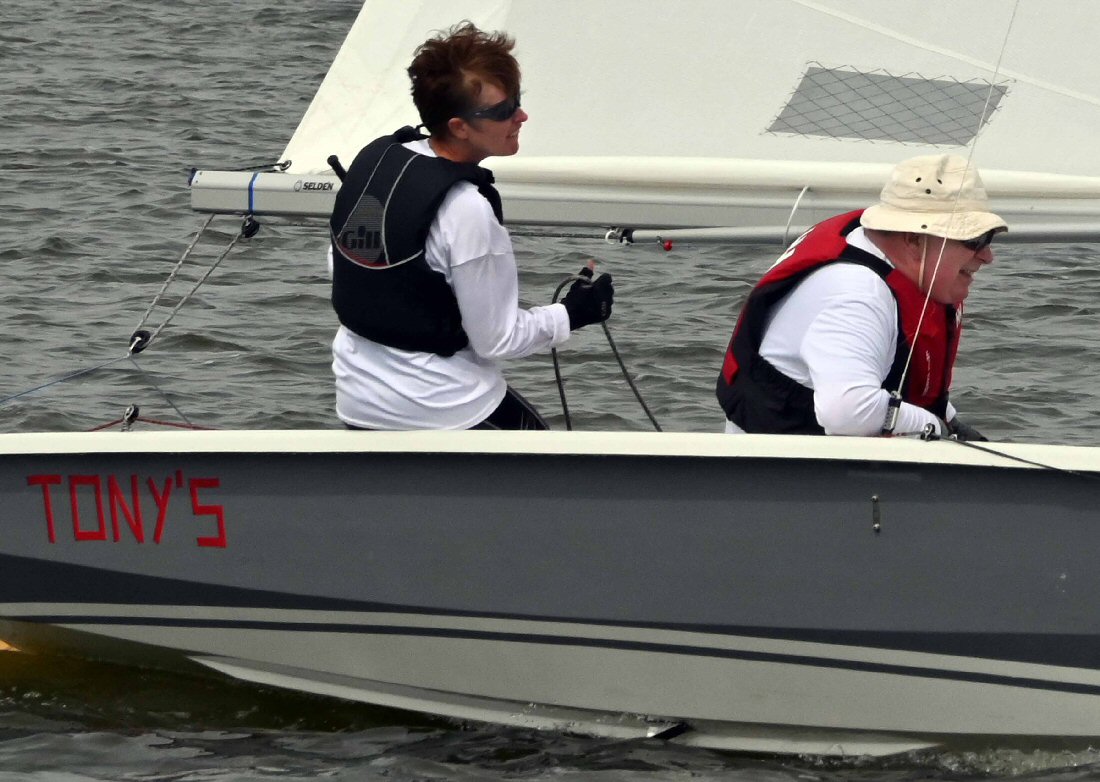 The freshly christened W11044 in the suitably cautious hands of Elaine and Ansis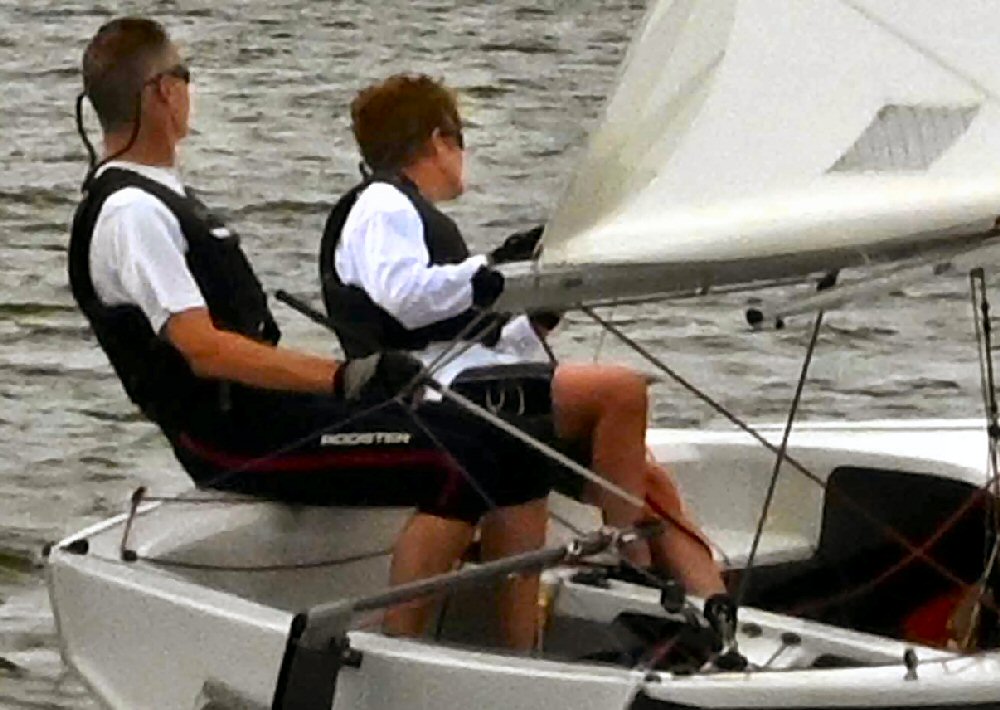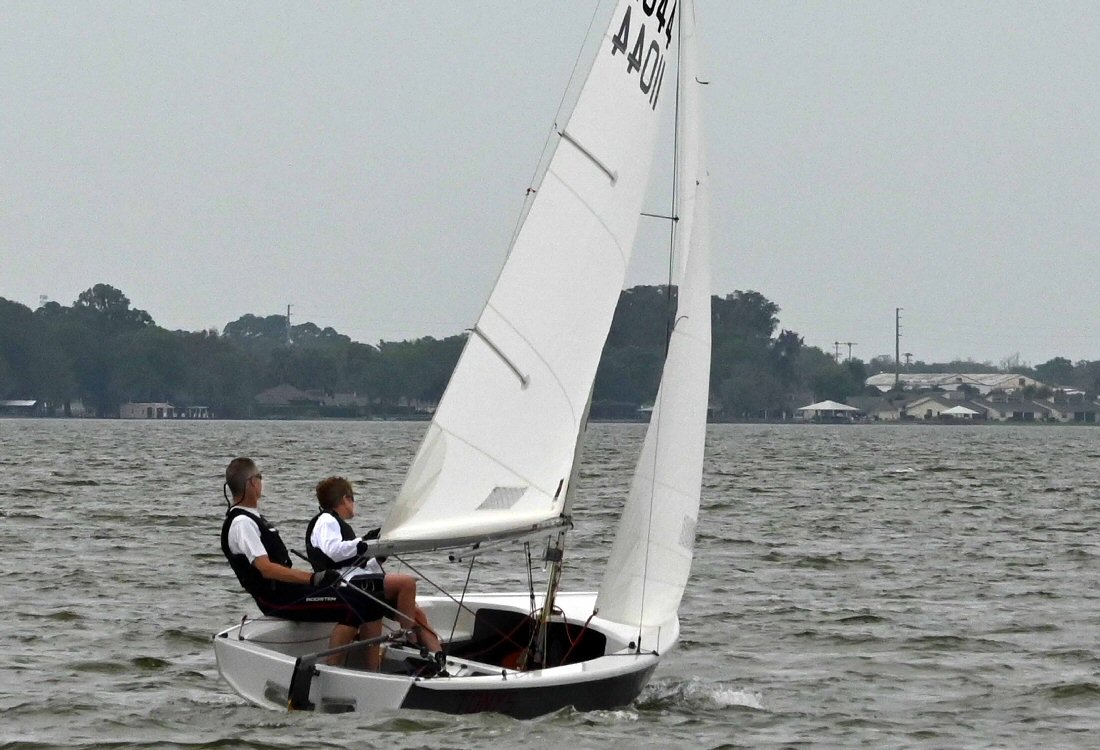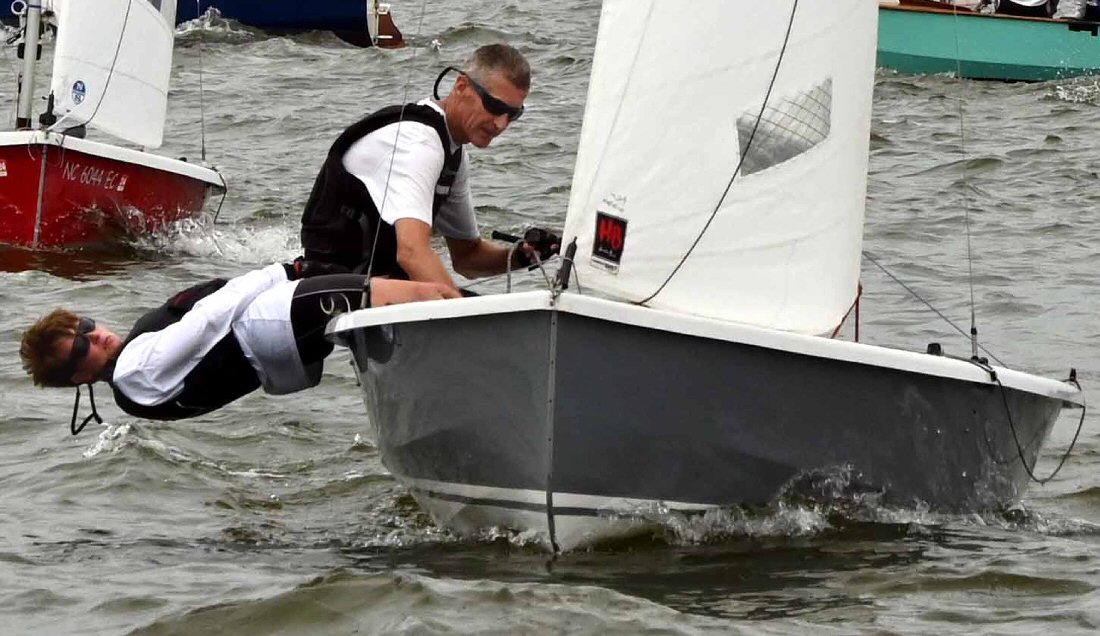 I'm thinking that, like me, Elaine feels that the pressure is off when all she has to do is crew.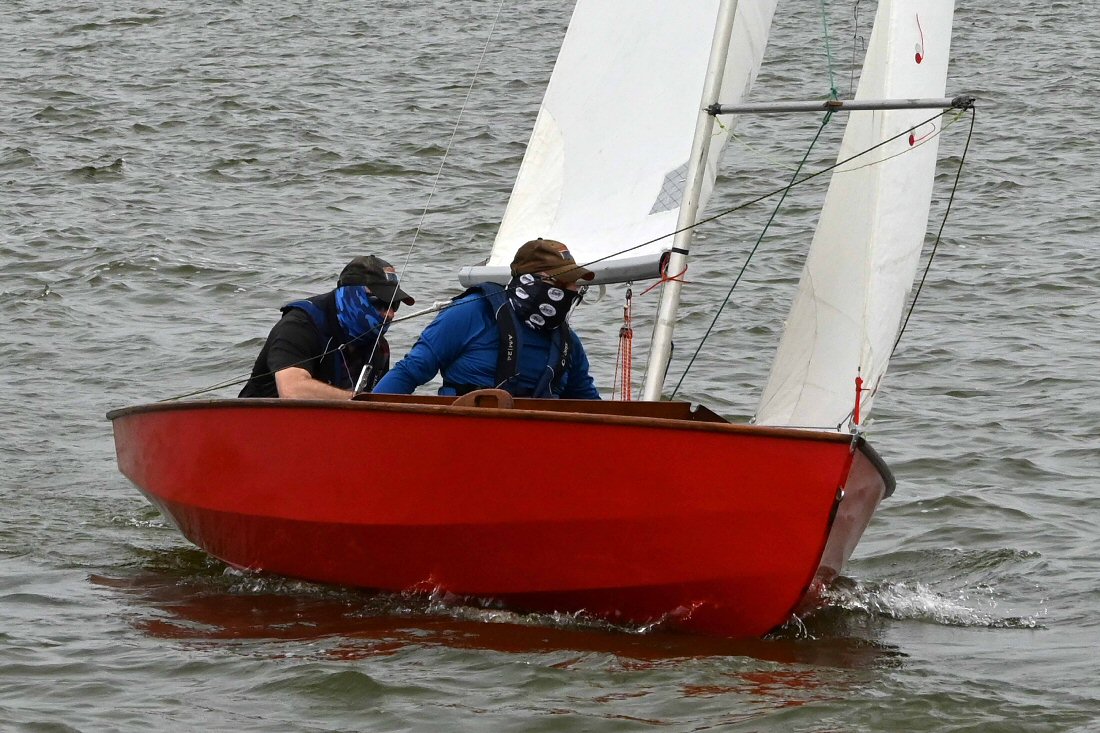 As Butch Cassidy once said, "Who
are
these guys??"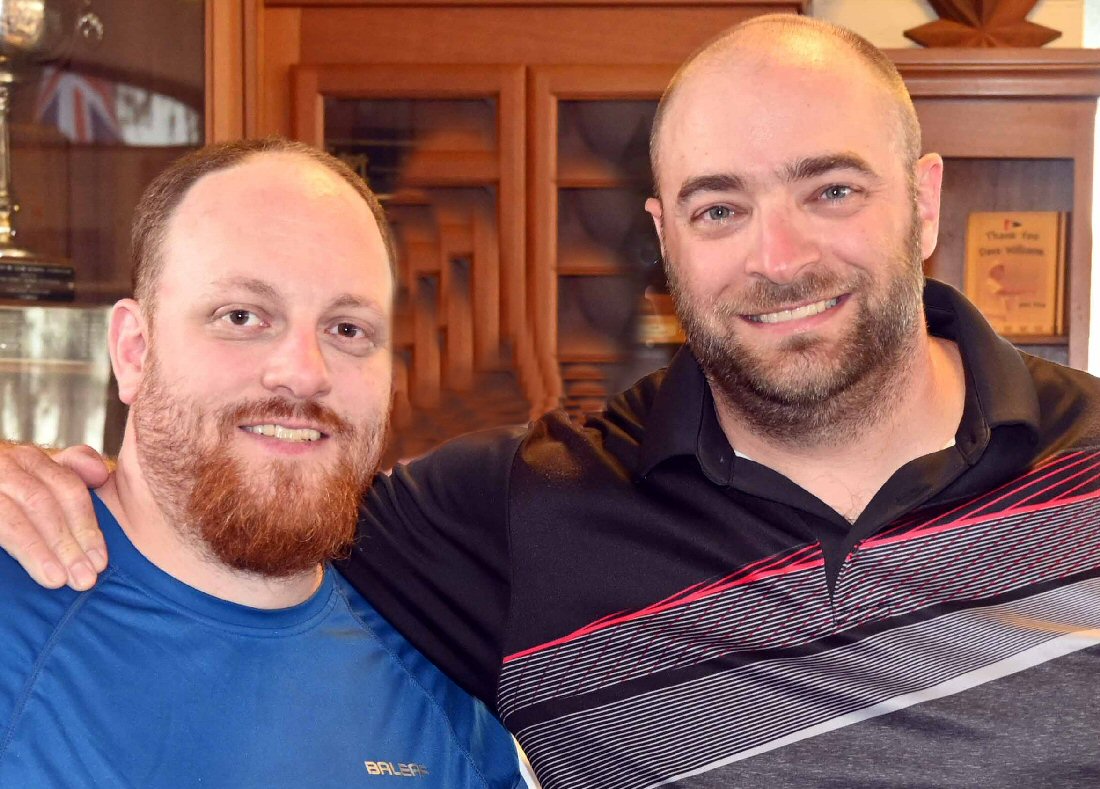 A fresh hand at the helm of W1028
ORACLE
, the former scourge of Lake Orion, Michigan as Matt Dailey
(above right)
has taken over from long-time Wayfarer star, Earl Schnur and his bagpipes. Matt, who refinished the old wooden classic, hails from Livonia, Michigan and teams up with Nick Burtka from Novi, Michigan out of the Michigan SC in Dexter. Seeded 35th, Matt and Nick beat expectations by two places. Nicely done, guys.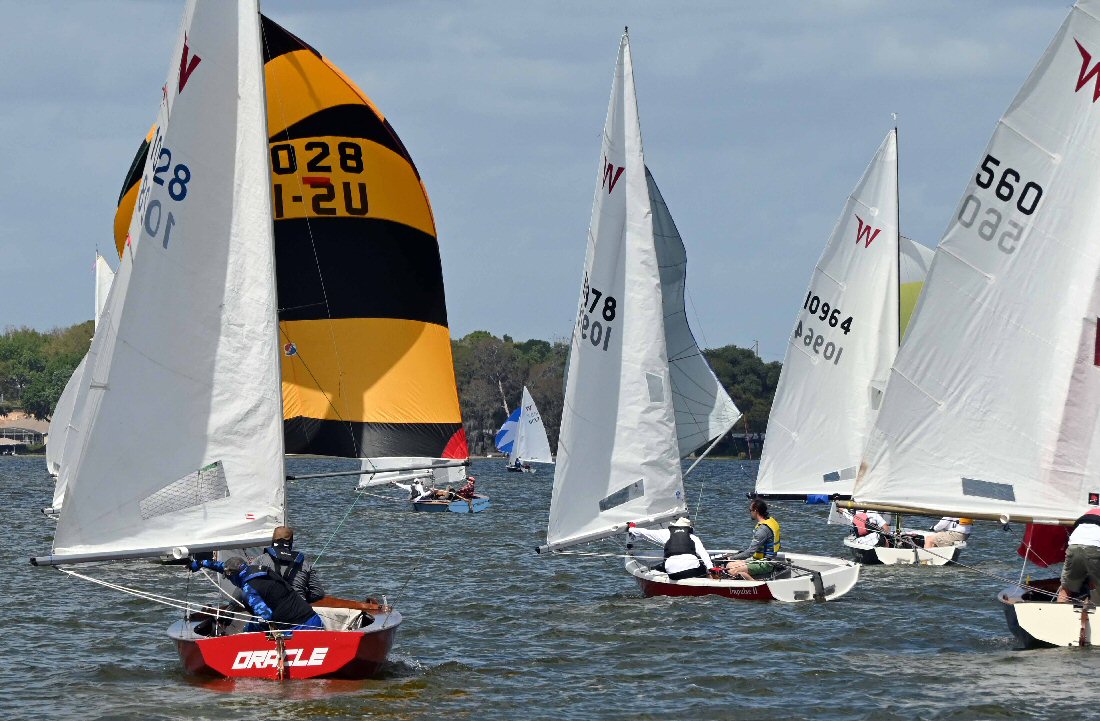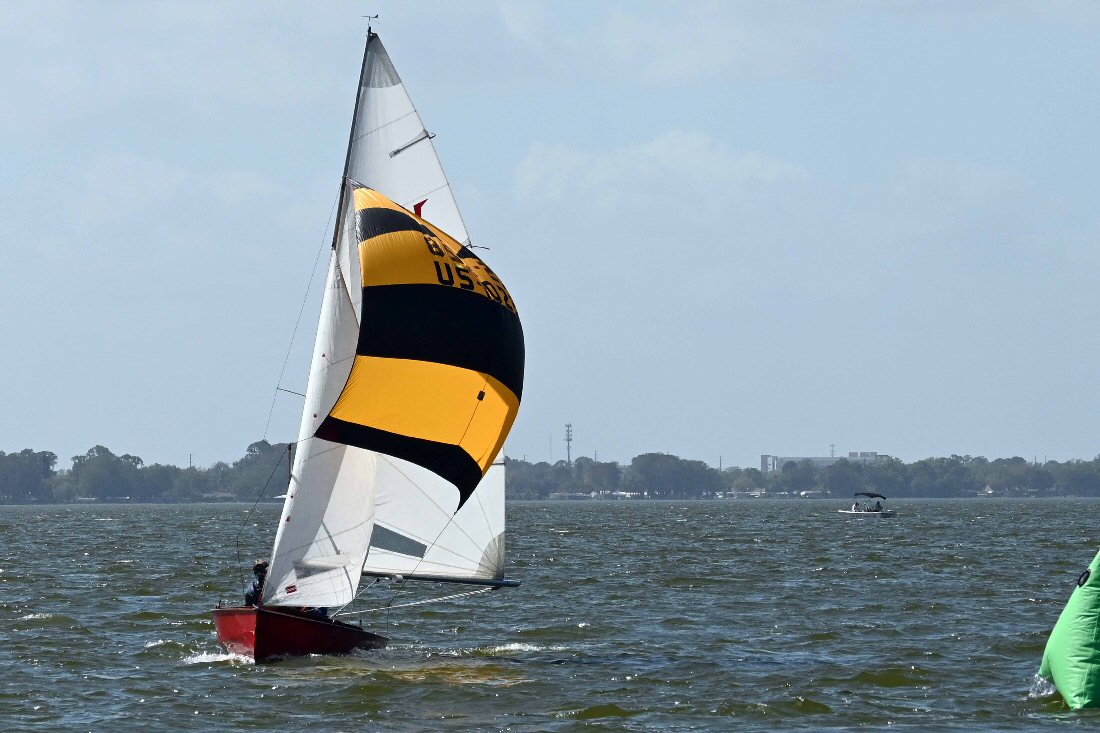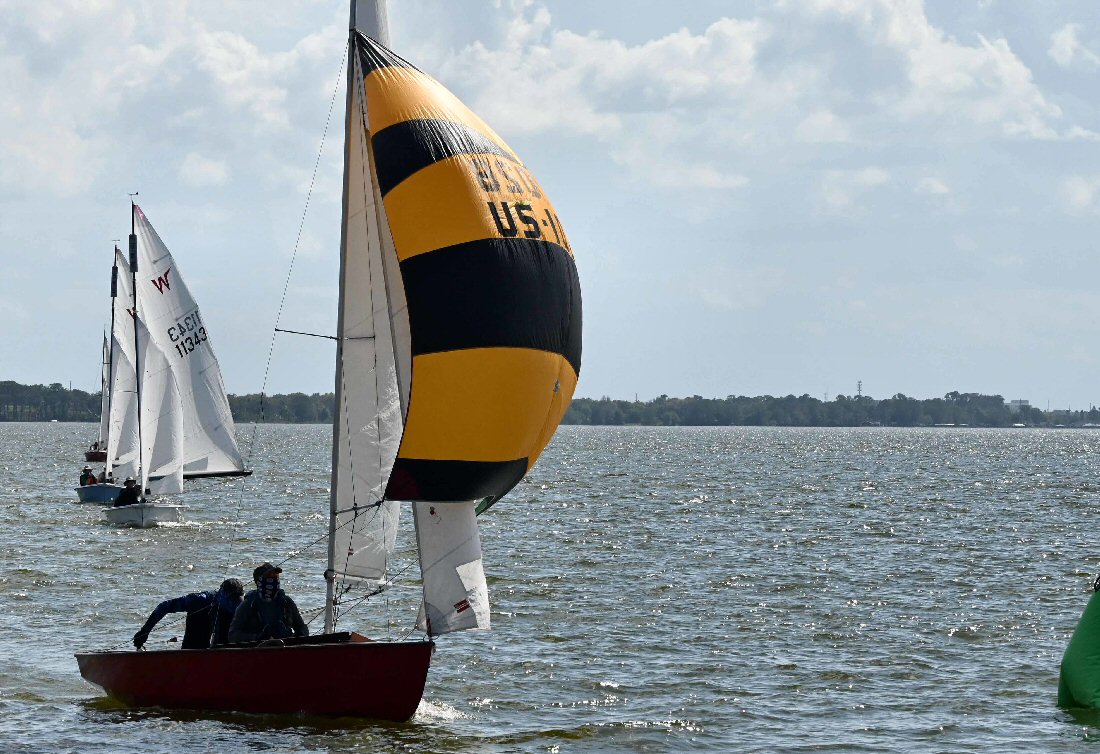 a Richard Storer "cheese wedge" spinnaker that dates back to the early 1980s
Just two points back of Team ORACLE were the Lake Eustis team of Pat Kuntz and Cole Price. Pat likely considered these eleven races to be a soothing short break from her duties as Regatta Chair. Nothing but compliments. Great job, Pat.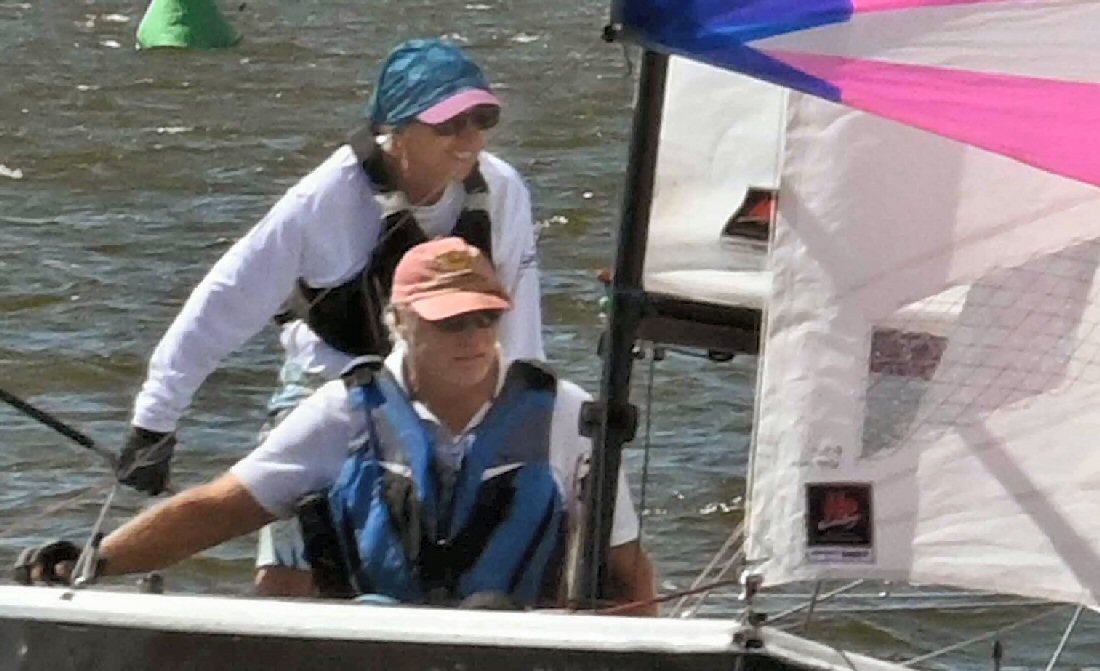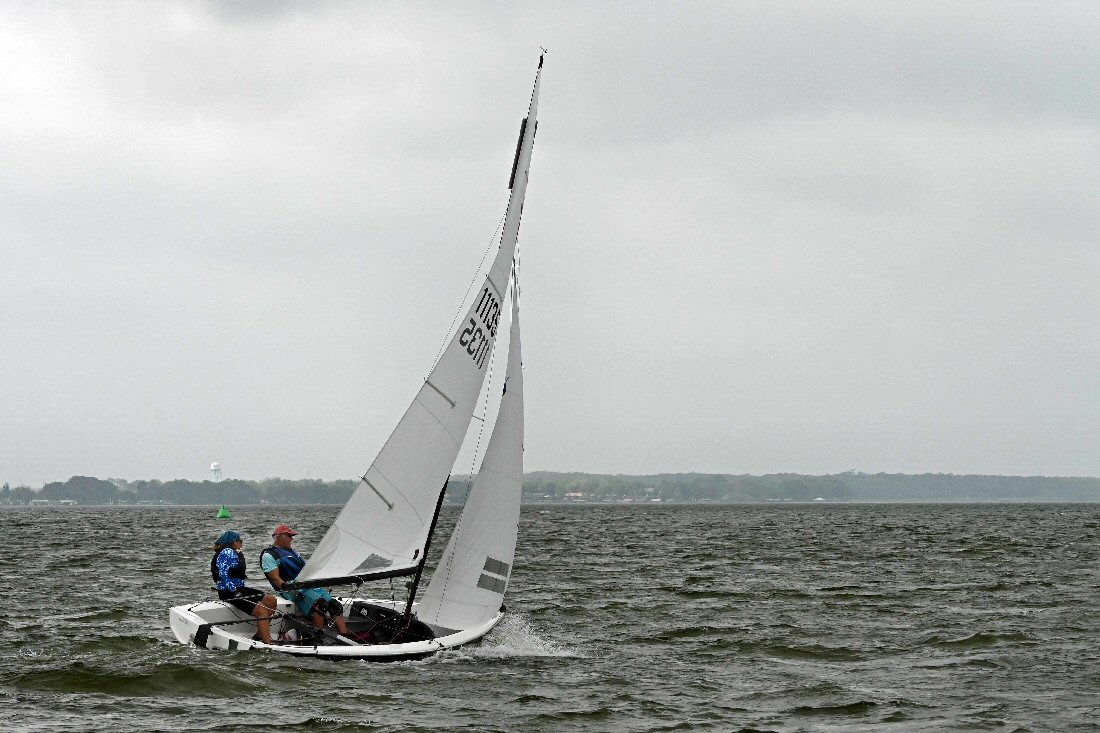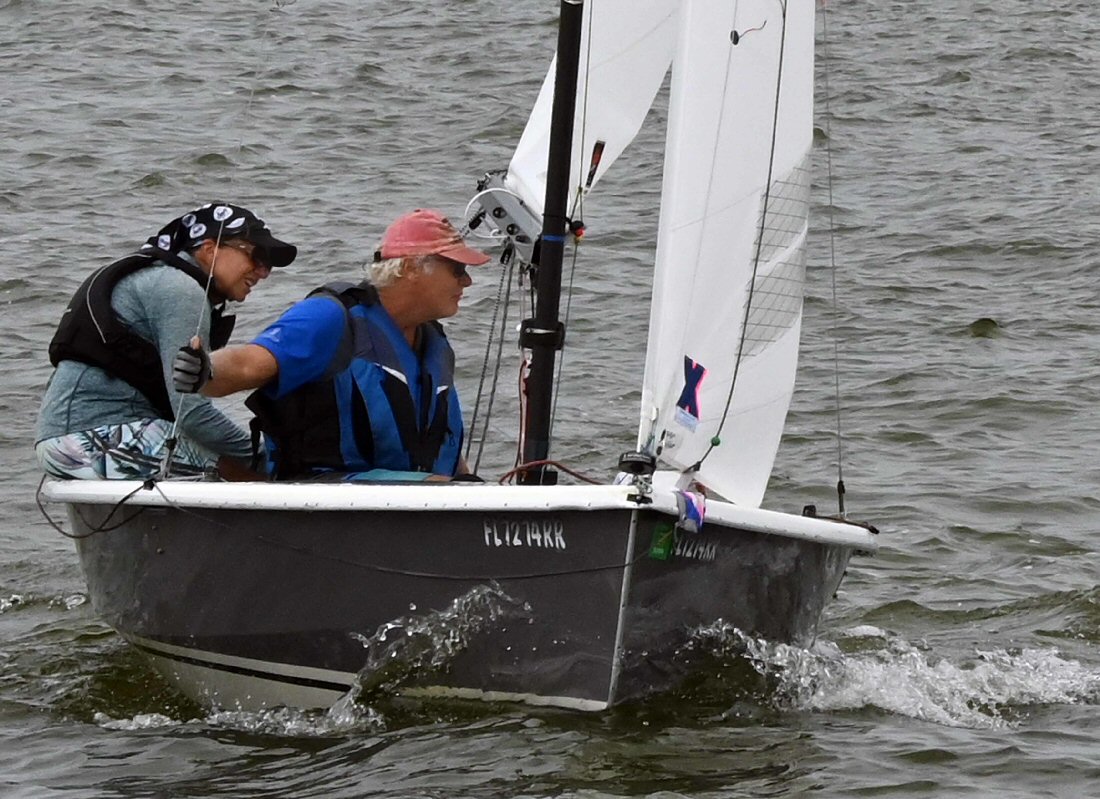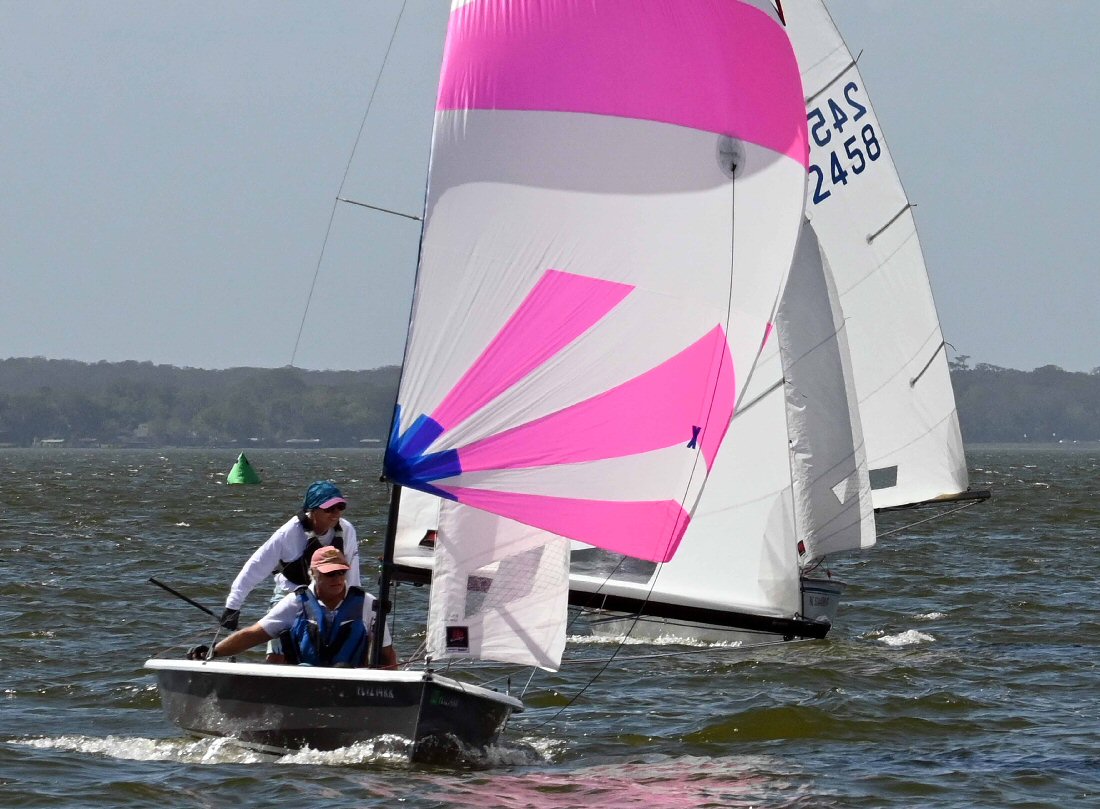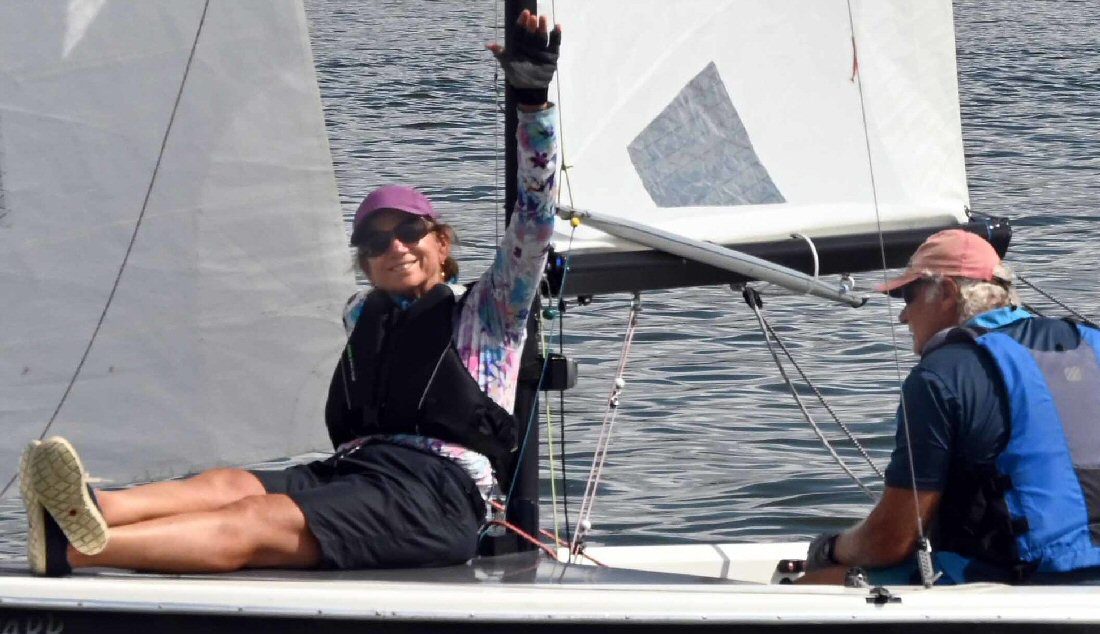 Non-Spinnaker Bronze to Jim Burns and Bill Zeuli

Taking the 3rd-place Bronze and well ahead of the remaining teams in the White Sail fleet were Jim Burns and Bill Zeuli who ended up only two points back of their LESC clubmates, Pat and Cole in the Spinnaker Division.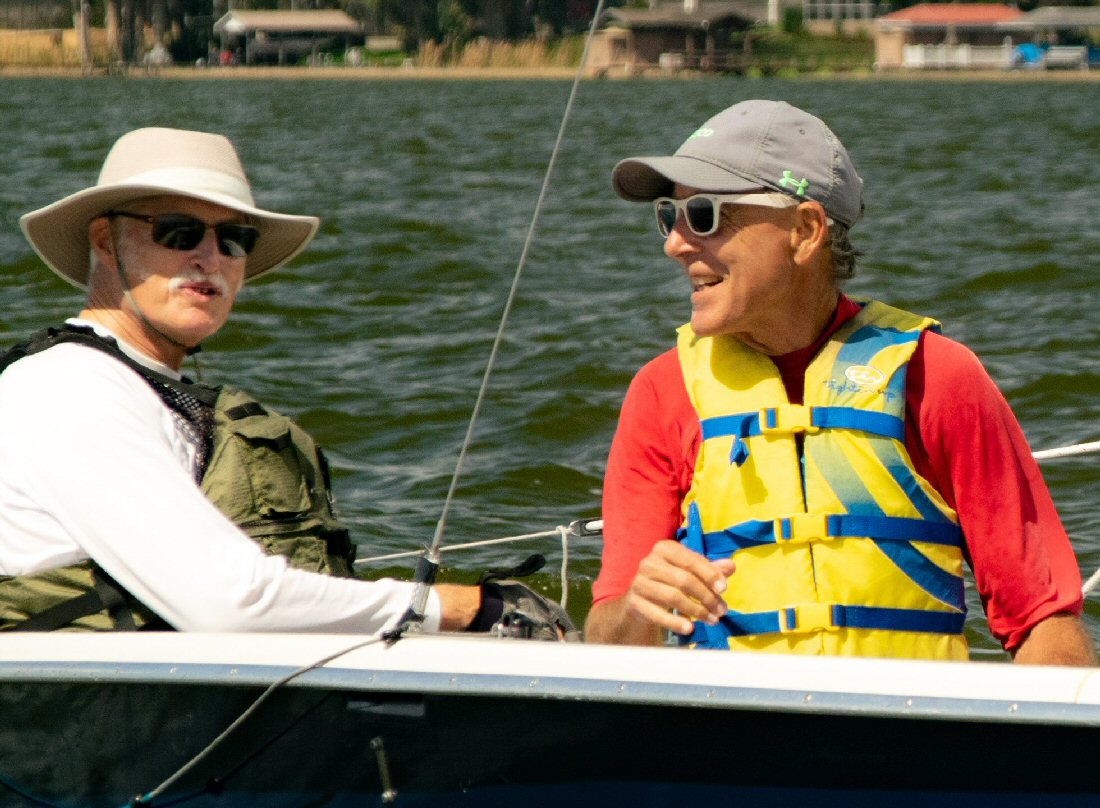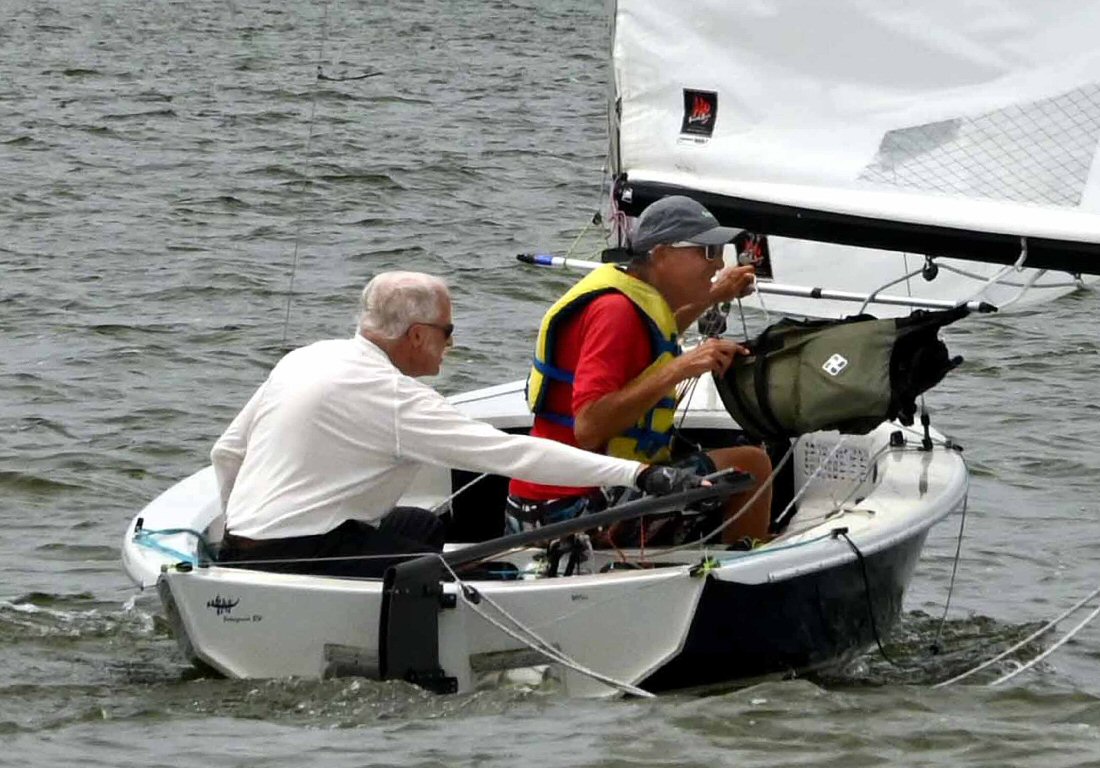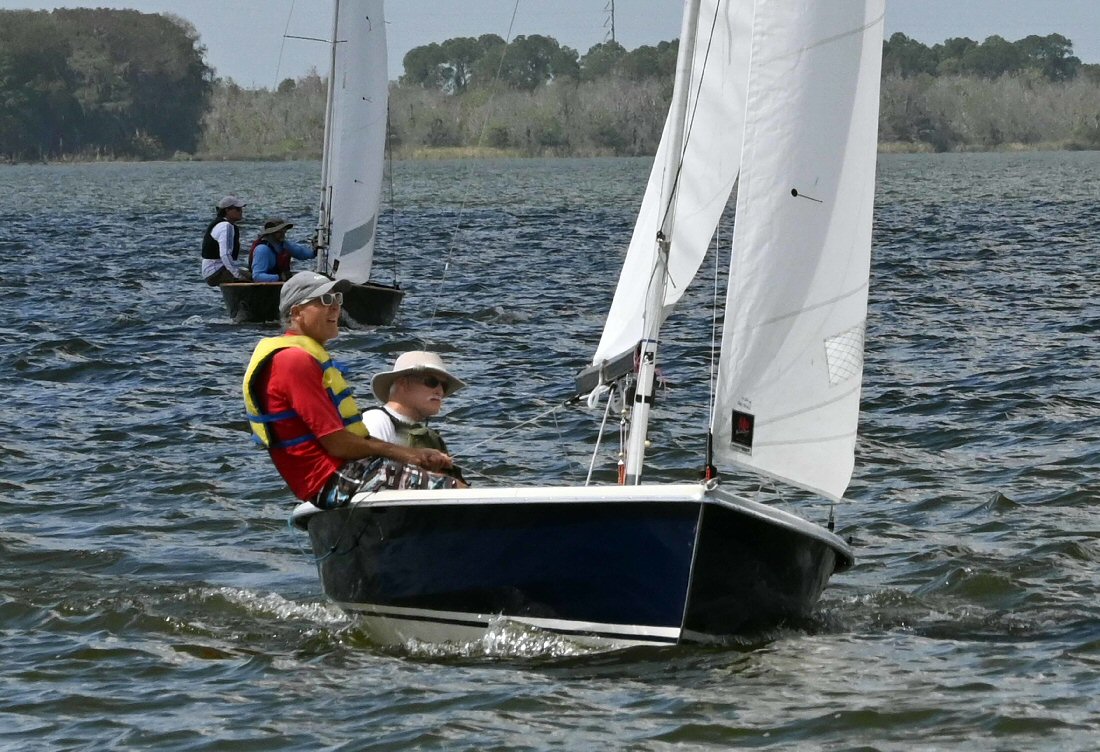 Non-Spinnaker Scored Separately
| Rank | SailNo | Nationality | Helm/Crew | R1 | R2 | R3 | R4 | R5 | R6 | R7 | R8 | R10 | R11 | Nett | Total |
| --- | --- | --- | --- | --- | --- | --- | --- | --- | --- | --- | --- | --- | --- | --- | --- |
| 1 | 8705 | GBR/USA/GER | Terry Cook/Karlheinz Krueger | 1 | (2) | (4) | 1 | 1 | 1 | 1 | 1 | 1 | 1 | 8 | 14 |
| 2 | 6066 | USA | Ali Kishbaugh/Mike Sigmund | (2) | 1 | 1 | 2 | 2 | (3) | 2 | 2 | 2 | 2 | 14 | 19 |
| 3 | 10963 | USA | Jim Burns/Bill Zeuli | 3 | (5) | 3 | 3 | 3 | 2 | 3 | 3 | (4) | 3 | 23 | 32 |
| 4 | 10337 | USA | Izak & Lori Kielmovitch/Paul Heffernan | 5 | 3 | 2 | 5 | (9 DNC) | (9 DNC) | 9 DNC | 9 DNC | 3 | 4 | 40 | 58 |
| 5 | 3487 | USA/GBR | John Cadman/Jim Ward | 6 | 6 | 6 | 6 | (9 DNC) | (9 DNC) | 9 DNC | 5 | 9 DNC | 9 DNC | 56 | 74 |
| 6 | 11343 | USA | Dave Hepting/Bruce Weston | (9 DNC) | (9 DNC) | 5 | 4 | 9 DNC | 9 DNC | 9 DNC | 4 | 9 DNC | 9 DNC | 58 | 76 |
| 7 | 7559 | USA | Lloyd Weed/Shannon Campbell | 4 | 4 | (9 DNC) | (9 DNC) | 9 DNC | 9 DNC | 9 DNC | 9 DNC | 9 DNC | 9 DNC | 62 | 80 |
| 8 | 3991 | GBR | Ralph Roberts/Ansis Roskalns | (9 DNC) | 8 DNF | (9 DNC) | 9 DNC | 9 DNC | 9 DNC | 9 DNC | 9 DNC | 6 DNF | 9 DNC | 68 | 86 |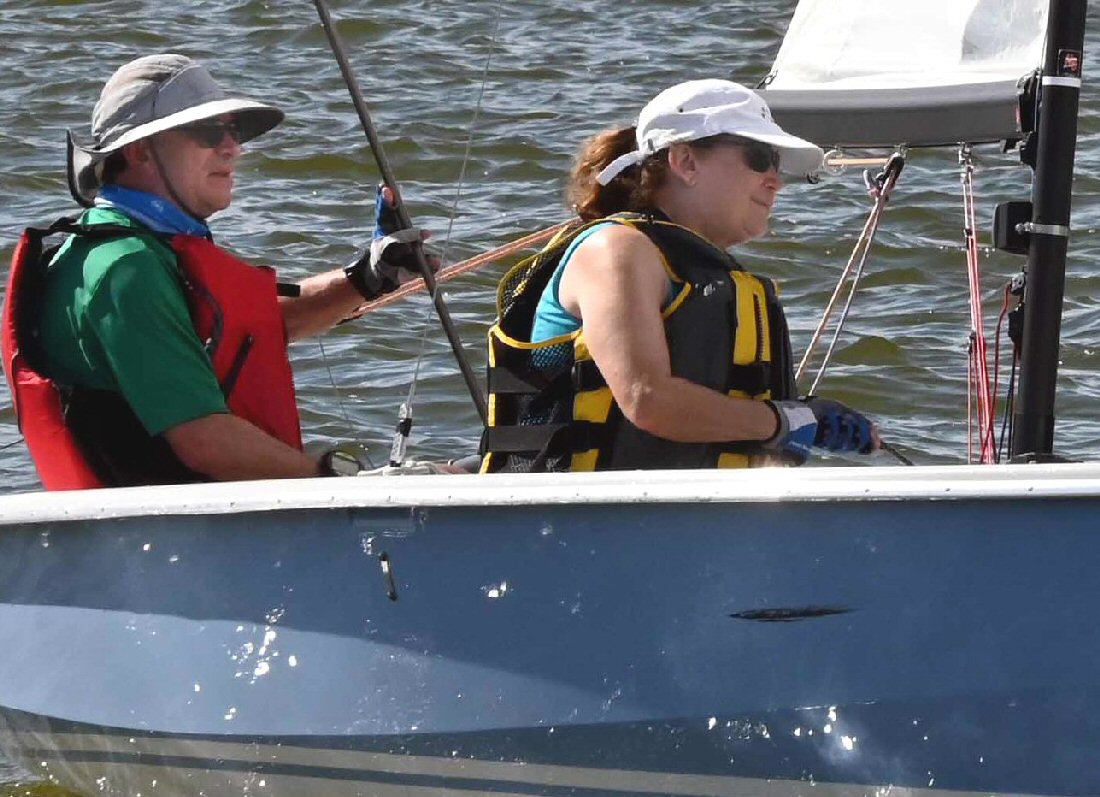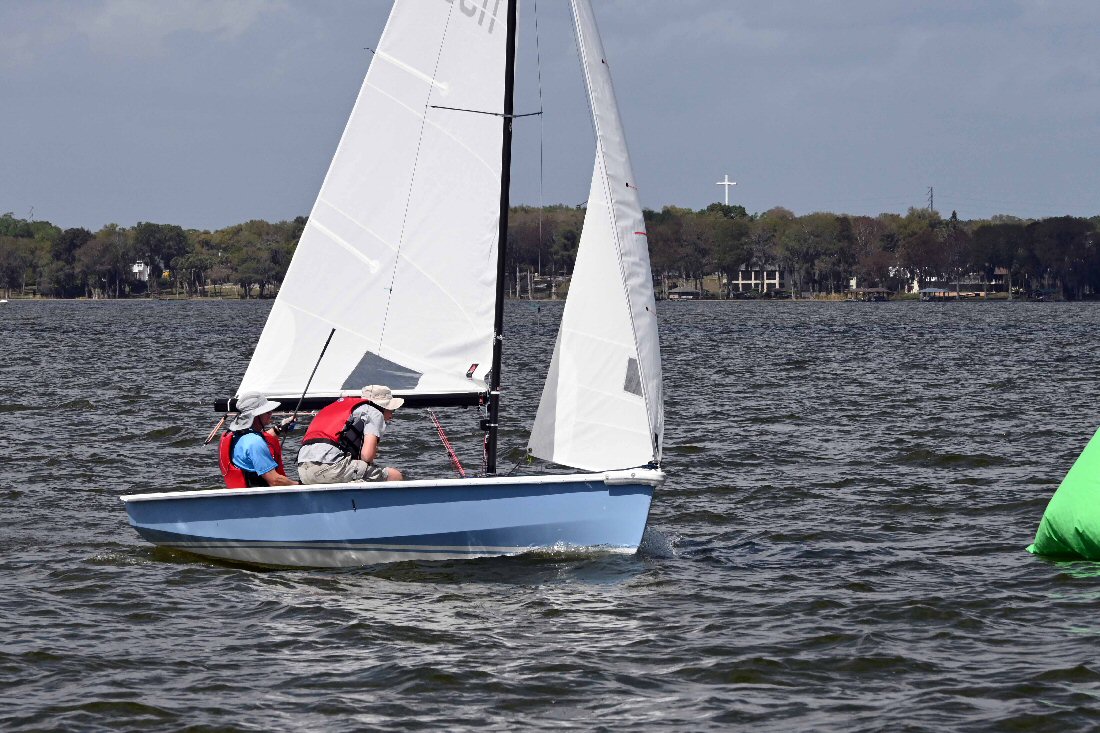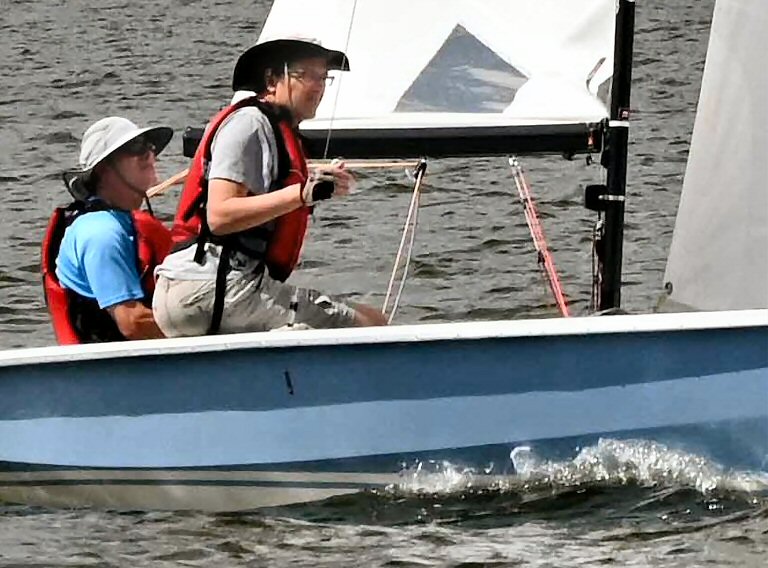 Paul Heffernan, son of Jim and Linda, fills in.


With Tuesday help from Paul Heffernan, locals, Izak Kielmovitch and his wife, Lori, sailed their beautiful new W11337 to white sail 4th overall, beating out Lake Eustis SC clubmate, John Cadman who teamed up with Jim Ward in John's venerable W3487 Snowdrop (below) after lending John's new mark 4 to Tim and Jacqueline Townsend from England.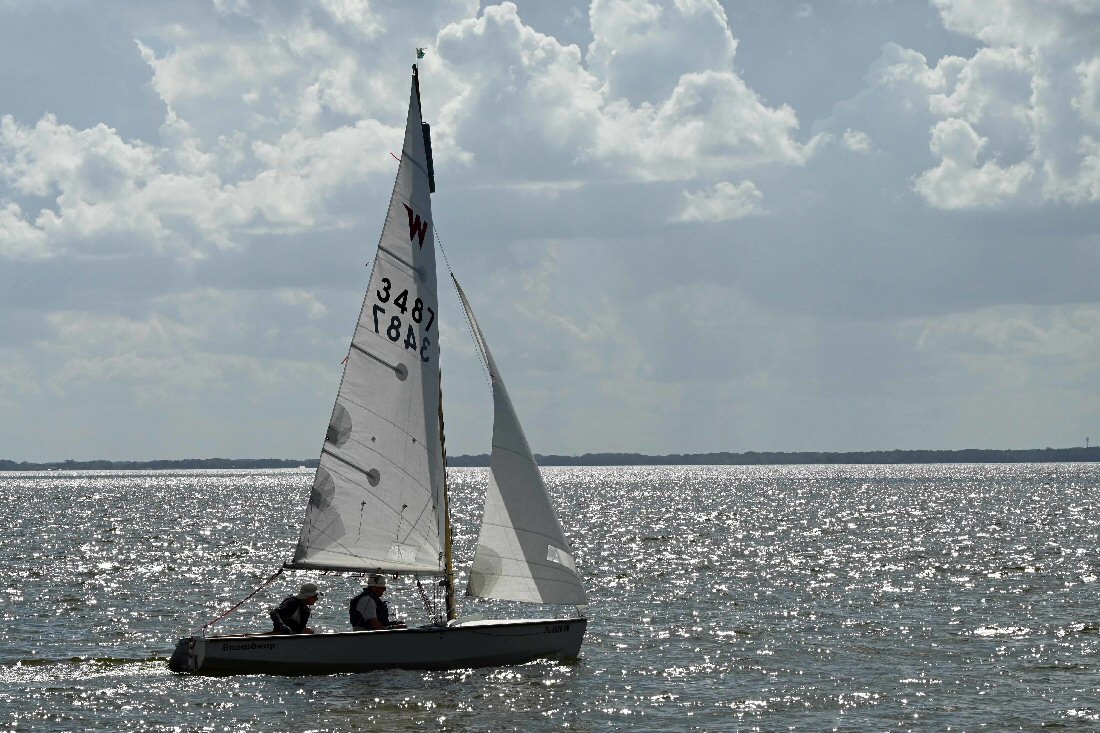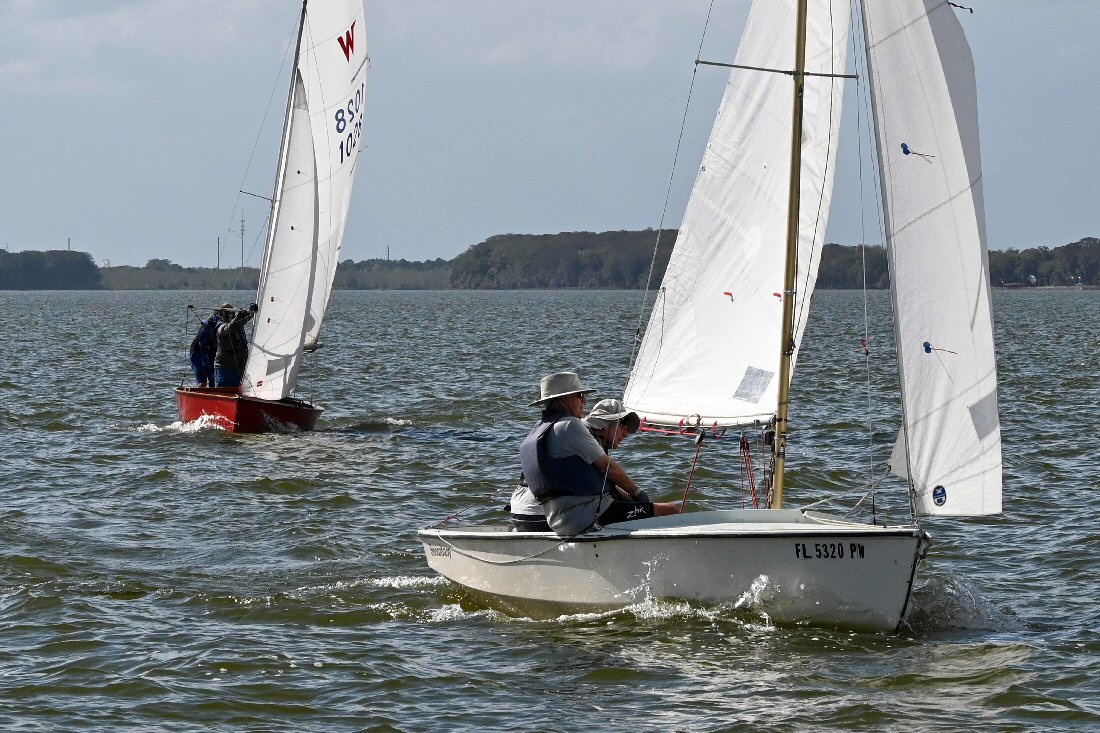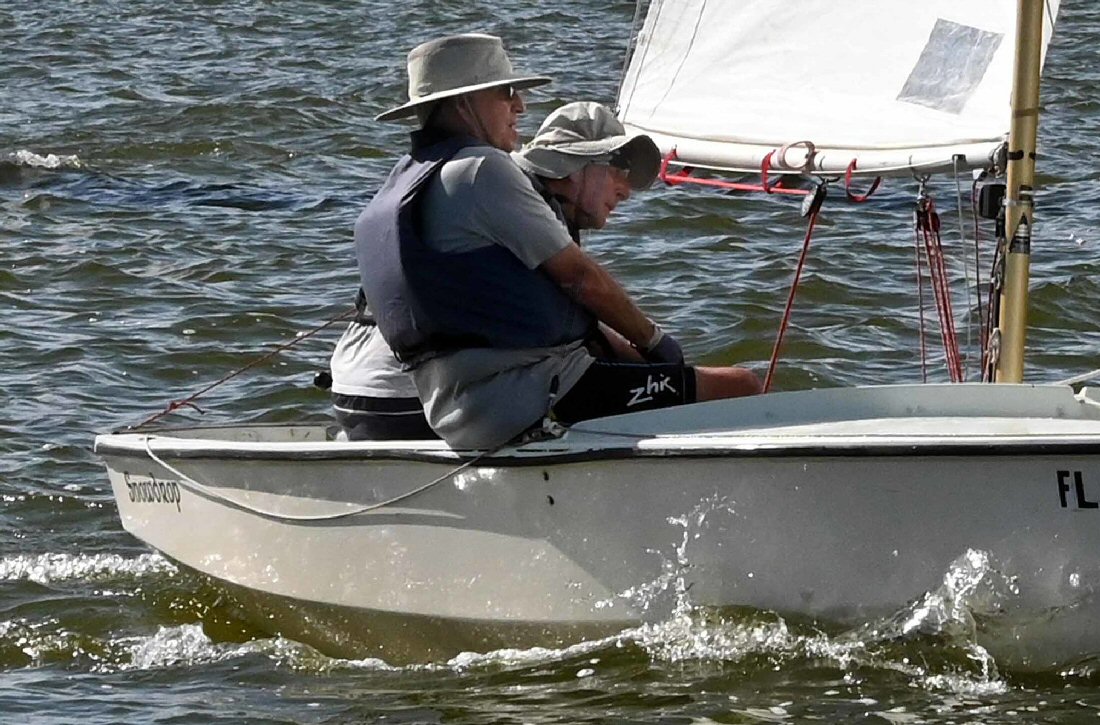 Sailing only two or three of the 11 races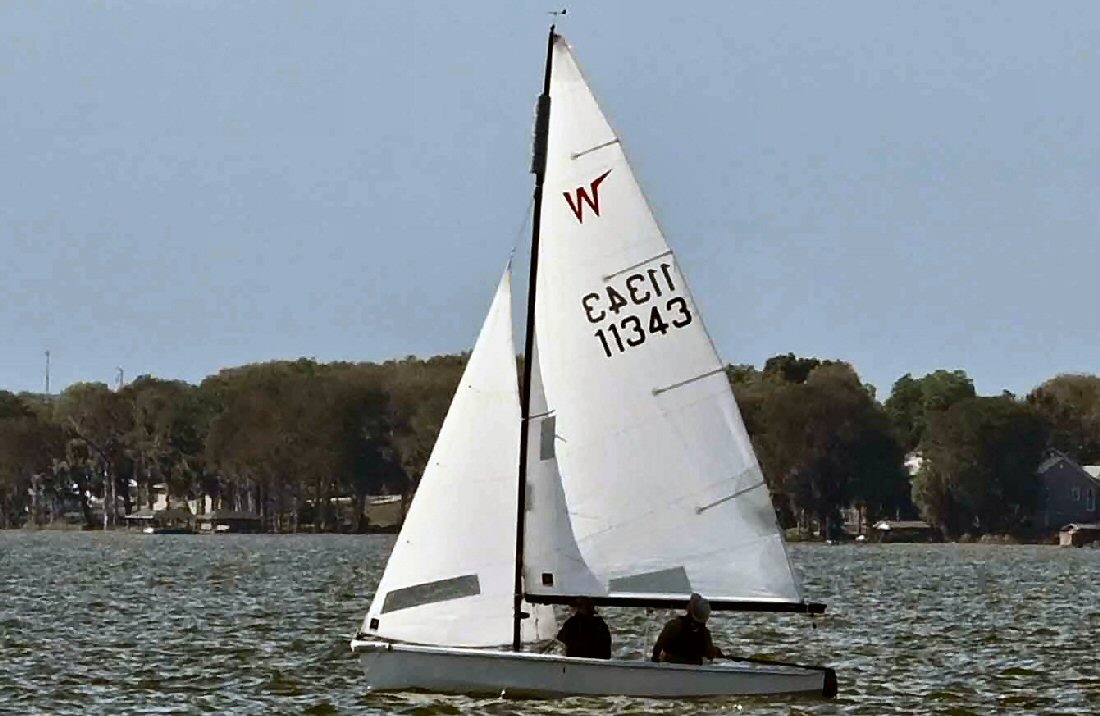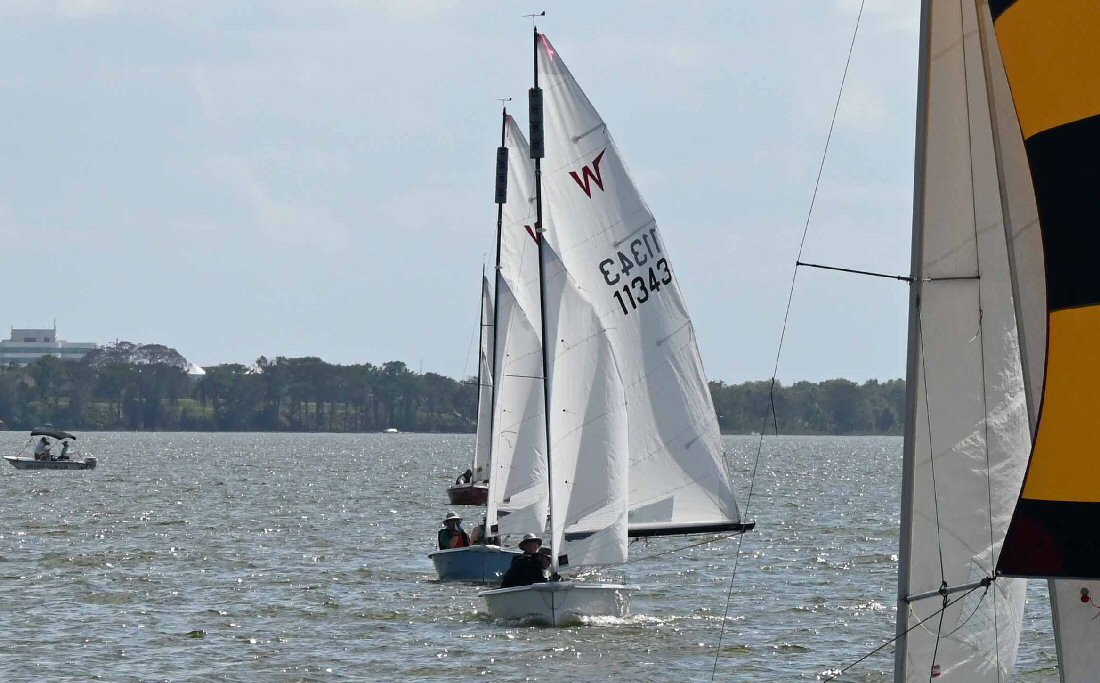 In the three races they sailed, Dave Hepting and Bruce Weston
(W11343 above)
of the host club scored 5-4-4 in the 8-boat White Sail fleet.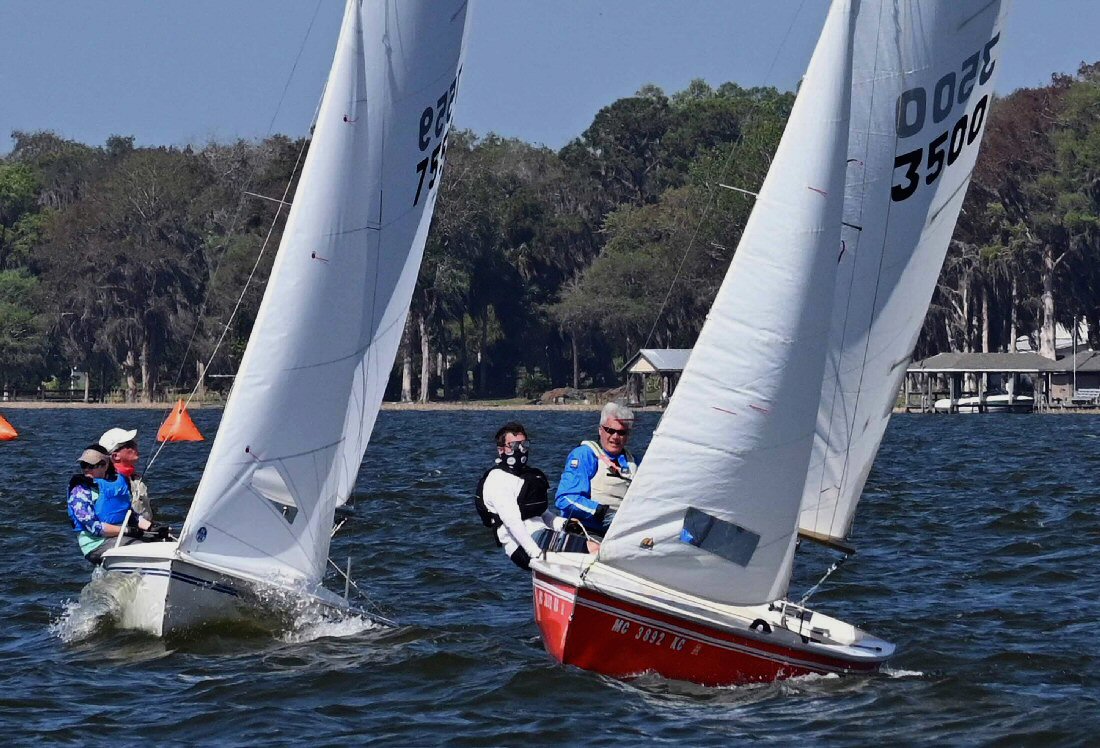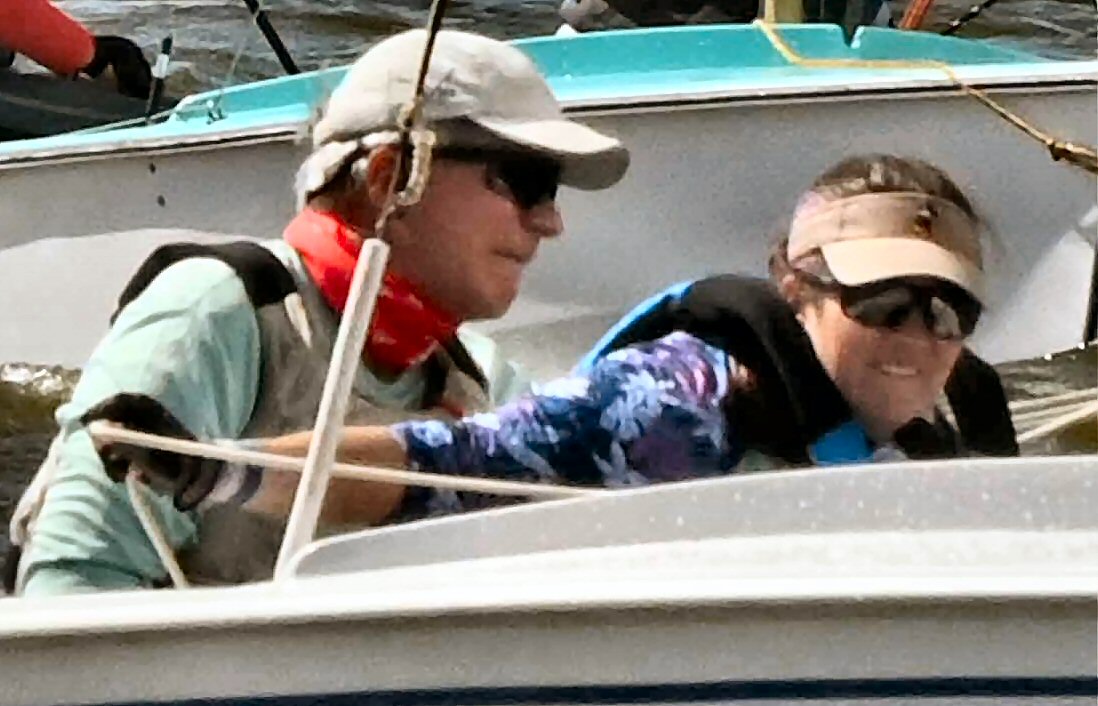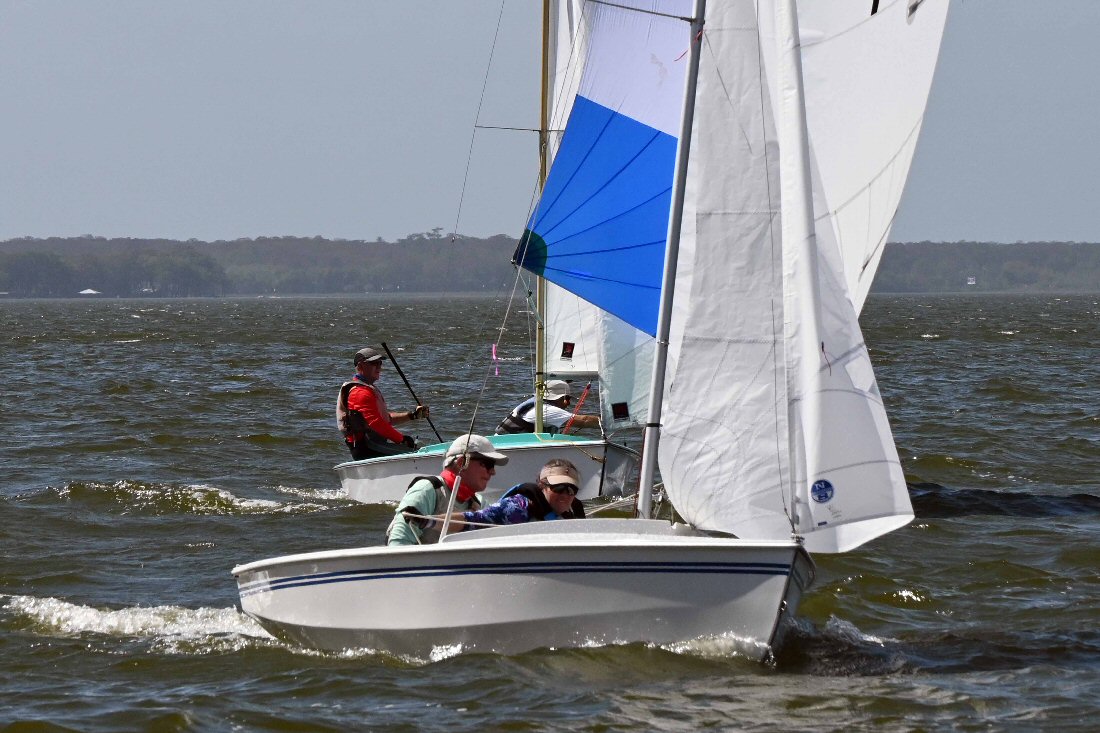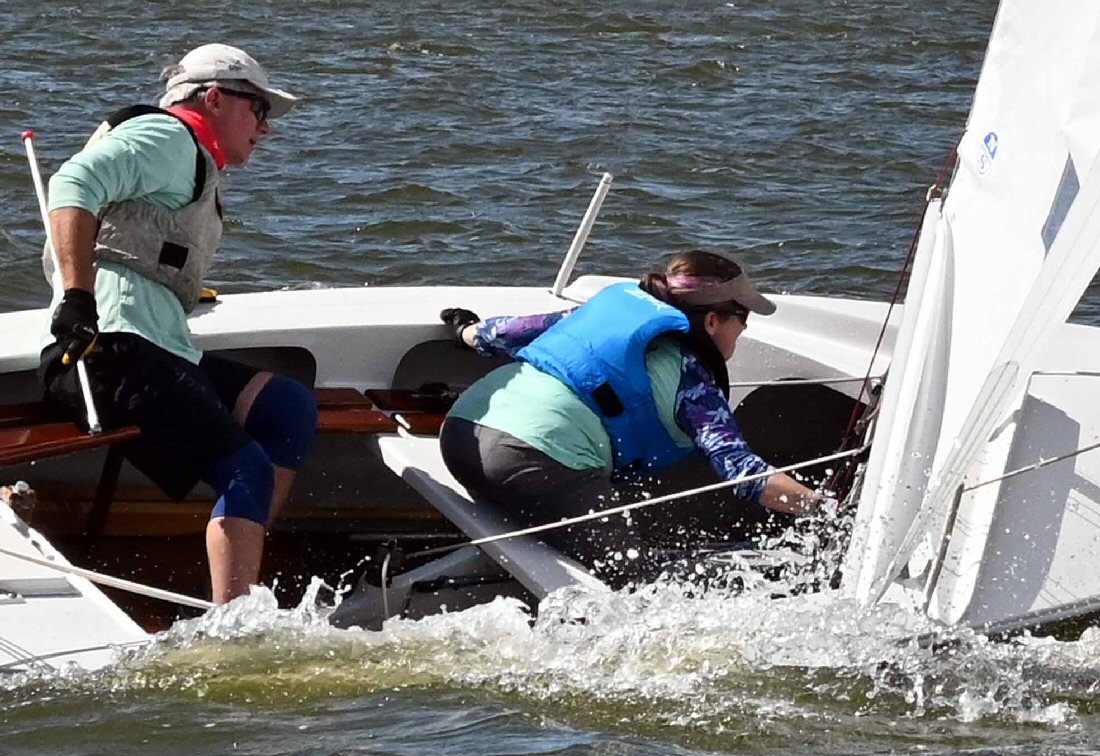 Shannon and Lloyd finish a breezy gybe perfectly positioned in their boat.




Welcome to new Wayfarers, Lloyd Weed (W7559) and daughter, Shannon Campbell. Lloyd introduced himself with the following information: We are new to The Wayfarer universe, but we were able to compete in the races on Monday before the evil known as work called me back early. Lloyd Weed, Venice, Florida, an hour south of Tampa right on the Gulf of Mexico. Have raced all sorts of sailboats around here for 50 years. From Opti's to a Serendipity 43'. Crewed by my adult daughter, Shannon Campbell, sailing in W7559, a 1982 Mk1 made by Abbott. The boat was only sailed 3 times in 1982, then was stored until 2019. All original in factory fresh condition. Looking forward to many more events. Lloyd and Shannon (above) finished 4th in the Silver Fleet in both Monday races before they had to pack it in.



Al Fick and Shefali Bhavsar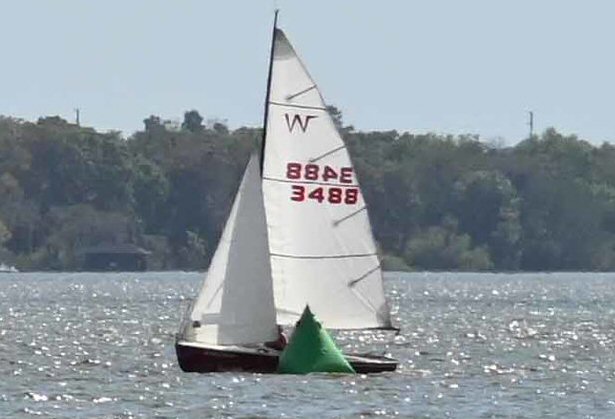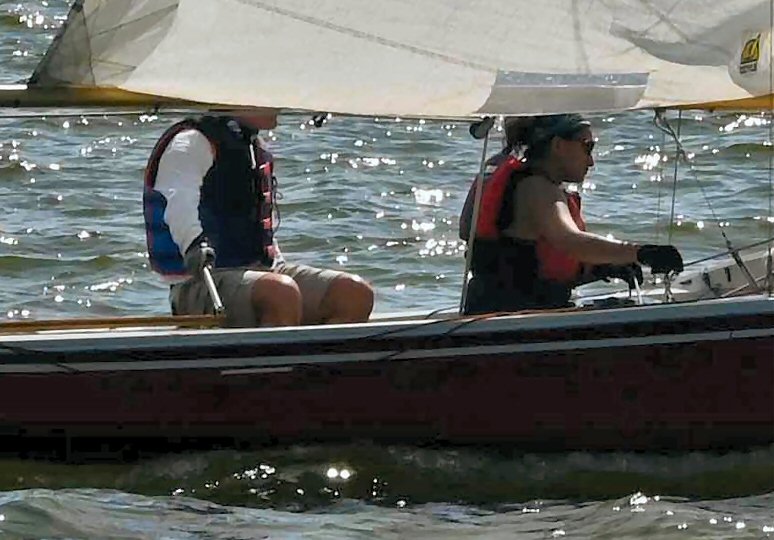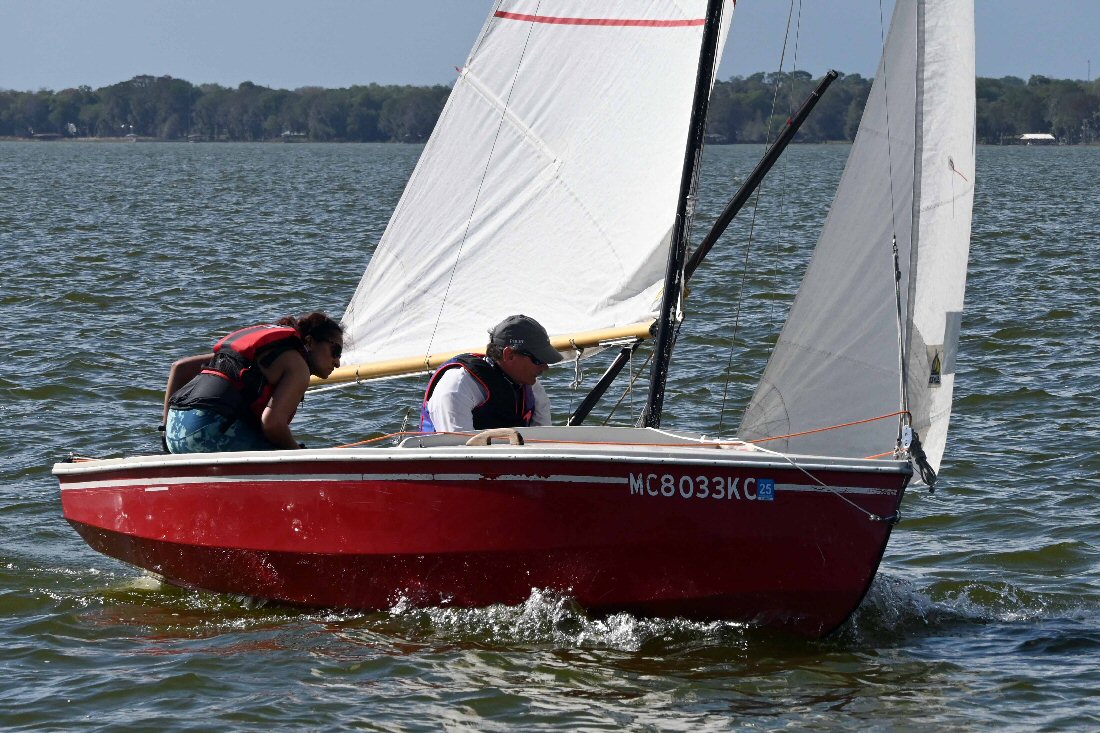 The old faithful trick of handing the tiller to the crew while the more experienced helm flies the spinnaker.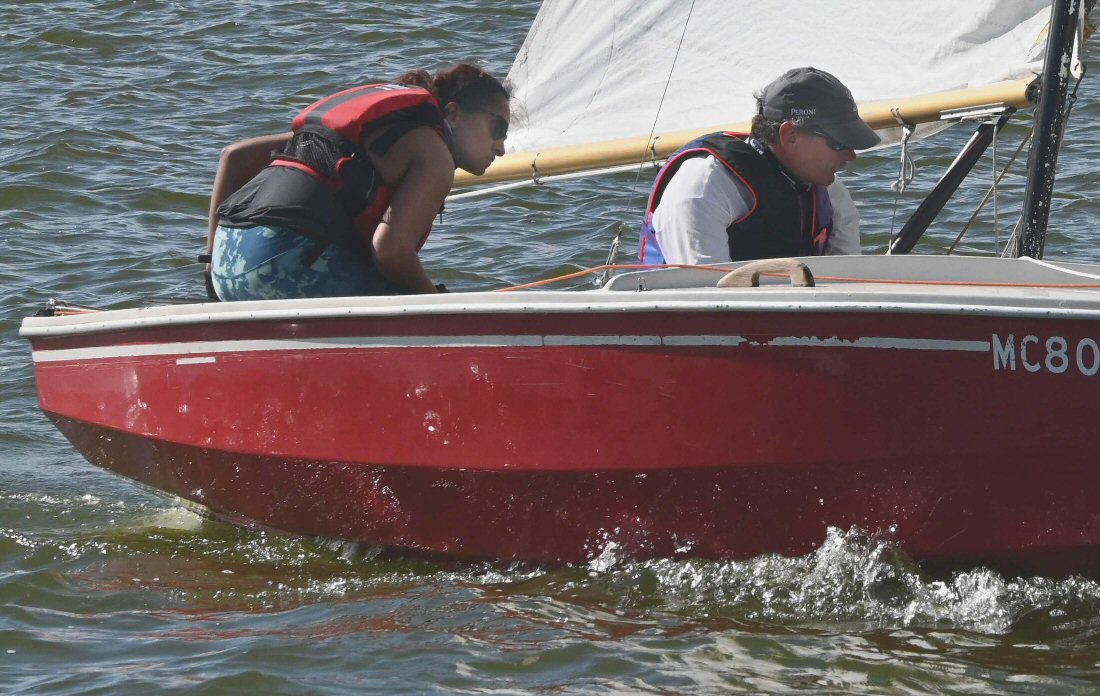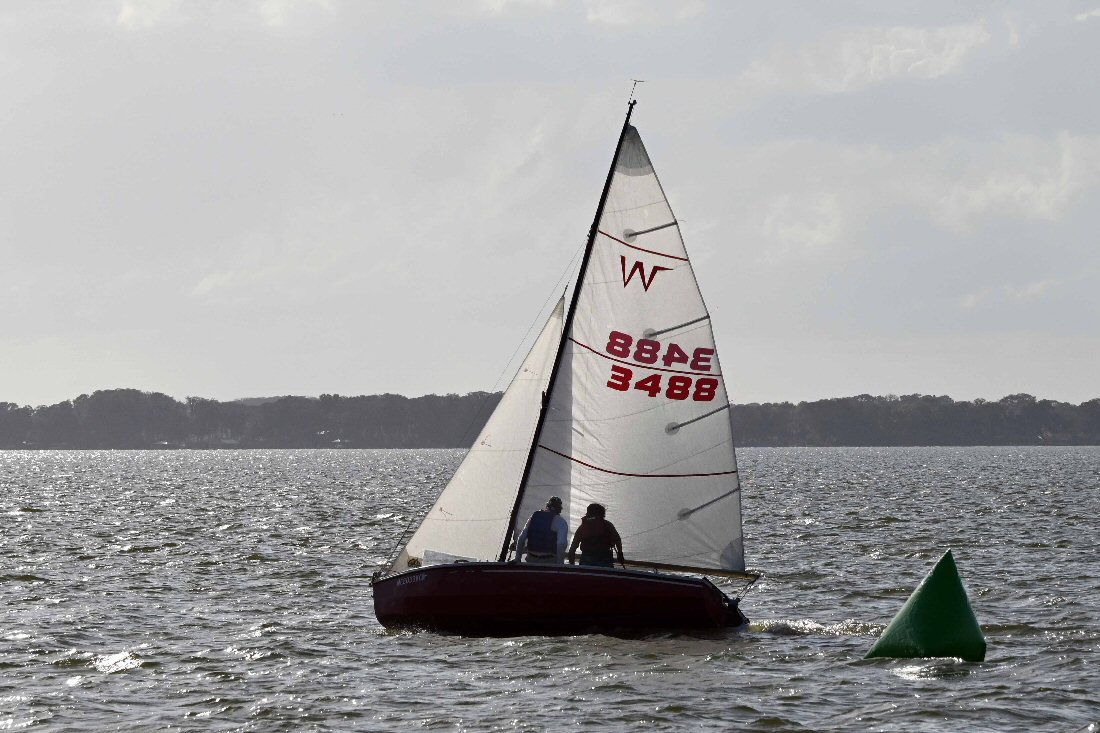 Michiganders, Al Fick and Shefali Bhavsar, had their fill after sailing the two Tuesday races and starting the first Wednesday race.


Ralph and Ansis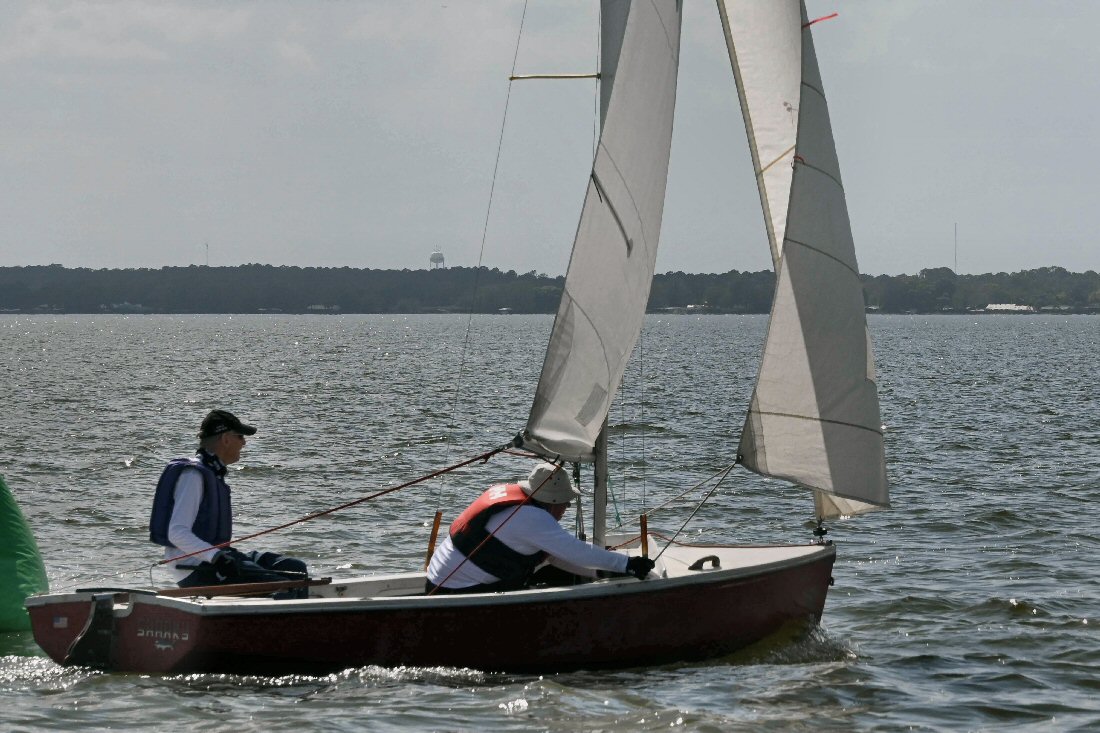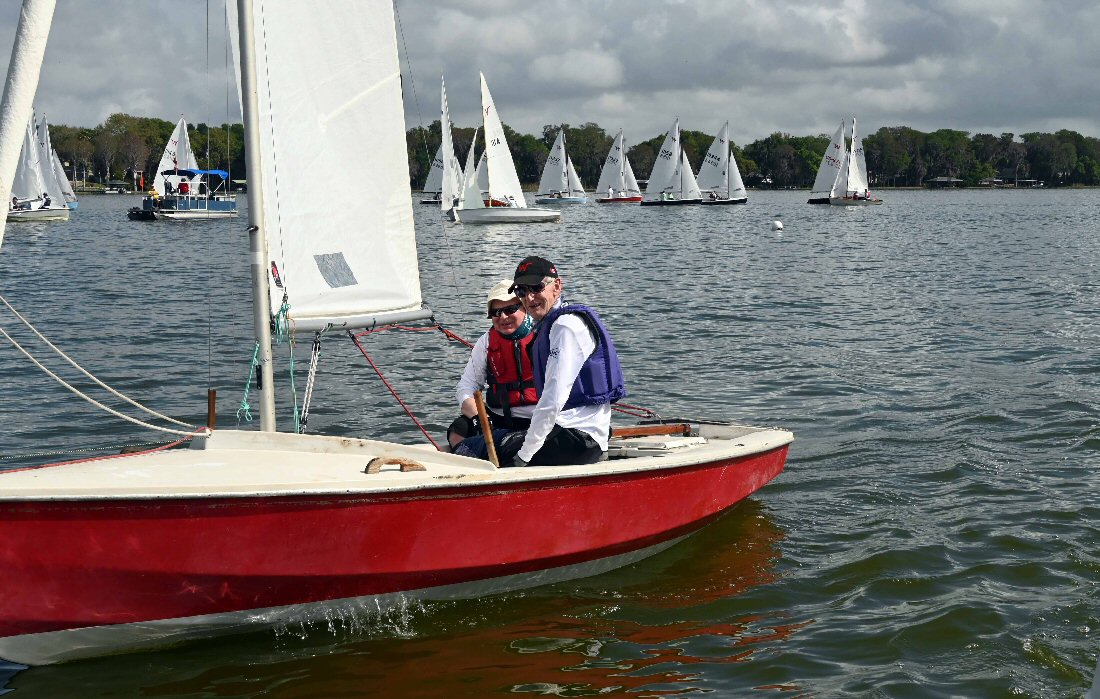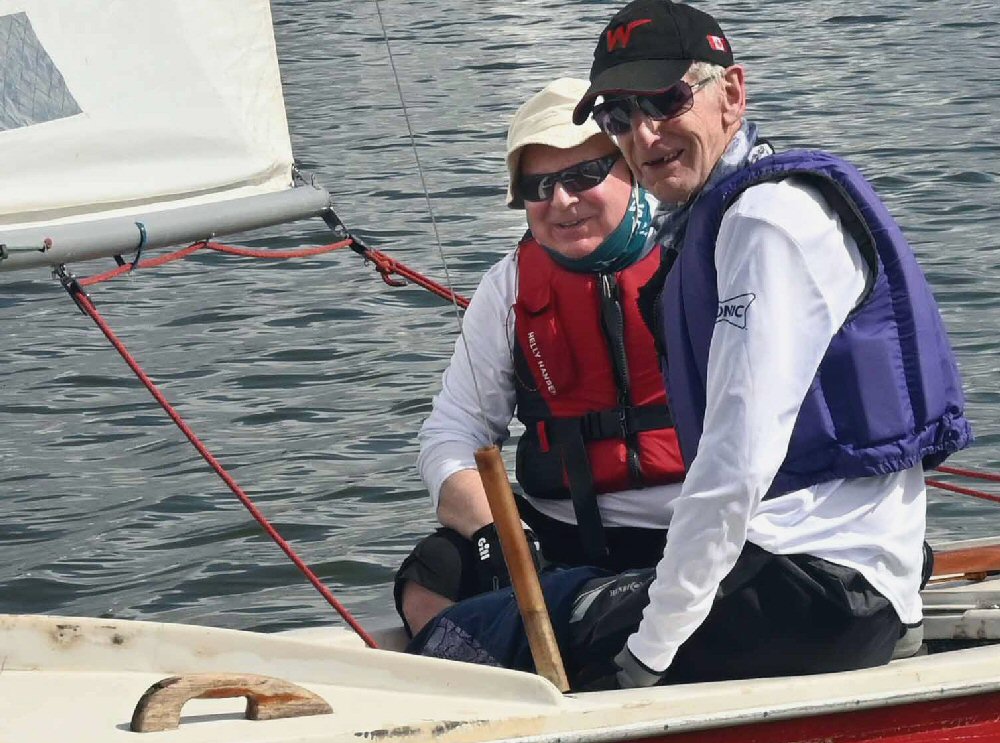 Ansis (left) and Ralph



Rounding out the fleet of those who participated in at least one race was none other than the ubiquitous Ralph Roberts of Norfolk, the Wayfarer International Committee International Secretary who again sailed with fellow Englishman, Ansis Roskalns, also from Norfolk, as he had done in the 2017 International Rally at Wellesley Island State Park, New York, in the St. Lawrence River. They sailed Sharky W3991 with a storied Midwinters past in two races but finished neither. Ansis did do a few finishes while being a fill-in crew with Elaine Vogan, of course.