Uncle Al's
Pictorial Pearls of Wisdom
from North Bay
a potpourri of educational items suggested by the photos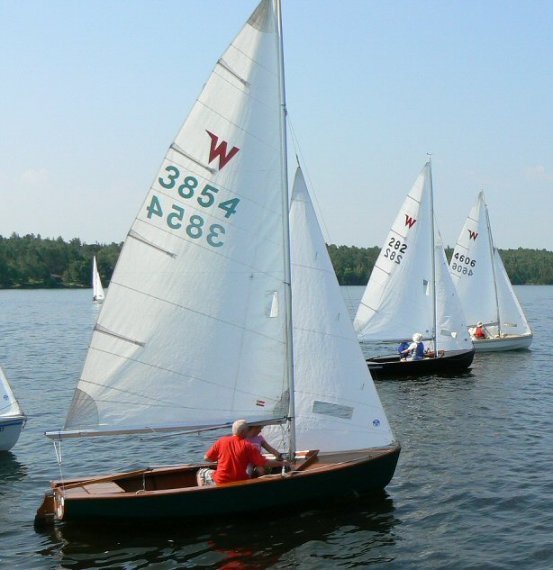 The trick for Al is now to convert his slight windward edge into a forward lead before the starboard tack can knock and let Dave (282) and Dwight (4606) tack and cross. Note how Al (3854) has his sails eased (as do most of the others) and is now ...
...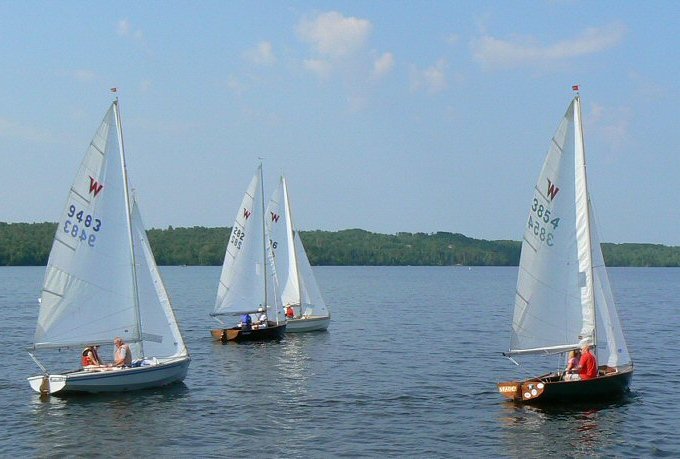 ... starting to move on out.


...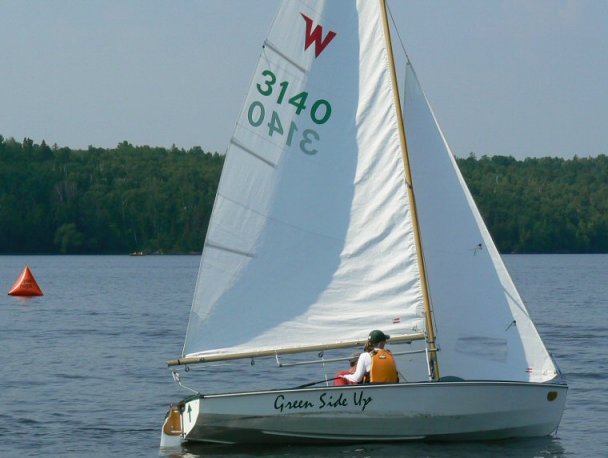 Good light-air form for Lori who heels Green Side Up to reduce wetted surface and help her sails set as intended.
...

Working on the assumption that if he can beat yesterday's winners, Dwight and Pat, he'll be in good shape, Uncle Al (3rd from left) has held starboard until Dwight (far left) tacked, and is now positioned between his #1 threat and the windward mark, as wise tactics suggest. Ross Jamieson (far right) is looking great. Note the difference in sail shape among the three boats on starboard: Andrew's sails (9657) are wisely eased and looking powerful while the other two have too much main leech tension resulting from too much mainsheet tension or - God forbid! - vang tension.


... ...
As can be seen in this photo taken from the RC boat on the rhumb line to the finish, the wind has veered, and Al should be able to virtually lay the finish line when he tacks. To be on the safe side, however, Al will hold port around the mark for another length or two and then tack so that he will have a windward and ahead position on Dwight which should preclude the possibility of Dwight getting a lift that Al does not get, something that could happen if Al put his entire lead off Dwight's bow.


...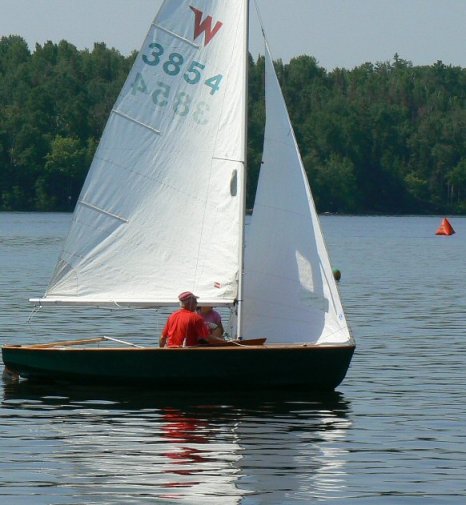 Michele and Al ghost past the RC boat on their way towards being first across the windward mark finish line in dying winds. Note how they have their weight well forward in order to reduce wetted surface by lifting the transom, which pays at this slow speed, when the boat generates very little ...


...
... wave-making resistance.
...

Uncle Al sits 5th but has wisely overlaid the windward mark, sensing the mess about to ...
...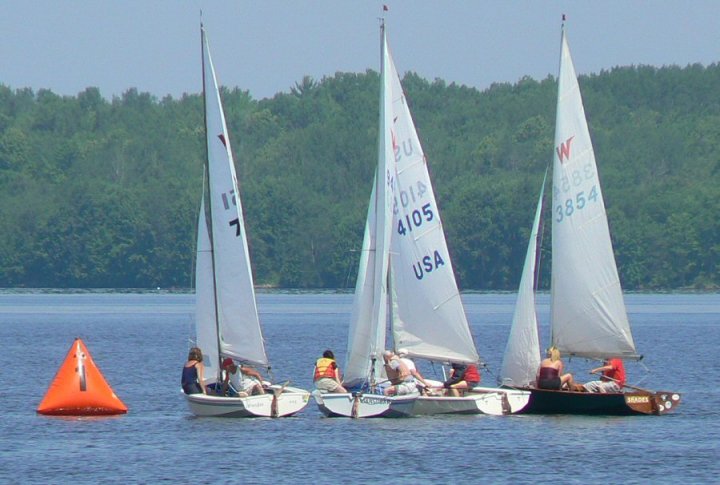 ... unfold among the three boats virtually tied for 2nd.
...

Al slips by and rounds 2nd ahead of Tony. Andrew (9657) will also benefit from keeping his nose clean and move up to 4th.
...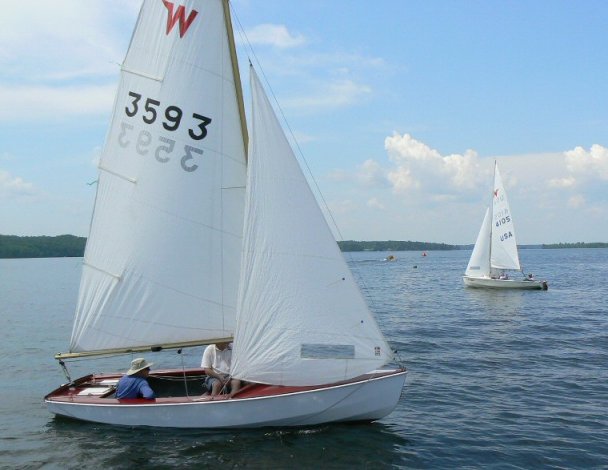 Having seen Henry (3593) sitting in this position, I suggested he would do better to sit further forward. To which he replied: "I will. Next year I will be the crew and John will skipper."
...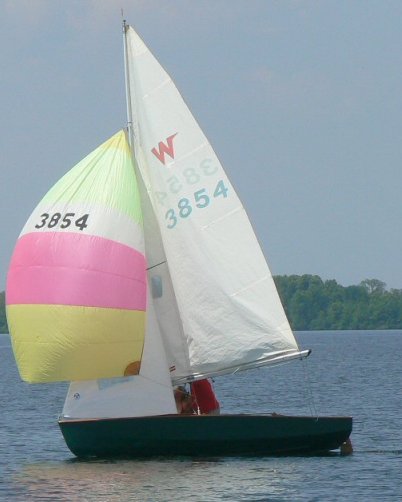 Michele does an excellent job of keeping the spinnaker flying in minimal breeze,
while Al helps by heeling the boat to windward and holding the boom out.
...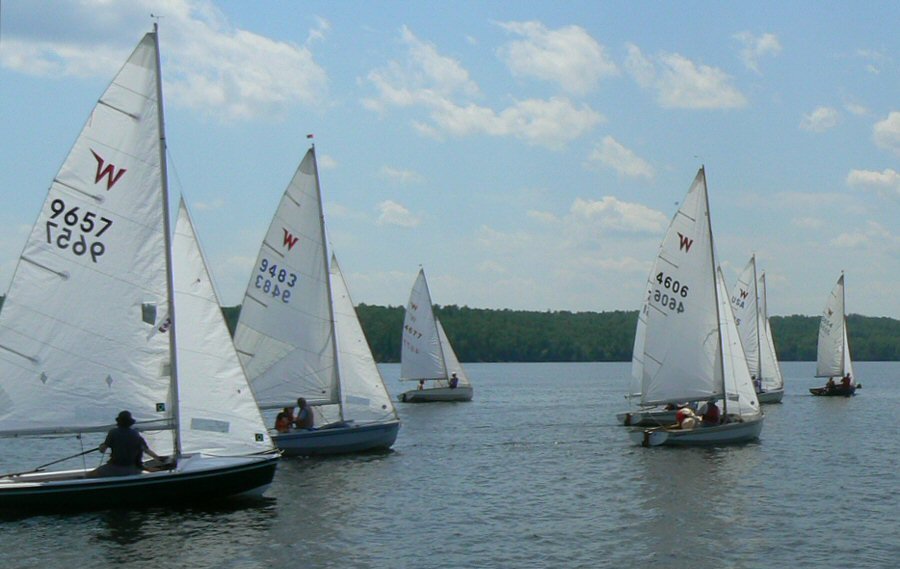 The wind has again backed and Al (r) is well positioned to ...
...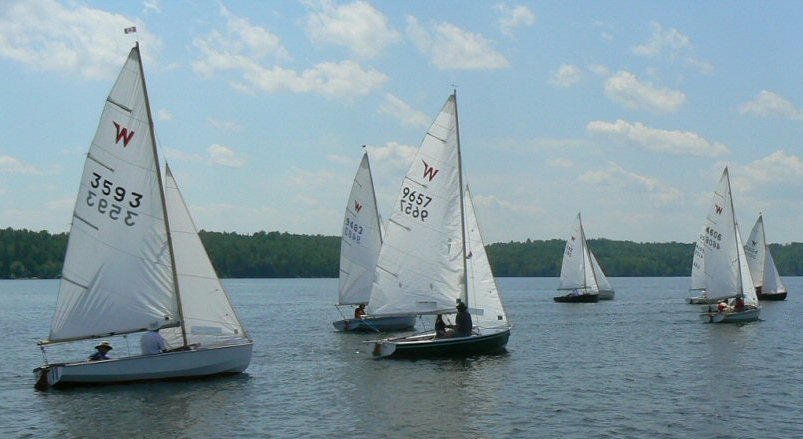 ... tack and cross the fleet as the gun goes.
...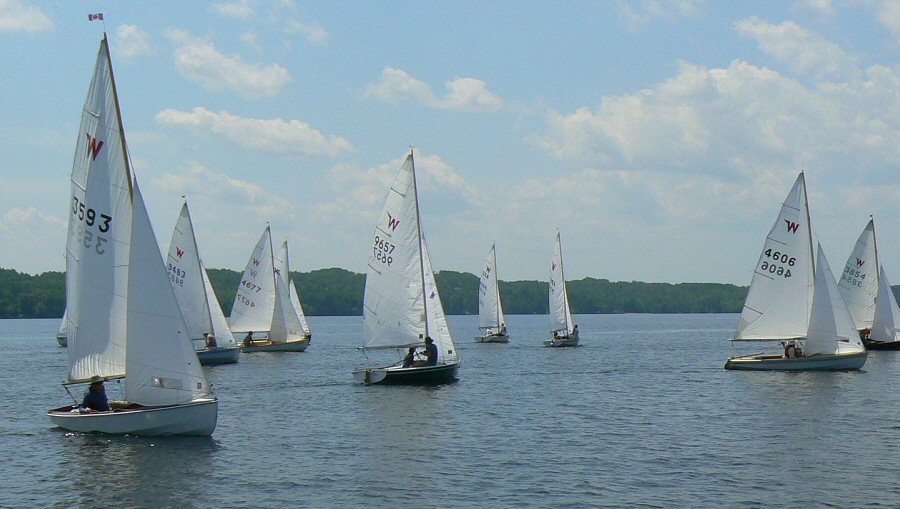 Dwight (4606) wisely tacks as well while he can still do so and keep clear air. With the windward mark more or less layable on port, Al will now sail for speed and try to "bury" his main threat, Dwight.
...


Pretty well everyone has seen the light (the windward mark??!!) and tacked to port since every second spent on starboard here is wasted distance and time, because the mark is now a fetch on port tack. Poor Andrew is in a no-win spot here. He should have tacked "two pictures ago" when he still had the chance at clear air. Now he can hold starboard and go for clear air but waste distance, or tack to port and eat dirt. This is a classic situation where it really paid to plan ahead. On our boat, Michele and I agreed that we had to get onto port at the first possible opportunity and that all else was secondary.


...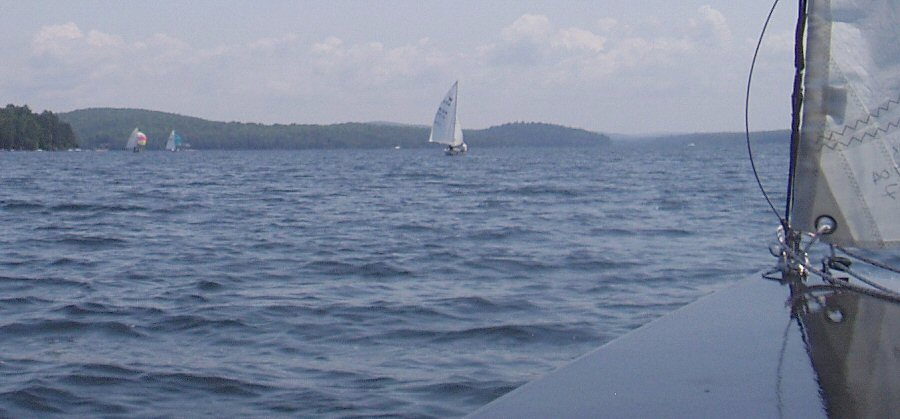 The run towards Milne Bay as seen from Banshee. Hugging the shore in hopes of getting a wind funnel effect on this dead run, are Julia and Al (l) who are closing the gap on John and Dolores.