Uncle Al's
Pictorial Pearls of Wisdom
from the Ontarios - 1
a potpourri of educational items suggested by the photos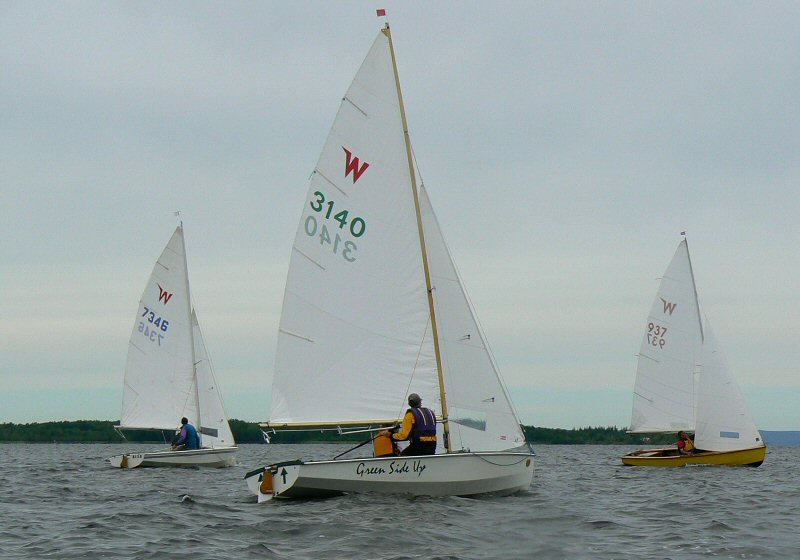 Alan (7346) looks a bit undersheeted on his main here, and is pointing accordingly.
...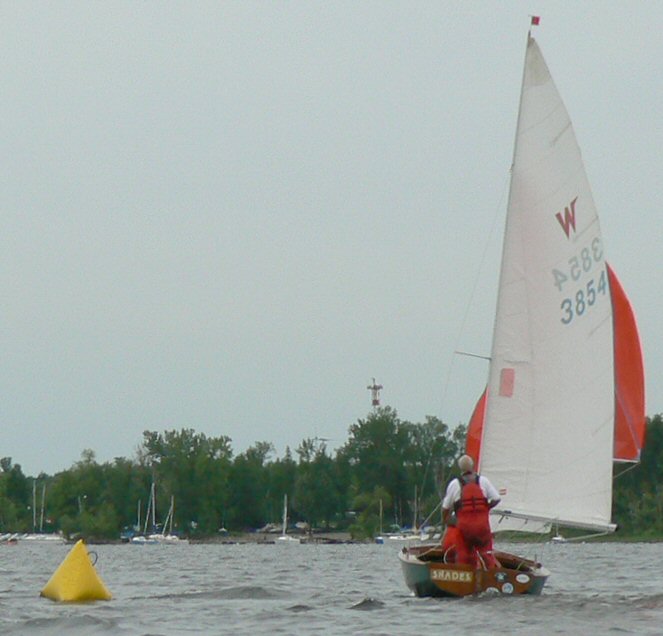 Al does not cut the mark very close here, but with Bill a few lengths back,
Al's main concern is to keep the main and jib pulling their best while ...


...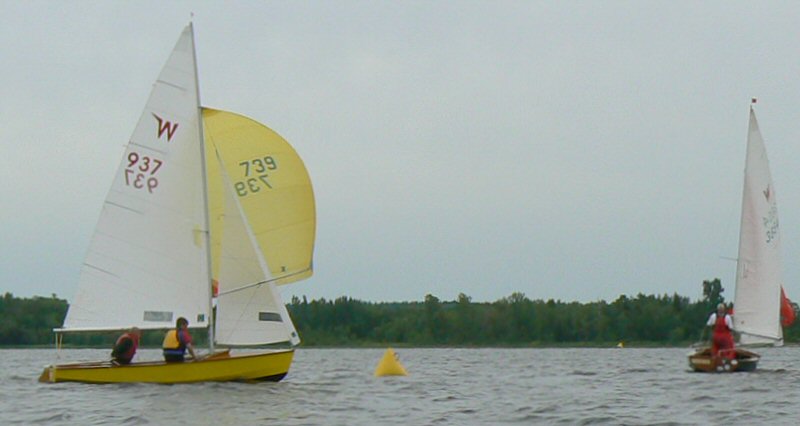 ... Marc gets the spinnaker flying for reach #2.
...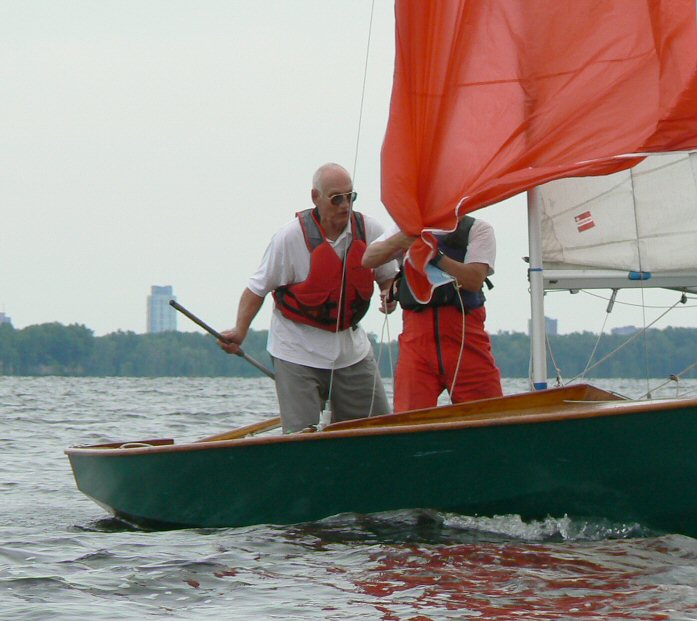 Near the leeward mark: Marc starts to pull the spinnaker halyard through Al's slightly clenched hand. If Al just lets the halyard go, the spi could fall under the boat. Note how Marc also pulls the foot around to keep the leeward sheet from falling into the water and going under the bow. It takes fine judgment to time this manoeuvre so that just enough time remains at the end to ...


... ...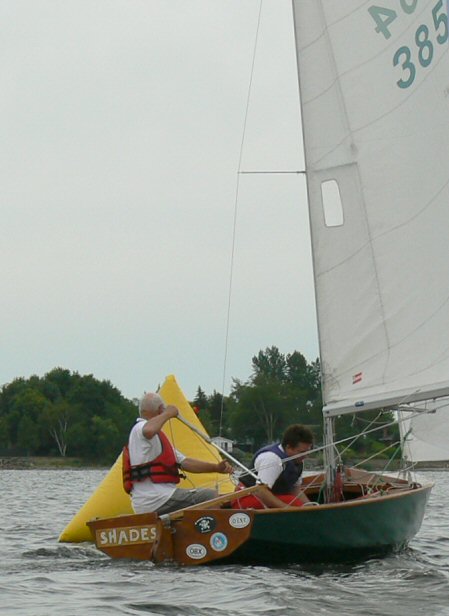 ... gybe the boat and ...
...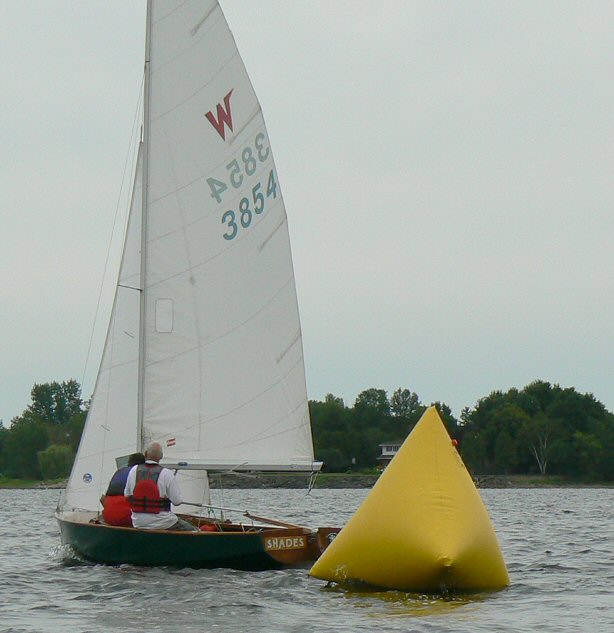 ... round the mark nice and close. The wide rounding Al did at the gybe mark cost little or nothing by way of distance sailed, but here, a close rounding is a must. Note how quickly Al's main has gone from being all the way out in the previous picture to perfect beating position. That's because Marc, as soon as he has the jib sheeted almost to close-hauled (and cleated there), reaches in and grabs the mainsheet and brings it in hand over hand to closehauled before giving it back to me. A person with one hand on the tiller and trying not to hit the mark, simply can't bring the main in anywhere near fast enough!


...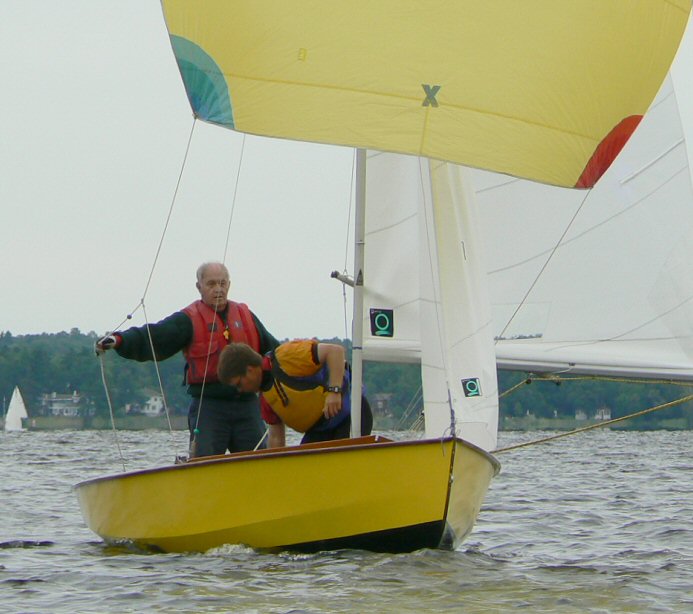 Anatomy of a spinnaker take-down: Note how Frank has removed and stowed the pole early. This is easily done on a run where Bill, the helm, can stand and keep flying the spinnaker while the crew stows the pole. In this situation, it is especially important to have the pole down and stowed before the take-down and gybe. Apart from the obvious reason that a pole left up gets in the way of the take-down, the pole will also deform the jib when it is sheeted in to closehauled after the gybe.


...
Again, note how Frank gathers the foot of the spi to keep the sheet from going under the boat.
Here, Bill and Frank have either left the take-down a bit late or ...
...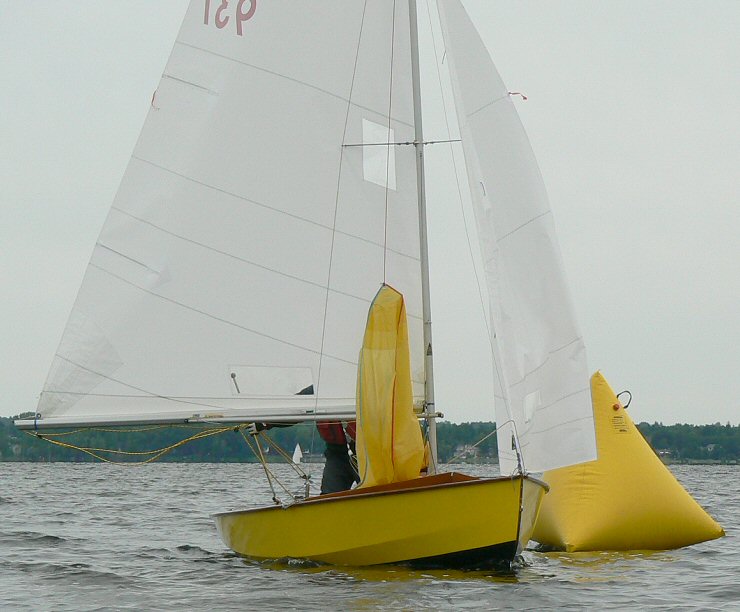 ... the halyard has snagged. I find it very useful to uncleat and then put my halyard hand as far up in the air as I can. This gives me instant and early feed-back about any snags in the line, and in fact tends to get rid of the latter. Ideally of course, one remembers the halyard early enough to check for and remove any tangles a minute or so before the intended take-down. But using the hand-up techniques is a good alternative for the many times that I forget to prepare my halyard. Above, Bill has had to gybe before Frank can get the last of the spi stowed and everything will now be a bit of a rush.


...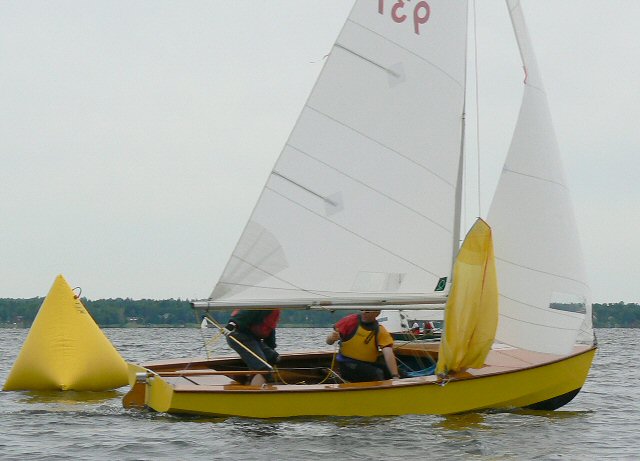 A fine rounding recovery, all things considered. I think Frank must have sheeted the main in for Bill, so now Frank can turn his attention to the jib which still appears sheeted to windward? And then of course, the rest of the spi needs to be stowed before the whole thing blows out to leeward and becomes a sea anchor!


...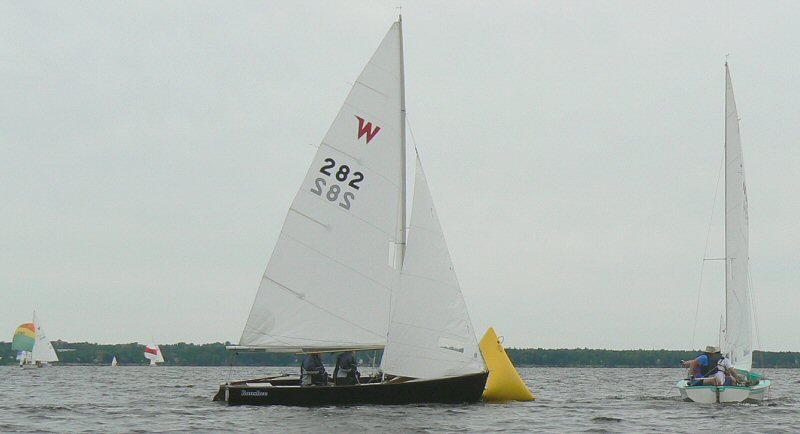 Dave is losing a lot of power by (over)trimming his sails this early. Note how Jamie's sails are trimmed the same as Dave's but the latter is sailing 90° lower. That trim looks good but appearances are deceiving. Dave is seriously stalling his sails and would be better off being undertrimmed even though that feels and sounds worse. Dave will come out of this turn slower than he needs to. He should use the Marc system and let Carol get the main most of the way in hand over hand.


...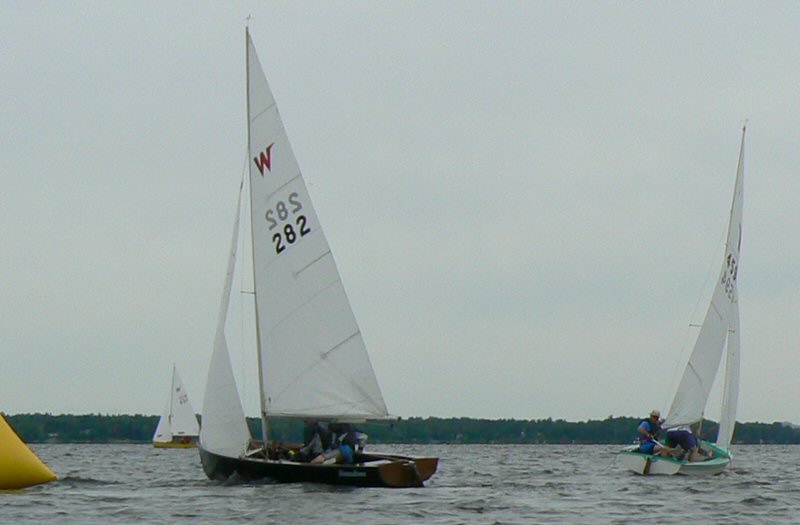 That extra speed around the mark would have been especially handy,
given Dave's (wise) intention to tack as soon as possible after the mark.
...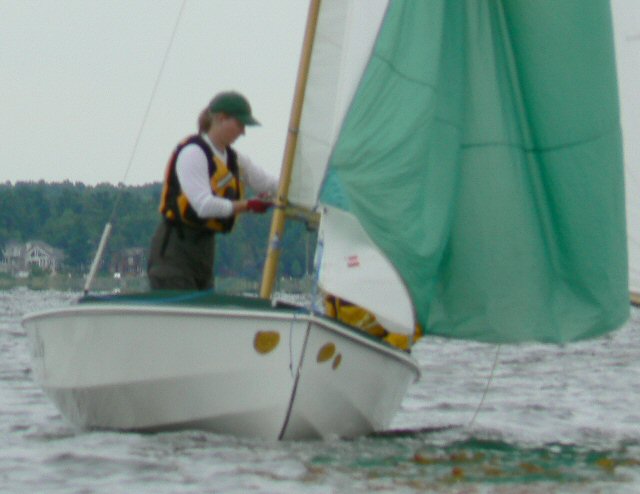 Eeeek! A leeward douse! It may be nice to have the spinnaker end up on the port side where it started,
but a douse to leeward is far more trouble than it's worth and
in more of a breeze can be downright risky unlike on keelboats!
...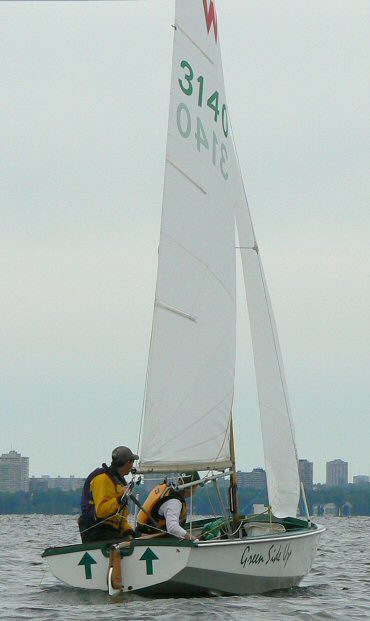 Luffing up a bit above closehauled right after rounding can be worth it if you need to pinch off a boat right behind you. But that was not necessary here. Also, there is no big rush to sheet in tight until you get your boat settled away to max upwind speed.
...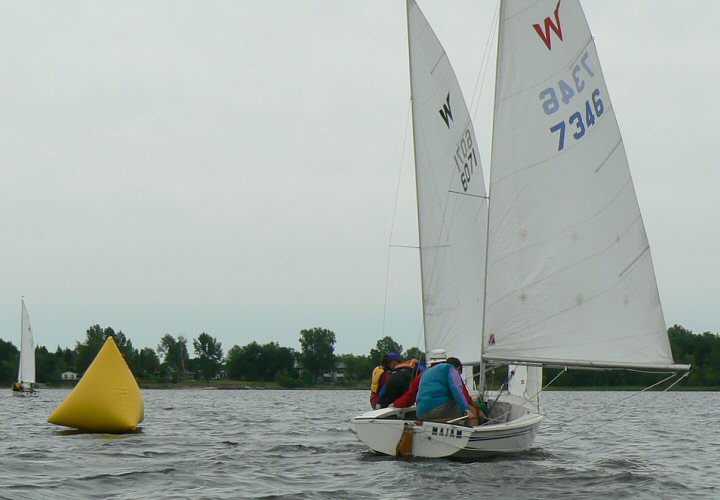 This is a good place to "slow down and win" as Stuart Walker says. By staying astern of Robin until both boats are clear of the mark, Alan (7346) retains the option to pinch up (as he is starting to do - note rudder angle) or tack away. Now would be ...
...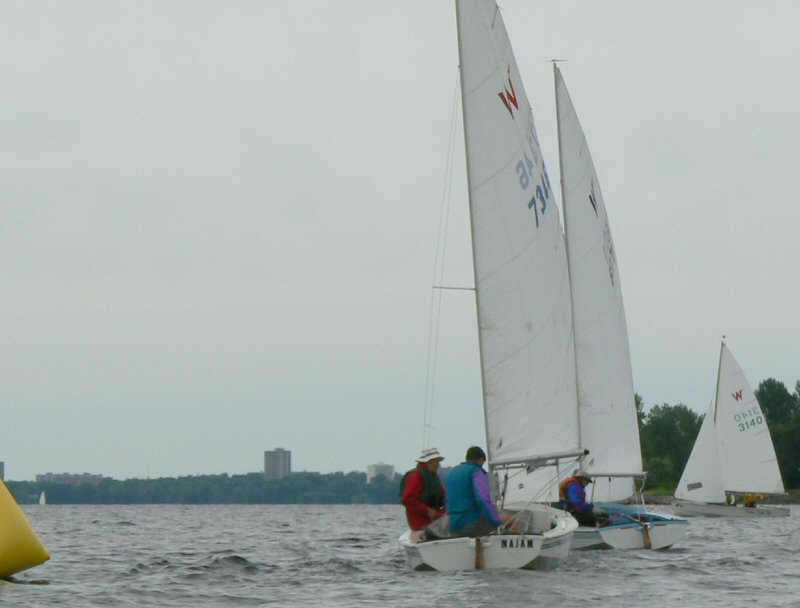 ... perfect time for crew, Tim, to help with the mainsheet. Robin appears to be reacting to Alan's move to the inside by oversheeting his main which won't help in the long haul.
...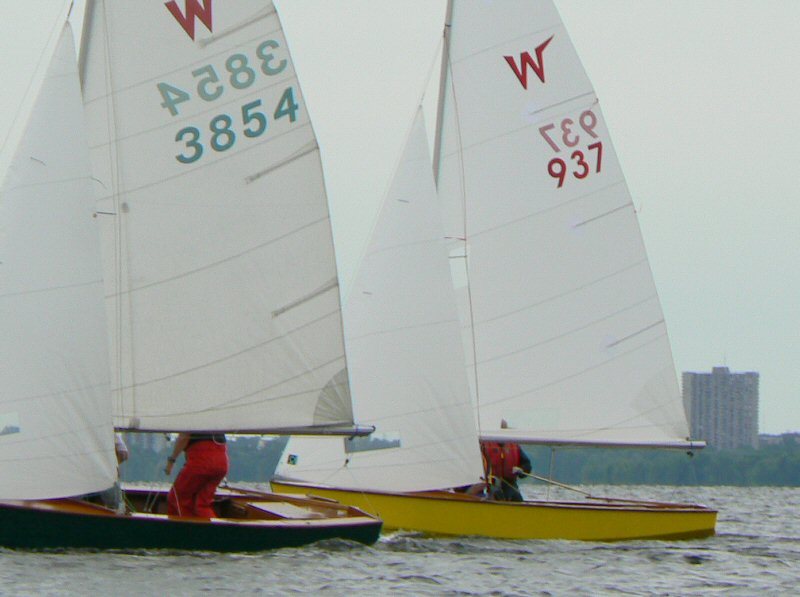 Very near the windward mark: Marc (3854) decides he'll risk underlaying the mark by tacking inside Bill (937) instead of crossing Bill's transom and then tacking. With no other boats right behind Bill, Marc can always tack again if necessary.
...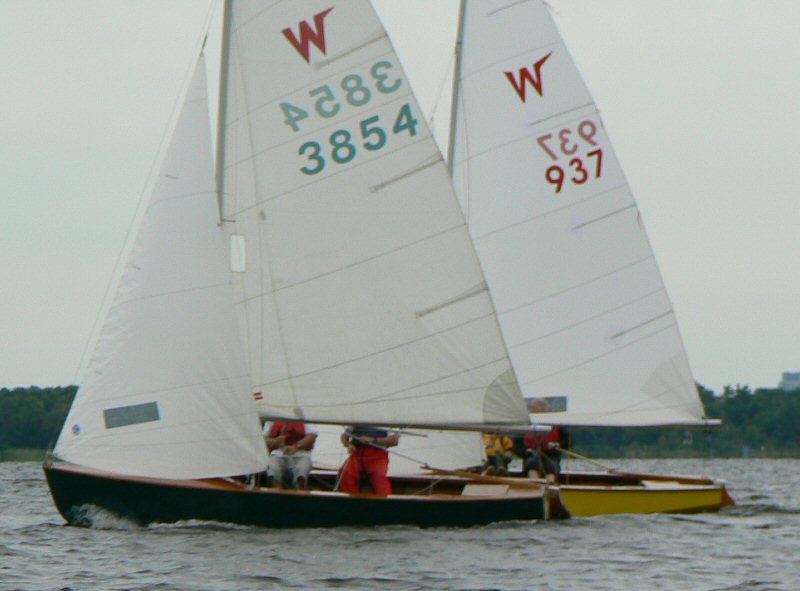 A tack is nicely completed - outside the Two-Length Zone, we feel - but there

is

the matter of the mark which we are short of laying by a boatlength. Marc warns Al that we'll try to "shoot" the mark. He keeps up full speed instead of yielding to the temptation to pinch too soon which might let Bill take our wind,

and

of course, we want full speed when it comes time to luff up and around the mark. At the last second ...

...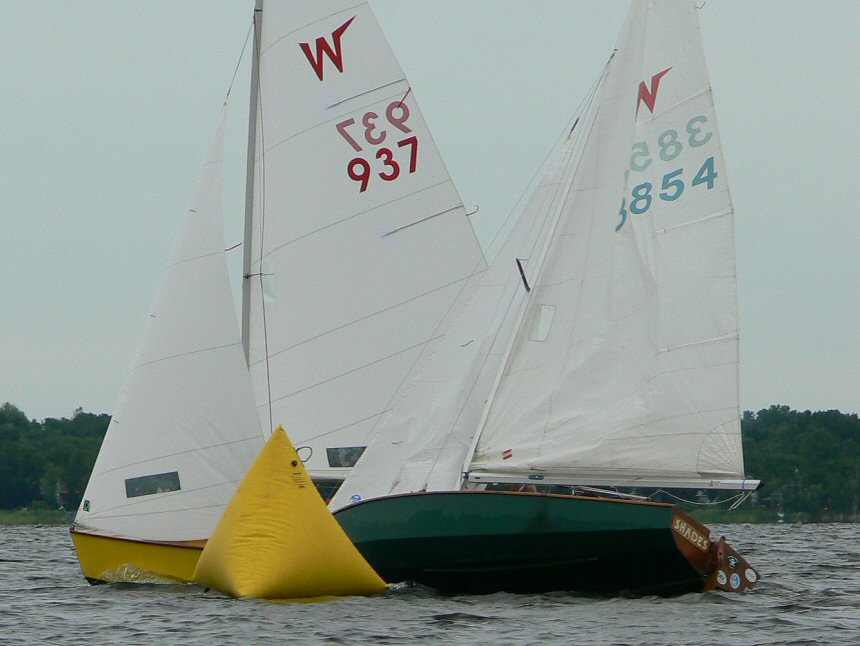 ... Marc luffs sharply. Note that Al has eased his jib so that it won't back and make us want to tack or slow us down.
...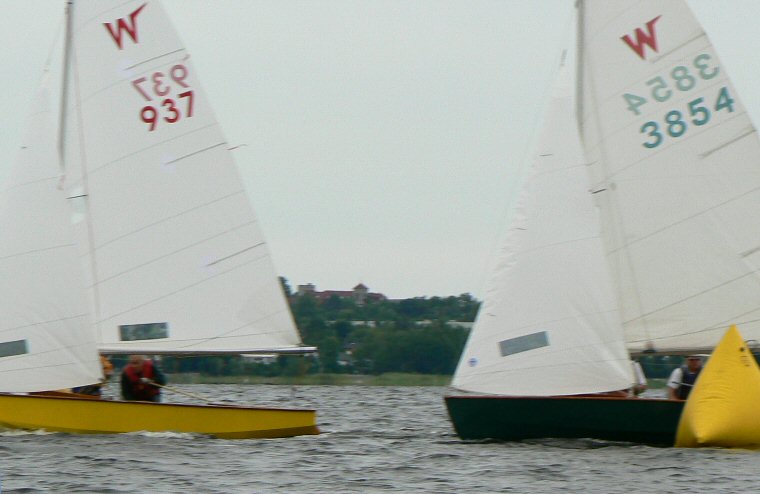 Success!!
...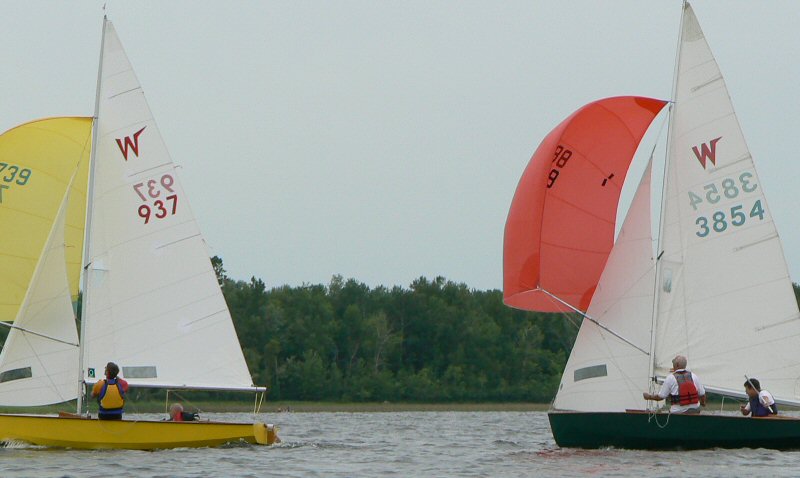 A tough leg on which to try to pass anyone, so Marc and Al (3854) will be content to stay close and to maintain a good attacking position for the upcoming beat.
...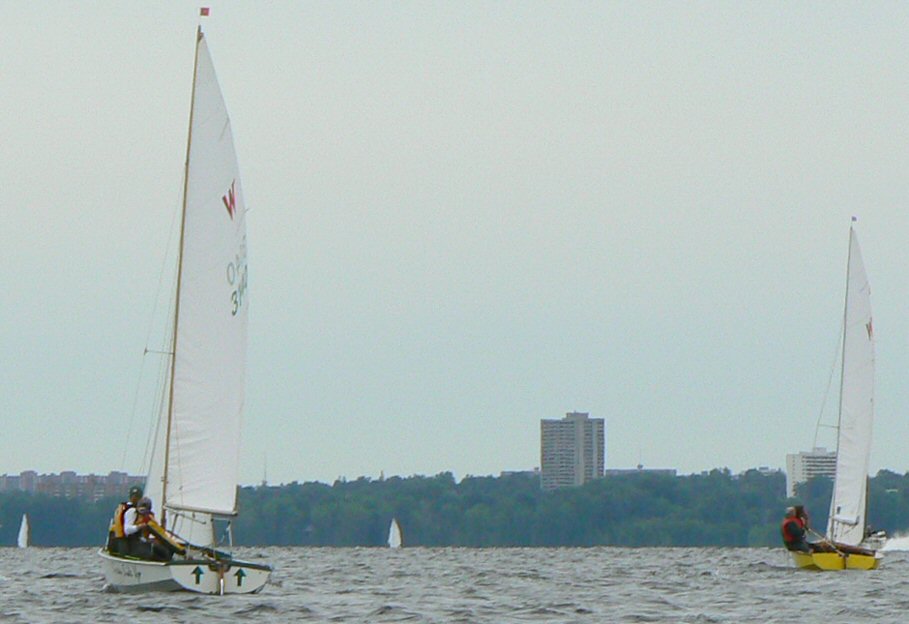 When Bill (r) sees Lori (and the others who have just rounded) getting this lift, he should tack across until he gets the same slant and then tack back. Unless of course there are overriding wind strength considerations!
...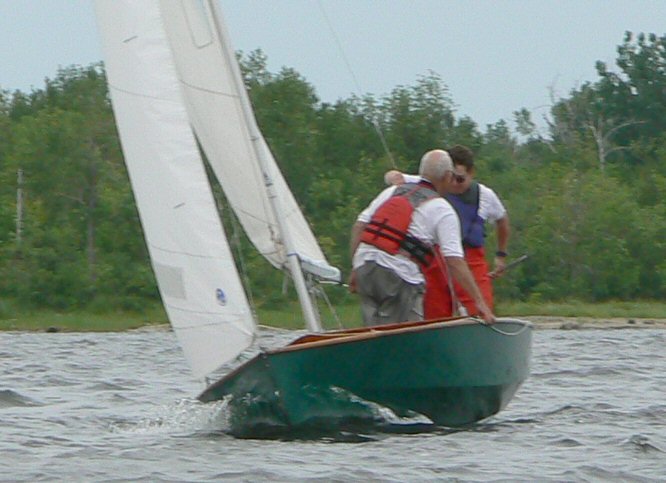 After tacking away from second-place Bill to catch an oscillation favouring starboard tack, Marc and Al complete a roll tack back to port in the return shift. It's only the second beat and too early to blindly cover Bill.
...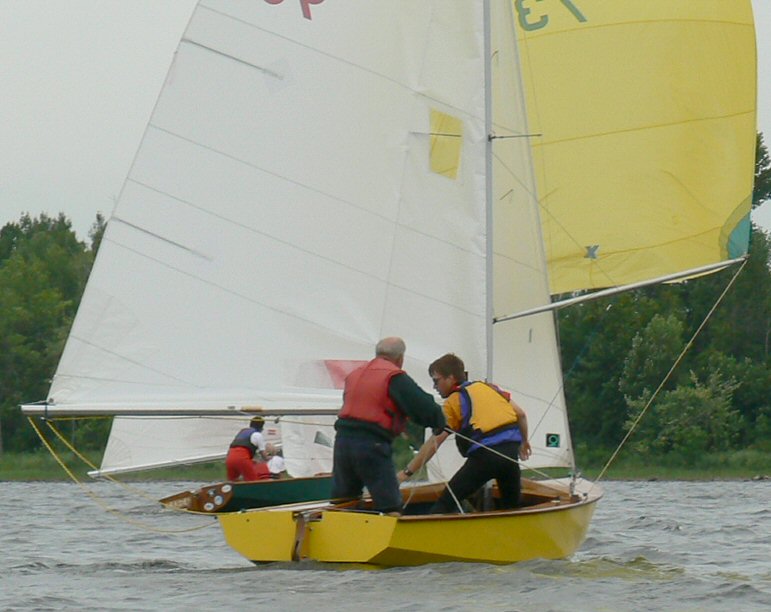 Defending the left which gives him starboard if the boats ever converge, and inside position at the leeward mark, Marc has waited for Bill to gybe before doing likewise. Inside position at the upcoming mark will be much more important than last time, since after this rounding, there will be only a very short beat to the finish.


...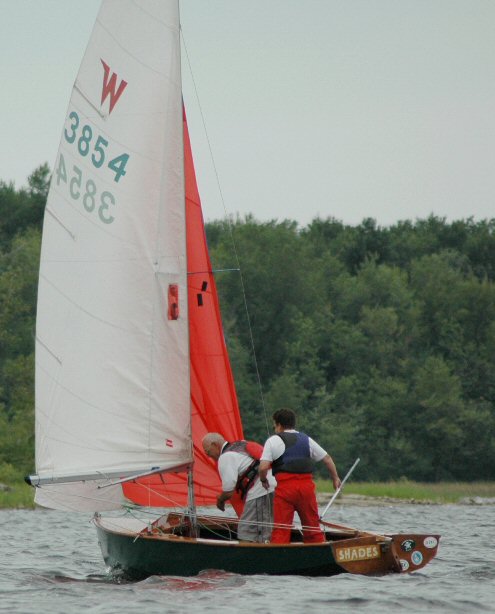 Marc kindly orders an ...
...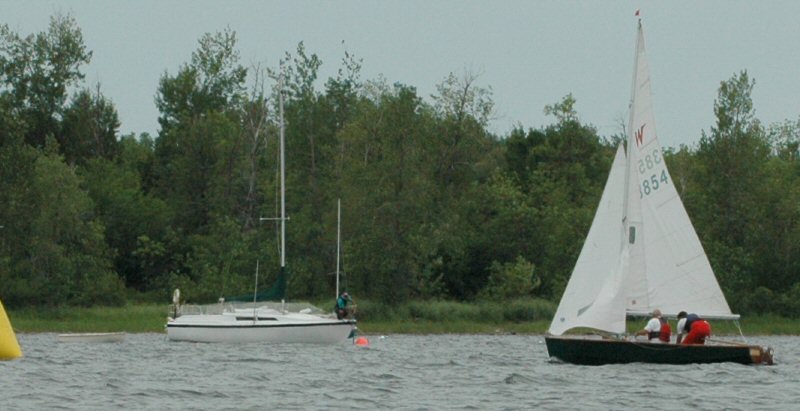 ... early douse so that poor old Uncle Al - who has turned 65 just a week before - will not have to rush. This is another example of the Stuart Walker dictum, "Spend your lead", being put into practice. The early douse may give away a few feet to Bill, but is a great insurance policy against the major loss potential inherent in a rushed douse.


...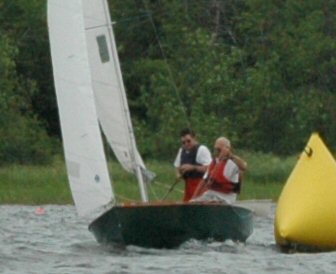 A scintillating rounding sees Al help by cranking the mainsheet in for Marc.
...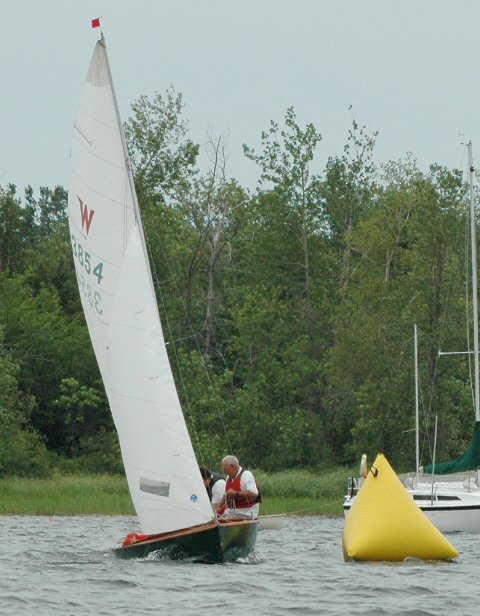 Note how Al did not get carried away with the rapid hand-over-hand mainsheet trim and has left a bit of twist in the main to make sure we get up to max upwind speed before we crank in a bit more.
...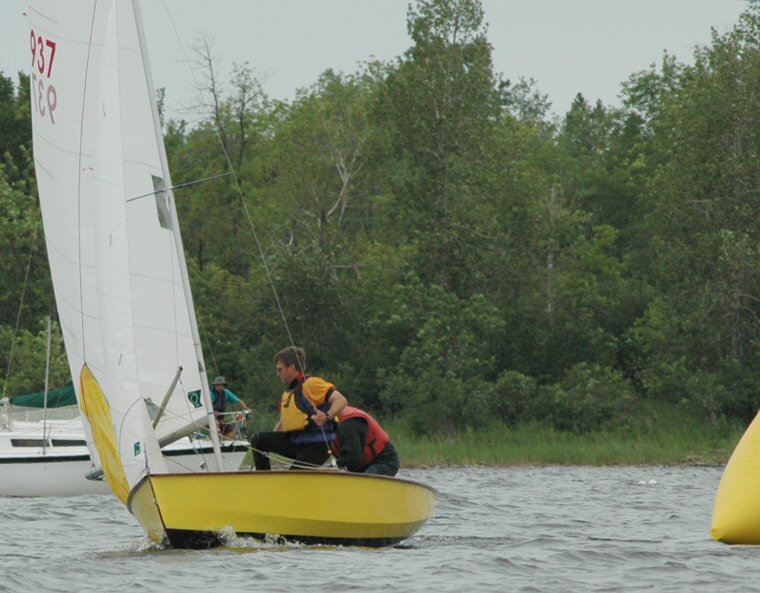 A bit of excitement in Bill and Frank's rounding as they pulled out all the stops and left the douse to the last possible second - and perhaps even a bit later?