Uncle Al's
Pictorial Pearls of Wisdom
from the Ontarios - 4
a potpourri of educational items suggested by the photos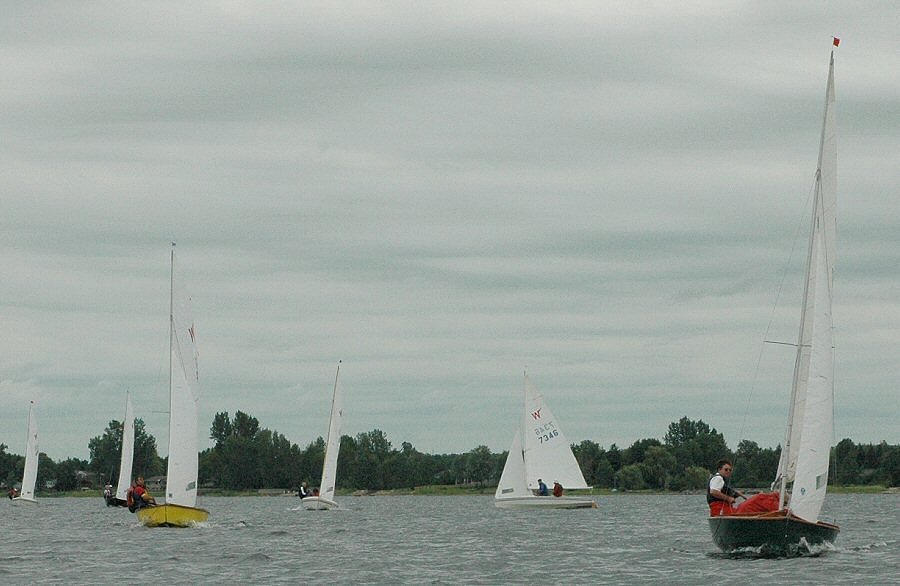 About to round the windward mark,Al reaches to leeward to unhook the spi halyard
so that all will be ready for a fast hoist - we hope.
...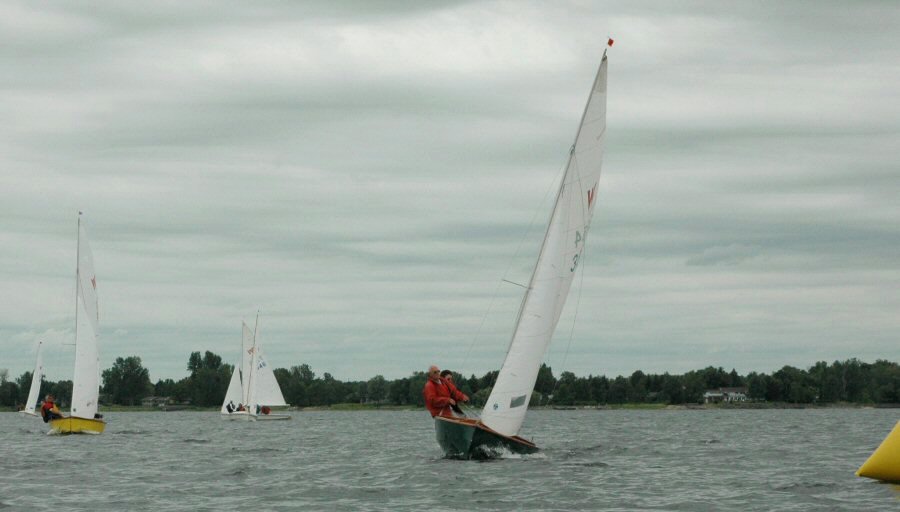 Well, when you're hot, you're hot. Marc and Al get a nice lift just before the mark. This is one time it pays to "put some money in the bank" by sailing high of the mark. Just as well, too, since we are about to ...

...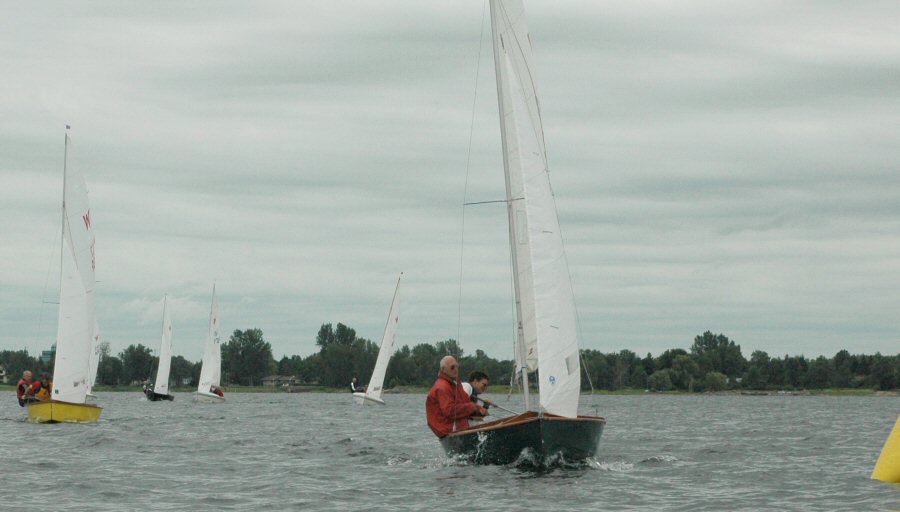 ... get knocked.
...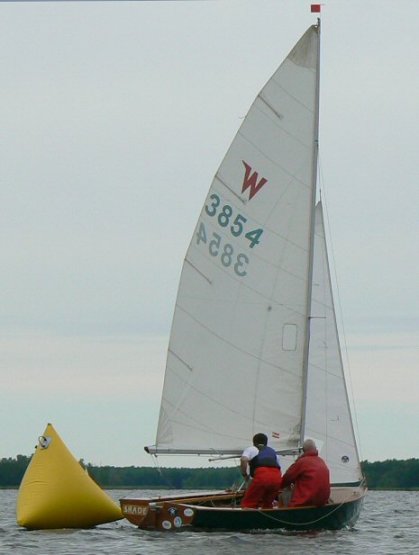 Marc stands up to hoist the chute while Al stays put to heel the boat to windward.
... ...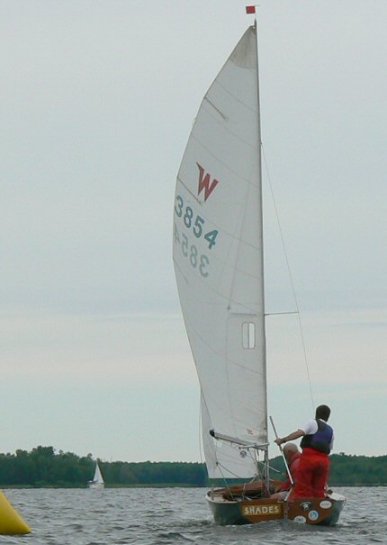 Once we're on course, we should get that vang tightened to keep the boom level rather than angled up!! Tsk! Tsk!
...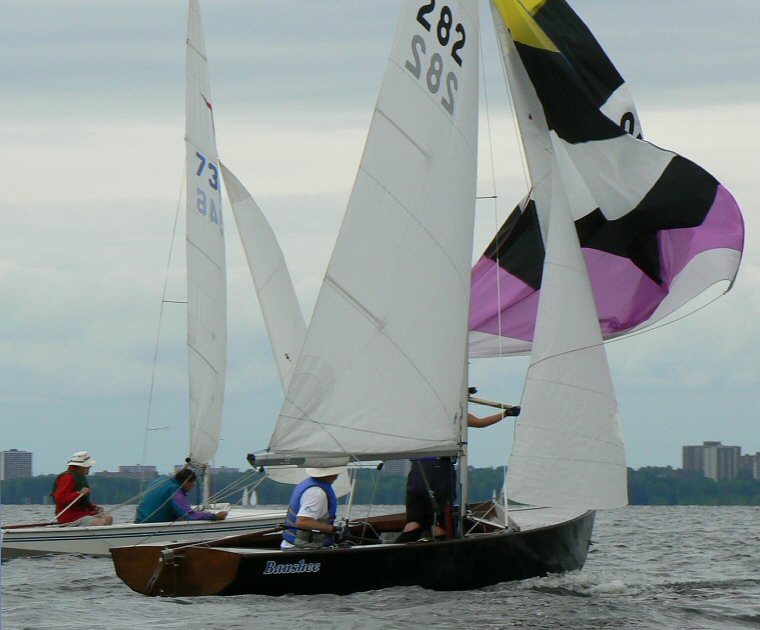 This might be a perfect spot for Dave (282) to head way down: Not only would that make things easier for crew, Carol, but it would give Dave separation from Tim to windward of him, and let him sail through Tim's wind shadow more easily.
...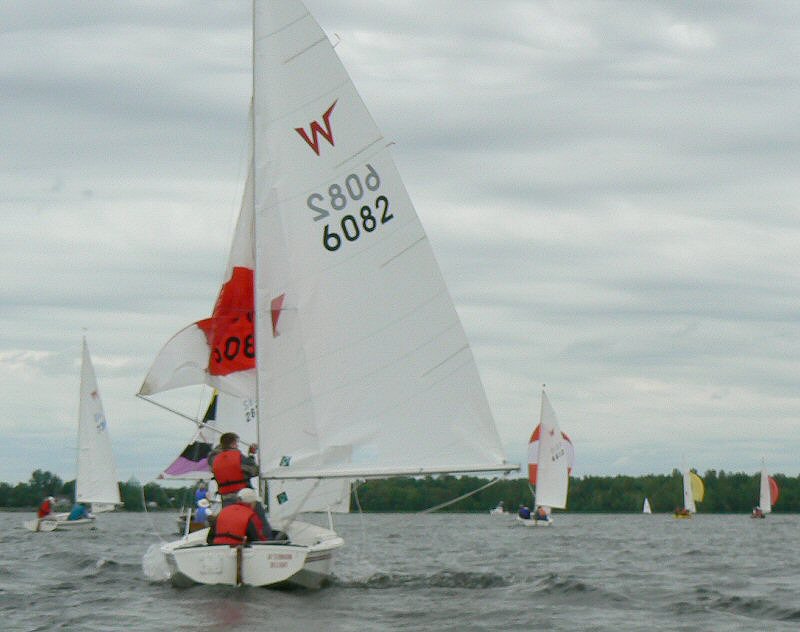 Ditto for Brian: If he bore away to a near-run, the spi would naturally blow out the front of the boat and let crew, John, have a much easier time getting the spi reset. And it would take only a few seconds of running down which would cost Brian minimal distance.


...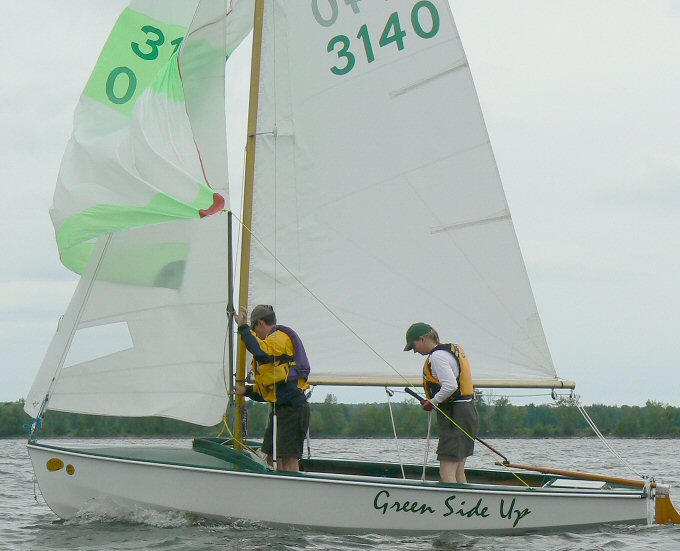 This is more or less what I meant: Note how Lori is sailing low enough that the spi is blowing out the front of the boat, which makes everything easier for crew, Jason. Once to spi is reset, they can sail higher at their convenience and still easily make the mark.


...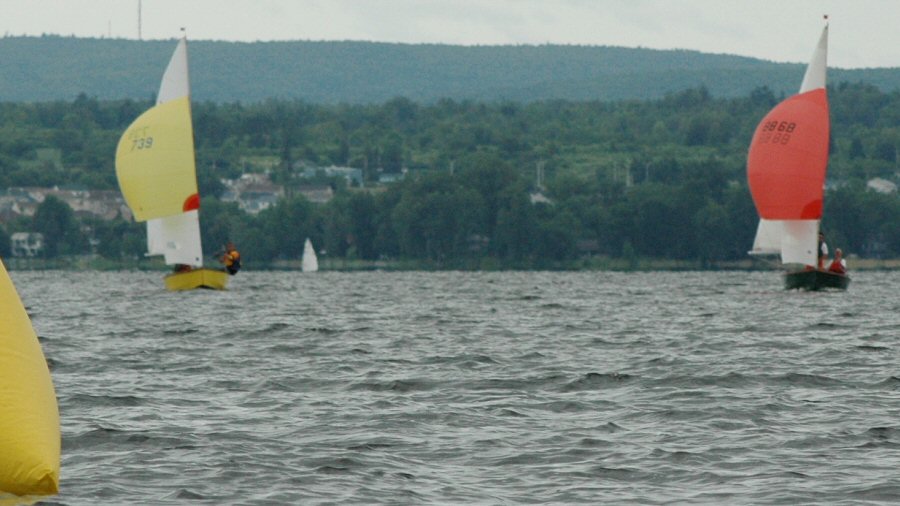 This is a good time for Marc

(r)

to defend his wind: He'll want inside at the mark and on such a close reach, he's in no danger of slowing down if he has to bear away a bit. Besides, any puffs coming down the Ottawa River will reach Marc first!
...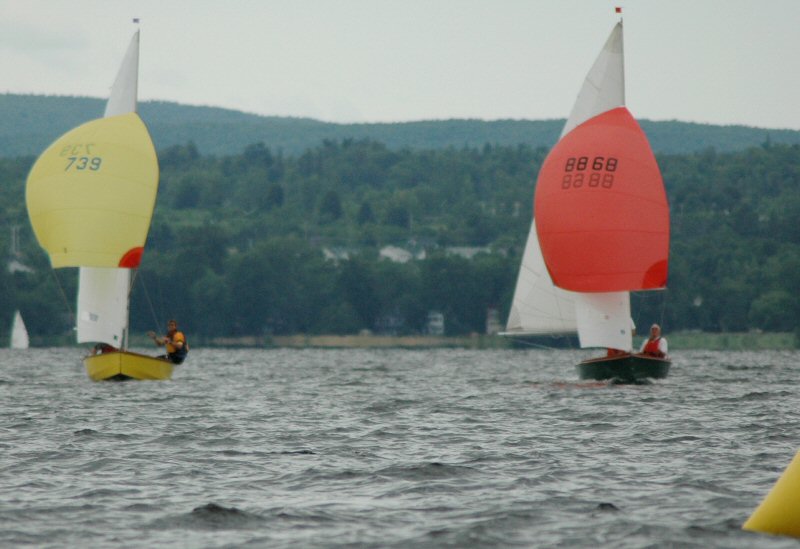 A lesser advantage of running down towards the mark is that Marc will be able to stand in the boat and keep the spi flying without the pole as Al stows it before the takedown.
...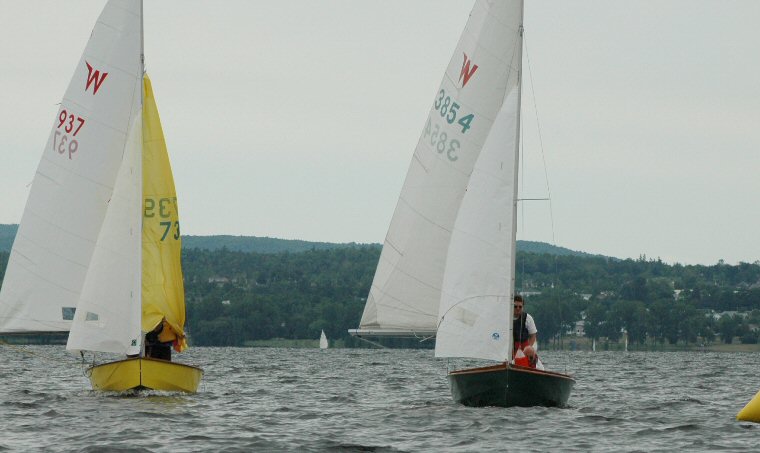 A quick douse and ...
...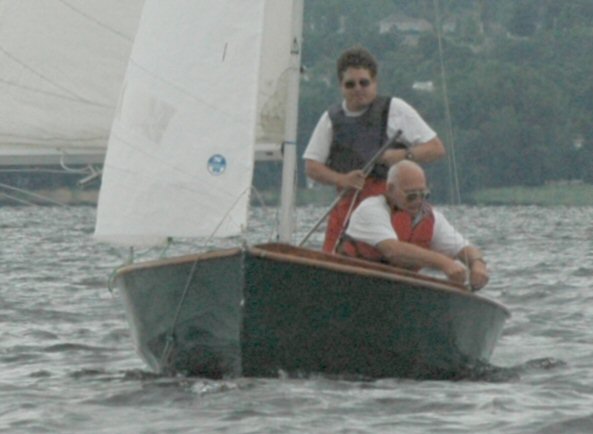 ... Al even has time to stow the spi halyard in its hook by the shroud. This is a great time to get everything all set for the beat early: Bill is safely blocked off, so an early douse costs nothing, and will let Marc and Al be sure they'll start beat #2 with all cylinders firing as they work to protect this narrowest of leads from an excellent challenger.

...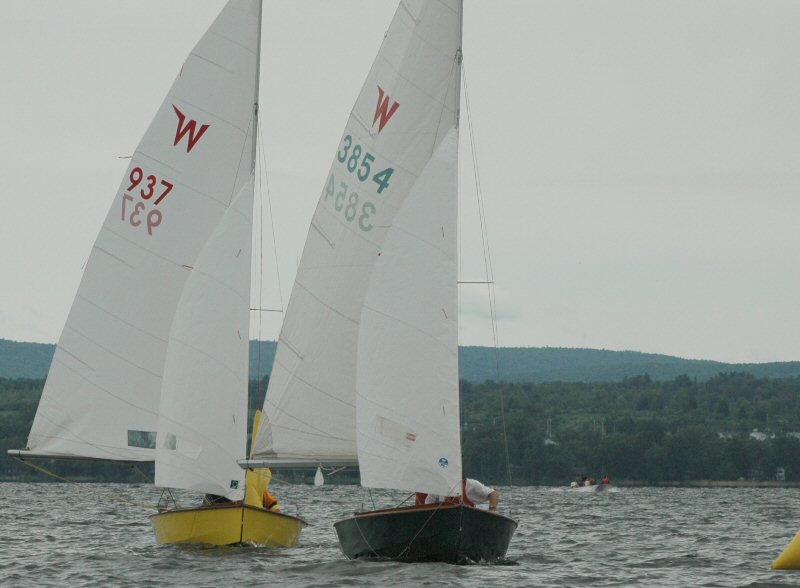 Al makes sure the board is full down. Note how our sails do not

come in too soon!!
...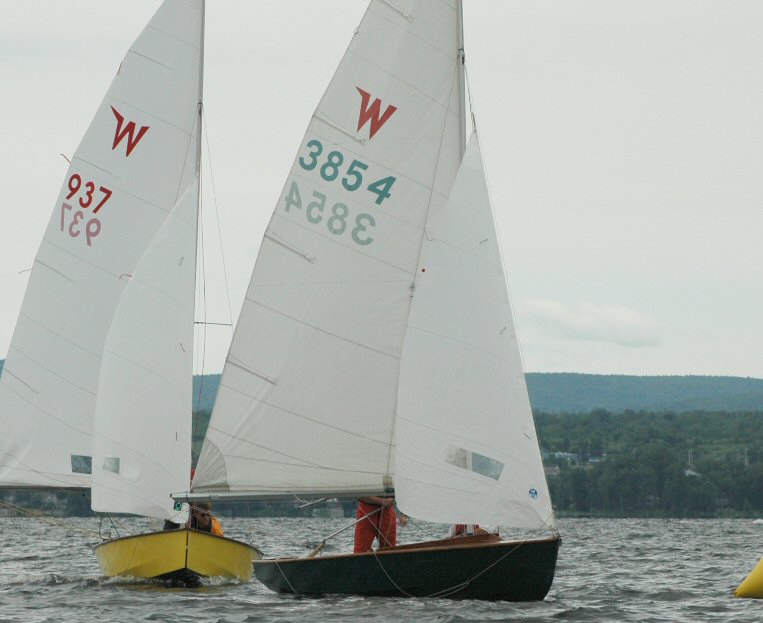 As Marc begins to round, Al brings the jib in only ...
...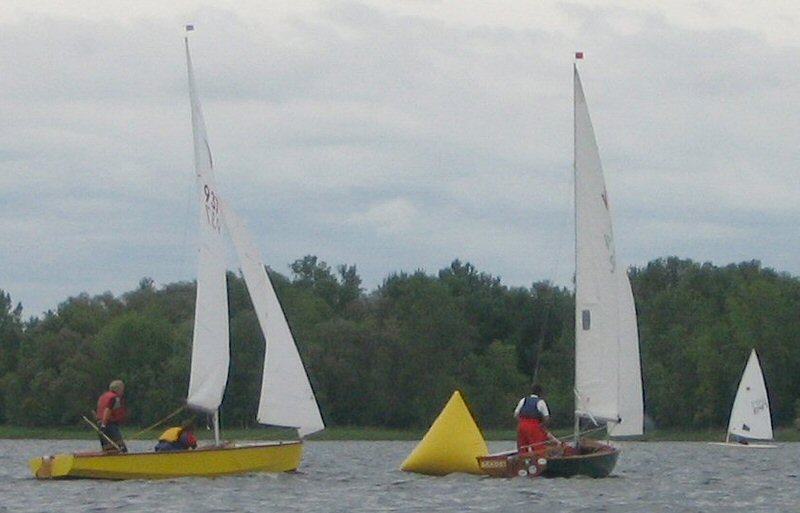 ... as much as is necessary.
...

Note how Al has cleated the jib in a slightly undersheeted position while helping Marc get the main in by using both hands for one second to crank the main in. Now Al is ready to fine tune the jib sheet, but

first

...
...

... Marc will luff up very briefly, to discourage Bill from trying to stick his bow to windward of our transom where he could block us from tacking.
...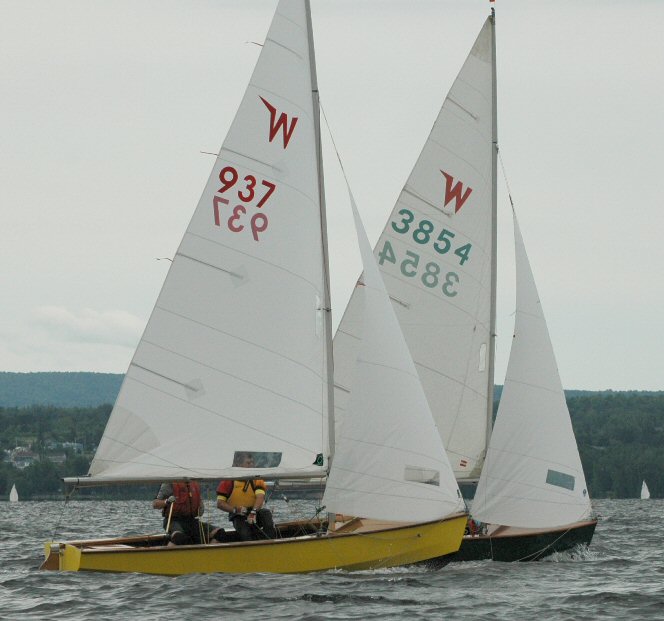 Success!! Now we have Bill tucked away exactly where we want him! Of course, the trick is not to ...
...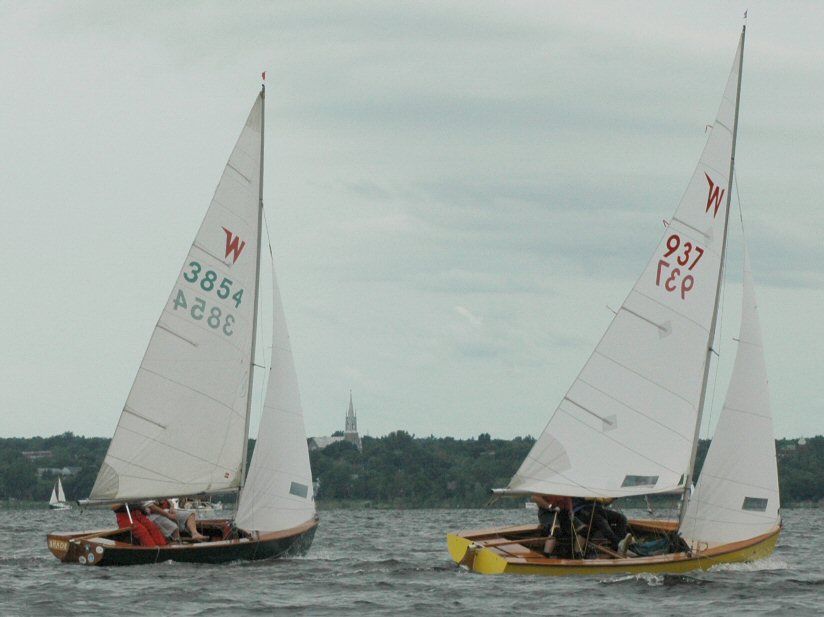 ... let your opponent through so far that he can backwind you! Here, Bill has wisely gone low for a bit to make sure Marc won't be sitting on his wind. This is good for both boats (win-win) as they can now do some useful boat speed testing against each other, which will help them against all the other boats in the fleet.

...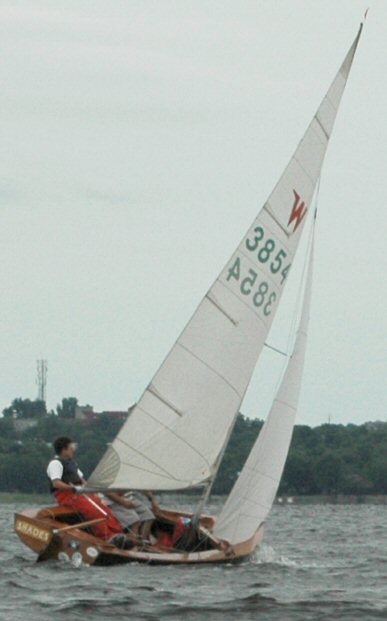 If Al can't hike the boat flat PDQ, Marc will (a) let

SHADES

round up a bit, and (b) ease the main some. So far, judging by the lack of turbulence around the rudder, the heel is not a problem.
...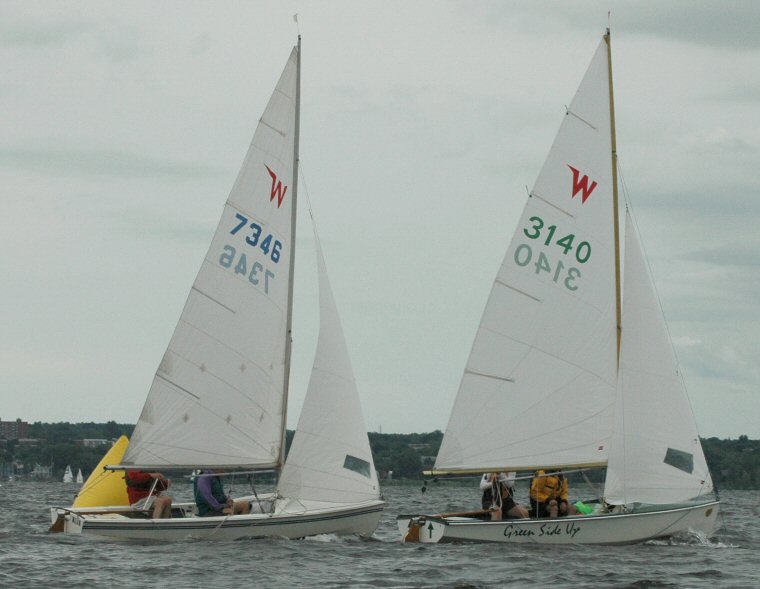 Note that by not luffing up briefly around the mark, Lori has ...
...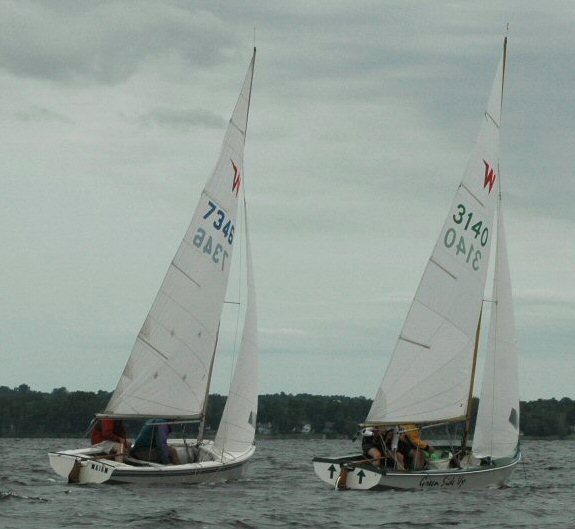 ... let Tim stick his nose in to windward where he now has her trapped on port tack.
...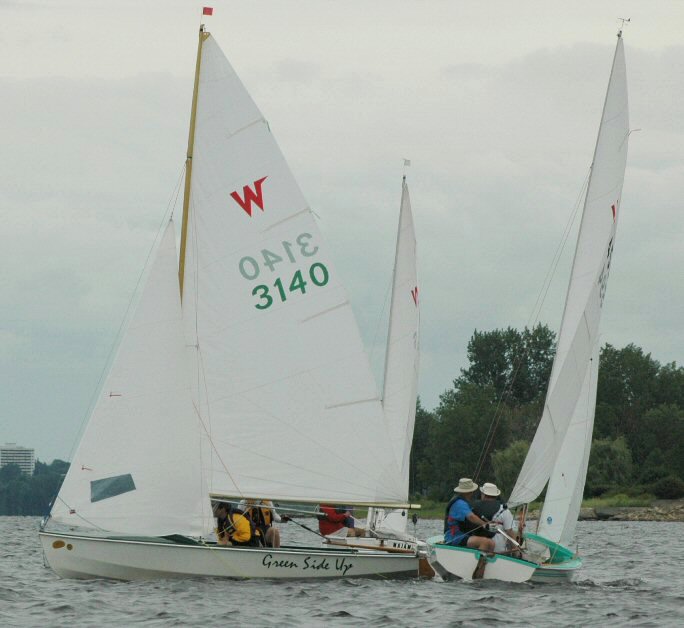 Unless Jamie

(r)

has an urgent reason to stay on port, he would have been better off to tack and lee bow Lori, something he could easily have done, given the fact that he is having to bear away to keep clear of Lori. By tacking, Jamie would have retained clear air, whereas now, he has just sailed into Tim's backwind!

...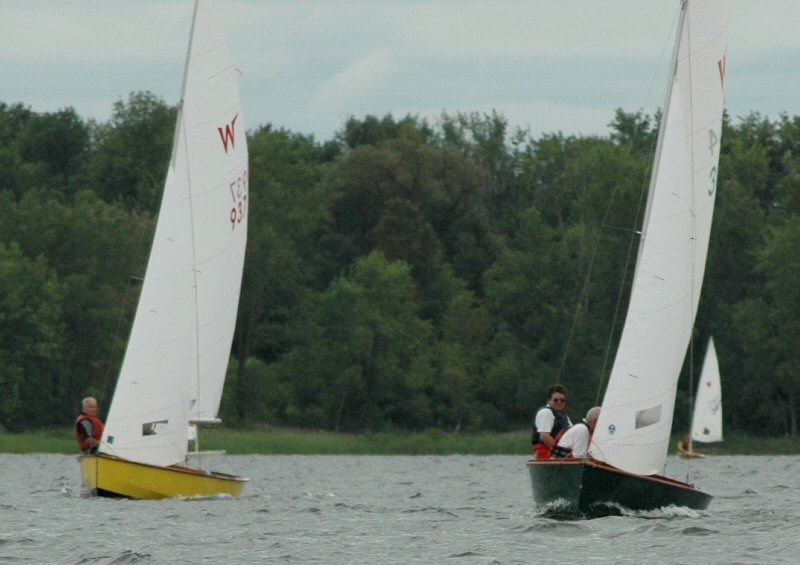 Bill (yellow) has been outpointing Marc so ...
...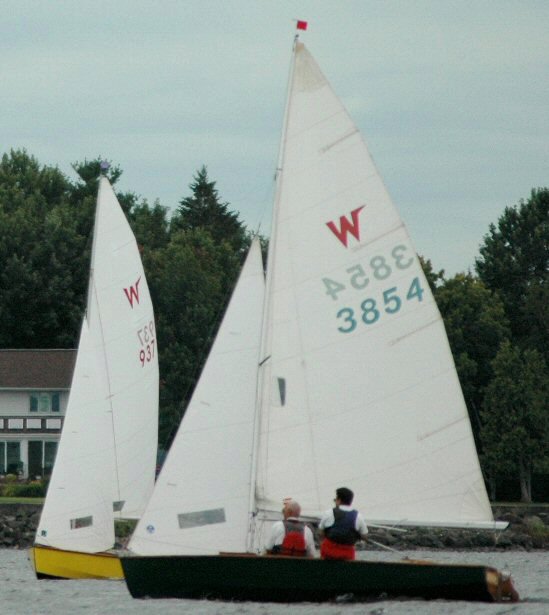 ... the latter tacks across for two good reasons: 1. if Bill is consistently sailing in a lift that Marc has not been getting, the latter will do well to go over and get the same benefits; 2. by going ...
...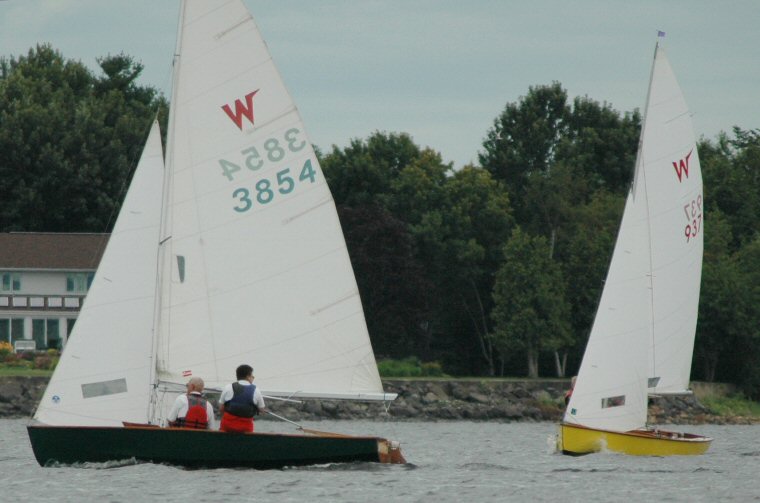 ... across, Marc can get back into the safe position ...
...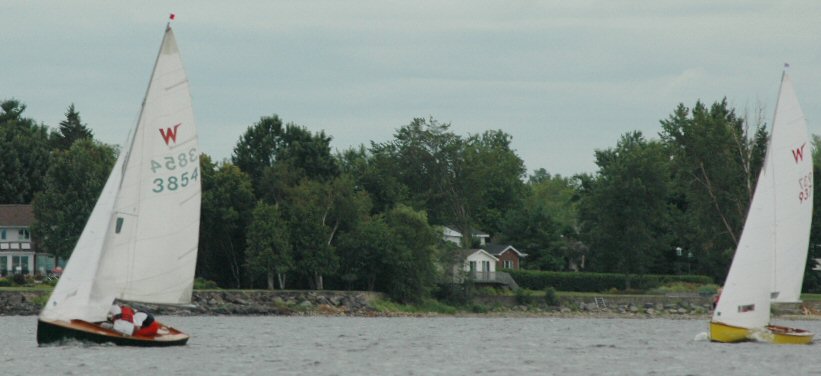 ... between Bill and the mark. Now, a big lift can no longer move Bill past Marc. Of course, had a knock come along while Marc was still to leeward and ahead, he would have gained big time, but why take chances when you're already ahead?
...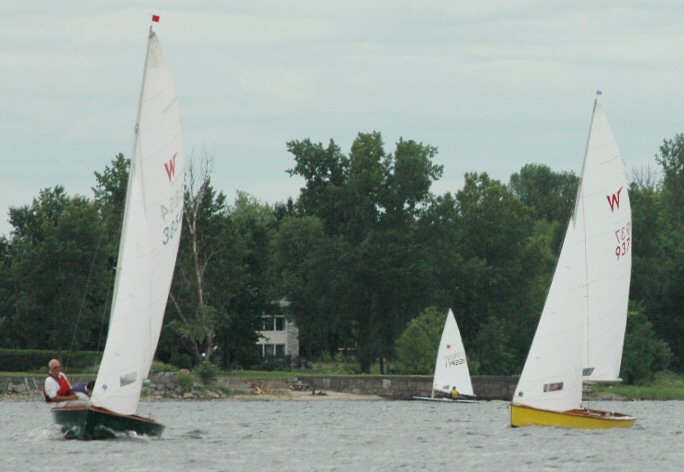 Right after completing his tack, Marc briefly foots to get his speed back up.