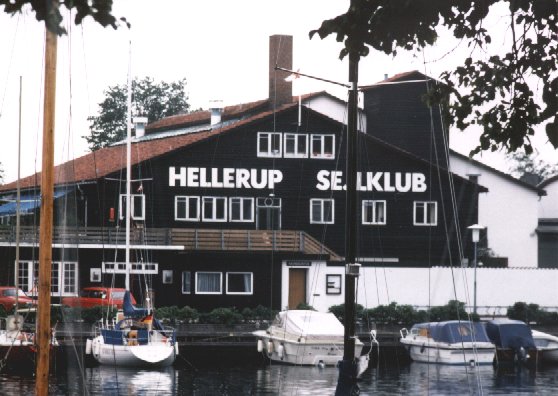 ...
Poul Elvstrom calls Copenhagen's Hellerup Sejlklub his home (see photo above). Remebering the Danes sailing three up in '76, we were expecting "frisk" winds. However, our lovely week in Danmark brought only one race of 8 metres per second (16 knots, F4) or better – the final one! Even so, the UK contingent, having their boats from England to Esbjerg and driven from there to København, looked completely at home in these conditions as they placed 1st through 7th!
In fact, three boats had the series virtually to themselves: Alan Neville had a breakdown and a DNF early in the series but might still have won on the strength of five great finishes if it had not been for the consistent excellence of the defendings champions, Colin and Iain Wilson, and of John Doerr (see photo below) and his wife, Stevie.
...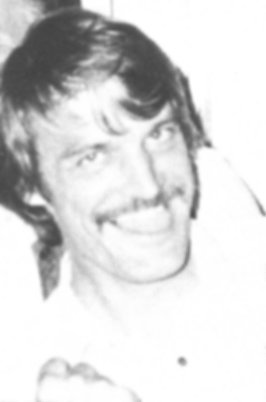 ...
John and Stevie finally ended up beating Colin and Iain by 0.7 points, the closest margin of victory in a Worlds to date. It was a marvellous fight all the way to the final gun. The series ran out on Alan and Neil who were on a roll as they placed 2-1-1 in the final 3 races and took 3rd place from 1974 champions, Alan and Martin Wilson.
This series marked the first Worlds appearance of Ian Porter who, along with brother, Mike, was sailing one of the new generation of wooden boats that were not only furniture-like in appearance in their lovely coats of WEST epoxy but also rigged like performance boats with all the control lines leading out to both sides of the boat. The Porters edged out their boat's builder, Alec Stone for 6th place.
Top North Americans were Al Schönborn with Russ Burrell who placed 8th after sailing a most consistent series and nosed out the Norwegian, Koch, who remains the only Wayfarer based north of the Arctic Circle ever to sail a Worlds. Christian Larsen (10th) was the top Dane while Jim and Linda Heffernan topped the US boats in 11th.
A hard-luck story of WW III was Trevor Rose who had qualified for the UK but could not race after breaking his leg. Trevor showed his great spirit by attending just the same. Continuing in a medical vein, we must not forget the lovely sight of Nick Hodshon performing surgery self-taught as he removed a bunch of stitches from his knee in the HSK Dining Room as the rest of us tried to eat.
The good-luck story was that Hellerup SK is right next to one of the finest topless beaches in København. Of course you won't want to hear how a certain newsletter editor nearly stepped on a baby while strolling along this beach for the first time…
The Seamanship Award for the week had to go to the two young Danes who sailed their boat backwards into a very narrow 15-metre slip between the long docks at the launch ramp. I thought this to be a bit of perhaps excessive showmanship until one of our North American colleagues followed them in on a run, bow first and at hull speed. Too late, he discovered that there was no longer any way of slowing down by luffing up. He navigated the cement ramp in fine Hobie Cat style!!!
All in all. it was a fine week of racing and generally having a good time: trips to the Viking museum in Roskilde, Hamlet's castle in Helsingør, Tivoli and a tour of the Tuborg brewery, to mention just a few of the highlights.

...