Uncle Al's
Pictorial Pearls of Wisdom
from the Ontarios - 3
a potpourri of educational items suggested by the photos


Dave in 282 needs to hurry up and pull that chute around to leeward for Carol but won't be able to until the latter gets the pole off the mast. Here it might have paid to have Carol unclip the pole from the mast just before the gybe.
...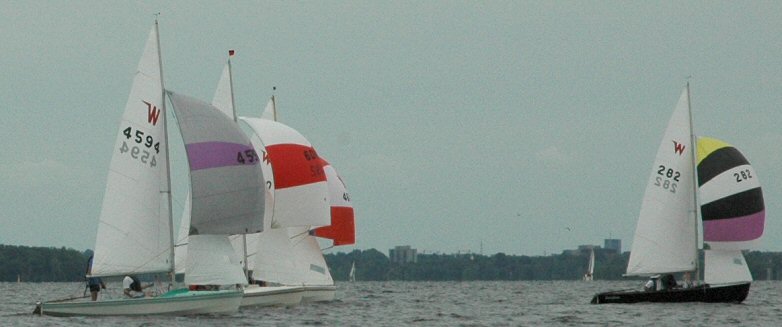 A wall of three W's could be starting to block Dave's wind. Or maybe not. There is a school of thought that if you're on a run and have a group of boats not far astern, you can gain by positioning yourself straight downwind of a gap in the "wall" where the wind will be funnelling through.


...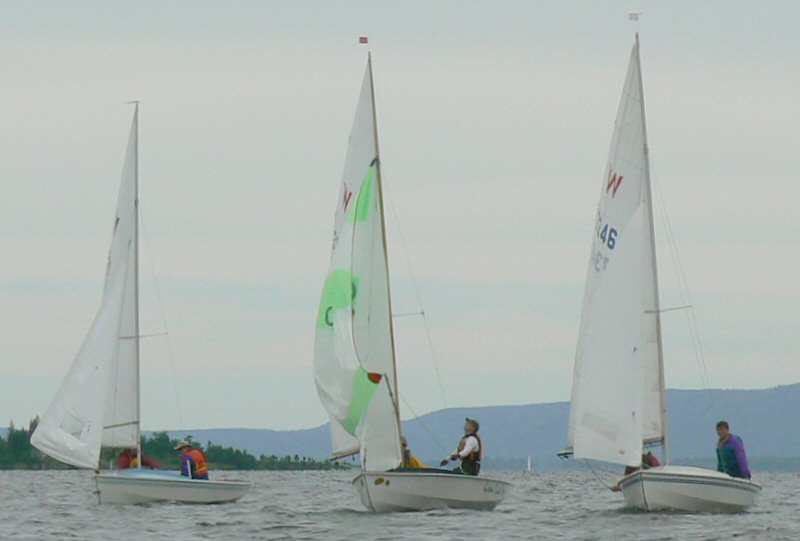 Jason (spi) is more patient here than I would be. Somehow, he needs to get out from between Alan to windward and Robin to leeward. Since he can't go all the way through due to Alan's wind shadow (note collapsed chute), he needs to slow down: sail with the board full down and/or radically oversheet his sails. Then he can try going around Alan and Robin on either side. Actually, here, with the wind pretty far aft, there is a small chance: The next time the spi fills ....


...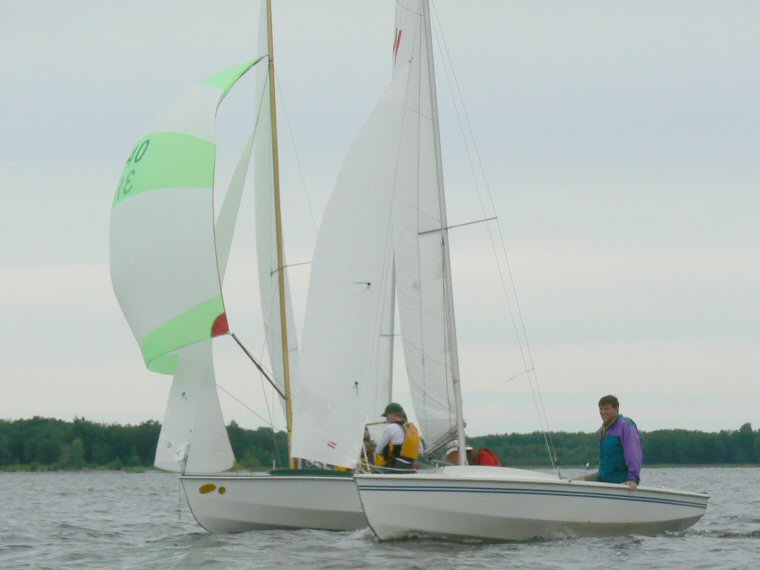 ... Jason should run down as far as he can without fouling Robin.
... ...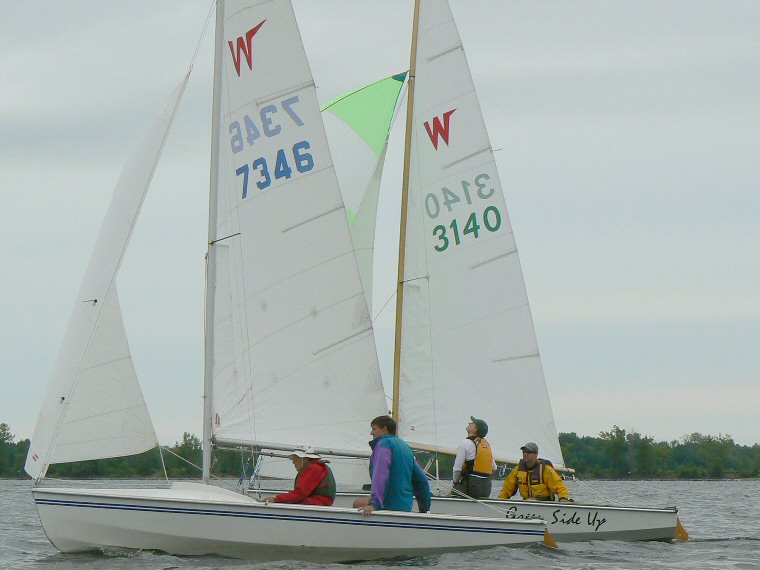 He and Lori could>should>must do this here! If they want to get by!!
...

A very early douse for Al

(l)

whose lead can only be jeopardized by a spi screw-up at the mark, and why risk that??!! Andrew (4610) may have moved past Dave (282) into 3rd. The latter is overvanged, the former has his main in too far (the spi and main angle are not a good match: when the pole can come that far aft, the main should be right out for a run!)

...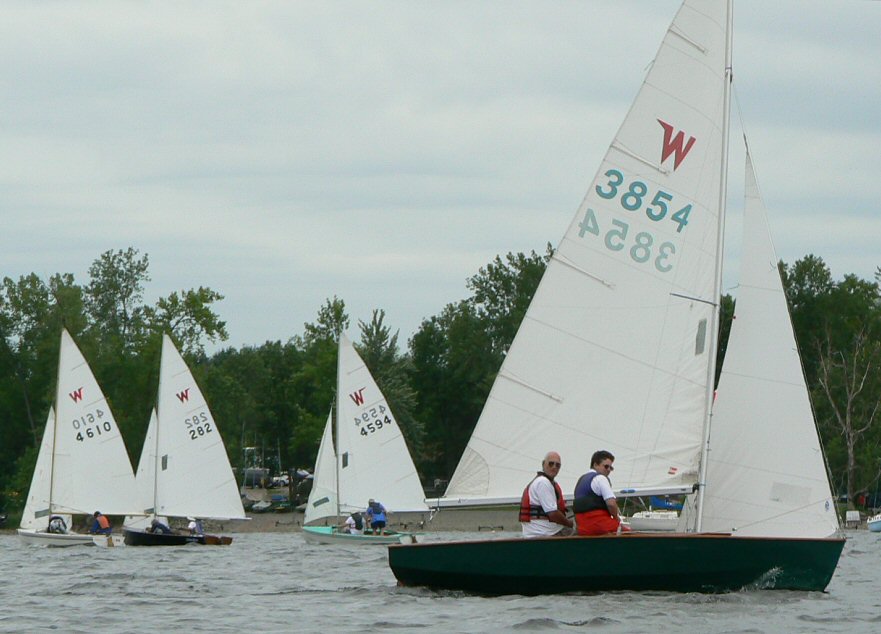 After putting half his lead on port tack, Al (3854) has tacked to starboard. When Bill (not seen here) rounds, Al can tack once more and should find himself directly between Bill and the next mark - the textbook defense against a pursuer.
...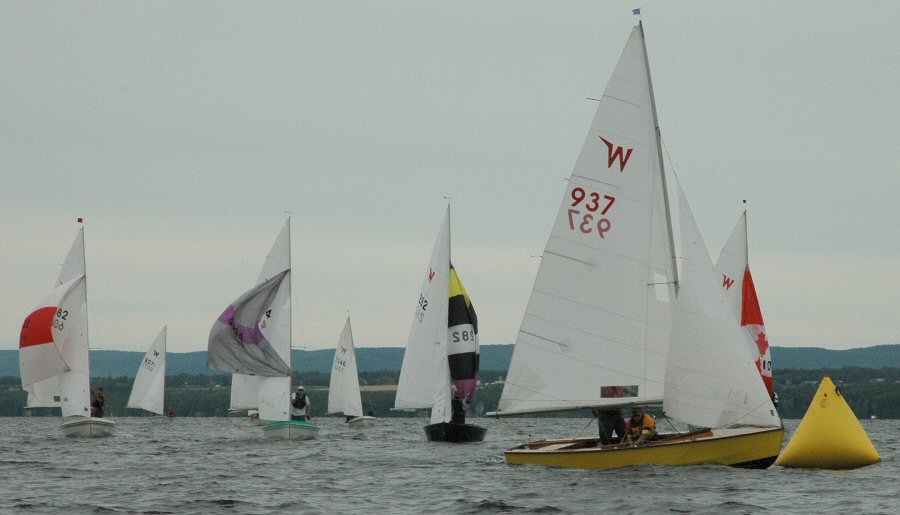 Bill rounds a comfortable 2nd onto beat #2. Meanwhile, in the minute before they began to douse their spinnakers, the four boats virtually tied for 3rd place, should each have decided what they want to do - strategically speaking - on the upcoming beat: Which tack is currently favoured, so do they want to go left or right? At least some - those on the outside - should expect to need to go left for clear air and be making plans accordingly. What you really don't want to do is to arrive mentally unprepared and thus end up pinned and/or sailing in dirt for any length of time here.


...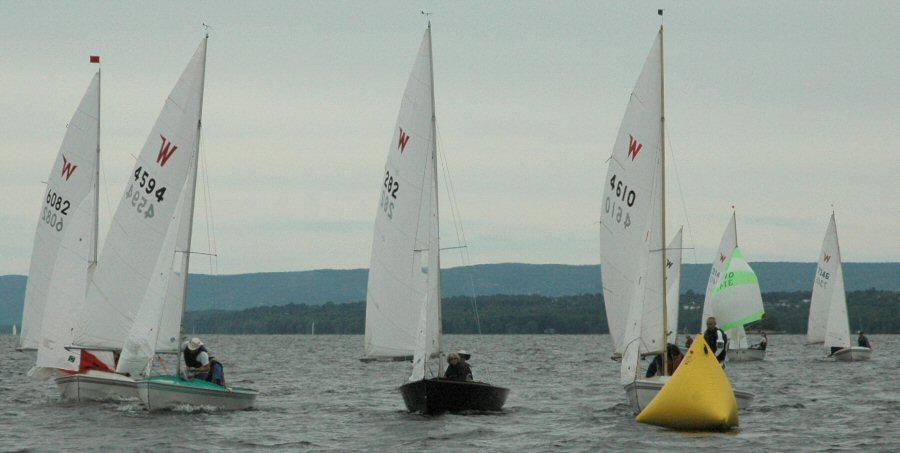 Andrew (4610) has a big edge because he is inside here. If I were steering Dave's boat (282) here, I would expect Andrew not to do anything that will give me a break, being the experienced, capable racer that he is.
If I wanted to go left after rounding, I would go slow and as wide as I can get away with (as wide as Jamie in 4594 will let me) and make sure Andrew rounds clear ahead. Then I would round the mark very close and luff up briefly so that neither of the two boats right behind me can prevent me from tacking. A brief bear away for speed if possible, and then I'd tack while the tacking is good!
If I wanted to go right, I would approach the mark at max speed, and sail low around the mark in an effort to break through Andrew to leeward. I would stay as low as necessary until I got into clear air, and then begin to start pointing but always be aware that I can't afford to pinch up into Andrew's wind shadow.

...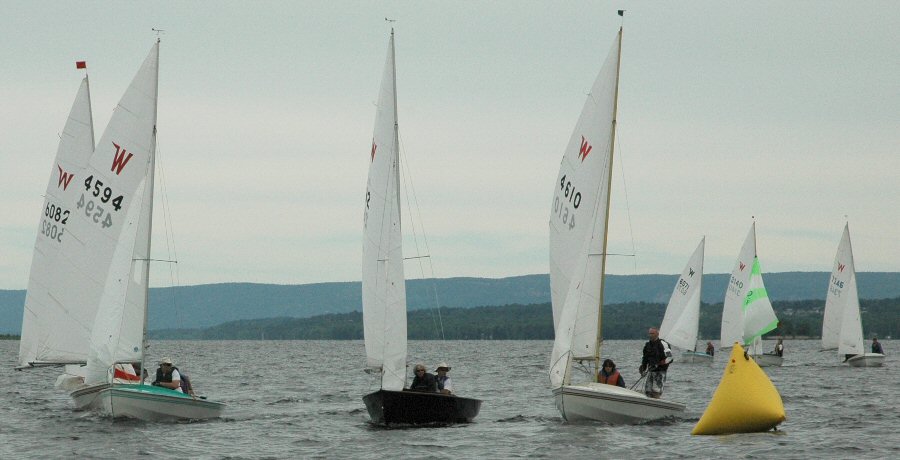 Here, Dave (black hull) is radically overtrimmed and set up nicely to end up astern of Andrew and with the freedom to tack.
...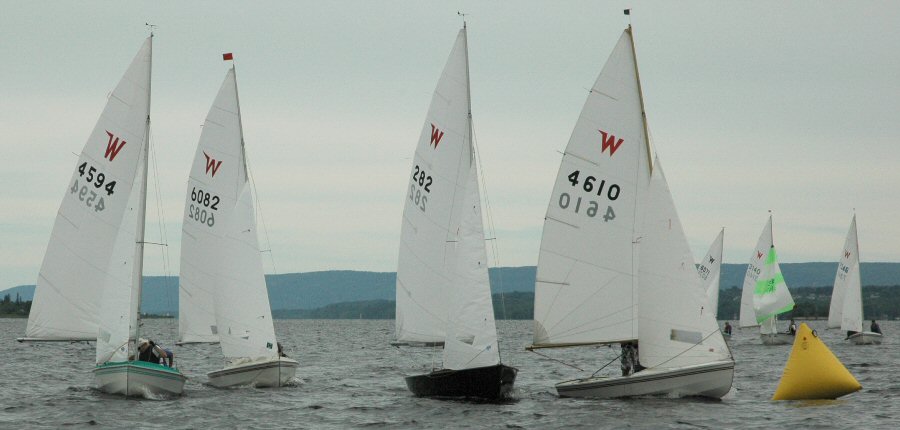 If Dave wanted to tack here, he would/should have held the course he was steering in the previous picture for another length or so. Perhaps he should have done this regardless, since a bit of separation from Andrew would help Dave get through the wind shadow faster if he plans to stay on port tack and go right. Once thing Dave needs to watch for is that Andrew is in the classic situation here where it is smart to briefly luff up above closehauled as he rounds the mark, so that he can get all those close pursuers tucked safely in his lee.


...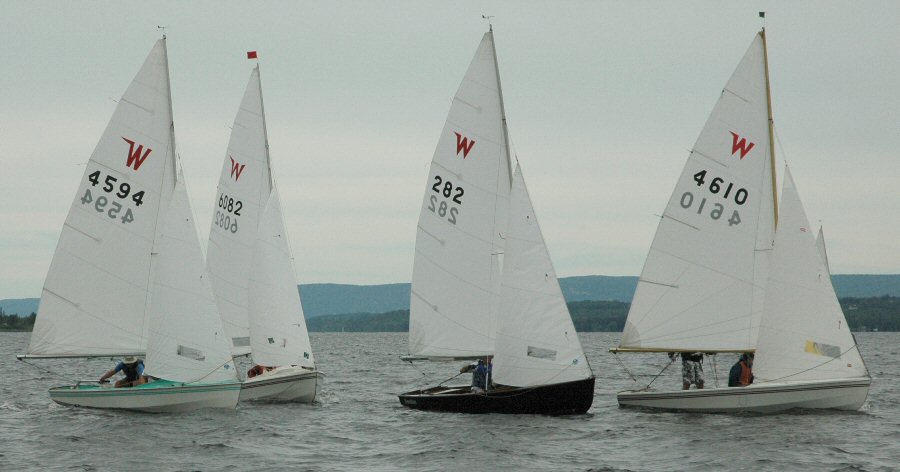 Considering the sharp turn Andrew has to make here, he does a ...
...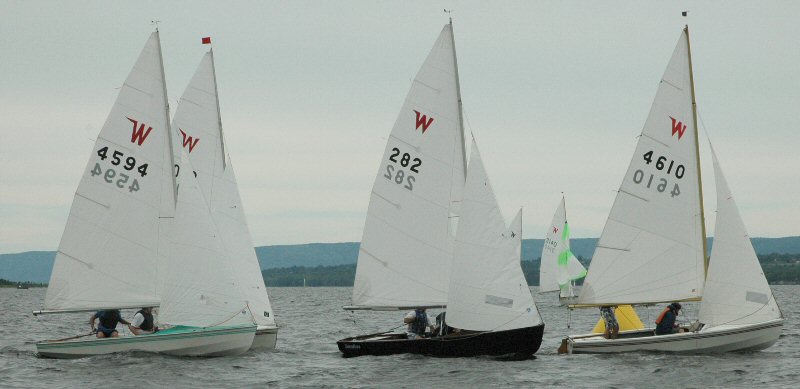 ... great job. By now, Dave (282) is pretty much stuck with holding port tack. Had he wanted to go left, this would have been a great time for him to luff his sails and slow down while shaving the mark just astern of Andrew. Dave would be able to afford to do this since neither Brian nor Jamie (4594) will be entitled to room at the mark, and would have to bear away to avoid hitting Dave. At that point Dave could then tack. But it's ...

...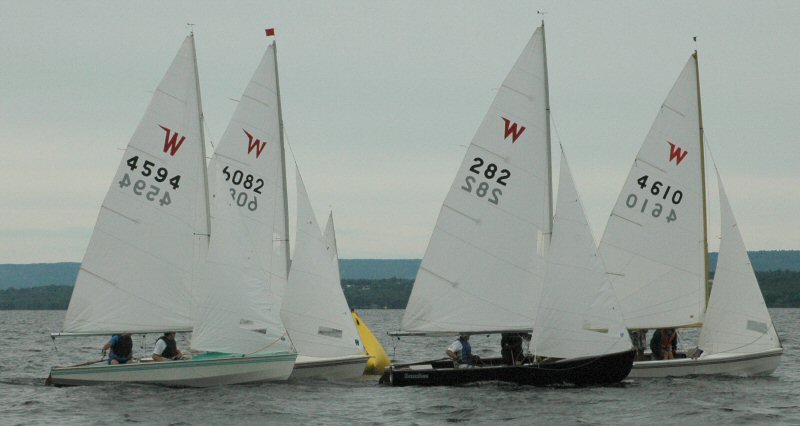 ... too late for that now since he can no longer tack: even if he could clear Andrew, Dave would now be fouling Brian (6082) and Jamie. Brian is wisely ...
...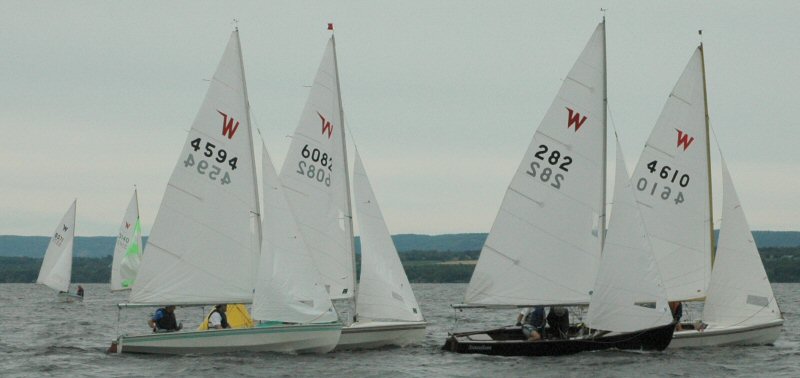 ... luffing up a bit to avoid getting his bow trapped to leeward of Dave (282), and Jamie is wisely slowing down (luffing jib) a bit to let Brian pull ahead so that ...
...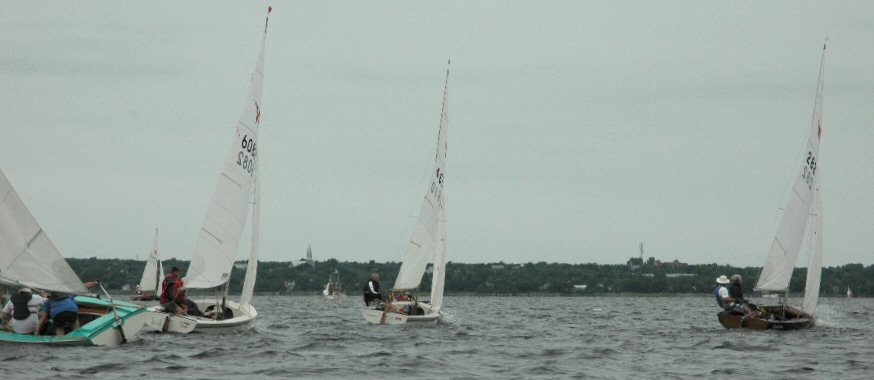 ... Jamie can tack away for clear air. There would certainly have been no future for Jamie if he had held the port tack he was on in the previous picture. Dave meanwhile

(r)

is footing off to leeward flawlessly and is already in clear air.
...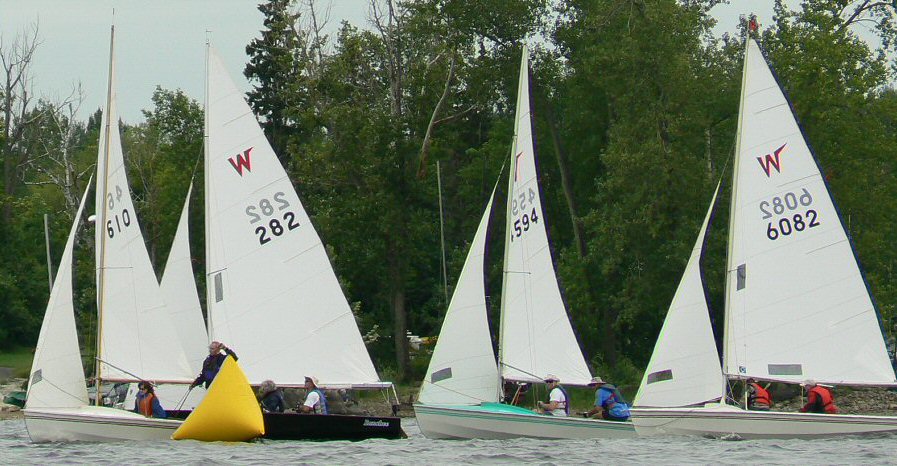 This same sequence also caught the eye of our other photographer on the inside of our triangle. Here, Andrew (4610) already has Dave (282) where he wants him, overlapped and trapped to leeward. Jamie (4594) is in a very bad spot, and his best hope is to slow down and bear away a bit until he can tack without fouling Brian (6082).

...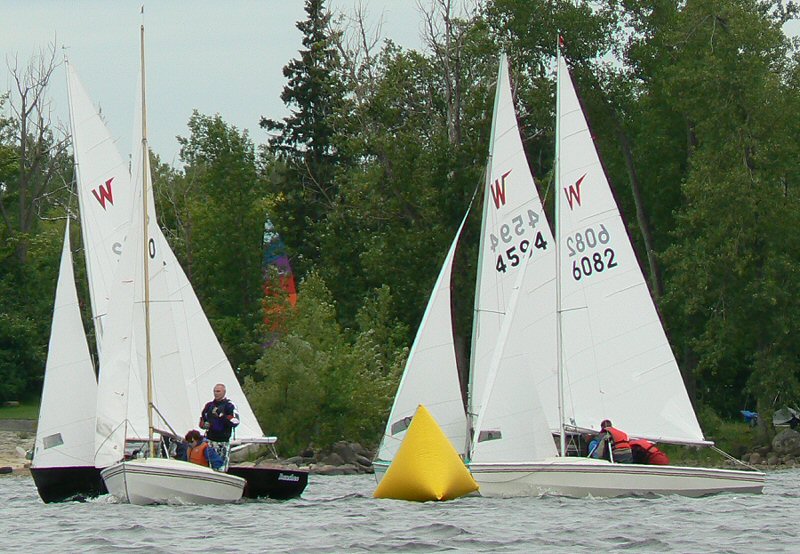 Andrew luffs up a bit around the mark to make sure 6082 won't be able to pin him by pinching up to windward of Andrew's transom. Smart Jamie is already slowing down, choosing the least of his evils.
...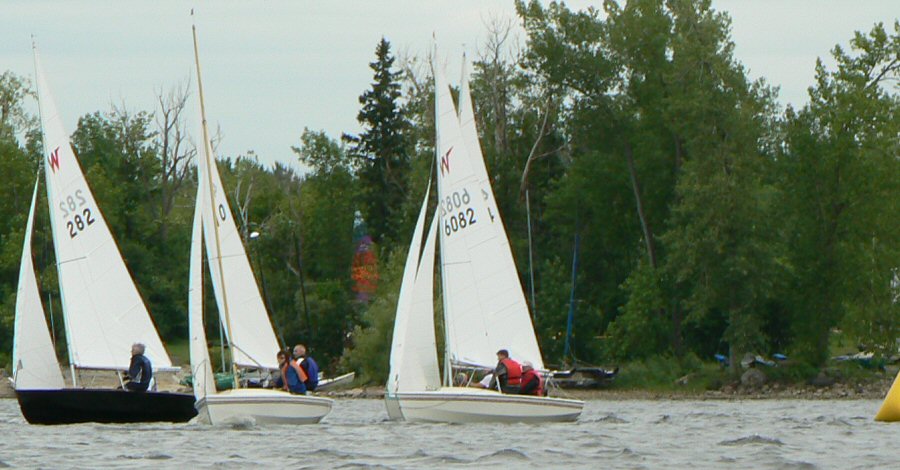 Andrew continues to pinch, which gives Dave (282) the perfect opportunity to foot into clear air.
...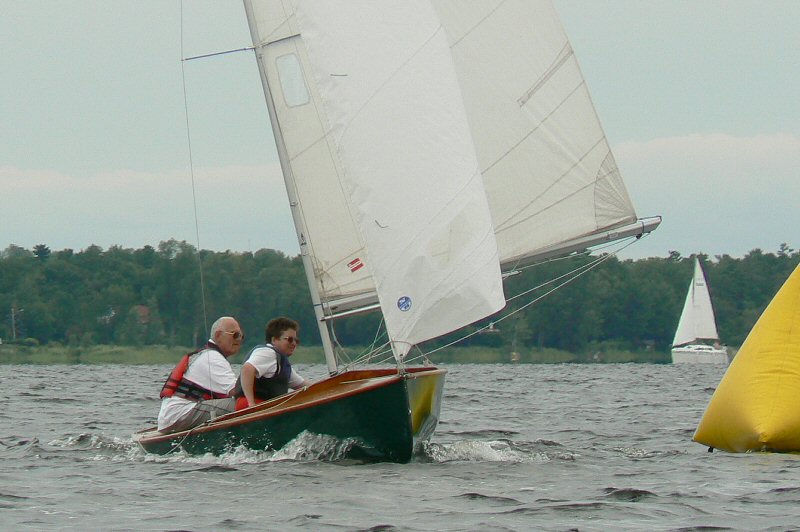 Al and Marc reach the windward mark in a nice puff, and once again encourage

SHADES

to ...
...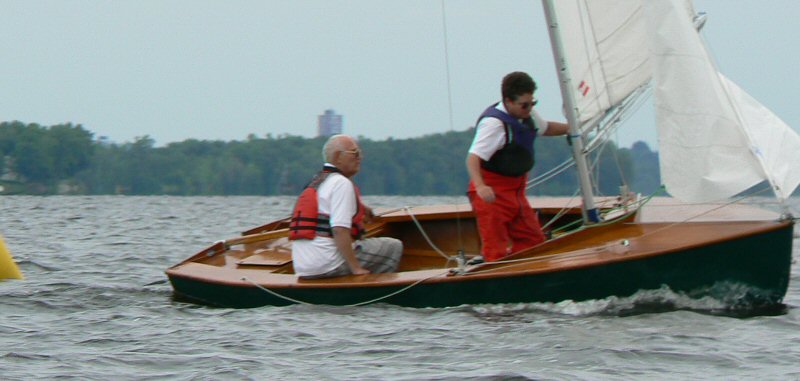 ... bear away onto her run by easing the main and heeling to windward. (The one promotes the other, in fact!). In these conditions where the boat goes at virtually hull speed, the spinnaker won't add much so there is no big rush to get it set.
...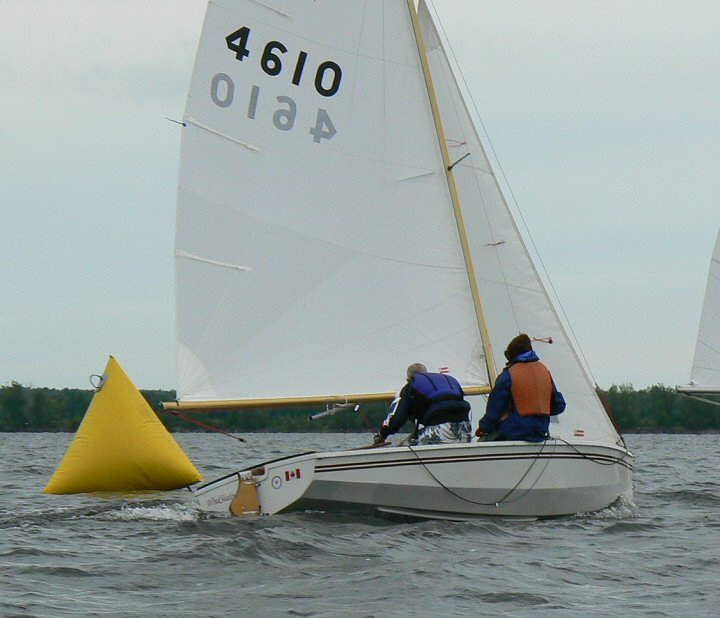 Eek! This is exactly the wrong time to let the boat heel to leeward. Note the turbulence as the rudder fights the boat which wants to luff up rather than bear away. Andrew might as well ask Penny to paddle full speed astern!!
...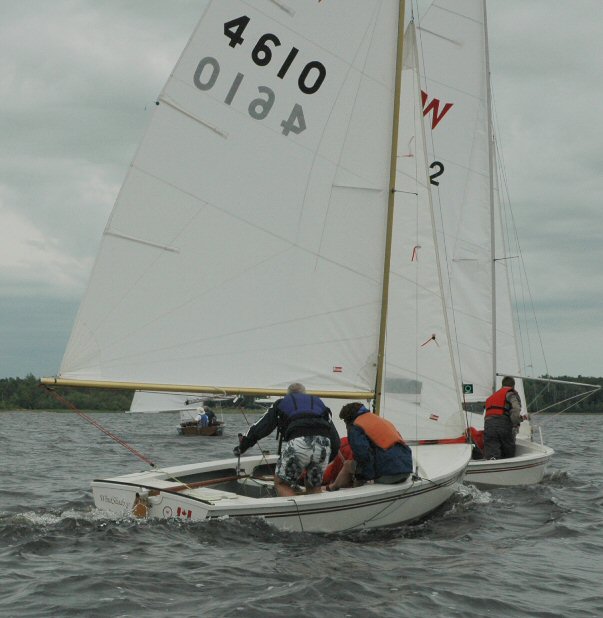 There!

That

's better!
...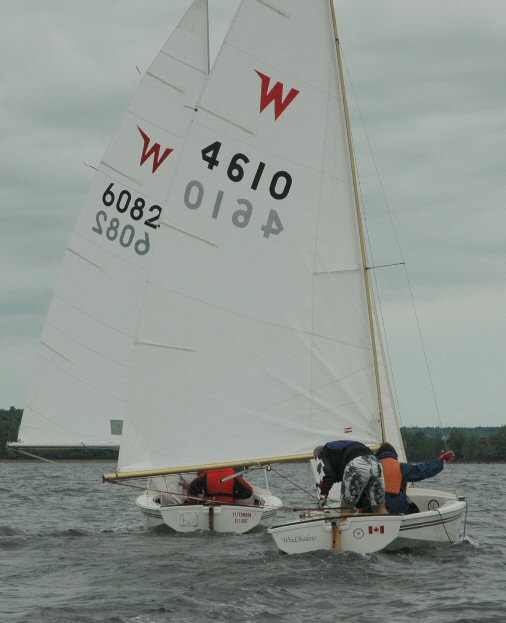 In Andrew's place, I would feel more comfortable steering a course to leeward of Brian while I was hoisting. That way, I can keep an eye on him during the hoist and remove all risk of running into him from astern or of having him luff me during the hoist. And finally, all else being equal, it's great to be on the left side of the run, where you'll be on starboard if you meet a boat coming back from the right, and, at the mark, you'll be inside boat! Important stuff with only a short beat to the finish left after that.


...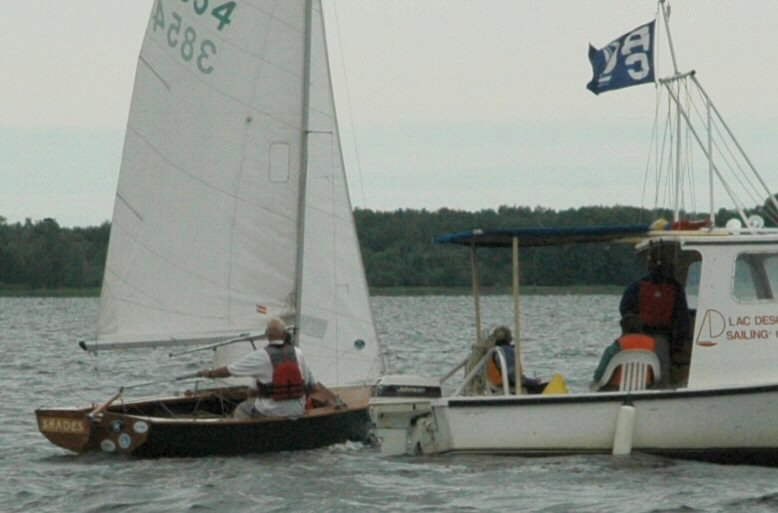 Even with their big lead, there will be no slacking off as Al luffs up ...
...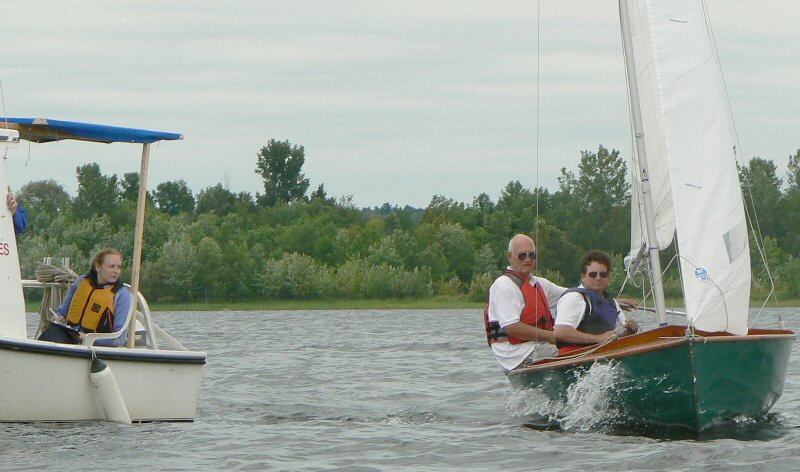 ... across the line to gain that extra fraction of a second that is vital in some races.
...


Tim (7346) got a fine start just to windward of Bill, but illustrates what Dave Dellenbaugh warns against in his latest issue of

Speed & Smarts

, namely starting just to windward of a known fast pointer like Bill Fyfe. Now Tim is trapped since Lori (3140), Andrew (4610) and Brian (6082) all have him pinned in a place where he can't tack!

...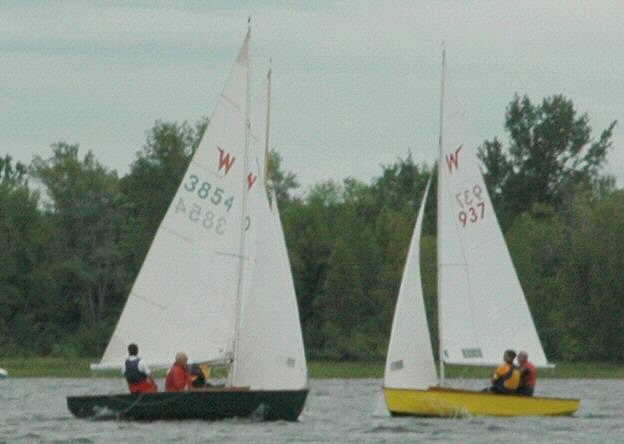 Here, we are well out towards the port-tack lay line, and Bill wisely bears away rather than tacking to try to lee bow Marc (3854) who might then trap him and push him right out to the lay line where Bill would then end up having to sail all the way to the mark in

SHADES'

dirt, or having to overlay the mark and lose distance that way.

...