Uncle Al's
Pictorial Pearls of Wisdom
from the PMG CanAm Regatta
a potpourri of educational items suggested by the photos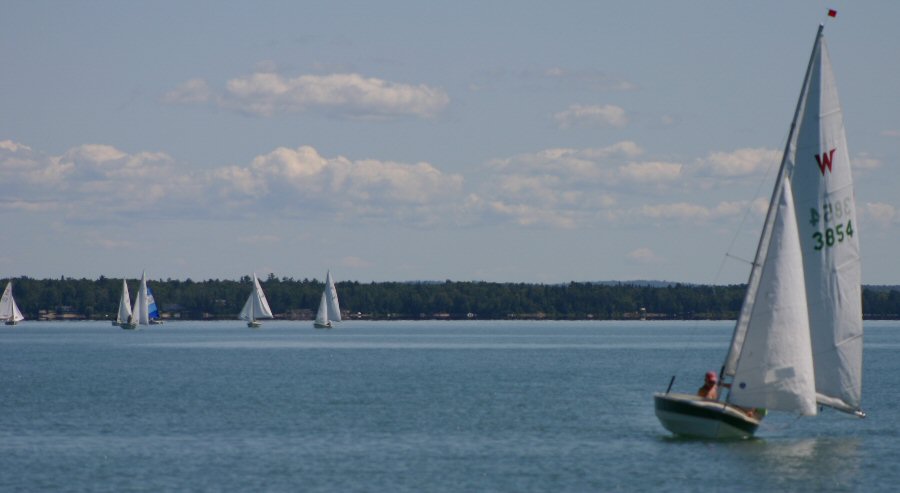 Very frustrating sailing, this! Marc and I (3854) ended up doing a bit of tacking downwind so that we could keep some shape in the sails when we heeled the boat to leeward (above). It has been my experience that tacking downwind in heavy dinghies such as the CL or the Wayfarer rarely pays, expect in really light-air conditions such as these. Heeling and keeping the weight well forward further helps by reducing the boat's wetted area, which in these drifting conditions, is the major resistance factor to forward progress - no wave making resistance from poor hull shape presented to the water when you go this slow!!! One thing that did work great on this hot morning, was taking off my shirt so that I could feel the direction of air movement on my perspiring skin.


...

Note that we have only a slight angle of heel now that we have actual air (and boat) movement. Our weight is still well forward - where it should be in a drifter: Marc is forward of the shroud and lifting the jib clew so that cloth weight does not destroy sail shape. This is ...
...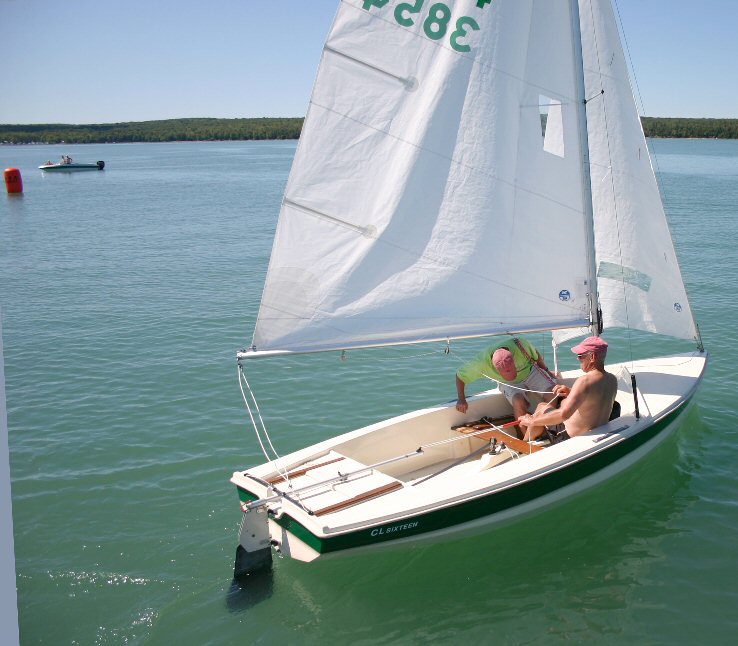 ... not a comfortable position for the crew and he is happy to abandon it the moment we get our finish beep. This shot nicely shows the room gained by aft bench removal, plus our body positioning well forward for the drifter conditions. In this nothing breeze it was truly a bonus to have such a light, easy-running (3/16") mainsheet and its small, light Harken bullet blocks. Note also how nicely vertical our rudder blade is: doesn't matter much at this speed but helm feel is vastly magnified as soon as the boat speeds up a bit if the rudder is angled even 5 or 10° aft.


...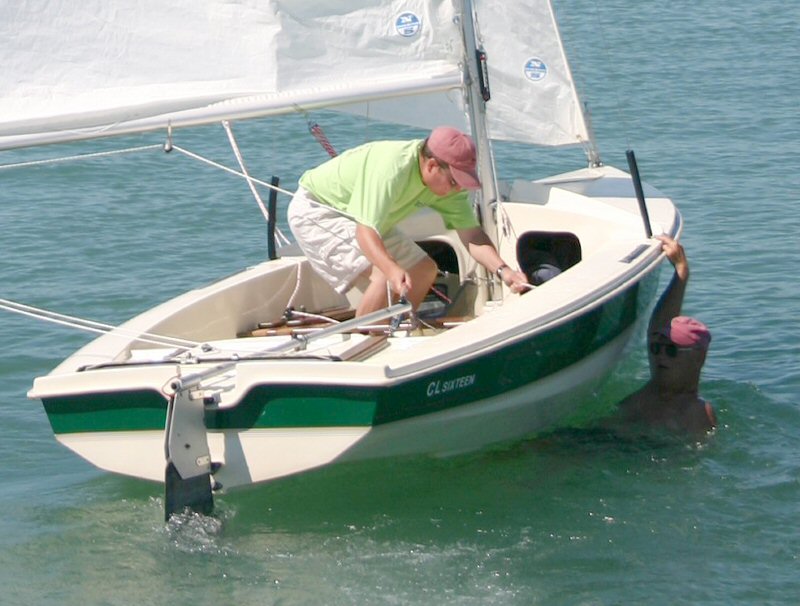 As soon as we cleared the finish line, I flopped overboard for the refreshing dip I had much anticipated down the whole run. The water was just perfect: crystal clear and coolly refreshing without being cold. You may well wonder what the heck this picture is doing here. Well, there is a purpose: After my swim to cool off, I found it embarrassingly difficult to climb back into the boat and I was reminded of ...


... ...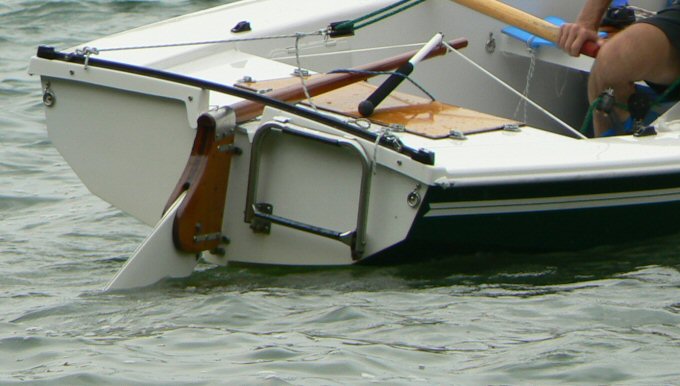 ... this neat little boarding ladder that I saw at our 2006 Wayfarer camping/cruising week in the Thousand Islands just before the CanAm. If re-entry problems are keeping you from swimming off your CL or Wayfarer, you might wish to invest in something like this, or ...


...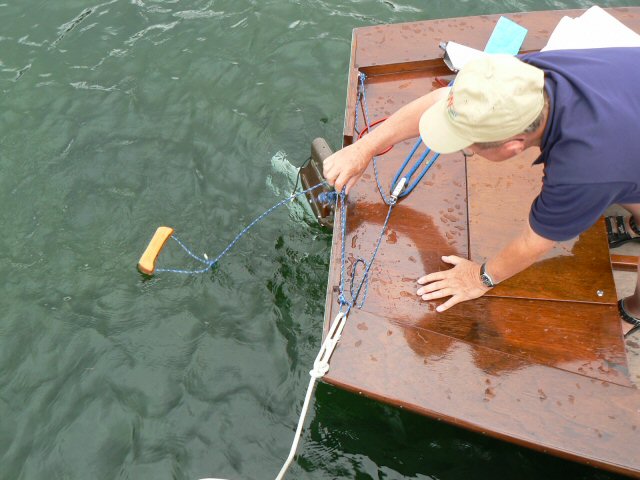 ... this cheaper, easily stowed, nicely adjustable, alternative solution created by Wisconsin's Chuck Jordan (above).
...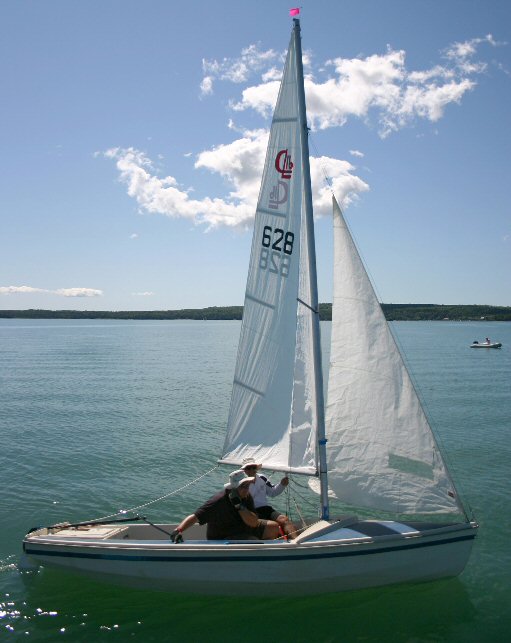 Mike Codd and Kirk Iredale and their ragged, clapped out cottage sails gurgle towards an impressive 2nd.
Note how their weight is also well forward, and how Kirk is taking weight off the jib leech.

...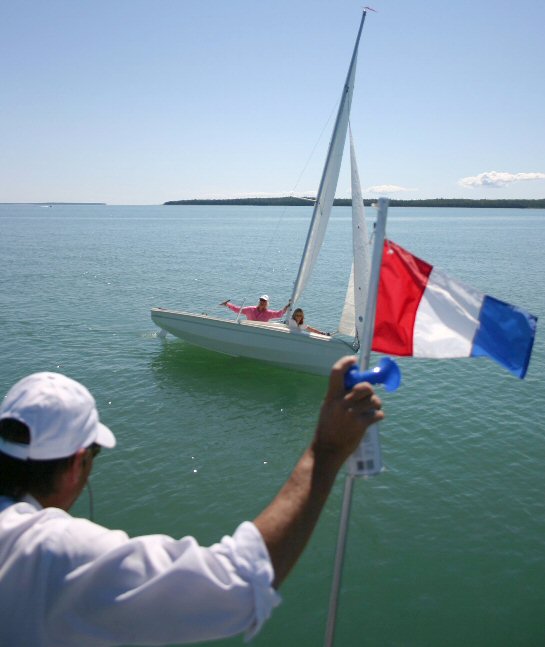 An exuberant Becky Sylvester is about to cross in 3rd place. Note how she and Kim Wood are also sitting well forward
and have heeled the boat to reduce wetted area.
...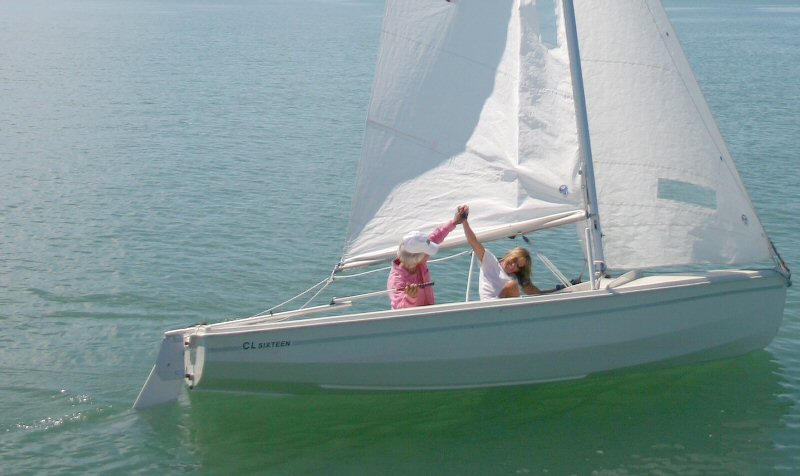 A very happy team! Not to be a wet blanket or anything, but that rudder would work better
with the blade down to vertical in any kind of breeze!!
...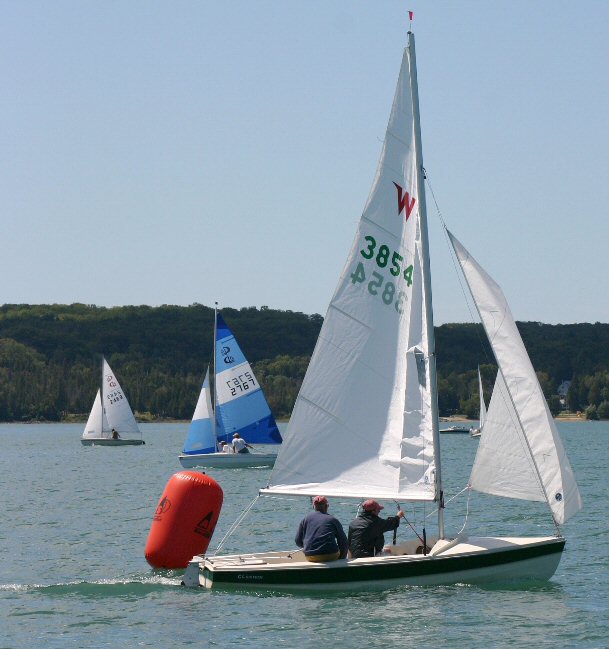 3854 rounded onto the long run. There had been streaks of better wind pressure on the beat, so our plan was to take advantage of those by sailing high in the lulls and down with the puffs. Strategically, we had decided - before rounding - to defend the left against Jim, so that if we should meet on a collision course, we would have starboard, and ultimately, be inside at the mark.

...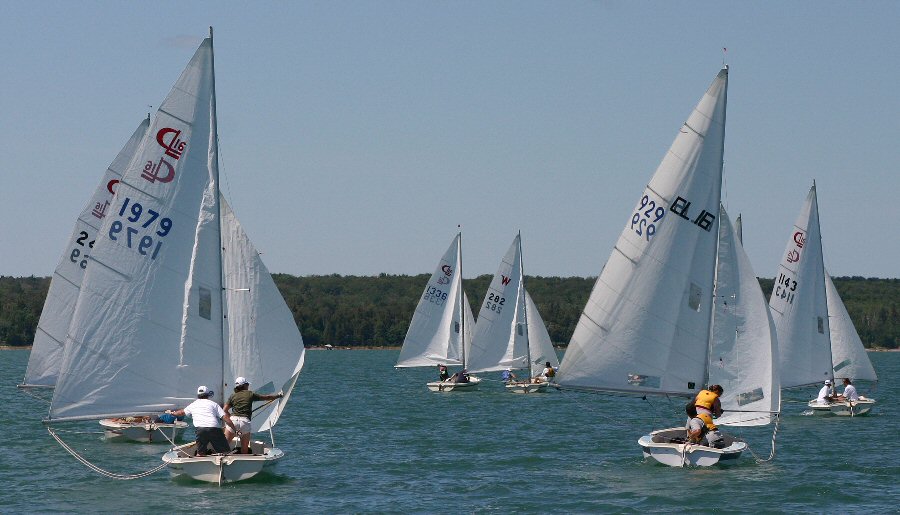 Good downwind form all around, especially for Colin in 929 whose windward heel
moves his sails' centre of effort more directly above the boat's centre of resistance.
...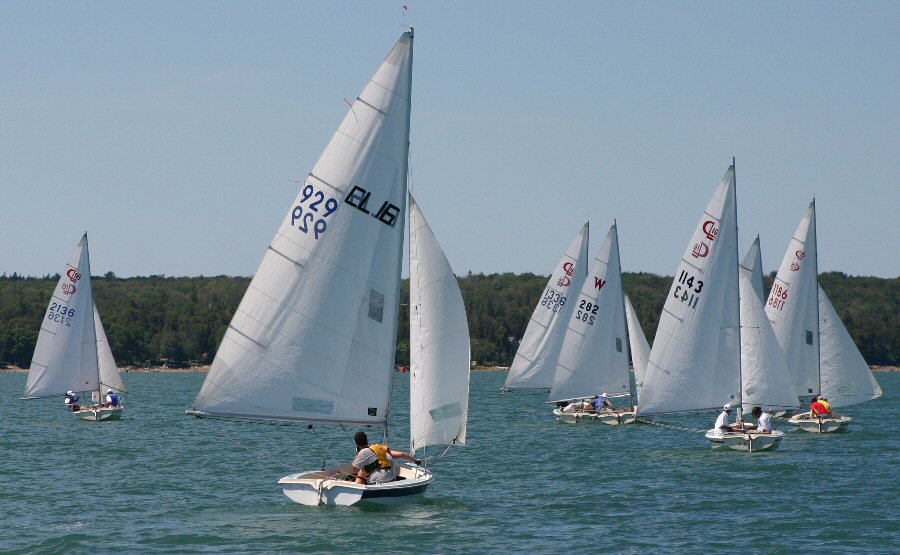 It takes mental toughness to overcome the fear that a bunch of boats will pass you to windward, and to resist the temptation to come up to defend your lead against that windward bunch. Full marks to John and Laura Kupers (2136, far left) who are staying out of that mess of boats on the right, boats that will all tend to slow each other down and perhaps worse, work each other up to windward and off the rhumb (straight = shortest) line to the leeward mark. Colin (929) might be wise to follow John's example: it would indeed be tempting to sail up behind the group to take their wind as Colin seems intent on doing, but after that, he'll just be part of the bunch that are slowed down! In Colin's position, I would take every opportunity (puff) to sail very low (or even gybe away for a bit?), to try and pass the mess to leeward - especially in this configuration where going left early lets you meet them while you're on starboard near the mark, and you will be inside for buoy room.

...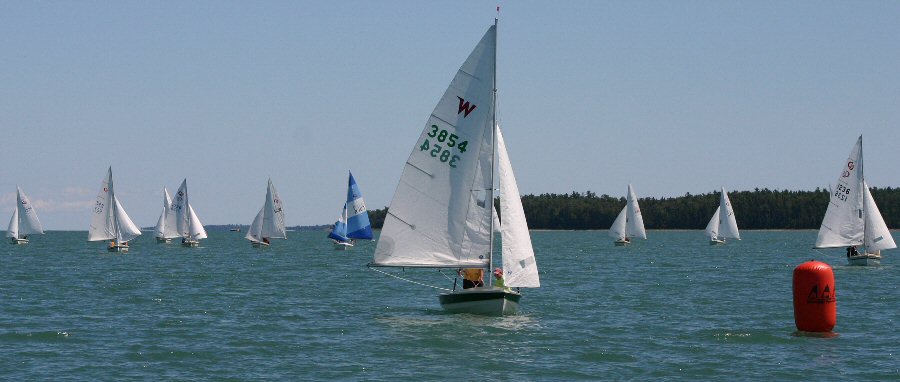 Marc and Al close in on the leeward mark with a considerably bigger edge over Jim (r) than they had at the start of the leg. Our significant move came about half-way down the run. Jim had been sitting a nerve-wrackingly close two to three boatlengths astern and we were constantly having to guard against his getting on our wind. Finally, I saw an opportunity to make gains as there seemed to be better breeze just off to our left. Don't be greedy is a very valid Stuart Walker maxim, but I was thinking ahead to a long beat, and remembering how Jim and Alice had been just a touch faster than we had been up the the first beat. What we needed was a cushion, so it wasn't really being greedy, I remarked to my crew. He somewhat reluctantly agreed to let me gybe away from Jim. The effect was electric and by the time Jim had seen the wisdom of our ways, we had increased our lead to what you can see above.

...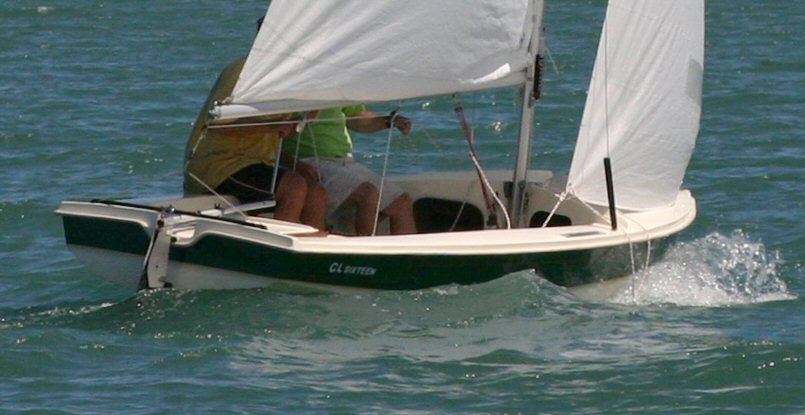 This close-up gives a reasonably good view of our bridle set-up. The fact that the blocks are moved closer together by the bridle, lets us get a more precise handle on mainsheet tension. We set the bridle up such that when there's enough wind to let both of us hike out, we should normally be able to sheet in block-to-block. Here, the wind is slightly lighter than that, and the two blocks are about six inches apart.

...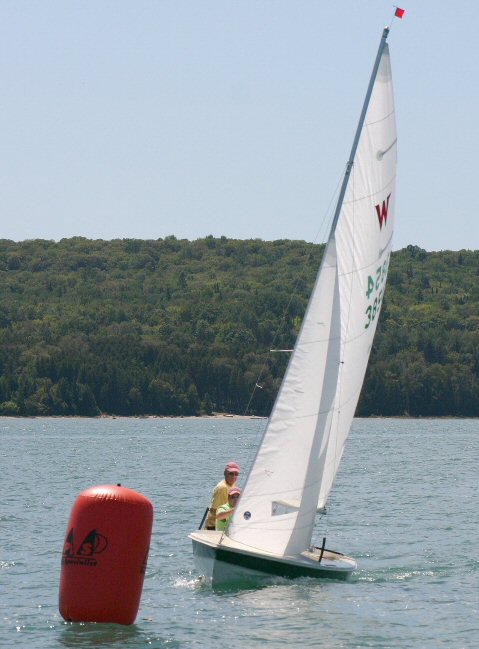 When you're hot, you're hot: Having deliberately underlaid the mark in case a late lift should arrive, we get such a lift just before the mark. We are heeling the boat because that lets you (briefly!) pinch up better, a useful move where you're hoping to get around a mark without throwing in two more tacks!


...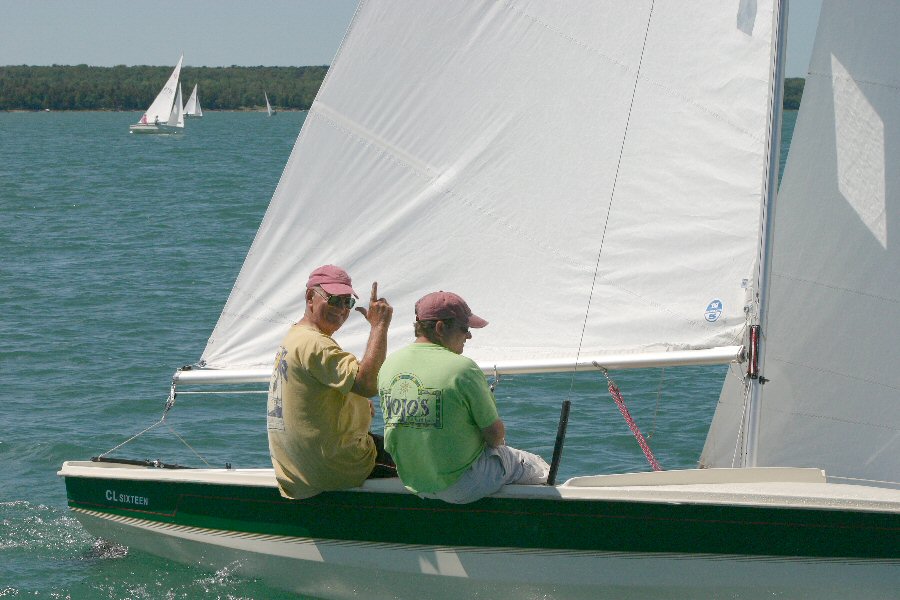 Al thanks the committee as he and Marc get the beep. Note how we are now sheeted block-to-block what with Marc and me both leaning out a bit. The vang is just tight enough so that it won't fall off the boom - we don't want vang upwind until we have so much wind that we can no longer hike the boat as flat as is necessary - at which point, adding vang tension will let us flatten (and thus, reduce the power of) our mainsail.

...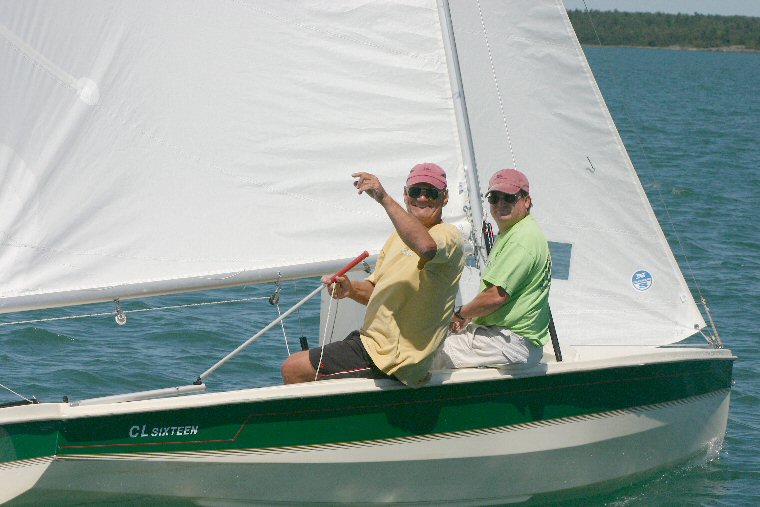 For Marc and Al. it's been one of those rare races where everything has gone right: a perfect start, the early lead, no memorable mistakes and one or two pretty smart moves. The kind of thing that is best celebrated with a beer! "As luck would have it," grins Marc, "I just happen to have packed a few cans ..." and the day reaches total perfection.

...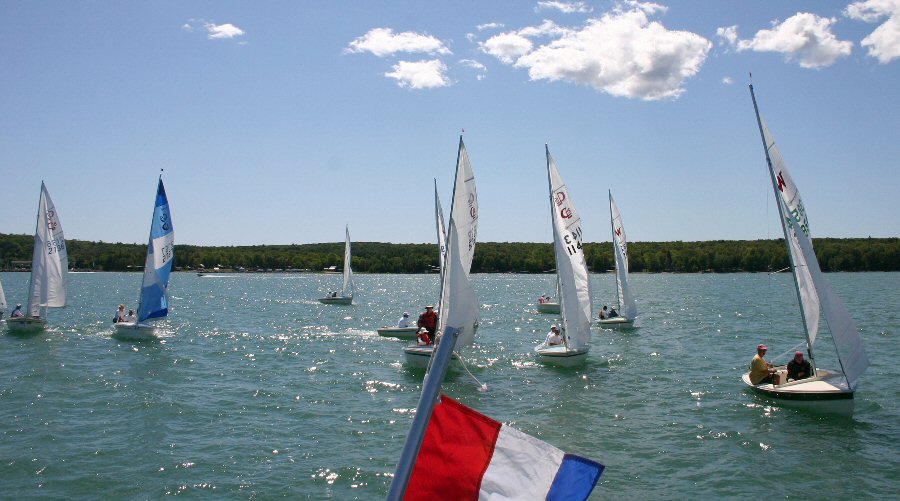 The RC boat end (above) was attracting quite a crowd with perhaps 30 seconds to go. Note that Al (r) has parked in a nice spot with just a smidgen of forward momentum to maintain steering control. If someone comes up from leeward, Al will have room to come up without hitting the RC boat.


...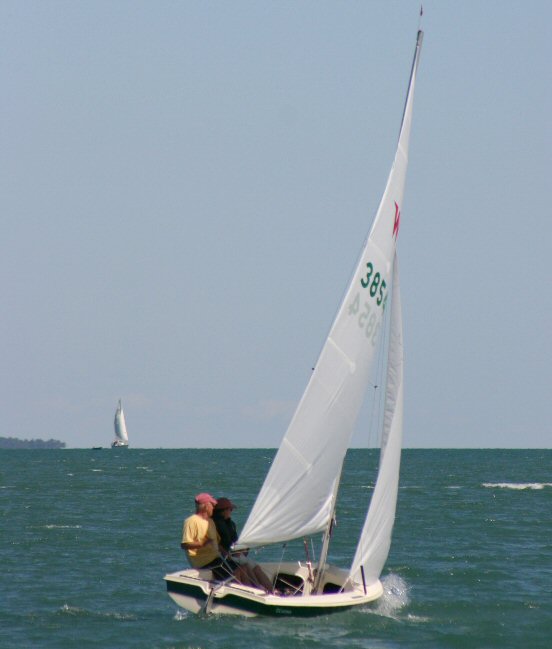 The wind continued to increase very gradually and Marc and I actually began to
use some vang to help us keep the boat flat in some of the puffs.
...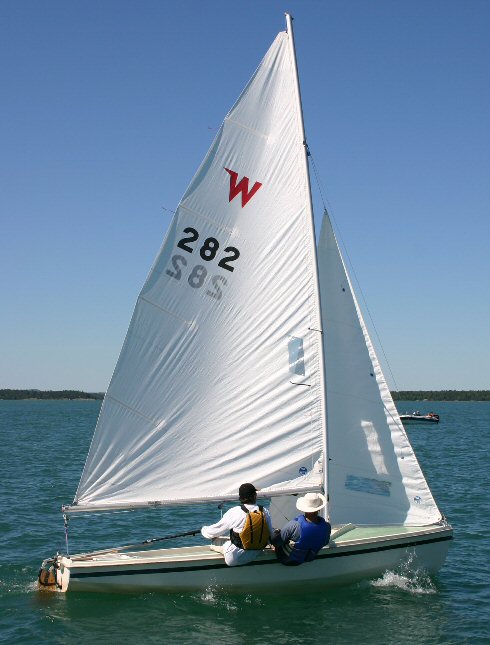 Finishing a great race in 2nd with a big edge over 3rd, were Andrew Haill and Dave Hansman.
Note how their jib halyard, like ours, was not overly tight!
...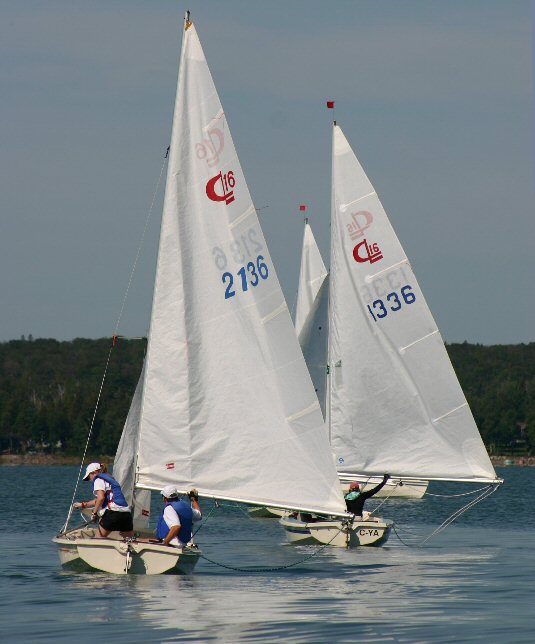 Like yesterday morning, the wind veered near this shore and made the second-leg reach into run. Here, John Kupers (2136) and Kipp Sylvester (1336) are following Al's example. All three have gybed and are sailing about 60° high of the rhumb line in the quest for the only thing that matters: wind!!! You can tell by Al's and Kipp's masthead fly though, that the upper parts of their masts and sails have already reached the main wind once more and that in seconds, they should be able to gybe back and sail away - always provided that they don't get dumb and sail too high on the new tack and out of the wind once more!!

...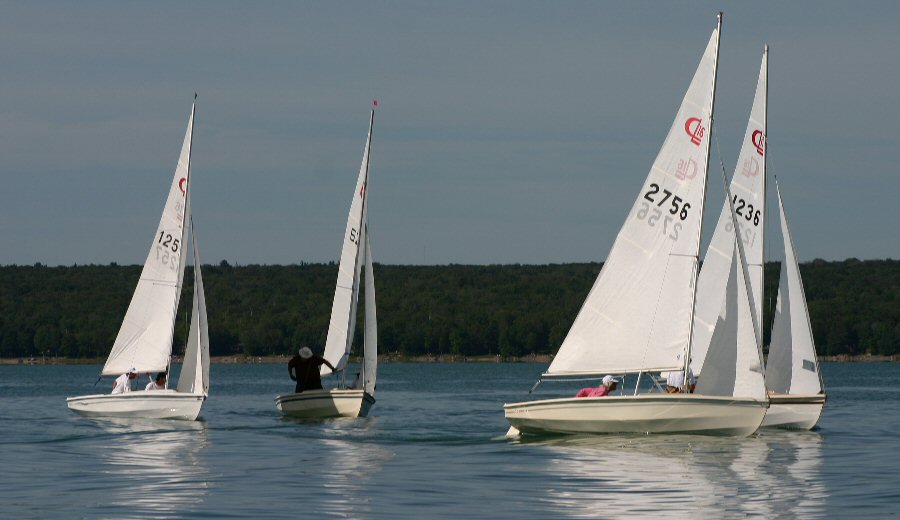 Very near the windward mark: Looks like Mike (628) has tacked under Three in hopes he will survive until Becky (2756) and Jim (1236) round and get off his wind. By the way, assuming that neither 2756 nor 1236 completed a tack within two boatlengths of the mark, is Jim (1236) entitled to room at this windward mark? Yes. Rule 18 does not apply at a windward between boats on opposite tacks. But that is obviously not the case here!

...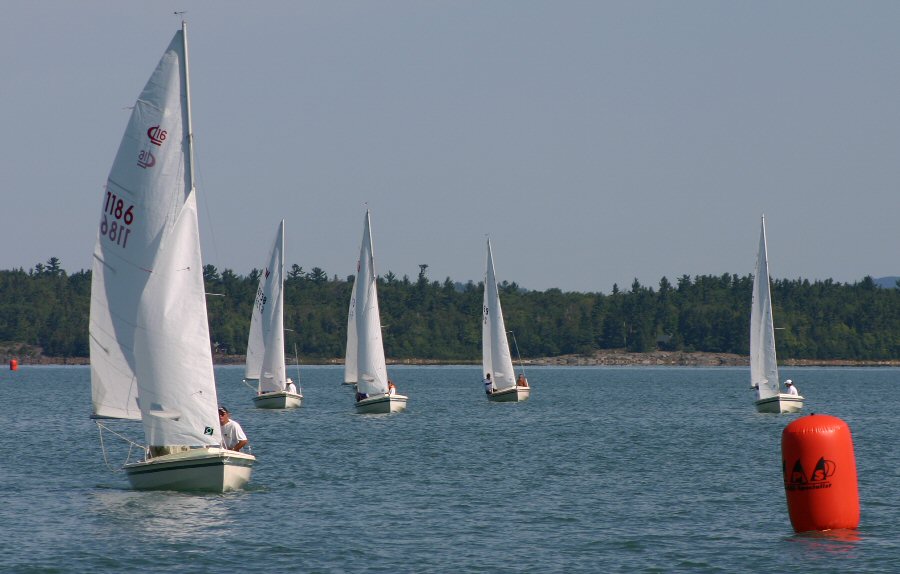 Charles and Bill (1186) have their sails perfectly trimmed (but watch for the tangled mainsheet!). Behind Charles are: (l to r) John Hershey, Steve Macklin, Eric Kirby and Jake Dann who all look overtrimmed to various degrees. Remember: when in doubt let it out!


...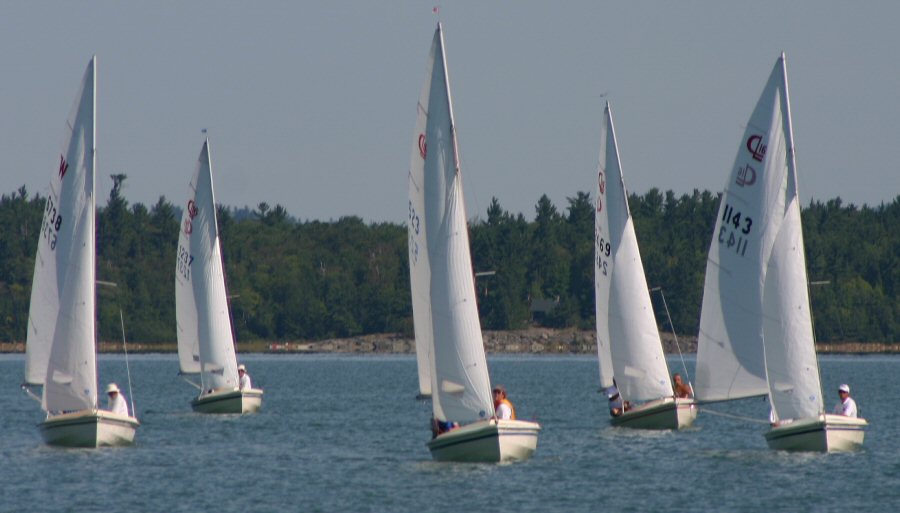 (l to r) John Hershey, Bob Tisdall, Steve Macklin, Eric Kirby, Jake Dann - only Jake has his sails out where they belong here, the others should notice that Jake's sails are so far out without luffing, and should at least try to see if their sails, too, can be eased: let them out til they start to luff and then sheet in a smidgin!!


...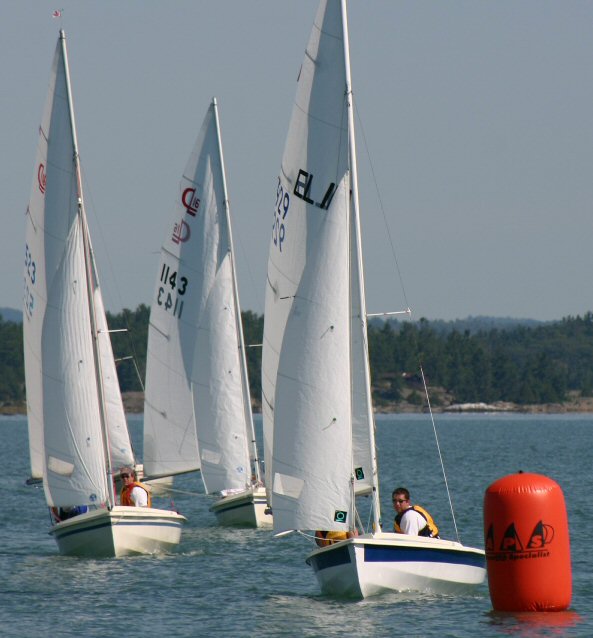 If Colin (929) is clear ahead here, he could/should afford to round "wide and close" which would let him keep his speed better during the rounding (gradual vs. sharp course change). If, on the other hand, he had a boat overlapped to leeward here, however, he would only be entitled to room to make a "seamanlike rounding", i.e. close and close, as Colin is doing here (though he didn't have to!).


...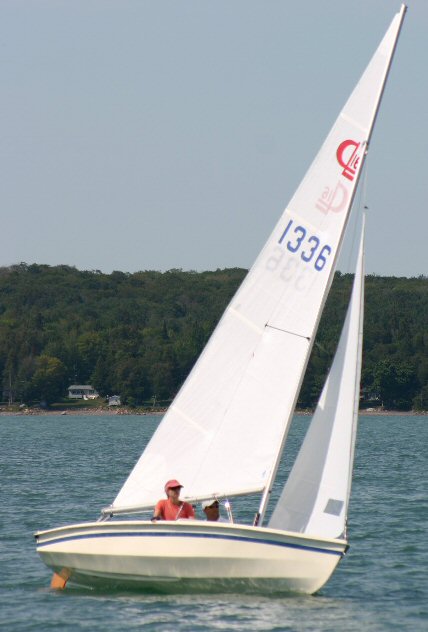 In anything but a drifter, heeling like this looks fast and pretty. But unless you want to benefit from letting the boat round up to windward briefly, fighting the extra helm to keep the boat going straight is slow. Also, your centreboard and rudder are not working at an efficient angle!!


...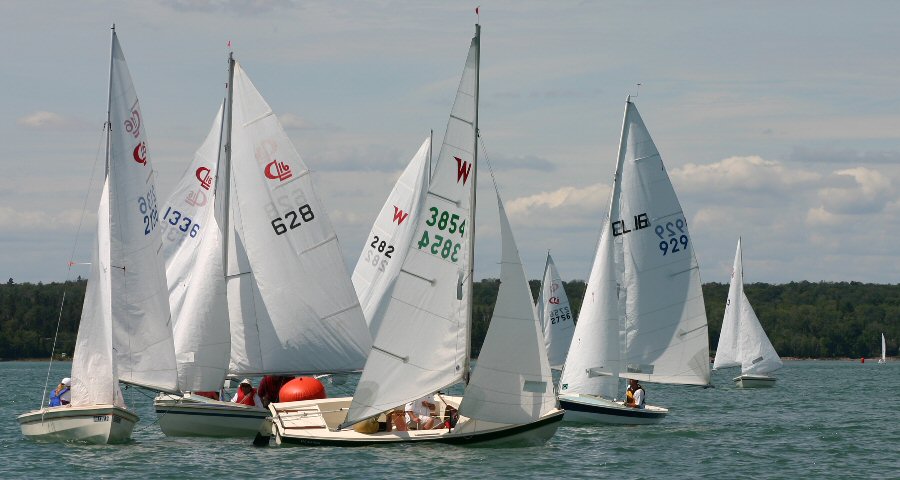 This is one of the few times it pays to go well high of the rhumb line. For Al this is
the fastest way out of the dead air caused by the boats near the mark.