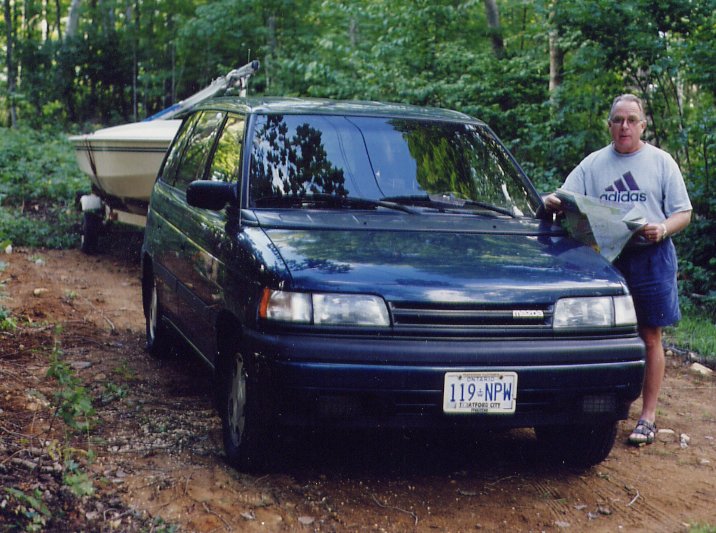 Doug Gilchrist (W7222) (above) rolled into Uncle Al's in-laws' cottage on Fox Lake near Hunstville from Stratford, Ontario on Wednesday night and early Thursday morning, we were ready to drive up to the town of Killarney on Georgian Bay's North Channel (see chart excerpt below)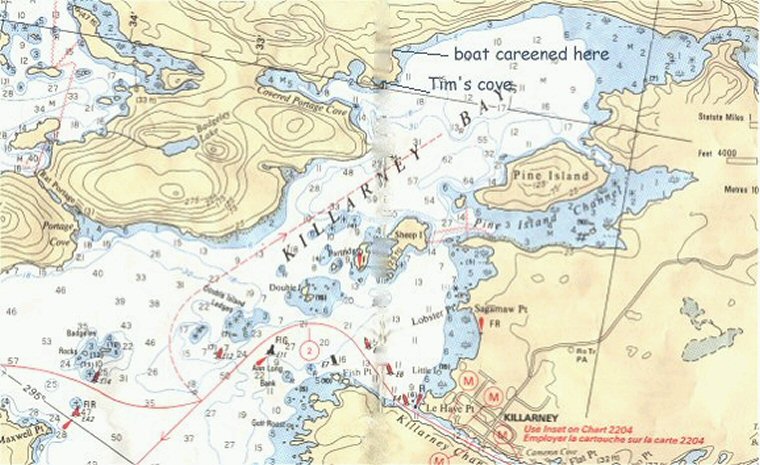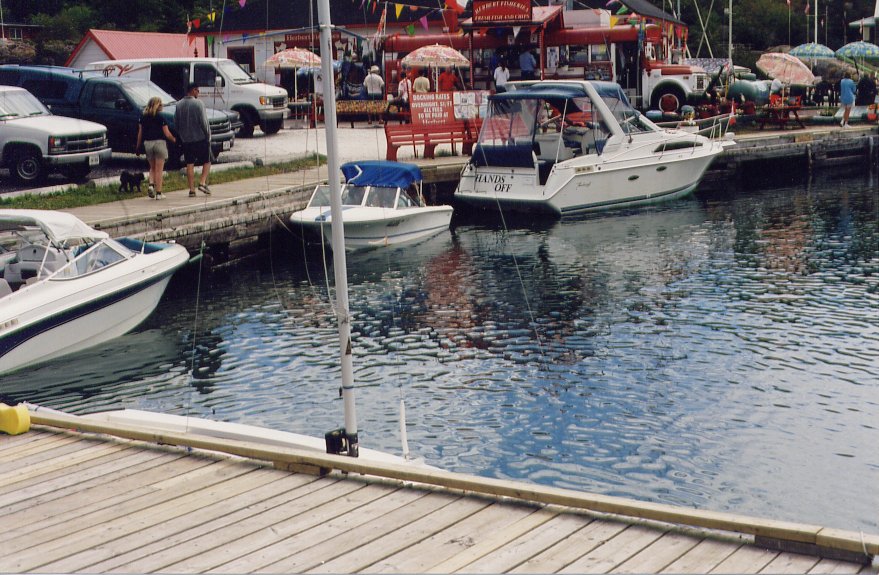 By mid-afternoon, Whirlwind was launched and loaded. Our enjoyment of the world's greatest fish and chips from Mr Perch (in the background above, right) was dampened somewhat by the fact that W7222 was sinking. An hour later, Doug had already become one of the local marina's best customers, having bought a pump, flares and silicone sealer in three trips. Meanwhile, the water in the boat was up to the floorboards from what Doug suspected might be leaky bailers.


Our aim had been to nip across Killarney Bay to "Tim France's Secret Cove" (see chart) but now we had a more urgent goal: finding a better place than the minute harbour at Killarney to unspring our leak. We didn't feel endangered in any way since Doug and his wife, Anne, had done a thorough buoyancy test the previous week and we knew our tanks were properly water-tight.
So we set off into a 5-15 knot W wind in the general direction of Tim's Cove where we recalled a bit of beach that might be suitable. The beat out of Killarney Channel did little to drain the water out the bailers but that same water did make a lot easier to do really serious roll tacks! Fortunately, we didn't quite remember the exact location of Tim's Cove other than the fact that it was not far north of Covered Portage Cove, and we sailed right past it...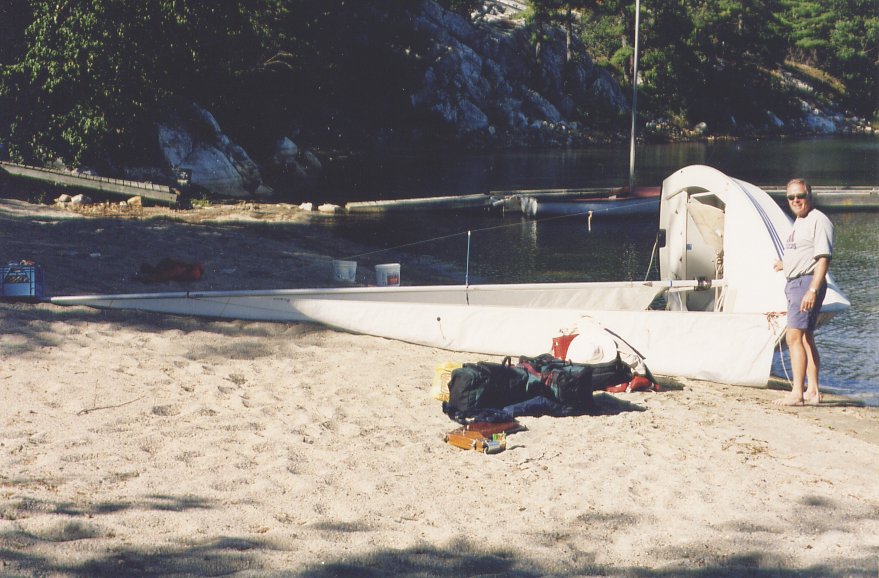 ... into this little bay with a cottage and something very rare for this area - a lovely beach! We sailed in to throw ourselves on the mercy of the cottagers as ship-wrecked mariners, but alas, there was no one home. So we unloaded what needed to be unloaded, especially the single malt scotch, and careened Whirlwind to check the bailers which Doug said had gotten a bit bent in a recent incident which remains nameless.


...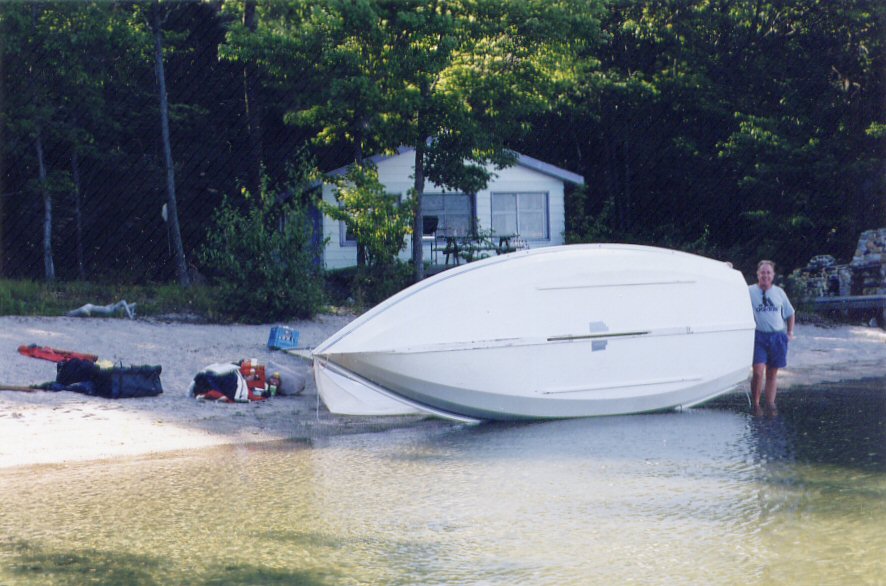 The bailers actually looked fine but we duct- taped them anyway just to be sure. This left one more possible source of such a major leak: the centreboard bolt. It was with considerable joy that we discovered that the bolt was in pretty loosely and was the likely culprit. So we took it out, wiped all the parts as dry as we could, and had a scotch while we waited for wind and sun to do the rest.


...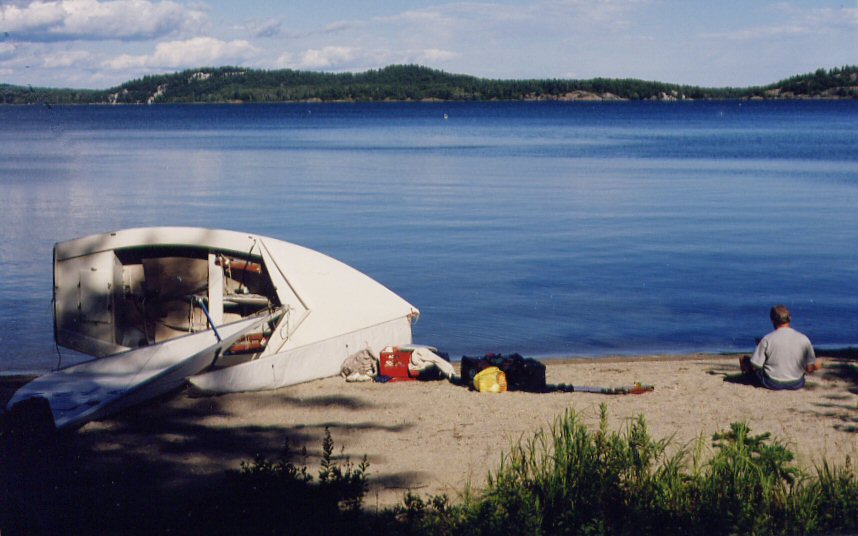 As you can see above, it was not an unpleasant place to wait. An hour later, Whirlwind was underway again,
her crew having taken this opportunity to figure out where Tim's Cove had to be.
...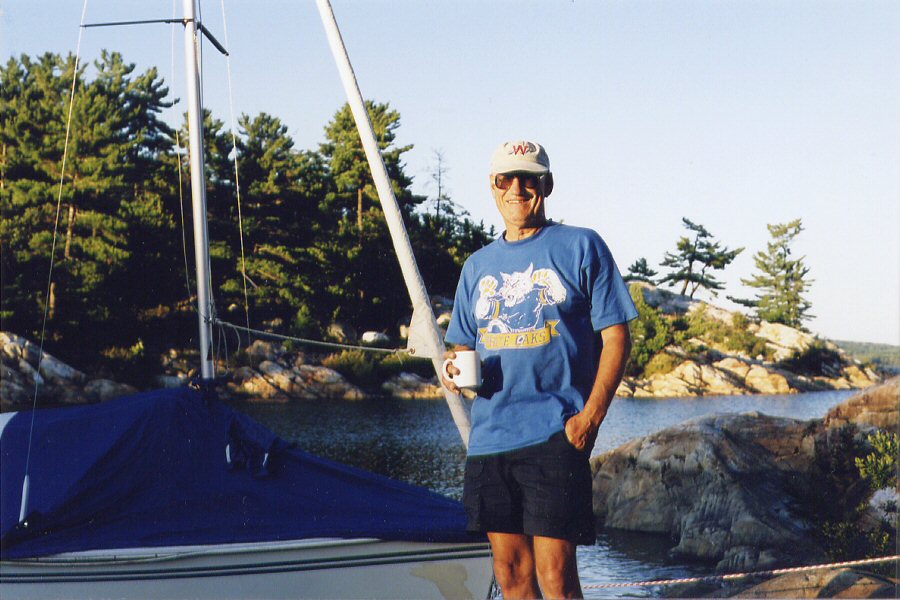 Soon we were anchored at our intended destination (below). Above, you will see Uncle Al grinning at the thought that he and Doug would not have to pump every hour on the hour all night since the boat repairs appeared to have succeeded in (virtually) stopping the leak. Chef Doug whipped up a Chunky Soup supper while Al got the tent up and soon we were ready for our post-prandial sip (below).


...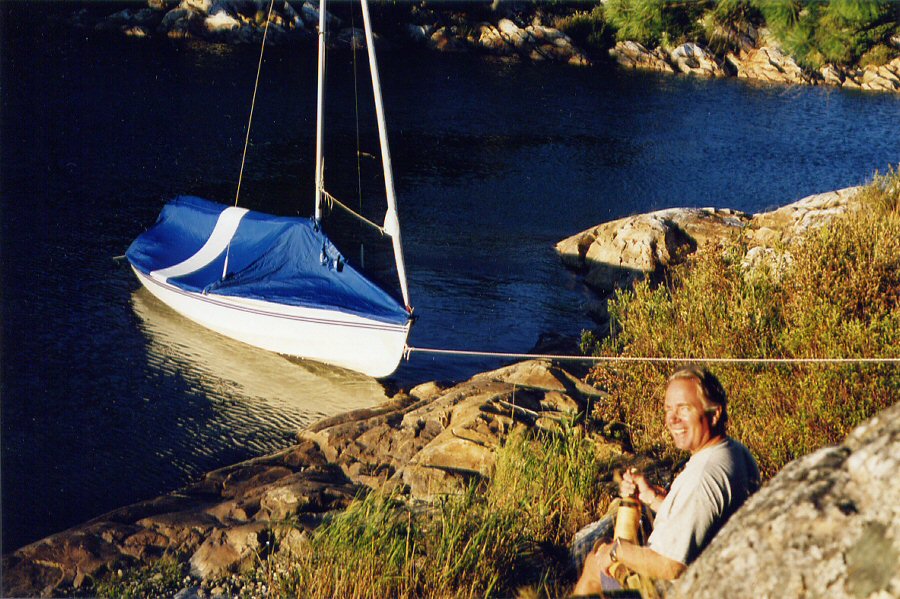 The eagle-eyed among you will spot the fact that we forgot one small item that is rather helpful when one wants to use the boom tent: the boom crutch. Luckily, we managed to substitute a pair of our storage boxes.


...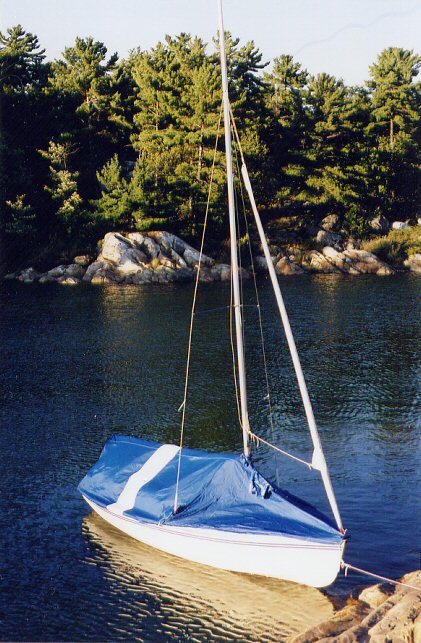 Satisfied that we were reasonably prepared for the coming night ...
...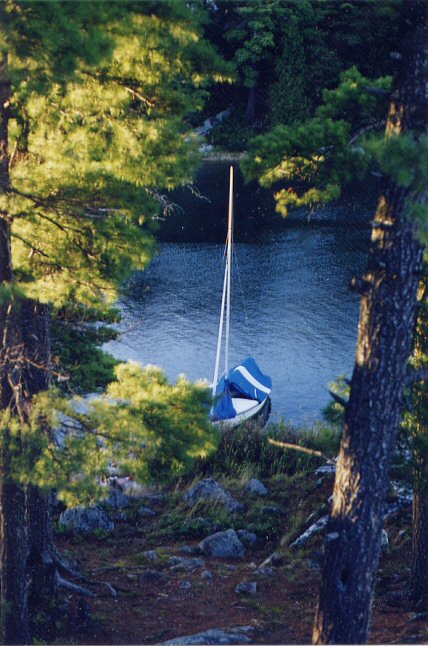 ... we climbed to the top of our little hill to take a peek at our next-door neightbour, Covered Portage Cove (below). The healthy westerly breeze brought a cool evening and we enjoyed a lovely sunset. The wind and cool temperatures caused us to get out some warmer clothes but did a great job in keeping the bugs away. In the photo below, you see the entrance to Covered Portage with someone heading in. This was to be typical of the week up here: we saw so many keelboats under power and virtually none under sail that we found a new definition of a keelboat: a motor boat with a mast. On a more serious note, it made us appreciate the Wayfarer which, with reasonable care, can sail virtually anywhere, while the bigger guys have to stay where the charts recommend!
...