IAN PORTER DOMINATES WORLD'S BEST TO CLAIM WAYFARER WORLD TITLE #3!
England's Ian Porter and Kevan Gibb (photo below) overcame a first-race 6th with 5 straight bullets to capture the 1998 Wayfarer Worlds held July 28th to August 1st at Egå in Denmark. Porter entered this, his final Worlds, as the only two-time world champion, and added to his record with a combination of outstanding speed, fine strategy and excellent crew work that resulted from extensive preparations. These included arriving on the site almost a week early! In a memorable and gracious victory speech, Ian indicated that he now plans to retire from competitive sailing. For Kevan, this was a second Worlds victory as he had crewed Julian Redman to victory at Lake Couchiching in '86.
...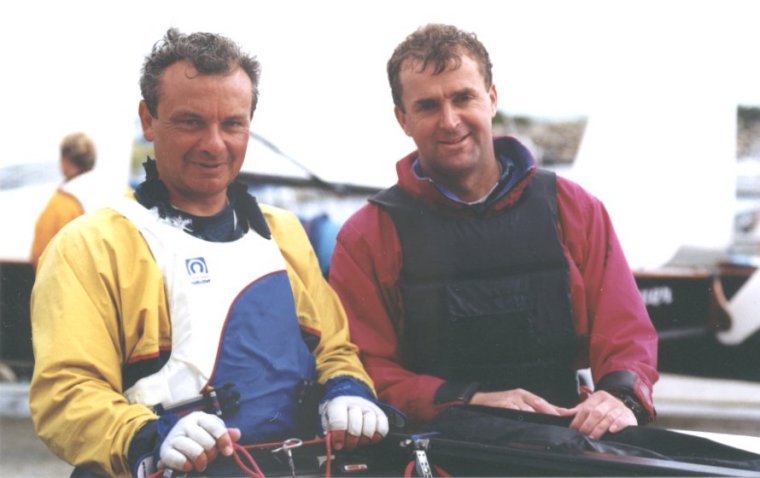 ...

Equally to be congratulated for superb world-class organization and race management are our Danish hosts, the Egå Sejlklub and the Danish Wayfarers. Under the direction of PRO, Niels Bægaard, the RC handled the 55-boat fleet and shifty winds flawlessly: we had fine (if very long) lines, challenging beats as the RC met every major shift with a perfectly executed course change, and black flags when the fleet's start line enthusiasm threatened to get out of hand. Niels checked in with Wayfarer liaison man, Jesper Friis, after each day's races to hear what could be done better, and any racers' requests were immediately implemented!

Ashore, our needs were met beautifully with machine-like, yet extremely personal and friendly precision as 150+ sailors and their guests were processed through delicious daily breakfasts, lunches and dinners by volunteers who worked up to 12 hours per day!!! What a way to have a relaxing holiday! One idea worth copying for our events was the Danes' way of dealing with the lunches: competitors simply went down a long table and made their own sandwiches, and at the end of the table you could buy any soft drinks/water that you needed!

...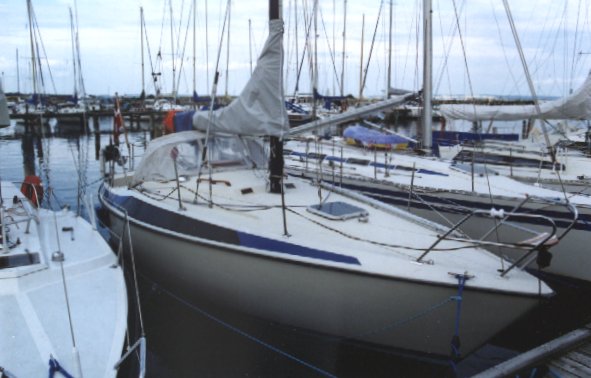 One day, Torben very politely asked us if he could take our bed for a sail while we were out racing!
...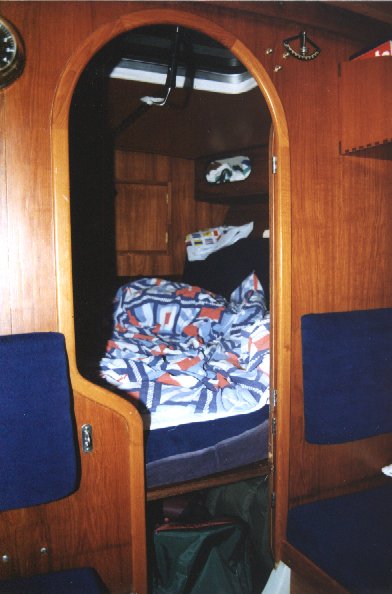 Uncle Al's bedroom: bed made just like at home!
...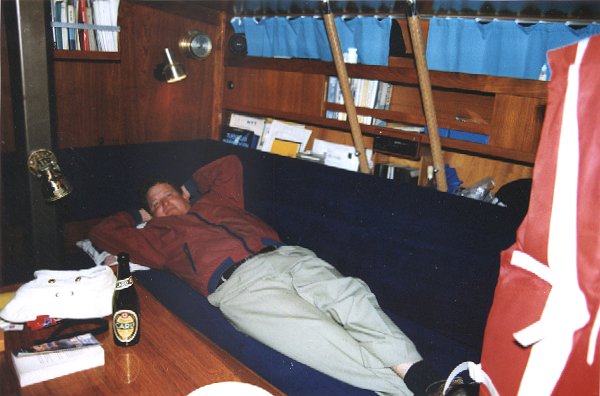 So...., says Marc, Who's going to do the laundry???

...

Regatta Chairman, Torben Møller, not only gave of his time and friendly expertise, but was also one of half a dozen Egå sailors who gave up their yachts so that North American visitors could have a super, inexpensive place to stay on site. Your Uncle Al and Marc Bennett were privileged to get the use of Torben's boat (photos above) and we enjoyed every minute of our live-aboard life (see photo below of Uncle Al, Torben, George Blanchard - a master regatta organizer, himself - and Marc Bennett, while Jesper Friis gives us the "finger-s") . Many, many 'tak' for everything, Torben! As a participant in 8 previous Worlds - all well run - I must say that this Worlds outshone them all!!

...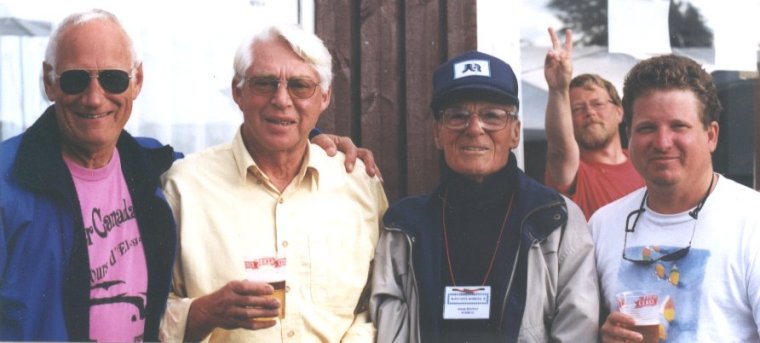 ...

And speaking of great performances, how about that young Danish team of Anders Friis and Steen Ammentorp!! Already known as a heavy-air virtuoso, Anders has recently mastered the light stuff as well. He showed this by winning every race of this year's DM (Danish Nats). And in the Worlds, he and Steen demonstrated the benefits of their regular practice with Søren Jensen, Poul Ammentorp and Joel Bøgh at Farum SK which more than made up for the fact that the Danes have only about 4 regattas per year. Anders and Steen (below) got far and away the best Danish Worlds finish ever as they clinched 2nd with a race to spare over the legendary UK team of Mike McNamara/Simon Townsend.

...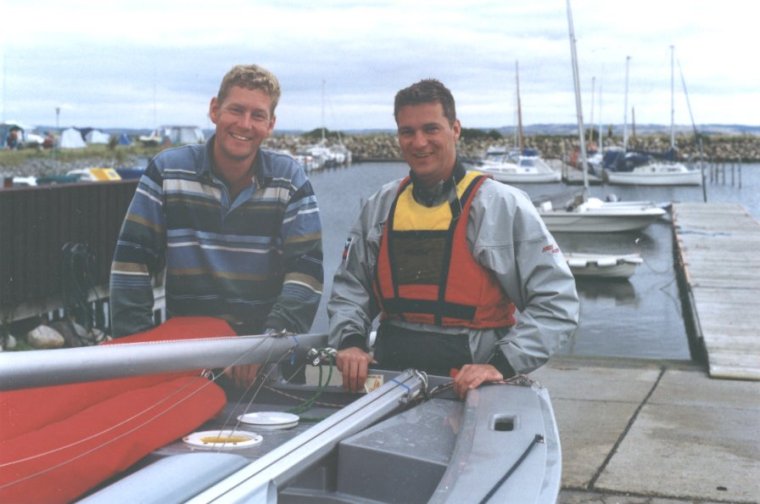 ...

The latter were bidding to tie Ian Porter's record of two Worlds titles after their '92 win at Hayling. But for Mike and Simon, it was a tough series. They saw their lighter archrivals, Ian and Kevan, get the advantage of light airs for most of the series until Mike and Simon won the breezier finale. But by then it was way too late. They had fallen to 13th and 9th in the shifty races 1 and 3, something they simply could not hope to overcome against Porter and Friis who sailed so consistently well!

It speaks volumes about Mike's character that despite what must have been a terrible disappointment in his results, Mike sought out the likes of Søren Jensen and Nick Seraphinoff on the water and ashore to give "after-sale" service on his sails. Word is that Mike also spent much of his lay day going out to coach various competitors who were experiencing serious boatspeed problems at the back of the fleet. We are indeed fortunate to have Mike Mac as a member of the Wayfarer family!!!!!

The English team of Martin Collen and Terry Palmer showed that they thrive on pressure. After getting their drop early by retiring from race #2, the Collen/Palmer team were repeatedly in bad shape after the first beat but somehow always clawed their way back into contention. In the end, they counted 4-3-3-9-4-4 and took series 4th.

Wayfarer newcomers, Mogens Just and Niels Møller, former Danish Olympians in the Star class, took an excellent 5th in their first Wayfarer Worlds. Although a bit weaker than the top boats on the spi legs, Mogens and Niels showed top-notch upwind ability and their local knowledge came in handy as well!

18-year-old Neil Harrison of Medway YC became the youngest sailor ever to win a Worlds race when he and father, Mike, took race 1. After that fine beginning to the series, the Harrisons performed consistently well and placed 6th overall. Clubmate, Quentin Strauss with Wendy Howland, also sailed consistently as he missed the top 10 only twice in nailing down series 7th.

The Waldringfield crew of Neil Fletcher and Chas Edwards sailed the '95 World champion boat, #9644, to a solid 8th. This included a 2nd in race 5 where they led Ian Porter until the final beat.

A third Danish top 10 finisher was Joel Bøgh with Jon Kjartansson who showed his light-air prowess with 2-7-8-7 placings in the first two days' light winds. When the winds picked up a bit for the final three races, Joel tailed off to 16-27-23 but still ended only 2 pts behind Fletcher.

Completing the top 10 were the young English team of Dan Wealthy and Rob Broad. At this point in the fleet, the effects of the shifty, patchy winds begin to really show up on the scoreboard and the benefits of being able to manage consistency become apparent. Dan and Rob, for instance, hit the top 10 only in race 5 (6th), but the 12-19-15-12-13 that they added were easily enough for series 10th.

Bad luck for the English crew of Simon Clayton and Rachel Mockridge who were a virtual certainty for the top 10 after scoring 8-14-6-13-12 in their first 5 races. In the windier race 6 however, the bow tank of their beautifully kept wooden W875 was T-boned by a port-tacker. The offending boat retired but Simon and Rachel had to quit as well. An overnight Red Green repair job (duct tape!!) had 875 on the water for Saturday but a 27th now had to be counted and Simon fell just 3 points short of the top 10.

After 3 light and flukey races, it seemed as though months of tuning against Anders Friis would not pay off for Søren Jensen and Jesper Friis who really needed their Coach's cold beers after 19-20-26 placings. But when the winds picked up, Søren and Jesper completed the Jekyll-Hyde transformation with 6-7-9 and ended up 12th.

...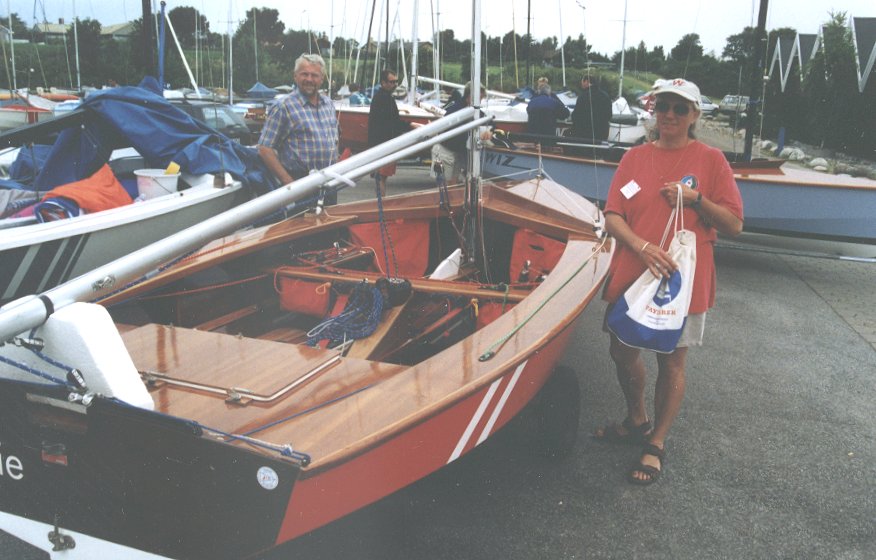 ...

The reverse of that trend for two more of our Danish friends from the Toronto Worlds: after a terrific 14-4 in their magnificently restored W239, WOODIE (see photo of Irene, the Coach, and Woodie above), Poul and Irene Ammentorp's results tailed off a bit and they had to make do with a tie for 21st.

...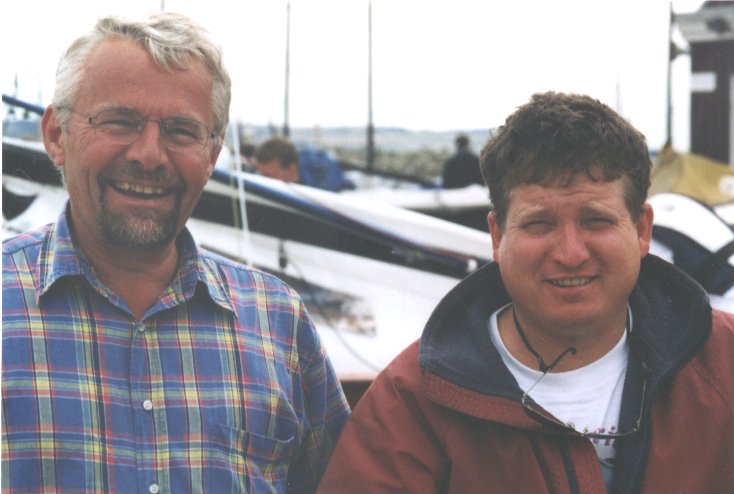 ...

Despite having shared use of the "Coach", Jesper Graves Petersen, seen in the photo above with Marc Bennett, it was tough sledding for the North American teams and their borrowed boats. Laziness caught up with Uncle Al as he and Marc Bennett placed 31st after borrowing not only a boat but also sails. Only while using their own Raudaschl spi were they able to pass boats. The borrowed boat and sails were OK but Al could not seem to get consistent speed from them. Time and again, Marc and Al made good starts and sound strategic moves only to have boat after boat outpoint and/or outspeed them. A new experience here for Uncle Al was that his boat had lee helm unless it was sailed with about 10° of heel. The frustration hit the humorous stage in race 6 when, shortly after a good start, Al wanted to tack to port. "You can't," said Marc. "Ian Porter has just crossed behind us and tacked on our hip....... But don't worry! He won't be there long!!" Less than 2 minutes later, Ian had motored past while pointing 10° higher, and we were able to tack. We know we should have been out there, just enjoying the wind and waves and competition, just having fun! However, by the end of race 6, we had had all the on-the-water fun we could handle. We decided to pass on race 7 and keep our 18-15-18-32-31-42. Twice in this series, Al scored his worst ever race finish from nine Worlds: a fourth-race 32nd was surpassed by a 42nd in race 6!

The only U.S. representative to this Worlds, Nick Seraphinoff, brought his wife, Mary, to experience Denmark, but sailed with Søren Gøtzsche, a Dane whom Nick had hosted at the 1980 Worlds in the U.S. In honour of the ethnic and mental make-up of this crew, Nick (below, left) and Søren got permission to name their borrowed Wayfarer MIXED NUTS – a name it will retain. Powered by beautiful new Mike Mac sails but hindered by suspect foils, the Mixed Nuts placed 41st.

...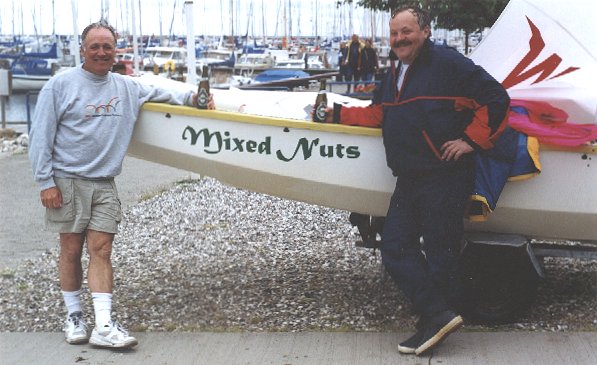 ...

When the local newspaper heard an 84-year-old had come all the way from Canada to attend the Worlds, they sent a young, female reporter to interview George Blanchard. The latter was suitably astounded to learn that George would not just be watching but racing. The next day, George made the headlines with the Danish equivalent of: "Great-grandfather with flair in Wayfarers. Sailing and square-dancing keep 84-year-old Canadian going." George and Mike Codd borrowed a boat from Danish W-Nyt editor, Anker Mørk Thomsen, which all three of them worked on happily for a couple of days to get it race-ready. After a week of unfailingly cheerful sailing (a lesson here for Uncle Al!), George and Mike ended up tied for 44th, ahead of 10 boats!

Having finished poorly in his first Worlds (Toronto, '95), Geoff Edwards came over with George Waller to try a borrowed boat and simply have fun. After placing last and DNF in the first two races, Geoff and George improved consistently to place 50th, ahead of 5 boats. And they had to be pleased with their 38th in the breezes of the finale!

Borrowing a boat proved to be less exhilarating for the remaining Canadian crew, Mark and Paul Taylor of the Mississauga SC. Little did they know how aptly YELLOW SUBMARINE had been named! By the end of the light-air first race, were ploughing along to 51st place in a boat that was 1/3 filled with water! In the second race it got so bad that they had to drop out!! A frantic scramble unearthed another boat for the Taylors to use on day 2. But now the crew, Paul, re-discovered the sailor's version of tennis elbow that had bothered him at the Ontarios and Mark had to do all the sheet pulling. So, with visions of the flesh pots of Hamburg and Amsterdam dancing in their heads, the boys decided to pack it in. But not before Paul had added his magnificent guitar work to the Wayfarer Stompers' Wednesday night performance. Not surprisingly, Mark and Paul placed 55th after finishing only two races!