Race #7: The Irish Wayfarer Trophy (Saturday 1 August, 15ºC, mostly sunny): A wind that looked deceptively light from shore turned out to be the strongest of the series – 16-20 knots off the shore at WSW.

...


...

Mike Mac and Simon Townsend (returning above from their Race 7 victory) revelled in these stronger breezes, leading to the windward mark over Quentin Strauss, Ian Porter, Mogens Just (see photo below), Neil Harrison, Martin Collen and Søren Jensen. While Mike Mac held the lead throughout the race, Ian moved past Quentin on the first reach and there were no further changes at the top as the race ended Mike, Ian, Quentin.

...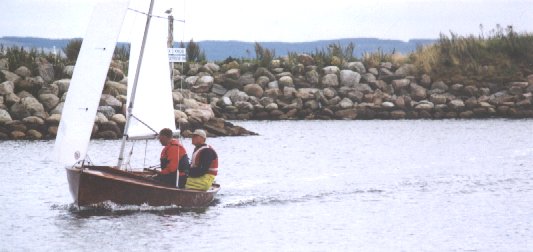 ...

Continuing his series of come-backs, Martin Collen moved up to 4th and wrapped up series 4th behind Mike Mac. 5th in this race went to first-race winner, Neil Harrison, over Mogens Just whose only remaining small Wayfarer weakness appears to be the free legs where he continued to lose boats (4 on the first reach!).

Søren Jensen got as high as 6th but dropped 3 boats on the final beat to place 9th and take a very fine series 12th. Meanwhile the Danish light-air ace, Joel Bøgh, rounded 29th off the first beat, took 10 on the reaches, lost 6 up the next beat and ultimately settled for 23rd which was still good enough to put a third Dane into the top 10 overall at 9th. The Ammentorps had the reverse problem, dropping 12 boats on the reaches and ending the race in 28th and the series in a tie for 21st.

The borrowed-boat brigade was led by Geoff Edwards who had his best finish of the series, a 39th which moved him ahead of 5 boats for the series, a major improvement over '95. The amazing George Blanchard placed 40th and ended up the series tied for 44th, while the MIXED NUTS team of Nick Seraphinoff and Søren Gøtzsche were as high as 33rd before death-rolling on the run. After righting their boat and ripping their brand new Mike Mac spi, this duo played "Wayfarer Man" by going to the assistance of the BIZARRE crew who were having difficulties after their capsize. Nick placed 42nd in this race and 41st overall.

...
W

HELM

Beat 1

Lee. 1

Beat 2

Lee. 2

Finish

8868

Mike McNamara

1

1

1

1

1

7588

Ian Porter

3

2

2

2

2

9488

Quentin Strauss

2

3

3

3

3

4645

Mogens Just

4

8

5

7

6

197

Neil Harrison

5

5

6

5

5

88

Martin Collen

6

4

4

4

4

9355

Søren Jensen

7

7

7

6

9

239

Poul Ammentorp

19

31

31

29

28

2006

Joel Bøgh

29

19

25

22

23

864

Nick Seraphinoff

33

33

34

45*

44

80

George Blanchard

43

42

42

39

41

9483

Geoff Edwards

42

43

43

41

39

9733

Anders Friis

DNS: helm broke finger nail, crew no butts

4123

Al Schönborn

DNS: no good reason

* capsized on run, then went to assist W8686