Campers delight
The campers in particular were delighted to be overlooking the bay (see photo above), thirty seconds' walk from the dinghy park and showers (4 showers for 10 women and 2 showers for 110 men). The club erected a large marquee for dinner and beer and music each evening. So well organised were we that our lunch instructions were inscribed daily on our trays:
1. Take a tray, and the number of slices of white/rye bread you need
2. Spread the butter on your slices, and arrange these on the tray
3. You will now pass the sandwich spread - take whatever you like and put it on the bread, until you arrive at...
4. Where you pick up a carton - pack the lunch into it, with a napkin, and put the carton into a plastic bag, and
5. Off you go!

The racing...
We never met the race officer throughout the entire event, rather a good idea for anyone wanting to avoid questioning afterwards. The team were excellent, always out in good time, vast start lines, excellent courses and not too long races. They were a bit quick to put up the black flag but a bit slow to spot the varnished Danish boat who always seemed to be over to the rest of us.
Race 1 - Neil Harrison (just out of short trousers by Wayfarer standards) and his Dad stormed away from start to finish this one, in light airs, from Bøgh/Kjartansson. A few upsets further down the fleet saw Porter/Gibb coming 6th and McNamara/Townsend an unheard of 13th. A four hour protest meant the disqualification of the Barker team in Simply Red.
Race 2 - The slop slop continued and only 23 boats finished within the required 30 minutes of Porter/Gibb, followed by the strong and consistent team of Friis/Ammentorp of Denmark. Several boats were shown up by the team of man, two kids and a primus stove (ed. note: Stephan Nandrup-Bus et al. - see photo below where we see Stephan [right] and one of his crew having a discussion with Poul Ammentorp who is modelling a "30 years' SWS" cap), and Martin Collen showed the frustration of many of us by grabbing the finishing buoy and losing his 8th place.
...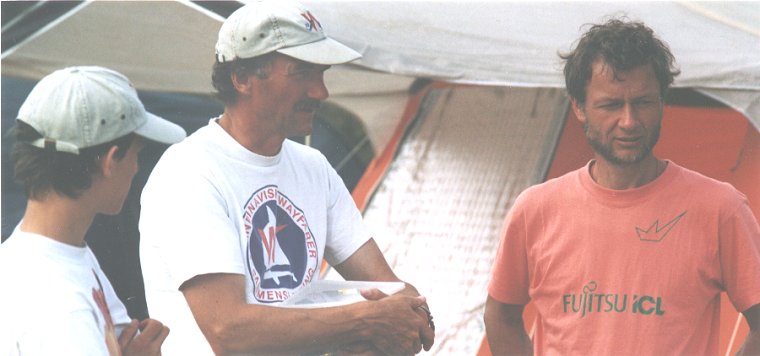 ...

Race 3 - Still light and sloppy, with everything to be won or lost on the beat. This time we were allowed one hour to finish after the first boat, once again Porter/Gibb, followed by Messrs Friis, Collen and Barker, with McNamara still waiting to find his form, and Clayton/Mockridge continuing their very successful run by coming in sixth. How many people can honestly claim they were not overtaken by man, two children, primus stove, and Monopoly board?

Race 4 - The wind died completely at the start, and when we finally got away, the Danes went left and the Brits went right. Porter once again pulled away in the light wind, and kept his concentration. McNamara came in 2nd, with Collen/Palmer 3rd and Just/Møller 4th.

Race 5 - The promise of wind meant much adjusting of boats before launching, but it did not materialise. An outstanding performance by Fletcher/Edwards from Waldringfield meant they led for most of the race, and spent the rest of the day being congratulated, unlike the rest of us left languishing in slopsville. Rob Vincett capped an awful day by being thrown in for his birthday.

Race 6 - Inexplicable weather patterns meant we had mist, downpour, wind and flat calm. A bearded Dane unfortunately hit Clayton/Mockridge and several people wished they'd taken the early ferry home as they sat watching their new mainsails lose £1 for every flop on the windless swell. Porter achieved his fifth win out of 6 races, and Friis/Ammentorp secured their excellent second place overall. Singing was heard from man, two kids, primus stove, monopoly board and airbed being towed astern.

Race 7 - Finally, some wind, and 3 Danes black flagged on the second start. A change of fortune for some of the heavier crews raised morale considerably, and McNamara got his first win over Porter and Strauss/Howland. Hacon/Oliver had a spill, and were rescued by man, two kids, primus stove...... We had a superb sail back, often the best part of the day.


On the social side...

The all in package proved excellent value, with most of the second helpings going to Toby Mace, and best team spirit and shirts from Waldringfield. Free beer after racing was very popular and the mild evenings meant camping was a positive pleasure. On Thursday we were the guests of the Mayor of Aarhus in the Town Hall and lots of visiting dignitaries. Hacon/Oliver scored by getting an outsize photo on the front of a national newspaper, with Oliver spending the rest of the week seeking out back copies. The final evening do was superbly organised, with a sit down dinner for two hundred people, and a few more repeats of 'that song' which is now imprinted on our brains:

Wayfarer, Wayfarer
Finest dinghy every seen
Wayfarer, weather fair
Really makes me feel so keen
Do wake up from your lazy sleep
Sail your Wayfarer out on the deep
Wayfarer Wayfarer
Finest dinghy ever seen.
(tune of Yada?)




Rachel Mockridge and Oriel Laws