Race #1: The U.K.W.A. Trophy (Tuesday 28 July, 20ºC, mostly sunny): At 1115, the fleet got off in about 5 knots of ESE (115º) breeze which had remained fairly steady in the half-hour prior to the start but which RC readings showed had veered 30º since 0930 when the reading was 085.

Denmark's light-air ace, Joel Bøgh, was quick to note a port-end bias to the very long start line and was one of two boats to port-tack the fleet, crossing about 100' in front of Uncle Al. Unaware that the wind was in fact in the process of veering by another 30º, Al and Marc were going middle left where the nearer land mass of Helgenæs appeared to be funnelling a stronger wind around the point. Also playing the middle left was Mike Mac, so we felt we were in safe company. Meanwhile, Joel was in "his" winds and looked good for the overall lead, until the wind began to veer seriously and young Mike Harrison of the UK came rolling in from the far right with a 200-yard lead. It was a tribute to Joel's speed that he able to round 2nd before Gavin Waldron (UK) continued a seemingly endless parade of leaders coming in from the right side. Rounding out the top 5 at the windward mark were Anders Friis and Martin Collen. Other favourites fared less well: Danish Olympian, Mogens Just, rounded 10th, Ian Porter 12th, and Mike Mac 25th!

Among the North Americans, Nick Seraphinoff was the first to appear at the windward mark in 33rd, two ahead of Uncle Al, while George Blanchard (43rd), Geoff Edwards (49th) and Mark Taylor (52nd) were fighting a rearguard action. Of the North American borrowed boat users, Mark had the best excuse as his YELLOW SUBMARINE was literally sinking as she ploughed around the course. Poul Ammentorp and Søren Jensen, our Danish friends whom you may remember from the '95 Worlds, rounded 16th and 17th respectively.

As you will see from the chart below, Neil and Joel held 1-2 throughout the race despite a 10º back in the wind as the race wound down. Anders fell to 5th at the gybe mark before recovering to take 3rd ahead of Martin with Neil Fletcher moving from 7th after one beat to take 5th. After rounding 12th, Ian Porter took 5 boats on the first reach before settling for a 6th, while Mike Mac recovered from 25th to finish 13th just ahead of Poul Ammentorp . Among the North Americans, Uncle Al (below) took 14 boats on the 2 reaches by sailing the

...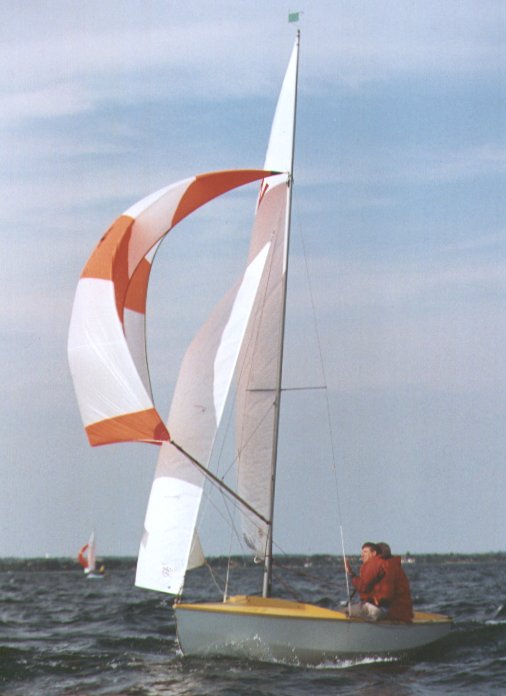 ...

rhumbline and crossed 19th, just edging out Søren Jensen. Nick Seraphinoff gained on the spinnaker legs to end up 30th while George Blanchard took 41st. Mark Taylor, in his slowly submerging submarine placed 51st and Geoff Edwards got off to a slow start with a 54th.

...
W

HELM

Beat 1

Gybe

Lee.

Beat 2

Lee.

Finish

197

Neil Harrison

1

1

1

1

1

1

2006

Joel Bøgh

2

2

2

2

2

2

1540

Gavin Waldron

3

3

3

5

6

9

9733

Anders Friis

4

5

4

3

3

3

88

Martin Collen

5

4

5

4

4

4

4645

Mogens Just

10

12

12

11

11

11

7588

Ian Porter

12

7

7

6

5

6

239

Poul Ammentorp

16

14

14

13

13

15>14*

9355

Søren Jensen

17

16

15

14

16

20>19*

8868

Mike McNamara

25

18

17

16

15

13

864

Nick Seraphinoff

33

32

30

34

34

31>30*

4123

Al Schönborn

35

27

21

21

21

19>18*

80

George Blanchard

43

44

45

43

41

42>41*

9483

Geoff Edwards

49

48

53

54

54

55>54*

7673

Mark Taylor

52

53

54

50

50

52>51*

* W8888 crossed 14th but was DSQ