Uncle Al's Worlds Diary
Wed 22 July: uneventful flight to Copenhagen via Frankfurt (see Marc with Frankfurt-type refreshment below) where we had a brief look at some sights during a 6-hour stopover - met by Jesper Friis - fine dinner from Aida highlighted by napkins showing a chart of the area around Rantzausminde where we would be cruising the next couple of days - talked Wayfarers, Worlds, etc. 'til 0200
...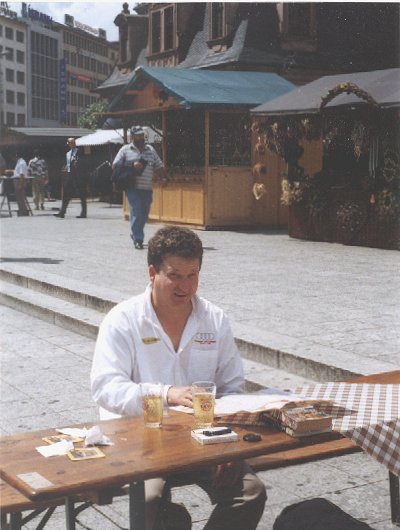 ...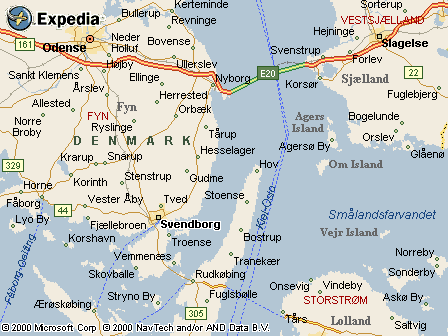 ...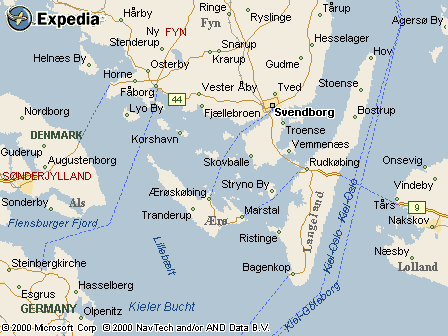 ...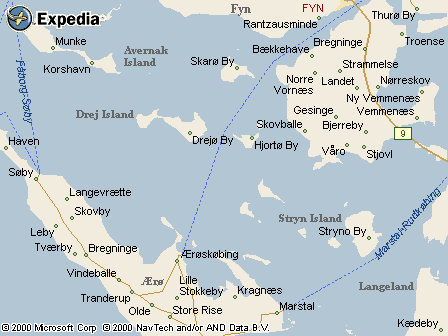 ...

Thurs 23 July: off to Rantzausminde on south end of Fyn near Svendborg (see maps 2 & 3 above) via the new bridge that connects Copenhagen's island, Sjælland to the island of Fyn (see top map) – toll nearly as much as on the ferry but bridge much faster and no reservations required - arrived early afternoon under cool, threatening skies – informed by Arne Stahlfest that yes, Denmark did have a summer: a Sunday in May – huge field of Wayfarer tents

...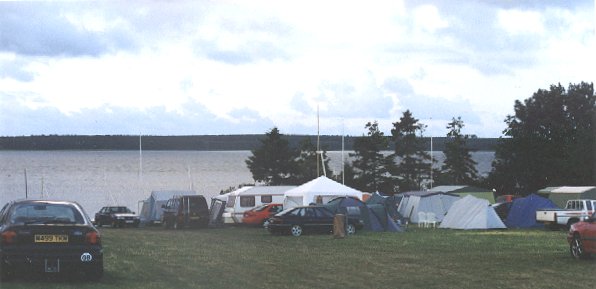 ...

with sailors from Denmark, Norway, the Netherlands, the U.K., Ireland, the U.S. and now, Canada. Of course, we hadn't thought to bring a flag (photo below) – even Danish Olympian, Mogens Just, was there relaxing with his family

...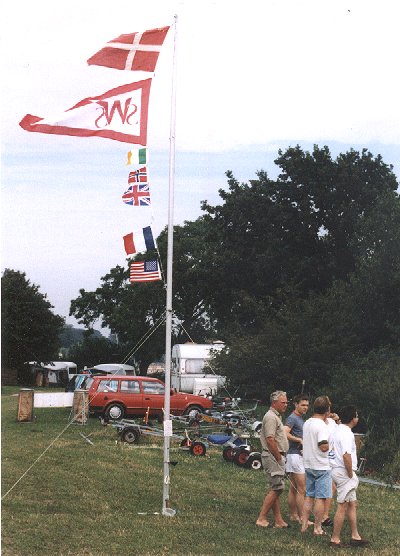 ...

- as promised, the Ammentorps had brought us tent and sleeping gear, and when it looked like it might rain, Rene, Pi and Gry had even put the tent up for us

- met Ralph Roberts who invited us to sail his Wayfarer World that he and Cedric Clarke had sailed from Southwold in Suffolk via Den Helder in Holland to Esbjerg in Denmark – after all those days of sitting in his Wayfarer World, Ralph said that his derrière was so sore, he never wanted to sit in it again and that Marc and I were most welcome to try her out – which we did: in the moderate winds, it felt much the same as any other Wayfarer. The asymmetrical spi was fun but gives the same problem as a genoa: it won't fill if you're too far off the wind. One problem with the World: there seems to be no place to safely wedge an open beer bottle – tsk! tsk! – see photo below of Ralph's "baby" on display at the Worlds

...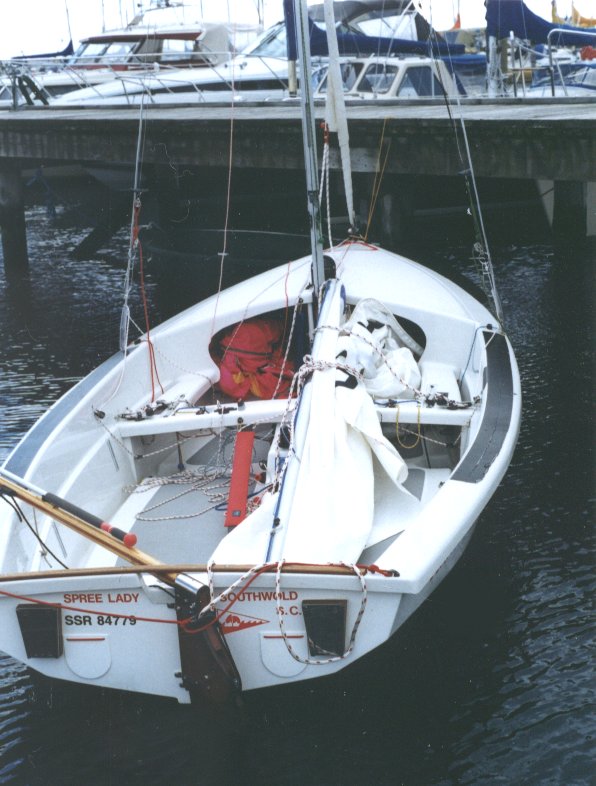 ...

When we returned, the place was abuzz as Bob and Clare Harland had sailed in from Kiel (map below on which Rantzausminde would be not too far north of the island of Ærø) to complete a little jaunt that had started with Ralph Roberts in Southwold!

...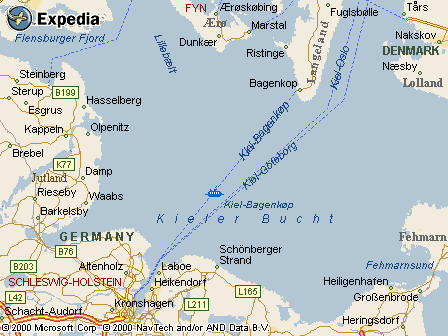 ...

After a brief nap after checking in (see bill below) to test out the tent and remedy jet lag, we were awake in time to watch a number of Wayfarers paddling in from an extended daysail to the island of Ærø. Poul Ammentorp was among them but fortunately the paddling had not exhausted Poul too much to barbecue a fine dinner for us since he had two good strong paddlers, our 'Coach', Jesper Graves Petersen and the Irishman with the flu, Desmond. The Desmond-disease eventually made its way around our group and we were coughing and sniffling throughout much of the Worlds. After a great dinner at Poul's campsite, complete with wine and coffee with "cream" (= scotch), we moseyed on over to the beach where a bonfire was in full swing and we talked and sang until about 0230

...