Uncle Al's Worlds Diary - 2
...

...

Sun 26 July: Danes bearing gifts: Søren and (above) Jetta and their two lovely young children brought us breakfast which we thoroughly enjoyed at length in bright sunshine aboard our "bed" – then it was off to rig our borrowed treasure until the Coach once again leapt into the breach, volunteering to come to the local airport with Al and give him a ride back after Al dropped off the rental car – measuring was delayed as the measurers were busy rounding up the last of the borrowed boats, but Jesper gladdened many hearts when he proposed scrapping the measurement of all foils and the acceptance of previous measurers' word that sails measured in – before we knew it, Marc, George, Mike Codd and I had been packed into Søren's and Nick's cars (Nick had rented a modest little BMW!) and it was off to a sumptuous dinner in downtown Århus and a relatively early night after that.

...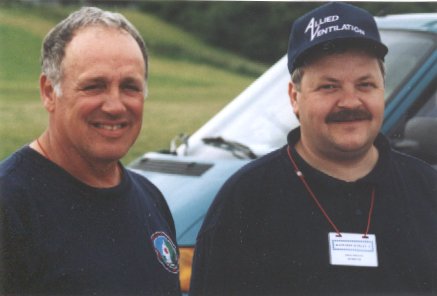 Our chauffeurs, Nick Seraphinoff (left) and Søren Gøtzsche, prepare to drive us to dinner in the lovely town of Århus.
...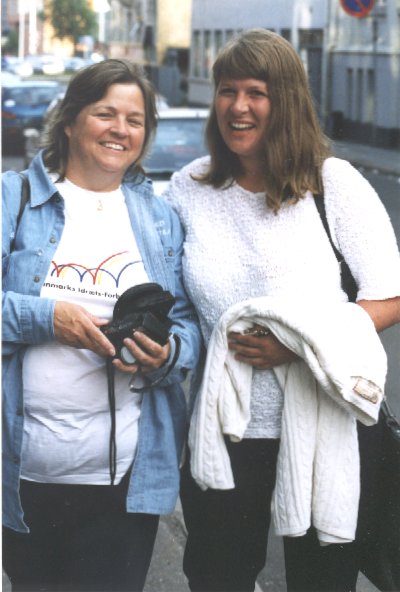 Mary Seraphinoff (left) Jetta

...

Mon 27 July: Mark and Paul Taylor, the final Canadian team, had arrived at 0030 and were soon hard at work trying to get their buoyancy test passed – they finally made it although there is some doubt as to how this boat actually passed – Nick, doing the dry test with Søren, had no problem at all until much to the latter's chagrin, Nick admitted that he had kept his finger over the appropriate hole. The immaculate conception, I think, has something in common with how this buoyancy test was finally passed…
...

Measurement/Buoyancy Test Day
...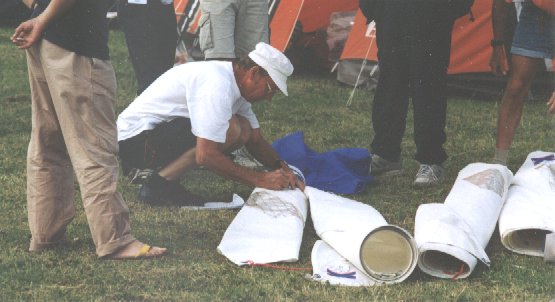 Longtime SWS rep to the WIC and Chief Measurer, Jens Konge Rasmussen, gives his 'Seal of Approval'.
...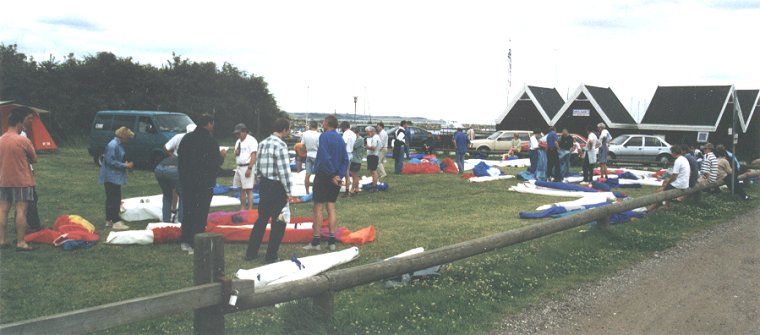 Since the weather remained benign, measurement was conducted outdoors on a pleasant afternoon.
...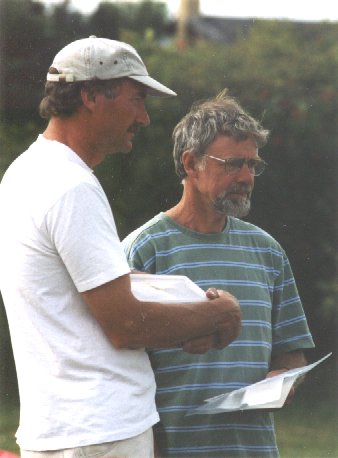 Poul Ammentorp (left) and Joel Bøgh get serious - for a moment or two.
...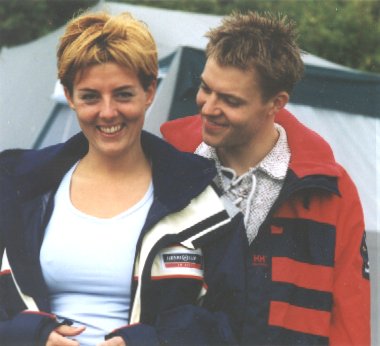 Christian Friis (right) and his friend helped both ashore and afloat - I seem to recall some of my few on-the-water pics came from Christian.
...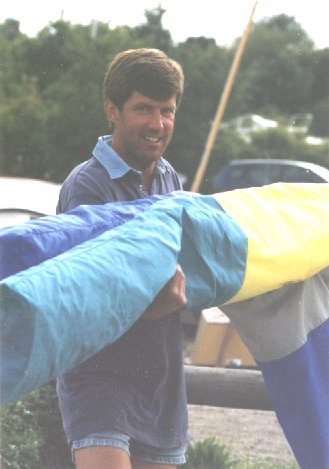 Simon Clayton (W875) prepares to 'get measured'.
...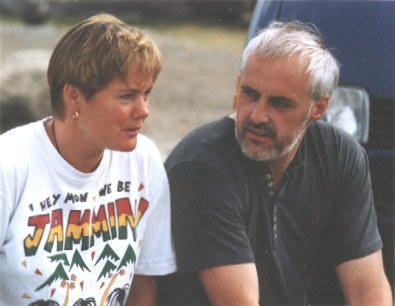 Rachel Mockridge (W875 crew) and Colin May while other scurry around.
...
Mike Mac and Simon Townsend put on the finishing touches.
...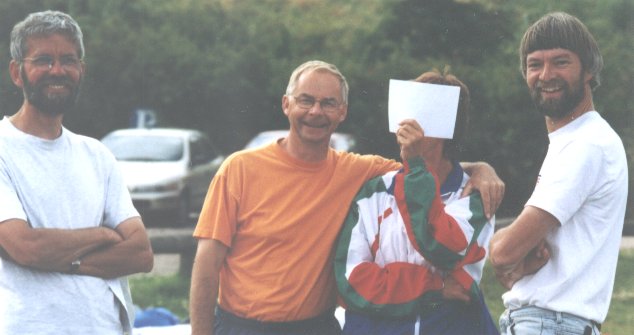 From l to r: ???, Arne and Vibeke Stahlfest and Steen Antonsen.
...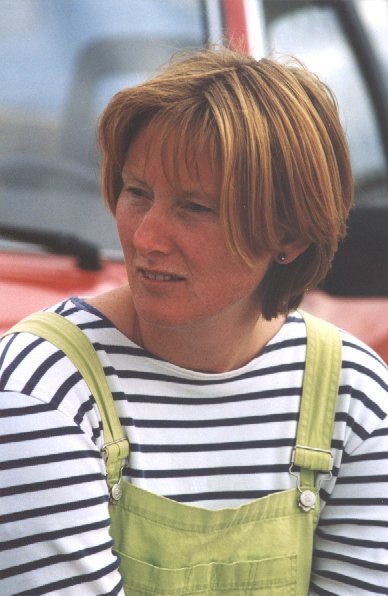 Ernst Henriksen's daughter and crew, Susanne Holt, of W5942
...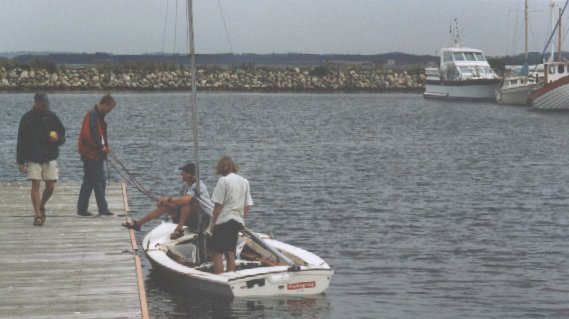 Kristoffer Møllevang/Jakob Karbo complete their buoyancy test.
...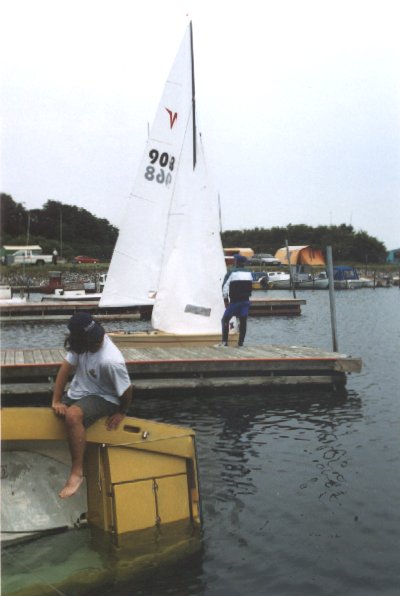 Paul Taylor looks enviously at W9068 heading out for some practice during the Yellow Submarine buoyancy test...
...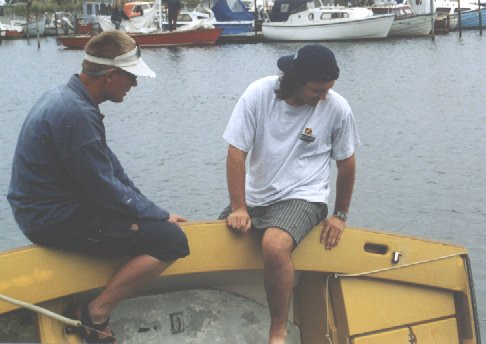 ... while Thomas Raun-Petersen helps...
...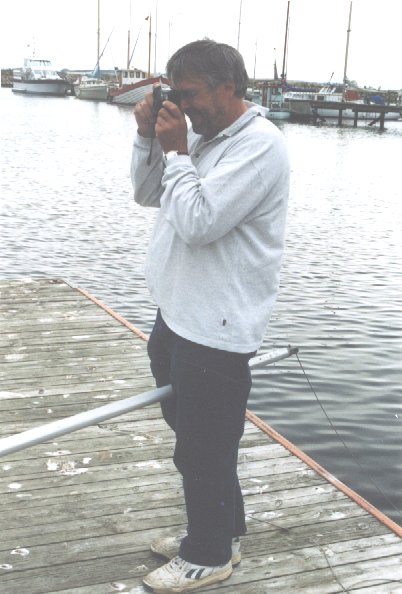 ... and Anker Mørk Thomsen records the event for posterity.
...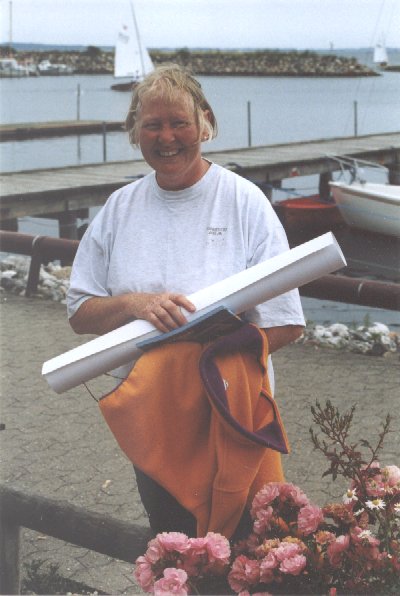 Joan Sayers, wife of UKWA Chairman, Chris Sayers, returns from 'shopping' along the waterfront???
for more waterfront scenes, click here

......

The afternoon brought the practice race in 7-10 m/sec of wind (j ust about the best winds of the week!). As we were on our way out, a little 8-foot rubber duck came roaring up behind us and its lone occupant asked if we were competing. When we confirmed this, he proceeded to hover off our bow as we sailed close-hauled and brought out a camera. This turned out to be the excellent photographer, Niels Kjeldsen, who took the picture you saw in the Race One and Two Reports while steering the boat with his knees. We were too fast for him (a rarity that week!) and he took the shot just as we began to bear away to avoid running him over! Mike Mac won the race which did however take its toll: Nick's recently operated knee left him less mobile than was desirable, especially on tacks and later that evening he tried to get a handicapped sticker while gassing up but even that was denied him; a great handicap for Ernst Henriksen, always one of the best Danish racers, as he neglected to fully raise his board before winching his boat onto his trailer – the board wedged against a loose block caught in the box and snapped, leaving Ernst with a board that was not good; Norway's Gudtorm Heldal became the first of three wooden boats to be holed during this event!

A welcoming reception (for photos click here) for all participants later that afternoon with free beer, Wayfarer Stompers music and a new Worlds song written to the tune of The Wild Rover by Jesper Friis. The latter was done in instalments, the first verse Monday, verses 1 and 2 Wednesday and we sang all 3 verses on the Saturday. We were welcomed with fine speeches by Torben Møller and Steen Ammentorp. There were a few smiles when Torben's attempt at bidding us 'heartily' welcome sounded a bit more like 'hardly' welcome but I tended to be extremely tolerant in light of the difficulties I was having with my attempts at Danish…

Our night was rounded out with another feast in downtown Århus, this time in the Italia where we got to cook our own steaks on hot lava rock left on a wooden plate at our table (photos below) – it was during this meal that Nick and Søren came up with the name Mixed Nuts for their boat.
...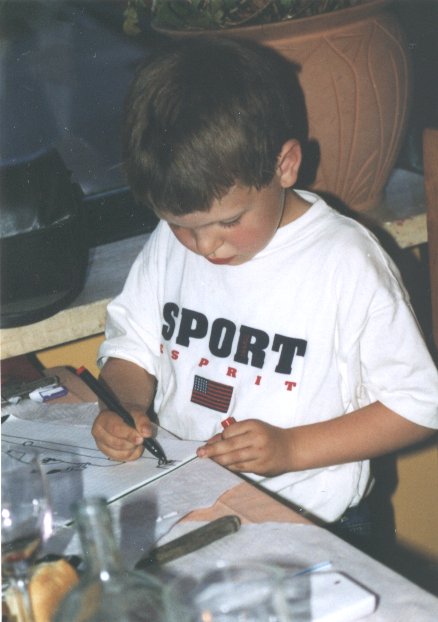 In the restaurant, Rasmus was very well behaved, creating a souvenir (above) for Marc...
...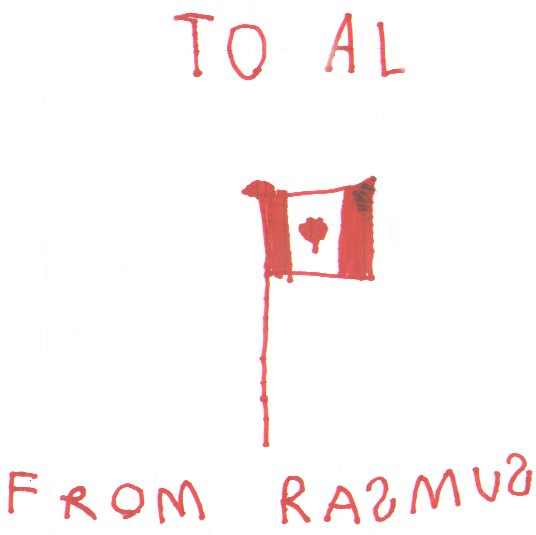 ..and one for Uncle Al.
...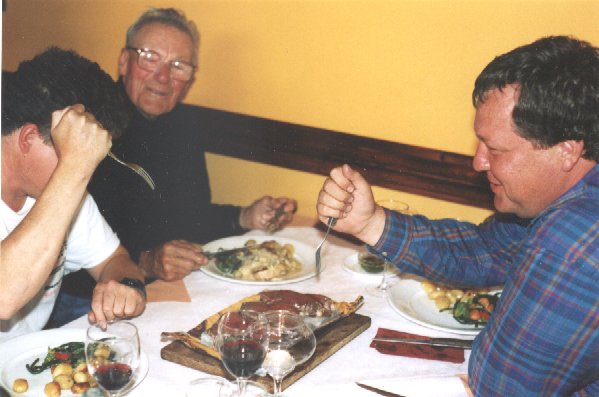 Among us adults, the standards of behaviour suffered a bit at times. Above you can see chefs, Marc Bennett (left) and Mike Codd (right) barbecuing their steaks on a very hot slab of stone right at the table as George Blanchard looks on.

...
Tues 28 July: the first two races, and Nick was nearly late due to early morning shopping and pasting the name on their boat! An excellent self-serve breakfast with lots of coffee and tea between 0800 and 0930 with the first gun set daily for 1030. Only Poul and Irene did not really need the Coach's cold beer after we came in. His other two charges, the Schönborn and Jensen crews had had bad days and were in dire need! The evening was another story however, as the free beer preceded a marvellously delicious dinner at the sailing club and lots of singing, socializing and fun until bedtime.