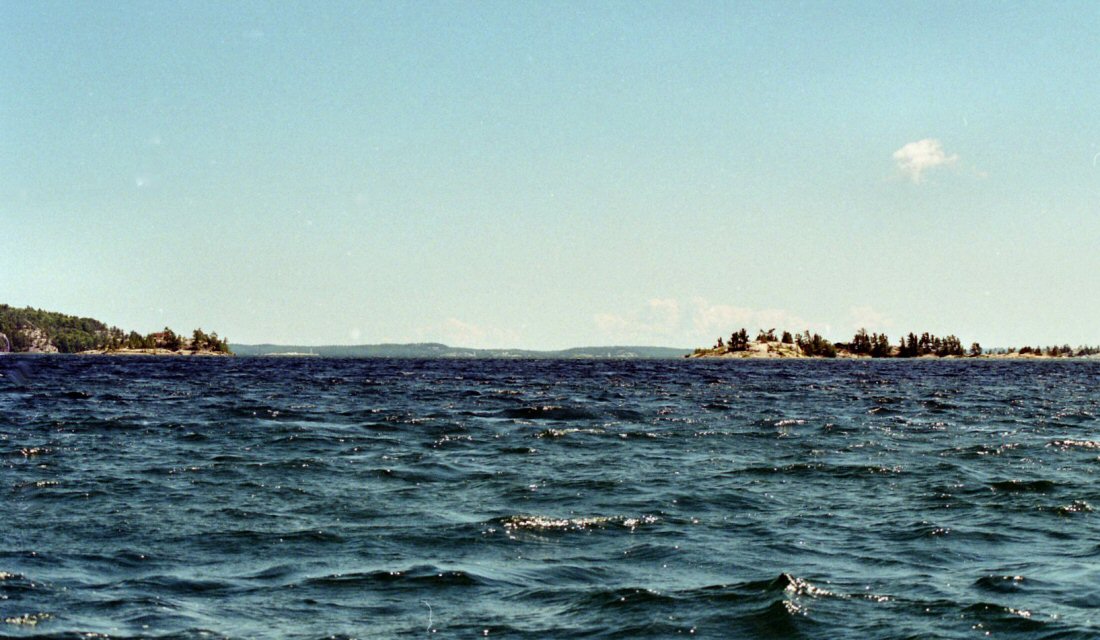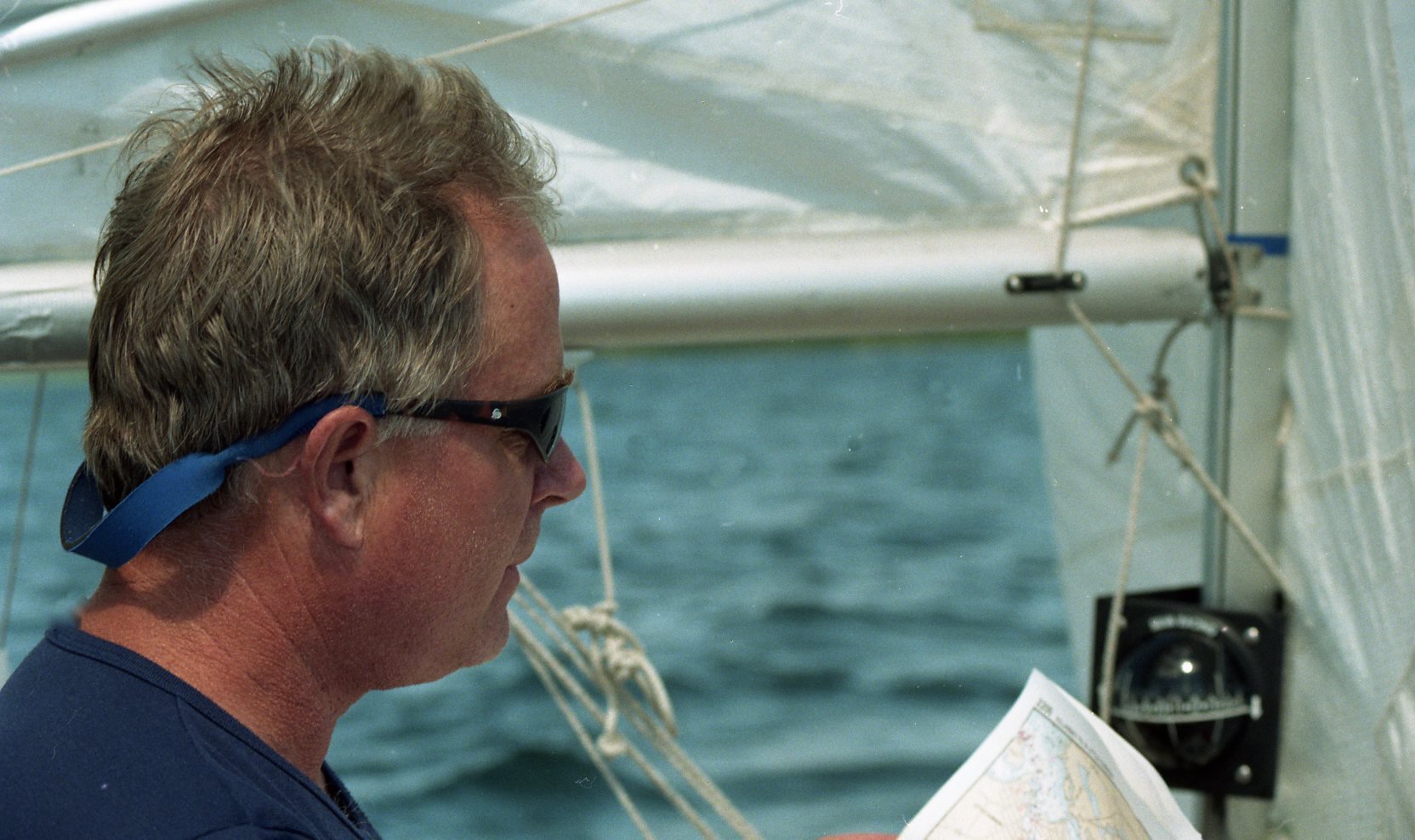 So the
Whirlwind
crew wasted little time getting underway (about 1000 hrs), nursing their way through small advance parties of what would likely become an onshore lake breeze from the south. Over our hill-top breakfast of cereal (from boxes) and milk (our one-litre carton was still fresh), bread and cheese, washed down with brew from our lone luxury, a Bodum coffee maker Al had won for placing 3rd in the '96 Danish Nationals, we had noticed "wall to wall" ripples to the south so we tacked at every opportunity to get there.
Once Al's suggestion that we tack over towards Killarney for a brunch chez Mr. Perch had been vetoed, all our energies went into reaching the wind. We resisted the temptation to go the shorter route via the Lansdown Channel since it looked like a sheet of glass. The approaching wind also seemed to have some east in it which might leave the Channel becalmed all day. After about half an hour we were rewarded by a nice little 5-knot SSE breeze. Being determined not to repeat the 1972 experience but to do our own navigating instead, we forged on at top speed.
After a fairly close port reach along Badgeley Island, we bore away with a view to rounding west of Partridge Is. After a brief lunch of peanut butter on rye washed down with Gammel Dansk, the spinnaker went up and the ride became the thing as the winds gradually worked their way up past 10 knots. Doug and I were impressed with how well Whirlwind sailed on all points of sail despite what must have been 200+ lbs. of gear fore and aft and in between!
A nice gybe at Partridge Is. and now we were positively romping past Heywood Island and Badgeley Point. With winds nearing 15 knots, Heywood which had been our destination in case of lack of wind, was not going to be needed.
Visions of making the 1450 Swing Bridge opening (Tim had told us it opened at 10 min. to the hour) into Little Current danced in our heads as we surfed northwards past what we presumed to be Strawberry Island. It was at about this time that we began to note disturbing dissimilarities between what the chart indicated we should be seeing and the visual realities. As the winds were now gusting to 20 knots, we downed that spi, put on our PFDs, battened the aft hatch and finally hove to with a butt and a drink to contemplate the matter. We finally headed north towards the nearest visible cottages. At last we spied one with signs of habitation - a young lady on a sturdy dock. Just what we needed. With the essential panache, we headed into the wind and stopped perfectly, just short of the lee side of the dock.
With just a titch of embarrassment, we asked our location. The (lovely) young lady replied: "I'm just a guest - but I think that's Wardrope Island across from here. I'll go ask the owner." By the time a second young lovely had arrived, those intrepid mariners, Doug and Al had figured out that they had somehow ended up on the La Cloche Peninsula which forms the western limit of McGregor Bay! Now we were facing a 5-mile beat just to get back around Little La Cloche Island. In winds gusting to 20!
On our wet and windy way back out of McGregor Bay we met an Interlake being sailed by a father/son team. As we passed near them, I asked if they were from the Bay. When they confirmed this I asked them to say "hi" to Rick Cantwell and that we'd see him Monday as planned. Less luck with another communications attempt as we tried to inform Tim France of our situation via a VHF whose battery had gone dead.
By the time we neared the SE tip of Little La Cloche, the wind had mellowed alarmingly and our worst fears were confirmed when we entered the North Channel and saw that its southern half, from Heywood on in, was a sheet of glass. We were in the remnants of a dying lake breeze which left us completely as we sat north of West Mary Island. Both the north shore and West Mary were a huge contrast to last night's anchorage - low, swampy scrub land that was sure to be bug heaven! And it appeared that we might be stuck here for the night! A dying gasp of SE wind carried us to - and past - the only anchorage on West Mary. We were still hoping for better.
Lo and behold, after only about 15 minutes of varied breaths of this and that, we saw ripples on the water to the west and we tried to drift towards them at top speed. We may even have paddled briefly.
The next thing we knew, we were in a nice, increasing NW wind, which, if the clouds were anything to go by, was part of a weather system wind, and therefore likely to remain with us even as the evening wore on. We re-adjusted our goal to the north tip of Strawberry Island and when we passed that at only 1830 hrs, we decided on Little Current, where Doug knew a nice little marina at the west end of the channel where we could stay the night. Sure enough, by 1940 hrs, we were waiting in considerable adverse current for the 15-minute bridge opening which a sign promised each hour on the hour. Sadly, we couldn't emulate the Danish method of bridge shooting Tim had told us about: Stop, have a schnapps, lower mast, shoot the bridge, stop, raise mast, another schnapps, proceed.
As we passed the bridge at 2001 hrs, the operator told us our friends had gone through at 1800 hrs - confirmation that they had not stopped at Heywood! As we beat up the channel with long starboard and short port tacks, we kept a sharp eye out for the gang but there had been no sign of them by the time we reached "Doug's" marina. We pulled up nose to nose with a huge motor boat at the gas dock while Doug went off to rent a slip for the night.
While waiting with flapping sails, Whirlwind attracted quite a number of admirers, including one very elegant lady who commented that she had at one time sailed a CL - at Boulevard Club! But before I could express my surprise that Boulevard would accept CL's, Doug came rushing out of the office with news from the manager:
"Our guys are just a ten-minute spinnaker run around the corner and across the bay!"
Taking a surprised Doug at his word, I pushed off and we treated the "fans" to the sight of Whirlwind romping out of the marina under spinnaker in a now WSW wind. We were quite pleased to be going to see our gang across the bay, but a bit disappointed that the brisk reach to get there was too close to permit a grand entrance under spi and a dazzling sunset.
Doug however, was impressed when Al asked him to quickly take the helm so that Al could get the camera from the rear compartment and grab the beautiful sunset (below) while it was going by.
.....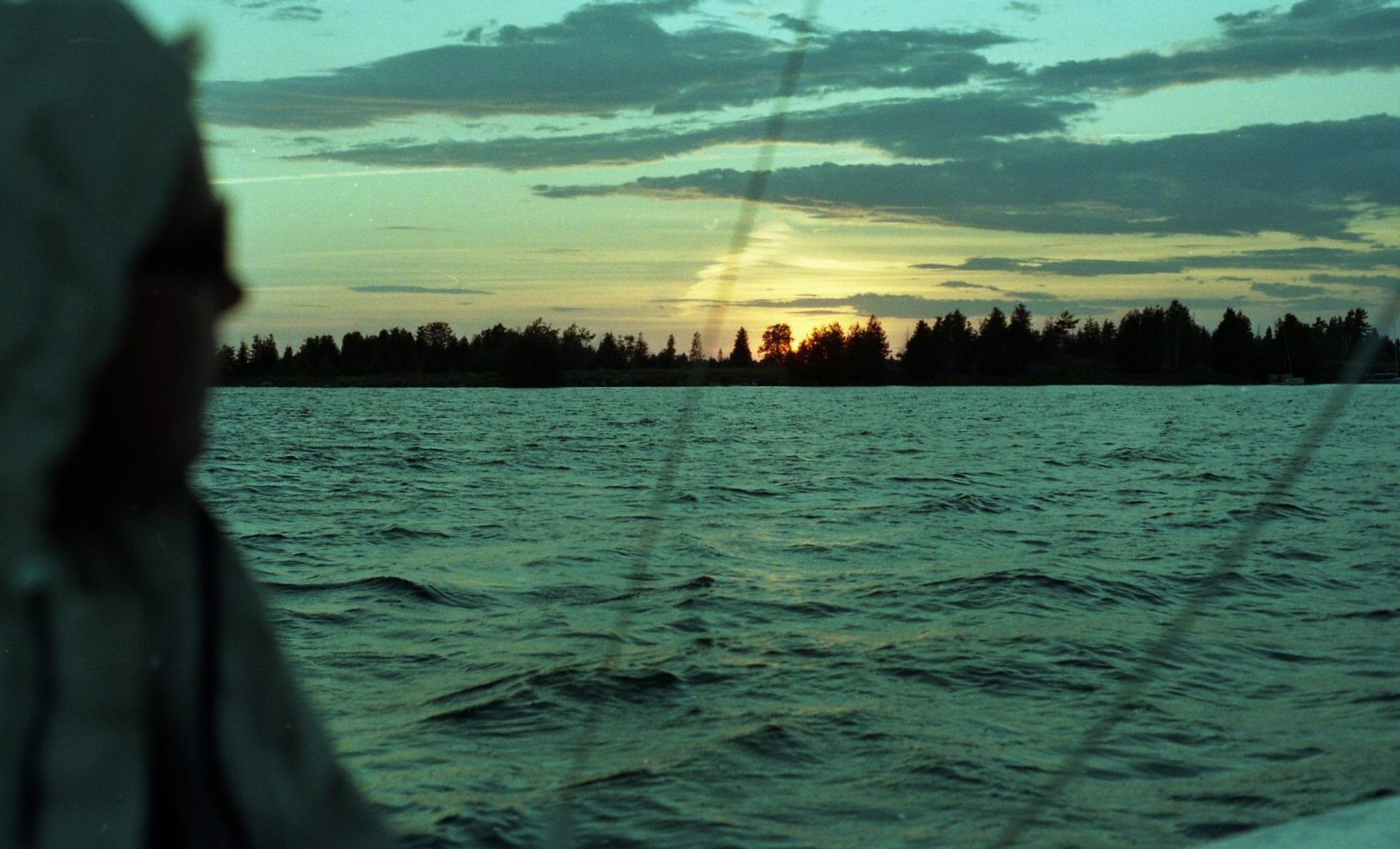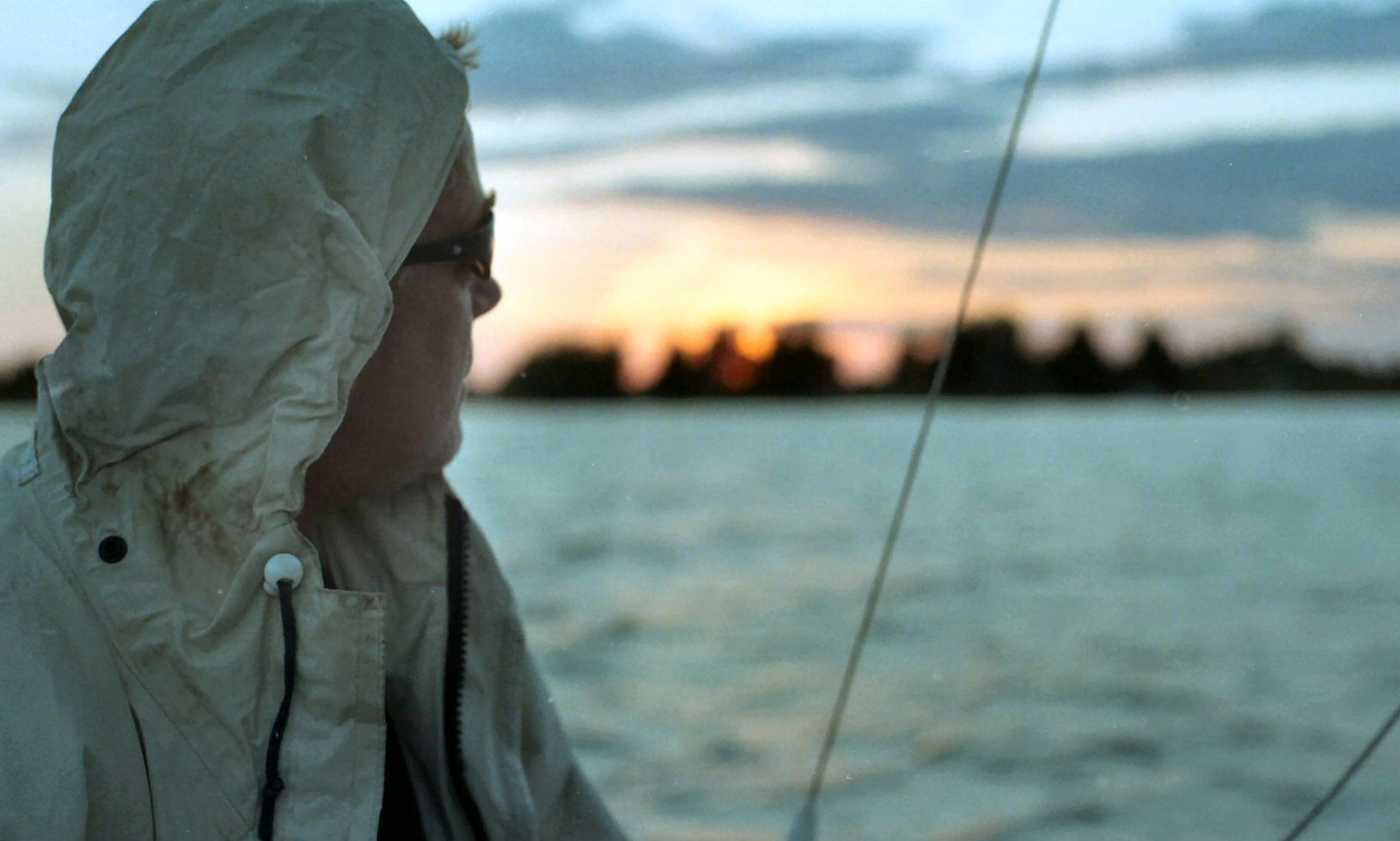 .....


It was 2130 hrs when we dropped anchor to complete a most interesting if exhausting sail that had covered over 40 miles.

By the time Uncle Al had rigged up the boom tent and laid out the sleeping gear, it was dark. Since we had nothing but a flashlight to cook by, Dick Harrington kindly brought over his Coleman lantern to permit our gourmet chef, Doug, to whip up a meal of ground beef with rice plus of course, more Bodum coffee with Half'n'Half cream which had still not gone sour. And all this was ready just as I stepped ashore from my housekeeping duties. And let me tell you: "It was deeeeeelicious!" The second helpings, too! And this is not only due to the fact that we had last eaten at about noon!

Once the lamp was gone, we stayed out to admire the stars since the strong breeze and cool night were doing a pretty good job on the bugs. Just before we went off to a well earned rest, Tim pointed out to us the constellation Cassiopeia, which the Danes call the Wayfarer star since it resembles a giant W tilted 45° to the left.