Saturday 9 August
Needless to say, we were shocked to find Rick at our door waking us up so early in the morning - only to discover that it was not 0630 but 1030!
.....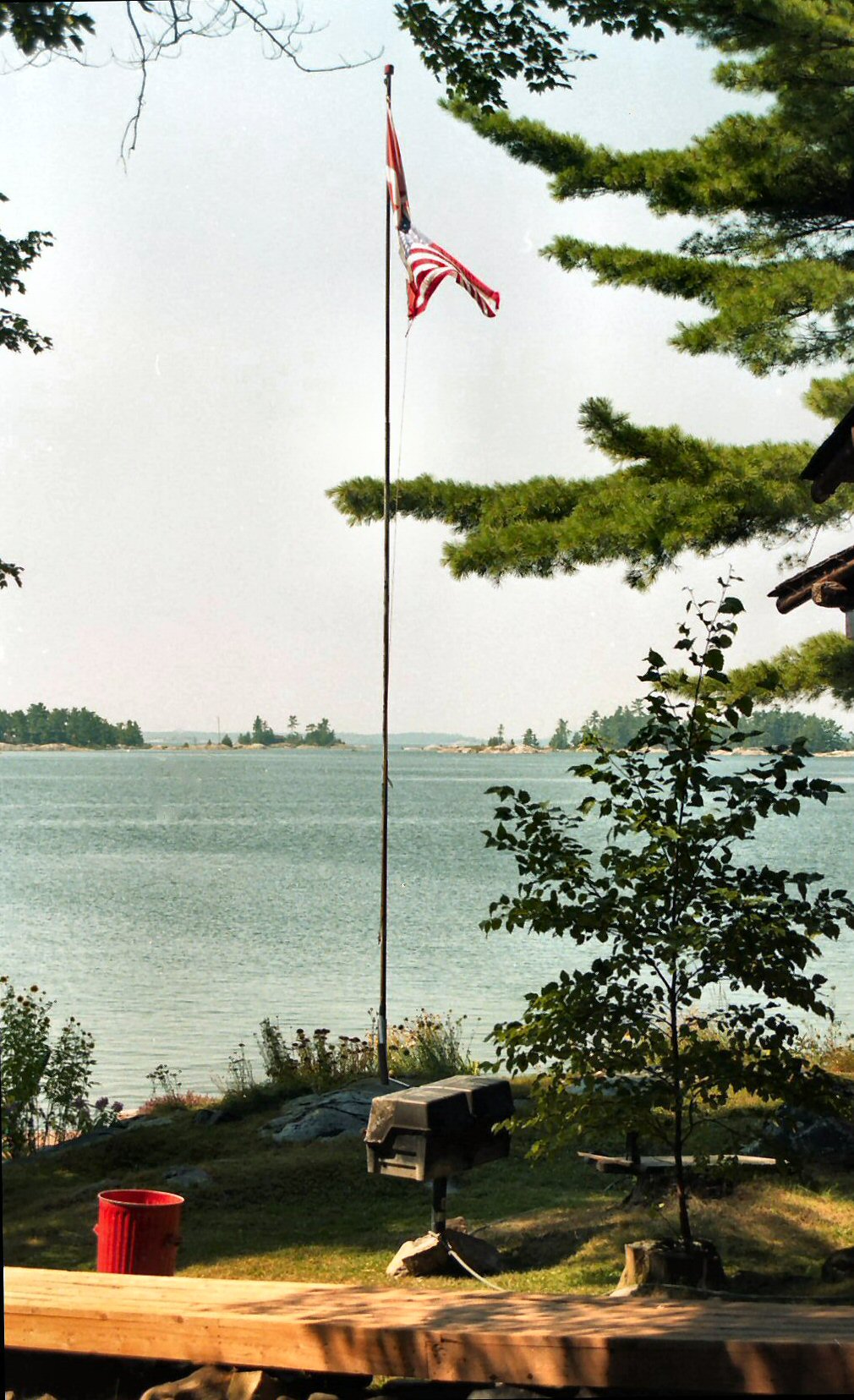 .....
With the Outer Bay Race not scheduled to start until 1330 hrs, we took our time over breakfast, enjoying our front row view (above) of the marvellous sunshine and the SW winds which were already showing promise on the Bay. And we even had sparkling company (below)!
.....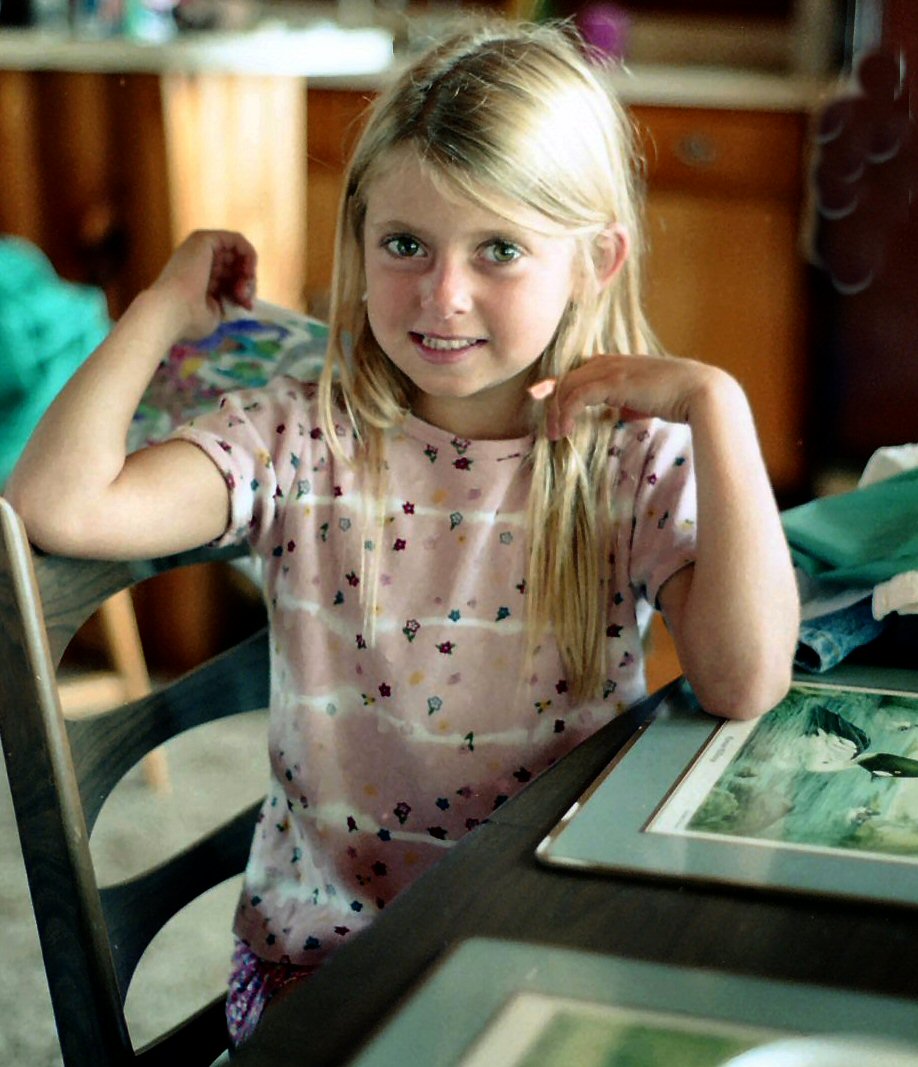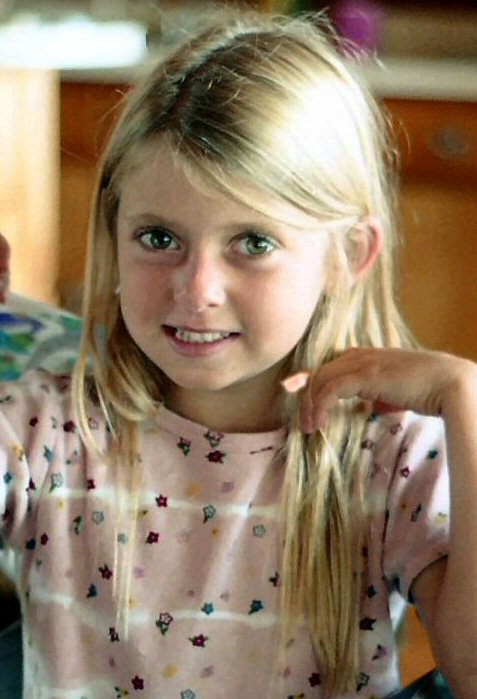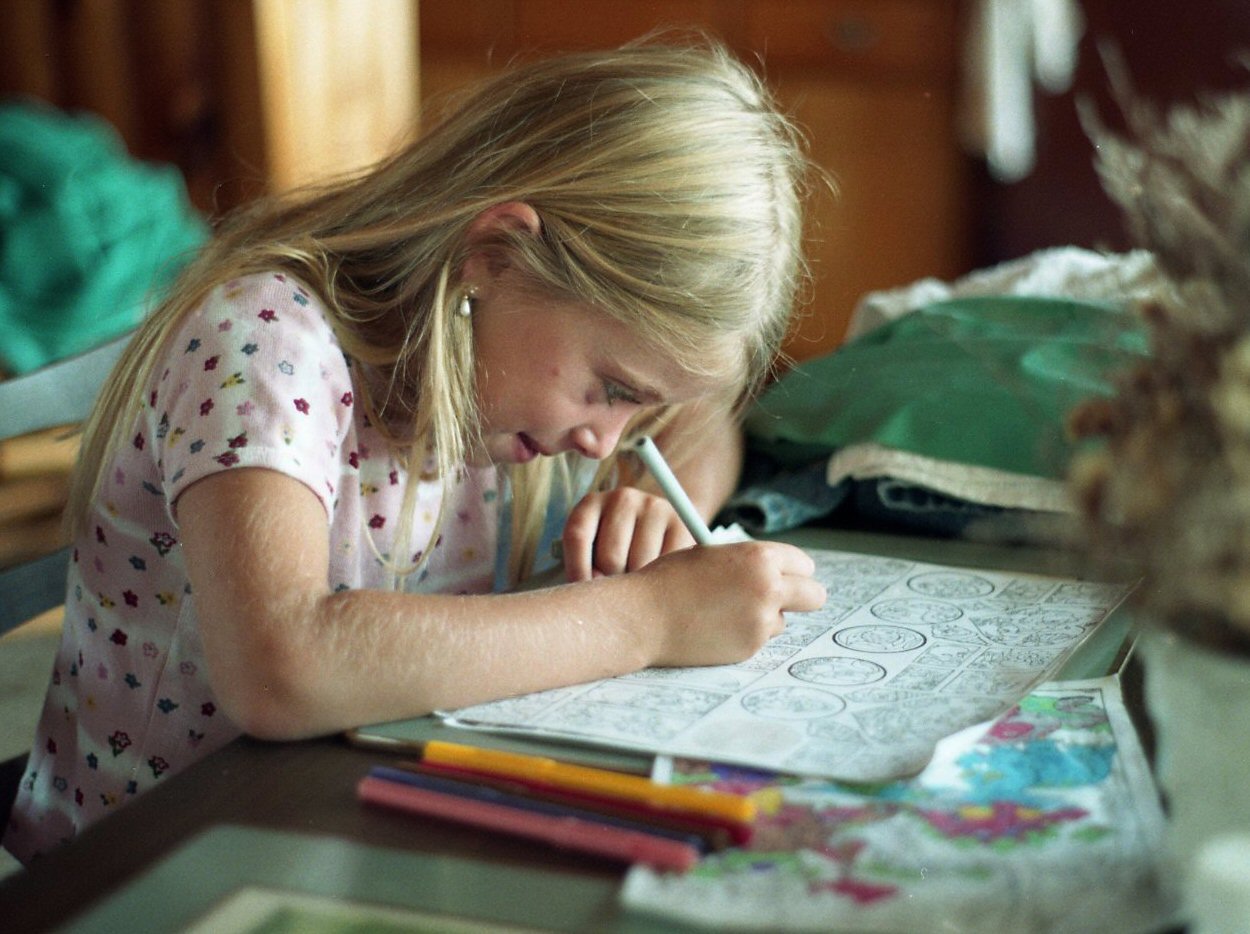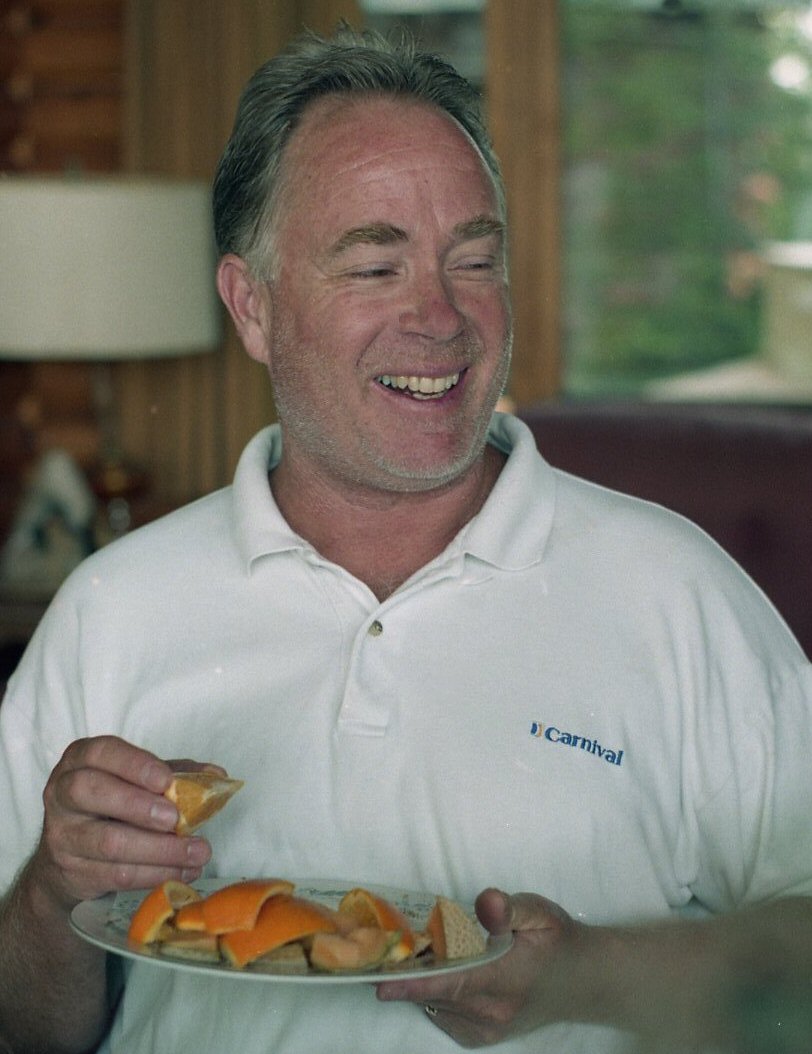 .....
And so the multitudes assembled for the annual Outer Bay Race which was - as always - being hosted by the Cantwells. There were various craft (below) but the only fleet was Wayfarers with four.
.....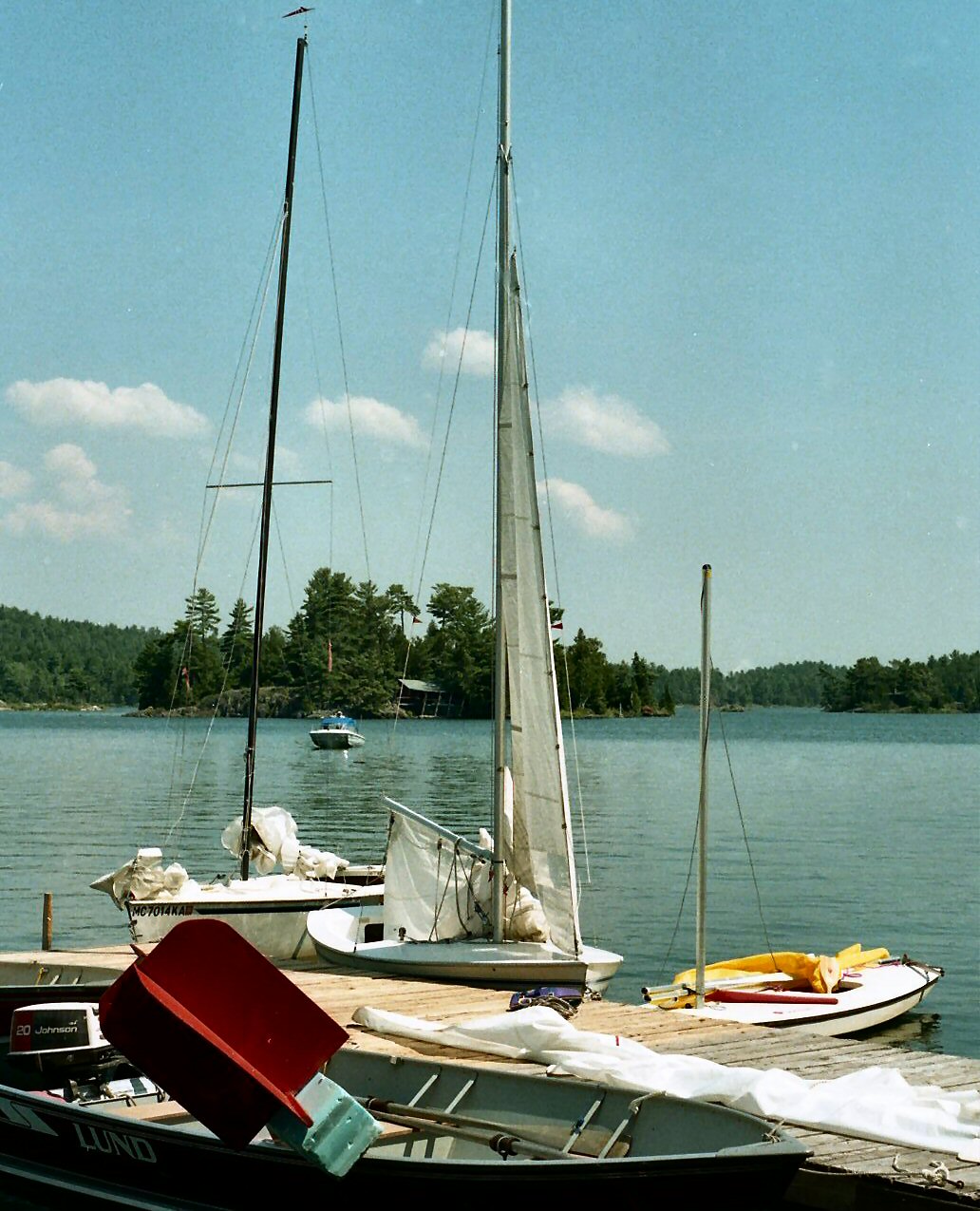 .....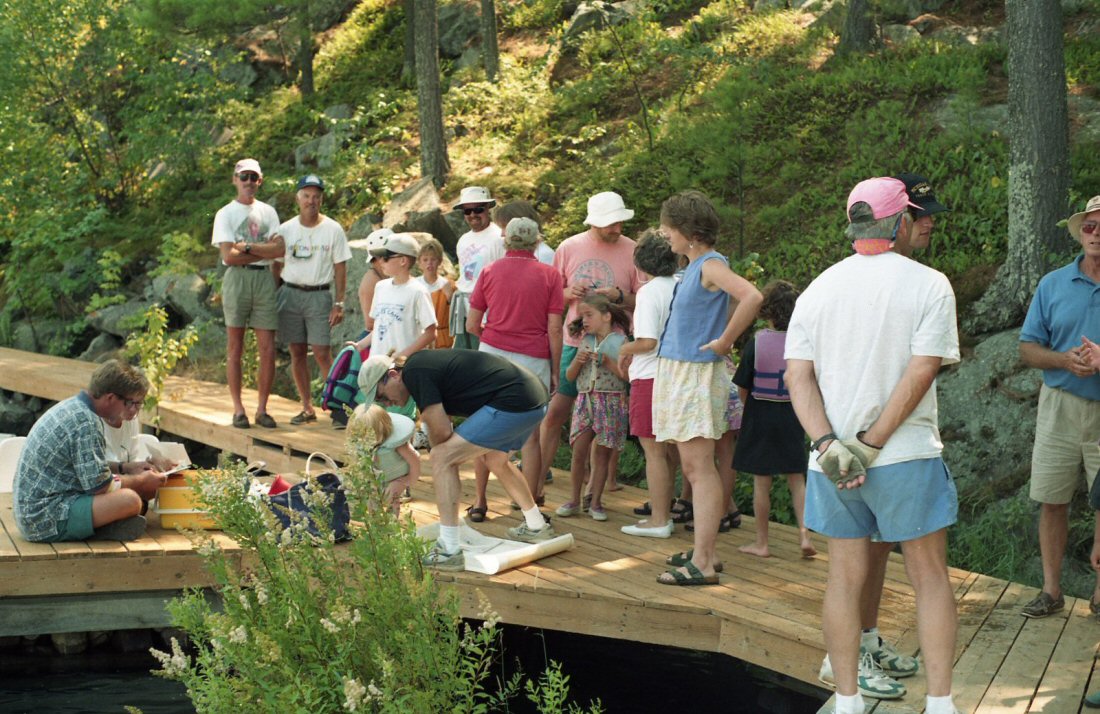 .....
An informal Skippers' Meeting (above) outlined a course of a beat to the mouth of the Bay off McGregor Point (see chart below), a run back to a mark off Jumbo Island from which one was to get back to the start/finish line off the Cantwells' as fast as possible. There would be handicaps but only the Sunfish and the Teal were rated slower than Wayfarers...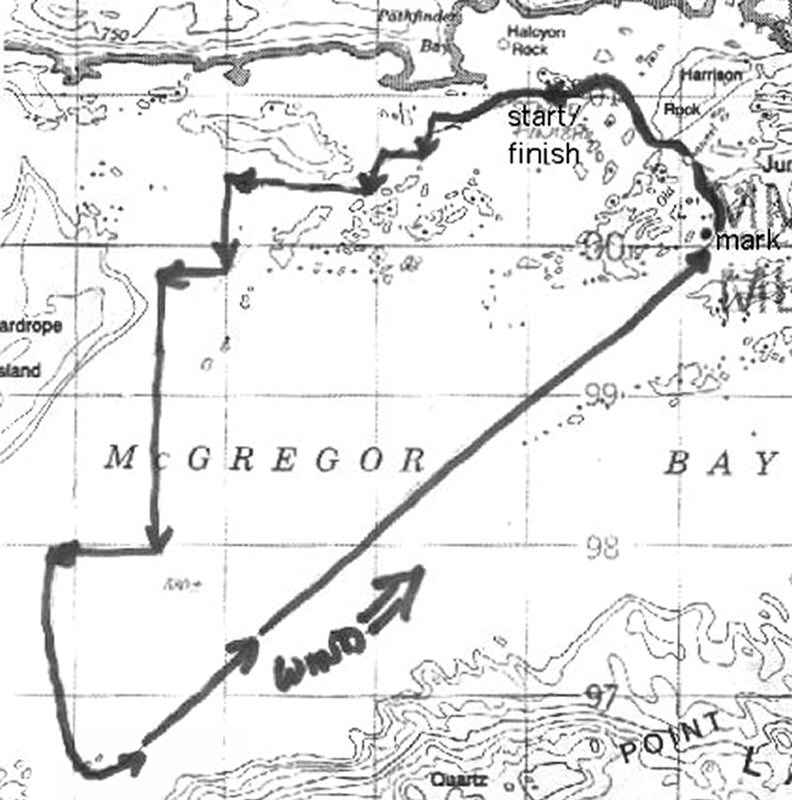 .....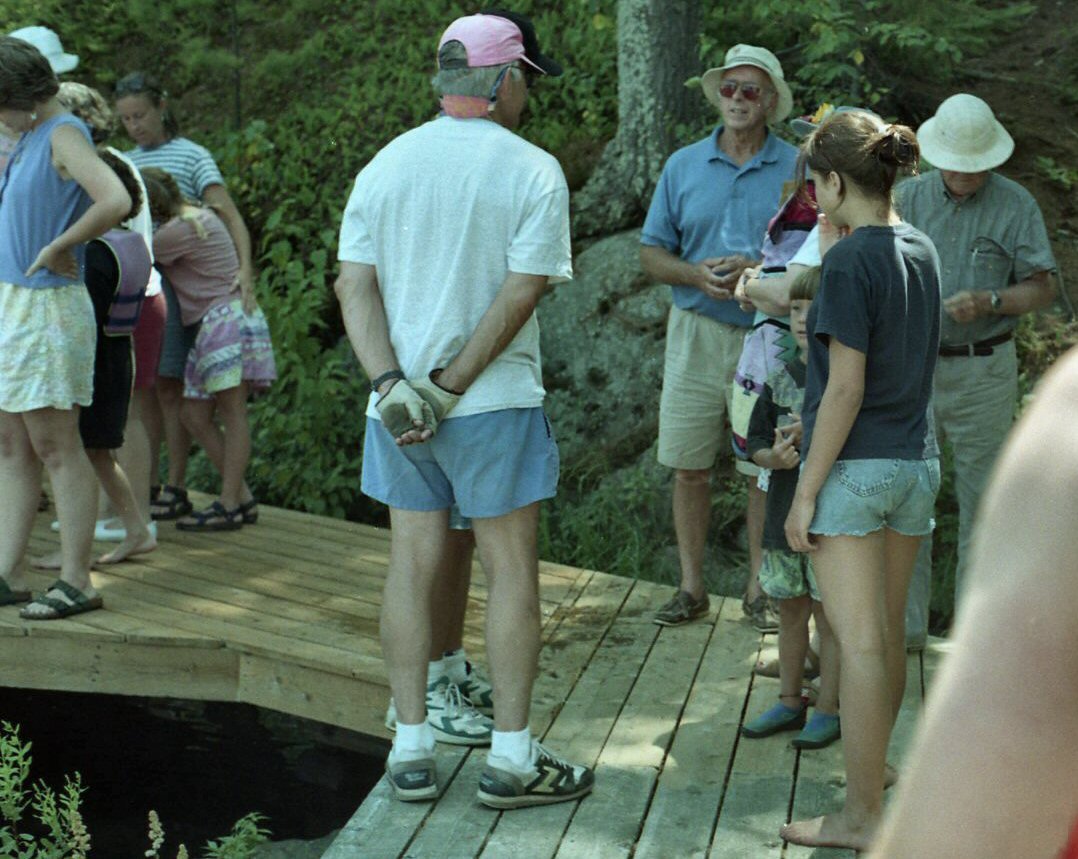 ..........
Other than ourselves in W7222 and defending champ, Rick in W3104, there were the Williams "boys" in W1867 (below) and an old friend, W2083, belonging to Louis Nees whom Al had first met in '72 at the Chesapeake Bay Spring Wayfarer Regatta out of the Podickory Point YC.
.....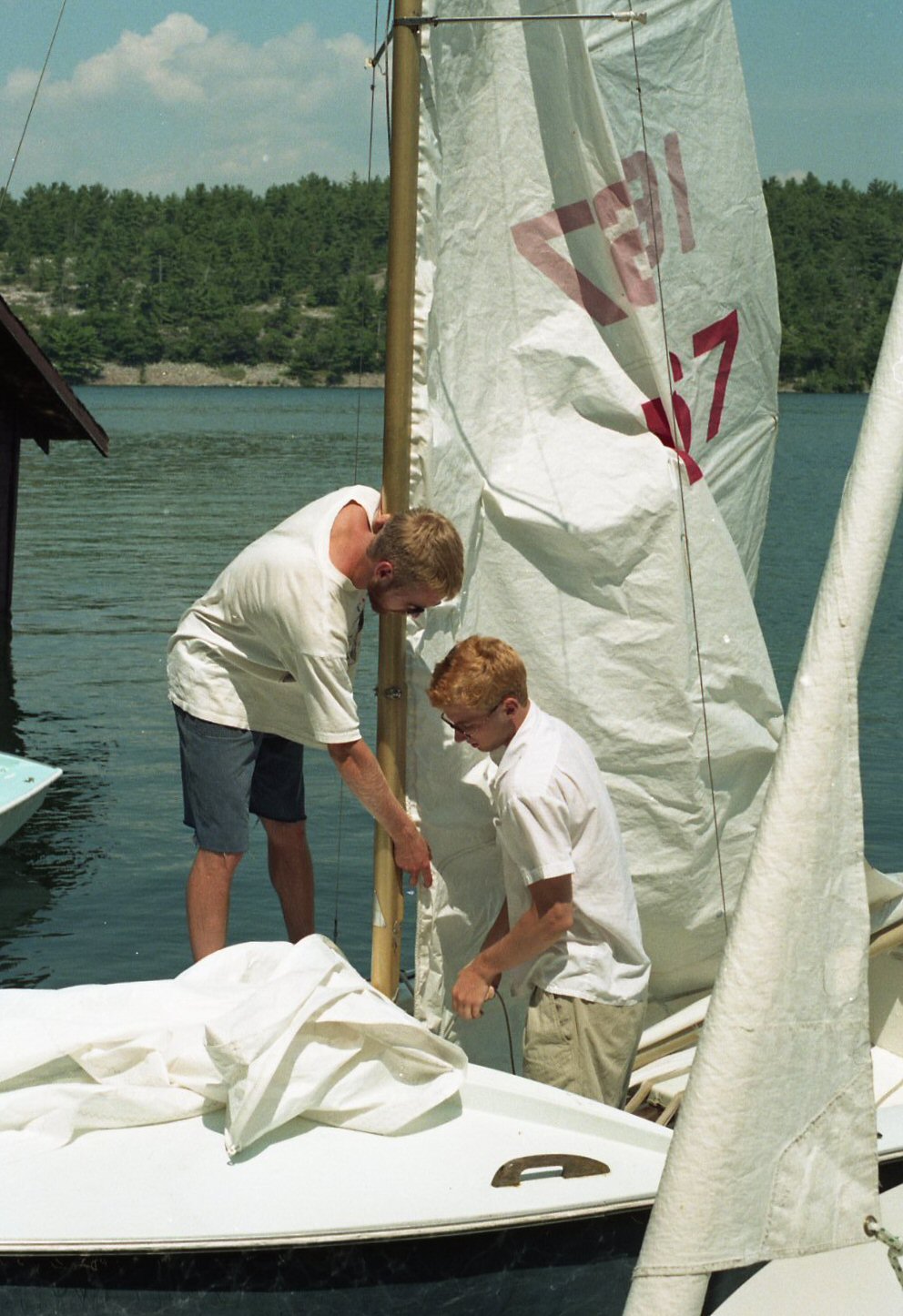 .....
Louis, a very spry 90, now has his W in the capable hands of daughter, Diana, and granddaughter, Emily below). A broken jib halyard nearly sidelined W2083 but then Uncle Al, an expert at breaking stuff, suggested the spi halyard with a bit of forestay pull for tension and they got to the start.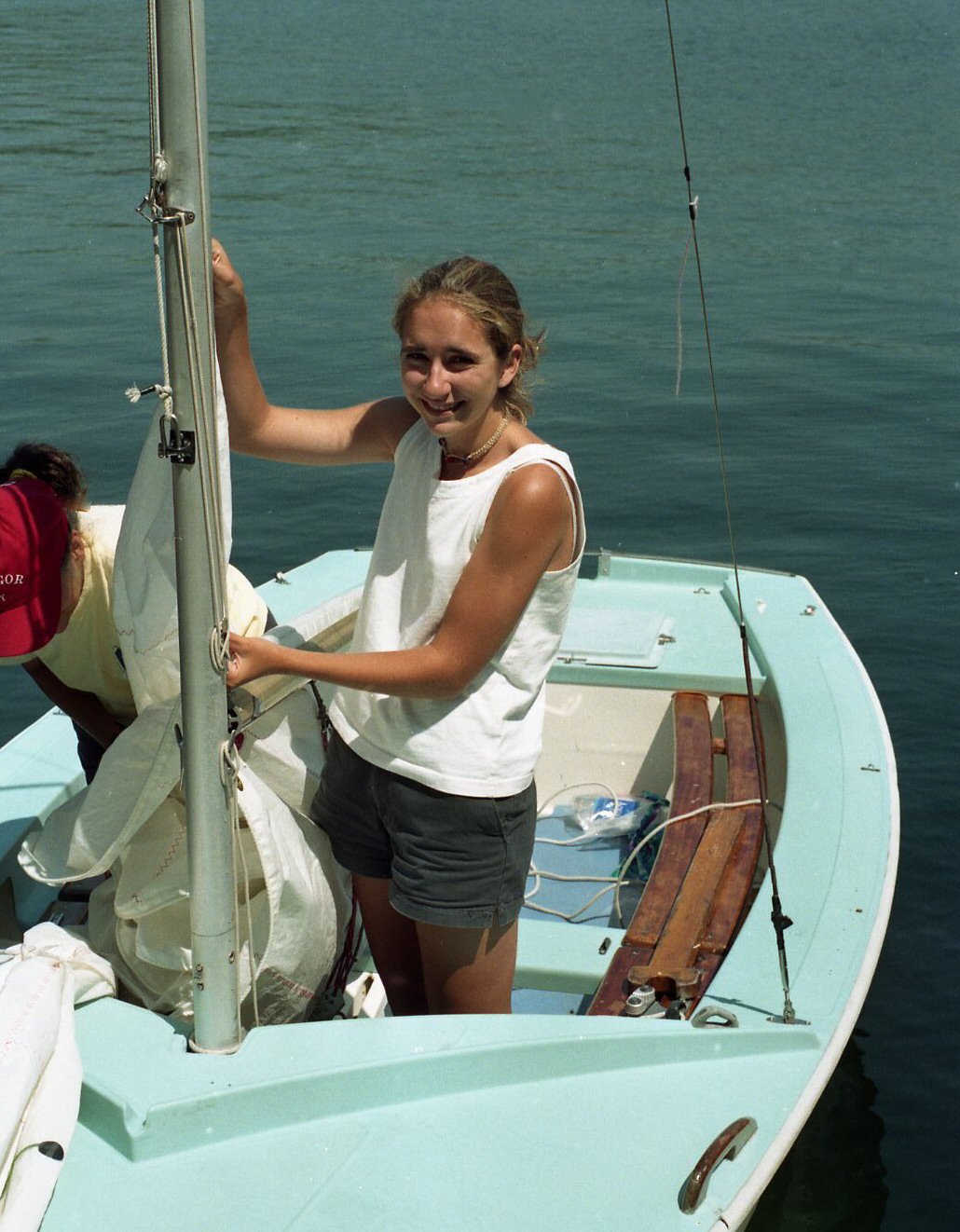 And what a start it was: with one thing and another, the line was aimed almost directly upwind so that it was impossible to tell which way it was intended to be crossed. And there was only a 2-minute sequence so that questions were out. Doug was one of three boats starting on port. Winds were such that you couldn't appreciate the mess at the time but later the hilarity sank in.
Once we had all cleared the start line in "do your own thing" fashion, it soon became apparent that the days we had recently spent in Whirlwind were going to pay off - bigtime! Doug sailed off on a long port towards Wardrope Island and by the time the shore forced us to tack, we were well clear of the fleet.
Doug sailed like a champion, keeping Whirlwind going like a train upwind and we reached the turning mark (an island) with a healthy lead. Having been asked to forgo the spi in keeping with the fleet custom, we winged the jib with our spi pole (I think that may be illegal, but we needed my hands to open juice boxes and light up...)
.....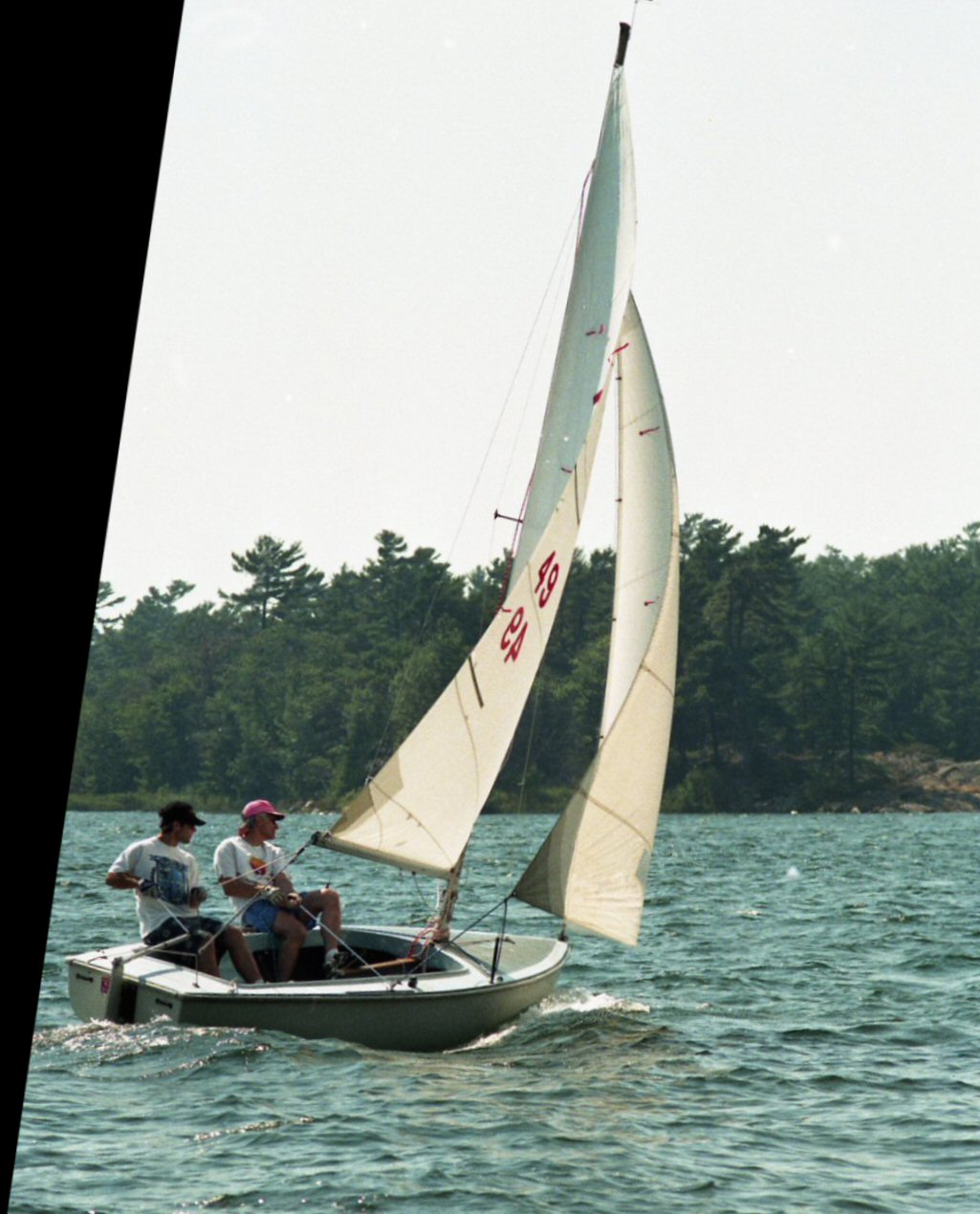 .....
While Doug resolutely went down with the puffs and up in the lulls, Al studied the chart and we actually found our last turning mark dead on. No mistakes in finding the finish line, either, as Doug crossed almost a mile ahead of our nearest pursuers. Slow to unrig, Al missed the W finishes but did capture the Teal (above)... and the Laser finish (below) with the classic McGregor Bay backdrop.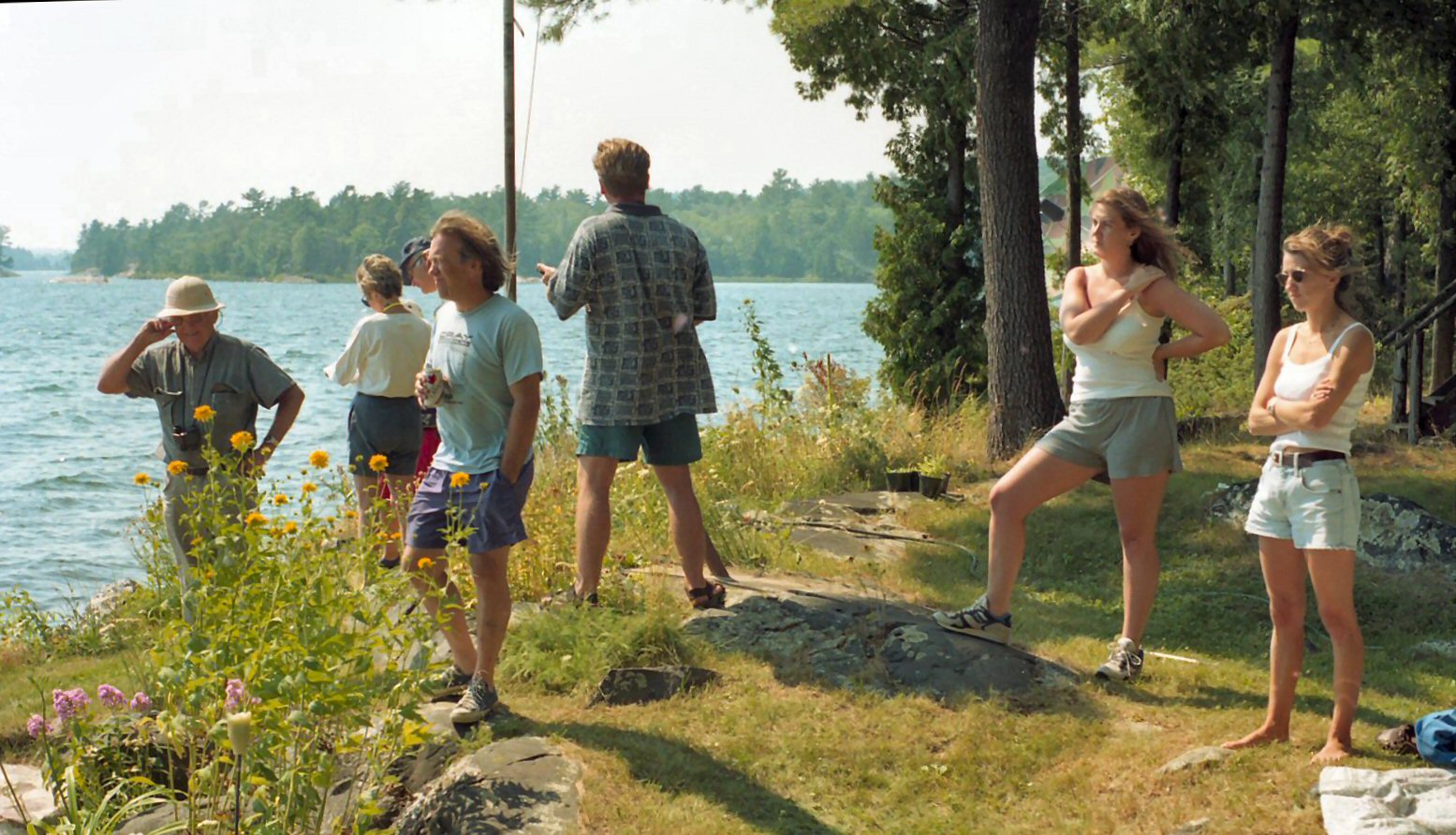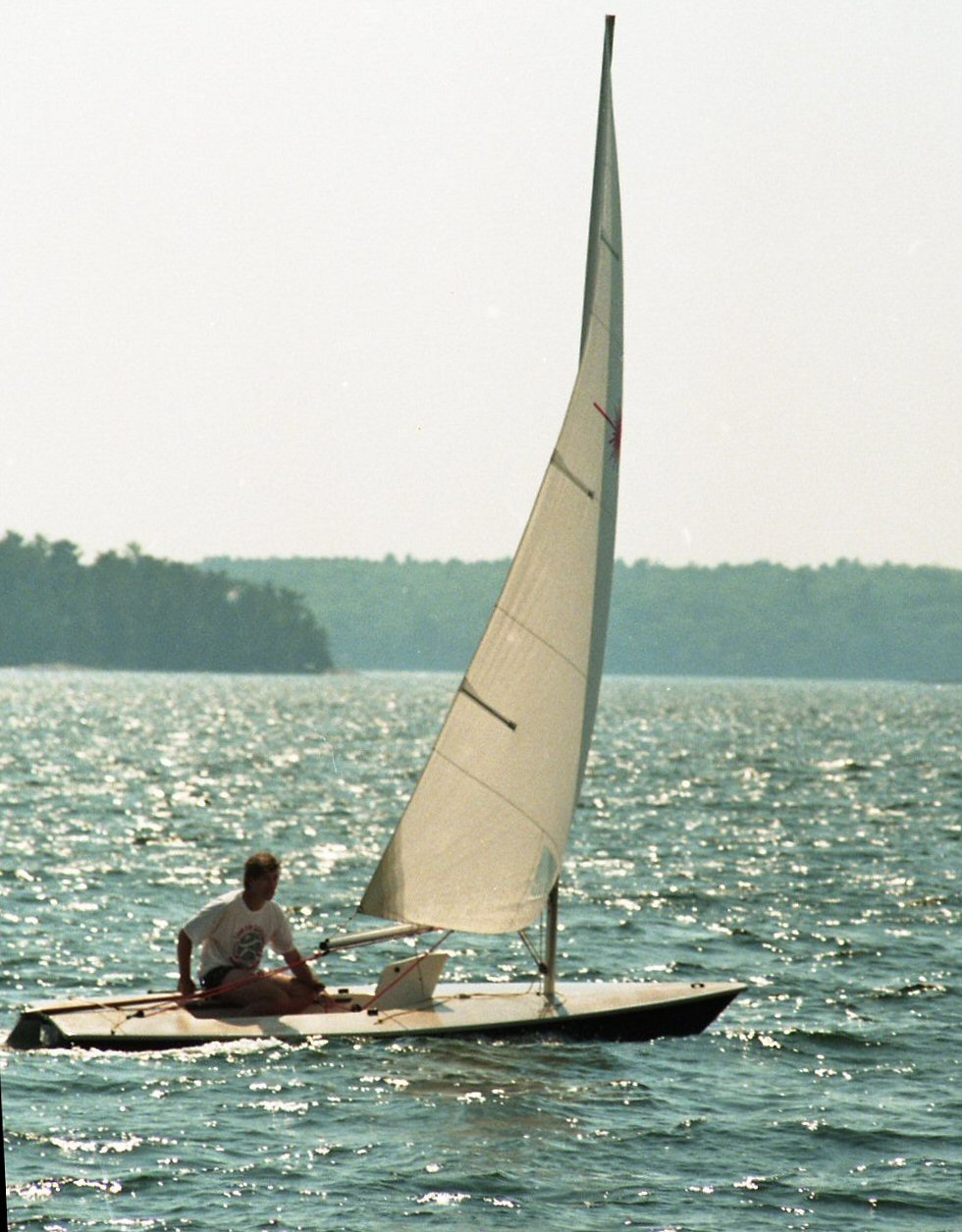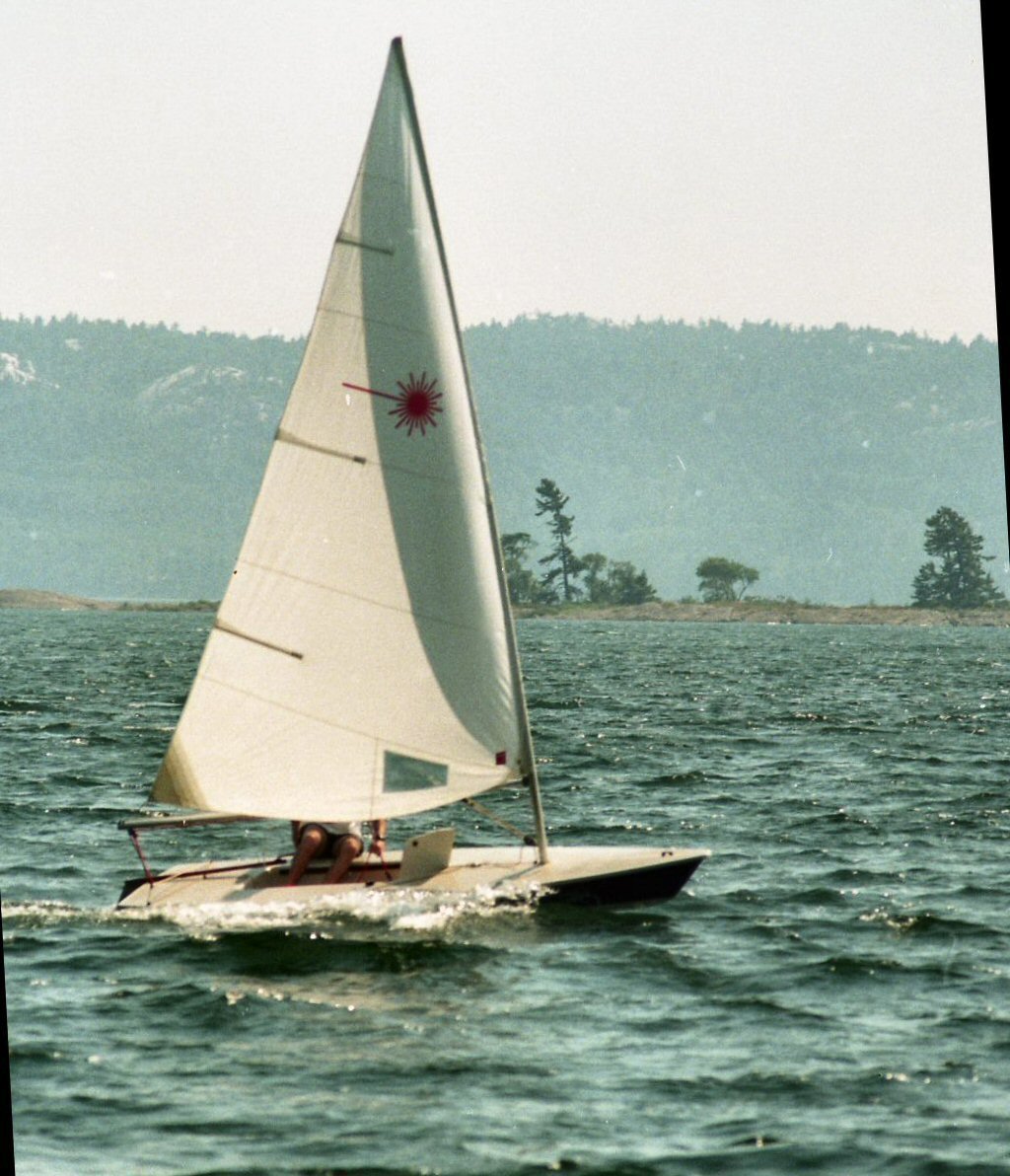 .....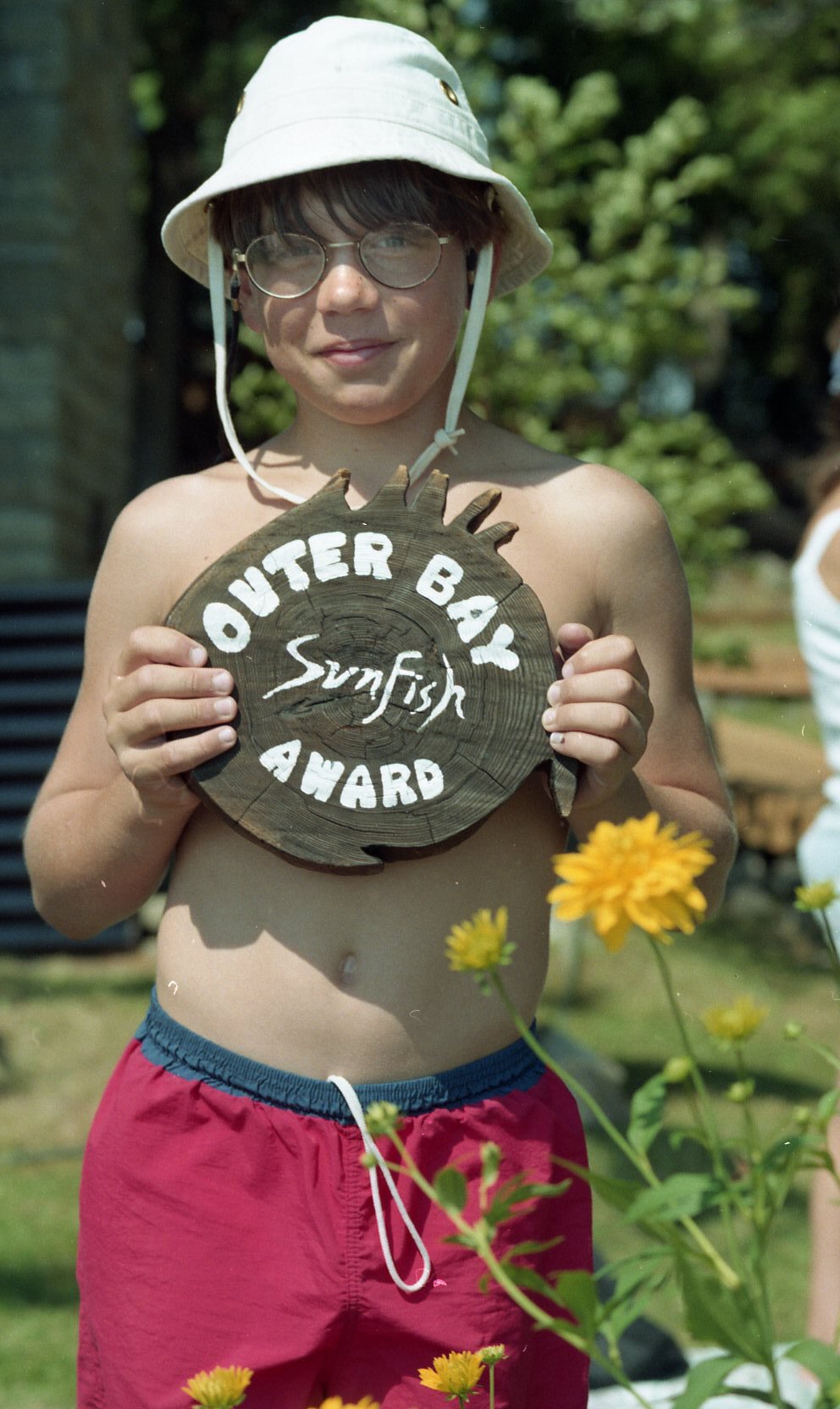 .....
I think Fleet Capt., Dick Lockrem, was a bit relieved when Doug told him we didn't want to be considered for prizes (below), that we had just enjoyed the racing. Besides, being called "the pros" by our competitors was perhaps an even better award!
.....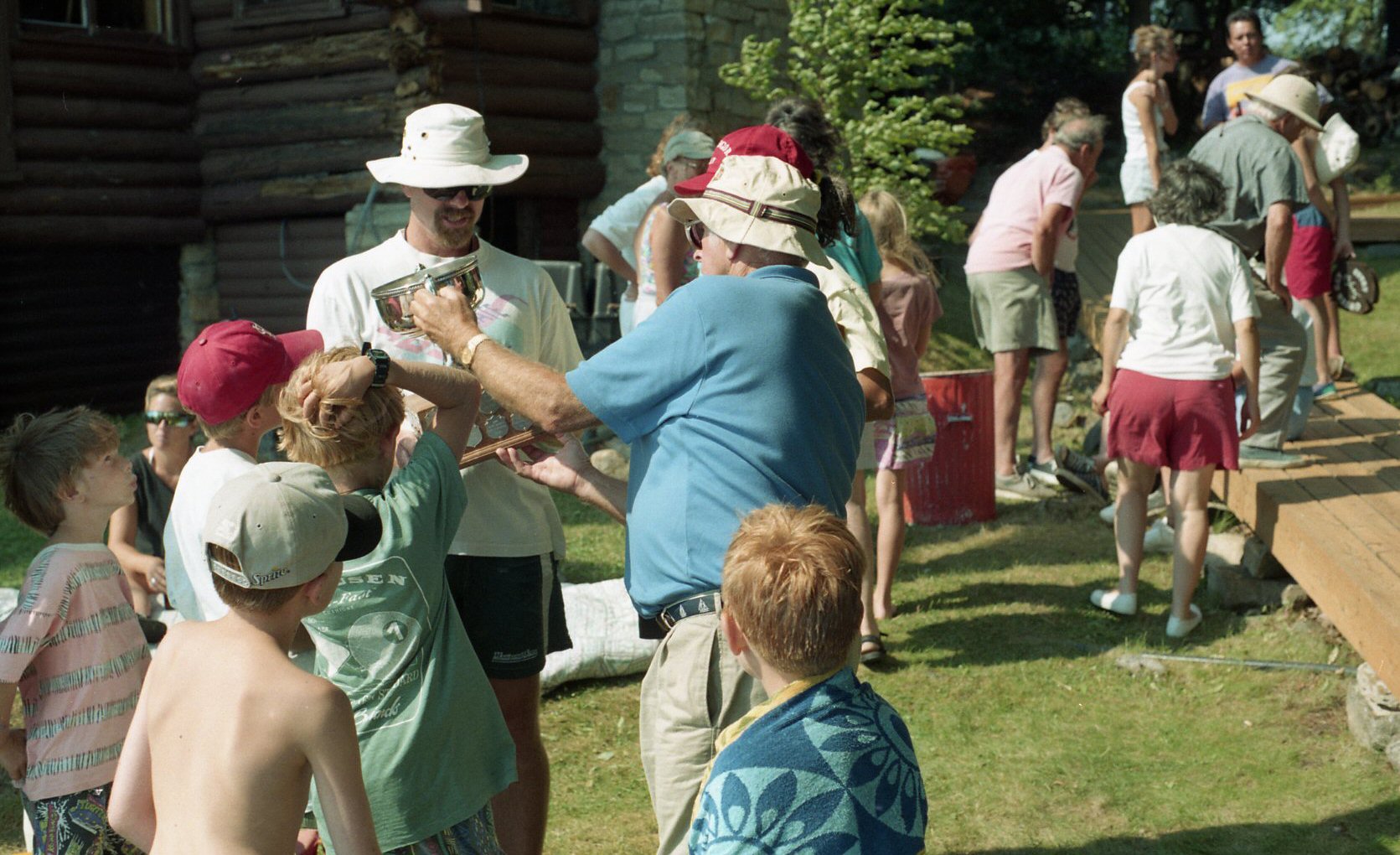 .....
After the prize-giving, I got to talk to old friends and new and finally located Louis (below, in Tilley? hat) who is now sailing his big boat to save wear on his knees.
.....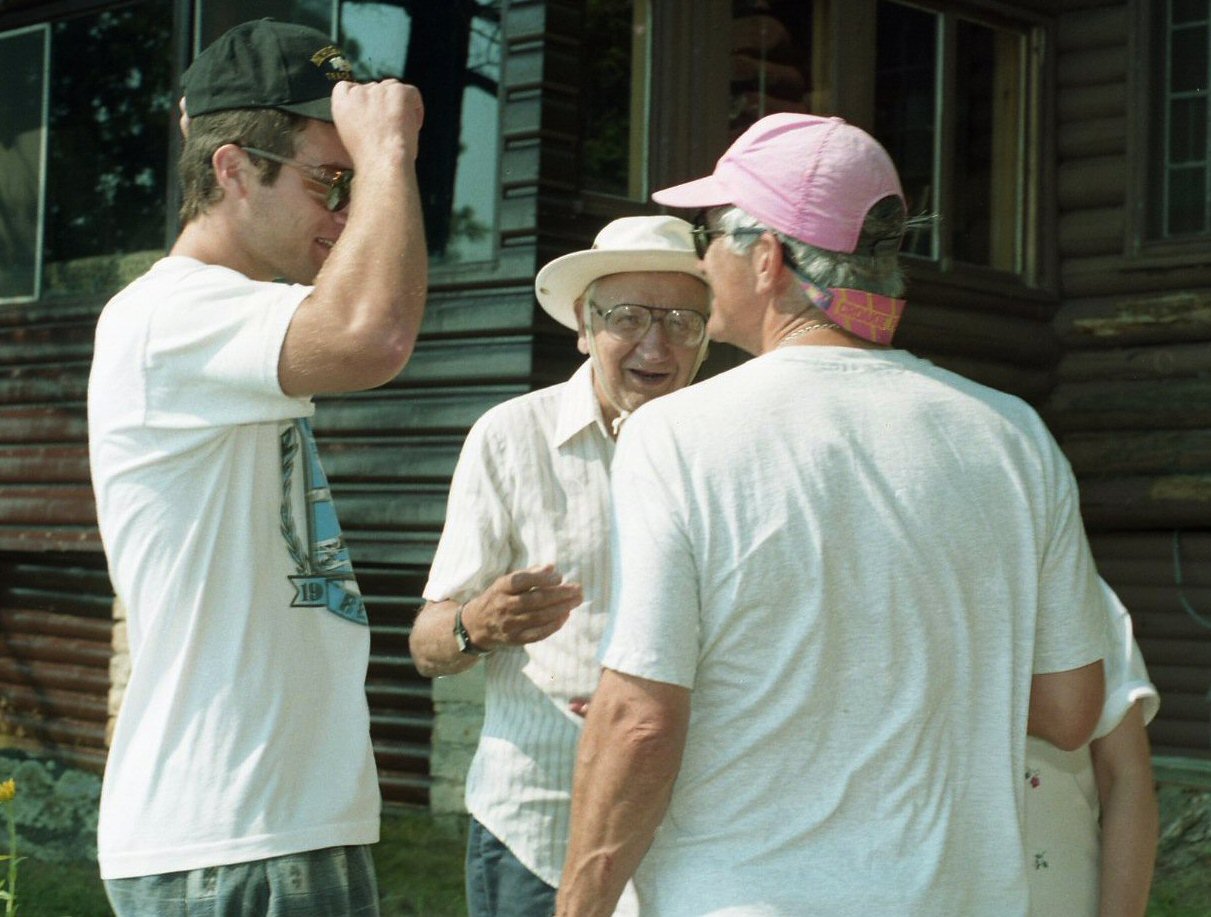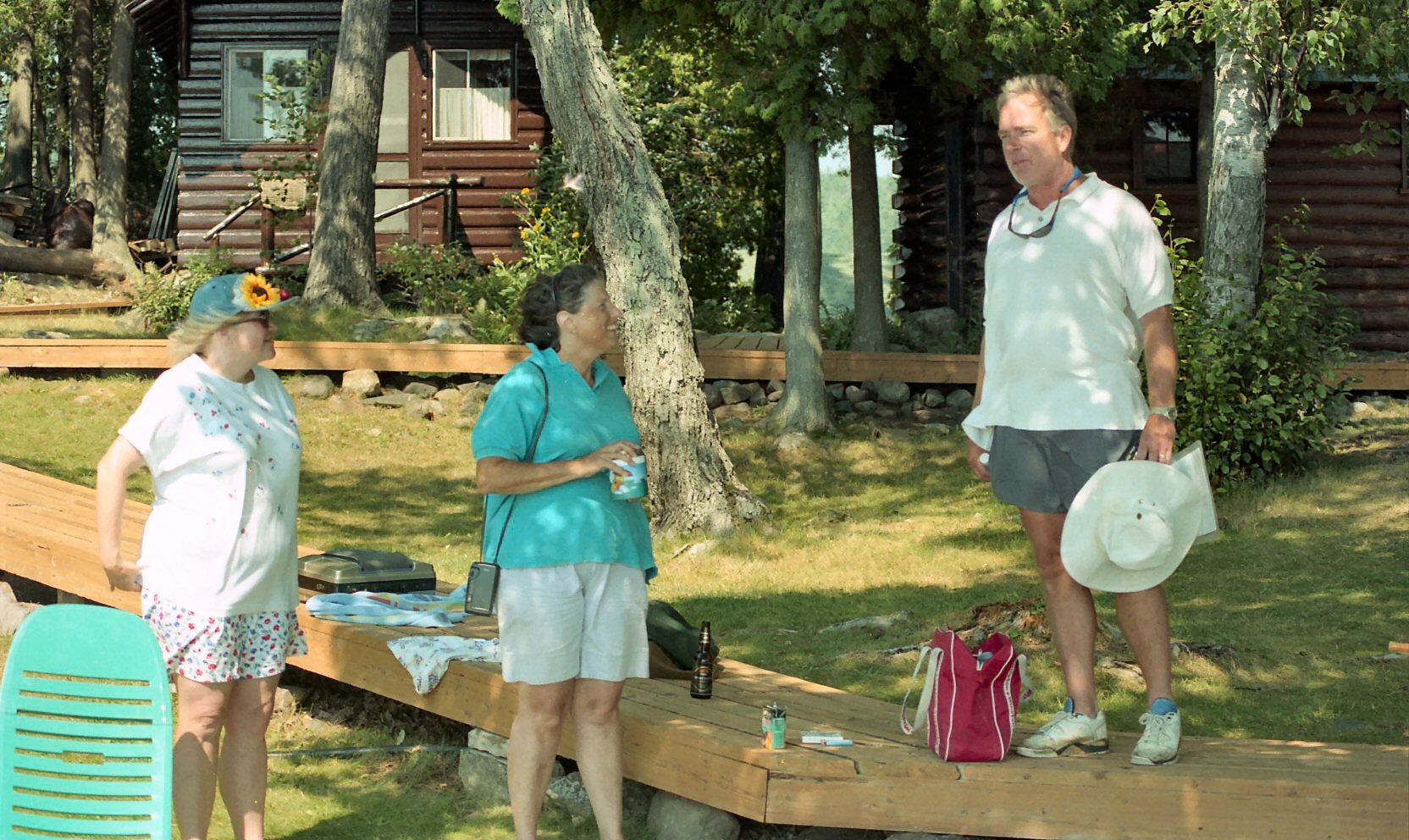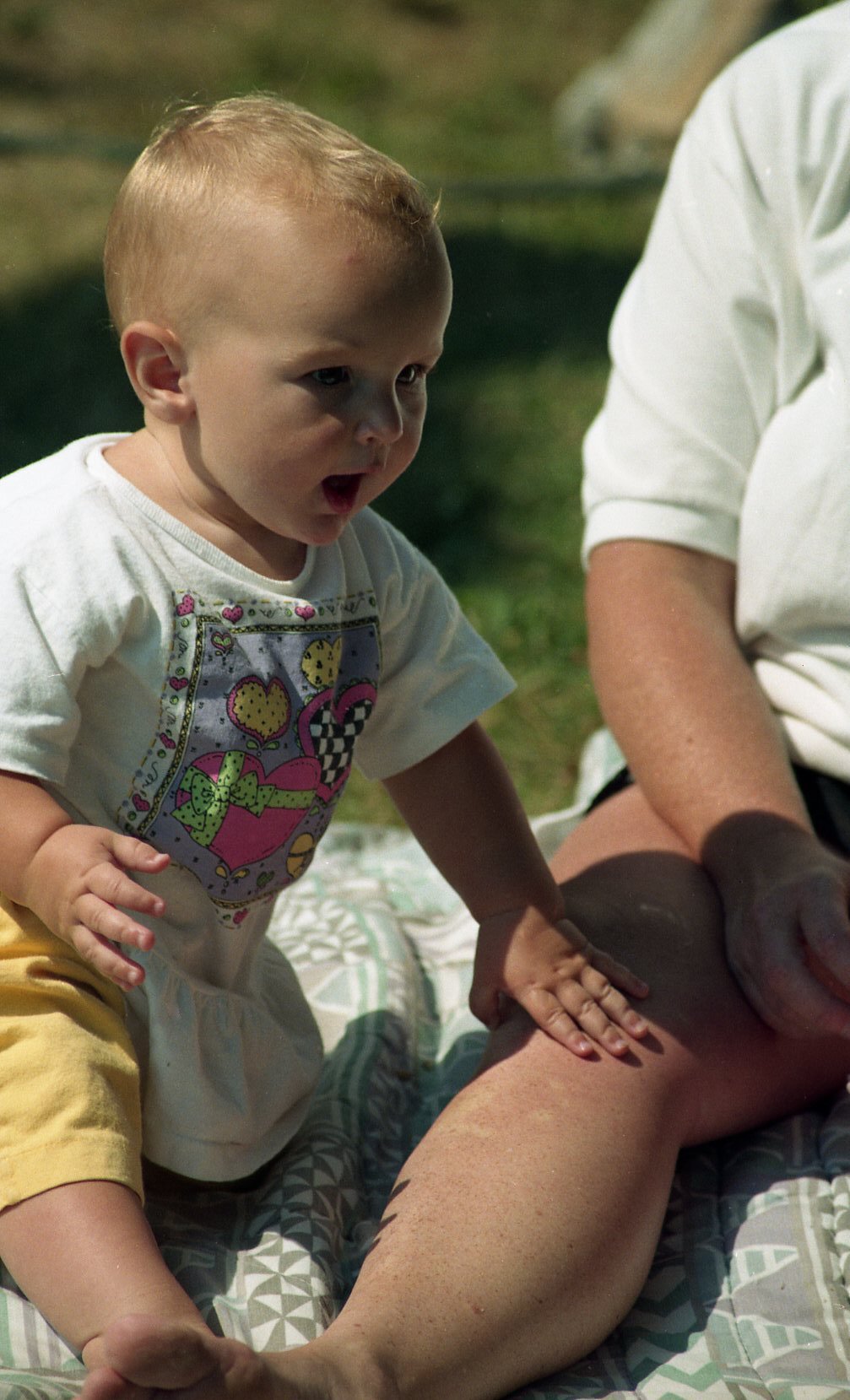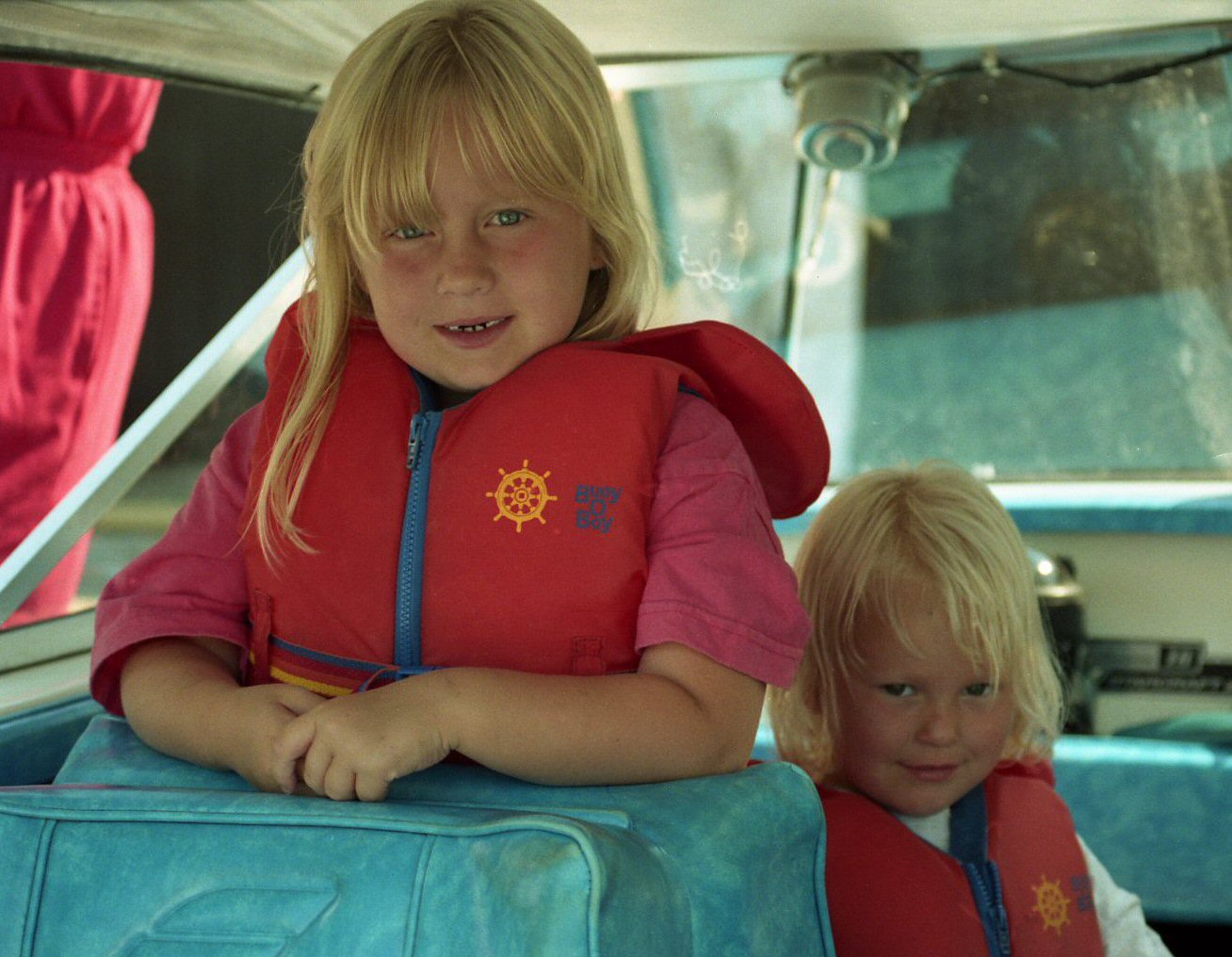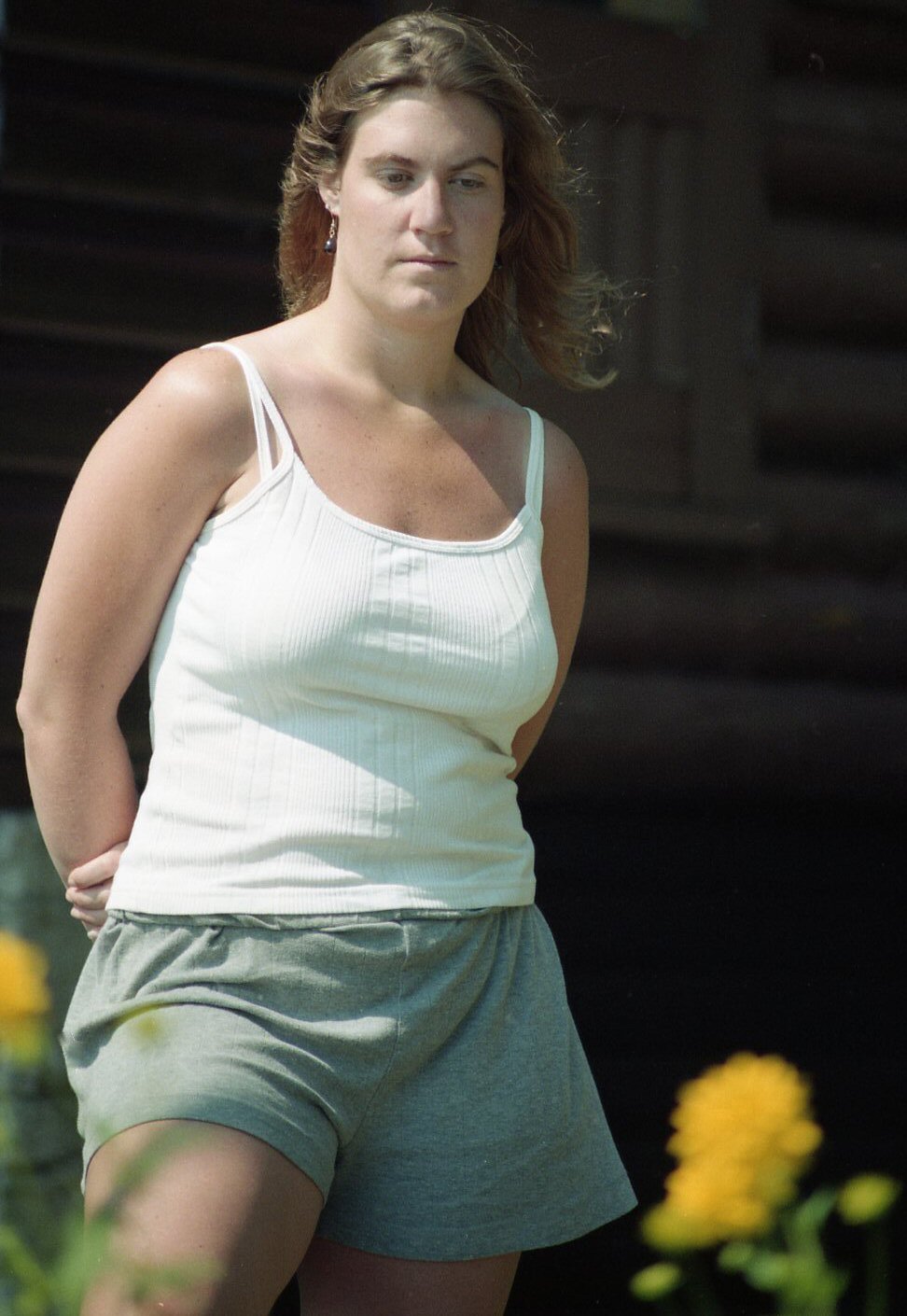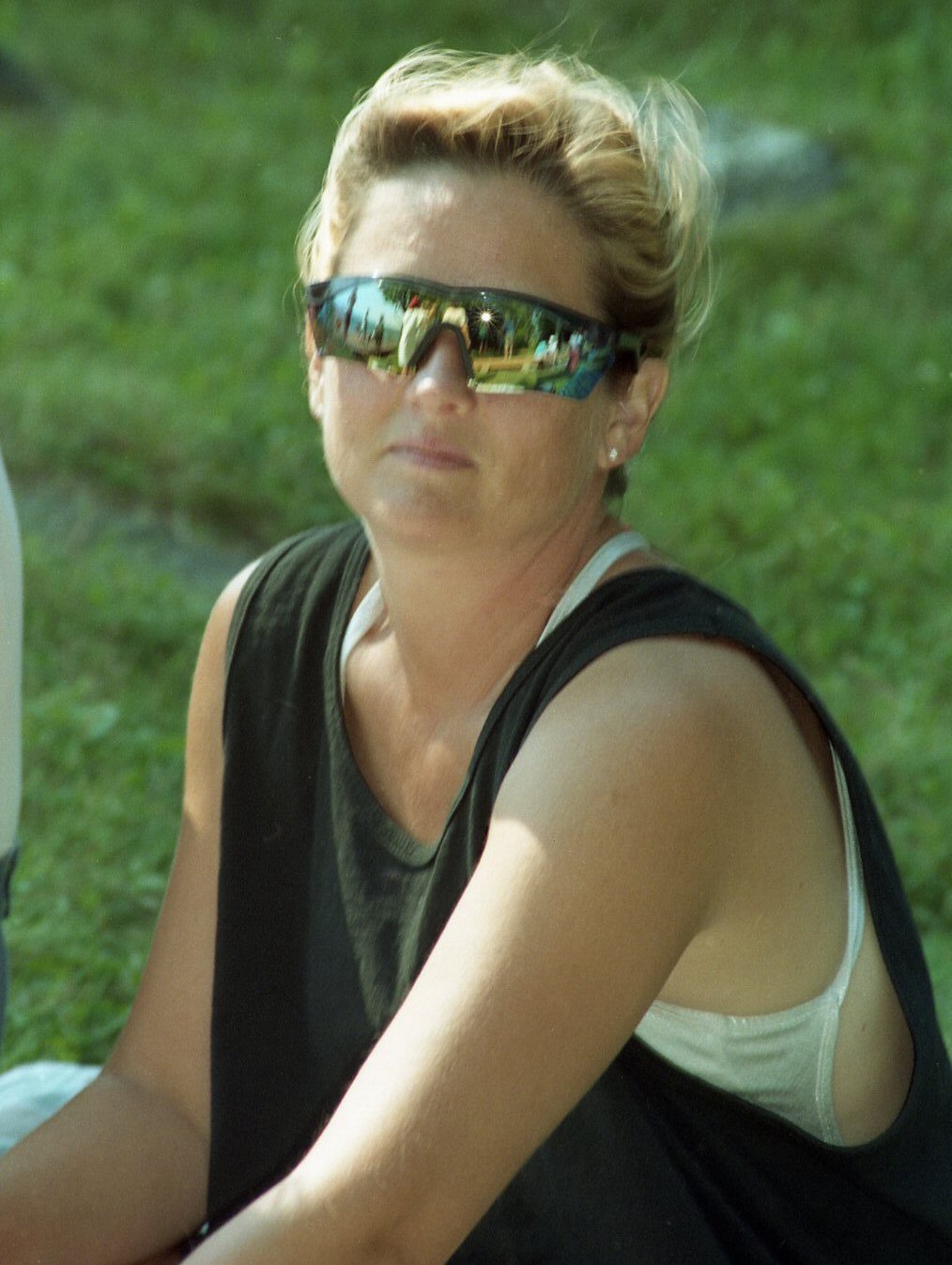 .....
An afternoon of quiet relaxation on the deck allowed me to do some picture taking, but I only got one shot of Rick's brother, Bob (wearing the sunglasses, below).
.....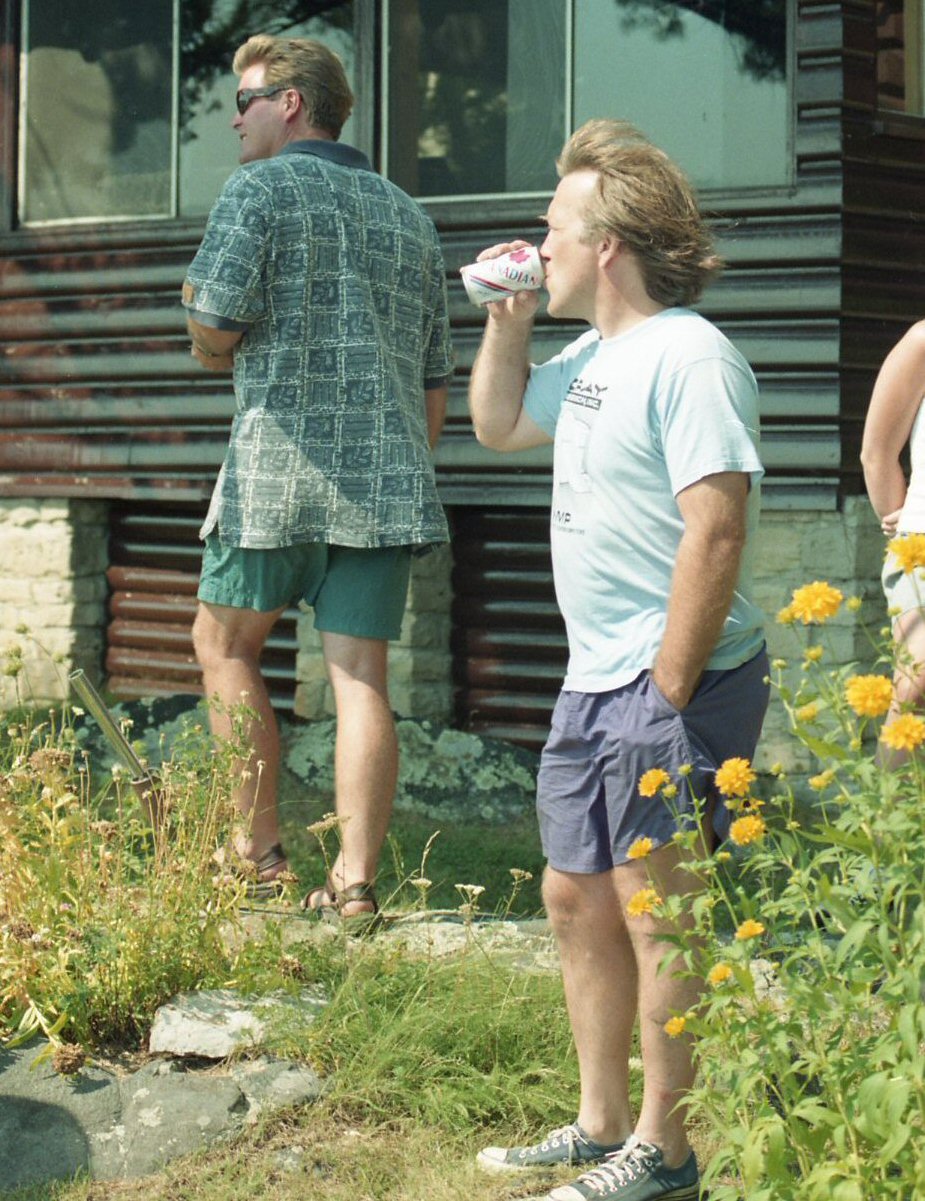 .....

Bob contributed mightily to our afternoon as he brought out a much peatier single-malt and it took us the best part of the afternoon to complete taste tests against the MacAllan which is cured? in sherry wood. As I pointed out to Doug: "Now this... is cruising!
.....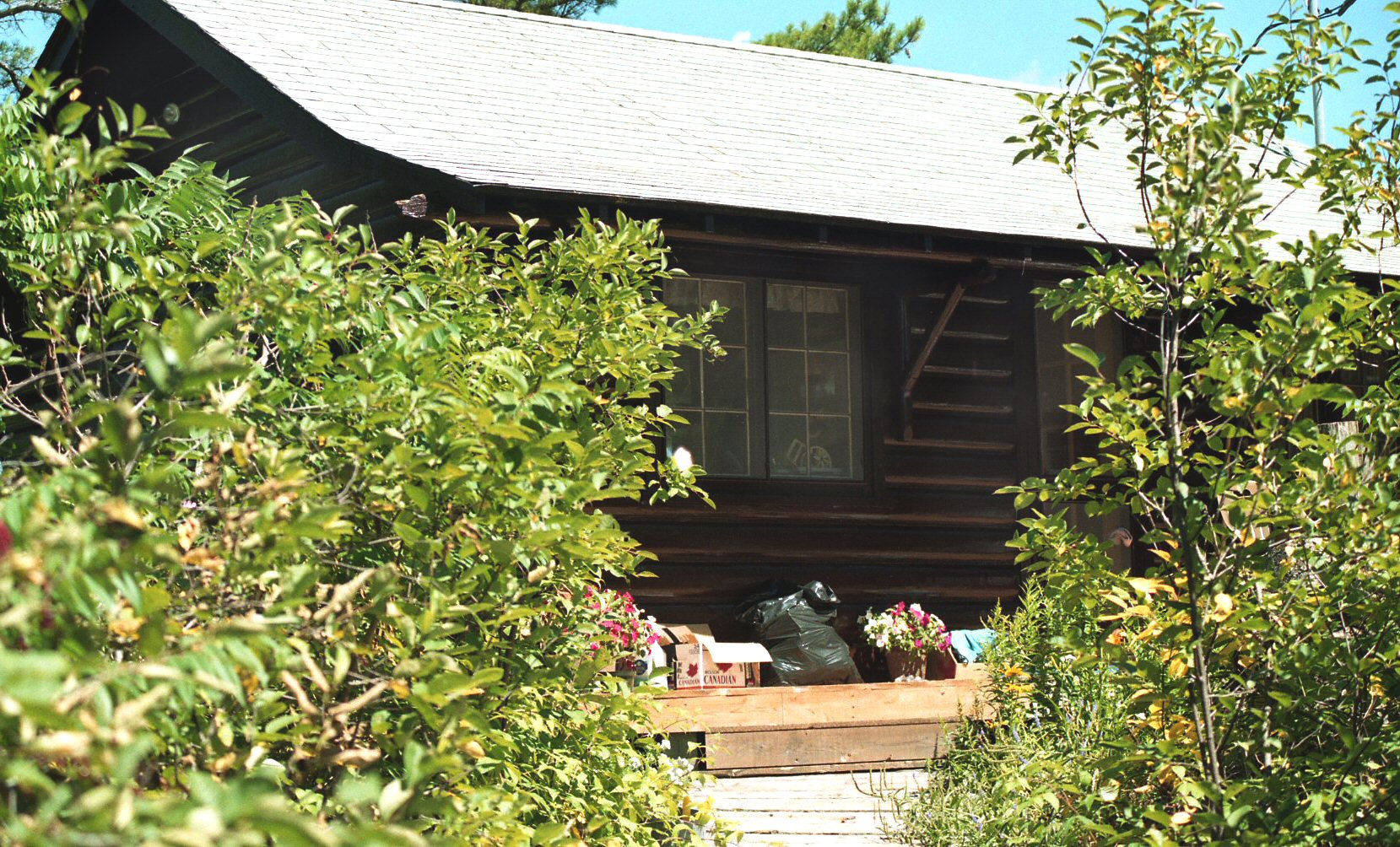 .....
We were saved from having to prepare our tinned supper of Irish Stew when Chelsea came to tell us, we should now come up the hill to see "her house". A what a beautiful little home it is, looking out over all of McGregor Bay like a castle (above). And what a pleasing shock! We were to be guests at a "royal feast" which included steak, chicken and spicy sausage plus more of Gina's delicious salad. A truly scrumptious dinner!!
.....

.....
Afterwards, it was back down to the deck, and at sunset, inside the main lodge to continue the party with music, libations, talk and dancing 'til the proverbial wee hours when Rick once more joined us in the guest cabin for a snack to cap the evening.