Sunday 10 August
Luxury. A wake-up call at 1100 hrs - we're to be fed once more - this time a yummy breakfast of pancakes à la Rick complete with real maple syrup plus pea meal and Canadian bacon. Enough to make you forget the fact that for the first time this week, it's raining. Anyway, from up here, even a rainy view (below) looks quite appealing. Apparently, we'll be in for a wet sail in Whirlwind this afternoon...
.....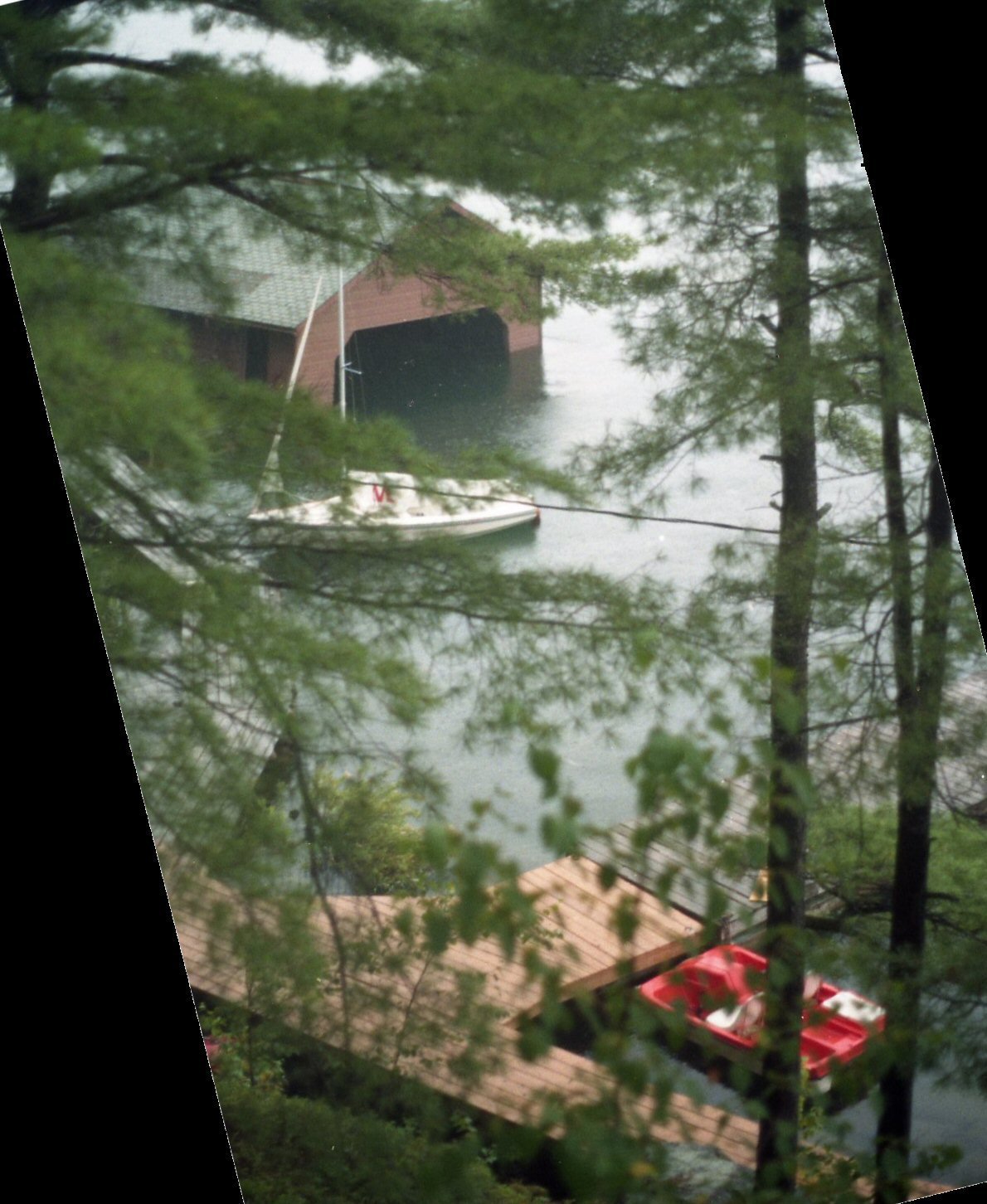 .....
There is some wind so we figure we have time to join Rick and Chelsea for a supplies run to Birch Island. We wave good-bye to Rick's cabin (below), comfortably out of the rain in Rick's motor boat.
.....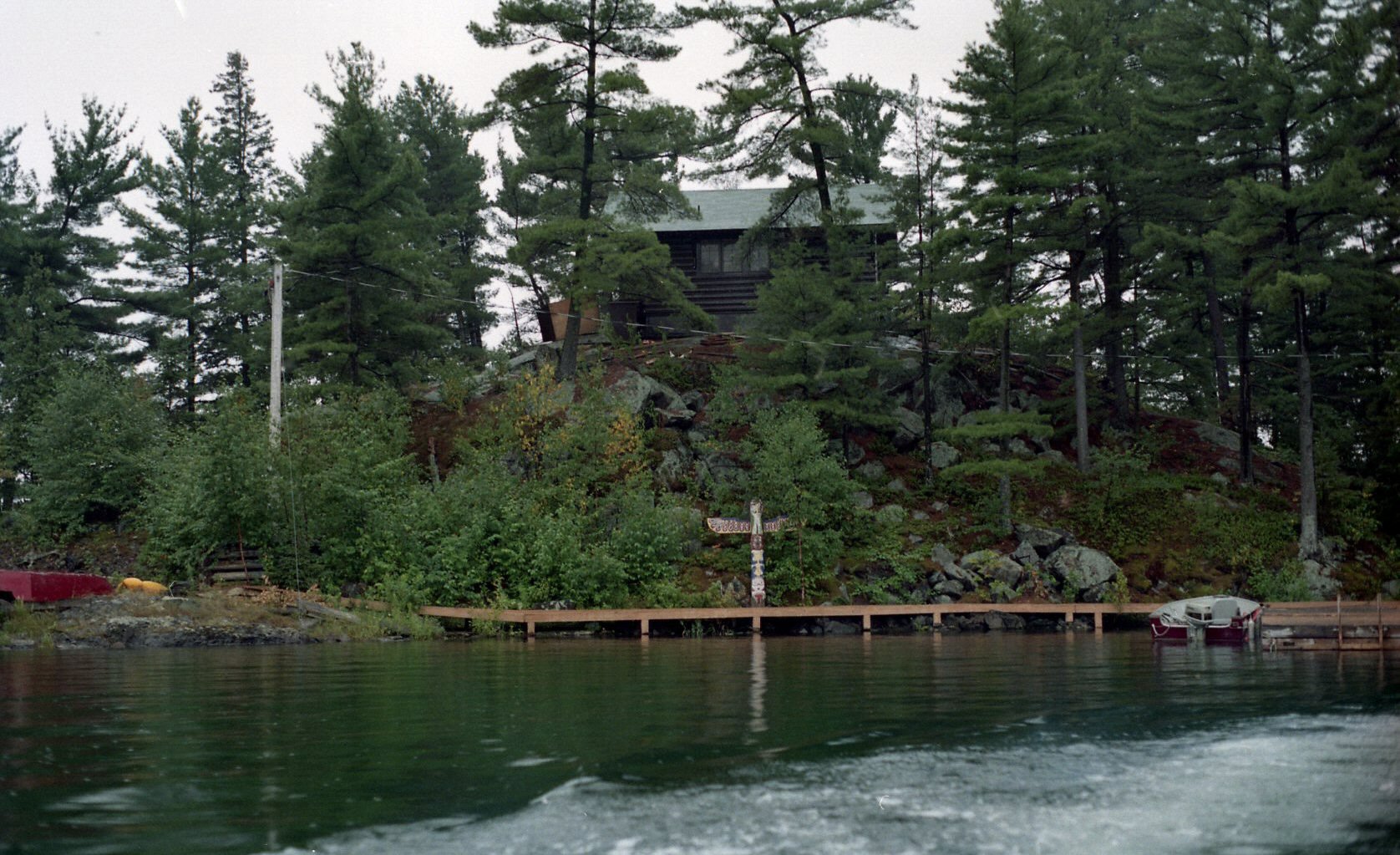 An interesting ride past Wardrope Island to Birch Isl. (
see upper left corner of the chart for Tues 12 Aug, below
) during which the rain stopped. Not much at Birch and we left clutching a six-pack of ginger ale and a few smokes.
By the time we got back, it was early afternoon and time to think about leaving for our rendez-vous with the others in Bay Finn. Rick told us our nameless destination just west of Frazer Bay Hill was Marianna Bay, named after the daughter of one of the Bay's early settlers. Since we would be back with the gang for our McGregor Bay "Final Night of the Cruise" Bash the next day, we only packed the minimum supplies..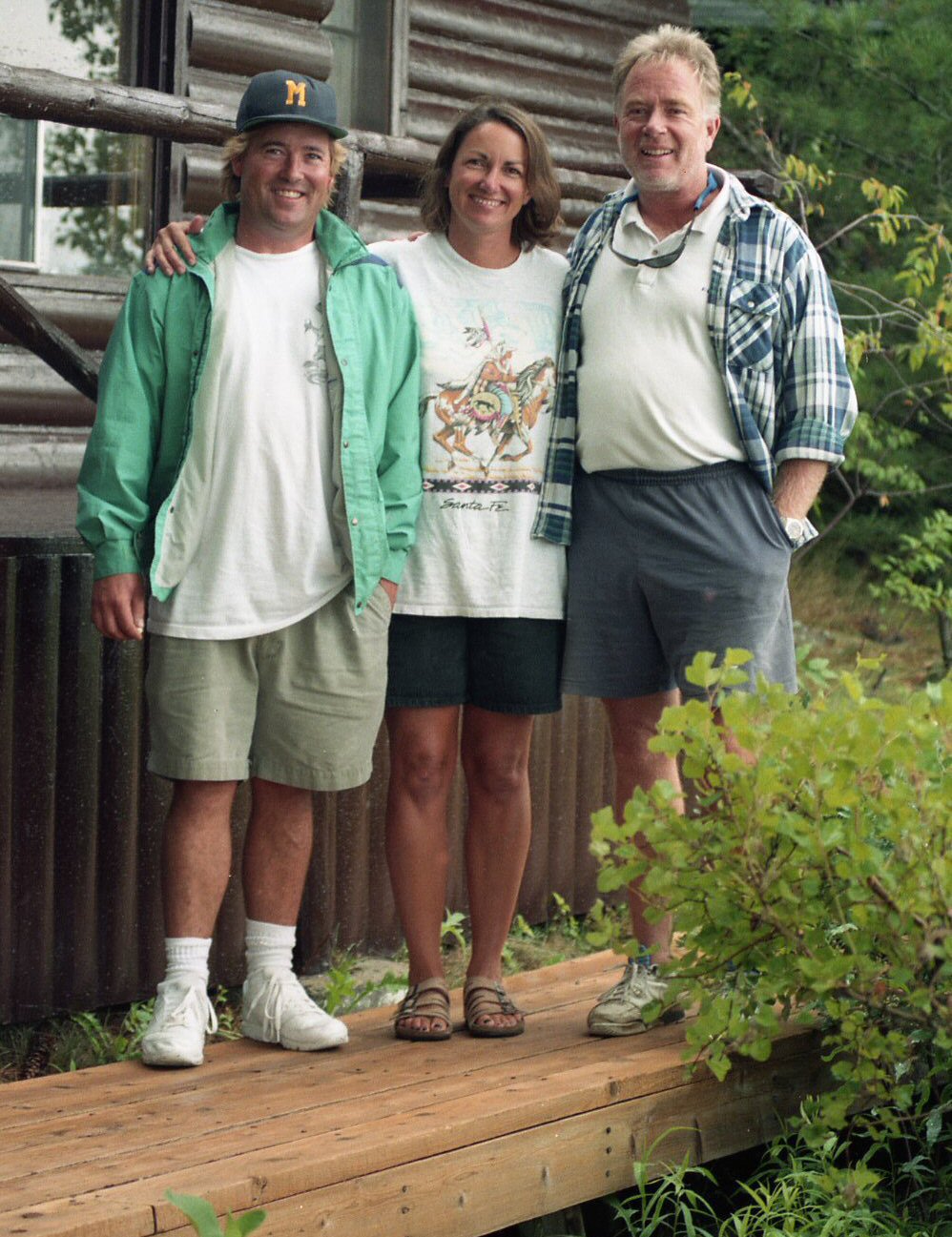 .....
Of course, we had to make one more trip to the luxury of a shower before we were finally ready to depart. A last quick farewell to Judy (above) who was leaving for Lively that day, and we were off!
.....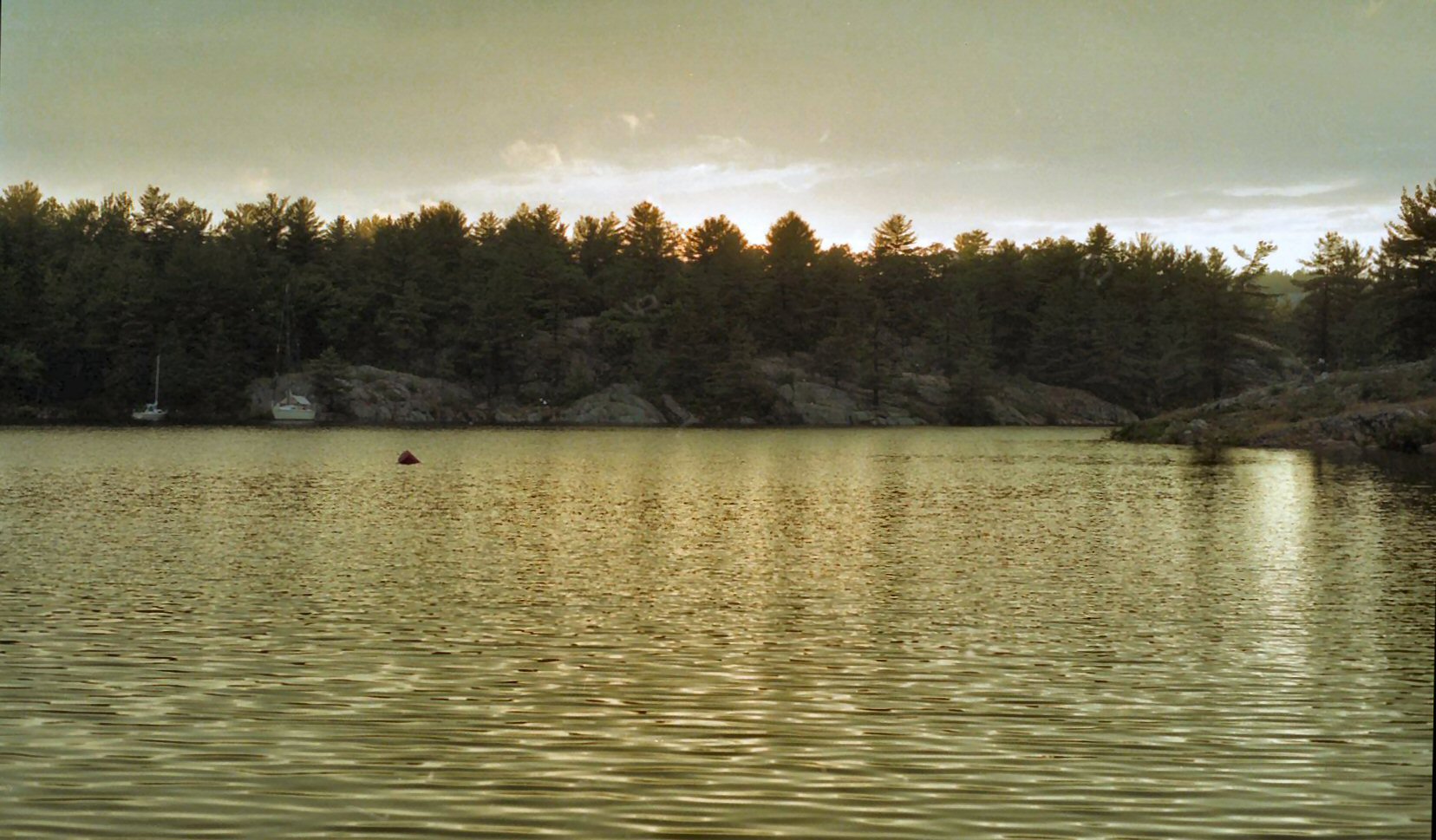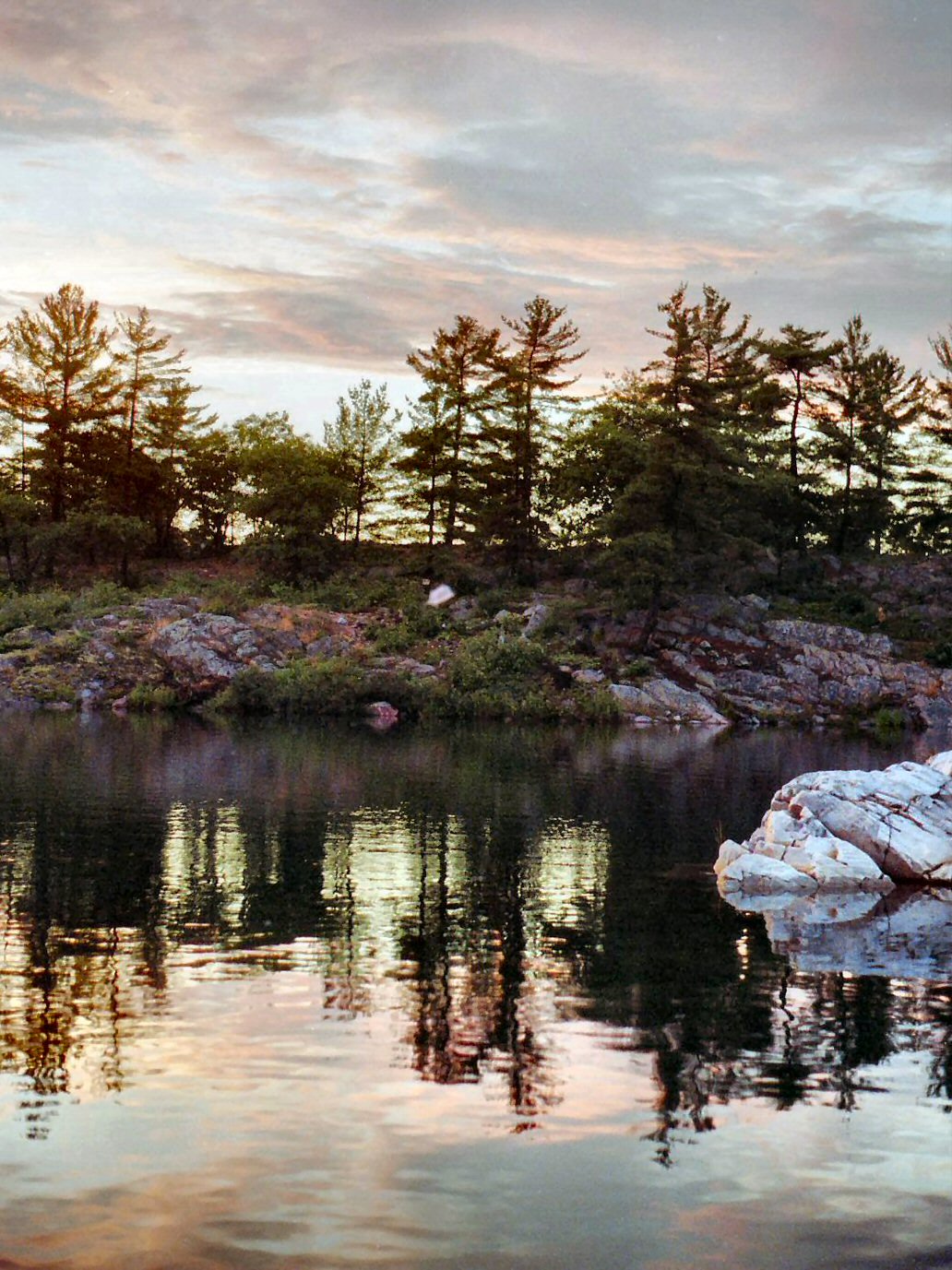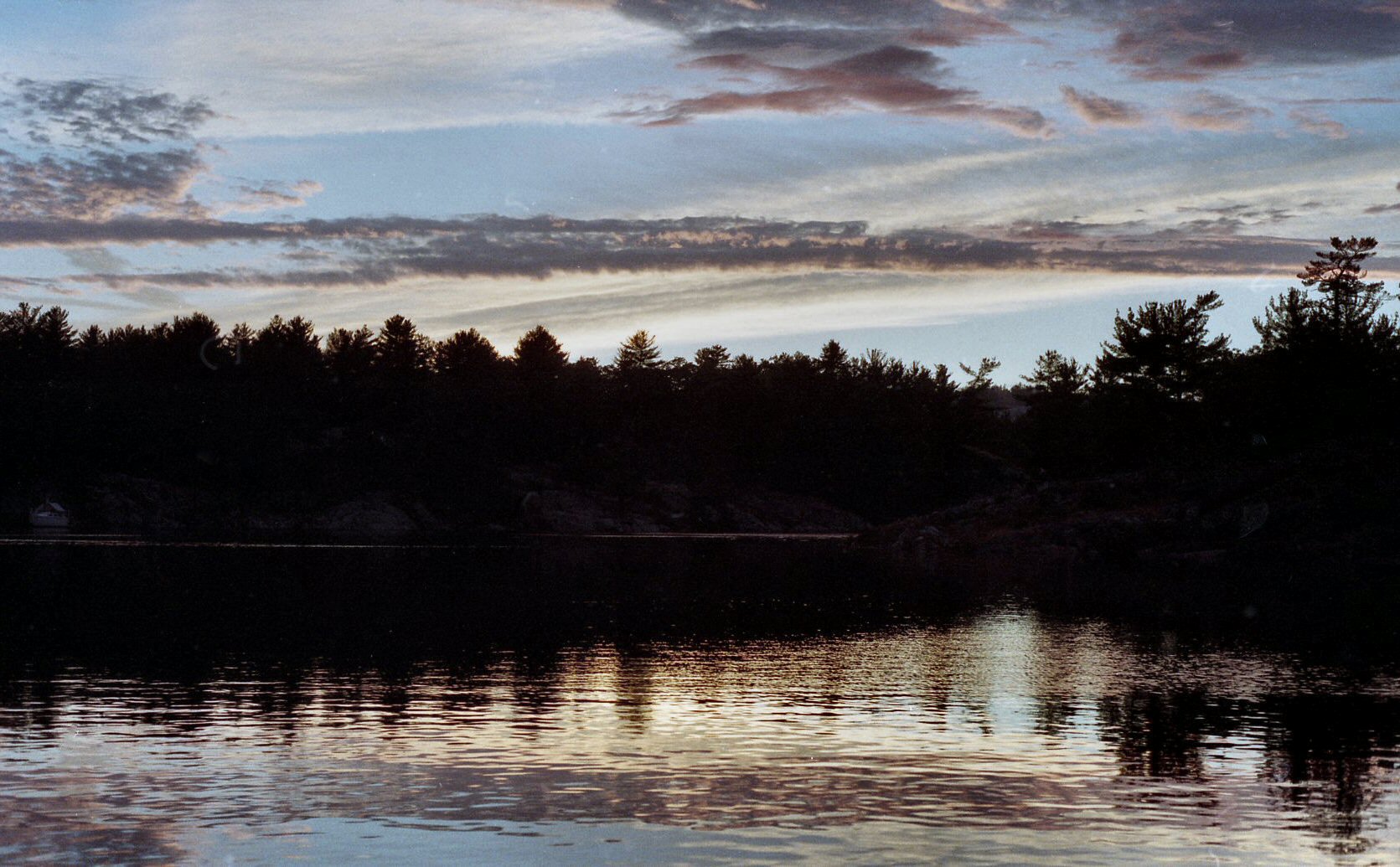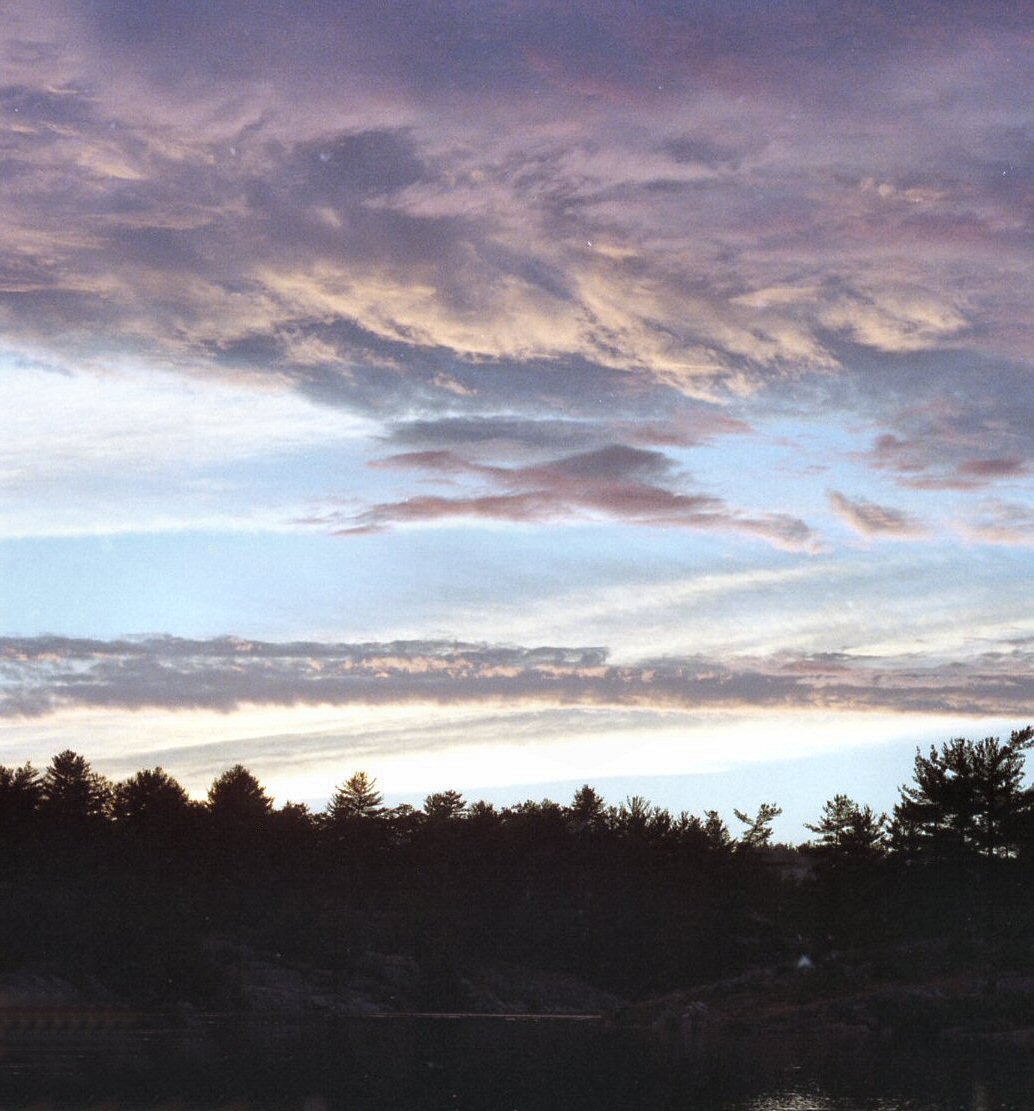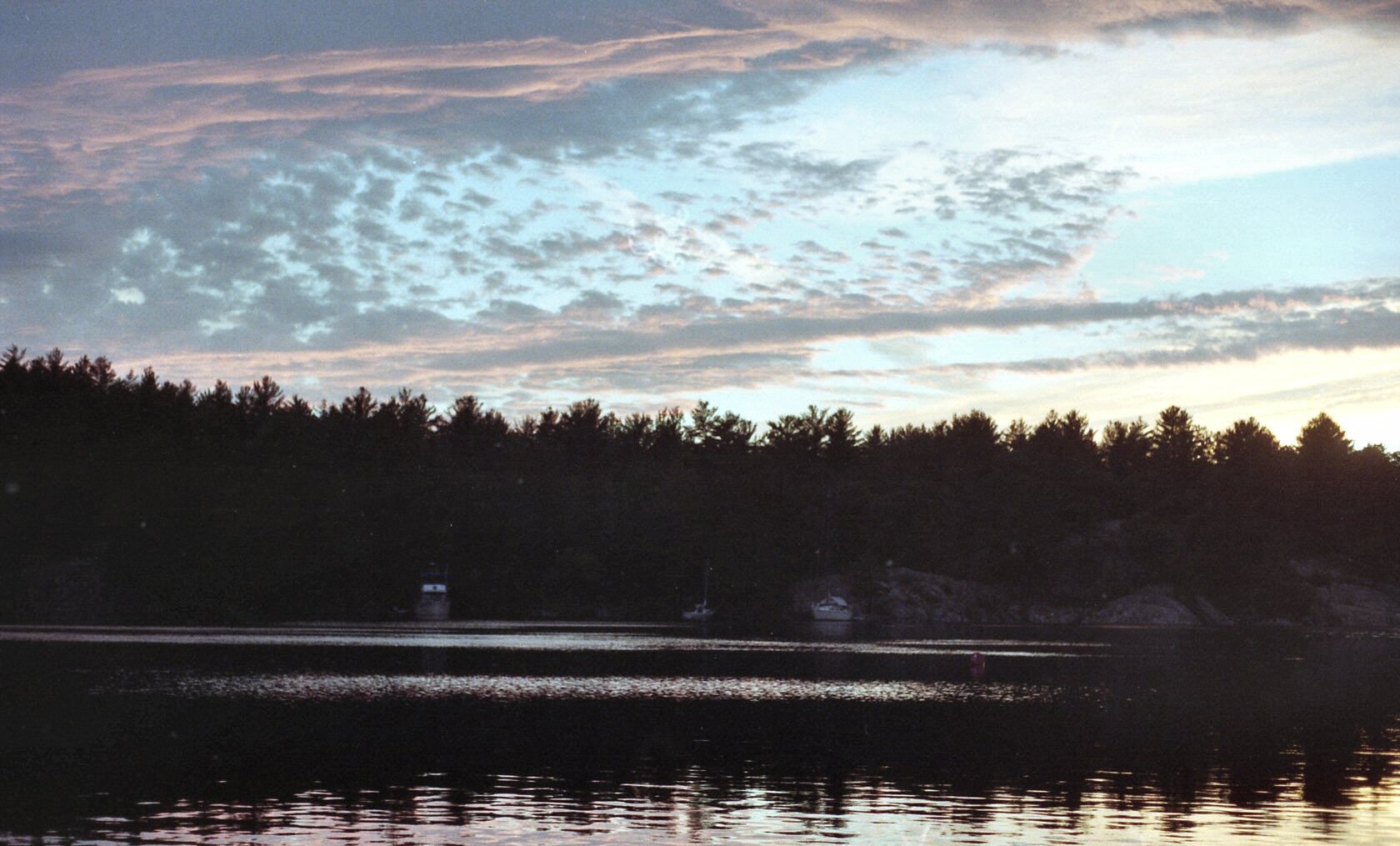 .....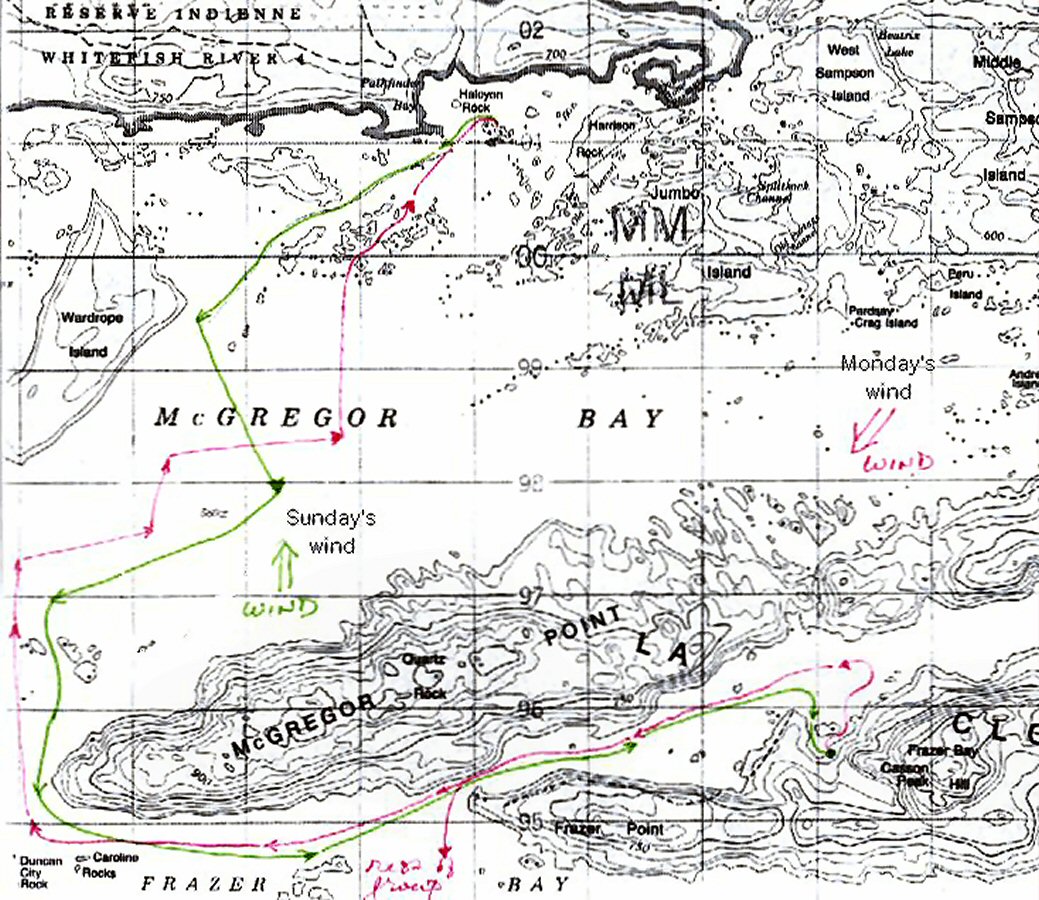 .....
It was already nearly 1500 hrs but we were hoping to make the 10-mile trip (marked in green on the chart above) in two to three hours. Skies were again looking a bit threatening with rain clouds, but the good news was that there was a good, solid SSW breeze of 10-15 knots which permitted us to sail long ports and short starboards as we sailed out of the Bay.

Only about an hour later, we rounded McGregor Point, keeping a sharp eye out for our guys who should be arriving about this time after a long trip from Boat Cove just west of Little Current. In light of the earlier rain and lack of wind, we had some doubts that we would see them, however.

We steered well clear of the Point in case the wind was lifting over the imposing cliffs and were soon on a run into the narrow mouth of Bay Finn at Frazer Point. Rain appeared imminent by now and a squally, shifty wind soon forced us to douse the spinny. On the Point, we saw Okechobee, a former hot spot with the locals, its vast and recently improved resources such as dock space for hundreds of yachts, lying empty and up for sale. A sad sight but one fitting this gray afternoon.

As we gybed downwind, we admired the cliffs on either side but only fleetingly as there were a succession of small squalls coming up behind us and shoals coming in front. We briefly saw what looked like it might be Tim France's WindBreaker about a mile in front of us but he was sailing away from us way past Marianna Bay which was just ahead.

Should we chase him? Nah! It would take forever to get close enough and then, if it wasn't a Wayfarer, we'd have a few hours of beating back in fading light. Come to think of it, we'd have that even if it was Tim! Besides, it was now starting to rain again. So we nipped in to Marianna Bay smartly, pausing to admire the island which was defaced by enough "No Trespassing" signs to do a germ warfare research facility proud.

One small keelboat and three floating palaces were already in, one of which was almost blocking a tiny cove just right for Whirlwind. But Al was confident that there would be room for us, and he proceeded to squeeze by and tie to the cliff about 20' past him.
.....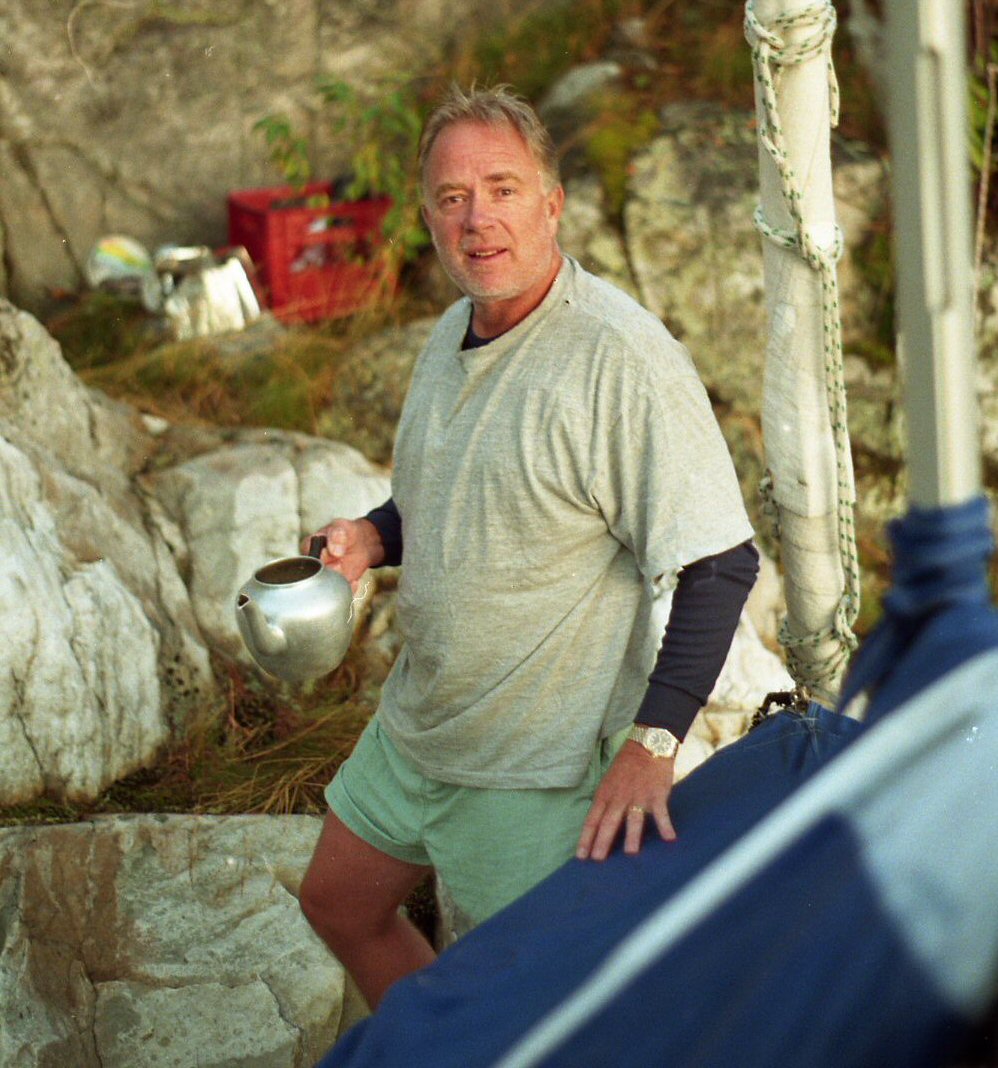 .....
The rain was increasing so we quickly dumped the necessary cooking gear and the cook (above) onto a narrow ledge while Al threw the anchor out and the boom tent up over a soaking wet boat which would hopefully get a bit drier as the evening wore on.

Nothing to do now but don the rain jacket, go ashore, and enjoy nature and one of the acquired health hazards while the cook heated a tin of Irish stew to complement our MacAllan scotch...
.....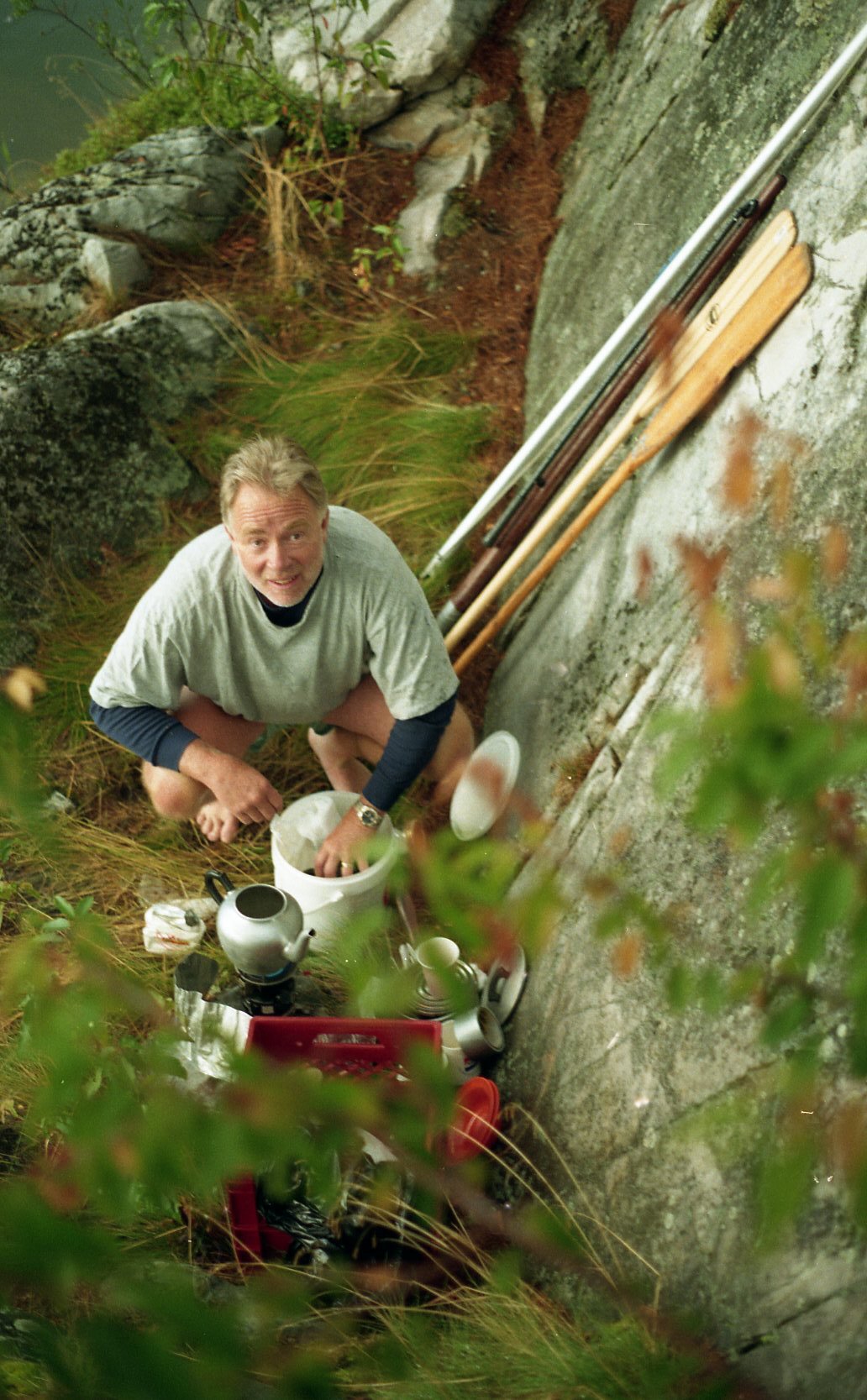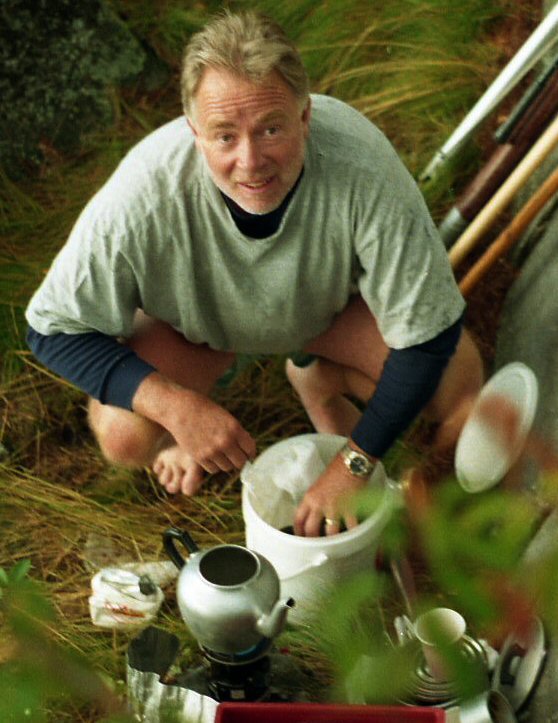 .....
It must have looked weird, two guys on a narrow ledge (above) hunched over bowls of Irish stew to keep the pouring rain out of their dinners. Having missed our lunch, we found this meal to be downright delectable. And we thought back to Rick and the tiny ceramic pitcher that had come with the Scotch with instructions to add just a drop or two of water to bring out the full flavour. Well, we had mother nature providing the drops - and the relatively warm rain was not all uncomfortable!

Al wanted to invite the neighbours who had not so much as stuck a nose outside their stateroom, over for drinks, but just then a power winch swung into action to raise the anchor and they left. We never did see any of them!
.....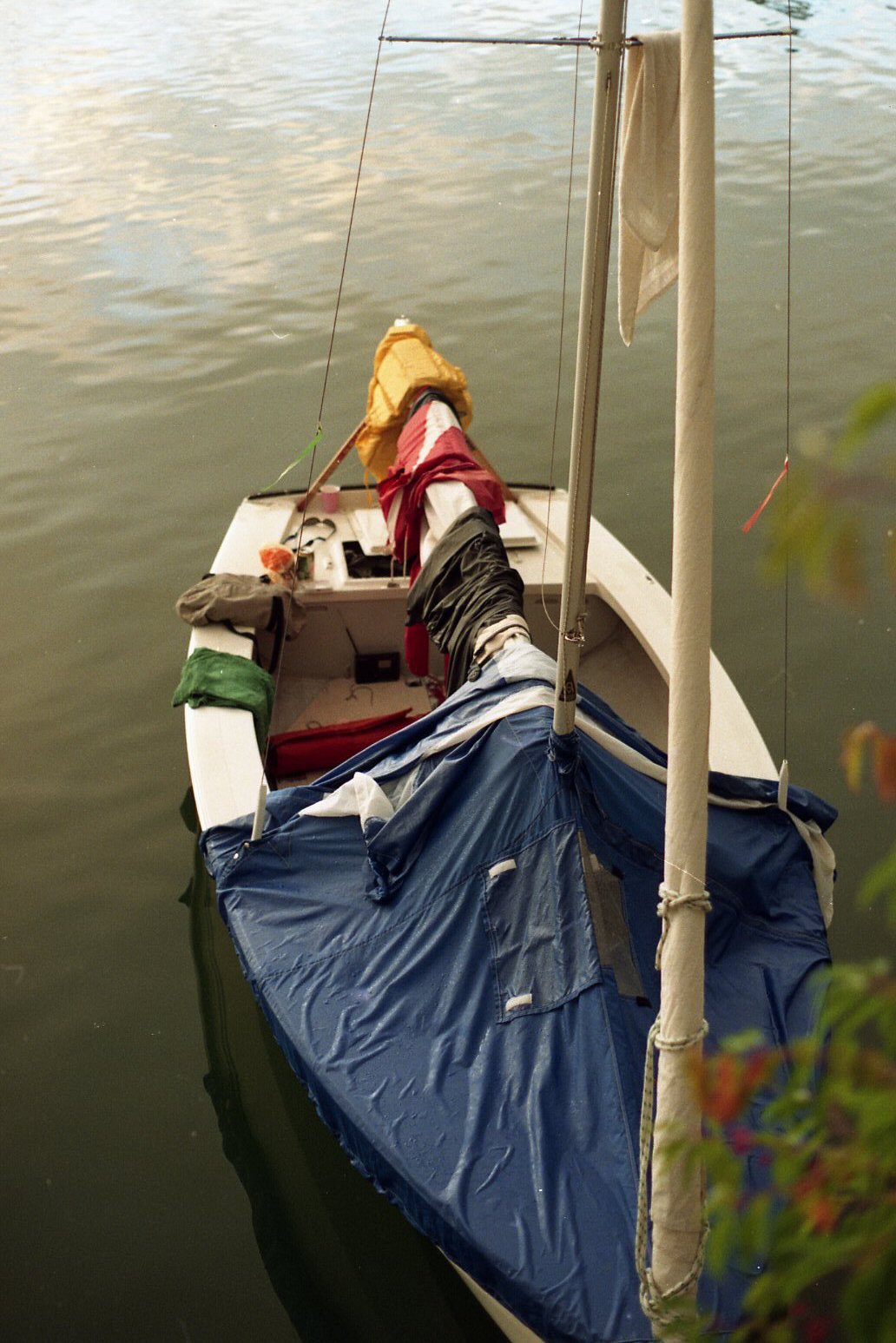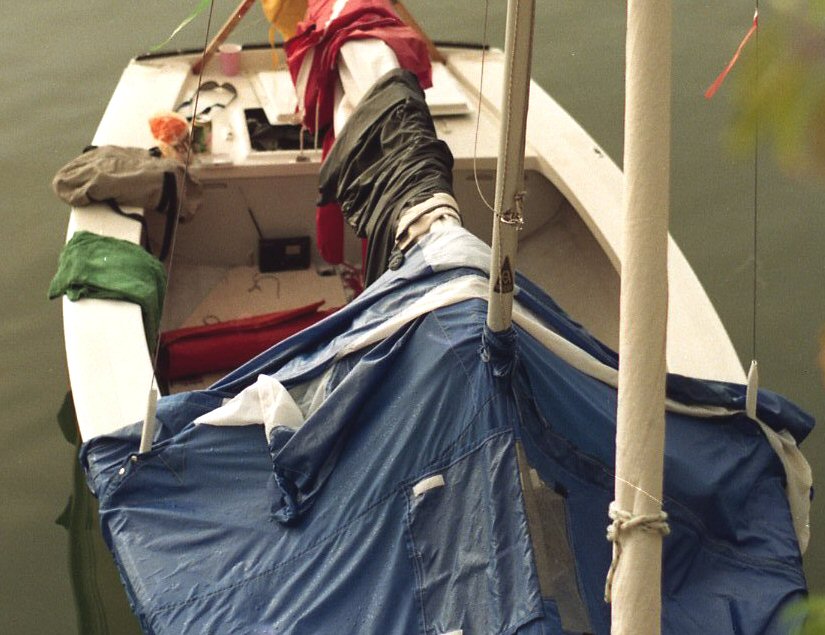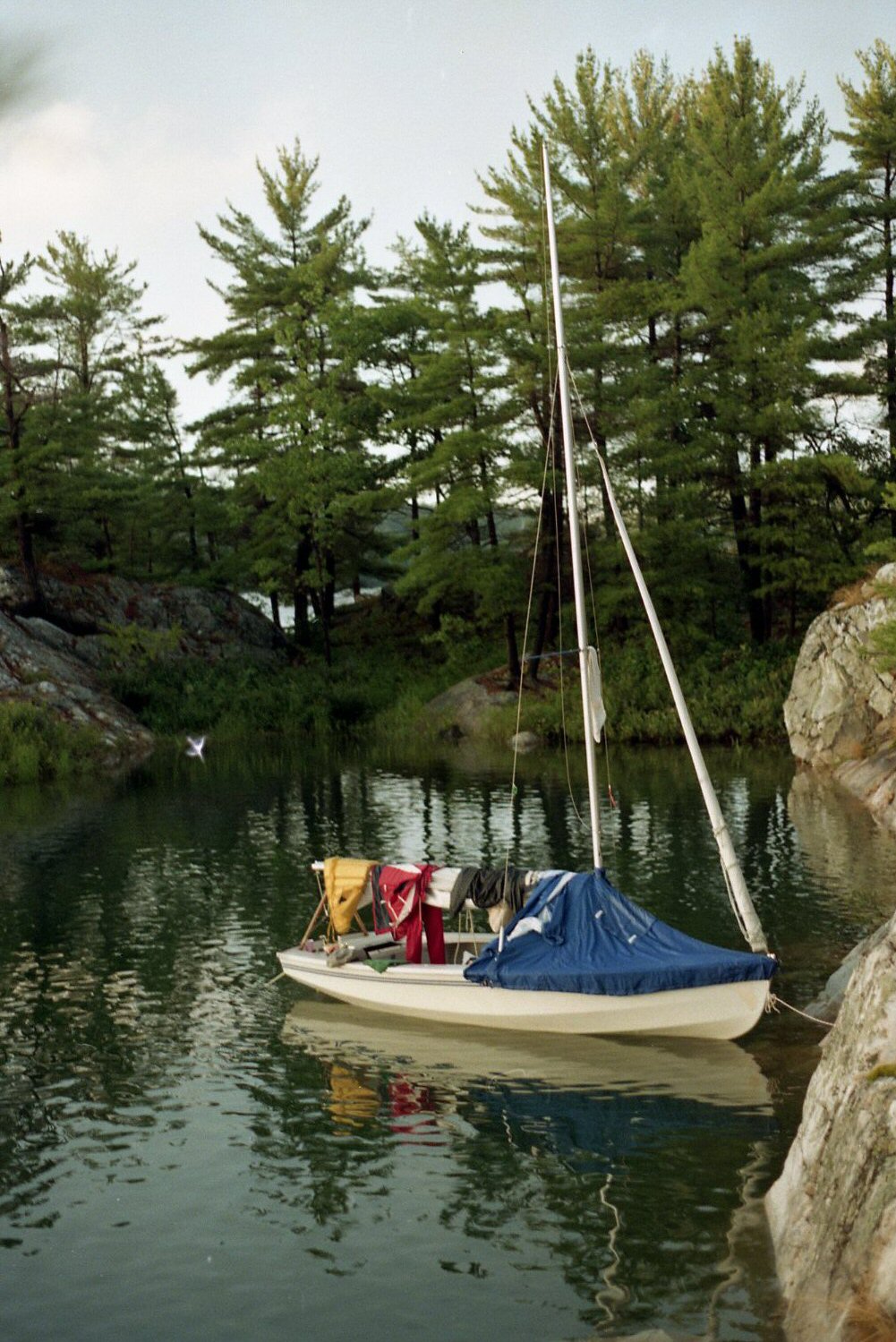 .....
The next hour or so was spent under the boom tent on bare but warm floorboards with life jackets for pillows as we listened to FM 94.1's Golden Oldies. By 2000 hrs, the rain had stopped and we peeled back the tent to let stuff dry (above).
.....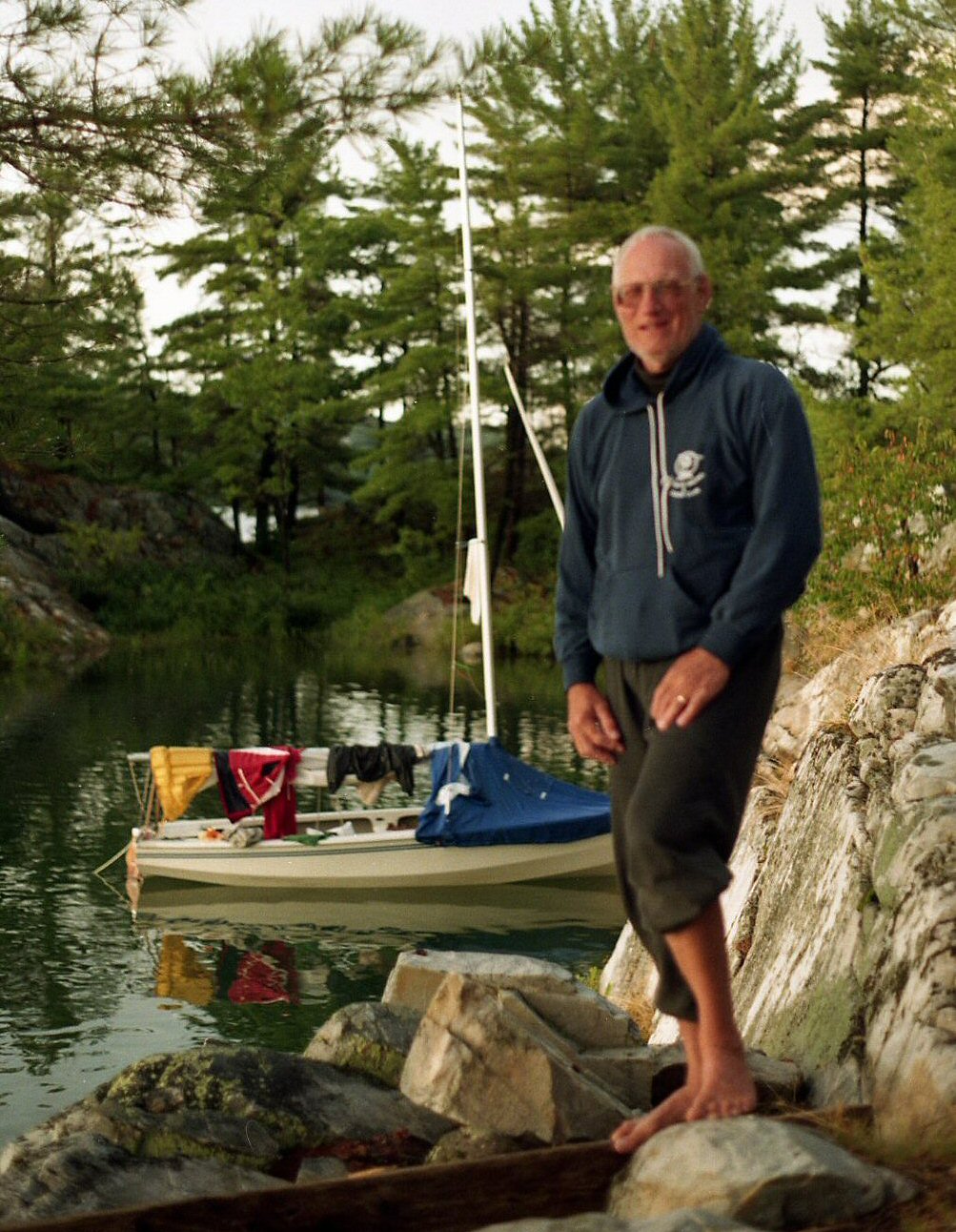 .....
After a while, we changed into dry, bug-proof gear and went ashore for as much of a leg stretch as our cliff would allow (above). And the "red sky at night" promised a better day for our return to McGregor Bay tomorrow. Some fancy sponge work from that veteran bailer, Uncle Al, and Whirlwind was soon only a bit damp - and downright comfortable as the bedding came out. We sat contentedly in the bug-free extended northern twilight (below) savouring the slight wind, a coffee and a smoke, as well as the slowly changing view.
.....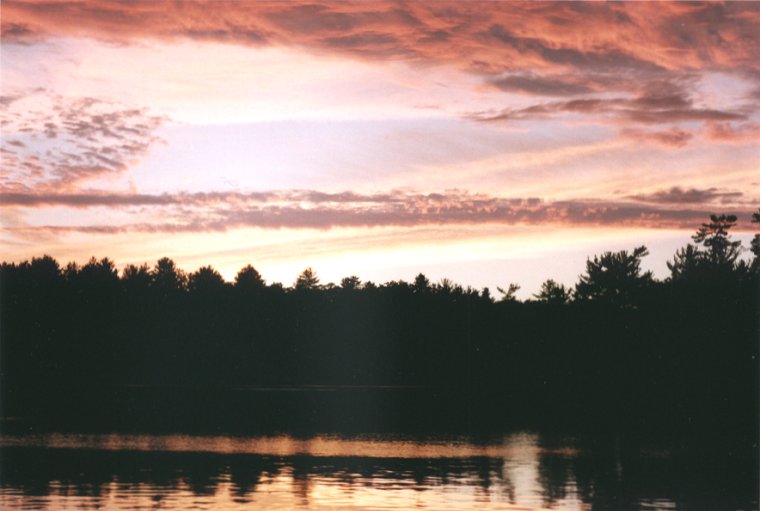 .....
Our stern anchor was not holding well, so we swung the bow around and put out our other anchor which did the trick and we were soon rocked to sleep. The early night was welcome after the heavy-duty partying at Rick's.