And a glorious warm, sunny day it was! Just right for a mega-run to McGregor Bay (see chart above). With winds not yet near 30 km/h, we popped the chute and were soon passing a mini bird sanctuary (below), that appeared to be part of James Foote Patch south of Bedford Island.
.....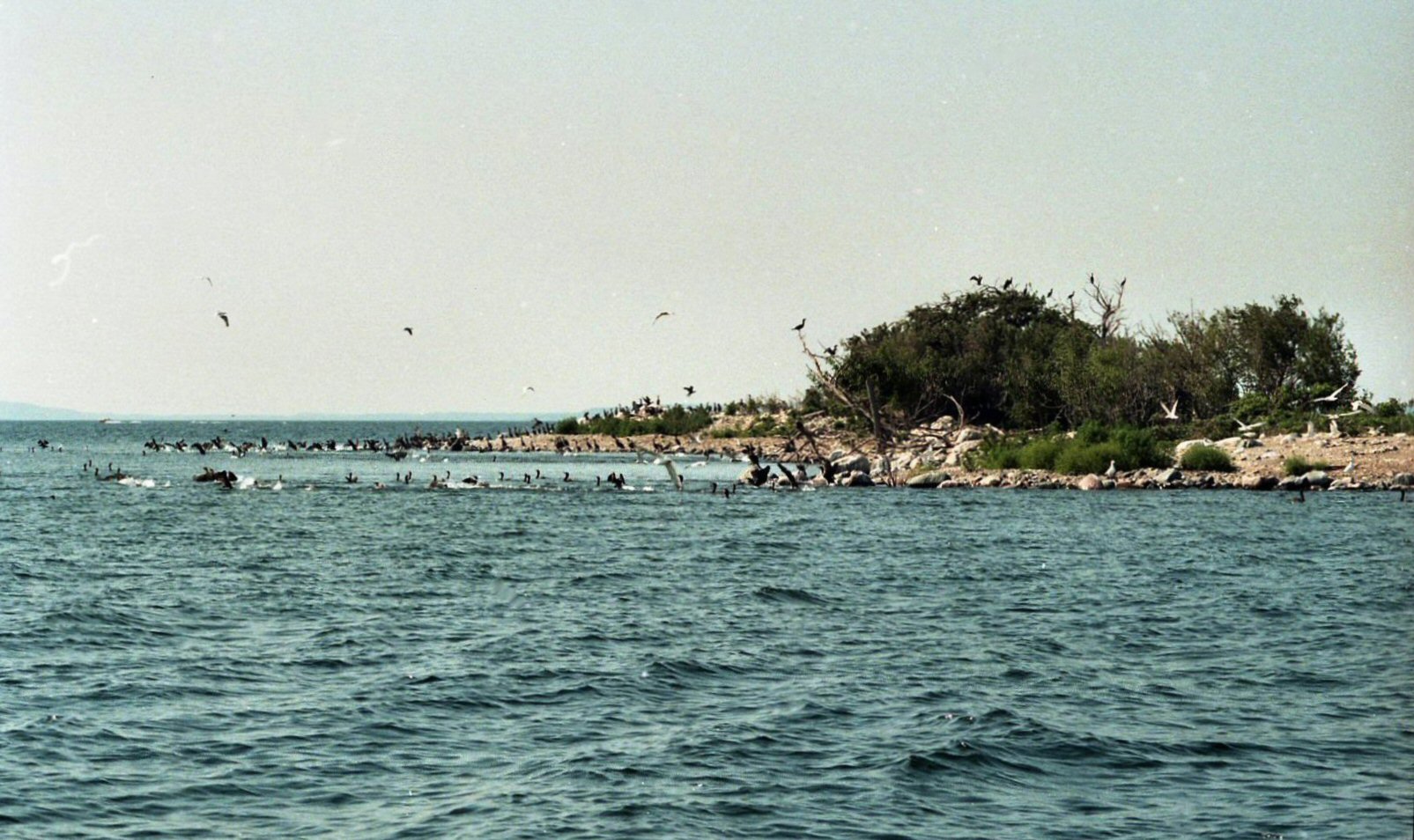 ....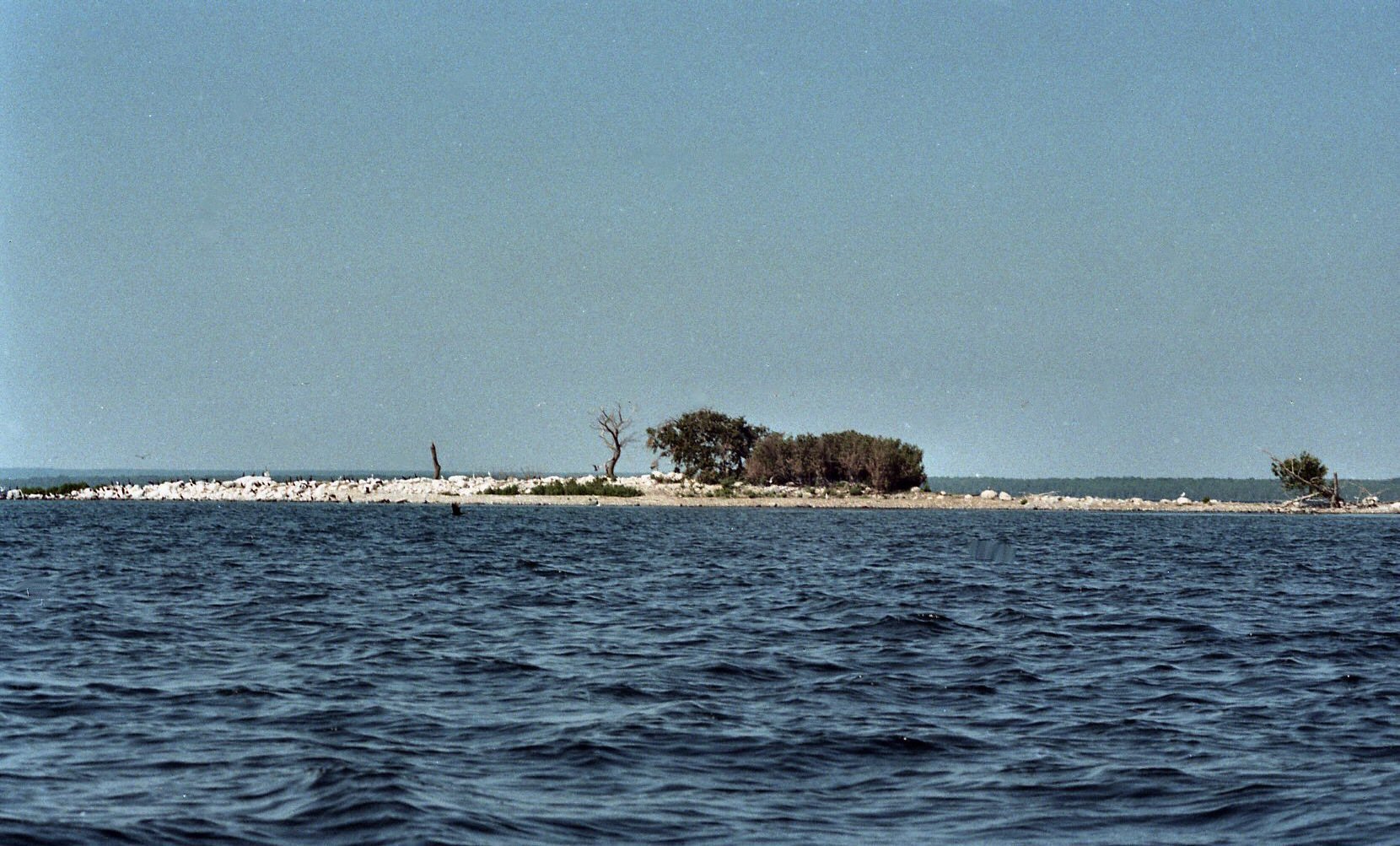 .....
Alas! It was too good to last! By 1100 hrs our SW wind dropped off to nearly nothing. We doused the chute (too much effort!) and gybed to port for two reasons: try for more wind funneling along the shore (the Rous Islands) and, if Doug steered just right, we were in the shade of the main which provided welcome relief from a now oppressively hot sun.

To help while away the time, we recalculated the speed formula for a Wayfarer that Al had read somewhere but forgotten: one knot = 6080' per hour, i.e. 6080' in 3600 seconds. Therefore, 16' should take 16 divided by 6080 x 3600 sec., which we estimated to be about 10 seconds (actually it's more like 9.5 seconds, now that I'm out of the sun!) Thus, at 2 knots, Whirlwind should take 5 sec. to go one boatlength, etc.

Using a nice, biodegradable Kleenex, we soon established that we were doing just over one knot. Shortly thereafter, the one of us who had not used the bushes on Clapperton that morning, got an overwhelming call from nature and got to put droop hiking to an entirely new use. In an increasing wind, our helm did not get a reliable time for half a boatlength based on this evidence, however.

With a double sense of relief, we proceeded in increasing, rather cool SW winds and lowering skies. We made the grand entrance into Little Current on a planing spi reach but were forced to douse near the town wharf when the swirling winds, now gusting to 20 knots, urged us to prudence.

The current being with us, and the swing bridge opening still almost 40 min. away, we decided to shoot the bridge with the mast down. We chose a sheltered looking dock about 200 m. from the bridge to start the operation under controlled circumstances. Al misjudged the momentum of a fully burdened Wayfarer and we almost knocked over a No Trespassing! sign. Of course, anyone could see that we were not "trespassing". We were mariners in distress!

Soon the mast was down and I was reminded of the old Good News, Bad News joke about the galley slaves' captain wanting to go water-skiing, as Doug bravely fought to keep Whirlwind on course as the upper ten feet of mainsail kept filling with 20 knots of gust and blowing the stern off to one side or the other. The tiller was also not too mobile, what with mast, spreaders and sail hanging all over it. We could have used the boom crutch, I suppose, but who knows how much a further raised mainsail would have blown us off course???

Anyway, we made it nicely through the starboard span of the bridge and quickly headed up into a relatively sandy spot just east of the bridge. Almost there - but Mr. Murphy never sleeps: When I tried to quickly raise the board, the gooseneck was perfectly positioned to block the manoeuvre and we suddenly crunched to a halt. But all was finally fixed, although it is harder to lift the mast with sail and boom attached...

Once clear of the town and the bridge, we were on a nice broad reach, and the spinny seemed called for once more. A couple of minutes later, we cleared Gibbons Point. I looked over my shoulder and saw what looked like a mini-squall coming at us. We downed the spinny in record time and battened the hatches just in time to take off on a planing reach past Strawberry Island. At that point the threatening clouds disappeared and we were left with a glorious 15-18 SW wind and warm sunshine.

A gybe at Mary Point on Little La Cloche, and we were on the home stretch. One more hoist of the spi and we settled into a nice comfortable surfing/planing port tack broad reach. Little La Cloche was going past a lot faster than last time! While Doug was marvelling how well balanced and light our fully loaded Whirlwind was feeling, Al cast admiring glances at a gorgeous 40' wooden ketch that was slowly creeping up from astern under genoa alone.

When he finally got fairly close, their helm yelled at us and we headed up to see what he wanted. Thus he finally got our wind and went by saying: "You're doing 7.5 knots!!!" Hard to believe, but we're gullible!

Remembering the disturbed winds off McGregor Point from Wednesday (and Al's frequent dumps at Fanshawe in similar conditions!), we doused the spi and settled down to try to find island #1104 and Rick Cantwell in Pathfinder Bay. There were so many islands, however, that we ended up following Wednesday's Interlake which was going in the right general direction.

When we followed to his dock, he asked: "Didn't I see you recently?" After confirming this to be true, we got directions which included a camouflaged satellite dish (below) as positive identification......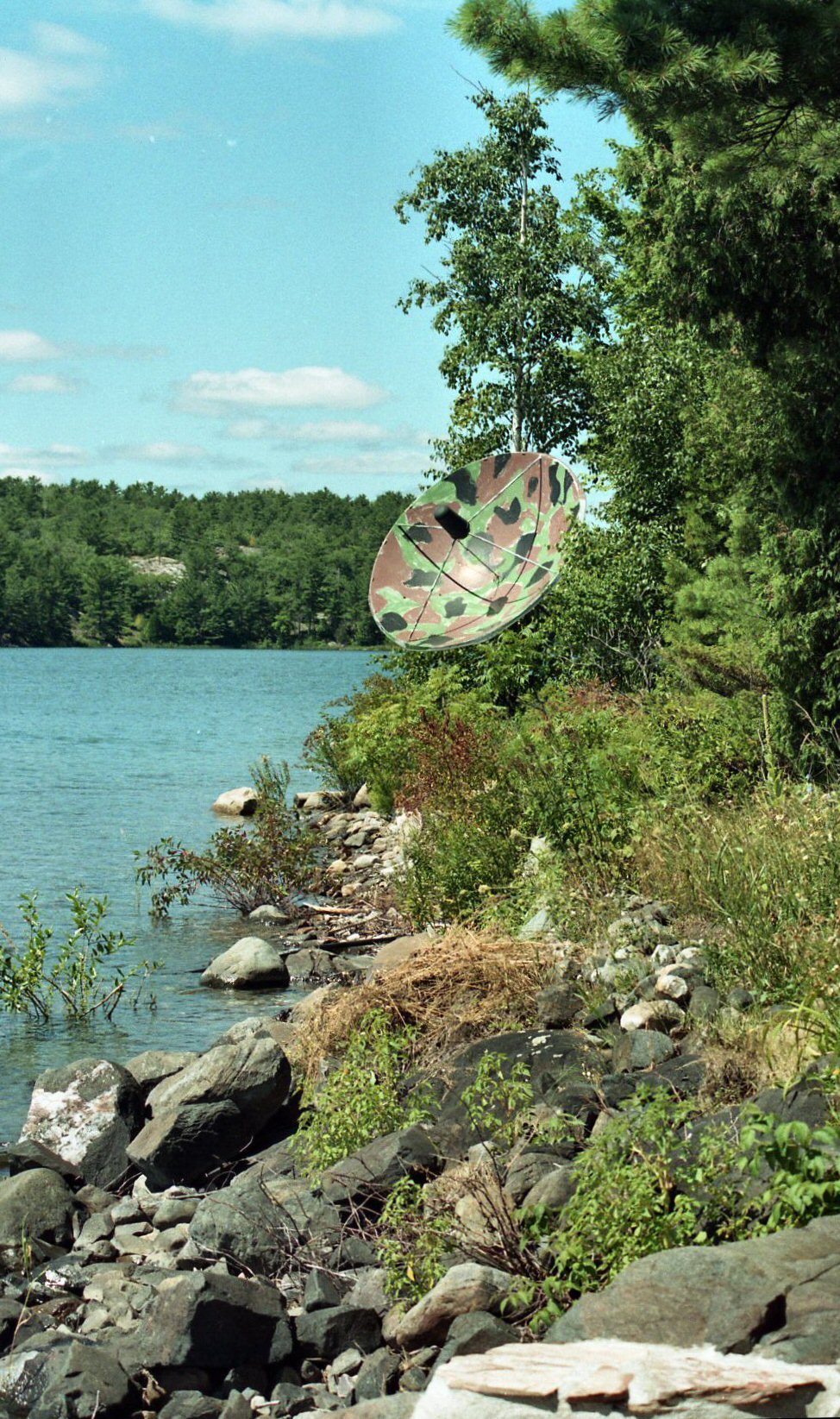 .....
Soon we had found the right spot and prepared to beg for a space at Rick's dock - but it seemed no one was home...

Although we knew we had a standing invitation to stay at Wilma Starke's island across the bay while she was away in Detroit, but we decided to get out and at least stretch our legs first.
.....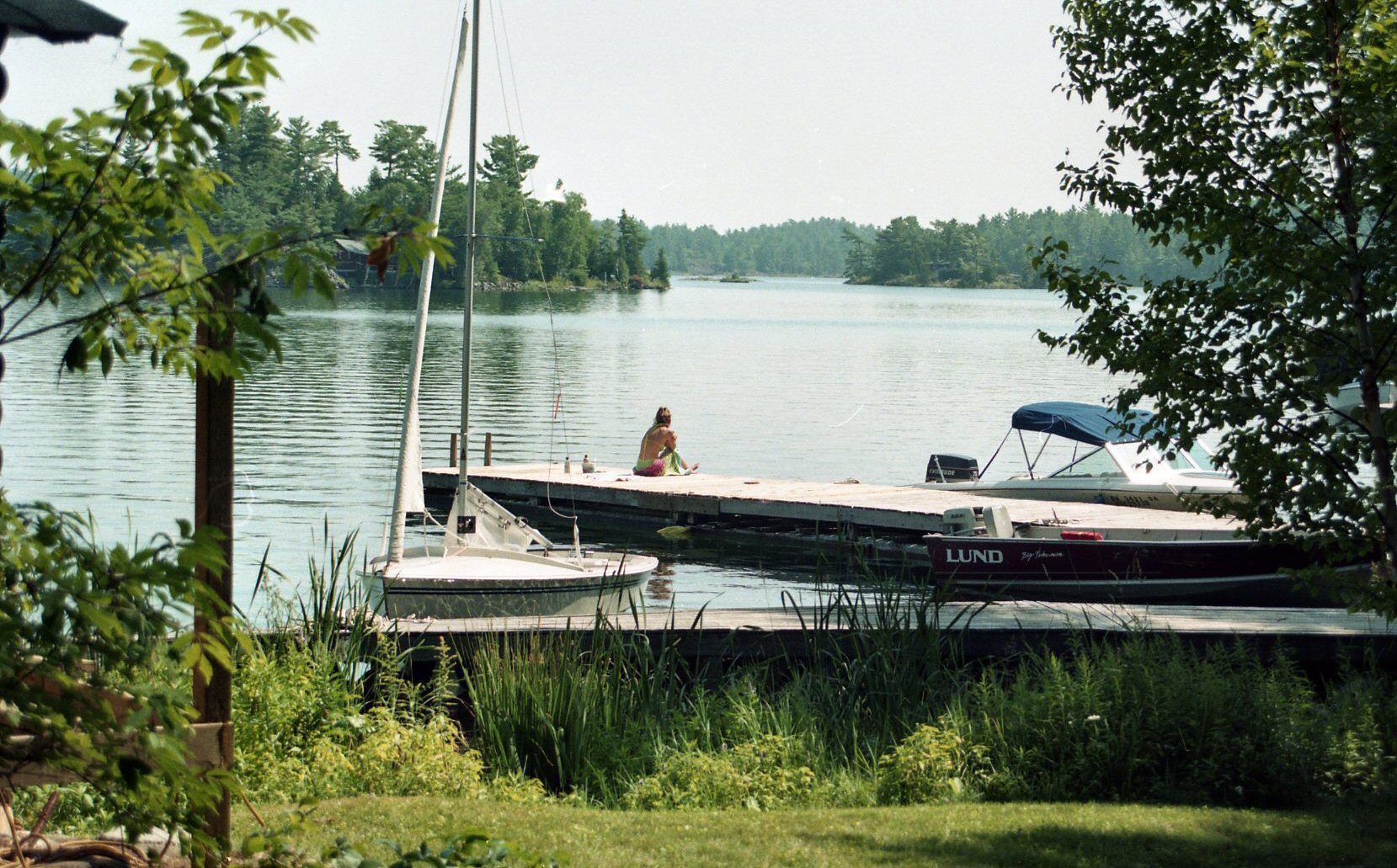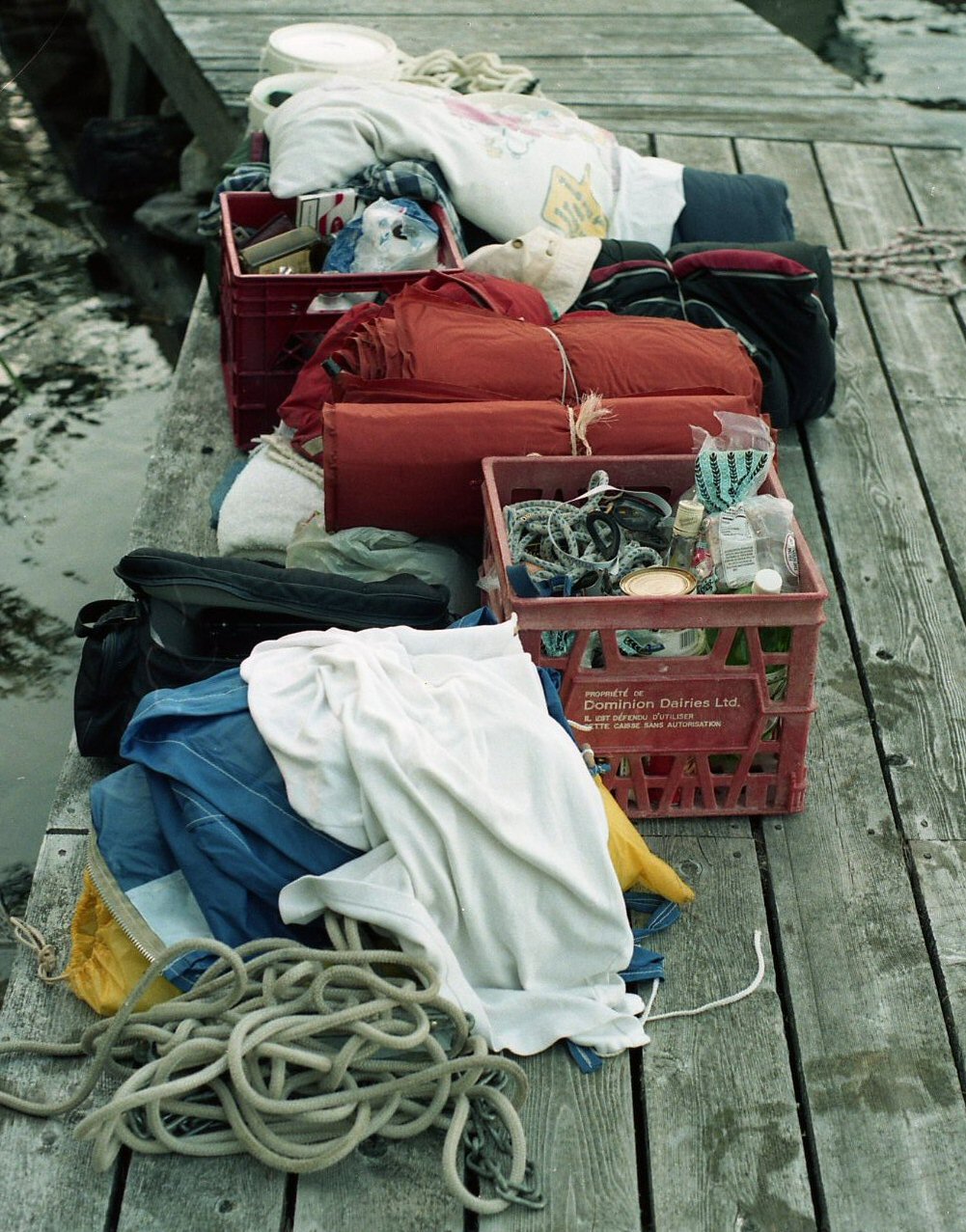 .....
Whirlwind was well protected at this dock (above) which was not at that time graced by Rick's lovely wife, Gina. And suddenly, there was Rick (below), virtually unchanged in the 12 years since he had whipped Ralph Starke and me in the 1985 Outer Bay Race.
.....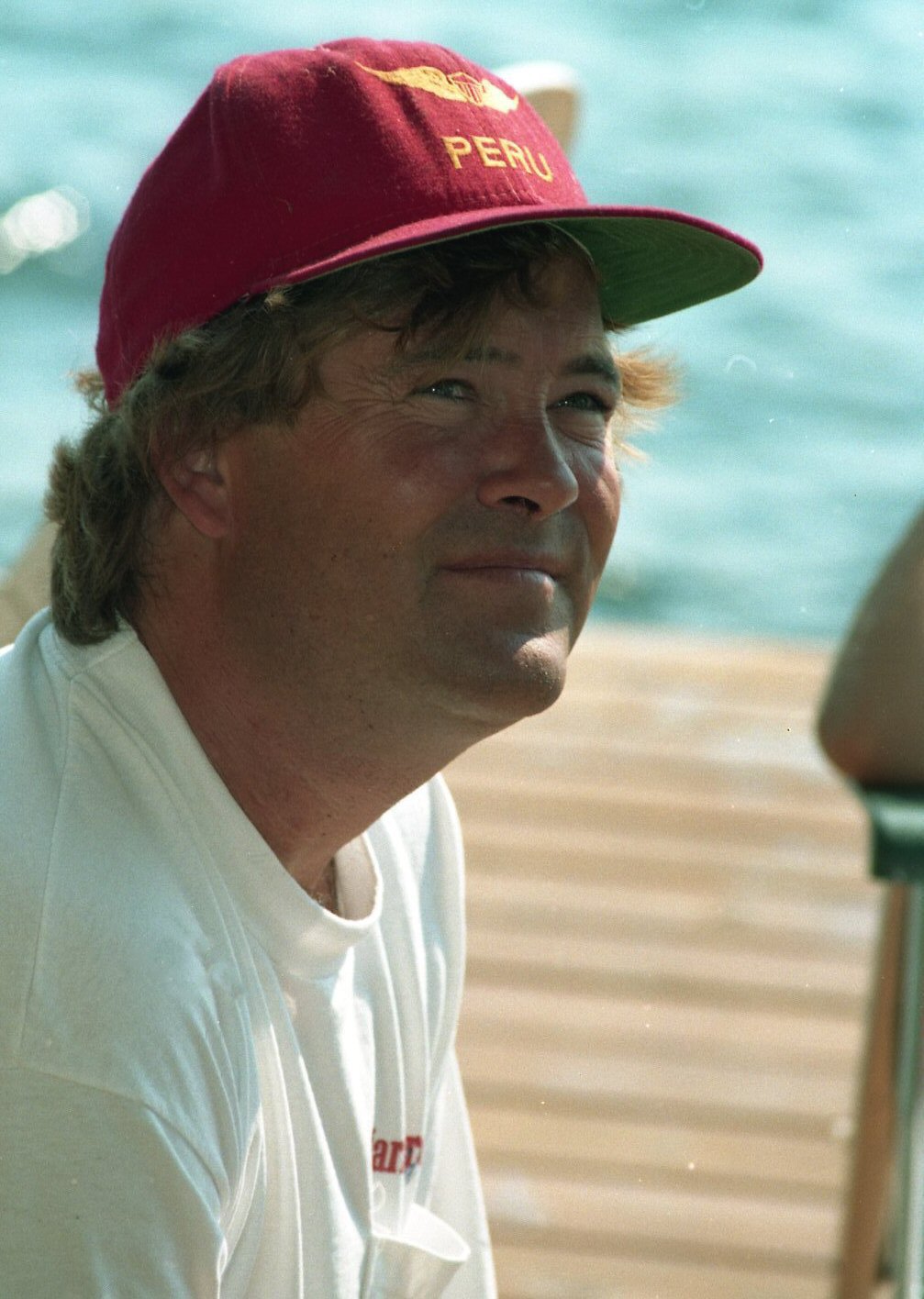 .....
Poor Rick! He had finally been getting in a day of rest after a summer of frantically trying to keep the island and its 13 buildings in reasonable repair. A rest that had been especially welcome after a major party the night before!
.....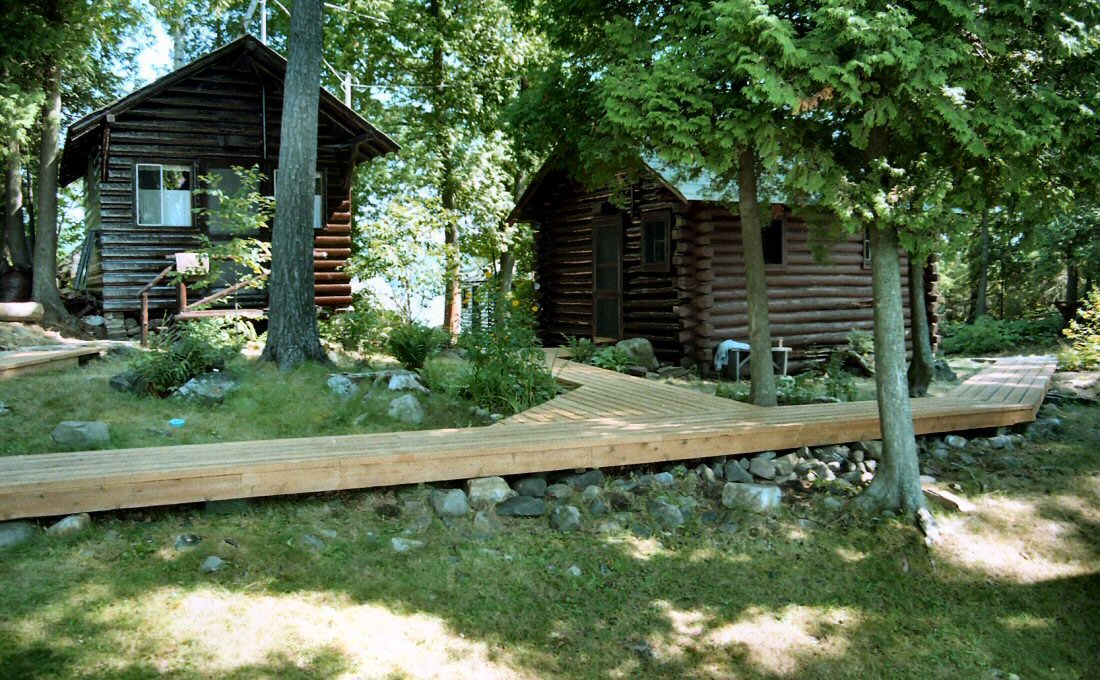 .....
We assured Rick that we could easily sleep in the boat, but he would hear nothing of that and insisted that we take the main guest cabin. With justified pride, Rick pointed out that he had power-washed the wood walkways which looked like new (above) but had earlier looked like these docks on which we unloaded some of our gear (below).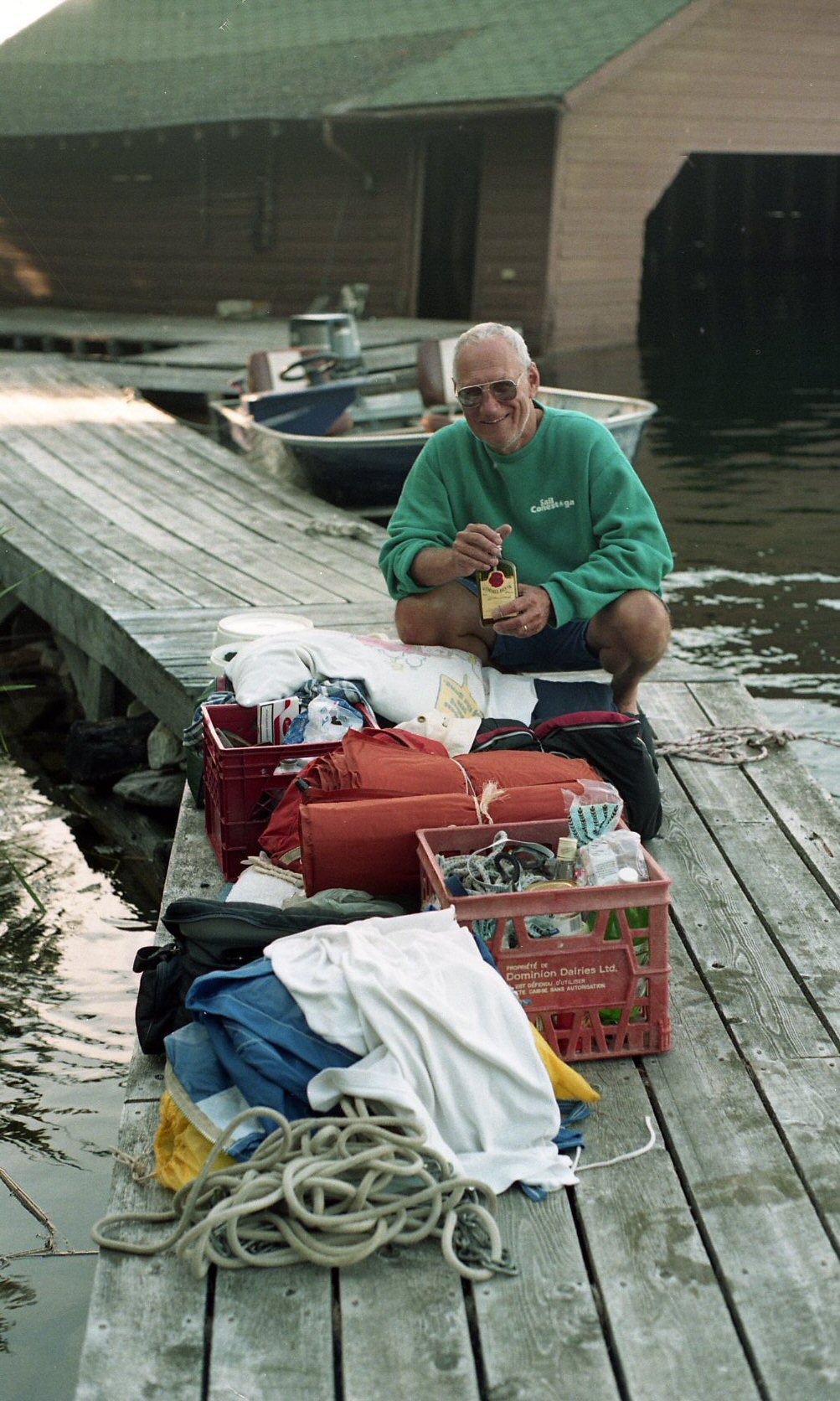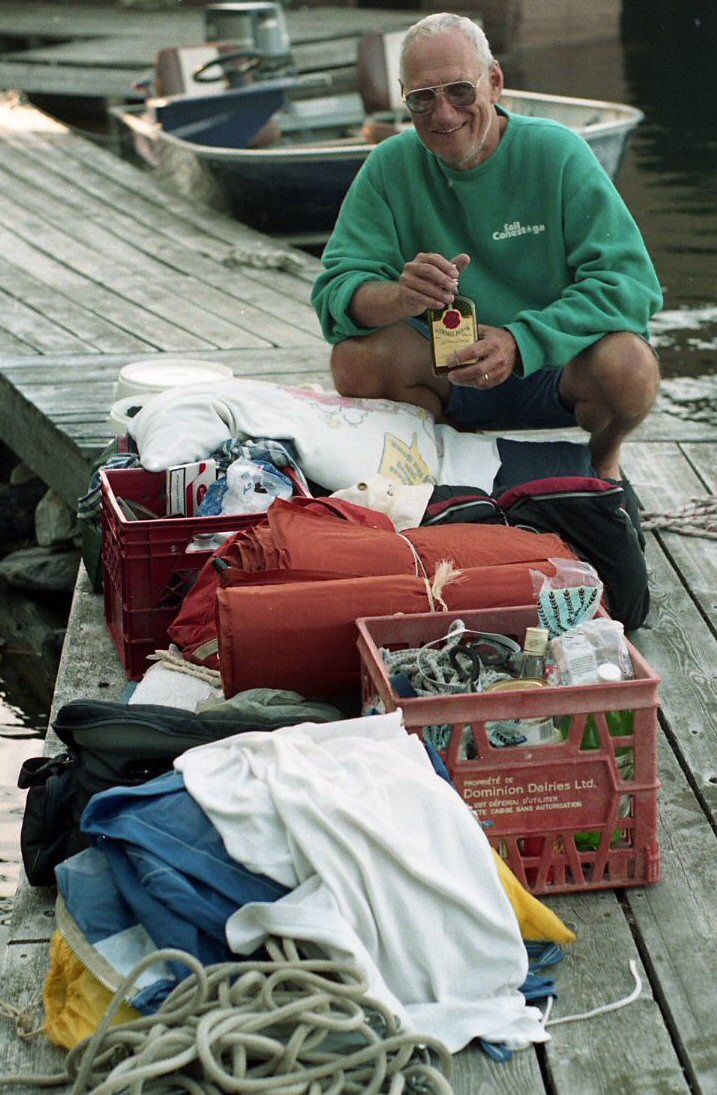 ..

...

We discovered that we would have no need of the Gammel Dansk Al was clutching (above), for there was a bottle of 12-year-old single malt MacAllan Scotch awaiting our pleasure in the cabin.
.....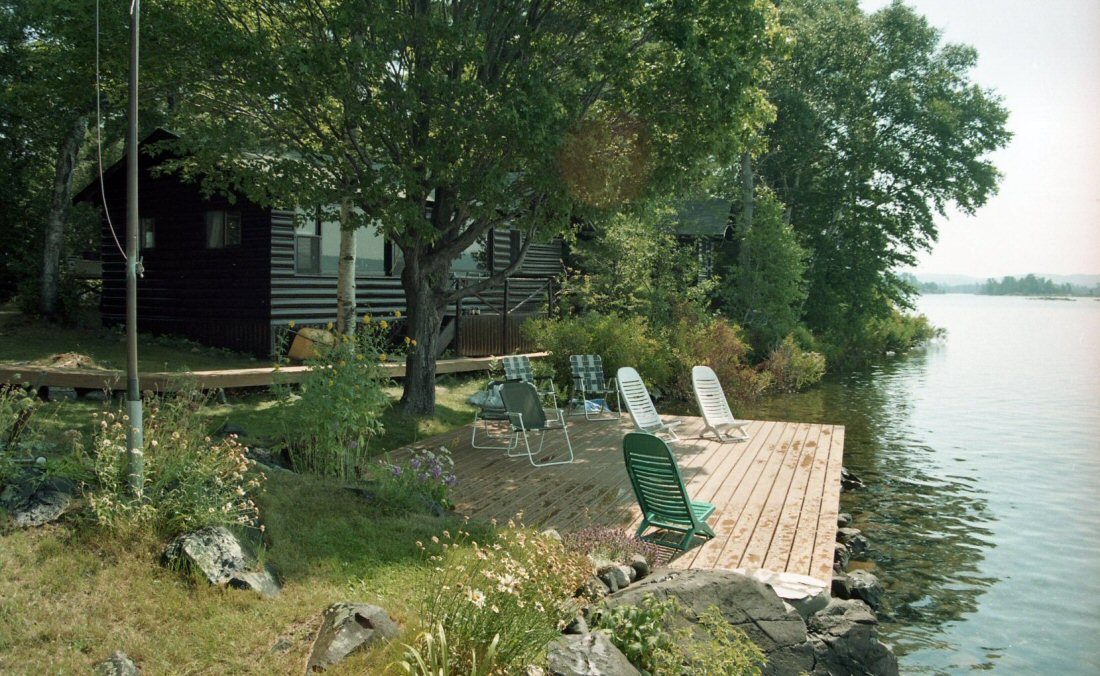 .....
As we finished our unloading, we met Rick's sister-in-law, Judy (from Oakville!) and her son, Connor, returning from McGregor Bay's sole store at Birch Island. These two demonstrated the use of the island's wheelbarrow for those extra big loads, and we were soon ensconced in the guest cabin (above and below). And before Doug could even think about today's dinner, there was Rick putting some extra burgers onto the BBQ - leftovers from last night's party, he claimed.
.....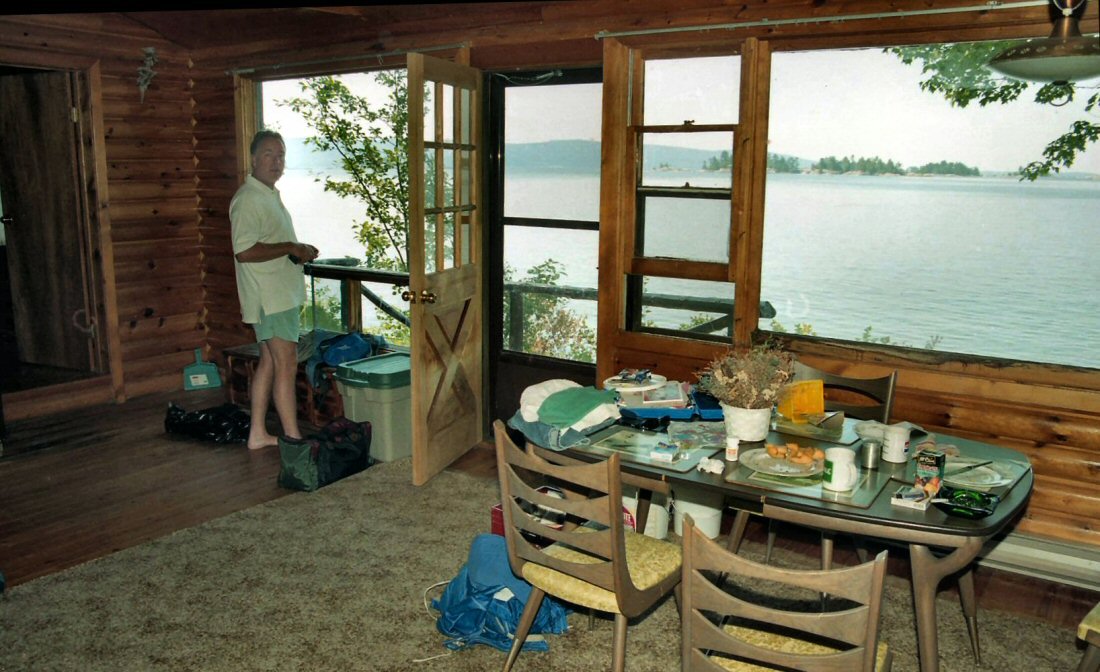 .....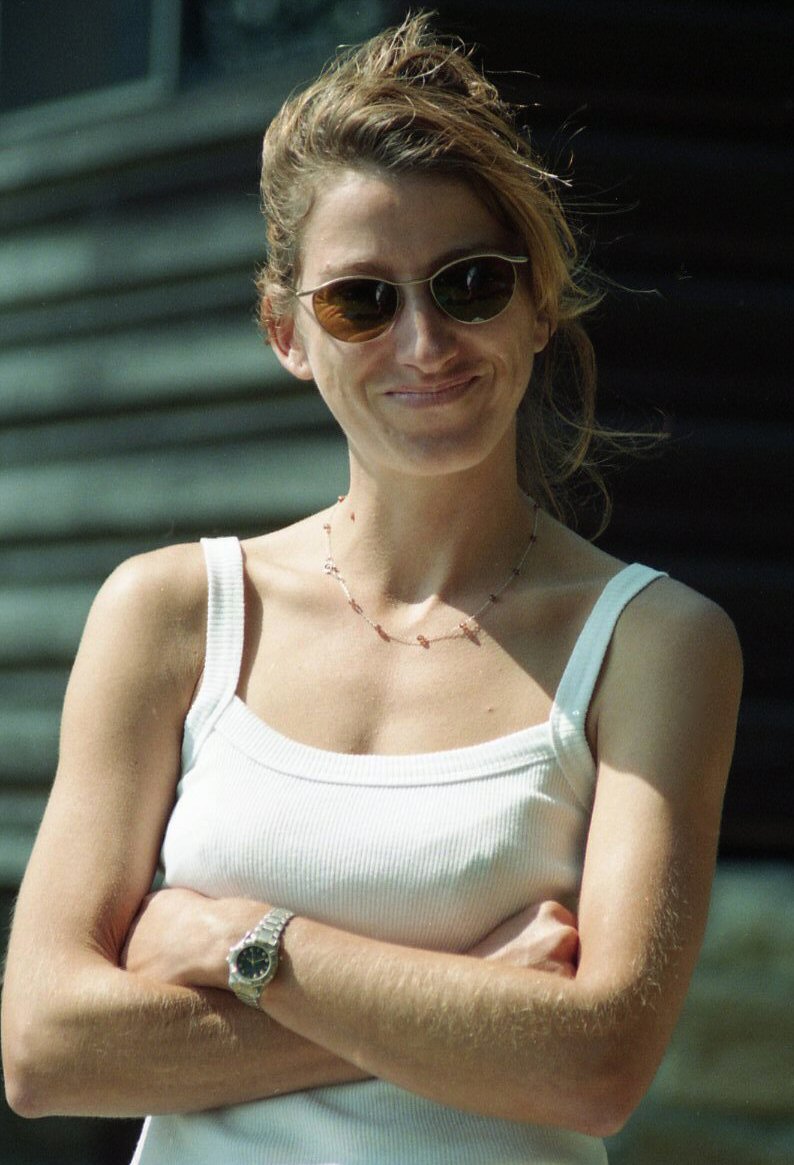 .....
At "dinner", we met the charming Gina (above), Rick and Gina's daughter, Chelsea (below), and Kara, Judy and Bob's daughter. Gina brought along a fine spinach salad that even the non-salad Uncle Al enjoyed.
.....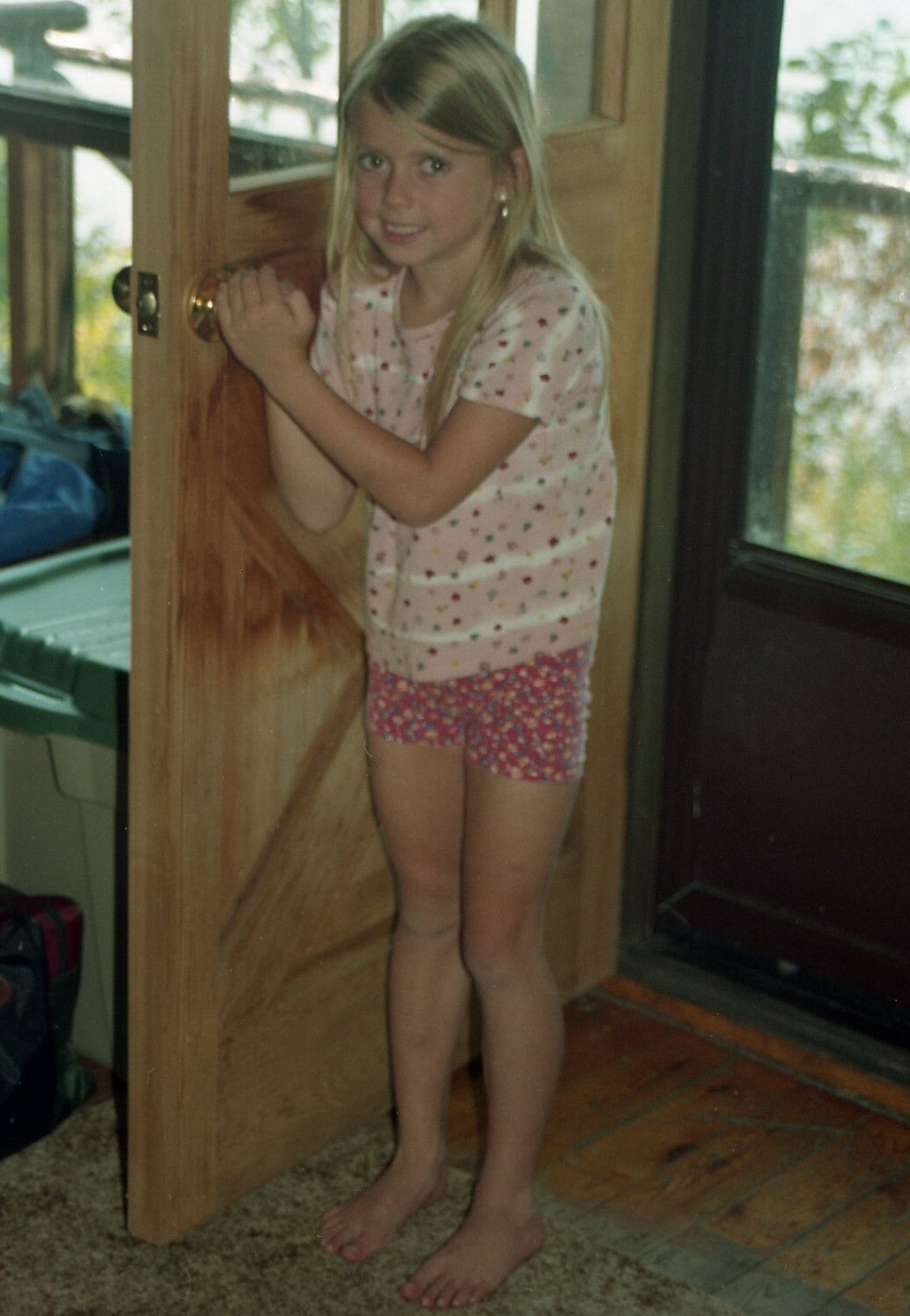 Even some little mermaids were in evidence.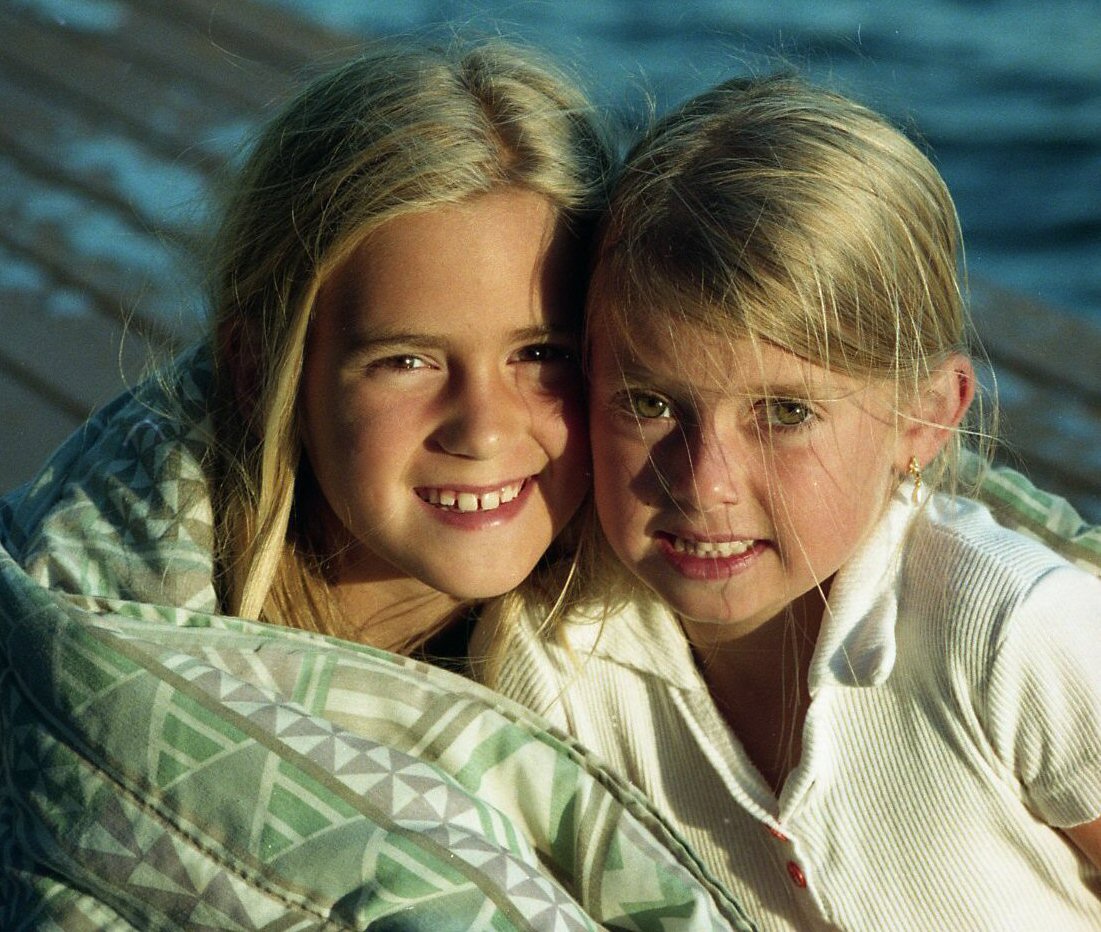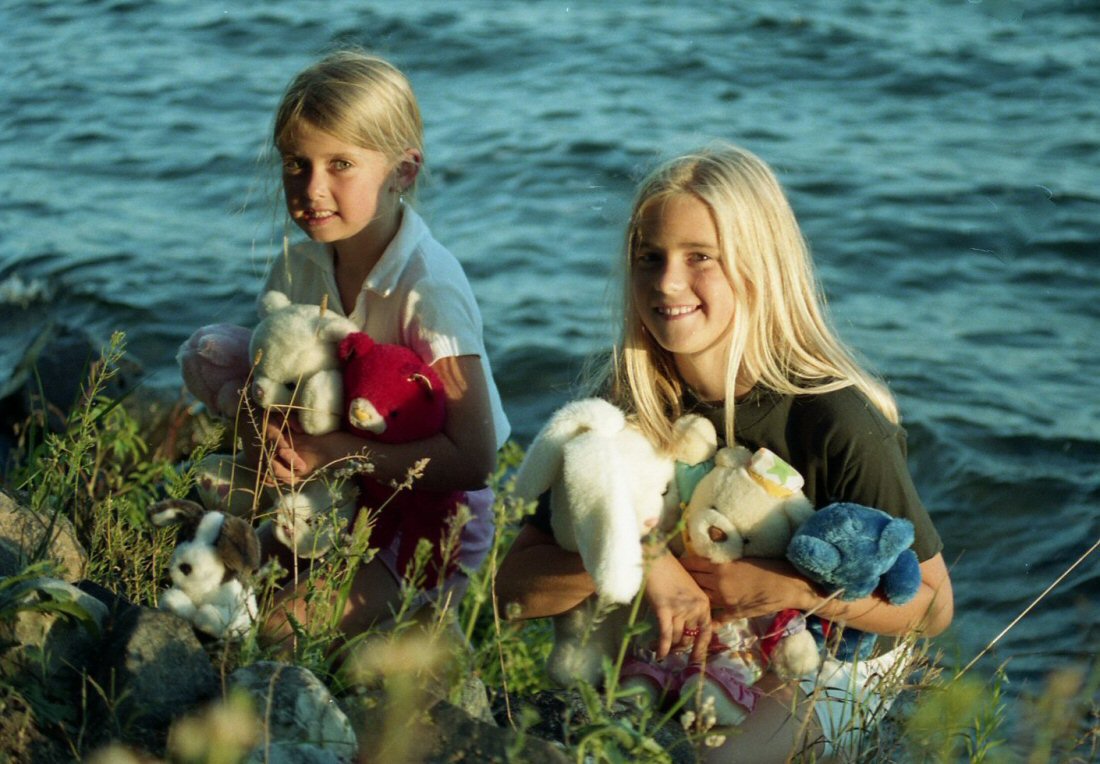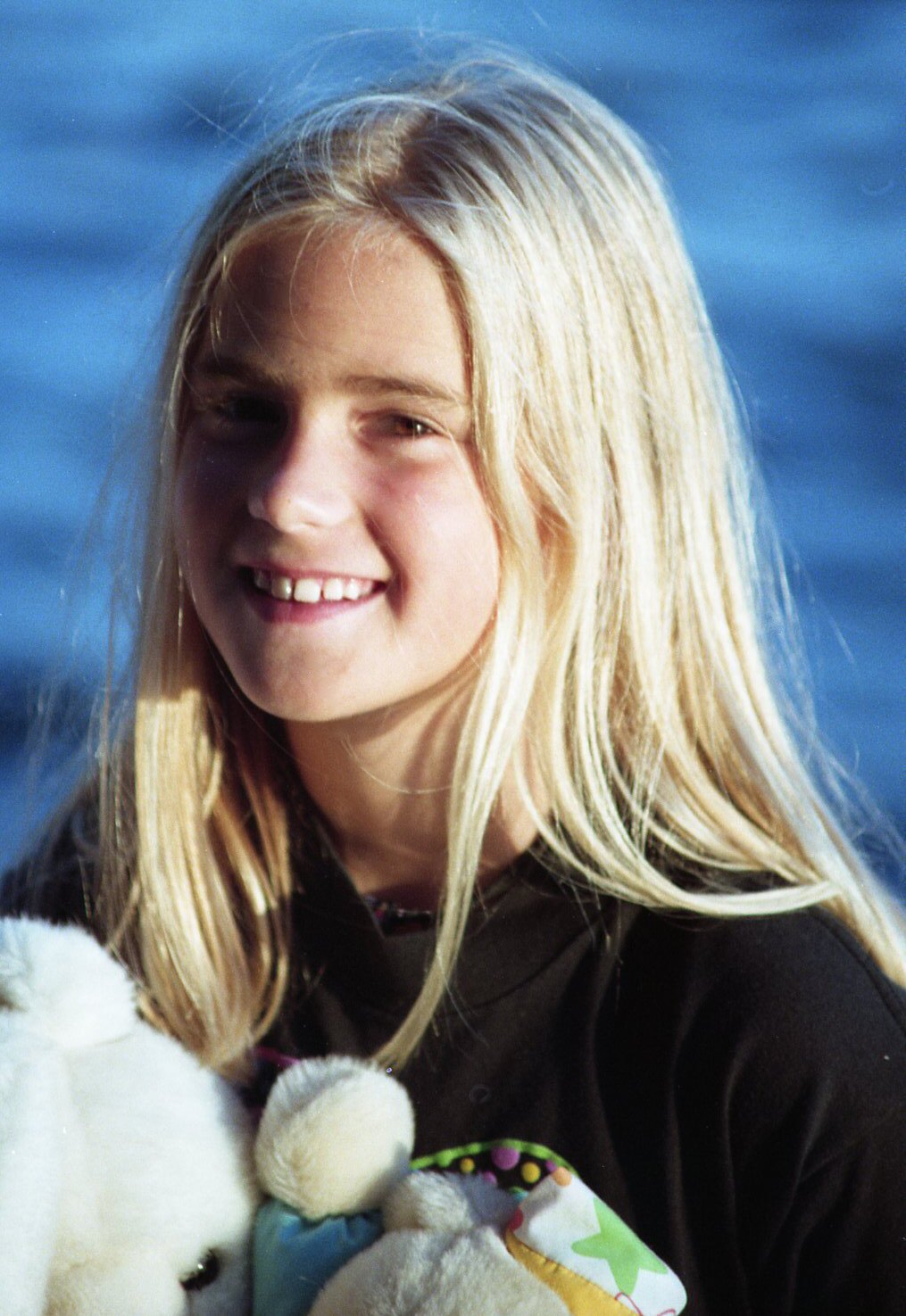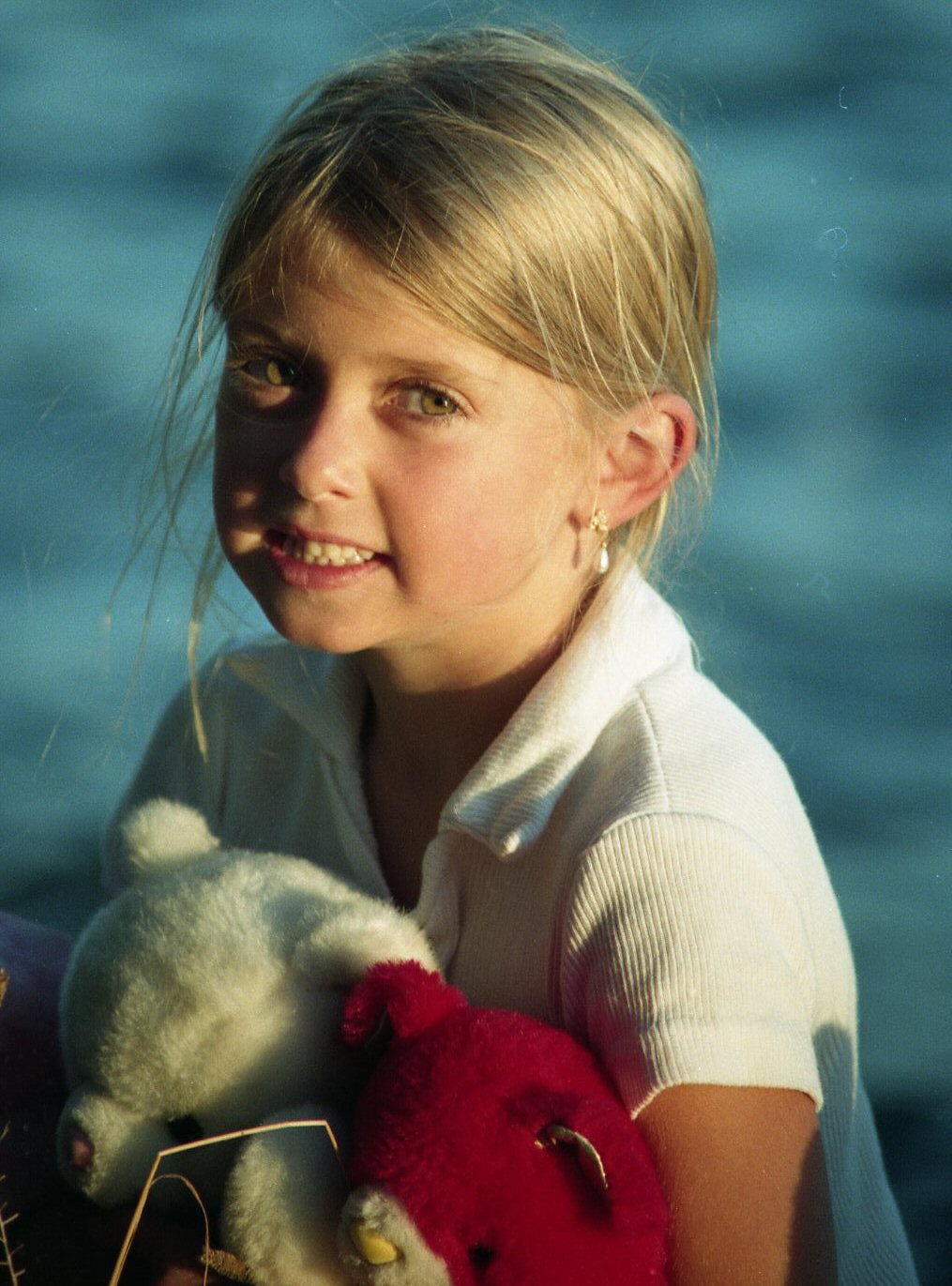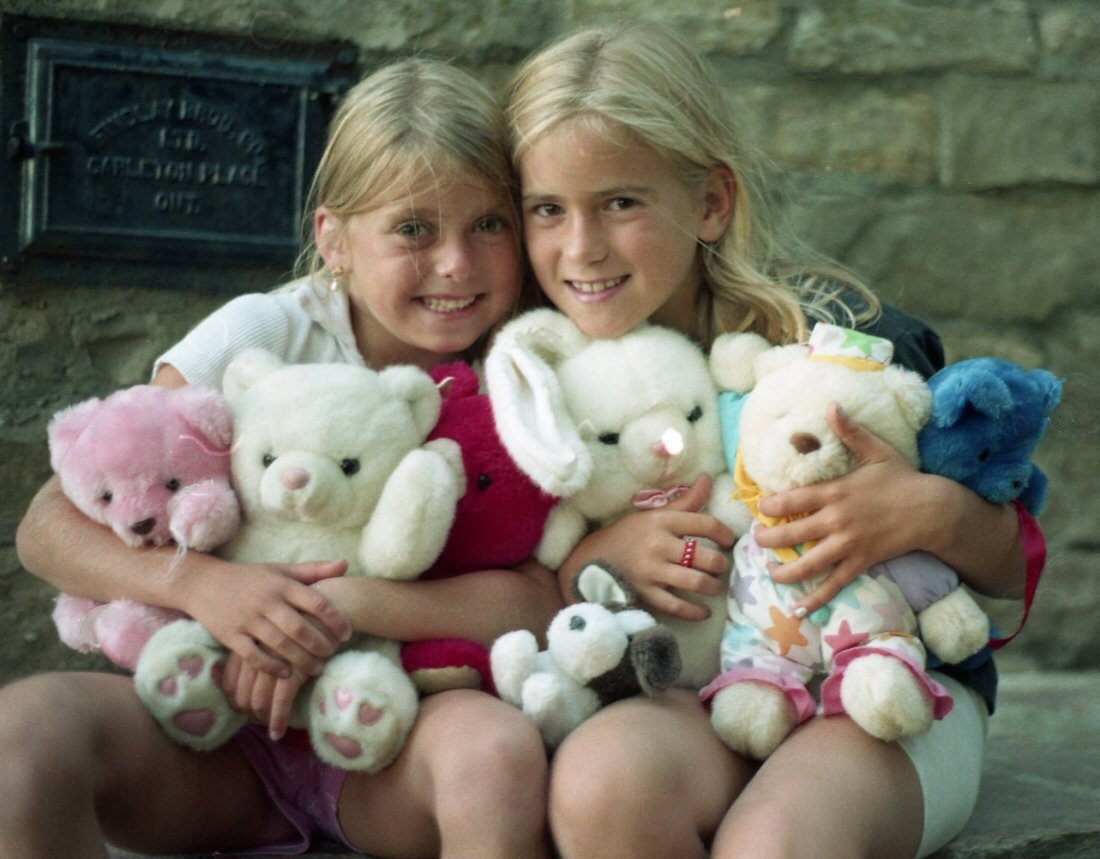 .....
We discovered that, in his other life as a collector of exotic seeds who is doing very nicely, Rick and his family live in California north of San Diego, while brother, Bob, and family live much closer to the "cottage", in Lively, just west of Sudbury.

While the kids played accidents and ambulances with their stuffed toys after dinner, the sailors (but not Gina!) adjourned to the main lodge where we enjoyed drinks, music and the exchange of stories.

During the course of a most entertaining evening, we heard a lot about Rick's seed collecting escapades as well as discussions of sailing tactics, including Rick's claim that it's faster to raise your centreboard while tacking into the current in McGregor Bay's Blasted Channel. By 1 a.m., the discussion had moved to the guest cottage with bedtime around two - far cry from our sunset-related bedtimes of the past few days!