A 10-knot westerly carried us quickly back to Little Current's town wharf where we added our princess to the row of queens (below) before rushing off to the nearest restaurant and Al's ever more urgent appointment with nature.
.....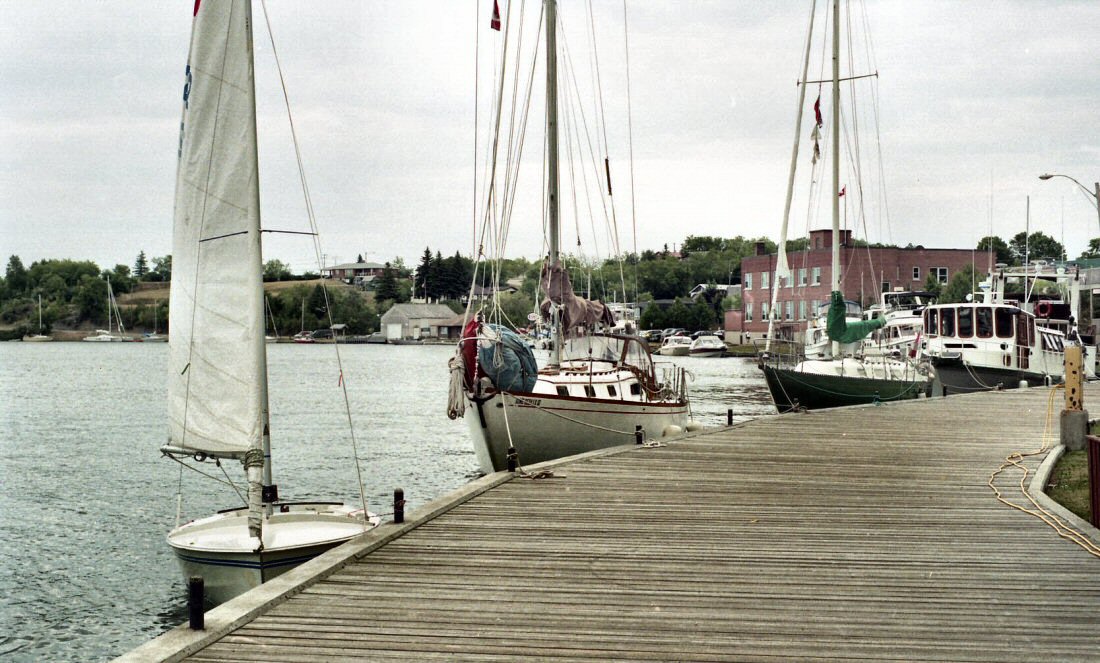 .....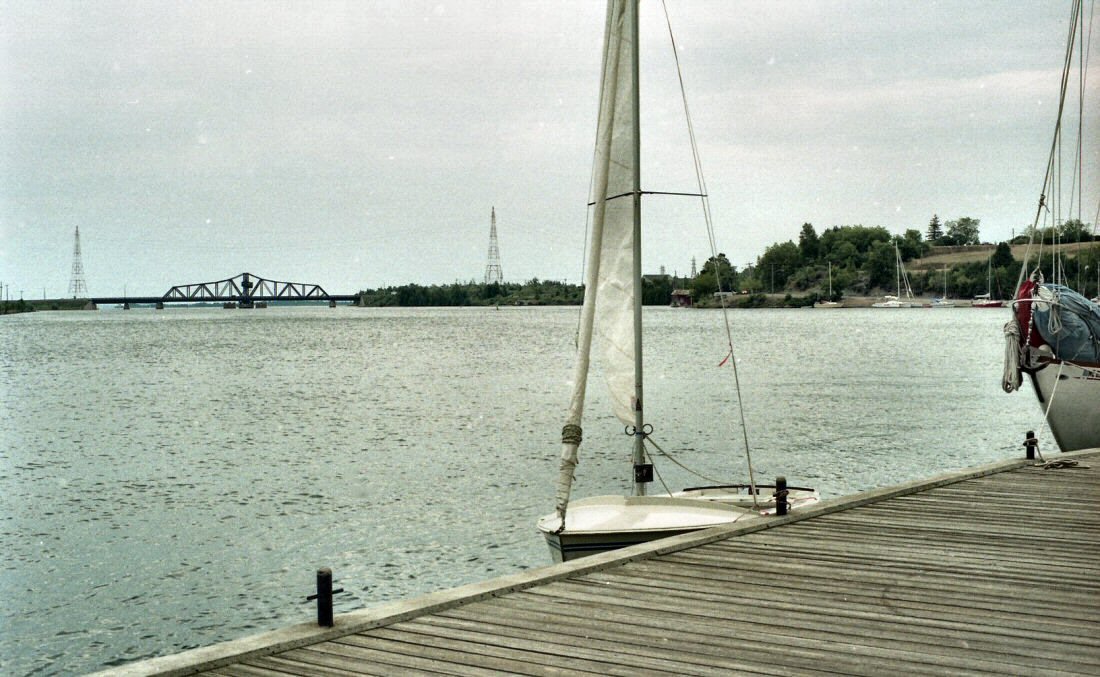 .....

We soon located the Edgewater Restaurant right where the name suggests that it should be, next to the dock.

.....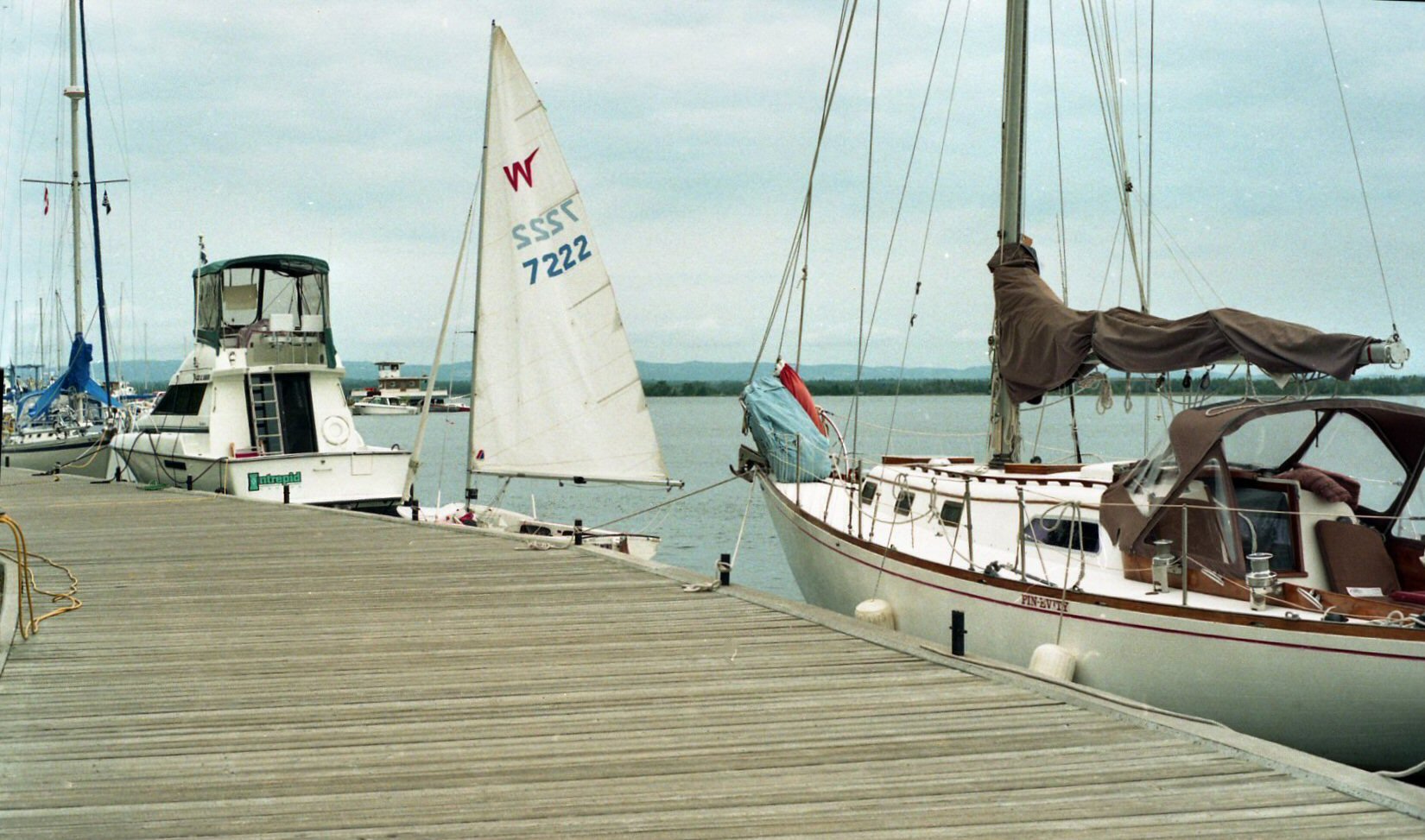 .....
By the time Uncle Al had finished his toilette, Doug had increased our order from coffee to a full-blown breakfast which we fully enjoyed in a leisurely manner while keeping an eye on Whirlwind which we could do right from our table (below).
.....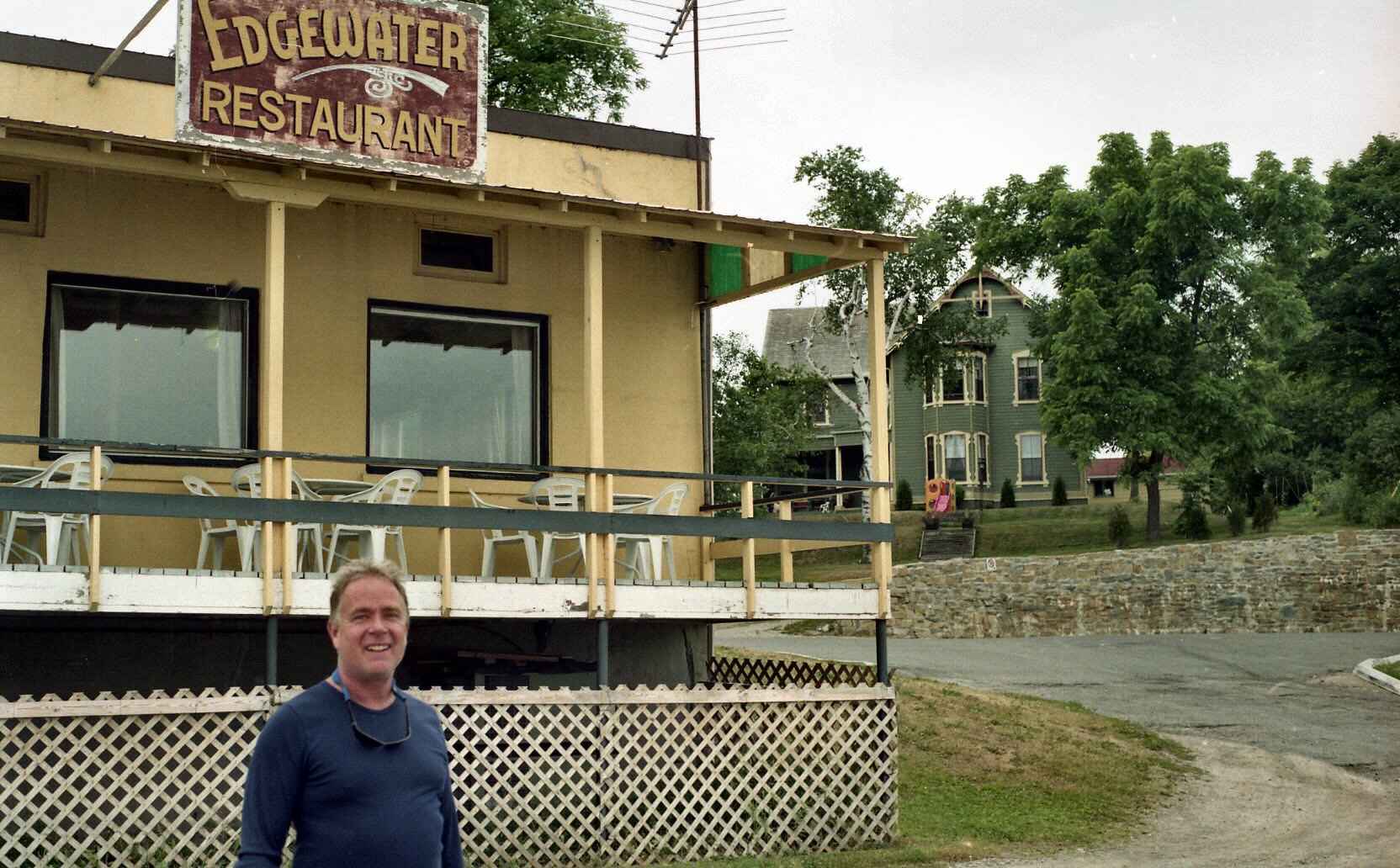 .....

It was a really nostalgic moment, sitting there in a real old-time Canadian restaurant - woodsy but with the obligatory arborite table tops. Little Current turned out to be a far better provisioning spot than Killarney and we soon had all the postcards, juice boxes and cigarettes we were likely to need for the rest of the week. One fly in the ointment was that the ice store was not open this early (1100 hrs) and we crossed our fingers that the steak which had left Huntsville on Tuesday morning, frozen, would still be OK to eat for tonight's anticipated last un-canned supper.

Soon we were back on the dock and with a last glance at our friend the swing bridge (below), we set out to chase our group which had left at least an hour and a half before from Maltas.
.....

.....
Unfortunately, there was little sign of either the four boats ahead of us, or the forecast SW winds to 30 km/h. as we fought our way upwind out of the channel against the not so "little" current. In a leftover chop and the dying winds, we tried for the funnel effect by going in between the Minks and East Rous Island. Not only did we find some breeze but in light of the previous day's navigational debacle, we were also delighted to confirm our position with some fishermen among the islands.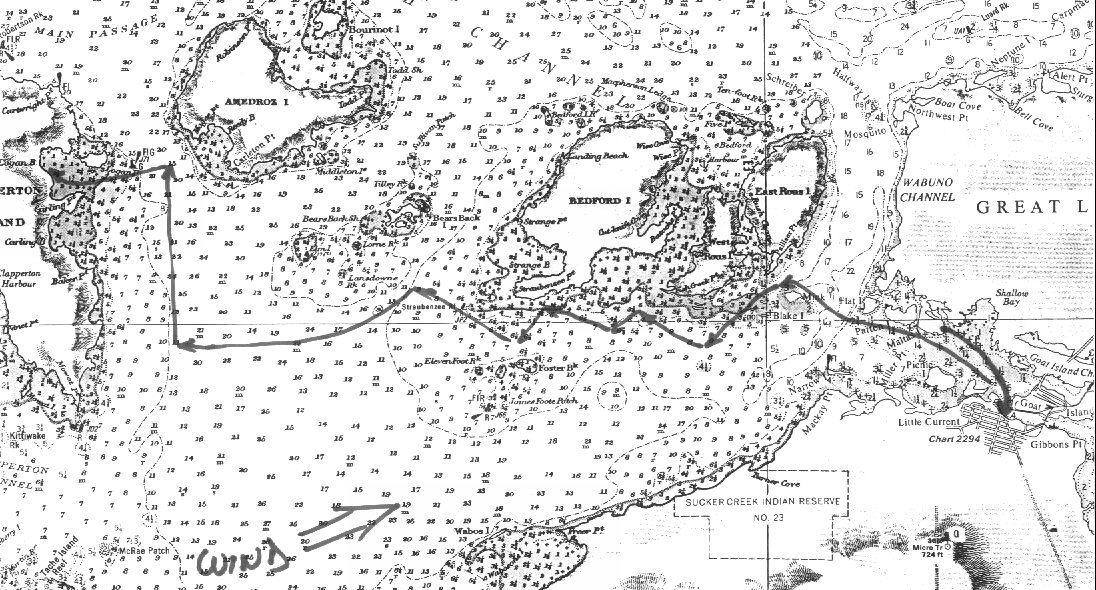 As we passed West Rous Island, the wind was down to about 3-5 knots, and we got our first glimpse of three boats from our group who looked becalmed way off shore and to windward. This kind of sailing being Al's forte, we were soon close enough to discern some changes in the crewing arrangements which had been made in light of the expected SW blow. Glenn Foster had picked up David Sleightholm while Tim France had traded crews with Bill Burton. This left Dick Harrington (whom we had yet to see) to single-hand Blue Mist.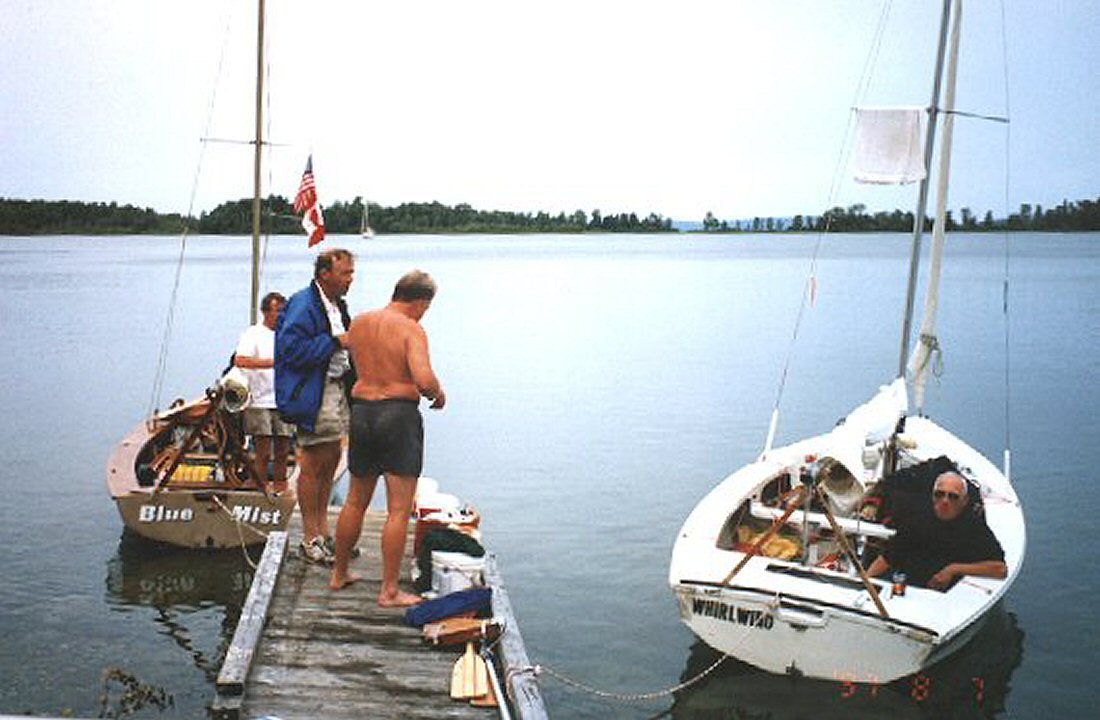 Arrival on Clapperton Island

Increased cloud activity was a harbinger of good things to come, as a 10-15 knot breeze settled in from the WNW along with clearing skies. Soon we were romping along into the odd spray making wave and enjoying a little boat speed test with Bill Burton and Alan Asselstine on the side. As we passed Bear's Back Island, we finally saw what had to be Dick Harrington way off to the SW. As he tacked to port to head for our Clapperton Island rendez-vous, we got a closer look at Blue Mist and a chance to admire a veteran single-hander at work. Dick's form was superb!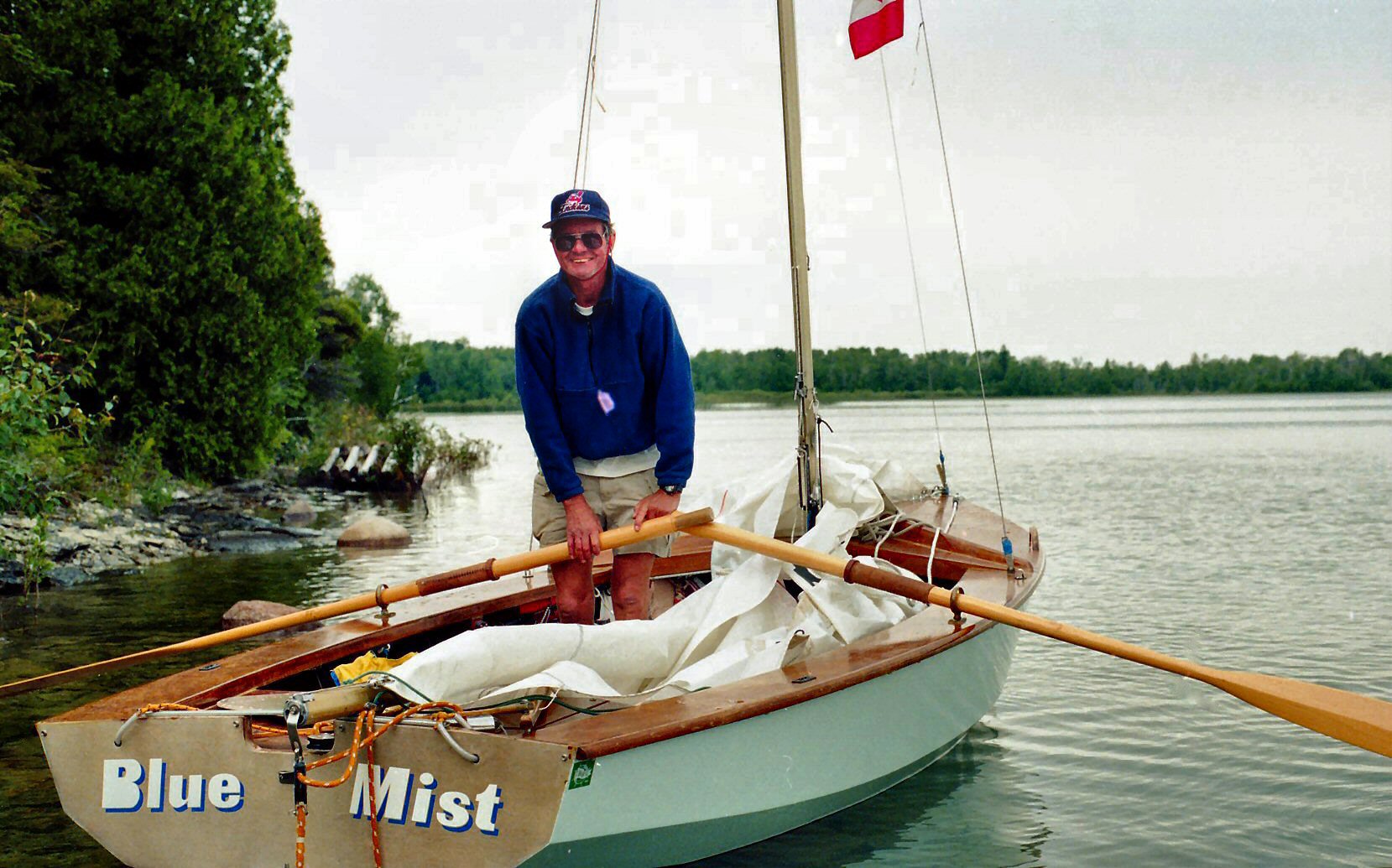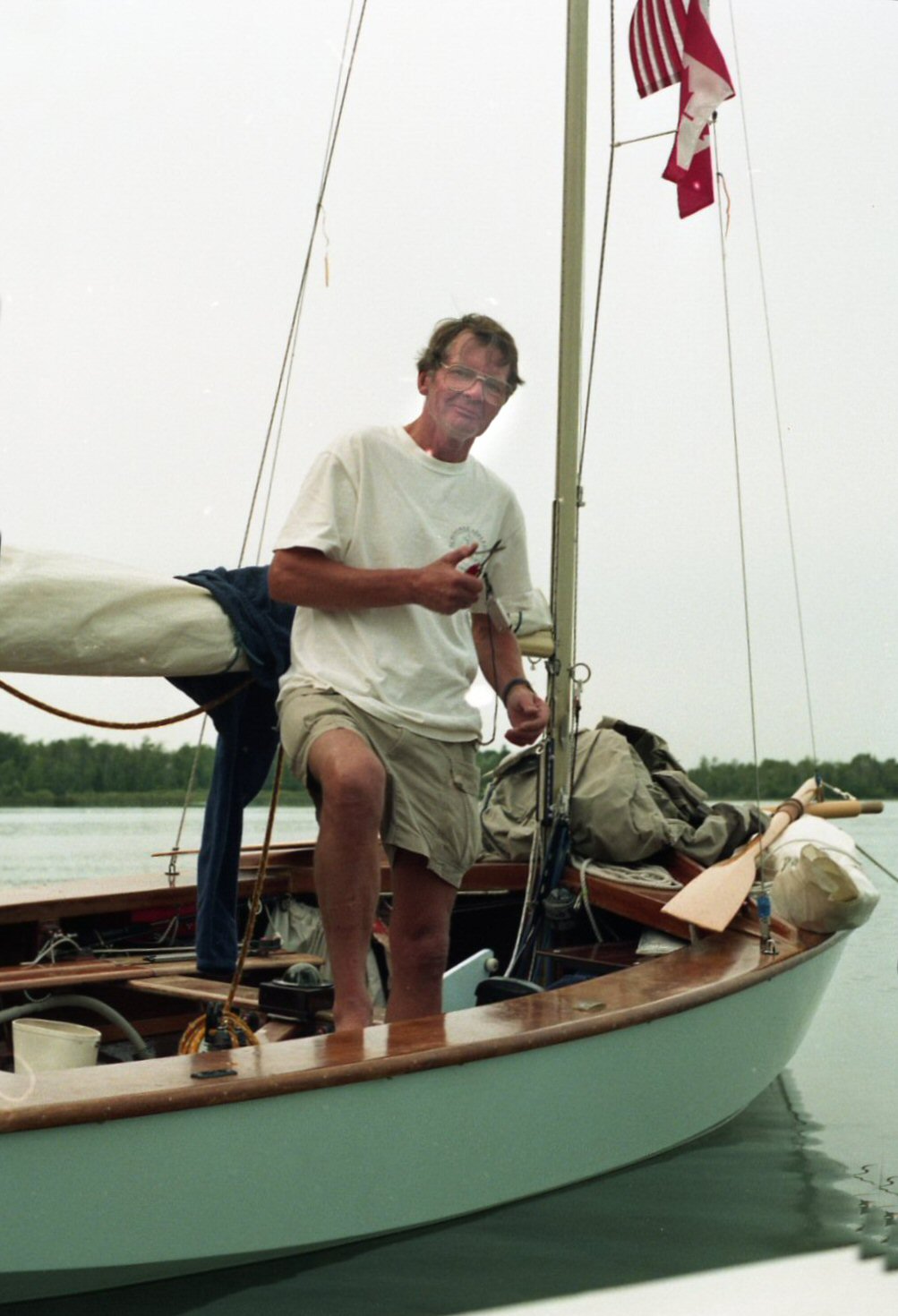 At 1500 hrs, having sailed 20+ miles, we trailed Dick into Logan Bay which would clearly be our last stop. He headed for a derelict dock we had had our eye on, but went off in search of better things near Logan Island while Doug and I grabbed this choice spot.
.....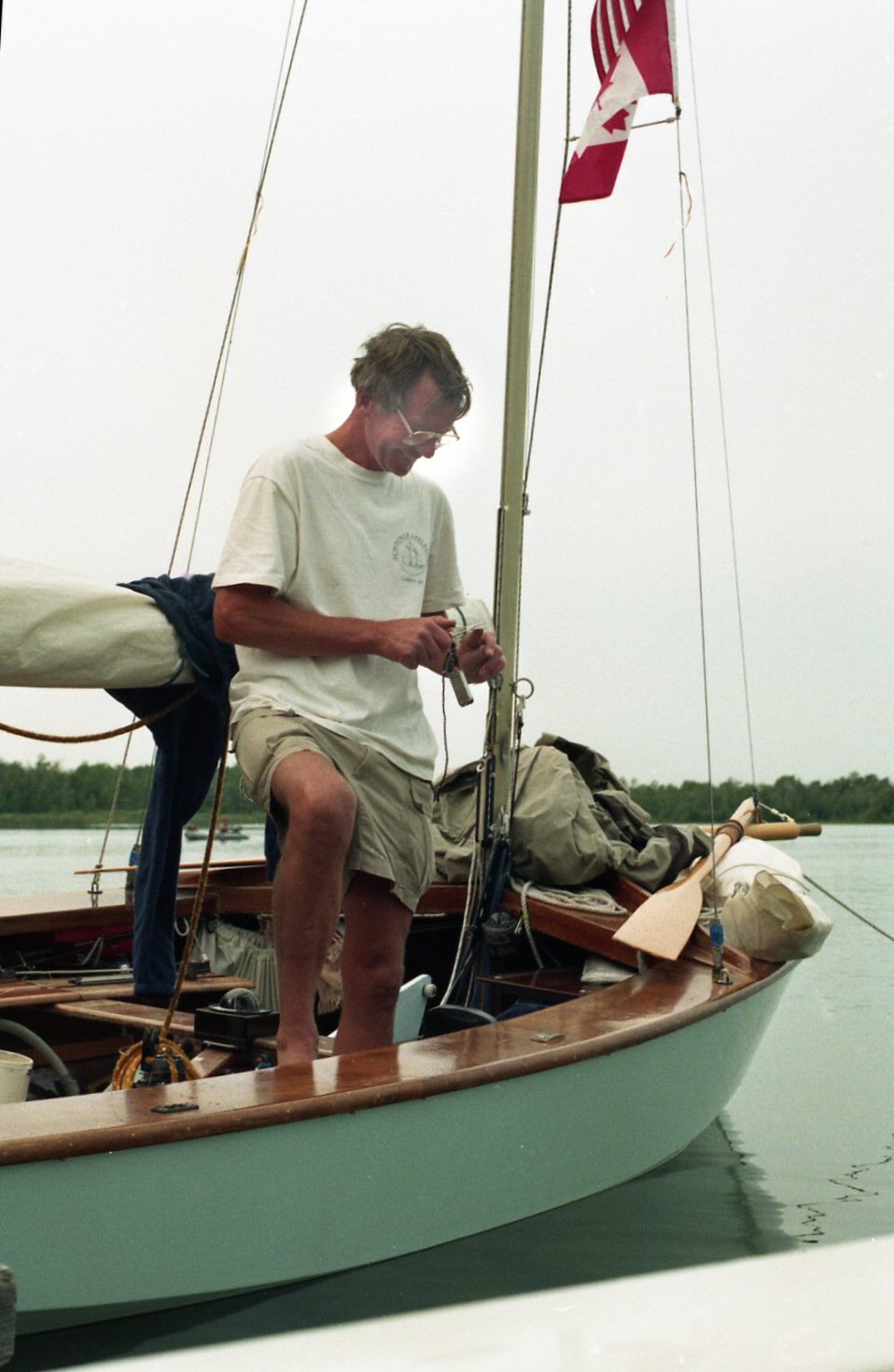 .....
Cleverly, I dropped our anchor while we were still well off the dock and under sail, while Dick (below) used the more conventional muscle power approach.
.....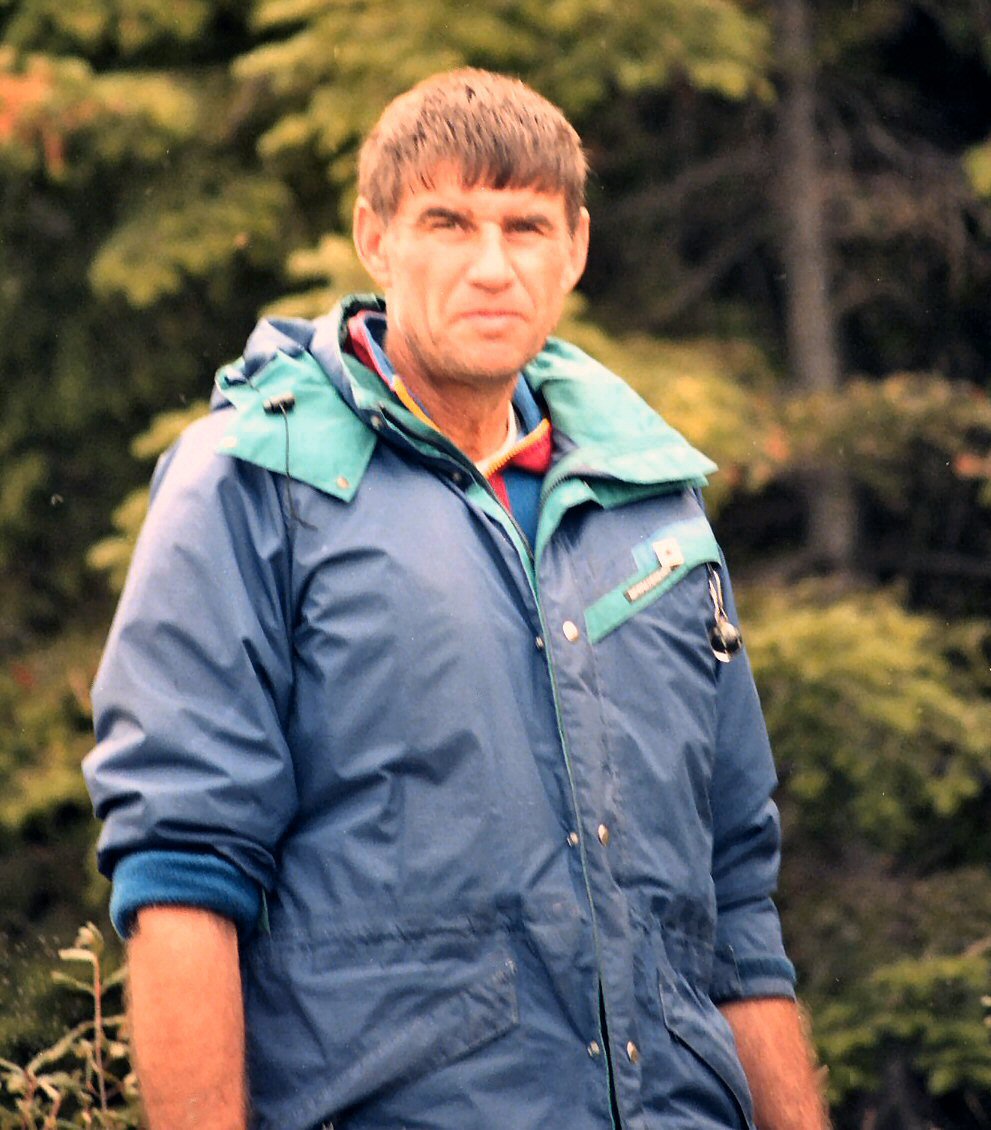 .....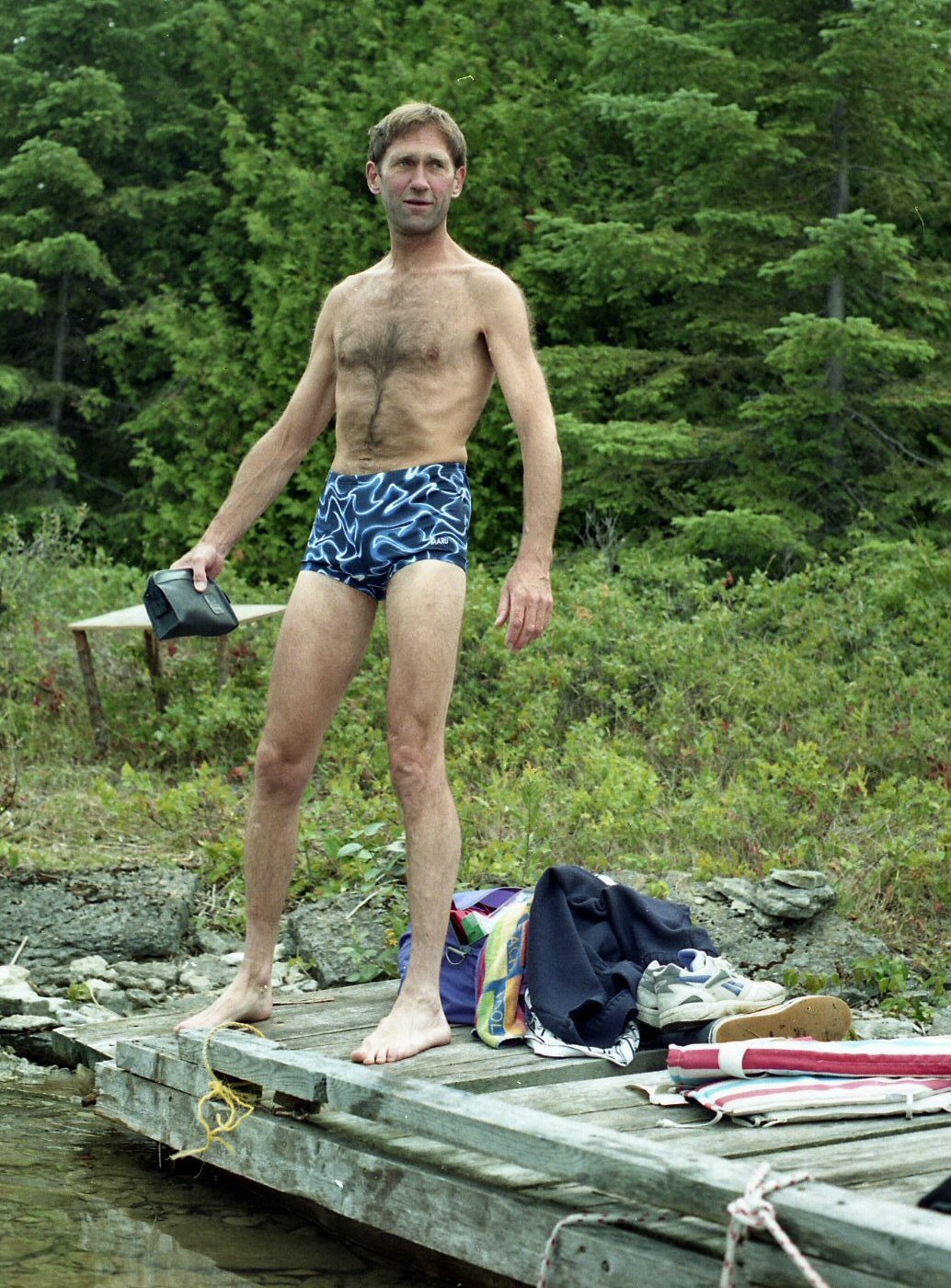 .....

Not only did this well sheltered place have its own dock, but a dinner table (below) as well!

.....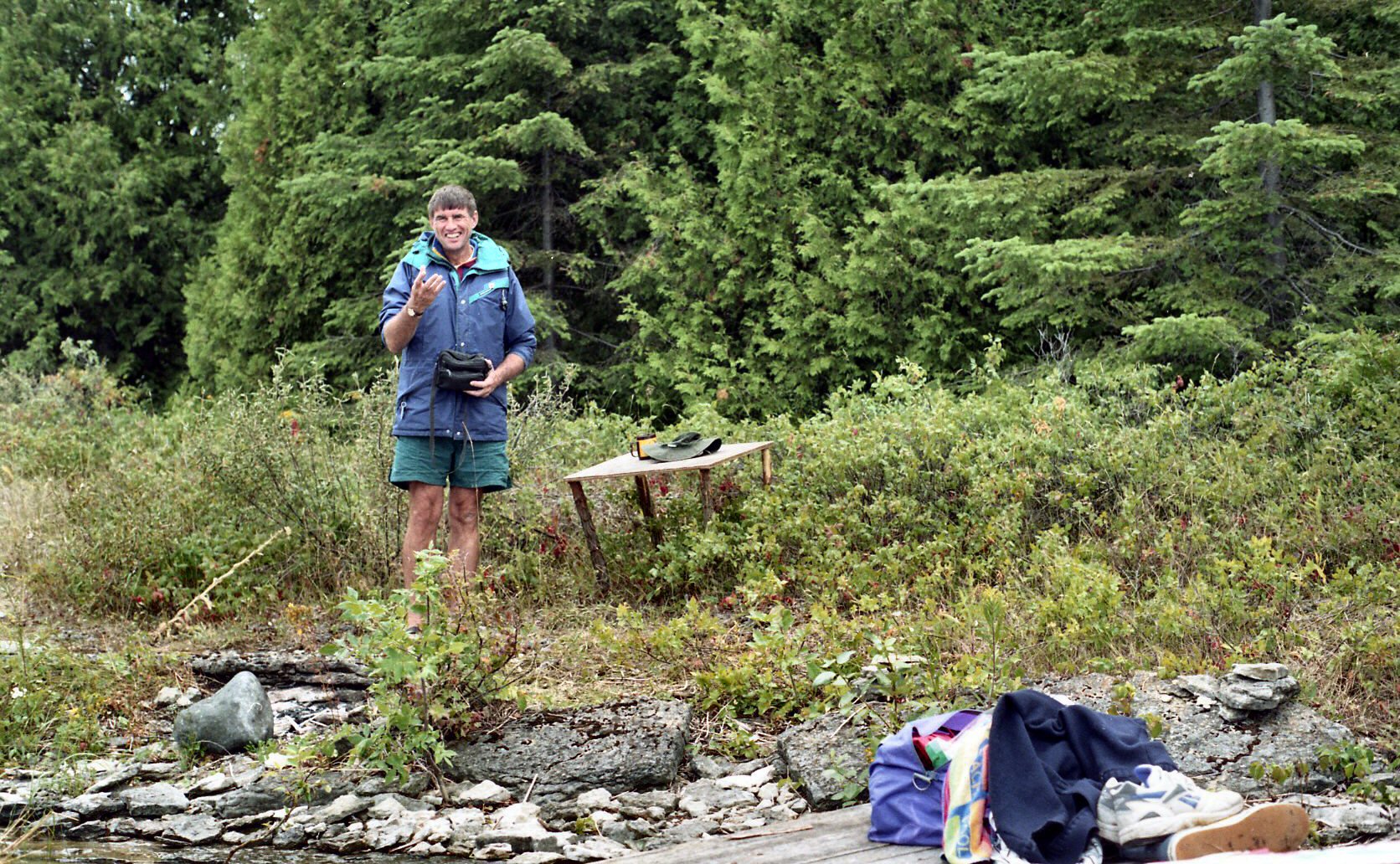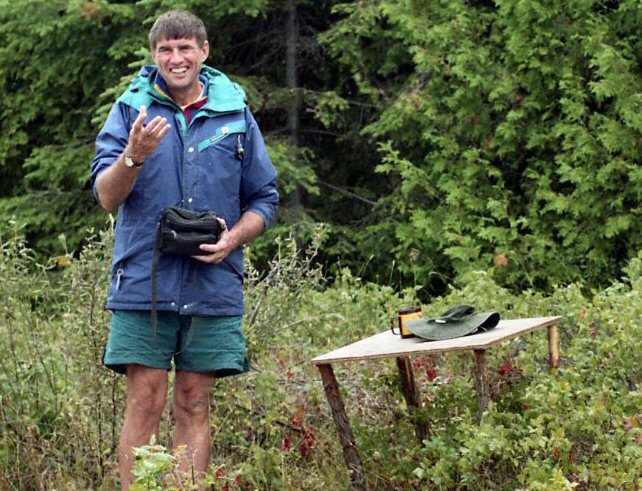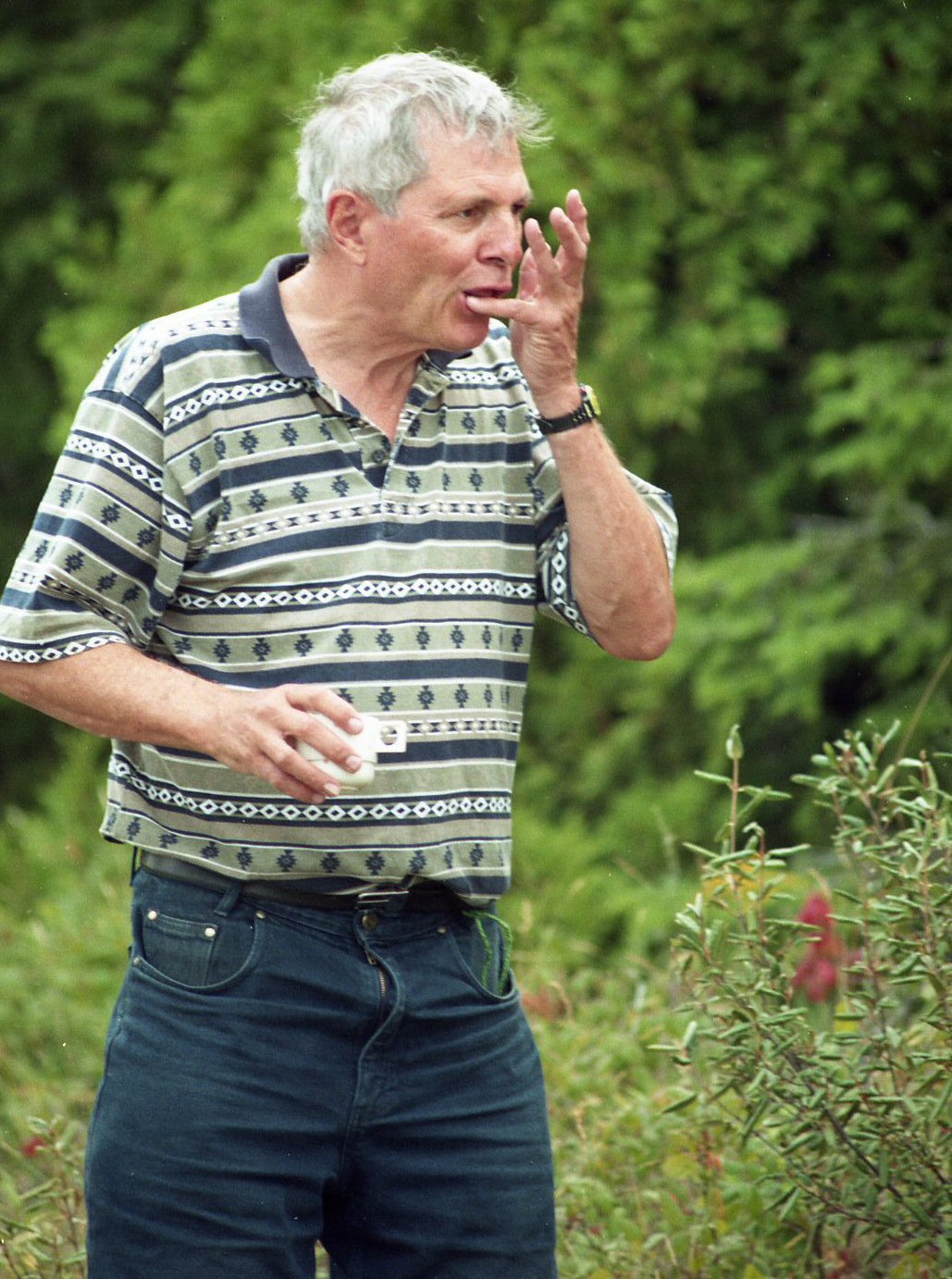 .....

......

Not to be totally outdone by David Sleightholm's fine example of British spiffiness (above), the rest of us also took advantage of the shallow waters which were much warmer than our first night's cove's had been. Tim (below) perhaps carried things a bit too far, but we were all refreshed after a challenging day at "sea".
.....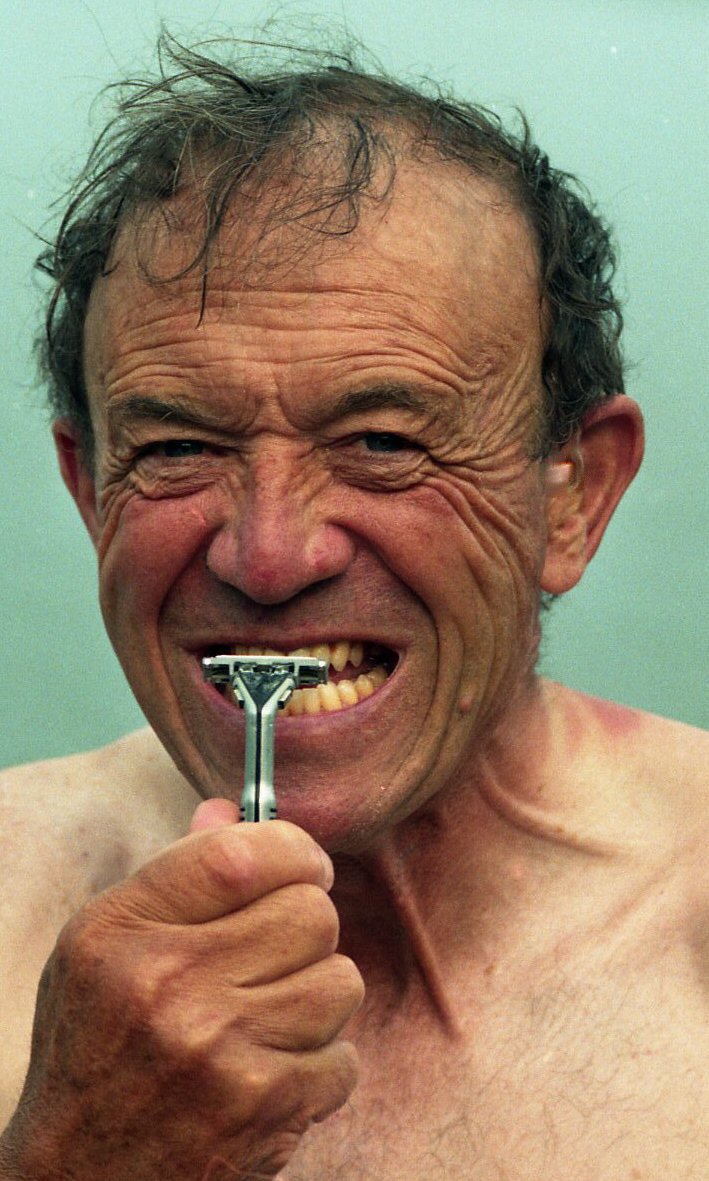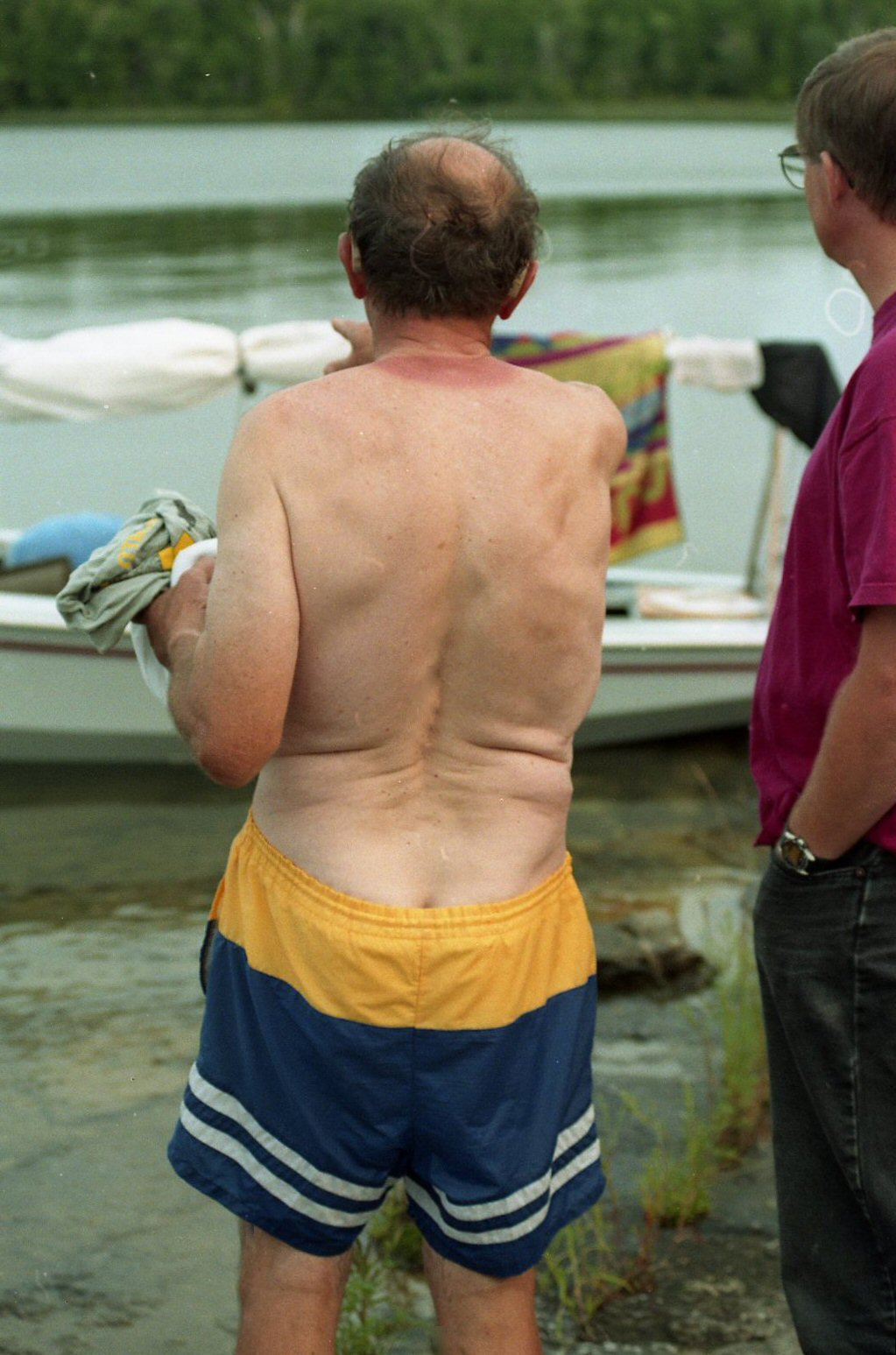 .....
Doug's swim provided an unexpected bonus when he discovered that our anchor was not where the rope led us to believe it was. In drifting around after dropping the anchor, we had managed to lay the anchor rope in a giant U which was only lightly held in place by being wedged under some flat rocks on the shallow bottom. This could have caused us some night time trouble but Doug came to the rescue by swimming the anchor out to a better location.
.....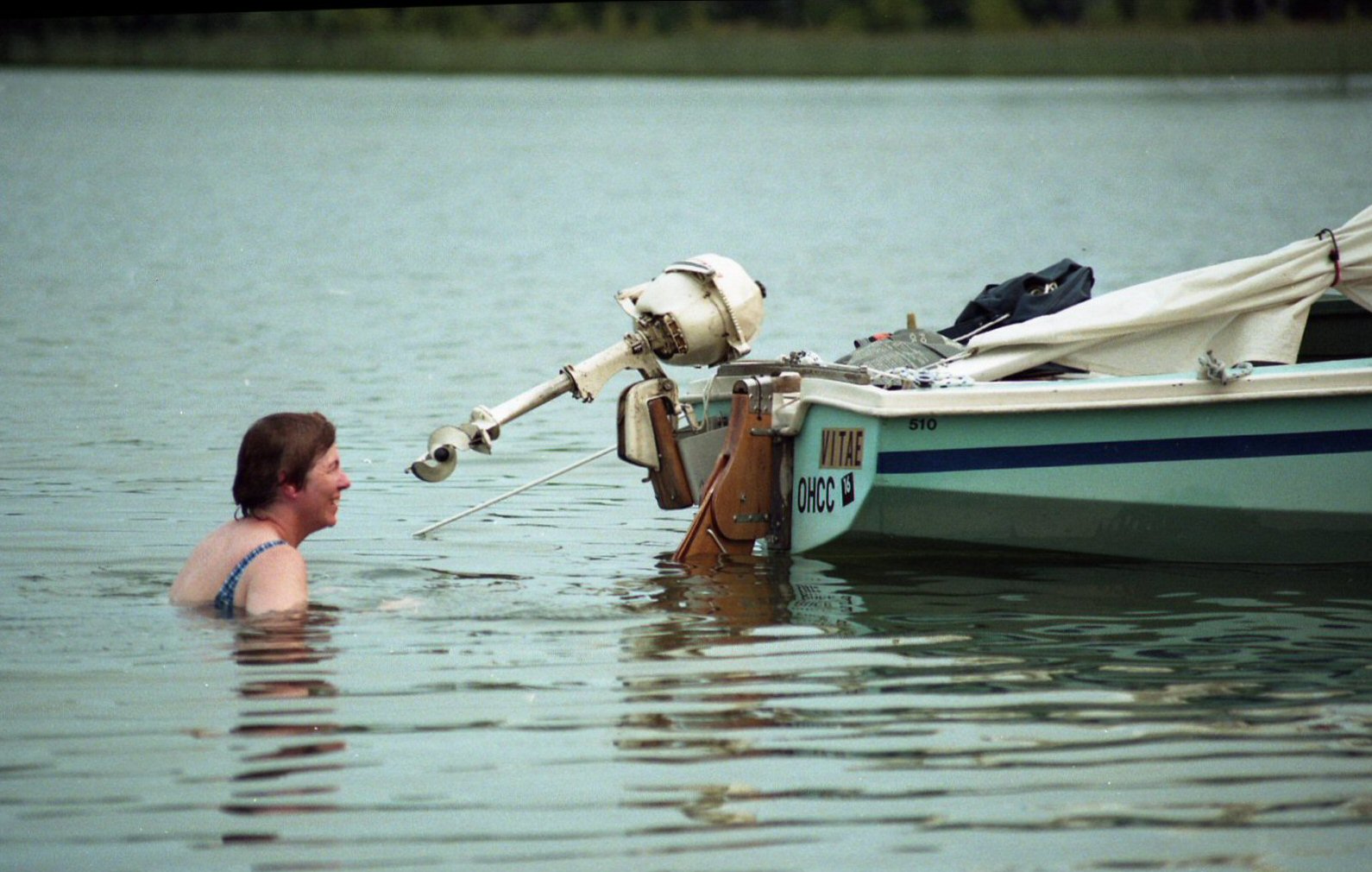 .....
Judy Burton (above) appeared to use her swim to inspect their outboard while Doug (below left) picked up a useful alternative to the clothesline from the Blue Mist crew (below right). A relatively relaxed afternoon which Uncle Al used to start on his mega-project: 30 postcards to Wayfarers around the world who needed to be told that Uncle Al was actually cruising! Even with preparations such as pre-printed address labels the sticking stuff took until supper time.
.....